If your family loves the The Avengers, these Avengers party ideas and Avengers party games will be a big hit at your house! With everything from Thor Lightning Trivia to Avengers party snacks, there's something for every superhero!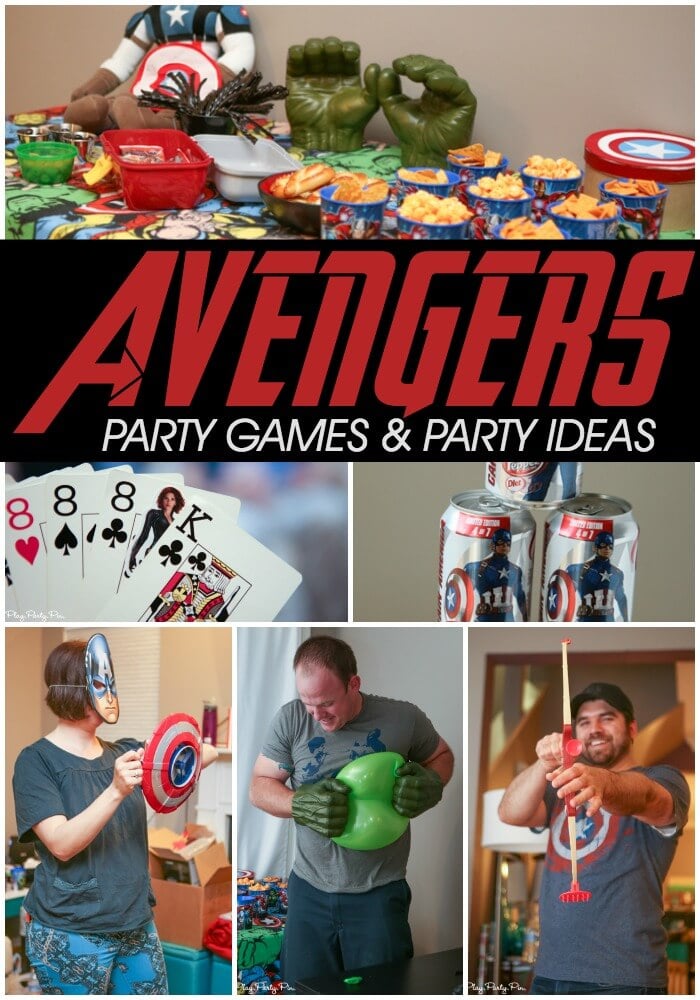 An Avengers Party
My family is a little superhero obsessed, so you can probably imagine how many Avengers parties I've hosted in my lifetime. Movie nights, pre-movie release parties, just want to get together with friends Avengers parties – you name it, and I've probably done it.
When the original The Avengers came out in theaters my family went and watched the full movie marathon on Thursday night leading up toThe Avengers movie at midnight. It was so fun to see how everything tied together and rewatch all of the movies to prep for the main event.
Avengers Party Ideas: What to Eat
I put together the best of the best Avengers party ideas I could find including everything from Avengers party food and drinks to Avengers party games! Tons of great ideas inspired by everyone's favorite superheroes!
Avengers Party Food & Drinks
There's nothing better than themed food and luckily Avengers themed food is pretty easy to do. Here are some of the best Avengers party foods I could find!
Avengers Movie Snack Packs
One of my favorite things about going to a movie theater is getting movie theater snacks. My favorite is the kids snack pack (don't laugh) where you get popcorn, a treat, and a drink or in my case, an icee for the drink. I decided to recreate these snack pack boxes for my party and created snack packs themed for each of the Avengers including things like:
Captain America – red, white, and blue nachos
Iron Man – Pepper (orange/red) Popcorn
Black Widow – Black licorice
Thor – Hot (Tamales) candies
I even created this little S.H.I.E.L.D. snack box menu with the snacks for each Avenger if you need more ideas. And you can download the actual printout if you want to use it for your own party.
It was pretty fun coming up with snacks that worked for each of them. All together, I'd say my guests were pretty happy with the snack stand options. It's not too often they get movie theater snacks without having to pay an arm and a leg. If nothing else, I know my little buddy K was.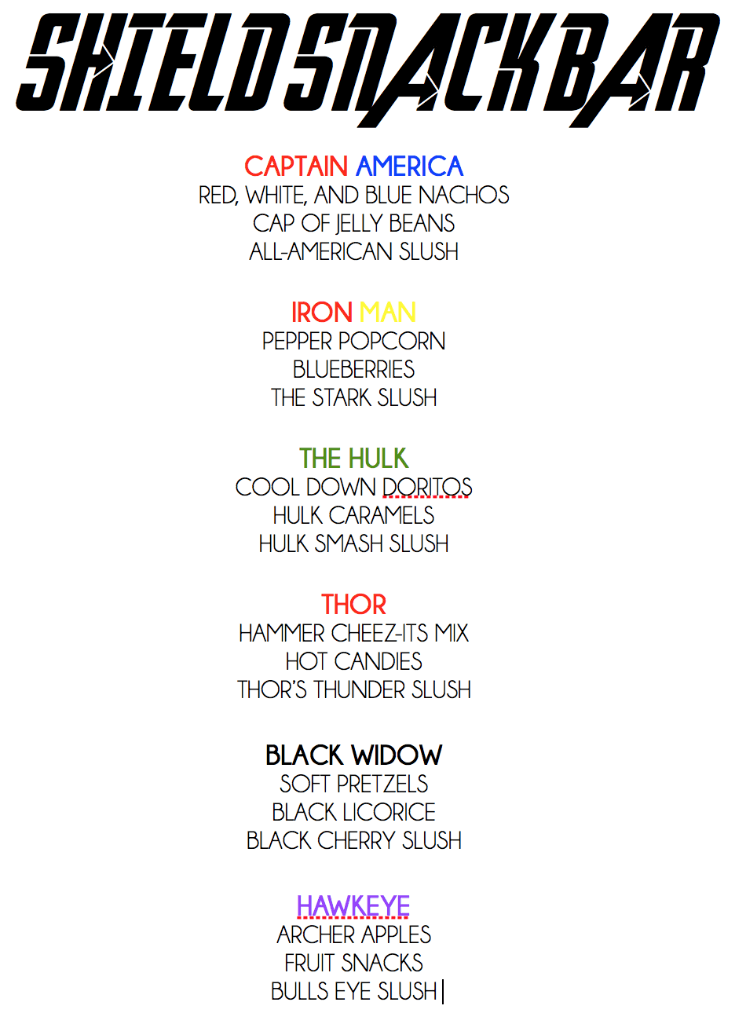 For the drinks, I set up a fun little snow cone station where everyone could mix their own Avengers slushies using colors that corresponded with each of the Avengers (green for The Hulk, Cherry Dr. Pepper for Black Widow, and red for Thor). For anyone who didn't want snow cones, I also served sioda with Avengers pictures on them.
In addition to actually putting together the individual snack boxes for my guests, I also just set out the snacks so people could mix and match if they wanted to. Because come on, who wouldn't love to mix and match a little Chris Hemsworth with Chris Evans, right?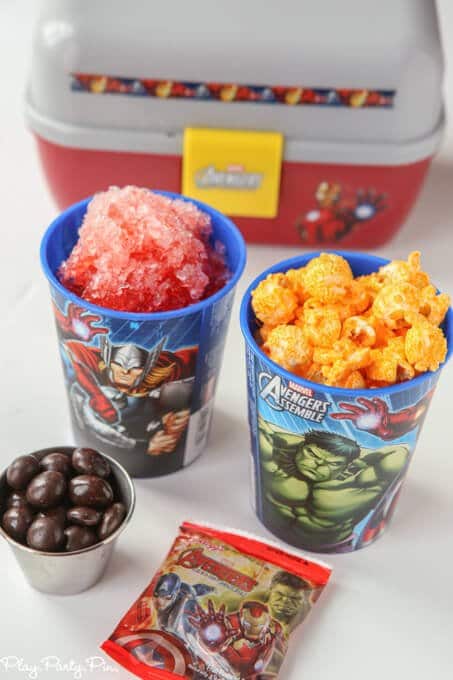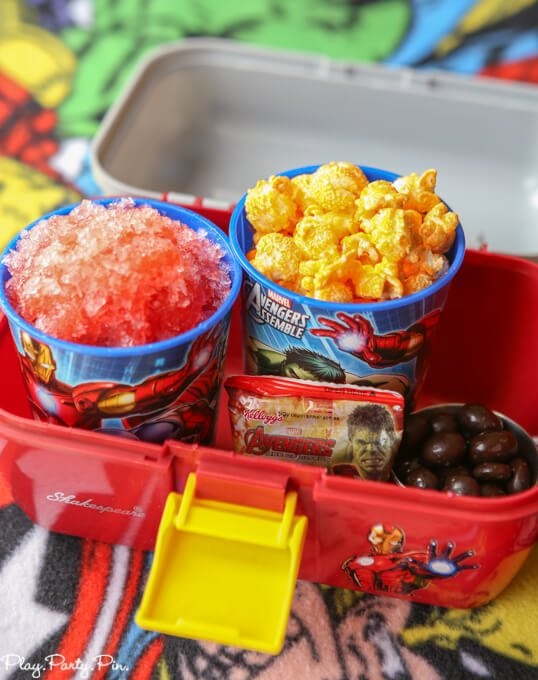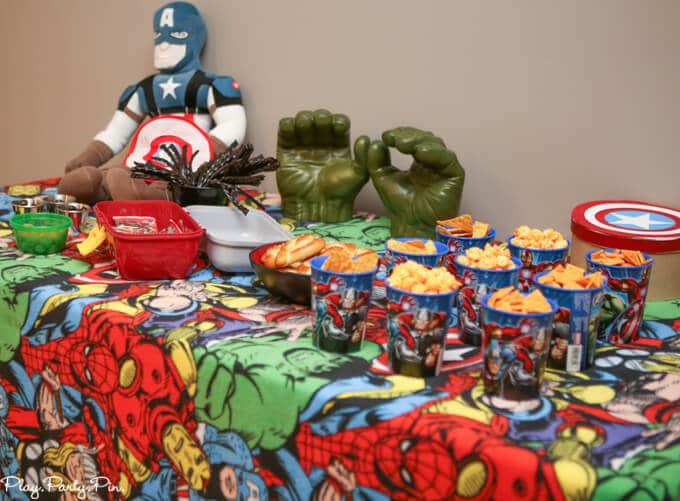 Avengers Party Ideas: What to Do
When it's a movie night, you of course have to watch a movie. Even better if everyone dresses up for said movie! But it doesn't just have to be a movie night, make sure and plan some fun Avengers themed activities for before the movie!
Other Avengers Themed Activities
Avengers Party Games
I put together six different challenges (one for each Avenger) and each of my guests participated in the challenges. The winner of each competition was given the title of that Avenger for the night, given a snack box for that particular Avenger, and won a copy of that Avenger's Blu-Ray to take home. The battles were epic and absolutely hilarious.
Here's a quick rundown of the games we played, all of which you can easily play at home. And don't forget the costumes! It isn't a true Avengers party without the costumes!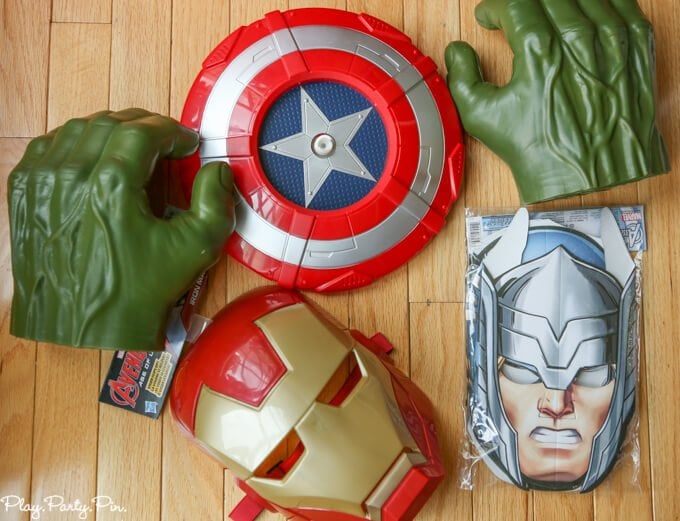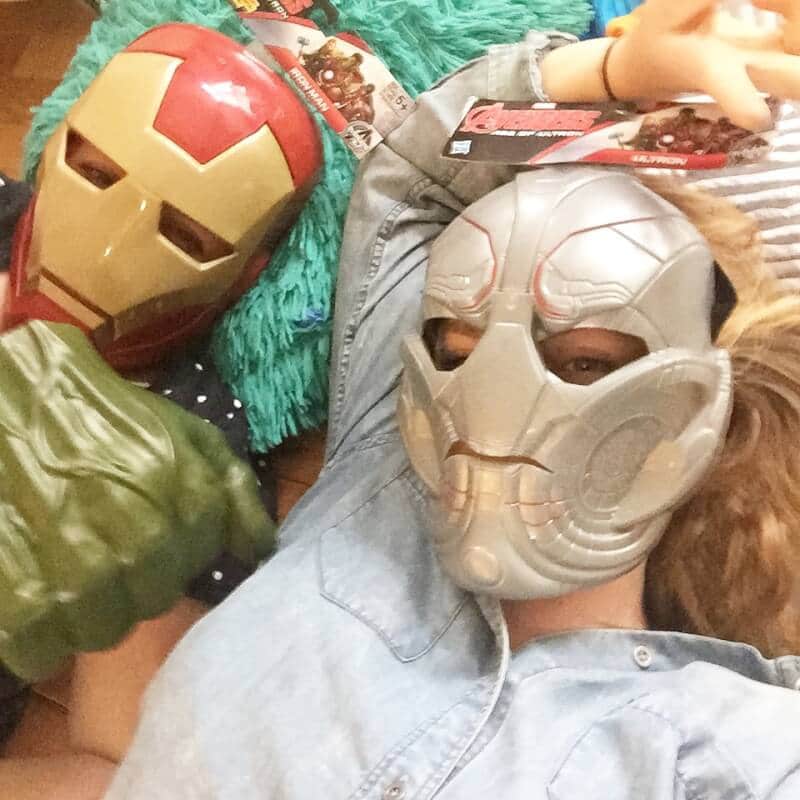 Captain America's Shield Shoot-Down
Supplies:
Empty soda cans – preferably with Avengers on them if it's near a movie release
Play:
Set up the empty cans in a pyramid and put the villain on top.
Attach the Captain America shield to your arm.
Shoot the shield at the plastic villain trying to knock it off the top of the cans (can also do it by knocking down the cans).
The person who knocks the villain off in the least amount of tries wins.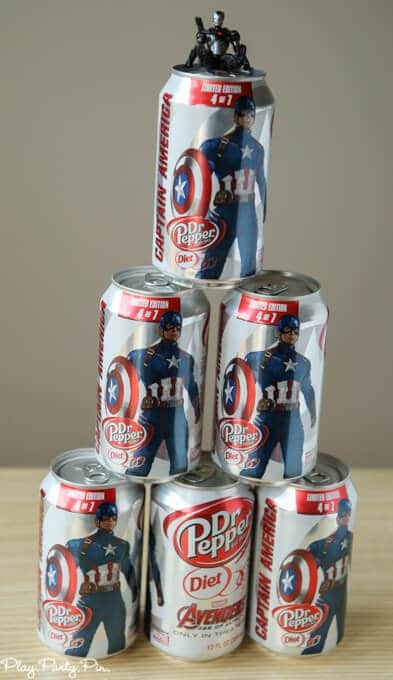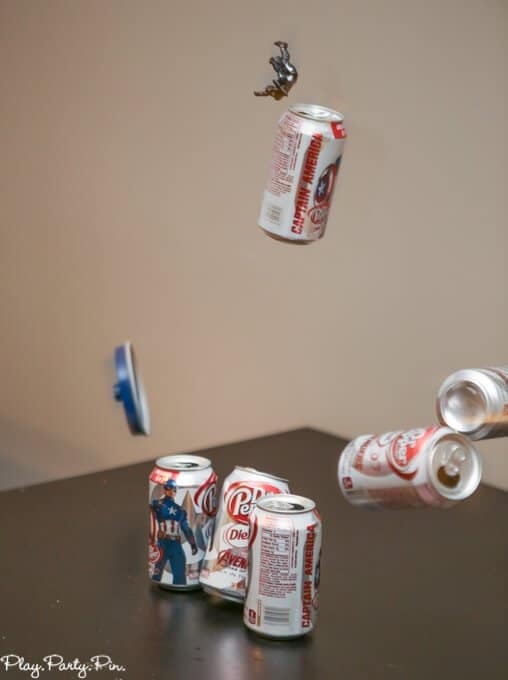 Iron Man's Genius Games
Supplies:
One Avengers puzzle for each player, I picked up a pack that came with eight mini puzzles that were perfect.
Play:
Give each of your guests a puzzle and an empty space to put it together in.
When you say go, players have to race to be the first to put the puzzle together.
First player to finish the puzzle wins.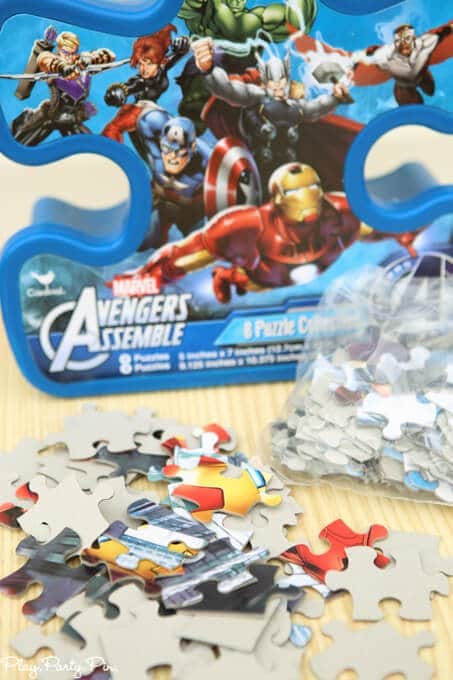 Thor's Lightning Trivia
Supplies:
Avengers Uno cards, numbers 1-4, set out on a table in the middle of the group (if you can't find the Uno cards, just use numbers 1-4)
Play:
Each of the trivia questions has four answers. Tell players that you are going to read trivia questions and that they should grab the answer from the table as soon as they know it. All players will compete each other to grab the one correct card from the table.
The person who grabs the correct answer for each round gets one point. Player with the most points at the end of the 15 questions wins.
Hawkeye Archer Adventure
Supplies:
Play:
Line up the empty cans on a table.
Players take turns trying to shoot the cans with the toy bow and arrow. Each can knocked down is worth one point and each player gets five shots total.
Player with the most total points wins.
The Hulk Balloon Smash
Supplies:
Play:
When it is their turn, players have to put on the Hulk Smash gloves and try to pop five balloons using only their hands and bodies (so no mouths, no ground, no tables, etc) as fast as they can up to one minute. If they haven't popped all five balloons in a minute, they just remember how many balloons they did pop.
The player to pop the five balloons in the quickest amount of time or the player who popped the most balloons in a minute wins.
Black Widow B.S.
Supplies:
One full deck of playing cards
Three additional playing cards (doesn't matter what number) that have the same design as the first deck
Play:
Before playing, cover the front of each of the three additional playing cards with a Black Widow sticker.
The game works just like regular BS (rules here) with one exception. The extra cards with the Black Widow stickers are wild cards and can be used to get you through any round during the game. Not only are the Black Widow cards themselves wild, but they make the rest of the cards you play down "wild" as well up to a total of four cards. So if someone calls BS when you play a Black Widow card, they have to pick up the deck rather than you. This adds a fun strategy and tricky element to the game that makes it even more challenging to know when to call BS.
The first person to get rid of their cards wins.
Other Avengers Party Games: