With the Black Panther red carpet world premiere happening this week, the release of the brand new Ant-Man and the Wasp trailer released today, and Avengers Infinity War right around the corner – it feels like MARVEL all the time! This MARVEL movie quotes game will get you right in the spirit of the MARVEL 10 year anniversary this year!
This post contains affiliate links. If you purchase via these links, I will receive a small commission at no cost to you.
Ant-Man and the Wasp Trailer
Let's start with the newest and greatest MARVEL news – the brand new Ant-Man and the Wasp trailer dropped this morning, and while it may not be as epic as the Infinity War trailer, it's still pretty awesome. It starts with a conversation about Ant-Man's involvement in Captain America: Civil War, giving us an idea of where the newest movie sits in the MARVEL movie sequence. And then the running begins.
Ant-Man (Paul Rudd), the Wasp (Evangeline Lily), and Wasp's father (Michael Douglas) are running, working together, and kicking some butt using everything from knives to Hello Kitty Pez dispensers. It looks like it's going to be another action and comedy packed hit for MARVEL but we'll have to wait and see!
I think I'm most excited about seeing another female superhero join the mix. I'm a huge fan of all the females we've seen so far from Black Widow to Scarlet Witch, and it's about time a woman gets her name in the title.
Follow Along for Ant-Man and the Wasp News
Follow Marvel Studios on Facebook –> https://www.facebook.com/marvelstudios
Follow Marvel Studios o Twitter –> https://www.twitter.com/marvelstudios
Follow Marvel Studios on Instagram –> https://www.instagram.com/marvelstudios
Ant-Man and the Wasp hits theaters everywhere July 6, 2018.
Marvel Movie Quote Matching Game
I decided to celebrate Marvel's 10 year anniversary this year, it would be fun to put together a Marvel movie quotes matching game. My printable bridal shower game with rom-coms has done so well, I figured I might as well bring that fun to my current favorite genre of movies – MARVEL ones. And my preschooler was more than happy to help me with this project!
This game would be perfect for an adult superhero party, a MARVEL movie night, or even to play while you're standing in line at the movie theater waiting for the doors to open for Black Panther on February 16th. And if you don't have your tickets, get them now. Everyone I've talked to so far said this movie is an important one and epic. And that's just one of the Disney movies coming out in 2018!
How to Play
To play the game, simply print out the free printable playing cards. Then try to match the 18 quotes to the 18 MARVEL movies (including Black Panther) out to date. Earn one bonus point if you can name the character who actually said the quote as well.
And if you're really advanced, I made a second version as well that's only the quotes, so you have to name the movie without seeing a list of the 18. It's hard sometimes to come up with the entire list when it's not in front of you!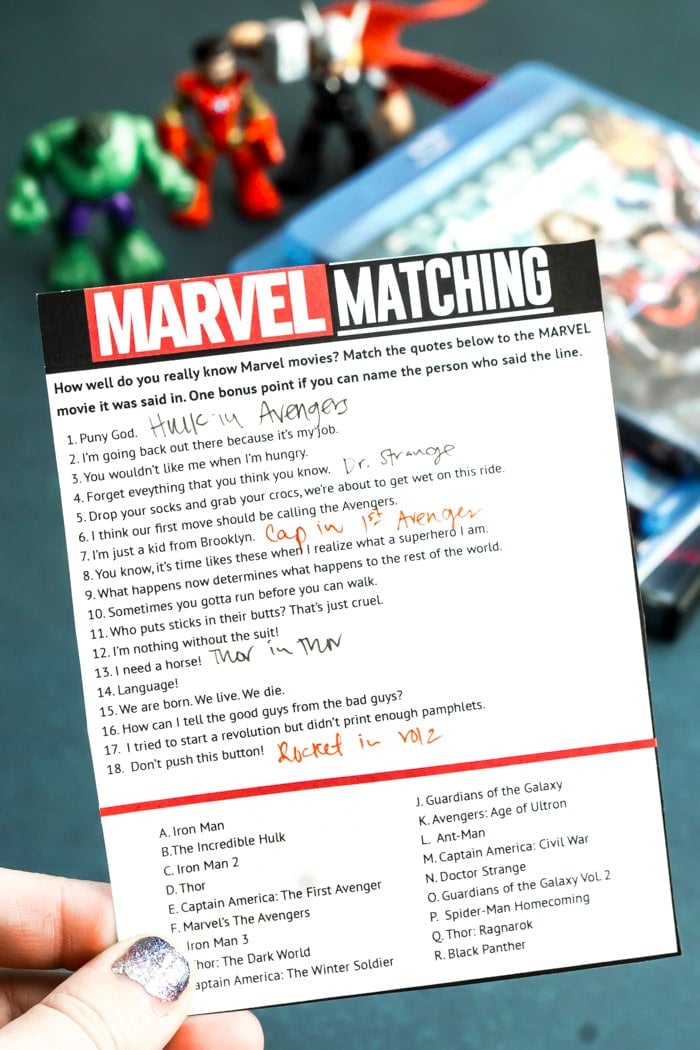 How to Win
Have everyone fill out their papers then go through the answers together. Whoever has the most points (out of 36) wins! Any of these prizes would make any MARVEL fan smile, or at least I know they'd make me happy!
Get the Free Printable
Enter your first name and email address below to get the free printable. You'll be immediately taken to the PDF to download and receive a copy to your email shortly after. If you can't see the form below, click here to get to the form to enter your info.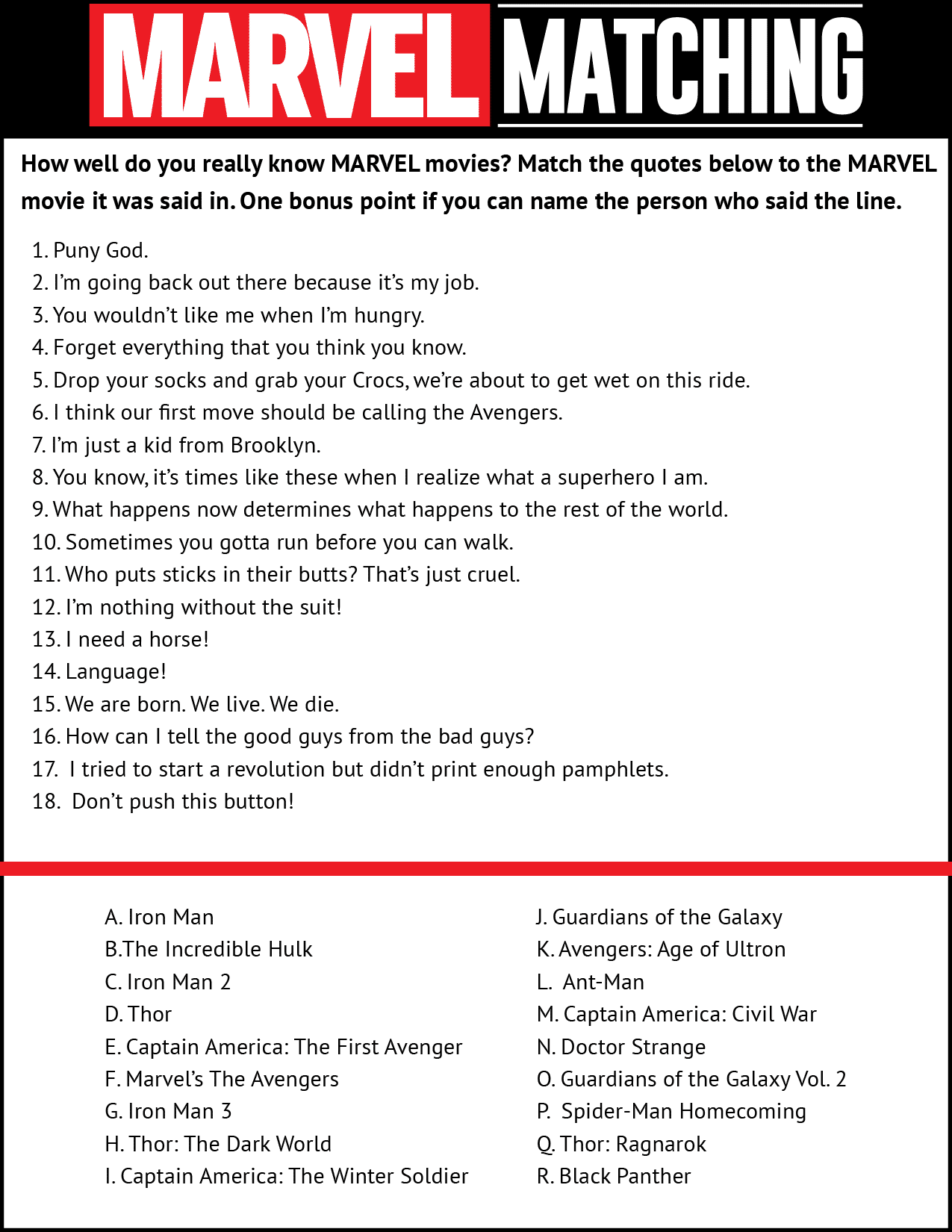 Don't forget to pin this MARVEL movie quotes game for later!