Next time you're planning a baby shower, try this fun and easy free printable baby shower game where guests have to guess songs that have the word baby or babe in it. It's surprisingly fun and difficult, making it one of the most unique baby shower games out there!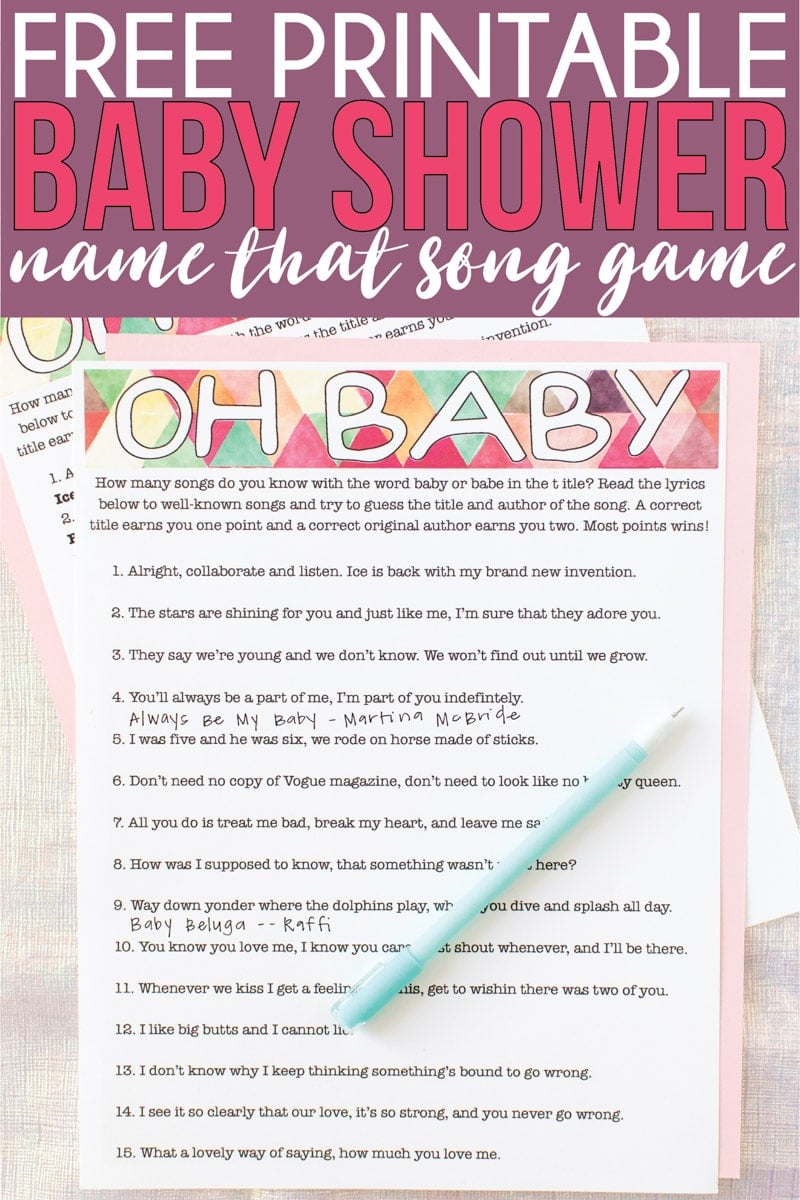 This post contains affiliate links. If you purchase anything via these affiliate links, I may receive a small commission at no additional cost to you.
"Oh Baby" Baby Shower Songs Guessing Game
One of my favorite things to do at a baby shower is choose the games based on the mom-to-be. If the expecting mom loves active games, then these hilarious baby shower games would be a perfect fit. If the mom would rather just everyone sit and chat, then this baby shower bingo is great.
This "Oh Baby" baby shower game is for an expecting mom who loves music or someone that would again, rather just hang out and play a game all together in a circle rather than getting wild and crazy like these games.
It's pretty much a version of name that baby inspired tune with just lyrics, no music. It's a bit tough, but super fun to watch people try and figure out where they've heard these lyrics before!
And it's a game that the expecting mom actually gets to play unlike many other baby shower games! She might also like one of these other printable baby shower games!
This is also one of my favorite games for a coed baby shower because music isn't gender specific! Another great coed baby shower game is this printable love song game!
And if you need good coed baby shower favors, these baby shower favor tags are perfect!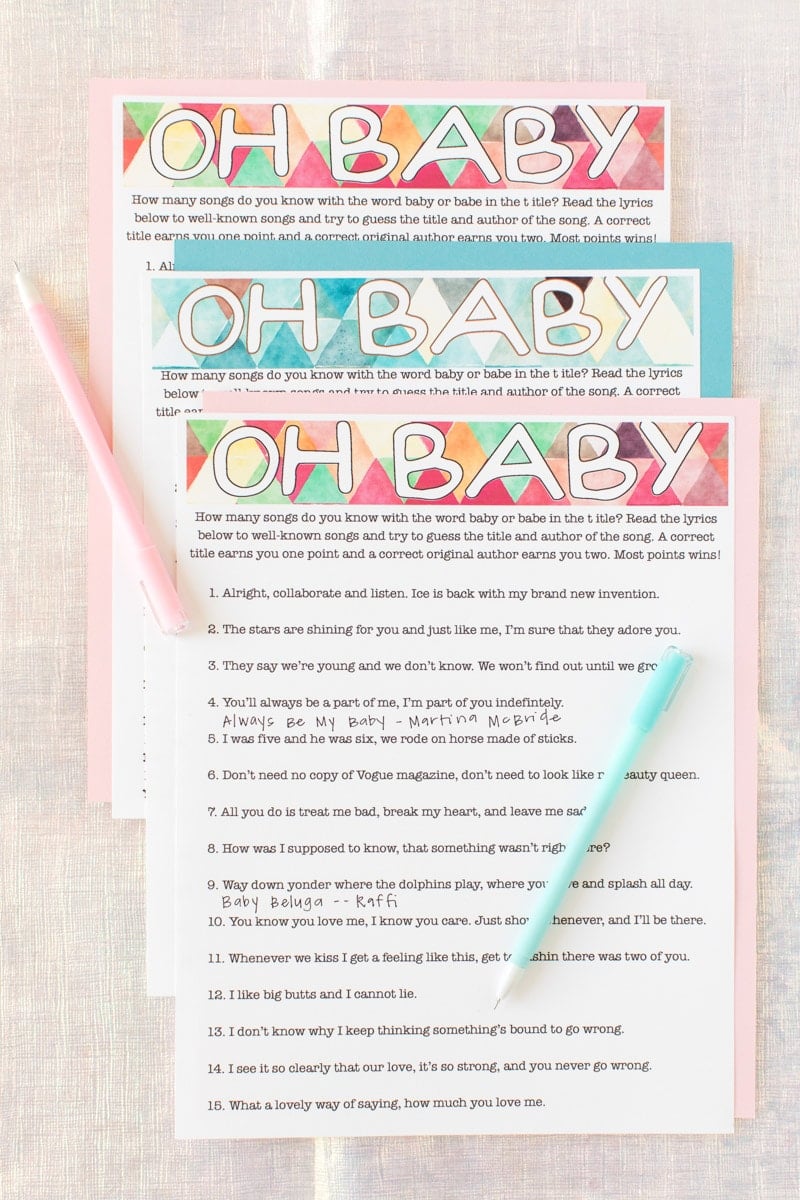 How to Play This Baby Shower Game
The best part about this game is that it's so simple. All you need to do is
Print out the free printable games via the form below
Provide pens and the games to each of your guests.
Set a timer for 15 minutes and tell everyone the rules.
At the end of the timer, go through the answers together and the person with the most points wins!
And now for the rules! There's just two – get the answer and don't cheat!
Players have to read the lyrics on each line and try to guess the popular song the lyrics are from.
One point for the song title and two points for the original artist of the song. Each song will have the word babe or baby in the title somewhere.
No phones, no ask a friend, no cheating. Same rule as apply to this baby shower emoji game!
Download the Baby Shower Game
Enter your first name and email address in the form below to print! You will be taken directly to the PDF of the game and received an email copy as well. If you do not see a form, please click here to get to it!
There should be a girl version that matches any of these baby shower themes for girls and a boy one as well!
And if you're wondering – there's also an answer sheet provided in the downloads. You have to download it (or figure it out on your own) to get the answers!
Baby Shower Game Prize Ideas
Don't forget to get the game winner a prize! Here are some of my favorite baby shower prize ideas. If you're doing this for a coed baby shower, gift cards are always a safe bet! Or one of these gender neutral gift ideas!
Don't forget to pin this free printable baby shower game for later!