Want to know how to spend your time at Disneyland's Oogie Boogie Bash? Read on for all the must-try experiences at Disneyland's Halloween party as well as things to skip! Everything from character meet and greets to treat trails and of course the spooktacular villains grove!
Oogie Boogie Bash 2023
Disney Parks announced that Oogie Boogie Bash is coming back in 2023 with the first party on Tuesday, September 5th and last on Halloween night! Parties will run every Tuesday, Thursday, and Sunday from September 5th through the 31st!
Oogie Boogie Bash is Disneyland's version of an annual Halloween party! It's a special ticketed event that happens on 25 select nights of the year from September 5th through October 31st, 2023 at Disney California Adventure Park.
It's a family-friendly way to enjoy all of the Disneyland Halloween fun while getting to enjoy exclusive opportunities, meet unique characters (or your favorite Disney characters), and more!
It's one of my personal favorite parts of Disneyland's Halloween Time and great for Halloween lovers! And it's my personal favorite Disney Halloween party! It's also a great way to kick off the Halloween season!
Oogie Boogie Bash is always quite the event, and I checked out everything at the second party of the year – food, dining experiences, and all of the entertainment, so I could tell you everything you need to know before you go!
And of course, this post is full of tips and tricks for making the most of your time at the Disneyland Halloween party. It's only five hours long, so it's important to use your time wisely!
What is Oogie Boogie Bash?
Oogie Boogie Bash is a special event held during Halloween Time in Disneyland California Adventure (DCA). It's a party held on select nights starting September 5th and ending October 31st. The Oogie Boogie Bash dates typically change each year but the final party is always the 31st.
If you're looking for the Disney World Halloween party, that's Mickey's No So Scary Party, and I attended that as well! Totally different coasts, parks, and experiences!
If you have more questions about Oogie Boogie details, check out the FAQs section at the bottom of this post where I answer basic questions about the party!
When is Oogie Boogie Bash 2023?
Oogie Boogie Bash is every Tuesday, Thursday, and Sunday beginning September 5th and ending on Halloween night. Here is the full list of dates that are party nights. Tickets for this year are sold out!
Tuesday, September 5th
Thursday, September 7th
Sunday, September 10th
Tuesday, September 12th
Thursday, September 14th
Sunday, September 17th
Tuesday, September 19th
Thursday, September 21st
Sunday, September 24th
Tuesday, September 26th
Thursday, September 28th
Sunday, October 1st
Tuesday, October 3rd
Thursday, October 5th
Sunday, October 8th
Tuesday, October 10th
Thursday, October 12th
Sunday, October 15th
Tuesday, October 17th
Thursday, October 19th
Sunday, October 22nd
Tuesday, October 24th
Thursday, October 26th
Sunday, October 29th
Tuesday, October 31st
Oogie Boogie Bash Tickets
Oogie Boogie Bash tickets are sold out for this year.
Ticket prices started at $134 and go all the way up to $189 on Halloween night. You can find the list of prices for each party date here. All guests ages 3 and older will need a party ticket (no kid tickets for this one).
Tickets are non-refundable and non-transferrable, however, when I spoke with the Disney cast members, they said that someone cannot go, they can call into Disney guest services and have the tickets transferred over to someone else's name.
So you can give away tickets but can't transfer to another night or sell them.
Oogie Boogie Bash Hours
Oogie Boogie Bash technically goes from 6PM to 11PM but anyone with a ticket can get into Disney's California Adventure at 3PM, giving you eight solid hours of time in the park! The first few hours are with the rest of the general public but then everyone else (aka non-party guests) gets kicked out other than party guests.
Read through my tips and tricks section below to see my recommendation for what time to get in!
Now back to my guide to how to spend your time at Oogie Boogie!
Immersive Treat Trails
One of my favorite parts of the Oogie Boogie Bash was the immersive treat trails. There are nine of them this year and they're called immersive because most of them are character themed and include a villain of some sort on the trail.
There are three that don't have villains and just have treats in Carsland, on Buena Vista Street, and in Paradise Gardens Park – those lines go faster if you're just looking for the treats!
I recommend hitting them all and loading up on candy and spooky fun! I have photos of the setups below – some of these are from previous years (if the same villain) as well as photos of the newest villains to join the bash!
In my opinion, these are SO much better than the way that Disney World does treat trails that are literally just treats. It makes you want to go to all of the treat trails around the park! They'll give you a map at the beginning of the event that shows where each of the treat trails are but does NOT say what is there.
I've included those details from the 2023 party below!
Hollywood Area – Cruella
Avenger's Campus – Agatha
San Fransokyo Square – Yokai (from Big Hero 6) – NEW this year
Animation Academy – Oogie Boogie
Carthay Circle – Madam Mim (one of my favorite Disney villains)
Near Grizzly Peak – Mother Gothel
Near Soarin' – Judge Doom (From Who Framed Roger Rabbit) – NEW this year
Hyperion Theatre Courtyard – Ernesto de la Cruz
Pixar Pier – Sid from Toy Story
And in case I didn't make it clear, these treat trails include both villain sightings and free trick or treating. I'd say each treat trail included 6-8 different cast members handing out everything from candy (lots of candy) to some other alternatives like rice krispy treats, fresh apples (kind of strange in my opinion), chips, and more.
And you can go through the treat trails over and over again if you want. Maybe not the best use of your time, but if you really want all that candy, it's definitely an option.
Have Allergies?
Disney is great with allergies and the party is no different. They open allergy-friendly and no-sugar treat options. Simply ask a cast member and they'll give you the information you need! I saw quite a few allergy friendly and no-sugar treats like fresh apple slices, rice krispy treats, pretzels, Pirate's Booty and more!
Special Character Meet and Greets
I've never really been a character meet and greet person. I'm more of a Disney character dining (where you pay and get food plus character greetings) kind of person.
Oogie Boogie Bash is different because they bring out rare characters you likely won't see at any other time. Plus, they bring out some popular characters like Mickey Mouse and Friends in super cute Halloween costumes!
Insider Tip!
PhotoPass is included with your Oogie Boogie Bash ticket, so you can get professional photos rather than just your phone ones! Just show the photographer the PhotoPass barcode in your Disneyland App after your take your photos and they're be automatically added to the app!
There were some character meet and greets with shorter lines (the ones in Carthay Circle) and some that had lines so long that I couldn't stand in them if I wanted to do anything else in the party.
The two most popular meet and greet lines I saw were for sure the Sanderson Sisters from Hocus Pocus (terrible picture below) and Bruno from Encanto. The Sanderson Sisters wait times line was an hour minimum and at times it was over two hours! If you're okay standing in long lines and missing most of the party, it's a super cute opp!
One of the coolest parts of Oogie Boogie Bash if you like characters is the rare ones they bring out just for this experience. This year there were tons of different characters like:
Minnie, Daisy, and Clarabelle as the Sanderson Sisters (this one is SUPER popular)
Bruno from Encanto
Marvel characters (we saw Captain America, Loki, Spiderman, and Black Panther
Cars Characters like Lightning, Mater, and Sally
Mickey, Minnie, Donald, and Daisy
Lotso the Bear
Captain Hook
The Incredibles
Russell from Up
I'm sure there were more, those are just the ones I personally saw while walking around!
I'm sure there were ones that I missed but needless to say, if you like characters, you'll love Oogie Boogie Bash!
Villains Grove
Villain's Grove is what I like to call a light and sound villain showcase along the redwood challenge trail. It's basically a bunch of cool villain inspired displays using lights, special effects, music, decorations, and smoke. It's cool but if there's a huge line (like there was most of the night), you can spend your time elsewhere.
My friend Patty even included it in her things not to do at Oogie Boogie Bash list, which I don't necessarily agree with but wouldn't stand in line forever for!
It's where the Redwood Creek Challenge Trail normally is and you'll likely see a good sized line leading up to it.
There are three things to know about villains grove. First, there aren't any actual characters in it. Don't be fooled – the actual characters are on the treat trails. Second, I personally think it could be a little scary for younger kids. It can definitely feel a little creepy in the dark, especially if your group is more or less alone walking like I was.
But if you like villains and want something unique to do, this is a good choice.
And finally, Villains Grove had the longest line of anything the entire night outside of the Sanderson Sisters and Bruno character meet and greets. It doesn't open until dusk (and it's best when dark), so I recommend going during the parade that you're not planning to watch because a lot of people will be at the parade and not trying to get into the grove.
We ended up going this year right after the second parade ended, so around 10:30PM, and it was only a 10-15 minute wait. The rest of the night it was around 45 minutes to an hour, so keep that in mind! This was the best time in my opinion because it was dark (so you could see all the projections) plus the line was minimal.
Frightfully Fun Parade at Oogie Boogie Bash
Disney knows how to do parades and the Frightfully Fun Parade is no different – actually it's even better.
It's similar to the Boo to You parade that used to happen during the Disney World Halloween Party with villains, Haunted Mansion dangers, Graveyard diggers (digging up sparks with their shovels), and other Halloween characters like Jack Skellington & Sally. And it's 100% worth spending the time to watch, even though I know your time is short.
The one thing I personally have a problem with for the parade is that it starts with the Headless Horseman riding an actual horse down the parade route. For us, this happened about five minutes after the parade was scheduled to start.
That's all well and good but the actual parade doesn't typically start for another 10-15 minutes AFTER the headless horseman is gone. That means you're just sitting there waiting and when you're with kids, those 10-15 minutes are really hard to fill, especially if you've been already sitting and waiting for the parade.
Regardless, I still recommend waiting because the parade is awesome and one of the only times you're going to see a number of the villains!
Insider Tip!
There are two parade times, typically 7:45PM and 10:00PM – the second showing is less crowded and easier to get a good seat without waiting for hours beforehand. Parade begins up near Paradise Garden area and finishes near the Hyperion Theater (going toward Guardians). Once the parade begins, it's hard to cross to the other side of the park until the parade is over.
Reserved Parade Viewing Options
If you don't want to wait for a parade, there are also two paid options that give you reserved parade viewing – a Dining Parade Package Wine Country Trattoria and the Oogie Boogie Bash dessert party at Sonoma Terrace.
We did both of these dining experiences in 2021 and out of the two, I personally wouldn't recommend doing either of them from a value perspective (money and time) unless you absolutely have to have great viewing for the parade and/or need to be actually seated in chairs, not at a table.
We did the dessert party this year as well and I still wouldn't recommend it, although it was better this year than years in the past.
But if you are going to do them, here are a few of my thoughts from our experiences in 2021. Things may have changed this year but my guess is things will be similar. These do have a limited capacity, so I recommend booking in advance as well.
Dining Parade Package at Wine Country Trattoria
This package costs $62 for adults ($37 for kids) to start (there are a bunch of upgrade options) and includes a starter, an entree, a dessert, and kid-friendly beverage. I've included a photo of the menu from 2021 for reference. The options this year include:
Adult Meal: House Salad or Soup Del Giorno; Roasted Vegetable Lasagna, Spaghetti Bolognese, Chicken Parmesan, Salmon, Spaghetti Aglio Olio, Fettucine Shrimp Alfredo, Trattoria Salad with Shrimp or Rib Eye Steak; Mistress of Evil Chocolate Cake; a choice of Fountain Beverage, Assorted Juices, Coffee and Tea
Child Meal: Chicken Breast, Whole-Grain Pasta with Marinara and Meatballs, Salmon, or Cheese Pizza; Fresh Fruit, Broccoli or Roasted Potatoes; Gravestone Lava Cake; Dasani® Water or Milk
When we did the meal in 2021, the food was good, like actually good. My chicken parmesan was crisp on the outside and moist on the inside and the caprese salad was fresh and flavorful.
Tip!
If you have allergies or dietary restrictions, let them know when you check in. The chef was able to come out and make me something that I could eat since so many of the dishes had onions in them!
After your meal, you get a ticket to return for one of the parade viewings later. You can either choose the earlier 7:45PM parade or 10PM parade but need to tell the host at check-in and it's first come first serve for the parade viewings. If you have a specific preference, make sure to show up as soon as possible for check-in!
There are two reasons I personally wouldn't do this again.
The only dining options are during your park hours. If you're just getting into the park at 3PM for the party, the dining took about an hour of our time between check-in and eating. That's a waste of good solid park time. If you're there for a couple of days and don't care about that, it's not a big deal. The second one, however, is!
We had to check-in for our reserved parade viewing about 45 minutes before the parade actually started, or sort of started. The parade viewing space was right next to Grizzly Falls (near Avengers Campus) and was a good spot but to be in the front, we had to be there early. That meant wasting 45 minutes of the five hours of party time sitting there waiting for a parade. Not a good use of your time, especially since there was plenty of parade viewing space around the park!
Oogie Boogie Bash Dessert Party
The second option for getting a reserved parade viewing is the Oogie Boogie Dessert Party. We did this again for 2023 to see if it was a better value and option in 2023 than in 2021.
Let's just start by talking about the cost – $89 for each person regardless of age.
That $89 gets you:
Table seating along the parade route – great views for sure!
2 alcoholic drinks + unlimited non-alcoholic drinks
A tray of desserts (see picture and descriptions below).
Here are my problems with the dessert party. At every dessert party I've been to at Disney World, it's been worth the money because it's a dessert buffet. There are tons of desserts to choose from and you can get as many as you want.
This is the dessert plate we were given for our $89 dessert party – six desserts plus some gummy worms. And while the desserts this year were much better than the ones in the past, it was still $89 for a plate of small desserts.
Pumpkin bundt cake – my sister and I both enjoyed this, much better than the red velvet bundt cake from two years ago.
Orange dreamsicle rice crispy – Disney knows how to make rice crispy treats, this was not that. This was some sort of rolled rice crispy treat that was dry and hard to eat. Neither of us finished ours.
Oogie Boogie Chocolate Mousse Cake – this was actually pretty good, much better than desserts in the past years. The mousse had good flavor, and it was cute to look at!
Jack Cookies and Cream Tart – I don't love cookies and cream filling like this one, but my sister really enjoyed it. It was probably her favorite on the plate! It reminded me of the Jack cupcake from Grand Californian hotel that wasn't one of my favorite Disneyland Halloween treats.
Sally Caramel Cheesecake – this was both of our least favorite desserts, outside of the rice krispy treat. It was just okay but not great.
Salted Caramel Macaron – I thought this was a really good macaron (not rose macaron good, but still good). The macaron itself was well baked and the salted caramel filling was simple and tasty.
Gummy Centipedes – so when I said there were gummy worms, I meant it. One of the desserts was gummy worms, like the ones I put as garnish in my Halloween punch.
The best thing out of the entire dessert party for me a few years ago was the fall punch. I made a fall punch copycat recipe if you want to try it at home, but it was basically a kids punch with whipped cream on top but had surprisingly a lot of flavor for a kid-friendly drink! I kept those coming and ended up drinking about five of them, trying to get my money's worth!
This year was a different mocktail that wasn't nearly as good unfortunately. The four of us sitting at our table tried them, and it just wasn't good enough to order another one.
Okay so if you haven't figured it out quite yet, I thought this one was not great value for the money. The seated parade viewing was great (as long as you weren't in the back row) but the people sitting on the ground across from us had the same viewing for free.
And if you don't have enough people to fill the entire table (we had a party of two), they seat you with other people – you don't get private tables. I didn't realize that when we bought our tickets, and it was a little weird to be sharing a table with complete strangers.
Plus, we had to be there at 9:15 to get good seats and our food (they stopped serving at 10PM), which meant we were at the Halloween dessert party from 9:15 until the parade was over at 10:40. That's 1 1/2 hours of our five hours – not the best use of time or money!
That being said – I'd skip them both unless you absolutely need reserved seated parade viewing and even then, not my favorite use of time or money. If you want another opinion, my friend Kim wrote up full reviews of both parties!
Tip!
This party is best for people who really need a seat and reserved viewing for the parade. The reserved table seating was easily the best part of this dessert party. Don't do it for the dessert.
Mickey's Trick and Treat Show
If you have young kids, you'll want to make sure to not miss Mickey's Trick and Treat show in the Disney Theater (right near the Animation Academy in Hollywood Land.
It's similar to the Disney Junior Dance Party with Mickey and Minnie having a fun dance party with the kiddos to celebrate Halloween. It's about a fifteen minute show that includes the dance party, story time, and candy given out at the end!
All of the kiddos in the theater seemed to love it, especially the dancing part! This may not be for partygoers of all ages but it was a thrill for the kids and a fun part of the annual Halloween party!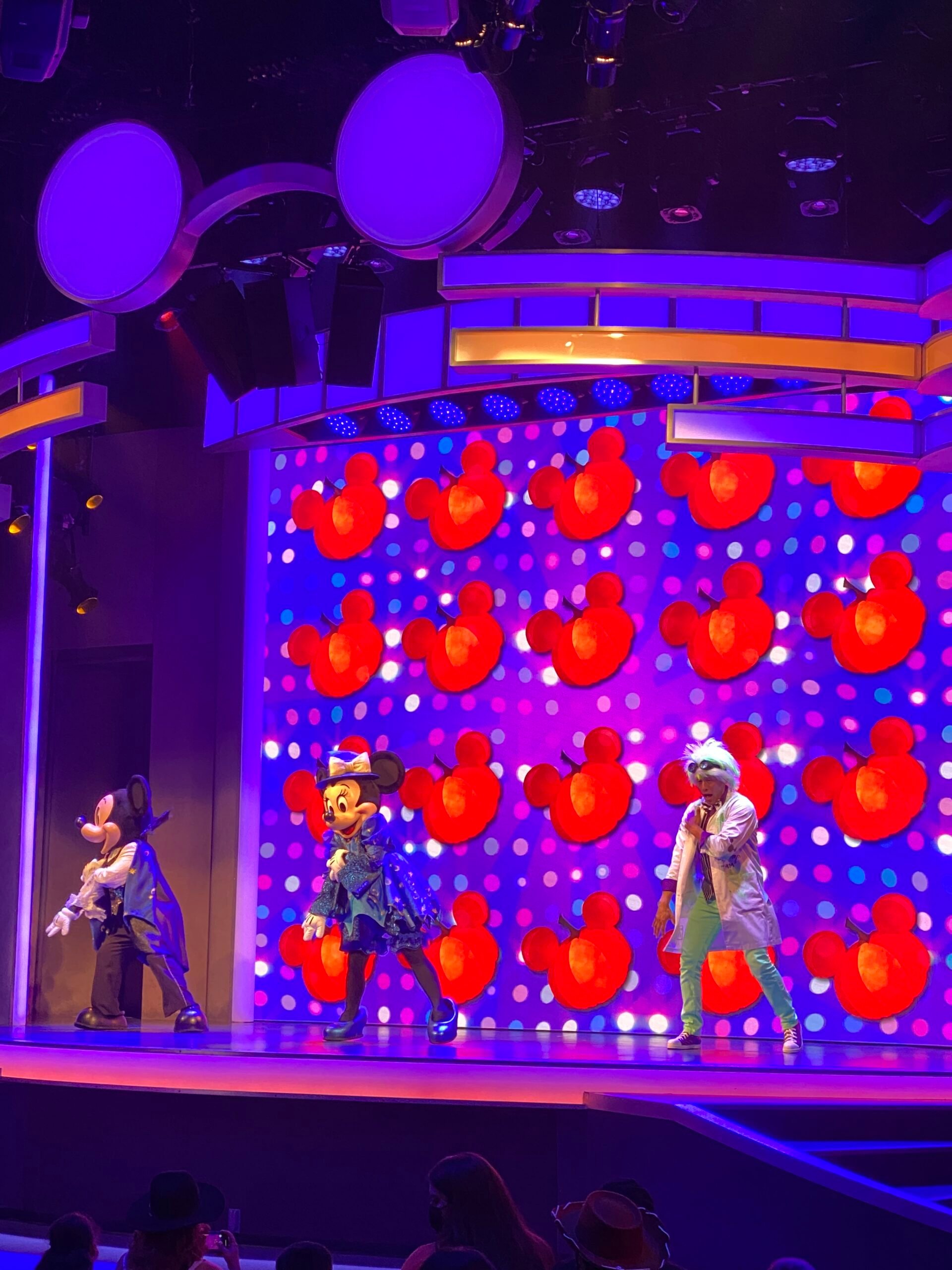 The show only plays a couple of times over the course of the party so if you want to do it, make sure to put it in your party lineup! You can see the shows in the Disneyland App or if you go near the party location.
Below is a sign from last year with showtimes – I know they've added a few times this year thank goodness! If this is a must-do on your list, go check out the showtimes when you first get to the party and plan accordingly.
Food and Drinks at Oogie Boogie Bash
If Oogie Boogie Bash is the only time that you're planning on visiting Disneyland Resort during their Halloween Time celebration, then you have a lot of Disneyland Halloween food options to try that are available all the time – and that's a post all on its own!
If you have more time at Disneyland Resort to try the Halloween treats, there are three things available only during the party, and we tried them all of course!
Your three party exclusives include:
Halloween Scoop from Clarabelle's Ice Cream – you can choose your ice cream for the sundae. Then it gets topped with a super cute witch hat ice cream cone plus purple whipped cream. We really enjoyed this, but it wasn't anything really unique, just cute and yummy ice cream.
Combustible Components Pizza from Pym's Test Kitchen – let me start by saying this pizza is massive and definitely could be shared by 2-3 people. It was good but not amazing, but much better than the loaded fries or chicken tenders they offered during Oogie Boogie in past years.
Panic Churro at Churro Cart by Goofy's Sky School – this blue pop rock coated churro was a good option if you want something a little more unique than a basic churro but don't want something as crazy as the Oogie Boogie churro. It tasted similar to a regular churro with the fun after effect of the popping candies popping!
Tip!
There's another churro that we found at the churro cart in Pixar Pier that had the Pain churro. It had an Oogie Boogie Bash only sign but wasn't included in any of the guides, so I'm not sure if it was available during the day as well or not.
I do NOT recommend this one and even the cast members tried to talk us out of getting this one. It's called the pain churro for a reason and has ghost pepper in the coating. My sister, who likes heat, tried it and had to spit it out because it was so hot. Unless you're glutton for punishment, maybe skip that one.
There are plenty of other food and beverage options available during the party – just nothing else that you can only get during the party.
Insider Tip!
Mobile order was really busy at Pym's right at the opening of the party. I waited way longer for my mobile order than if I had just walked into the restaurant and ordered from a cast member then picked up my food. So maybe don't mobile order this one!
Halloween Only Photo Opps
I mentioned it above but your party ticket comes with PhotoPass. Take advantage of it by checking out all of the photo ops throughout the parks. There was a cute Oogie Boogie Bash one right as soon as you walked in the gate and various other ones (like Headless Horseman) throughout the park!
Take advantage because those photo opps are only available then! There will likely also be other Halloween photo opps available that are during the day but if you're only doing the party, you should check those out too!
Oh and don't forget to dress up – dressing up for the party is half the fun! Disney does have pretty specific costume rules but as long as you know them ahead of time, you should be good! You can read their full costume rules here. I always say just use good judgement (while obviously following the rules).
It is spooky season but Disney is more on the not so spooky side of spooky!
If you need ideas for the littlest party goers, these are some of the cutest Disney baby costumes I could find!
Oh and make sure to check the weather before the party – it was over 90 degrees during our party, so we opted to go with Halloween shirts instead of full on costumes.
Oogie Boogie Bash Rides
A lot of the rides are open during the party, and it's a great time to ride them for two reasons – typically shorter lines than you'll see during the day (although some were pretty comparable to the daytime waits) and there are Halloween versions of the rides!
And even if they don't have Halloween versions of the rides, shorter wait times are always a good deal! The best time to ride the rides is during the parades since so many people will be watching the parades but honestly the lines were pretty short our entire night!
We were able to get on Guardians Monsters After Dark two times in a row with very little wait (it actually said 13, which means no wait in Guardians speak) during the first parade.
There are three specific rides that have Halloween versions:
Luigi's
Mater's Graveyard Jambooree
Guardians of the Galaxy Monsters After Dark – changes over to Monsters at 3PM
Luigi's and Mater's mostly just change up the music on the ride but Guardians of the Galaxy becomes a completely different storyline called Monsters After Dark. And it's awesome.
One note – Monsters After Dark is definitely a little scarier of a story-line so if you have kiddos who don't do well in the dark or not so scary monsters will scare them, maybe skip this one. The ride is all in the dark rather than lit like normal.
So if you're going to take the time to ride one ride, ride that one. It's a must-do, especially if you're a Guardians of the Galaxy fan.
Note!
If you're hoping to do Haunted Mansion Holiday, you're out of luck. Haunted Mansion is in Disneyland Park and a ticket to Oogie Boogie Bash only gets you access to Disney's California Adventure. If you purchased a park hopper ticket or single park ticket and started in Disneyland earlier the day of the event, that's a different thing but this special event ticket only gets you into one Disney park, DCA.
Oogie Boogie Bash Tips & Tricks
After attending the very first Oogie Boogie Bash of the year, I have tons of tips for anyone attending the party this year. If there's something you want more information about, feel free to leave me a comment and I'll do my best to give you more info!
Time your entry. If you are Magic Key holders or have a park ticket for the day, get into the park by 2:30PM. The line to get in at 3PM was insane, and they kept stopping people from getting into the park because the event check-in location line (right inside the front gates) was too long. If you can get in before 3PM, do it.
Skip the main gate check-in. Once you get in the gates, there are multiple event event check-in lines you can choose from – one at the front main entrance (that was crazy long), one at Blue Sky Cellar (near Sonoma Terrace) that was shorter, and one near the entrance from Grand California that was crazy short. Skip the front gate line and go somewhere else to get your wristband and trick or treat bag.
Do the villains grove during a parade. The Disney villains grove will likely be the longest line you'll see all night long. Do it during whichever parade you are not going to watch since a good portion of guests will be watching the parade. We only waited for 10-15 minutes when we did it during the first parade compared to people who waited 30-60 minutes later.
Watch the late parade if possible. I know it's not great for families with younger kids but if you can watch the late parade, we found it to be less busy making seating much easier to find last minute. Also, it's pretty easy to find a good seat for the parade so don't waste a ton of time sitting around holding seats.
Plan out your priorities. You don't have time to do it all. I did a lot and I was running around (and only did two rides). Pick your priorities ahead of time so that you can enjoy those things and anything else will be a bonus. Otherwise, the party will become stressful rather than fun! I also recommend planning out which showtimes, parades, etc. you'll do so you can go around the park with a plan!
Bring an extra bag. The small trick or treat bag that they give you when you check-in won't hold all of your treats from the interactive treat trails if you do them all. I had to empty mine at least once, and I didn't even get to all of the trails.
Get a locker. If you're dressing up in costume and don't want to carry everything around with you, grab a locker right past the entrance near Mortimer's Market. They cost $7 for a small locker (one backpack) or $10 for a large locker. I loved being able to stash things in there during the party, especially because it was still so hot around 3PM.
Dress in layers. Speaking of the heat, California can be really hot during the day but it tends to cool down when the sun goes down. Dress in layers and store those layers in the lockers for when things cool down. Or you can also use it as an excuse to grab a new Oogie Boogie themed spirit jersey or sweatshirt!
Mobile order. I mentioned this before but it's important enough that I'm mentioning it again. Use the Disneyland app to mobile order as much of the food as you can. I saw so many people wasting time standing in lines for food when they could have been enjoying the festivities instead! The only thing I would maybe not recommend mobile ordering is the pizza from Pym's if the walk-up line is short.
Don't plan a full day before the party. We got up and did Disneyland and DCA at 7:30AM and were going until 11PM. It was a huge mistake, and I don't recommend the 35K steps we took on anyone.
Stay at Grand Californian Hotel if possible. I know it's pricey, but I can't tell you how nice it was to stay in the GCH for just the night of the party. We actually went back up to our room to drop things off, to change clothes (after we got soaked on Grizzly River Run), and we were back to our room by 11:10PM and in bed minutes after. It's as good as time as any to splurge.
Make sure to check in for the event. When you check-in for the event, they will scan your party ticket and give you a wristband and a trick or treat bag. You must put on the wristband because cast members will be checking that throughout the party after 6PM. Anyone who does not have a wristband will not be allowed to do any of the rides, attractions, etc. and will be asked to leave the park.
Plan extra time for the parade. If you're doing the evening parade, try to get as much done before as possible. I had anticipated the parade only lasting 10-15 minutes but in reality it "started" around 10 with the headless horseman and we weren't able to get up and start going to other things until around 10:40PM.
Save money on park tickets. Make it a trip by adding park tickets and a day or two to the party! Save money by purchasing discount tickets through our favorite ticket partner Get Away Today. They always have deals going!
Oogie Boogie Bash FAQs
Do I need a separate ticket for Oogie Boogie Bash?
Yes, yes, yes! Oogie Boogie Bash is an event that will need a special ticket totally separate from your park ticket. You need to buy a ticket just for the party and that ticket will get you into Disney's California Adventure at 3PM and allow you to stay until the end of the party at 11PM. If you're not planning on going into the parks prior to the party, you do not need a separate park ticket.
Do I need a reservation for Oogie Boogie Bash?
You do not need to make a theme park reservation for Oogie Boogie Bash. You will be able to get into the park with just your party ticket on party nights. If you are planning to go to the parks earlier, you will need a theme park reservation for the park you're planning to visit. You can get theme park reservations here.
How long is Oogie Boogie Bash?
Oogie Boogie Bash is five hours long. The party starts at 6PM and goes until 11PM. You can enter the park beginning at 3PM, but the actual party festivities do not start until 6PM. Use those extra three hours to enjoy some food, rides, shows, and character sightings that will not be available during the party hours. Or you can use that time to get in line for the lines for the most popular characters – up to you how you choose to use your time!
How do I get Oogie Boogie Bash tickets?
Oogie Boogie Bash tickets are sold out for 2023. The only way to get tickets is if you know someone who will no longer be able to attend and wants to gift you their tickets. In order to do this, they'll need to call into Disney guest services and have them change over the names on the tickets to your name.
How much are Oogie Boogie Bash tickets?
Tickets vary based on the date that you are planning to attend. Tickets start at $134 and go all the way up to $189 on Halloween night.
Do I have to wear a costume?
You do not have to wear a costume but many people do wear costumes or dress up in Halloween themed outfits. If you are planning to wear a costume, please make sure to read Disneyland's costume policy here.
Does Oogie Boogie Bash have a fireworks show?
There is no fireworks show at Oogie Boogie Bash but there are often stage shows that feature fun Disney villains. If you want Halloween fireworks, you'll want to check out the Halloween Screams show at Disneyland Park.
More Disney planning Tips