Want to know how to spend your time at Disneyland's Oogie Boogie Bash? Read on for all the must-try experiences at Disneyland's Halloween party as well as things to skip! Everything from character meet and greets to treat trails and of course the spooktacular villains grove!
This week I had the chance to attend Disneyland's first Oogie Boogie Bash of the year! It was quite the event, and I checked out everything – food, dining experiences, and all of the entertainment, so I could tell you everything you need to know before you go!
And of course, this post is full of tips and tricks for making the most of your party. It's only five hours long, so it's important to use your time wisely!
I've included a quick link table of contents below for your reference. Feel free to click through to find what you're looking for then read the whole post after you get your answers!
What is Oogie Boogie Bash?
Oogie Boogie Bash is a special event held during Halloween Time in Disneyland California Adventure (DCA). It's a party held on select nights starting September 9th and ending October 31st. The party typically runs from 6PM to 11PM and guests can get into DCA starting at 3PM to enjoy the park before the party officially starts.
Don't mistake Oogie Boogie Bash with the Boo Bash After Hours Event – that's the Disney World Halloween Party that replaced Mickey's Not So Scary Halloween Party this year. They're two totally separate things, both fun, but totally different!
If you have more questions about Oogie Boogie details, check out the FAQs section at the bottom of this post where I answer basic questions about the party!
Now back to my guide to how to spend your time at Oogie Boogie!
#1 – Immersive Treat Trails
One of my favorite parts of the Oogie Boogie Bash was the immersive treat trails. There were ten of them this year and they're called immersive because most of them are character themed and include a villain of some sort on the trail.
This year there were three new villains added to the lineup – Sid from Toy Story, Agatha from Wandavision, and Cruella (she's amazing!). You basically walk down the trail and get candy then at the end of the trail there's a big setup with the villain interacting with guests.
In my opinion, these are SO much better than the way that Disney World does treat trails that are literally just treats. It makes you want to go to all of the treat trails around the park! Look for the big treat trail blow up things (or just look in the guide you're given when you check in) to know where the trails are!
There are ten different treat trails this year and I've included a list of which villain is at each one to help you make sure to hit your favorites:
Hollywood Area – Cruella
Animation Academy – Oogie Boogie
Hyperion (near Guardian's) – Mad Hatter
Avenger's Campus – Agatha
Near Carthay Circle – Dr. Facilier
Near Grand California Entrance – Maleficent
Near Grizzly Peak – Evil Queen (from Snow White)
Pixar Pier – Sid from Toy Story
Cars Land – no villain, just a treat trail
Buena Vista Street – no villain, just a treat trail
And in case I didn't make it clear, these treat trails include both villain sightings and free trick or treating. I'd say each treat trail included 6-8 different cast members handing out everything from candy (lots of candy) to some other alternatives like rice krispy treats, fresh apples (kind of strange in my opinion), chips, and more.
And you can go through the treat trails over and over again if you want. Maybe not the best use of your time, but if you really want all that candy, it's definitely an option.
Have Allergies?
Disney is great with allergies and the party is no different. They open allergy-friendly and no-sugar treat options. Simply ask a cast member and they'll give you the information you need! I saw quite a few allergy friendly and no-sugar treats like fresh apple slices, rice krispy treats, pretzels, Pirate's Booty and more!
#2 – Special Character Meet and Greets
I've never really been a character meet and greet person. I'm more of a Disney character dining (where you pay and get food plus character greetings) kind of person.
Oogie Boogie Bash is different because they bring out characters you likely won't see at any other time. Plus, they bring out some popular characters like Mickey and Friends in super cute Halloween costumes!
Insider Tip!
PhotoPass is included with your Oogie Boogie Bash ticket, so you can get professional photos rather than just your phone ones! Just show the photographer the PhotoPass barcode in your Disneyland App after your take your photos and they're be automatically added to the app!
One thing to note is that this year, character meet and greets are still at a distance with the characters standing behind you, not actually touching you. It's a bit different and not my favorite, but it's definitely the safer option for now. Just be aware!
These are the characters you'll find throughout the party. I included the ones that I personally saw (I didn't see everyone) to give you an idea of who was around.
Marvel Characters (Loki, Captain Marvel, Thor, etc.) in Avengers Campus
Cars Characters (Lightning McQueen and Mater) in Cars Land
Dynamic Duos (Hades and Meg, Evil Stepsisters, Pain and Panic) near Carthay Circle
Mickey and Minnie – Paradise Park
Classic Animated Friends (Baloo) – Pacific Wharf
Swashbuckling Sidekicks – Grizzly Falls
Pixar Pals (Woody & Jessie) – Pixar Pier
Incredibles – near the Incredicoaster
Sinister Characters (King Richard from Robin Hood) – near Grizzly River Run
#3 – Villains Grove
Villains Grove is what I like to call a light and sound villain showcase in the Grizzly Run area. It's basically a bunch of cool villain inspired displays using lights, music, decorations, and smoke. It's cool but if there's a huge line (like there was most of the night), you can spend your time elsewhere.
My friend Patty even included it in her things not to do at Oogie Boogie Bash list, which I don't necessarily agree with but wouldn't stand in line forever for!
There are three things to know about villains grove. First, there aren't any actual characters in it. Don't be fooled – the actual characters are on the treat trails. Second, I personally think it could be a little scary for younger kids. It can definitely feel a little creepy in the dark, especially if your group is more or less alone walking like I was.
And finally, Villains Grove had the longest line of anything the entire night. It doesn't open until dusk (and it's best when dark), so I recommend going during the parade that you're not planning to watch because a lot of people will be at the parade and not trying to get into the grove.
Otherwise, just make a decision if it's worth the wait because it was the longest wait on the night for us (and we went during a parade).
#4 – Frightfully Fun Parade at Oogie Boogie Bash
Disney knows how to do parades and the Frightfully Fun Parade is no different – actually it's even better.
It's similar to the Boo to You parade that used to happen during the Disney World Halloween Party with villains, Haunted Mansion dangers, Graveyard diggers (digging up sparks with their shovels), and other Halloween characters like Jack Skellington & Sally. And it's 100% worth spending the time to watch, even though I know your time is short.
The one thing I personally have a problem with for the parade is that it starts with the Headless Horseman riding an actual horse down the parade route. For us, this happened about five minutes after the parade was scheduled to start.
That's all well and good but the actual parade doesn't typically start for another 10-15 minutes AFTER the headless horseman is gone. That means you're just sitting there waiting and when you're with kids, those 10-15 minutes are really hard to fill, especially if you've been already sitting and waiting for the parade.
Regardless, I still recommend waiting because the parade is awesome and one of the only times you're going to see a number of the villains!
Insider Tip!
There are two parade times, typically 7:45PM and 10:00PM – the second one is less crowded and easier to get a good seat without waiting for hours beforehand. Definitely easier if you're looking for a more socially distanced Oogie Boogie Bash! Parade begins up near Paradise Garden area and finishes near the Hyperion Theater (going toward Guardians). Once the parade begins, it's hard to cross to the other side of the park until the parade is over.
Reserved Parade Viewing Options
If you don't want to wait for a parade, there are also two paid options that give you reserved parade viewing – a Dining Parade Package Wine Country Trattoria and a dessert party at Sonoma Terrace.
We did both of these dining experiences and out of the two, I personally wouldn't recommend doing either of them from a value perspective (money and time) unless you absolutely have to have great viewing for the parade and/or need to be actually seated in chairs, not at a table.
But if you are going to do them, here are a few of my thoughts.
Dining Parade Package at Wine Country Trattoria
This package costs $55 for adults to start (there are a bunch of upgrade options) and includes a starter, an entree, a dessert, and kid-friendly beverage. I've included a photo of the menu below for your reference.
The food was good, like actually good. My chicken parmesan was crisp on the outside and moist on the inside and the caprese salad was fresh and flavorful.
The only thing I didn't love was the adults dessert option – pretty but not nearly as good as my favorite Disneyland Halloween treats! I actually ordered the kids dessert, which was a dirt and worms dessert and liked it better!
Tip!
If you have allergies or dietary restrictions, let them know when you check in. The chef was able to come out and make me something that I could eat since so many of the dishes had onions in them!
The kids meal is cheaper at $40 and includes a $17 Oogie Boogie popcorn bucket – definitely a good value considering they get an entree, side, dessert, drink, and the popcorn bucket!
After your meal, you get a ticket to return for one of the parade viewings later. You can either choose the earlier 7:45PM parade or 10PM parade but need to tell the host at check-in and it's first come first serve for the parade viewings. If you have a specific preference, make sure to show up as soon as possible for check-in!
There are two reasons I personally wouldn't do this again.
The only dining options are during your park hours. If you're just getting into the park at 3PM for the party, the dining took about an hour of our time between check-in and eating. That's a waste of good solid park time. If you're there for a couple of days and don't care about that, it's not a big deal. The second one, however, is!
We had to check-in for our reserved parade viewing about 45 minutes before the parade actually started, or sort of started. The parade viewing space is right next to Grizzly Falls (near Avengers Campus) and was a good spot but to be in the front, we had to be there early. That meant wasting 45 minutes of the five hours of party time sitting there waiting for a parade. Not a good use of your time, especially since there was plenty of parade viewing space around the park!
Oogie Boogie Dessert Party
The second option for getting a reserved parade viewing is the Oogie Boogie Dessert Party. Let's just start by talking about the cost – $84 for everyone.
That $84 gets you:
Table seating along the parade route – great views for sure!
2 alcoholic drinks + unlimited non-alcoholic drinks
A tray of five desserts, one of which was literally gummy worms
Here are my problems with the dessert party. At every dessert party I've been to at Disney World, it's been worth the money because it's a dessert buffet. There are tons of desserts to choose from and you can get as many as you want.
This is the dessert plate we were given for our $84 dessert party, along with a photo of the menu to see the drink options.
Red velvet bundt cake – my friends both liked this, but I thought it was overly sweet.
Orange dreamsicle rice crispy – Disney knows how to make rice crispy treats, this was that. This was some sort of rolled rice crispy treat that was dry and hard to eat.
Chocolate Meringue Mousse – this was my favorite of the desserts and pretty good. Not $84 worth good.
Dark Fudge Cake Pop – this was another one that I thought was pretty good if you like dark chocolate. The outside was a little sweet but the inside was yummy, almost tasted like my Mickey cake pop recipe.
Raspberry Mini Streusel – this was a tiny little bar that my friend liked, but I thought was pretty dry. It was also very small, like 2-3 bites worth.
Gummy Centipedes – so when I said there were gummy worms, I meant it. One of the six desserts was gummy worms, like the ones I put as garnish in my Halloween punch.
The best thing out of the entire dessert party for me was the fall punch. I'm going to try to make a copycat version at home soon but it was basically a kids punch with whipped cream on top but had surprisingly a lot of flavor for a kid-friendly drink! I kept those coming and ended up drinking about five of them, trying to get my money's worth!
Okay so if you haven't figured it out quite yet, I thought this one was not great value for the money. The seated parade viewing was great (as long as you weren't in the back row) but the people sitting on the ground across from us had the same viewing for free.
Plus, we had to be there at 9:15 to get good seats and our food (they stopped serving at 10PM), which meant we were at the Halloween dessert party from 9:15 until the parade was over at 10:40. That's 1 1/2 hours of our five hours – not the best use of time or money!
That being said – I'd skip them both unless you absolutely need reserved seated parade viewing and even then, not my favorite use of time or money. If you want another opinion, my friend Kim wrote up full reviews of both parties!
#5 – Mickey's Trick and Treat Show
If you have young kids, you'll want to make sure to not miss Mickey's Trick and Treat show in the Disney Theater (right near the Animation Academy in Hollywood Land.
It's similar to the Disney Junior Dance Party with Mickey and Minnie having a fun dance party with the kiddos to celebrate Halloween. It's about a fifteen minute show that includes the dance party, story time, and candy given out at the end!
All of the kiddos in the theater seemed to love it, especially the dancing part!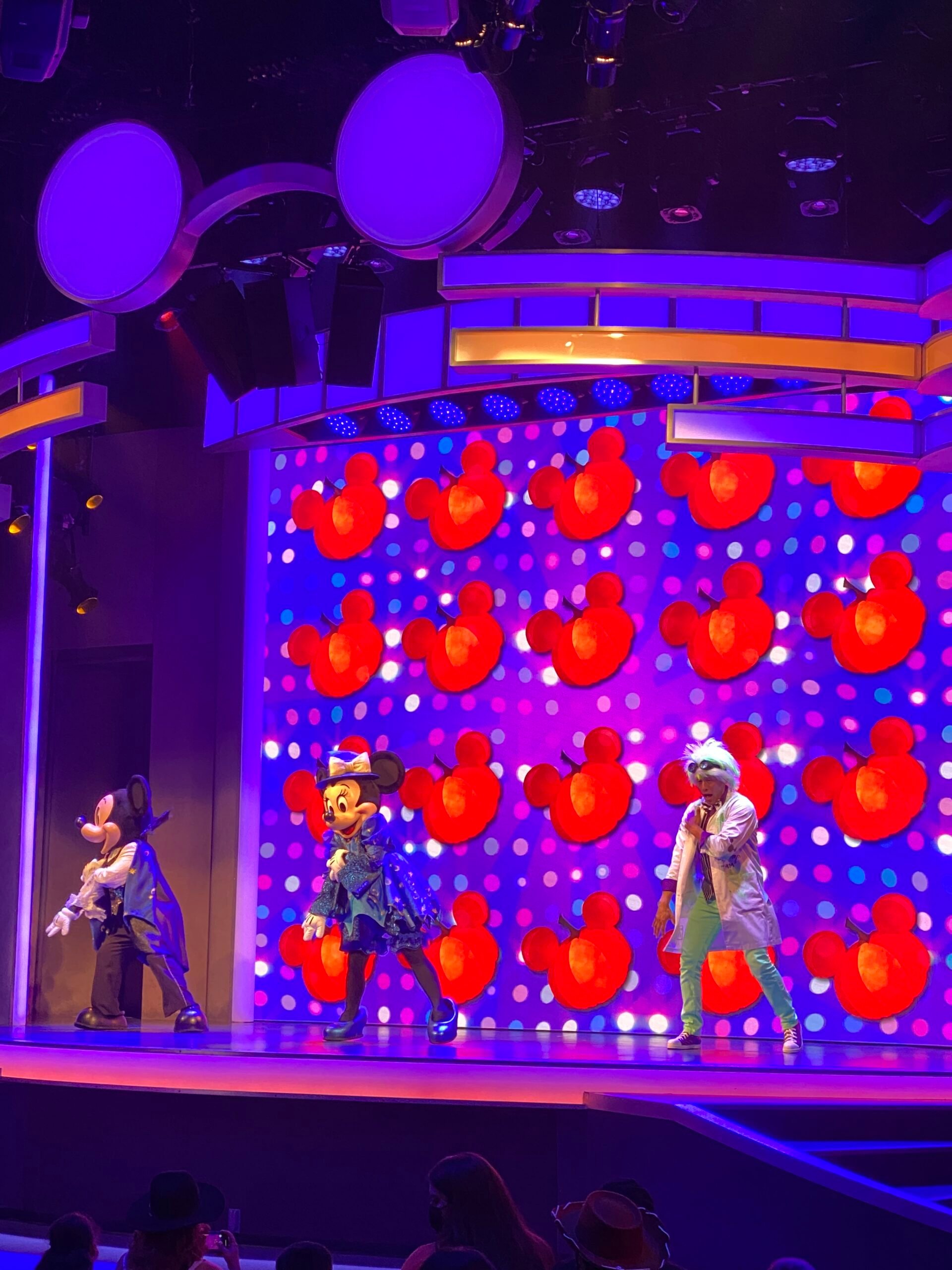 The show only plays a couple of times over the course of the party so if you want to do it, make sure to put it in your party lineup! They may change but for the night we went there were shows at 6:15 PM, 6:36PM, 7:35PM, 9:00PM, and 9:50PM. I wish they'd had a show sometime in the 8PM hour because the 7:35PM and the 9PM shows overlapped with other plans we already had and the parade.
#6 – Food and Drinks at Oogie Boogie Bash
If Oogie Boogie Bash is the only time that you're planning on visiting Disneyland Resort during their Halloween Time celebration, then you have a lot of Disneyland Halloween food options to try that are available all the time – and that's a post all on its own! But here's a glimpse at one of my favorites!
If you have more time at Disneyland Resort, there's only one single thing that is only available during the party – loaded fries at Flo's V8 Cafe. There are three different options to choose from and if you like fries, all of them are fine. Nothing special but fine. And my fries were served lukewarm, so there's that.
Your three options include:
Buffalo Chicken Fries – I tried these and they were underwhelming. I wished the chicken was cut into smaller pieces and wish the fries were fresher.
Loaded Gravy Fries – I didn't try these but have heard from others that they are also not great, especially when the fries aren't fresh.
Loaded Chili Fries – I didn't try these because of the green onions on top, but I have heard from others that they were pretty good if you like chili. Just make sure to eat them fast because the fries tend to get pretty soggy under the chili.
There are plenty of other food and beverage options available during the party – just nothing else that you can only get during the party.
Insider Tip!
Use mobile ordering during the party to avoid waiting in lines for food! I like to choose my mobile order windows as soon as I get into the park and then just pick them up throughout the night! If you're not near something when your mobile order window comes up, just choose another window!
#7 – Halloween Only Photo Opps
I mentioned it above but your party ticket comes with PhotoPass. Take advantage of it by checking out all of the photo opps throughout the parks. There was a cute Oogie Boogie Bash one right as soon as you walked in the gate, a Magic Key specific Hocus Pocus one by the Symphony Swings, and various other ones (like Headless Horseman) throughout the park!
Take advantage because those photo opps are only available then! There will likely also be other Halloween photo opps available that are during the day but if you're only doing the party, you should check those out too!
Oh and don't forget to dress up – dressing up for the party is half the fun! Disney does have pretty specific costume rules but as long as you know them ahead of time, you should be good! You can read their full costume rules here.
If you need ideas for the littlest party goers, these are some of the cutest Disney baby costumes I could find!
#8 – Oogie Boogie Bash Rides
A lot of the rides are open during the party, and it's a great time to ride them for two reasons – typically shorter lines than you'll see during the day (although some were pretty comparable to the daytime waits) and there are there are Halloween versions of the rides!
There are three specific rides that have Halloween versions – Luigi's, Mater's, and Guardians of the Galaxy. Luigi's and Mater's mostly just change up the music on the ride but Guardians of the Galaxy becomes a completely different storyline called Monsters After Dark. And it's awesome.
One note – Monsters After Dark is definitely a little scarier of a story-line so if you have kiddos who don't do well in the dark or not so scary monsters will scare them, maybe skip this one. The ride is all in the dark rather than lit like normal.
So if you're going to take the time to ride one ride, ride that one. It's a must-do, especially if you're a Guardians of the Galaxy fan.
Insider Tip!
Web Slingers: A Spider-Man Adventure is open to anyone during the party! It's normally only available to ride via virtual queue so the Oogie Boogie Bash is a great time to take advantage of being able to just walk up and ride! Maybe even more than one time!
Oogie Boogie Bash Tips & Tricks
After attending the very first Oogie Boogie Bash of the year, I have tons of tips for anyone attending the party this year. If there's something you want more information about, feel free to leave me a comment and I'll do my best to give you more info!
Time your entry. If you have a Magic Key or park ticket for the day, get into the park by 2:30PM. The line to get in at 3PM was insane, and they kept stopping people from getting into the park because the event check-in location line (right inside the front gates) was too long. If you can get in before 3PM, do it.
Skip the front gate check-in. Once you get in the gates, there are multiple event event check-in lines you can choose from – one at the front (that was crazy long), one at Blue Sky Cellar (near Sonoma Terrace) that was shorter, and one near the entrance from Grand California that was crazy short. Skip the front gate line and go somewhere else to get your wristband and trick or treat bag.
Do the villains grove during a parade. The villains grove will likely be the longest line you'll see all night long. Do it during whichever parade you are not going to watch since a good portion of guests will be watching the parade. We only waited for 10-15 minutes when we did it during the first parade compared to people who waited 30-60 minutes later.
Watch the late parade if possible. I know it's not great for families with younger kids but if you can watch the late parade, we found it to be less busy making seating much easier to find last minute.
Plan out your priorities. You don't have time to do it all. I did a lot and I was running around (and only did two rides). Pick your priorities ahead of time so that you can enjoy those things and anything else will be a bonus. Otherwise, the party will become stressful rather than fun! I also recommend planning out which showtimes, parades, etc. you'll do so you can go around the park with a plan!
Bring an extra bag. The small trick or treat bag that they give you when you check-in won't hold all of your treats from the treat trails if you do them all. I had to empty mine at least once, and I didn't even get to all of the trails.
Get a locker. If you're dressing up in costume and don't want to carry everything around with you, grab a locker right past the entrance near Mortimer's Market. They cost $7 for a small locker (one backpack) or $10 for a large locker. I loved being able to stash things in there during the party, especially because it was still so hot around 3PM.
Dress in layers. Speaking of the heat, California can be really hot during the day but it tends to cool down when the sun goes down. Dress in layers and store those layers in the lockers for when things cool down. Or you can also use it as an excuse to grab a new Oogie Boogie themed spirit jersey or sweatshirt!
Mobile order. I mentioned this before but it's important enough that I'm mentioning it again. Use the Disneyland app to mobile order as much of the food as you can. I saw so many people wasting time standing in lines for food when they could have been enjoying the festivities instead!
Make sure to check in for the event. When you check-in for the event, they will scan your party ticket and give you a wristband and a trick or treat bag. You must put on the wristband because cast members will be checking that throughout the party after 6PM. Anyone who does not have a wristband will not be allowed to do any of the rides, attractions, etc. and will be asked to leave the park.
Plan extra time for the parade. If you're doing the evening parade, try to get as much done before as possible. I had anticipated the parade only lasting 10-15 minutes but in reality it "started" around 10 with the headless horseman and we weren't able to get up and start going to other things until around 10:40PM.
Save money on park tickets. Make it a trip by adding park tickets and a day or two to the party! Save money by purchasing discount tickets through our favorite ticket partner Get Away Today. They always have deals going like right now if you buy a 4-day ticket, you get a free ticket added on!
Oogie Boogie Bash FAQs
Do I need a separate ticket for Oogie Boogie Bash?
Yes, yes, yes! Oogie Boogie Bash is an event that is totally separate from your park ticket. You need to buy a ticket just for the party and that ticket will get you into Disney's California Adventure at 3PM and allow you to stay until the end of the party at 11PM. If you're not planning on going into the parks prior to the party, you do not need a separate park ticket.
Do I need a reservation for Oogie Boogie Bash?
You do not need to make a theme park reservation for Oogie Boogie Bash. You will be able to get into the park with just your party ticket. If you are planning to go to the parks earlier, you will need a theme park reservation for the park you're planning to visit. You can get theme park reservations here.
How long is Oogie Boogie Bash?
Oogie Boogie Bash is five hours long. The party starts at 6PM and goes until 11PM. You can enter the park beginning at 3PM, but the actual party festivities do not start until 6PM. Use those extra three hours to enjoy some food, rides, shows, and character sightings that will not be available during the party hours.
How do I get Oogie Boogie Bash tickets?
Oogie Boogie Bash tickets for 2021 are sold out. If Disney releases more tickets or adds party dates for 2021 (unlikely), you can purchase tickets on the Disneyland website.
How much are Oogie Boogie Bash tickets?
Tickets vary based on the date that you are planning to attend. They started at $114 and went up to $169.
Do I have to wear a costume?
You do not have to wear a costume but many people do wear costumes or dress up in Halloween themed outfits. If you are planning to wear a costume, please make sure to read Disneyland's costume policy here.
Is Web Slingers open during Oogie Boogie Bash?
Yes, Web Slingers is open during Oogie Boogie Bash and does not require a virtual queue boarding pass! The virtual queue boarding pass boarding will end at 6PM with the party and anyone will be able to walk on and ride that has an Oogie Boogie Bash ticket!
More Disney planning Tips