IThis is a Sponsored post written by me on behalf of FrogTape. All opinions are 100% mine.
One of my favorite rooms in our house is our craft room, which also serves as our guest room. Since we don't have guests very often, we decided that it would be fun to go a little crazy with the colors to make it a place that I wanted to be and wanted to create. And when I say crazy, I mean bright and bold colors like hot pink, hot green, and black. When I bought these night stands at Ikea a few months ago, I knew we wanted to add some color to them and today's painted chevron night stand project was a perfect way to make them fit a little better into my bold colored room.
My craft room is still a work in progress so you'll have to wait to see pictures of them in my actual room. For now, just believe me, they're the perfect addition to the guest bedroom side of the room. And I love how easy they were to make. In the past, we've just used regular straight edge FrogTape® to create chevron stripes by cutting and laying the pieces out in a chevron style. For this project I
used 

FrogTape's Shape Tape in chevron, and it was so much easier! No more cutting little strips of tape to make perfect chevron designs. 
Here's how it works. First, cut pieces of the FrogTape® Shape Tape™and lay it down on the surface you'll be painting. Position them where you want them before you tape them down.
Next, peel off one piece of the backing on the tape and tape now. And yes, I said one piece. The FrogTape® Shape Tape™is actually designed with two pieces of backing on the tape so that you can peel off the first half, stick it down, position it correctly, and then peel off the other piece of backing. It's pretty brilliant if you ask me.
Once you have it taped down, use a hard flat object to rub along the lines of the tape just to make sure it's secure. Doing this, coupled with the PaintBlock® technology in the FrogTape® Shape Tape™,will help seal your paint in leaving the nice crisp lines you want. If you're not familiar with the PaintBlock® technology, it's a super absorbent polymer that reacts with the water in latex paint to create a perfect seal, preventing paint bleed. You can see another example of crisp lines from FrogTape® in the backdrop I designed for my
splatter and splash party
.
After your tape is down, paint your lines being careful to not overlap the tape.
Remove the FrogTape® Shape Tape™, making sure to remove it slowly and carefully so that you don't accidentally screw up your perfect lines because you pulled it off too fast. You want to remove it immediately after painting it and then let it dry tape free.
Once the tape is off, stand back and admire your beautiful new chevron painted side table that started as a boring white side table.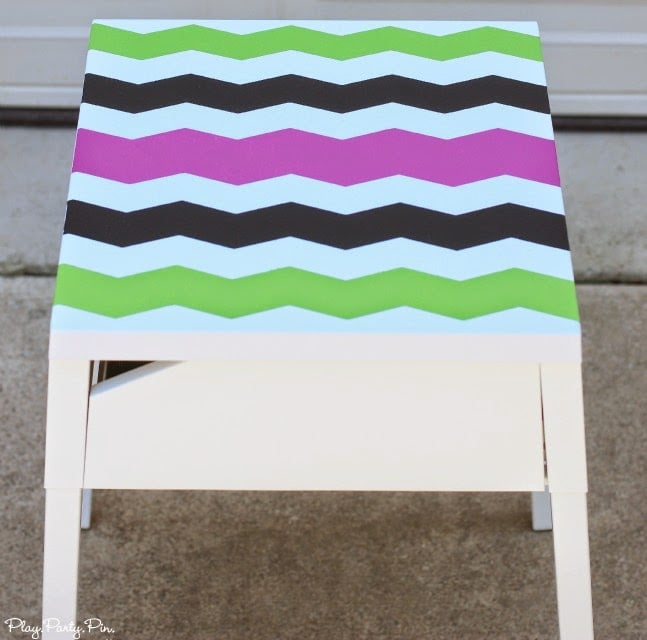 I love how our side table turned out. And if you want to add an extra pop of color, paint the drawer inside for a fun and colorful surprise every time you open it!
Want to make your own? You can find FrogTape® Shape Tape™at your local Walmart, Lowes, or Menard Stores. Find a location near you on
their website
and then connect with FrogTape® on Pinterest and Twitter for more creative ways to use the Shape Tape™  It comes in three different designs for your convenience – chevron, scalloped, and wave – and the possibilities for how to use it are endless.
What project would you most like to use FrogTape® Shape Tape™ for?