These Earth Day questions for students are great to use at home with your own kids or with students in a classroom. They're the perfect way to teach kids about Earth Day and talk about ways you can better the Earth as a family or classroom! Kids will love to answer these Earth Day questions and then make plans based on their answers!
Printable Questions for Kids
A couple of months ago my son got a pack of brain questions as his toy in a kids meal at our favorite fast food restaurant.
The next month when we went back to get more brain questions, they had changed the puzzle and riddle packs to a set of table talk questions – questions to ask around the table to get your kids talking like these ones.
That's where it started.
Ever since that first pack of questions, my son now associates eating dinner at the table with asking and answering questions together as a family.
Some days they are trivia questions about his favorite cartoon characters and some days it's just questions to distract him from the fact the TV isn't on.
In the past, I've done pillow talk cards for me and my husband but never even considered coming up with questions to ask kids.
So this time, I created these fun Earth Day questions for kids to do the same thing – get the kids talking about something they may not otherwise be that interested in.
Earth Day Questions for Students
These Earth Day questions are great to ask kids either at home or in the classroom – simply change the wording on the questions to work as Earth Day questions for students instead!
And honestly right now most kids are students doing distance learning so they're one and the same right now.
Some of these questions are trivia style questions and some of them are just talking questions.
Some of them are questions to get your kids opinions on what kind of things you can do to better our earth, giving you a chance to explain why we celebrate Earth Day at all. And to get ideas on ways to celebrate Earth Day next week!
I mean other than not driving, staying safe at home, and getting outdoors! Seems like the best way to celebrate Earth Day is what we're all already doing right now!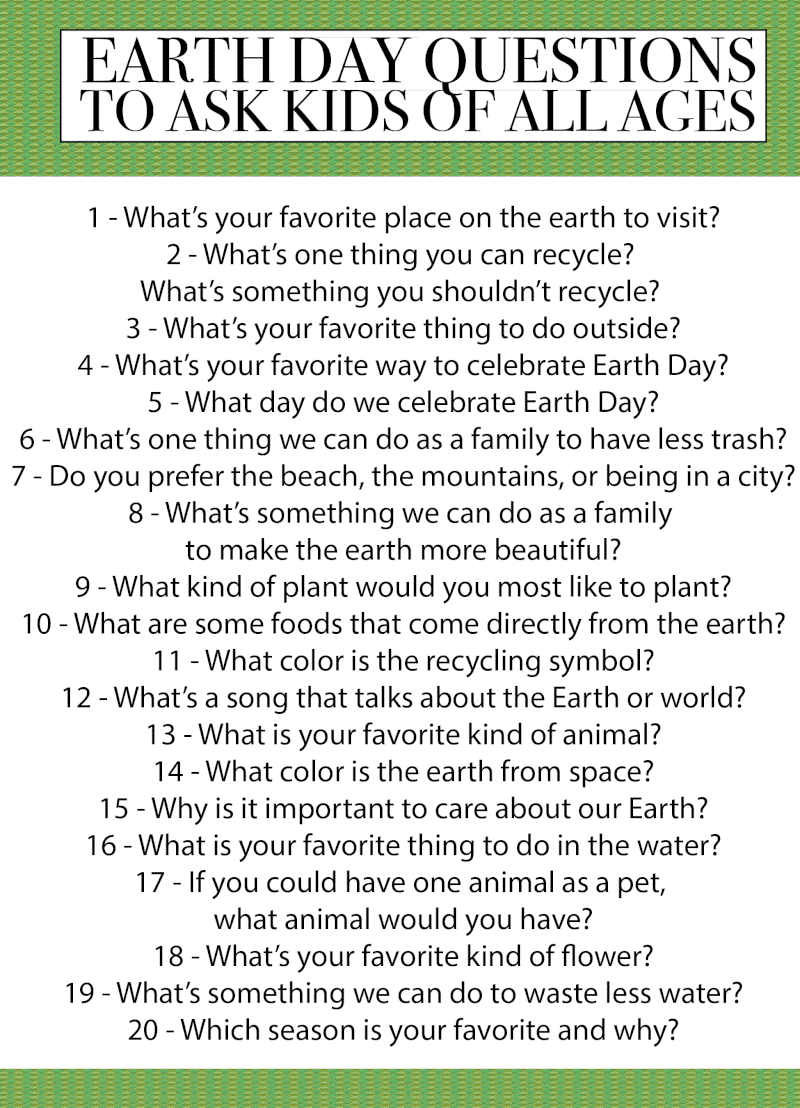 We went through this list of questions with my kiddo a few years ago, and it was so fun to see what my son said.
Kids are funny. He decided that we needed to plant flowers at our house to make the Earth prettier (and because everyone else in the neighborhood has them) and that he needs to take swimming lessons so he can enjoy the water more.
We've since planted flowers and he's taken swim lessons.
We are planning to ask these questions again this year now that we're in Kansas City and he's a bit older. I'm excited to see what answers he comes up with this year!
Download the Earth Day Questions for Kids
Enter your first name and email address to download the free printable list of Earth Day questions. You'll be taken directly to a PDF that you can print and receive a copy to your email inbox.
If the form isn't showing up below, click here to get to the form.
More Fun Activities for Kids
Need other fun things to do with your kids at home? Here are some of my favorite educational activity ideas!