Did you know that March 2nd is Dr. Seuss' birthday? If you're looking for fun ways to celebrate Dr. Seuss Day, look no further. I've got an entire list full of Dr. Seuss games, Dr. Seuss activities, Dr. Seuss coloring pages and more – all perfect for celebrating his big day!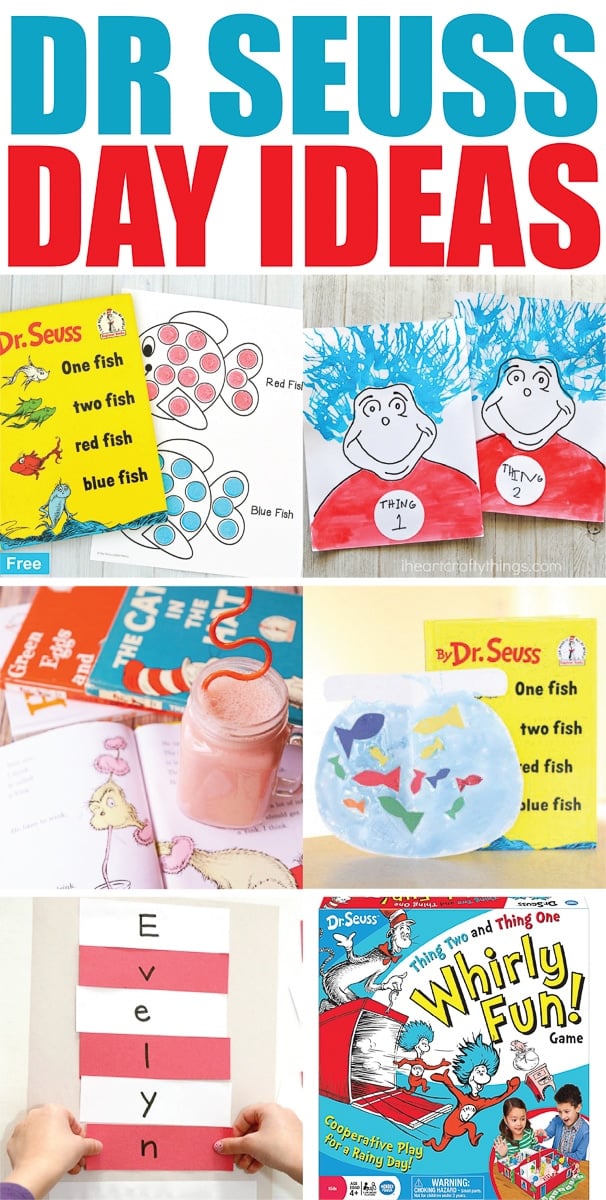 This post contains affiliate links. If you purchase via these links, I may receive a small commission at no additional cost to you.
If I had to pick a favorite children's book author it would be Dr. Seuss hands down. I mean, it's no secret after I've shared all of these scavenger hunt ideas that I like to rhyme.
And even more than I like to rhyme – I like to read books that rhyme. There's just something fun and whimsical about it that makes it even more fun to read! That's say a lot from someone who already loves to read.
When is Dr. Seuss' Birthday?
Before we get into the Dr Seuss Day games and activities, first let's answer the big question – when is Dr. Seuss' actual birthday? Dr. Seuss was born March 2, 1904. And every year people celebrate Dr. Seuss Day on March 2nd in honor of Dr. Seuss birthday!
Fun Ways to Celebrate Dr. Seuss Day
There are so many fun things you could do for Dr. Seuss Day! I've included just a few of my favorites below but if you use your imagination, you could easily come up with probably a million others.
Come up with a list of the places you'd like to go and read Oh, the Places You'll Go
Read one of your favorite books and do any of these reading activities with it
Drop off books on friends' doorsteps with a note or related treat
Play any of the Dr. Seuss games or activities below
Print out and color the Dr. Seuss coloring pages below
Dress up as your favorite Dr. Seuss characters like in these Thing 1 and Thing 2 shirts
Make these Dr. Seuss inspired gifts and give them to friends with these Dr. Seuss printables
Go to the library and read all the Dr. Seuss books you can
Draw your own Dr. Seuss book that's both colorful and whimsical
Watch a Dr. Seuss movie like The Lorax, How the Grinch Stole Christmas, or Horton Hears a Who
Dr. Seuss Games
Since you all know I love my games, I had to put together a list of Dr. Seuss games to play! These are some of my favorites from other bloggers as well as one of my son's all-time favorite Dr. Seuss inspired board games!
Click on the links below to get full instructions for each of the Dr. Seuss games!
See who can stack the most Yertle the Turtles in this stacking game from The Jersey Momma.
I can't tell you how many times I've played this If You Can Do It, I Can Do It game with my son. It's our favorite!
See who can put the things back in the box fastest with this easy game from Mad Crafts.
Play this pin the hat on the cat from Yago Pango for a dizzying good time!
Setup this cute One fish fishing booth using these instructions from The Podunk Library.
Play everyone's favorite game – Dr. Seuss inspired bingo – with these free printable cards from As They Grow Up.
This Thing One Thing Two Whirly Fun game looks like about as much fun as you could imagine to have!
Try out this fun Dr. Seuss inspired STEM game from Little Bins Little Hands to see who can stack the Cat's hats highest.
This game inspired by Green Eggs and Ham from The Frugal Navy Wife looks flipping fun!
This Hop on Pop Scotch from Obsuessed may be my favorite Dr. Seuss game ever!
Dr. Seuss Activities
If you don't want to play Dr. Seuss games or just want some other Dr. Seuss activities to do – I've got you covered! Here are some of the best Dr. Seuss foods, crafts, and more you can do as activities for Dr. Seuss Day!
Kids will love making these this Pink Ink Drink from Mom Endeavors and reading Cat in the Hat while they drink from crazy straws.
Make these green egg and ham treats in minutes with these simple directions from The Wilson World!
Print out these Red Fish Blue Fish dot painting sheets for a colorful activity with kids!
Read your favorite books then color these Dr. Seuss coloring pages inspired by those books!
Let kids make and paint their very own fish bowls with these simple instructions from I Can Teach My Child.
Setup a photo booth with these Dr. Seuss photo booth props for some fun Dr. Seuss inspired pictures!
Make these Thing 1 and Thing 2 blow paint pictures from I Heart Crafty Things! The hair is simply the cutest!
Let kids make their very own Cat in the Hat cupcakes! Recipe and directions here.
Make these Cat in the Hat name puzzles and put them together with your kids!
See who can make their Lorax the tallest in this fun stacking challenge from Preschool Steam.
Don't forget to pin these Dr. Seuss Day ideas for later!