Use these game day party ideas and free Super Bowl printables to make hosting a game day party as easy as running the ball into the end zone with no defense!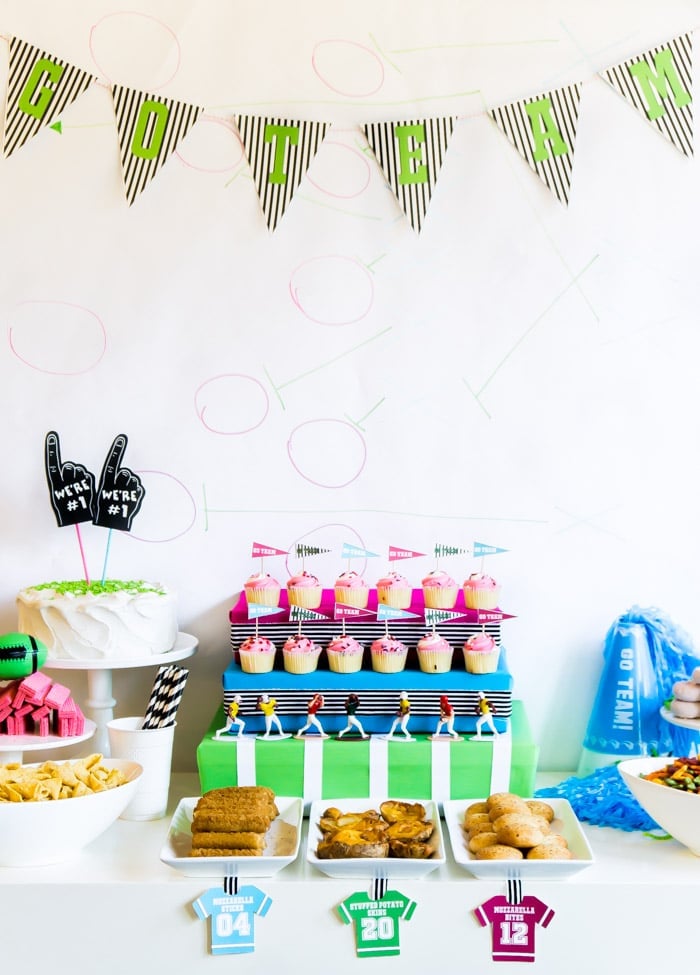 Super Bowl Party Ideas
Super Bowl is one of my favorite days of the year whether or not I actually like the teams playing!
These football party ideas would work for any football game during the game including a Super Bowl party!
Our party was entire families, but all of these ideas would work for just as adults too! They're perfect for hosting your very own Super Bowl party, even if it's just with your own family!
Super Bowl Party Printables
I tried my best to keep my game day party table simple. Instead of going for the traditional brown, green, and black and white colors – I went with bright and bold colors instead to show you how to setup a party table with any colors you want!
Have a favorite team playing in the big game? Make the table those colors instead or switch out my pink and blue with the colors of the whoever is playing. No need to stick with the boring brown and green of a standard football game. Go colorful or go home! The saying is something like that right?
2023 Super Bowl Party Printables
I created three different sets of printables – the colors shown in the photos and the colors for the teams in this year's Super Bowl! So if you're looking for Super Bowl printables for the Chiefs or Eagles, keep reading – they're at the very end of this post!
They'll look something like this!
I always try to create some sort of big visual in the center of my party tables, and this table was no different. In the center, I created bleachers with cheering cupcakes by wrapping gift boxes (like these ones) in colored fabric.
And that green box football field – that's just white ribbon added to give the illusion of a football field. You can get the free printable cupcake picks in the printable set toward the bottom of this post.
Printables are a great way to add a pop of color and fun to any party table!
Super Bowl Party Food
Front and center on my table, I laid out some of our favorite party snacks including things like pizza roll ups, homemade Chex mix, buffalo chicken pinwheels, and more.
Parties are already a lot of work so the cooking shouldn't be. I made some free printable food tags that look like jerseys you can download below to again add that pop of color and design!
I also included printables for three of America's favorite Super Bowl eats – chili (this white chicken chili is the best!), dip (hello the best spinach artichoke dip), and garlic parmesan wings!
I finished off the party table with a simple cake topped with cute foam hand toppers, a pyramid of pink wafer cookies, colored snack crackers, and Bugles that look like blow horns.
Everything on my table was simple, family-friendly, and delicious! And perfect for Super Bowl Sunday!
Game Day Party Decorations
Instead of going with the traditional football decorations like I did in this football party and the million I've hosted before, I went with more pops of color and black and white to keep things simple and fun.
Behind the table, I hung up a piece of white butcher paper with a colored football play drawn on. Across the top, I added a go team banner that finished off the look. You can get the free printable banner with the printables below!
On the table itself, I went with a variety of football icons – foam hands, football players, cheerleader pom poms, go team flags, jerseys, and more. I love how the printables really brought everything together in the design!
More Super Bowl Party Printables
If you like these free Super Bowl printables, make sure to check out these fun printable games!
Get the Free Super Bowl Party Printables
Enter your first name and email address below to get the free printables. These printables are all updated and ready to go for the 2023 Super Bowl between the Chiefs and Eagles!
The printable will come with:
Five pages of Chiefs printables – two pages with jerseys with popular food names, two pages with blank jerseys, and one page with Go Chiefs flags.
Five pages of Eagles printables – two pages with jerseys with popular food names, two pages with blank jerseys, and one page with Go Eagles flags.
One page of the printables in the colors shown in this post
A two page "Go Team" banner in the black and white + green shown in this post
Once you fill out the form, you'll be immediately taken to the PDF to download and receive a copy to your email shortly after.
If you can't see the form below, click here to get to the form to enter your info.