Try out one or all of these Easter egg game ideas for an eggxtremely fun Easter celebration! Perfect for hosting your very own Easter egg Olympics or holiday competition!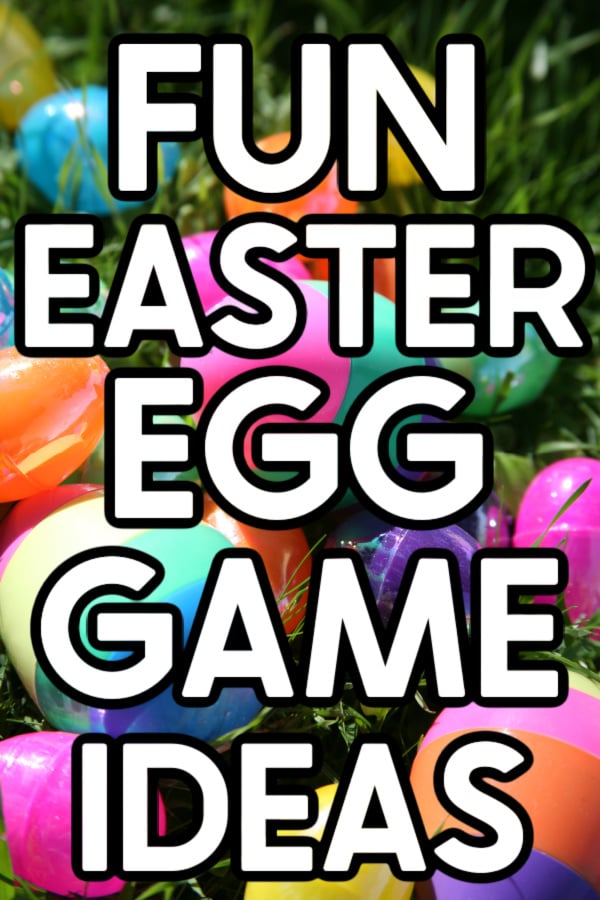 One of my favorite things to do is host a themed Olympics to play a bunch of different themed games. I did it with our candy cane game Olympics and again with our leprechaun games with these St. Patrick's Day games.
And this year I did an Easter egg Olympics with a bunch of different Easter egg games!
Individuals competed in each of the Easter activities and earned points per game. At the end the person with the most points won a gold egg filled with treats, second place earned a white (silver) egg, and third place earned a yellow (bronze) egg!
I love doing things like so much because it gets everyone involved from the kids to grandparents!
Plus, if you do a whole host of events, it gives everyone a better chance of winning something! Want it to be even more fair? Split your group up into teams that have different ages across the teams!
Easter Egg Game Olympics
I've put together everything you need to have your own Easter egg Olympics at home!
Start by selecting how many games out of these you want to play. I recommend making sure everyone knows how many games you're playing before you get started so people know when the end is near!
Create a scorecard to keep track of individual points (tips on scoring at the bottom of this post) so that people can see who is in the lead the whole way!
You can either have individuals play all of these games (and give out points per game) or if you have a group of more than six people playing, I recommend breaking into teams of four people so that the games aren't too crowded.
1 – Spin Cycle
Give everyone a different colored (or patterned) plastic Easter egg and have everyone stand around a table with their Easter egg.
When you say go, everyone has to spin their egg on the table. If at any point the egg stops spinning or falls off the table, they're out.
It's okay if the egg falls to its side and keeps spinning – as long as it's spinning, the egg is still in! Also okay if eggs hit each other – it just adds to the fun of the game!
The last person whose egg is spinning wins and is out for the next round. Play three total rounds to get a 1, 2, and 3rd round winner.
2 – Eggput
Give everyone a clean plastic egg (ideally one with a hinge so if it breaks, it goes to gether) and create a line on one side of the yard.
Players take turns spitting the Easter egg out of their mouth as far as they can, like a shot-put. They can run, jump, or do whatever they want as long as they don't cross the line. Each person gets one shot and the points are awarded based on whose egg went the furthest.
3 – Basket Bounce
Unless you have the exact same Easter basket for everyone, this game should be played with one person going at a time to make sure the are using the same Easter basket.
To play, players must bounce the Easter egg on the bottom of the Easter basket up in the air as many times as possible in a row as they can. If they have to catch the egg or they drop it, they're done.
Points are awarded to whoever can bounce it the highest number of times. If there's a tie, have a tie bounce off.
4 – Egghead
The rules of this game are simple – keep the egg on your head!
Players stand in different corners of a room (you need walls to keep people near enough to each other) and balance a plastic egg on their head. If balancing a full egg is too difficult, they can balance just the pointy side of an egg.
Everyone is given a basket of plastic Easter eggs and when you say go, players have to toss Easter eggs at each other trying to get the other people to drop their Easter egg.
Once someone's egg falls off their head, they're out and cannot continue playing. This game goes fairly quick so like the spin cycle game, play multiple rounds and the winner of each round wins points and no longer players subsequent rounds.
5 – Easter Egg Roll
It's an Easter egg game Olympics so I had to include a traditional Easter egg roll in there! Give everyone a plastic Easter egg and a spoon. Have everyone stand at one side of the yard and tape or create a line at the other side of the yard.
When you say go, players must use just the spoon to roll their Easter egg across the grass to the line and then back again to the starting line. Award points to the top three finishers.
6 – Crack Up
Give everyone playing a plastic Easter egg with an individual piece of wrapped Easter candy inside – I recommend a Starburst.
When you say go, players must crack open the Easter egg, unwrap the candy, and eat the candy (show you their empty mouth) with their hands behind their back. Award points to the first three to complete the task.
7 – Easter Memory
Unlike this Easter memory game, this game is more about mental wits than about just matching memory cards. Start by placing ten Easter eggs in a random pattern and then covering it with a box (don't let players see).
Give everyone ten Easter eggs that match the colors of the ones you used for your pattern. To play, lift the box and let everyone study the eggs under the box for 20 seconds. Then replace the box over the eggs.
Everyone has 20 seconds to order their eggs to try and match the ones they saw in the box. After the 20 seconds, anyone who does it correctly stays in and anyone else is out.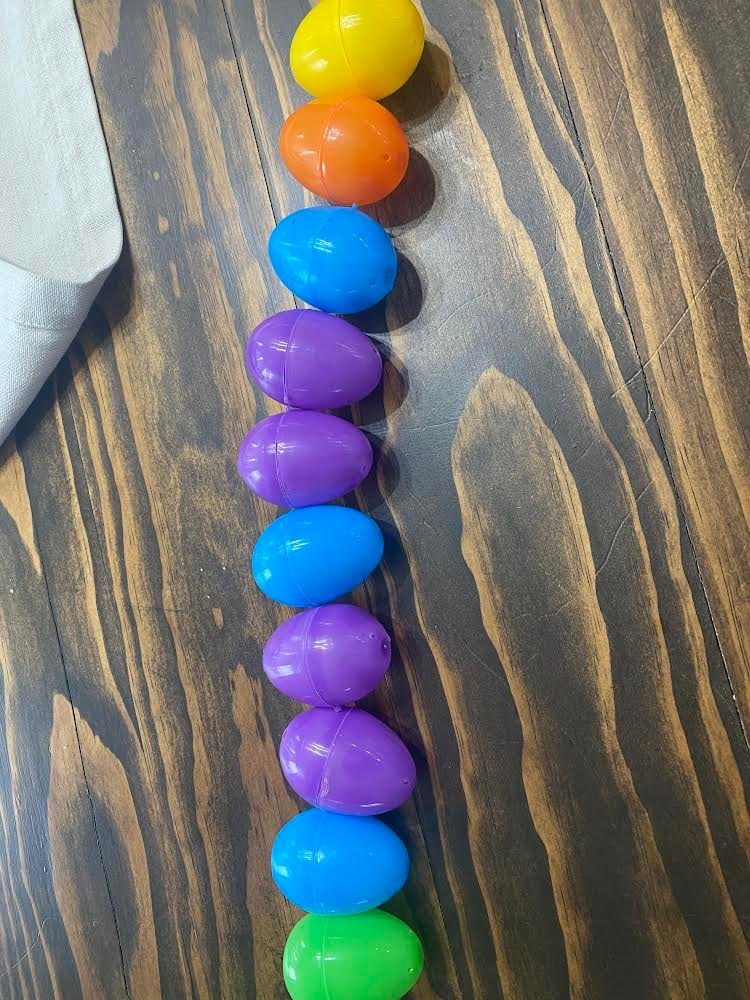 Rearrange the eggs under the box and then do this again but this time only let them study it for 10 seconds. (They still have 20 seconds to place their eggs).
Keep playing with decreased amounts of time to study the eggs until one person is left standing. Award points to the last three who were left in the game.
8 – Basket Eggs
Set out an empty Easter basket at one end of the room. Have players stand at the other end of the room and give each of them ten plastic eggs.
To play, players must toss the Easter eggs into the basket on the other side of the room. Award points to the players who make the most eggs into the basket.
How to Score
You can score in a couple of different ways depending on how many people you have playing. I've explained the three main ways we typically use below but feel free to come up with your own as well!
One point per competition – if you are broken into just two teams, give one point to the team that wins the game! The team with the most points at the end wins.
Points per place – for each game, have a 1st, 2nd, and 3rd place winner. First place wins 5 points, second place wins 3 points, and 3rd place wins 1 point. Highest total points at the end of the Olympics wins!
Points per team – for this one, each team would win points each competition depending on where they finish in the lineup. Points are awarded based on how people finish each event. So for example if you have eight players, the person who finishes first would win 8 points, person who gets second would win 7 points, and so on all the way down to 1 point. Add up total points at the end to get a winner.
Easter Egg Game FAQs
Do you have any more Easter egg games?
If you want more games to add to your Olympics, check out this post with other Easter games. There are a handful of Easter egg games in that post that would work great to complement these games!
What was in the prize eggs?
I bought jumbo eggs and filled the winning eggs with fun Easter themed gifts like golden coins, Easter candy, and a small gift card to a local cookie company. You could really fill them with anything you want!
More Fun Easter Games
If you want even more fun Easter activities, check out these fun holiday ideas!