This fun Easter egg scavenger hunt will have kids hunting for different types of Easter eggs, not just as many as they can find! It's the perfect change to a traditional Easter egg hunt and an Easter activity that kids will love!
This post contains affiliate links. If you purchase via these links, I may receive a small commission at no additional cost to you.
I have a 7-year-old who is always craving something new, something different, and something fun. Good thing that's what this blog is for because not only do I get to get some work done, we get to do fun things that I come up with!
It's a total win-win over here. He's happy, I'm happy, and you all are happy because I get to share my fun Easter activities with you!
This Easter egg scavenger hunt isn't the kind that has clues that you follow around. If you want one of those, here's a great Easter scavenger hunt you can use!
This is a hunt, kind of like this alphabet scavenger hunt, where kids (or adults) have to try and find all of the Easter eggs listed on the scavenger hunt. You could call it an Easter egg seek and find.
Me and my family? We just call it fun! And one of our favorite Easter egg hunt ideas!
You can either do this egg hunt as a fun activity in addition to a typical Easter egg hunt or do it instead! We are planning to do them both since we can't do our typical Easter egg hunt with cousins this year.
Just a way to brighten up an otherwise very weird Easter. All of my boys loved this activity, although I think the baby might've just liked playing with the eggs!
Easter Egg Scavenger Hunt Supplies
There are two different ways you can do this hunt, and I've included printable scavenger hunt cards for both.
The first is to use the pre-made card that includes a bunch of different types of pre-determined eggs. If you're using those pre-made cards, here's what you'll need for this Easter egg scavenger hunt!
Make sure you have one of these for every child who will be playing OR just have a variety of them hidden – just realize that not everyone is going to find everything on the card. And that's okay if that's how you want to do it!
The other thing to note is that some of the things on the card might double up on eggs (for instance there might be money in a blue egg), so I do recommend having a few extra eggs hidden OR letting them cross off multiple things at once if there are eggs that match more than one characteristic.
Printable scavenger hunt card (get it at the bottom of this post)
Pink egg
Blue egg
Green egg
Yellow egg
Purple egg
White egg
Golden egg (I like these ones)
Egg with money inside
Egg with chocolate inside
An egg in an egg (you could put another plastic egg in it, but we just chocolate eggs inside!)
Animal egg (I like these ones)
Patterned eggs (these ones are fun!)
Jumbo egg (just something bigger than your regular egg)
Mini egg (I ordered these ones, they're great "mini eggs)
Candy or prizes to put in the eggs OR a prize to give to each kid who completes the card at the end
Pen or marker per person, dry erase if you laminate the cards
There's also a blank Easter egg scavenger hunt card you can use where you can write in your own eggs to find. You could write on the eggs, use colored eggs, add stickers, draw patterns, whatever you want. This works well if you don't happen to have the variety of eggs on the card above.
Just make whatever you have at home work. And stock up on cheap clearance eggs after Easter to try the more complex version mentioned above next year!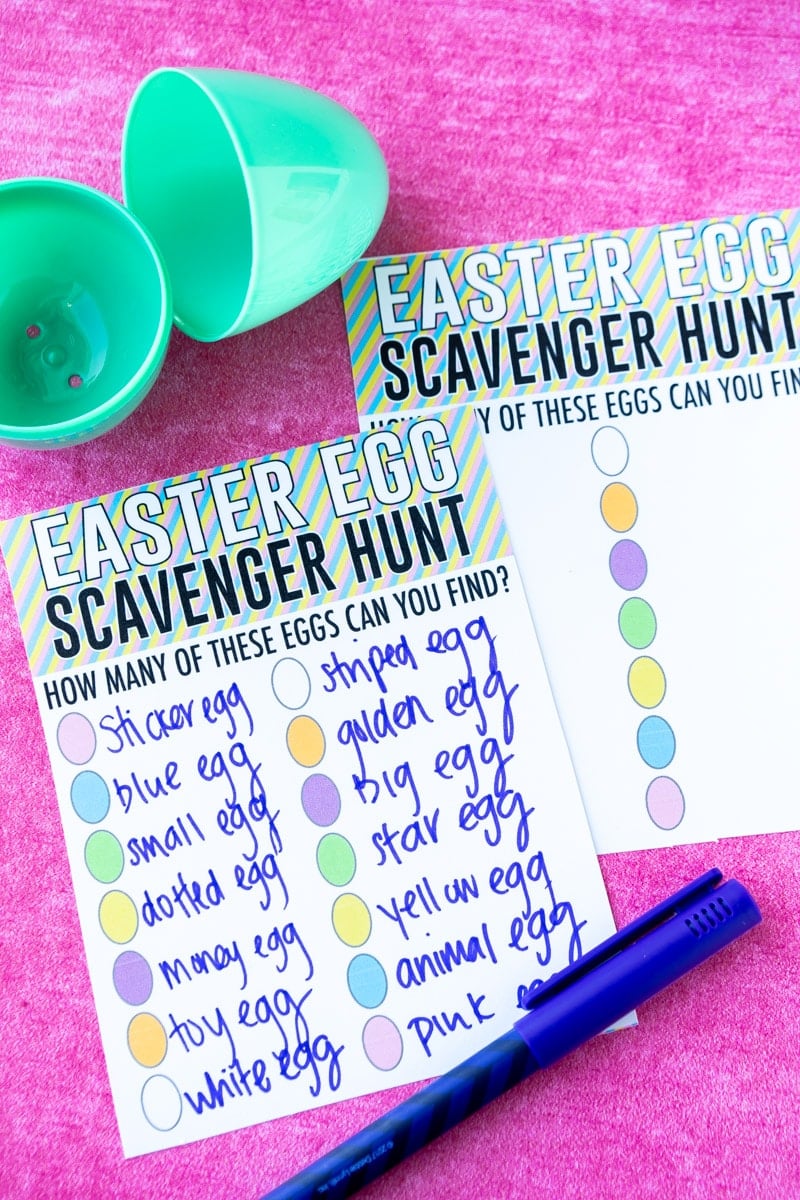 How to Do an Easter Egg Scavenger Hunt
Setting up your hunt is as easy as 1-2-3. Okay, 1-2-3-4 if you count printing the cards out as a step!
1 – Print out your scavenger hunt cards.
Print out whichever scavenger hunt cards you need (pre-made or blank). If you think you'll use them again, I always recommend printing on card stock then laminating. Kids can use dry erase markers to mark them off as they go.
2 – Fill your eggs.
Fill your eggs with treats, prizes, money, and other things that you know your kids would like.
Or alternately, you could just not fill them and have them find the eggs then trade all of the found eggs in for a little bit larger prize at the end.
This option works well if you're planning to do a regular Easter egg hunt sometime as well!
3 – Hide your eggs.
Hide the eggs. Unlike a typical Easter egg hunt, you could hide them a little easier since the goal is to find all of the different types of eggs – not just as many eggs as possible.
Hide them based on the age and seeking skill level of whoever is going to be doing the searching.
4 – Let the Easter egg scavenger hunt begin!
Give everyone a printable Easter egg scavenger hunt card, pen, and basket. Then let the hunt begin!
As they find an egg that matches the description on the card, they put it in their basket and mark it off their list!
Once they fill their card, they can bring back all the eggs and enjoy what's inside or trade all of the empty eggs (if that's the route you went) for a little bigger prize!
More Fun Easter Games
Download the Printable
Enter your first name and email address in the form below to get the printable PDF. You will receive a link to download the PDF to your email within minutes.
If you'd rather not provide your email, you can get a copy in my shop here.
If you do not see the form, click here to get to it.
f you do not see the email immediately after you fill out the form, make sure to check your promotions, spam, and junk folders!
The file will include:
Pre-filled Easter egg scavenger hunt (the one you see below)
Blank Easter egg scavenger hunt (to create your own)
Instructions