The ultimate list of Easter party games and Easter activities for kids, adults, and all ages in between! With everything from Easter coloring pages to religious Easter activities, there's something for everyone and every occasion! Perfect for your annual Easter egg roll, Easter egg hunt, or even just Easter Sunday!
There is so much to love about Easter from Easter egg hunts to spending time with family! And I'm all about doing all of the Easter activities we can!
To help plan out your Easter celebrations, I put together tons of craft ideas, fun Easter games, printable worksheets, church aka religious activities, and more!
It's everything you'll need for the ultimate Easter extravaganza! Well except the Easter recipes but that's a post for another day!
There are ideas here that would work well no matter what age from toddler to kindergarten, middle school, and even an entire Sunday school class! Just pick and choose what works best for you and start playing !
Easter Party Games
Since I love my party games, I'm going to start with Easter party games. These games are best for groups or for a family who wants something a bit more active and engaged! An example would be my super popular Easter minute to win it games!
Easter Minute to Win It Games
These spring and Easter games from Play Party Plan will have your family and friends trying to beat the clock to complete all sorts of tasks with jelly beans, flowers, and more!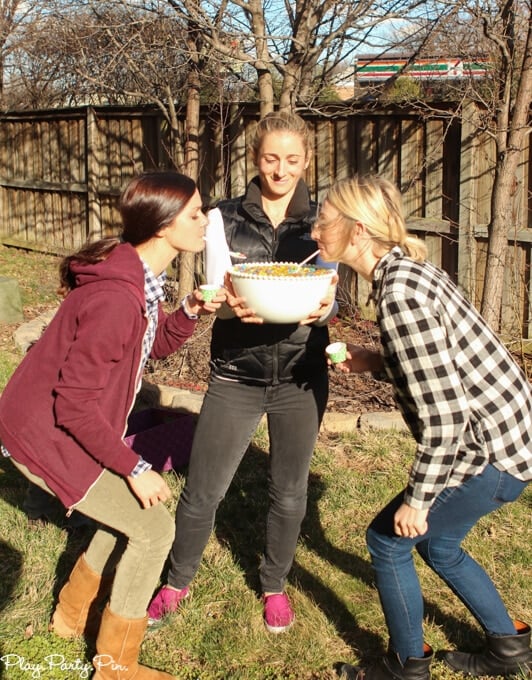 Easter Egg Hunts
Try out any of these unique Easter egg hunt ideas – the golden ticket one is a family favorite, but this year the blindfolded Easter egg hunt was the true winner!
Easter Egg Hunt Clues
Hide eggs in the location that these Easter egg hunt clues lead to and then see who can find the egg the fastest once you read the clue out loud!
There are over 50 different clues that can be used for egg hunts, scavenger hunts, and more!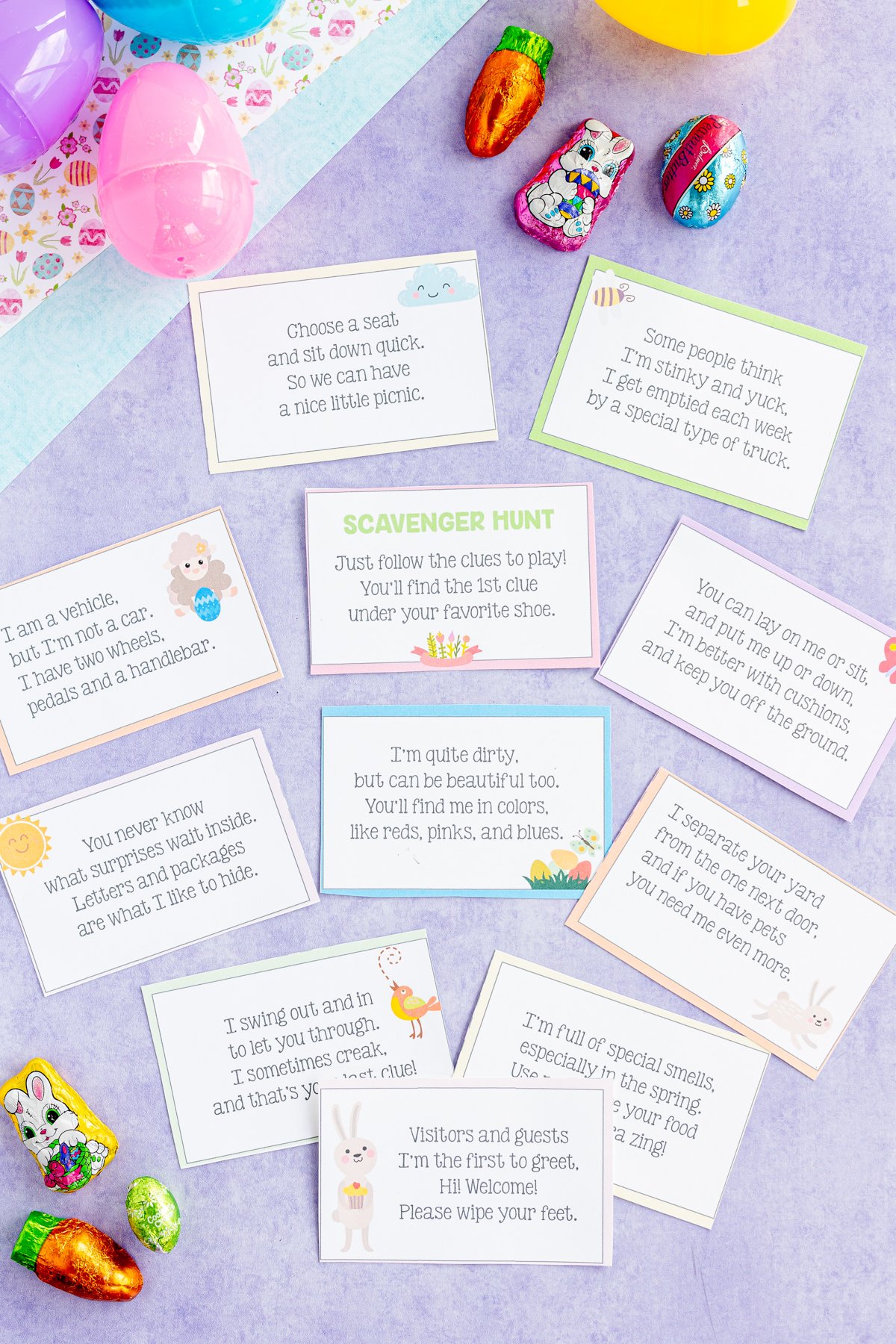 Easter Egg Olympics
Grab a bunch of plastic Easter eggs and some players for the ultimate Easter egg competition! Eight events, three winners, and a whole lot of fun! Check out the Easter egg games here!
Easter Dice Game
Roll the dice to see which egg you'll end up with (or not) in this fun Easter dice game! This one is great for kids, teens, and adults! The perfect Easter family activity!
Flour Egg Toss
There's a reason this idea is going viral on TikTok – it's like a water balloon toss only with eggs filled with flour! Get all the details with these other Easter games!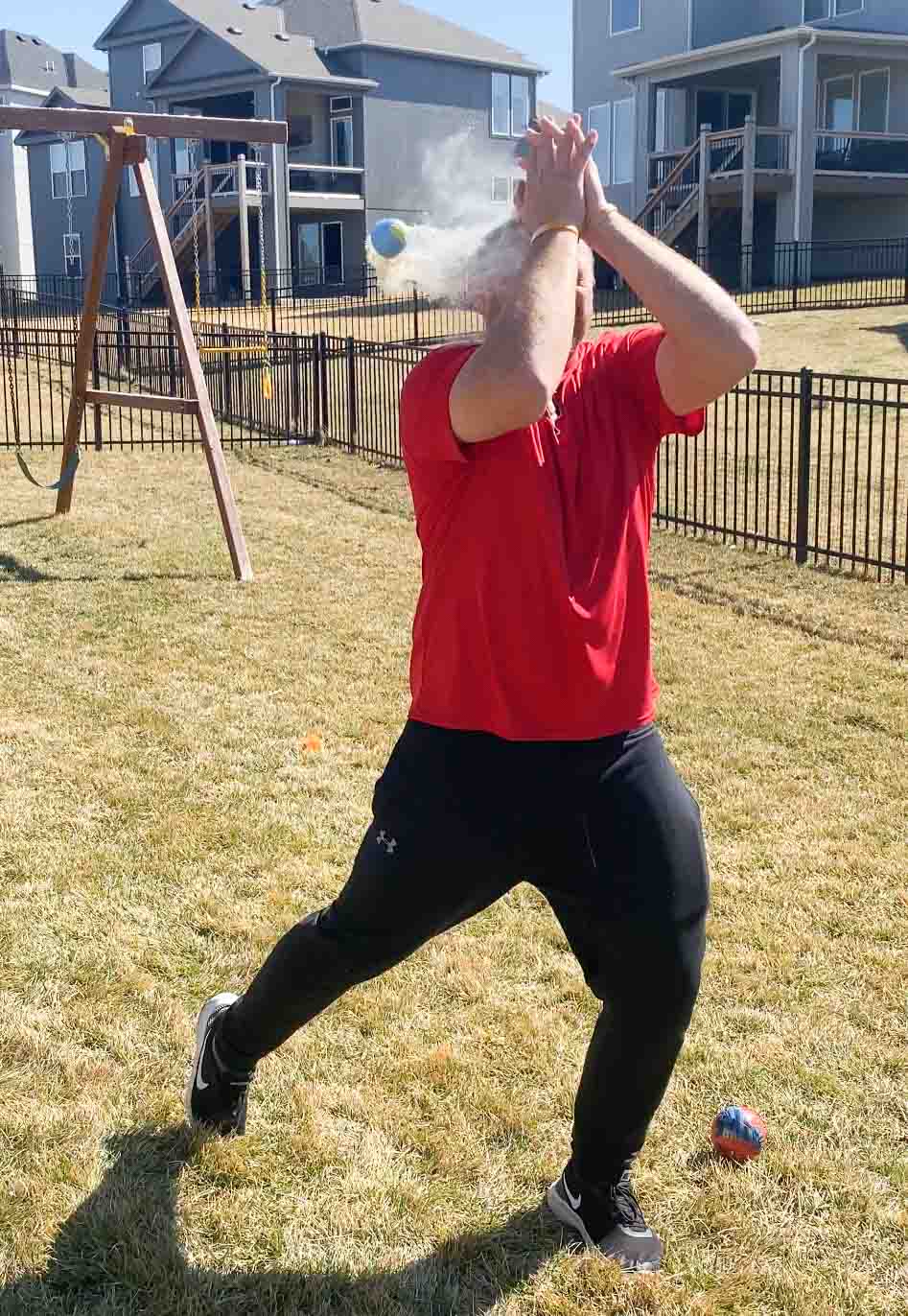 Bunny Sack Race
Change up the normal potato sack race and make it a bunny sack race in this fun and active idea from Crazy Wonderful!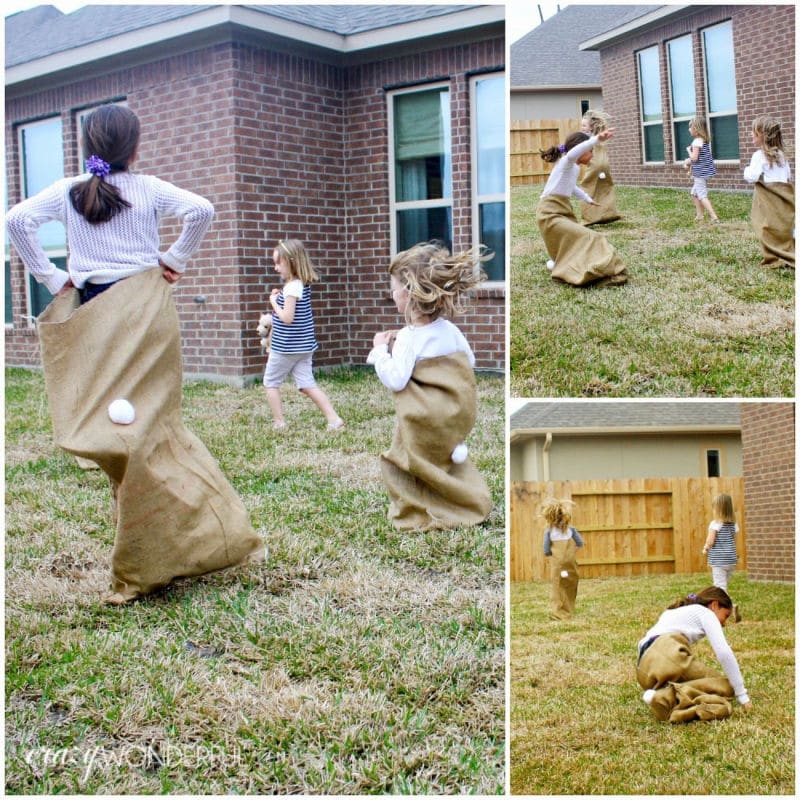 Making Gummy Eggs
Make these DIY gummy eggs then play games with them – like who can find the matching candies inside, find the empty egg, etc. Plus, they're easy to make the kids can help!
Pin the Egg on the Bunny
You're never too old for a little pin the egg on the bunny game! Great for kids or adults – simply spin a few more times!
Egg and Spoon Race
Looking for something to get everyone moving? This egg and spoon race is color coordinated and perfect for burning off a little energy from all that candy!
And if it won't get to you before Easter, simply make one on your own with wooden spoons and plastic Easter eggs! Easy peasy!
Easter Balloon Race
Players have to race with inflatable eggs (aka) balloons across the yard in this fun game idea from Kitty Groups!
Easter Egg Toss
A bean bag toss isn't just for kids! See who can toss eggs through the holes in this Easter egg scene!
Chicken Drop Game
This chicken drop game from Must Run in the Family reminds me a lot of one of my 12 days of Christmas games! It's both challenging, hilarious, and fun!
Easter Activities for Kids
Unlike the Easter party games above, these Easter activities are designed just for kids. They're worth checking out for adults, seniors, and teens as well (just tweak a bit) but mostly they're designed to be fun and easy for kids!
Carrot Patch Easter Match
See who can find the match an egg first in this candy filled Easter game from Play Party Plan. Or try one of the other Easter games that include the free printable Easter stickers in this post!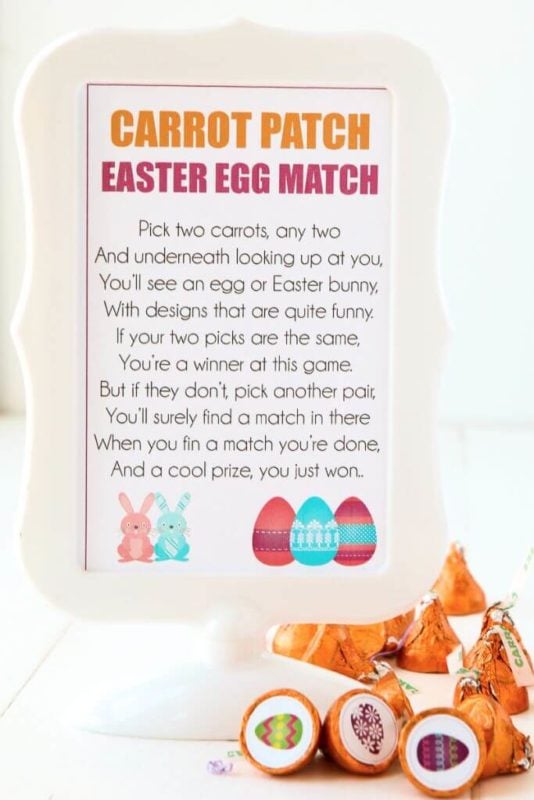 Easter Lego Challenge
See how many of these fun Easter inspired Lego creations you can make with this Easter Lego challenge from Play Party Plan.
DIY Butterfly Gardens
Kids will love making these tissue paper butterflies and adding them to their very own painted garden! This is a great activity that lets kids be colorful, creative, and crafty!
Bunny Ear Toss
This inflatable bunny Easter ring toss would be perfect to have around to play with little supervision! Just let the kids see how many bunnies they can ring!
Wobbly Egg Bowling
Mix up a regular bowling game with this wobbly egg bowling game from and next comes! Looks a little easier than my pumpkin bowling!
Easter Go Fish
This Easter Go Fish game is a fun Easter themed alternative on a classic favorite!
Peeps Catapult
This Peeps-Catapult activity from One Mommy is one of those that doesn't fit into a category above, but it sure looks fun! Use these DIY instructions to create a catapult to shoot Peeps marshmallows into a bucket!
Easter Science Experiment
Want an Easter themed science experiment? Check out this idea from Jamonkey to see how to create your own bouncing Easter eggs.
Easter Stacking STEM Game
This Easter egg towers game from Resourceful Mommy is another fun one to work on STEM and motor skills.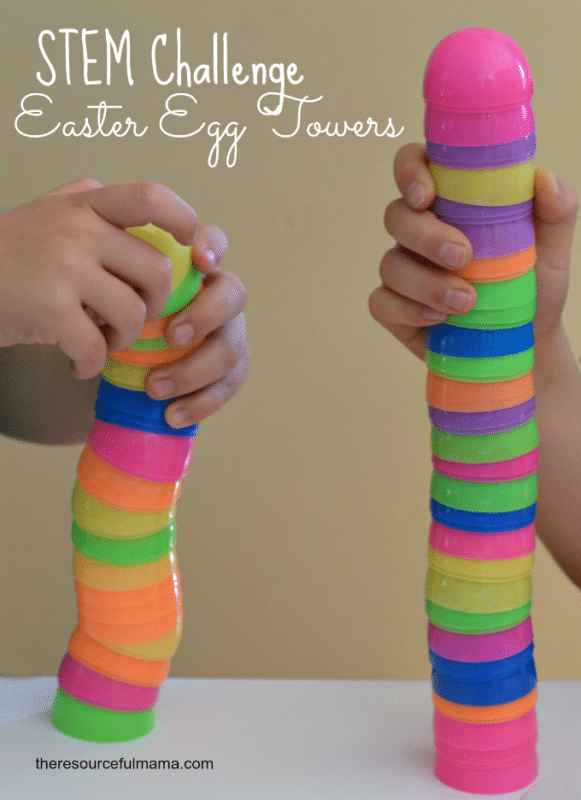 Printable Easter Games & Activities
These Easter activities are ones you can print out and play. They might fall into the Easter party games or Easter activities for kids categories above as well but if they're printable Easter activities, I put them here!
Easter Bingo
Let's start off with a Play Party Plan favorite – these darling Easter bingo cards! Get up to 40 unique cards here then just print and play!
Easter Candy Bingo
Want to do something other than traditional Easter bingo? Try this Easter candy bingo game as an alternative instead.
Easter Scavenger Hunt
Want a fun way to lead kids to Easter baskets on Sunday morning? Try this Easter scavenger hunt from Play Party Plan!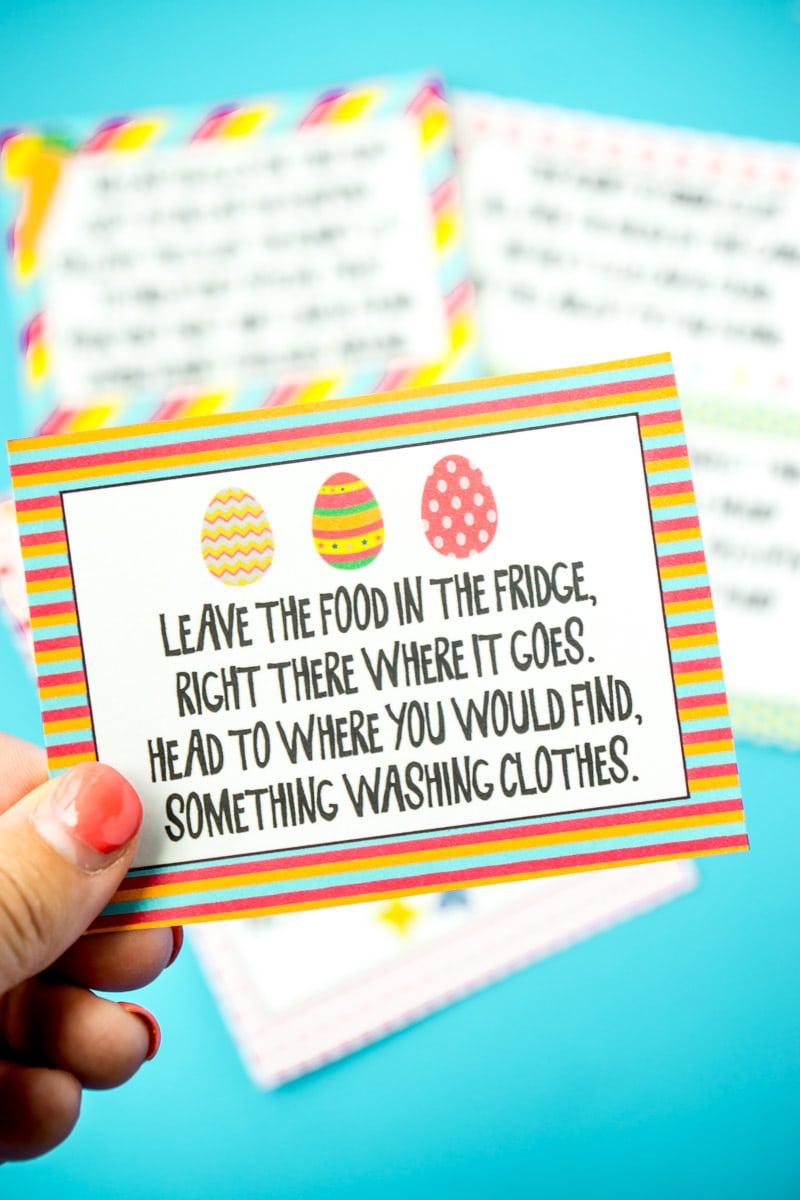 Easter Basket Hunt
Or if you want one that is specific to finding an Easter basket (not just Easter themed), this Easter basket scavenger hunt is fun too!
Easter Egg Scavenger Hunt
Or how about seeing who can find certain type of Easter eggs in this fun Easter egg scavenger hunt from Play Party Plan!
Easter Bunny Hunt
Let's just keep the Easter hunts going with this fun Easter bunny hunt activity! Hide Easter bunnies all around and see who can find one to win a prize! It's fast, it's easy, and it's so fun!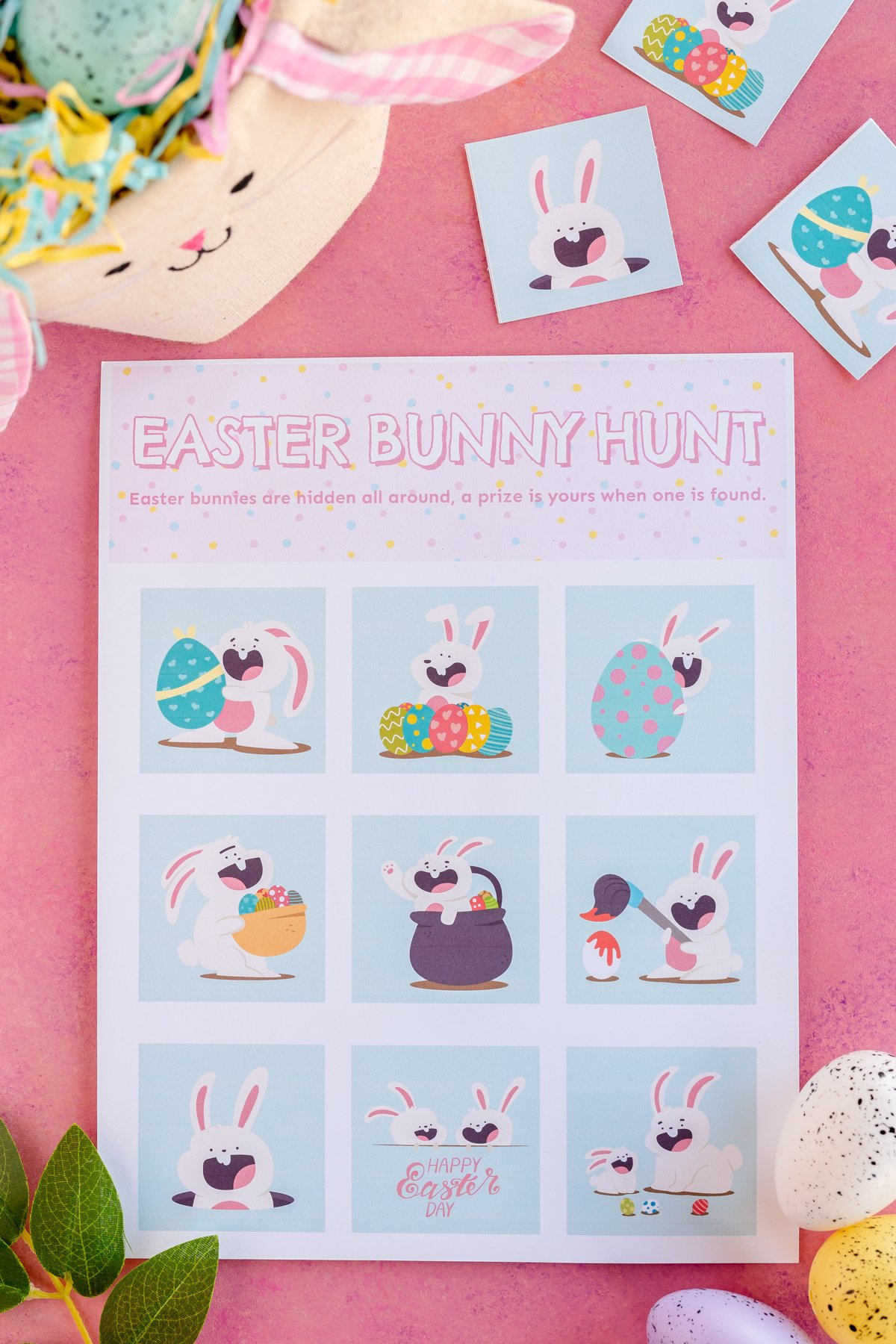 Texting Egg Hunt for Teens
Split a group of teens in half and do this fun Easter egg hunt idea for teens! One group of teens finds clues that lead to the other group's eggs and so on!
Get all of the clues and instructions for one of the best Easter egg hunt ideas for teens!
Easter Memory
See who can find the most matches in this printable Easter memory game from Play Party Plan! You could even put these into eggs if you wanted and try my egg version of Easter matching here!
Easter i-Spy
This printable Easter i-Spy is perfect for kids who love searching for things! Simply see who can find all the images on the page!
Easter Word Search
Or if you'd rather search for words than images, this Easter word search is a great option too! Plus, it comes with both an easier search for kids and a more challenging one for teens and adults!
Easter Coloring Pages
Give kids these Easter coloring pages plus art supplies in their Easter basket or put the coloring pages on a kids table for easy entertainment!
Easter Placemats
Want something to make your Easter table a little more festive? These printable Easter placemats from Savvy Mom Lifestyle are the perfect way to add a little entertainment to your Easter table!
Easter Word Scramble
See how many words you can figure out in this printable Easter word scramble from Productive Pete!
Easter Tic Tac Toe
This Easter tic tac toe printable from Pleat and Pom would be a great option for breaking out the week of Easter!
Easter Joke Tellers
These printable Easter joke tellers are a fun for both kids and adults – kind of remind me of the fortune tellers we used back in the day!
Want all sorts of printable Easter games in one place? Click here or the image below to get the Easter game bundle with TWELVE
Religious Easter Activities
The reason we celebrate Easter is Christ, so it only makes sense to include a category of Easter activities that focus more on Christ and religion. They're still fun (of course!) but they're religious in nature.
Christ Aid Kits
Another fun idea would be to put together these Christ Aid Kits (with the listed goodies inside) and deliver them to friends and family in the neighborhood!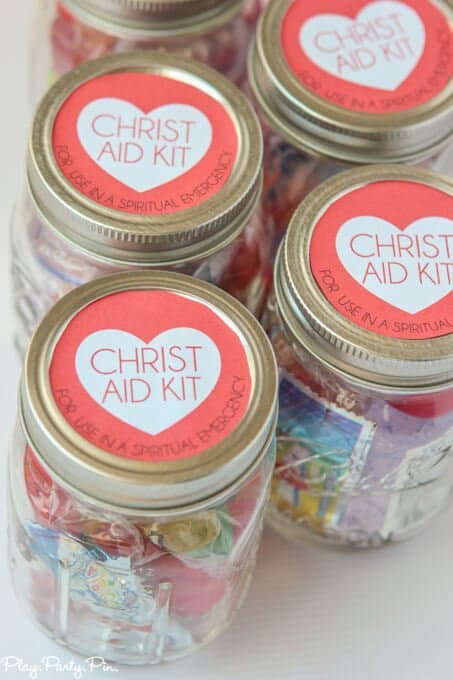 Easter Puzzle Hunt
This puzzle hunt idea from Make the Best of Everything is a great way to incorporate a religious theme into an Easter scavenger hunt!
Easter Jeopardy
This Easter Jeopardy game is a fun way to talk about why we celebrate Easter!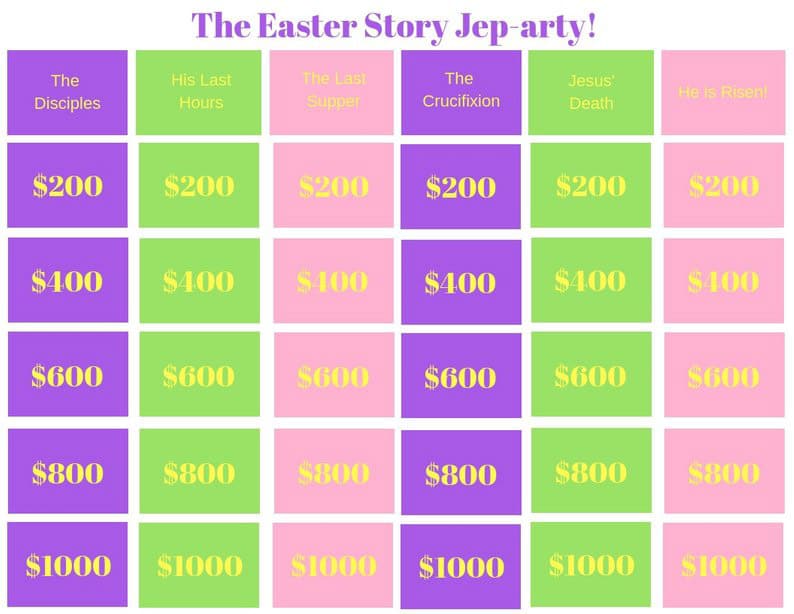 Easter Bible Bingo
This Easter Bible Bingo combines a religious element with the fun of a classic bingo game!
Resurrection Eggs
Open up these resurrection eggs as a family and talk about the story of Easter!
Right or Left Easter Poem
This right or left Easter poem from Diva Girl Parties would be perfect if everyone brought an Easter egg filled with a surprise to share!
Religious Easter Basket Hunt
This Christ centered Easter basket hunt from Feels Like Home is a great way to remind your kids it's not all about the Easter basket!