These Halloween truth or dare questions will have the entire room laughing and excited to see what's next! They're perfect for any age and include tons of funny, embarrassing, and just generally good truth and questions!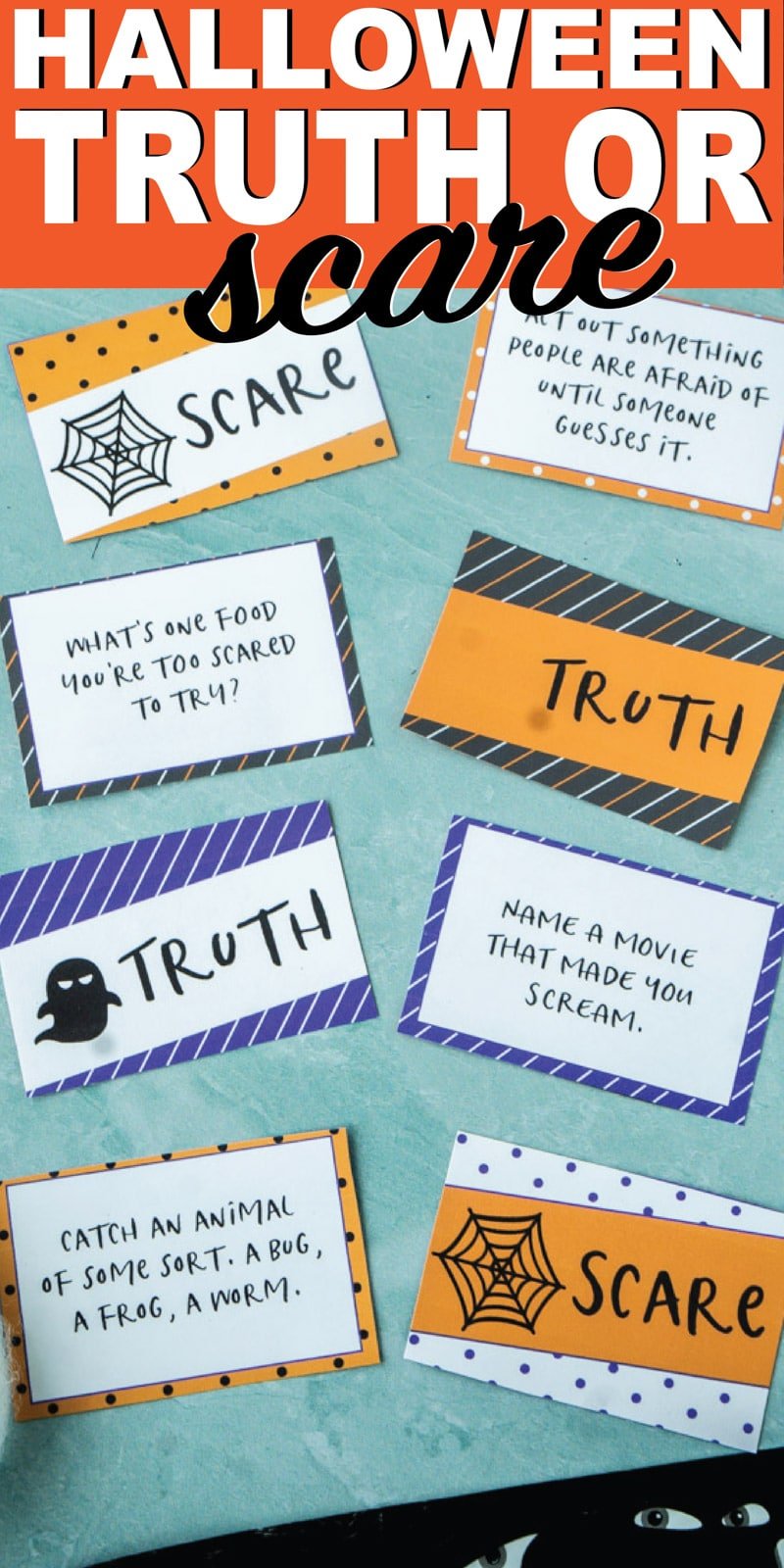 This post contains affiliate links. If you purchase via these links, I may receive a small commission at no additional cost to you.
Halloween Truth or Scare Game
When I was growing up, I feel like every time I went to a party or a sleepover, we ended up playing truth or dare. It was like a rite of passage to tell someone who your crush was as an answer to a truth or do something embarrassing during a dare.
Some of my funniest childhood moments were during a game of truth or dare. Or while playing one of these party games!
I thought it would be fun to put together a list of Halloween inspired truth or dare questions – clean ones that work for all ages whether you're looking for truth or dare questions for kids, tweens, teens or even adults!
Instead of calling it Truth or Dare, this game is called Truth or Scare.
Same game – just Halloween inspired name and cards. And one of my favorite Halloween party ideas ever!
And this time instead of having to come up with good truth and dare questions to ask – you can just pick a card from the pile because I already came up with all of them for you!
Halloween Truth or Dare Questions
Whether you're looking for truth or dare questions for kids or adults, these work great! They're clean, funny, and sometimes embarrassing (if that's what you want!) If there are any you don't want to use, just don't add them into the game!
And if you're headed to somewhere the dares aren't possible like Mickey's Not So Scary Halloween Party, you could always just print out the truth cards and take those along for while you stand in line!
Truths
What three items would you take with you if you had to spend the night in a haunted house?
Have you ever seen a ghost?
What's your favorite Halloween movie and why?
Would you lay down in a coffin for three minutes?
In a zombie apocalypse, what would be your weapon of choice?
Do you believe in any mythical monsters like shadow people?
What is the scariest Halloween costume you have ever seen?
Are there any horror movies you refuse to watch because they scare you too much?
What is the spookiest ghost story you've ever heard?
What is the worst nightmare you've ever had?
Would you rather get bit by a vampire or zombie and why?
Have you ever walked through a graveyard late at night?
Are you afraid of clowns?
What is your favorite part of Halloween?
What is the strangest dream you've ever had?
If you could bring anyone back from the dead for one night, who would it be?
Which super hero is your favorite and why?
If Aladdin's genie were to visit you on Halloween, what would you wish for?
If you could choose any Halloween creature as a pet, what would it be?
If you were to have a super power for just Halloween night, what would you choose?
What's the most embarrassing time you've ever been scared?
What is your biggest pet peeve (thing you don't like that other people do)?
What bad habit do you wish you could stop?
What's the one candy you wish people would stop giving out to trick or treaters?
Would you rather be a vampire or a werewolf?
Do you like dressing up in costume?
If you could go back in time on Halloween night, when would you go?
What is the most embarrassing thing that's happened to you?
What is your least favorite thing to do?
If you could hire someone to do something for you, what would it be?
What is one thing you are afraid of?
What's the best Halloween party you've ever been to?
What is something you have to do but don't look forward to?
What's your least favorite part of Halloween?
What's your favorite part of Halloween?
If you could replace Halloween with another holiday (and celebrate that holiday twice), which holiday would you choose?
What's your favorite scary movie?
If you had to walk through a pitch black forest, who would you want to take with you?
What's something you find disgusting?
What's the loudest you've ever screamed and what was it at?
Have you ever been so scared you peed your pants?
What's something you're afraid of that other people might laugh at?
Have you ever seen a dead person?
What's one Halloween song you know all the words to?
Do you know the moves to the Thriller dance (or any other dance)?
What's something about yourself that other people don't know?
Have you ever been too afraid to go knock on someone's door to trick or treat?
What is one secret you haven't told many people?
Would you rather turn into a bat to fly or fly on a broom?
Has a movie or book ever scared you so much you couldn't sleep? Which one?

Scares
Use a roll of toilet paper and dress yourself up as a mummy (can use the help of a friend). Kind of like in these fall party games.
Dance for two minutes to Monster Mash – ask a friend to join you if you dare.
Walk from one side of the room to the other like a zombie.
Go outside and howl at the moon (or sun) like a werewolf.
Get everyone to help you sing (or hum) The Addams Family song.
Laugh like an evil witch at whatever people say for the next five minutes.
Do limbo without a limbo stick.
Mimic the Thriller dance moves to the best of your ability. If you don't know the moves, watch on a phone once then copy them.
Walk like a model dressed in a monster costume down a runway.
Pretend to read the palm of the person to your right – guess what their future will hold.
Take a scary selfie with some of your friends.
Moonwalk across the room.
Act as if someone pressed the rewind button on tonight and act it out in rewind.
Eat a slice of lemon or lime.
Spin around in a circle 10 times and try to walk in a straight line.
Try to lick your elbow.
Act like a black cat for two minutes.
Try to balance a piece of candy on your head for two minutes.
Go outside and yell "I believe in vampires" three times really loud.
Sing "I'm a little teapot" with all the hand motions.
Act out your favorite part in a Halloween movie.
Act out a Halloween monster until everyone guesses it.
For the next four minutes, switch between acting like a werewolf and a human every minute.
Pretend you're a witch, make a potion, and cast a spell on someone.
Pick up five piece of candy corn with your toes and put them into a bowl.
If you speak in the next five minutes, only say something Dracula might say.
Fly around the room like a witch on a pretend broomstick.
For the next five minutes you can't speak, only grunt like Frankenstein.
Let the group make you a liquid potion (mix of drinks only). Drink it without knowing what's in it.
Close your eyes and eat whatever item is put in front of you.
Go outside and find a bug or reptile of some sort.
Pretend you're a pirate and walk the plank.
Show off a talent – something other people may not know you do.
Roll a pumpkin (or other ball) across the room with just your face.
Spin in a circle 10 times then try to name ten Halloween movies in a minute.
For the next 10 minutes, anytime someone says the word Halloween – yell "It's just a bunch of hocus pocus!"
Try to scare someone in the room without them knowing before your next turn.
Knock on someone's door and say "Trick or Treat" when they open the door.
If you have a phone, text your number neighbor and ask them "What's one thing that scares you?"
Be dead silent for five minutes. Fail? Try again.
Play dead until your next turn.
Call someone on the phone and just tell them a Halloween joke – no greeting or anything.
Count to 100 like Count Von Count from Sesame Street.
Make up a Halloween haiku (5 syllables 7 syllables 5 syllables).
Every minute for the next five minutes yell Boo really loud!
Open a piece of candy (like a Starburst) and eat it without using your hands.
Make up your own Trick or Treat rhyme (like the Trick or Treat smell my feet one).
Go knock on someone's door and when they answer, say "Happy Howl-o-ween" and start howling.
Sing the five little pumpkins song. Don't know it? Make one up.
Tell a short ghost or scary story.
More Truth or Dare Questions
If you're looking for more generic truth or dare questions, here are a couple of good lists!
Halloween Truth or Dare Game Prep
Supplies:
Truth or Scare Cards (PDF located at the bottom of this post)
Scissors or paper cutter (I love this one for small things like this)
Candy (some of the dares require candy)
Optional: Laminating sheets and laminator
Setup:
Print out the Halloween Truth or Dare questions PDF (get at the bottom of this post)
Optional – laminate cards prior to playing so you can keep them and play every year
Cut out the cards, keeping the truth and scare cards separate
Put all of the truth cards into a bag labeled "Truth"
Put all of the scare cards into a bag labeled "Scare"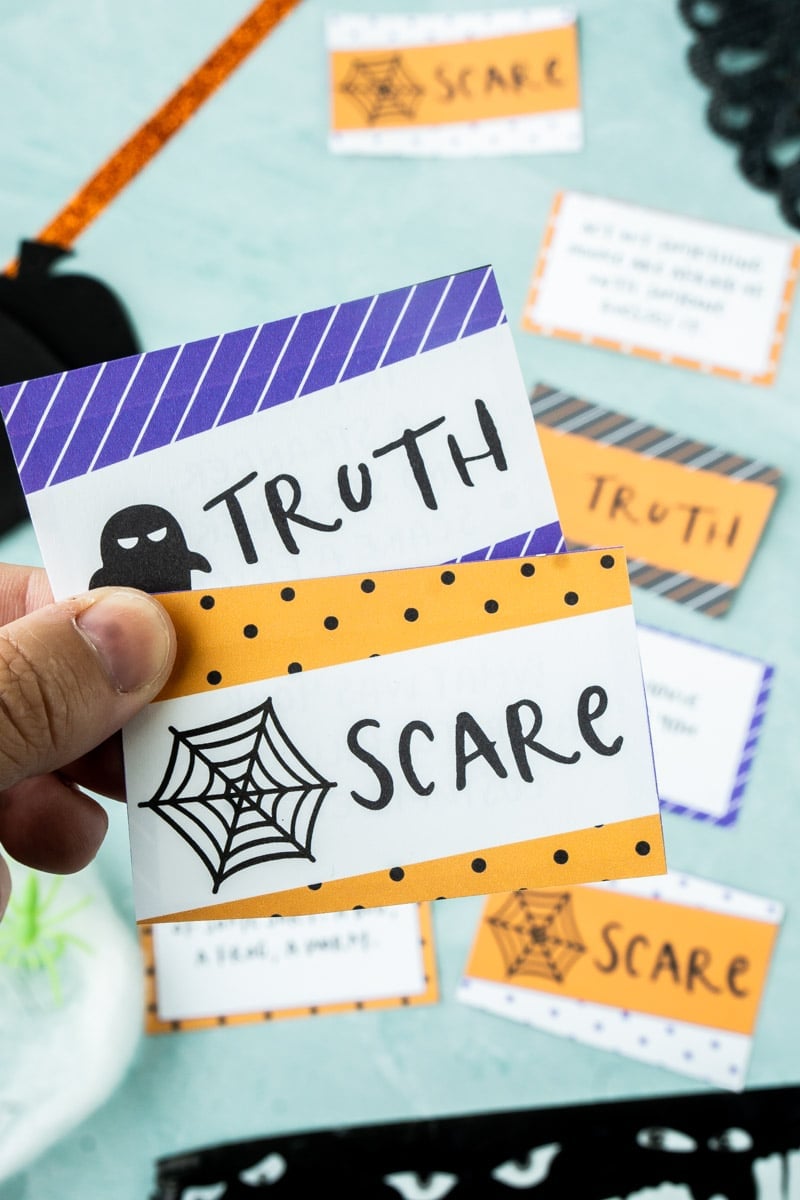 How to Play Truth or Dare (Scare)
Pick someone to go first. That person has to decide whether or not they want to choose truth or scare.
If they choose truth, they without looking, pick a card out of the truth bag and answer the question honestly.
If they choose scare, they have to take one of the scares out of the scare bag and do it. Some of the dare questions are things they'll have to do immediately and then it's the next person's turn. Others are things that may be a little longer – if it's one of the latter dare questions, have the next person go ahead with their turn – don't wait.
Keep playing until everyone has had a turn to choose one of the truth or dare questions then decide whether you want to do another round or not.
How to Win Truth or Dare
There's no winner in truth or scare! It's just a fun game full of great truth or dare questions to add a little fun to a Halloween party. It'd be perfect to play along with one of these Halloween party games.
If you want to give people a little something just for playing, any of these Halloween favors are always a fun addition to any party!
Get the PDF of Truth or Dare Questions
Enter your first name and email address in the form below to get the free set of printable truth and scare cards. The PDF will include both a front of the card (truth or scare) and back of the card (actual questions/dares).
If you'd rather not provide your email, you can also purchase a set of these cards in my shop here.
You can either print them double-sided (they should line up when you print) OR if you want to just skip the truth/scare part, you could always just print them with blank backs. Totally up to you.
Or the other option would be to print the PDF single-sided and laminate the front and back to each other. Then you have laminated cards with the design + questions in one.
Totally up to you. I provide the PDF – you decide what to do with it!
If you want the questions just on their own, not in card form, the PDF also has a printable list of truth and dare questions. The cards are more fun but I get that it's easier to just have the questions! If you do the list of questions, you could just have someone pick a number 1-50 and ask them that truth or dare.
If you don't see the form below, click here to get to it.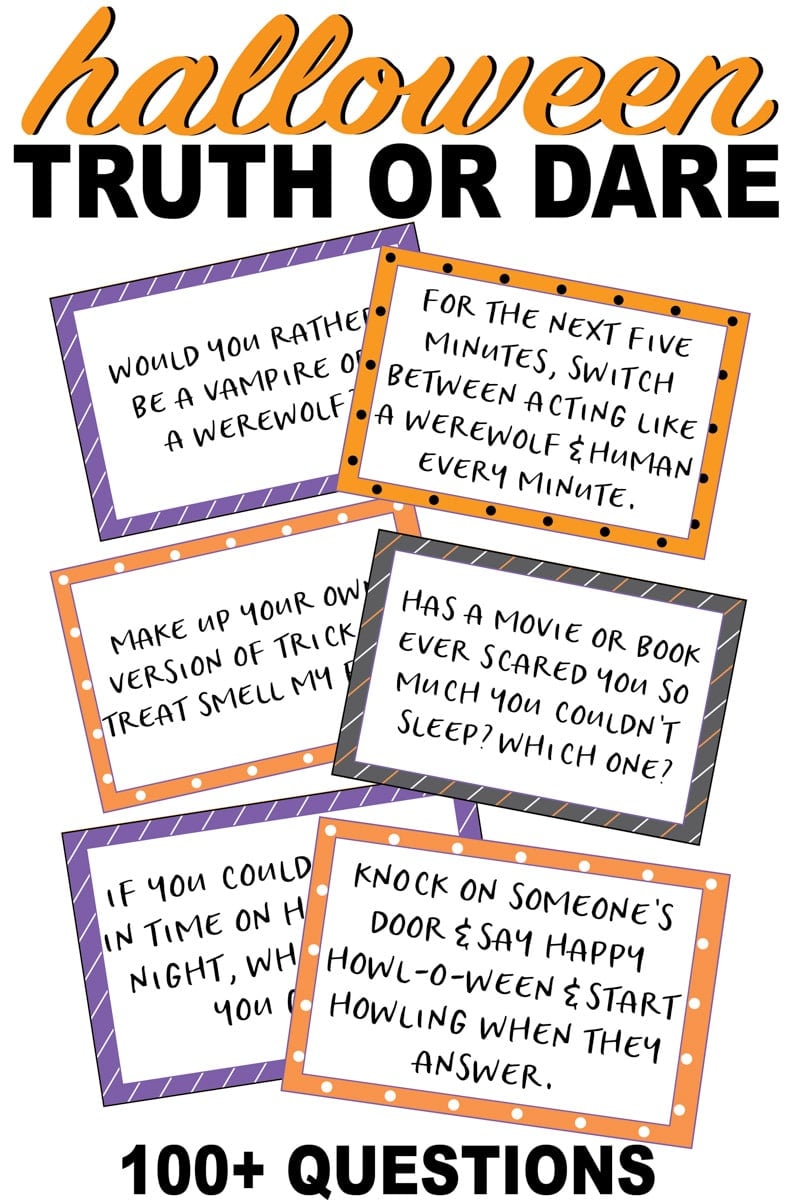 More Halloween Games
Other Halloween Party Ideas
Don't forget to pin these Halloween truth or dare questions for later!