People keep saying the summer is over, but our 90 degree weather begs to differ. I put together some fall party games as my way of telling summer to get lost and make way for fall. I want to wear a hoodie without people looking at me like I'm crazy already! If you're looking for fall party games, keep reading. And once you're done reading, make sure to check out these awesome Halloween party games too!


So here's how this works. You can either just play these games individually or play them as part of a large scale "minute to win it" competition. If you're playing minute to win it style, break your group up into teams with equal numbers of players. Pick out the games you're going to play. Then the way it works is that one person (or two depending on the game) from each team will play the game simultaneously, so you'll have say five teams playing at once. The first team to finish wins the game and gets the points. You can see more details about how to setup a Minute to Win It game in this Lego party post. And now the game ideas.
Fall Party Games
Supplies:
How to Play
A Bit Corny – Balance six candy corn on a Popsicle stick held in your mouth. Start with just the popsicle stick in the mouth and one by one add the candy corn to the stick.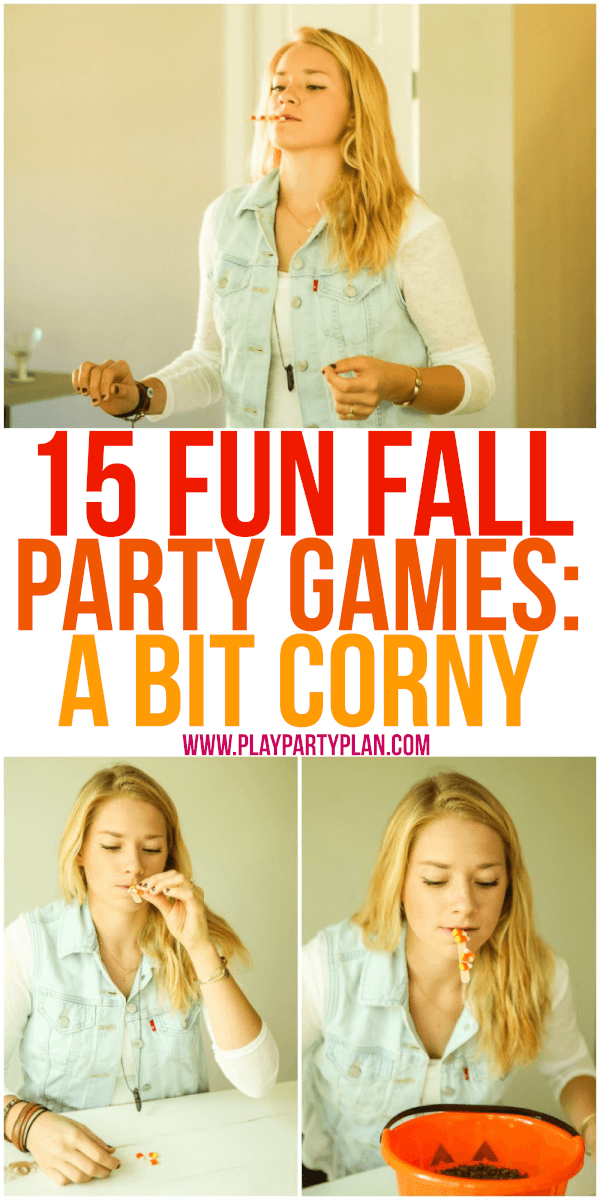 Candy Rattle – Fill one two-liter soda bottle with candy corn then attach to another empty two-liter soda bottle. Repeat with another set of two-liter soda bottles. Players have to transfer all candy corn from one side of the connected soda bottles to the other in the minute.
Card Ninja – Players must throw playing cards at a pumpkin trying to get one card to stick in the pumpkin before the minute is up.
Defying Gravity – Players keep three balloons in the air for a minute. Use orange balloons.
Mummy Wrap – Unwind a roll of toilet paper by wrapping it around yourself.
Face the Cookie – Using only your face muscles, move an orange Halloween cookie
from your forehead to your mouth. If the cookie falls, get a new cookie and try again.
Elephant March – Knock mini plastic pumpkins
or bottles down with a pumpkin inside panty hose worn around the head.
Hut, Hut, Hoop – Bend over and hike toilet paper rolls through a hoop 15 feet away. Make a certain number of rolls through the hoop within the minute.

Apples Away – Stack five apples on top of each other.

Paper Dragon – Players must unspool two rolls of party streamers using only their hands and arms. Use fall colored streamers.
Separation Anxiety – Players must separate 50 multicolored candies (M&Ms, Skittles, etc.) into specific cups for each color, moving one candy at a time. Use fall colored candies.
Haunted Hay Ride – Players must sit on bath mats (or towels) and use an inchworm technique to make their way around an obstacle course. Obstacles can include things like witch hats, pumpkins, and leaves.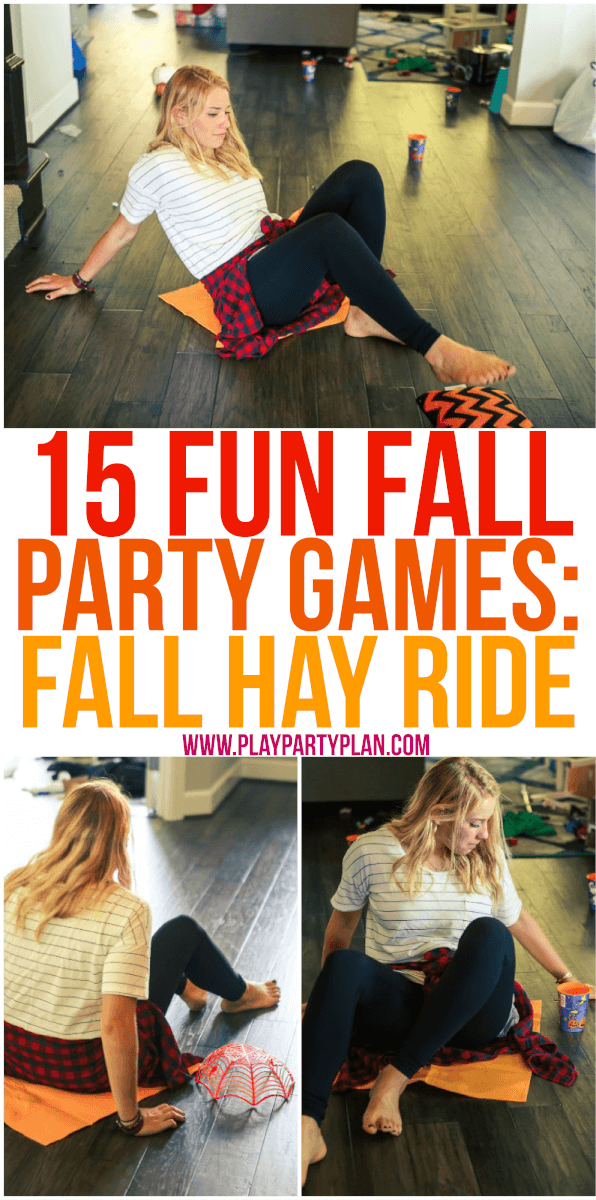 Movin' On Up – Give player a stack of 39 orange cups with one black cup on the bottom. Moving one cup at a time, player must move the black cup from bottom to the top.
Pumpkin Tennis – Players must volley a piece of crumpled up paper from one side of the room to the other to drop the paper in a plastic pumpkin.
Split the Uprights – Players must flick triangle paper footballs between two towers of plastic cups into a basket.
Stack Attack – Players must stack 36 plastic cups into a perfect triangle and once done, put the cups back into one stack. Use fall colored cups
**This post was recently featured on Olive Garden's School Days Family Nights calendar, check out the calendar for more great family night ideas!
Fall Prize Ideas
For Kids:
Stickers
Fall Books like this one
Plastic pumpkin filled with treats
Mini fall erasers
Fall bouncy balls, notepads, or other carnival prizes
For Adults:
Fall or Halloween DVDs like Hocus Pocus
CD of Halloween songs like this one
Pumpkin or fall scented candle
Fall candy
Mini Pumpkins with Awards/Prizes Written on them in Sharpie
Fall Chapstick/Lip Balm
Fall gift card like this one
Other Great Party Games
Catch Phrase
Scattergories
Guesstures
Taboo
Reverse Charades
Jungle Speed
Wits and Wagers – Party Edition
Heads Up
Pictionary
You might also like these other fun fall themed party games!