If you're looking for Halloween party games that are perfect for all ages, you've come to the right place. With a list of 10 hilarious Halloween party games that range from wrapping someone up like a mummy to tossing spiders into a spiderweb across the room, these are some of the most fun Halloween party games out there. They'd be perfect for an adults only Halloween party, a classroom Halloween party, or even just a kids pre-trick or treat party.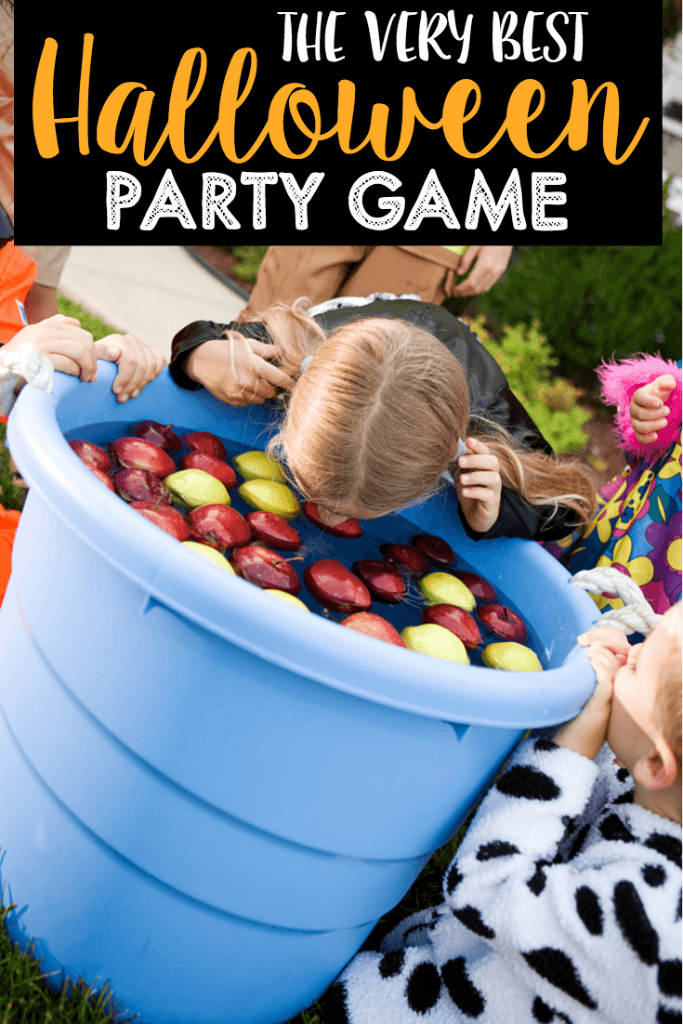 Anyone who knows me knows that a party isn't a party without games. I get it from my dad. With Halloween coming up in a couple of weeks, I wanted to share some of my favorite Halloween party games. We did this as a challenge course a couple of years ago for a young married couples Halloween party, but it would be just as fun with kids or combined families. And it combines some of my favorite Halloween party games all in one!
I don't really have a name for this game other than best Halloween party game ever. You want to know what it is? Well, in basic terms it's a relay race with teams competing against each other to be the first one to complete a series of Halloween themed challenges. I'm sure you're asking yourself now what makes it so fun? The challenges. You can be as creative as you want and come up with your own or just use the list of my challenges below.
Hosting a Halloween carnival or fall festival? Try these Halloween carnival games for kids instead!
How to Play these Halloween Party Games
Challenge Course Version
Come up with a list of games (from the list below) and the order you'd like teams to complete them in. I recommend around five challenges total.
Setup challenges before your party (or during if that works for you).
Break your group into teams of 4-6 people to make sure that everyone has a chance to participate.
Walk teams through the order and instructions for each challenge. Explain that everyone on the team must complete at least one challenge and challenges must be split up equally among players. In other words, one person can't do four challenges while one person only does one.
Say go and have teams race through each of the challenges. First team to complete all of the challenges wins a fun Halloween prize. Prize ideas below.
Minute to Win It Version
Pick out any of the 10 Halloween party games below and play them in either an individual or team minute to win it competition. Don't know what that means? Start with my minute to win it games page.
Easy Halloween Party Games for Kids & Adults
Mummy Wrap (2 people)
Supplies Needed: Toilet Paper
Play: Have two team members work together to wrap up one of the team members like a mummy in toilet paper. Whoever is "the mummy" must be completely wrapped (other than face).
Choose the Candy (1 person)
Supplies Needed: Large bag of candy and stickers
Play: Open a large bag of candy and put stickers on the bottom on some of the candy (at least equal to the number of teams you have). One team member must pick a piece of candy, check for a sticker, and if there isn't a sticker eat the piece of candy. They must keep picking candy pieces until they've found a sticker.
Fear Factor (entire team)
Supplies:
Play: Put out a plate of food that the team must eat without using their hands. If you're doing an adult game, you can do things that might be tougher and grosser to eat (tofu, blue cheese, octopus, etc.) and for kids, a plate full of Halloween themed goodies (cup of dirt, gummy worms, gummy brains, peeled grapes for eyeballs, etc.).
Costume Change (1 person)
Supplies:
Play: Have a box full of costume/dress-up clothing and have require one team member to put on 10 (or whatever number) things to complete their costume. Once they've dressed up, been approved, and undressed they can move to the next challenge.
Pumpkin Bowling (1 person)
Supplies:
Play: Using either toilet paper with faces like ghosts or cans like this example, have a pumpkin and "pins" setup. Team member must bowl a strike before they can move on. After they bowl, they must reset the pins (recommend having x's where pins go). If another team is also at the pumpkin bowling, they must take turns trying to bowl a strike.
Trick or Treat Balloon Pop (entire team)
Supplies:
Play: Before the party put pieces of paper into balloons with treat names (Snickers, cupcakes, candy corn, etc.) and tricks (things they have to do like sing I'm a little teapot, pretend to fly around the room like a witch on a broom, etc.). There should be a lot more tricks than treats (like 5 to 1) but make sure you have enough treats for the number of teams. Put all of the balloons (not blown up) in a bag. Teams must pick a balloon from the bag, blow it up, and pop it. If they get a treat, they move on. If they get a trick they must do the trick  then another teammate picks another balloon and repeats until they get a treat.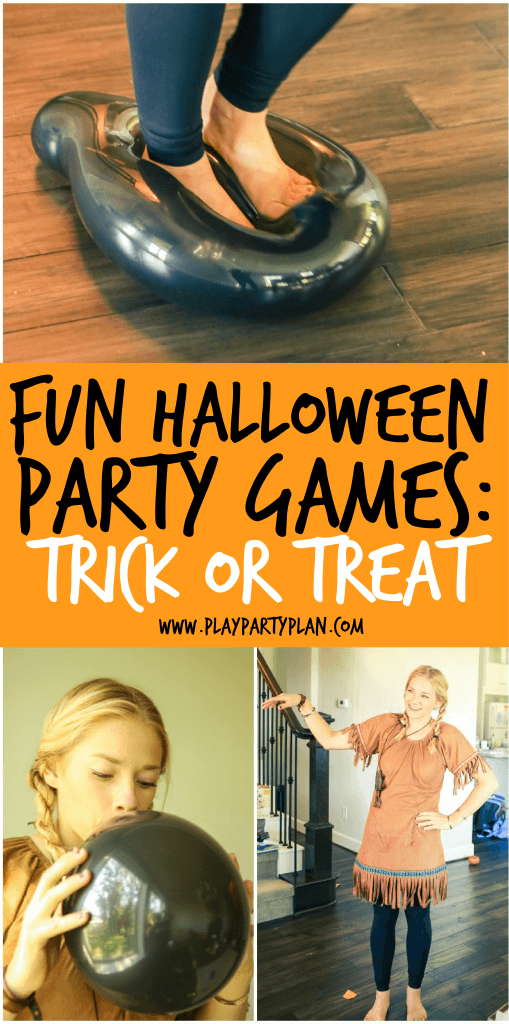 Spooky Scramble (1 person)
Create a Halloween word scramble or word search and have teams have to complete the scramble before moving on.
Tarantula Toss (1 person)
Supplies:
Play: Spread spiderwebs
(the white stretchy kind) in a space (doorway, corner of the room, etc.). Have players stand behind a line and toss little plastic spiders at the spiderweb until they can get three spiders stuck in the web.
Face the Cookie (1 person)
Supplies: Halloween Oreos
Play: Players have to put a cookie on their forehead and using only their face muscles (no hands!), get the cookie from their forehead into their mouth. If the cookie falls to the ground, they must either pick up the cookie from the ground or get a new cookie and start over.
Zombie Walk (1 person)
Supplies:
Play: Setup a short obstacle course (go around, over, and under things) and make the team member complete the obstacle course while walking like a zombie (or Frankenstein).

Halloween Party Game Prize Ideas
Since the winner will be a team rather than an individual, choose a prize that the team can share.
Other Halloween Party Games
Don't forget to pin these Halloween party games! 
More Halloween Party Ideas
DIY Thor Ragnarok Hela-Ween Pumpkin and Headdress & Giveaway

8 Ways to Host a Spooktacular Disneyland Halloween Party at Home #Disneyland #HalloweenTime #Cars3BluRay #ThorRagnarokEvent

Howloween at Great Wolf Lodge: 7 Spooktacular Reasons to Book Your Stay in October Now

Monster Mash Halloween Bingo Cards

Free Printable Halloween Name that Tune Game

Free Printable Halloween Scavenger Hunt

10 Fun Halloween Party Games For All Ages

Fun and Easy Halloween Carnival Games for Kids

Four of the Best Halloween Games for Parties