If you're looking for Halloween games that are perfect for all ages, you've come to the right place. With a list hilarious Halloween party games that range from wrapping someone up like a mummy to tossing spiders into a spiderweb across the room, these are some of the most fun Halloween party games out there.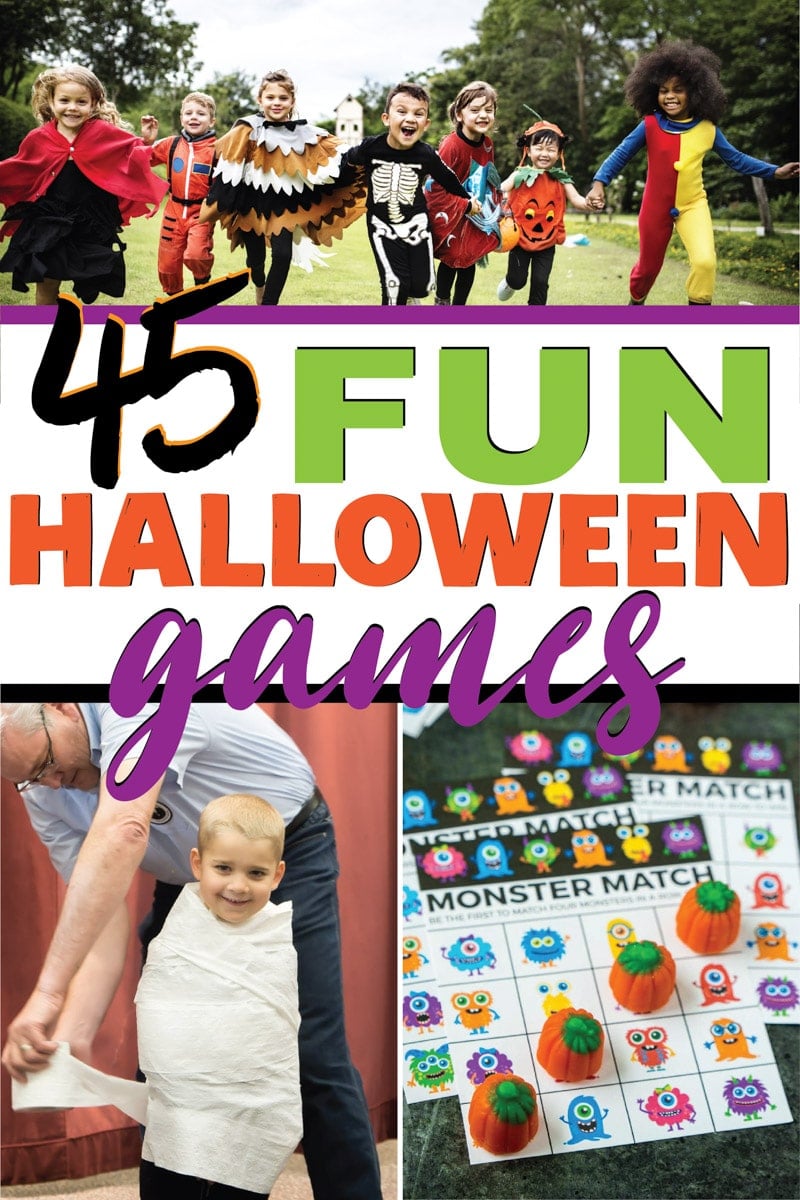 Best Halloween Games
Whether you're looking for Halloween games for a classroom party, virtual Halloween activities, or Halloween games for an adults only party, these are some of the best Halloween party games out there!
I've split them into sections for you. Click on the link below to jump right to that section!
Halloween Games Index
Halloween Games for Kids
While these games are all listed as Halloween party games for kids, don't be spooked – many of these (like truth or dare) work great for adults as well!
Halloween Truth or Scare
Print out these 100+ Halloween inspired clean truth or dare questions for a fun activity to play with kids through adults!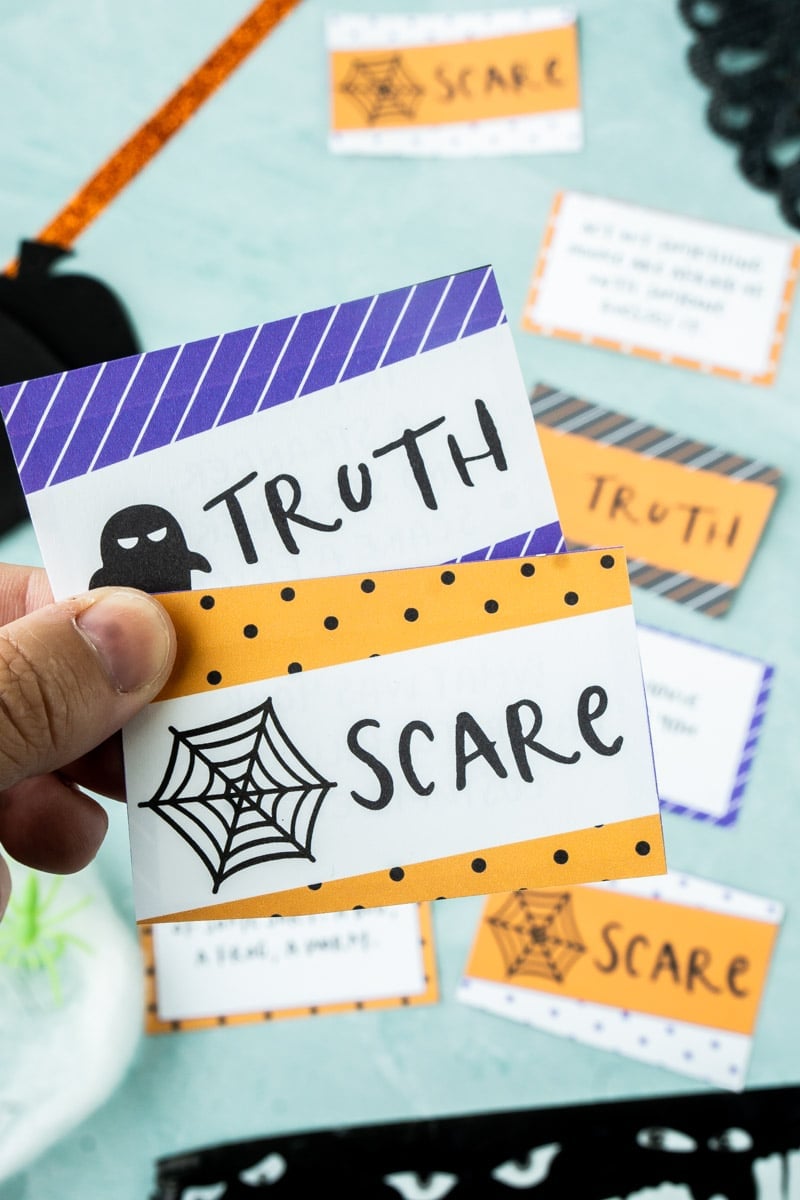 Halloween Scavenger Hunt
Print out this free Halloween scavenger hunt and set up clues around the house with a pumpkin full of treats or little prizes at the end!
Monster Match Halloween Bingo
Print out these free Monster Match Halloween bingo cards and see who can match up four monsters in a row first. This is the perfect Halloween game for classroom parties! Or if you don't want to go the monster route, here are some other fun bingo cards!
Roll A Jack O Lantern
See who can roll the face for a jack o lantern first in this fun free printable game! Get the free printable and instructions here.
Halloween Decorations Hunt
Go on a family hunt to find different types of Halloween decorations throughout your neighborhood with this Halloween neighborhood scavenger hunt!
Or just have kids search throughout your house for fun Halloween themed items with the other version included with that hunt!
Halloween Word Search
Print out this fun Halloween word search for some simple old-fashioned Halloween fun! Kids will love seeing how quickly they can find all the Halloween words.
Dress Up
This Halloween dress up game is really fun for kids but could also be played by teens or adults or entire families participating together! Get a group on a virtual call, announce a character or theme, and see who can come up with the best costume in minutes!
Quik Draw!
This is another super fun virtual Halloween game that would be perfect for any age but kids will really enjoy it! This Halloween pictionary type game will have players trying to guess who a character is based on clues then trying to draw them quickly and well!
Ghost Stack
Stack up ghost cups like these ones and have kids try to knock them down by shooting Nerf guns from 10 feet away. Get more fun ghost games from Organize Your Stuff Now.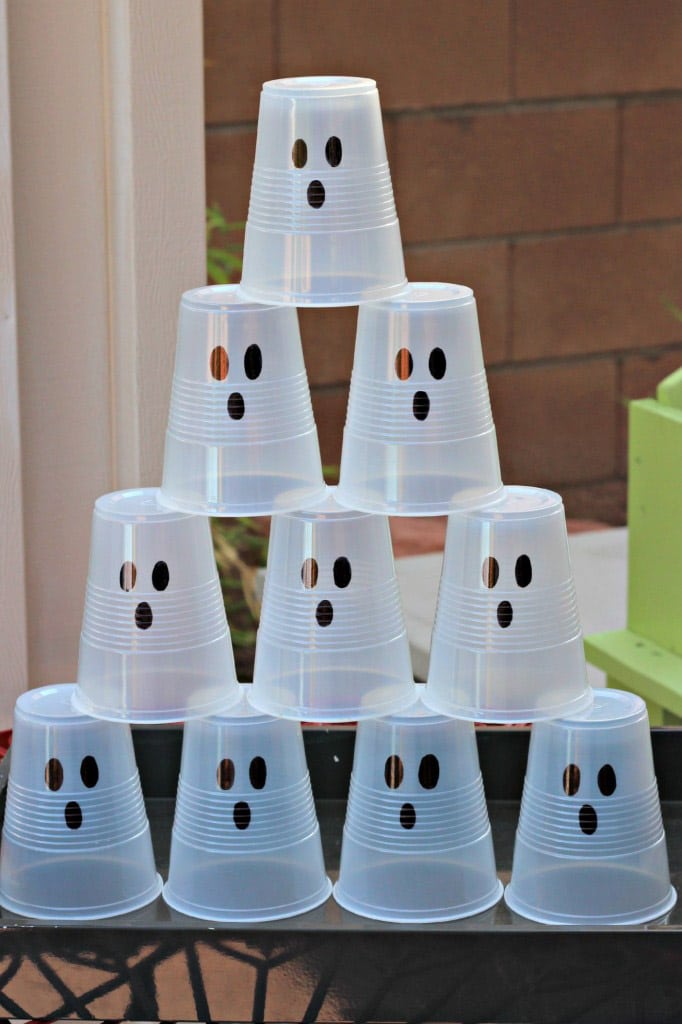 Halloween Mystery Boxes
Spray paint Tupperware containers orange and put creepy food inside for kids to touch and guess what it actually is. Get a full list of great creepy food ideas and what they represent (e.g., cooked spaghetti = brains) from Christina's Adventures here.
Spider Races
Give kids a straw and a plastic spider and have them see who can get their spider across the finish line first. Full details and instructions from Still Playing School here.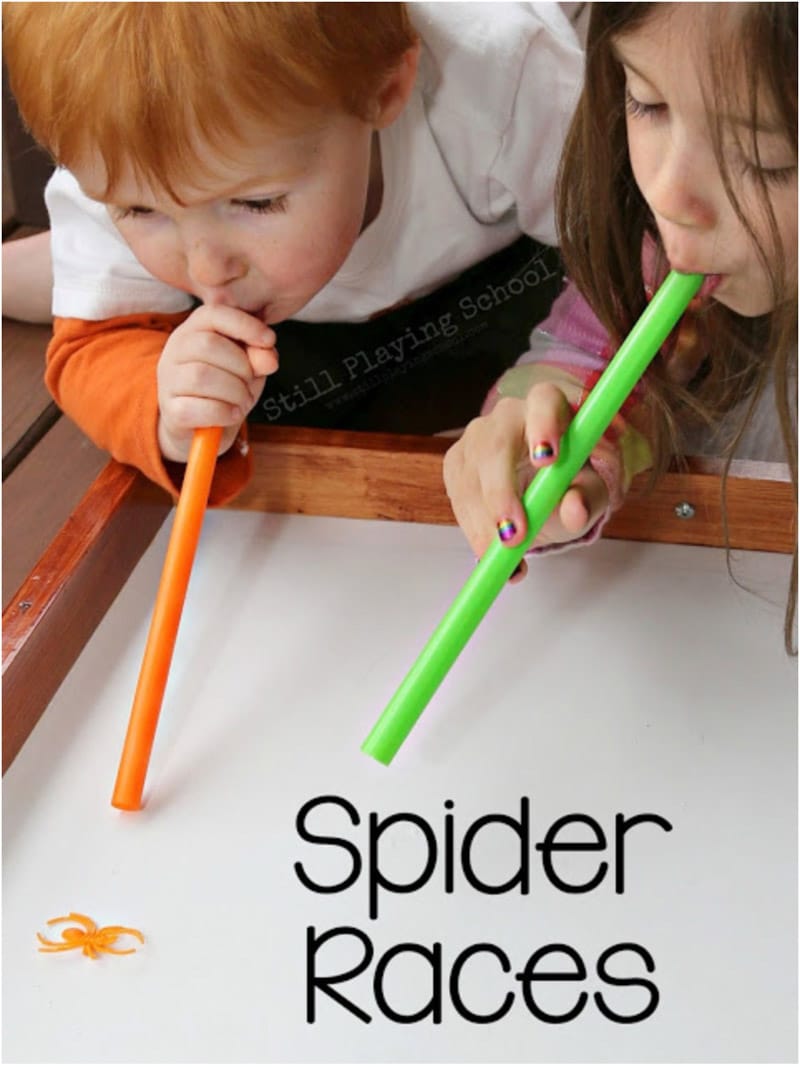 Pumpkin Toss
Give kids candy pumpkins and have them toss them into plastic cauldrons to see who can get the most points. Full instructions from Playground Parkbench.
Ghostbusters Punch Board Game
Make a punch board full of cute little ghosts and have players bust through the ghosts with by shooting Nerf guns to win their prizes! Get all the instructions on how to make a punch board here!
Make it for teens or adults by having them stand further back or making them answer Halloween questions to get a chance to shoot!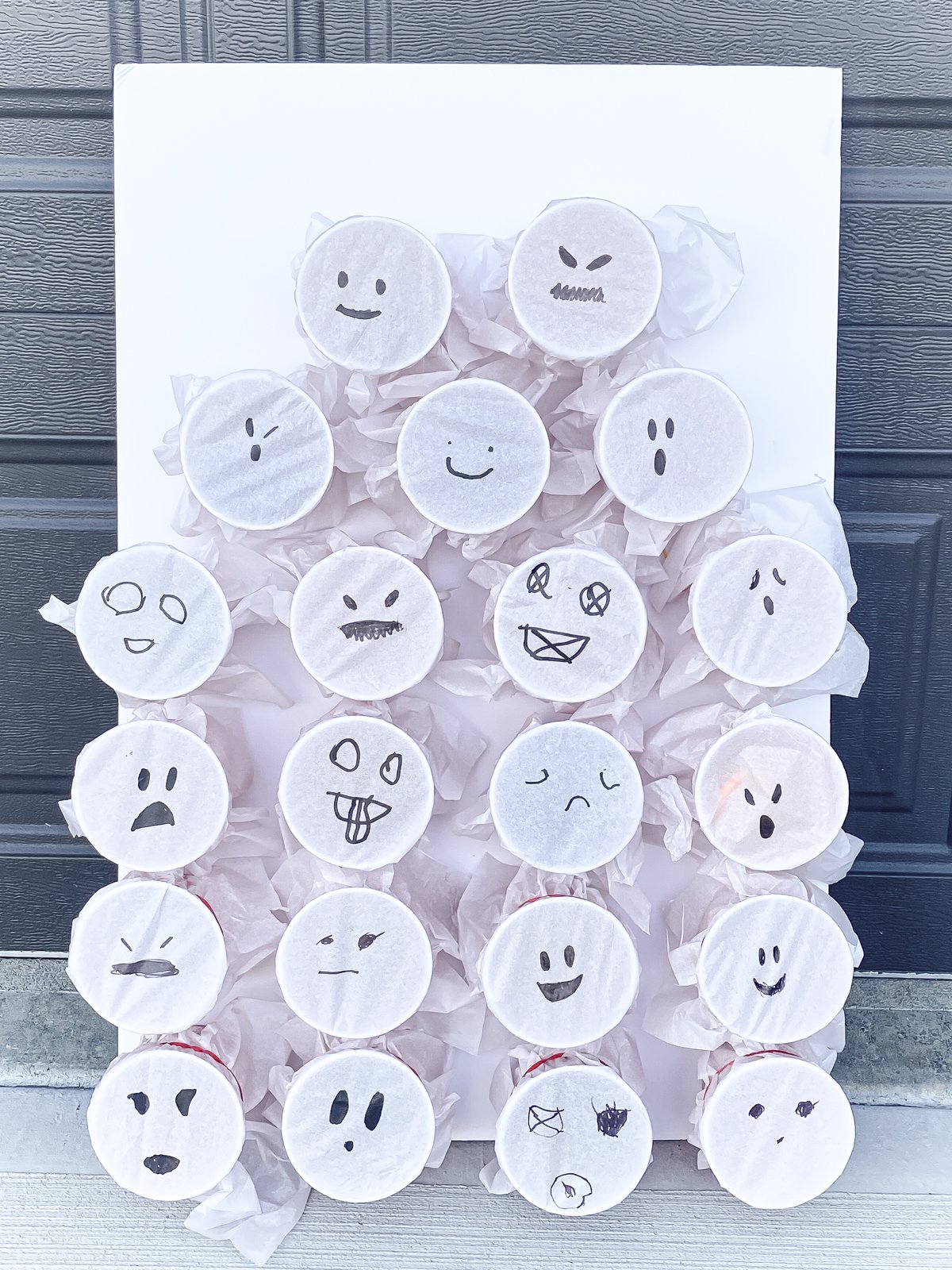 Poke a Pumpkin
Similar to this gratitude game, create a punch board that looks like a pumpkin with tricks and treats inside! Get full instructions on how to make a poke a pumpkin from Project Denneler here.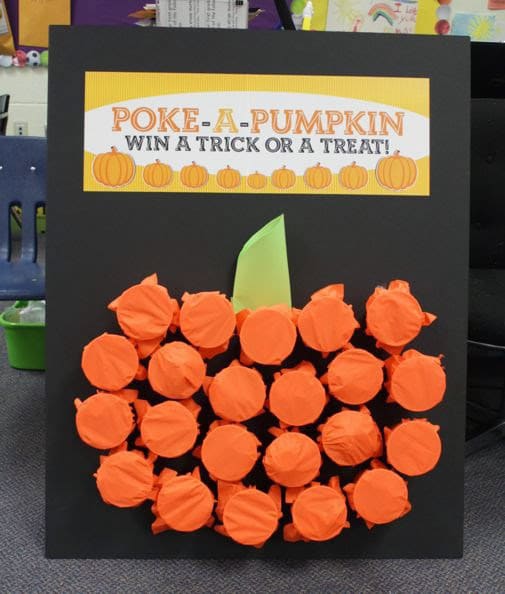 An Eyeball in a Haystack
Kids have to search for candy eyeballs in a stack of hay. Get full instructions and more harvest party ideas from Meaningful Mama here.
Halloween Games for Adults (and teens!)
Okay so I'm saying adults but really these are games that are good for either adults only or Halloween games that adults will enjoy – not just the kids – but kids and teens will likely be able to play them as well!
So really adult Halloween games + games for the entire family!
You could also just make any of these party games for adults Halloween themed!
Halloween Group Text Scavenger Hunt
Put together a group text, send out an item, and see who can find it first in this fun spin on a traditional Halloween scavenger hunt! Plus a fun group text scavenger hunt version where the host can actually play – like Halloween tag!
Halloween Treasure Hunt
Have families, groups, or neighbors hide treasure boxes full of treats for other players to find! Send clues or a treasure map to the group then head off on the best Halloween treasure hunt ever!
Ghoulish Recall
This Halloween memory game could technically be played by kids as well but it's better for teens or adults! Show images from this Halloween PowerPoint on a virtual call (or in person) and see who can answer questions about the images after studying them for a minute. You never know what's going to get asked or who's going to remember the tiniest little things!
Halloween Guess the Gross Food Game
Who can figure out what the real food is their eating first – not bat wings but beef jerky! A race to be the first to eat and name foods, this Halloween gross food game is great for adults, teens, and if you do the candy version – kids!
Halloween Name that Tune
See who can come up with the real name of these spooky songs in this free printable Halloween game.
Halloween Charades or Reverse Charades
Play traditional charades, reverse charades (one person guesses while the team acts out the word) or any of these other Halloween themed charades game ideas! And there's even a set of over 100 Halloween charades words you can print to play!
Full instructions on how to play Reverse Charades (and other fun adult party games here).
Would You Rather
Use these Halloween would you rather questions for some fun and interesting conversations or use this would you rather game idea for fun ways to make it more competitive!
Halloween Family Feud
A Halloween version of the popular game show Family Feud – teams compete to see if they can guess which answers are the most popular to win points. Get the printables and Family feud questions and answers here.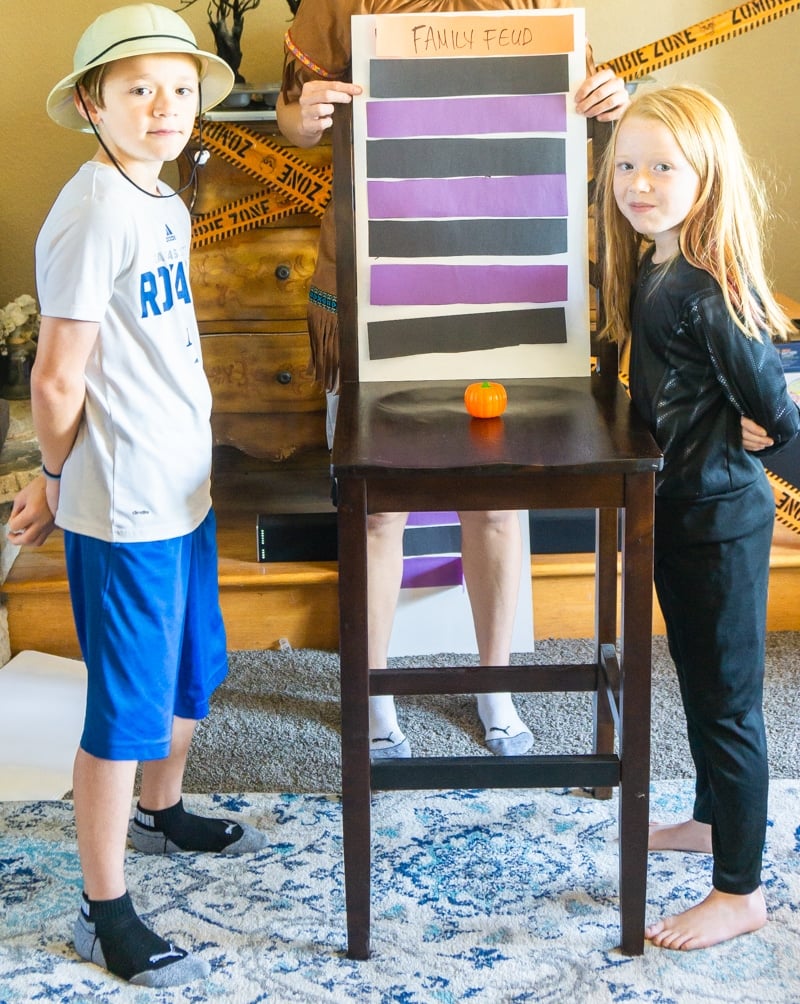 Halloween Movie Monster Match
See how many movies you can match to their original monsters! This one goes way back so most likely only adults are going to know the answers but you could totally play with teens too if they've seen a lot of movies.
Get the free printable Halloween movie game here!
Fear Factor
If you've ever seen the TV show, this is a way to bring that TV show to life in an adults-only way! Get creepy challenge ideas (like touching actual worms) and free printable invitations from Dating Divas here.
Witches Scattergories
A Halloween version of a classic favorite. Roll a letter and se what Halloween themed words you can come up with without matching others. Get the printable and more instructions from Let's Get Together here.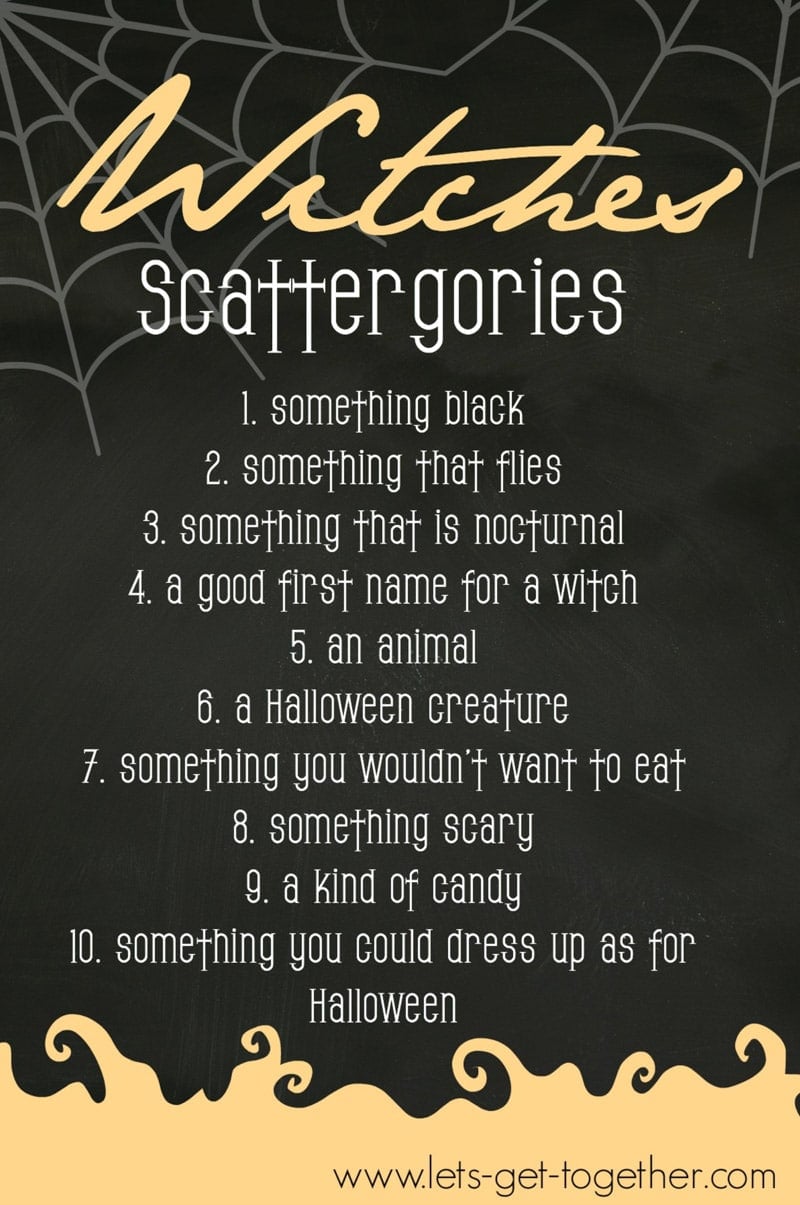 Werewolf
This is a personal favorite to play all year long but also works great for Halloween!
Everyone gets a card that tells them if they're a villager or a Werewolf. Everyone closes their eyes and the werewolves "kill" someone. Then the entire group has to decide who they think did it and one by one try to figure out who the werewolves are. Get the game and more details here!
I Dare Halloween Scavenger Hunt
See who can earn the most points by completing these Halloween dares that are better for adults than kids. Get the printables and more instructions from Wild Truth Designs here.
Halloween Movie Trivia
Who really knows their Halloween movies? Find out with these free printable Halloween movie trivia cards from A Girl and a Glue Gun! There's both an adults version and a kids version if you want to play both!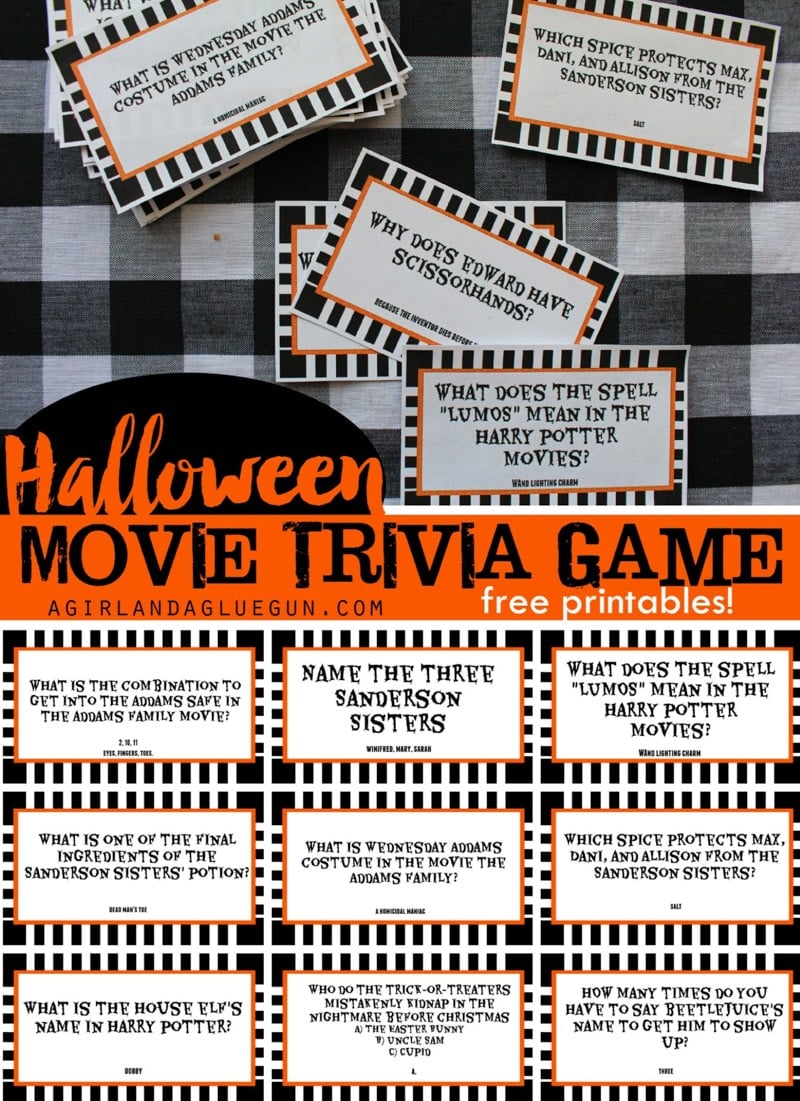 Looking for more Halloween Games?
Minute to Win It Halloween Games
I'm a huge fan of minute to win it games – I've created over 200 for every party, season, and occasion! One of my favorite things to do for Halloween is a challenge race full of minute to win it games and any of the ones listed below or these fall party games would be perfect!
Don't know anything about minute to win it games? Start with my minute to win it games page.
Mummy Wrap
Have two team members work together to wrap up one of the team members like a mummy in toilet paper. Whoever is "the mummy" must be completely wrapped (other than face).
You could use leftover toilet paper for one of these fun Halloween party ideas!
Choose the Candy
Open a large bag of candy and put stickers on the bottom on some of the candy (at least equal to the number of teams you have).
One team member must pick a piece of candy, check for a sticker, and if there isn't a sticker eat the piece of candy. They must keep picking candy pieces until they've found a sticker.
Fear Factor (entire team)
Put out a plate of food that the team must eat without using their hands. If you're doing an adult game night, you can do things that might be tougher and grosser to eat (tofu, blue cheese, octopus, etc.).
For kids try a plate full of Halloween themed goodies (cup of dirt, gummy worms, gummy brains, peeled grapes for eyeballs, etc.).
You could also switch it up and do the same thing but make people actually name what they're eating in this guess the food game.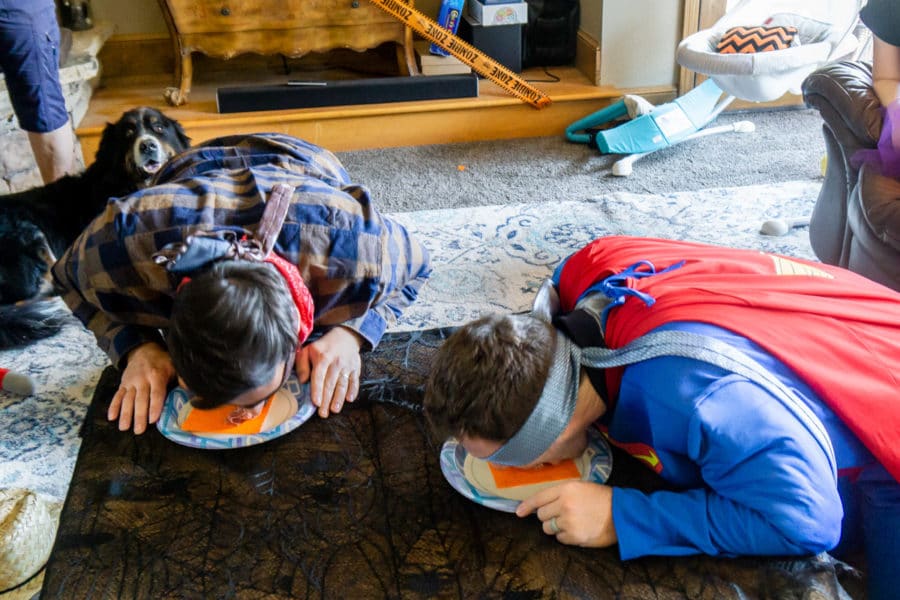 Danger Zone
Tape danger zone tape across the table and give teams a handful of Halloween Oreos. Teams have to slide the Oreos across the table and get them to land inside of the different danger zones to win.
Red Eye
Place plastic eyeballs on top of Red Solo cups then have players try to toss paper airplanes at the eyeballs to knock them off. First team to knock all three off wins.
Pumpkin Sliding
Hang plastic pumpkins, cauldrons, and other Halloweenish containers from the edge of a table. Teams have to slide candy pumpkins across the table and get them to land in the containers to win.
Pumpkin Pong
This game is one of my favorites because it seems like it should be so easy. And it's not. Not at all.
Players have to bounce ping pong balls to get them to try to bounce into plastic pumpkins!
Pumpkin Bowling
Using either toilet paper with faces like ghosts or cans like this example, have a pumpkin and "pins" setup.
Team member must bowl a strike before they can move on. After they bowl, they must reset the pins (recommend having x's where pins go). If another team is also at the pumpkin bowling, they must take turns trying to bowl a strike.
Trick or Treat Balloon Pop
Fill balloons with either candy or little silly Halloween inspired challenges. Teams have to pick a balloon from a bag, blow it up, and then they either get the treat (and win the round) or have to do the trick! Teams have to just grab one balloon, no rustling around to figure out which balloons are treats vs tricks.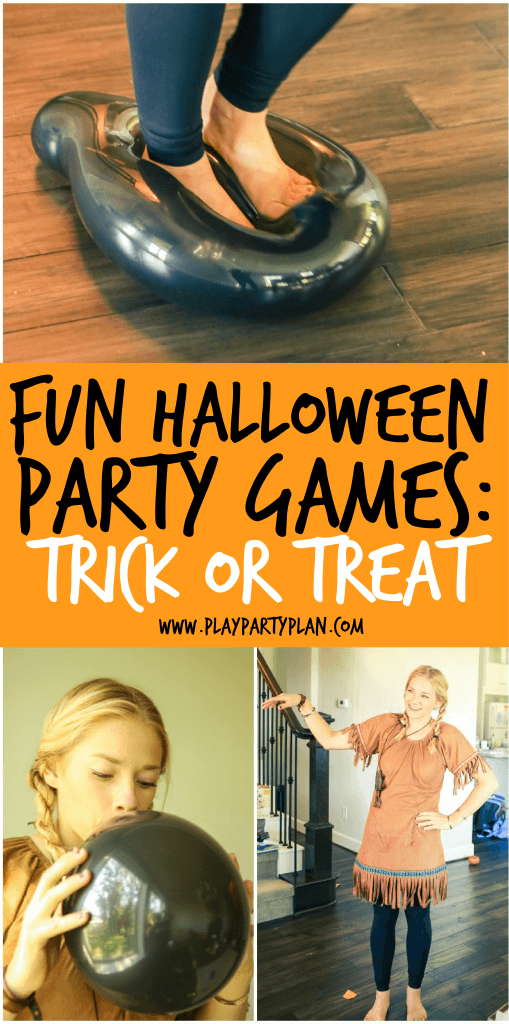 Tarantula Toss
Spread spiderwebs
(the white stretchy kind) in a space (doorway, corner of the room, etc.). Have players stand behind a line and toss little plastic spiders at the spiderweb until they can get three spiders stuck in the web.
Face the Cookie
Play: Players have to put a cookie on their forehead and using only their face muscles (no hands!), get the cookie from their forehead into their mouth.
If the cookie falls to the ground, they must either pick up the cookie from the ground or get a new cookie and start over.
Zombie Walk
Play: Set up a short obstacle course (go around, over, and under things) and make the team member complete the obstacle course while walking like a zombie (or Frankenstein).

Dead Weight
Fill up three balloons per person and put some sort of light weight items in them (feather, cereal, etc) that will weigh them down a bit. To play, players have to keep all three balloons in the air. Person who keeps them up the longest wins.
Halloween Carnival Games
Hosting a Halloween carnival? Try one of these fun Halloween games that are designed just for a carnival! They could also be played as regular Halloween party games too but are much more fun as carnival games! These fall festival games would be great as well!
Spider Ring Toss
Setup a Halloween tree and a bucket with those cute plastic spider rings. To play, players have to toss spider rings and try to get them to land on the Halloween tree! Make it easier by covering the tree with the stretchy spider webs so they just have to land it in the web instead of ringing the tree!
Trick or Treat Tree
Place either a trick or a treat inside small plastic pumpkins and hang them on a tree. Let kids (or seniors) pick out a pumpkin from a tree and open up what's inside. If they get a treat, they eat the treat. If they get a trick, they do the trick! Get full instructions and printable tricks here.
Shoot the Skeleton
Hang fake skeletons on a board and let kids shoot them with slime to win a prize. Full DIY instructions and rules for the game from Brandy's Happy Home here.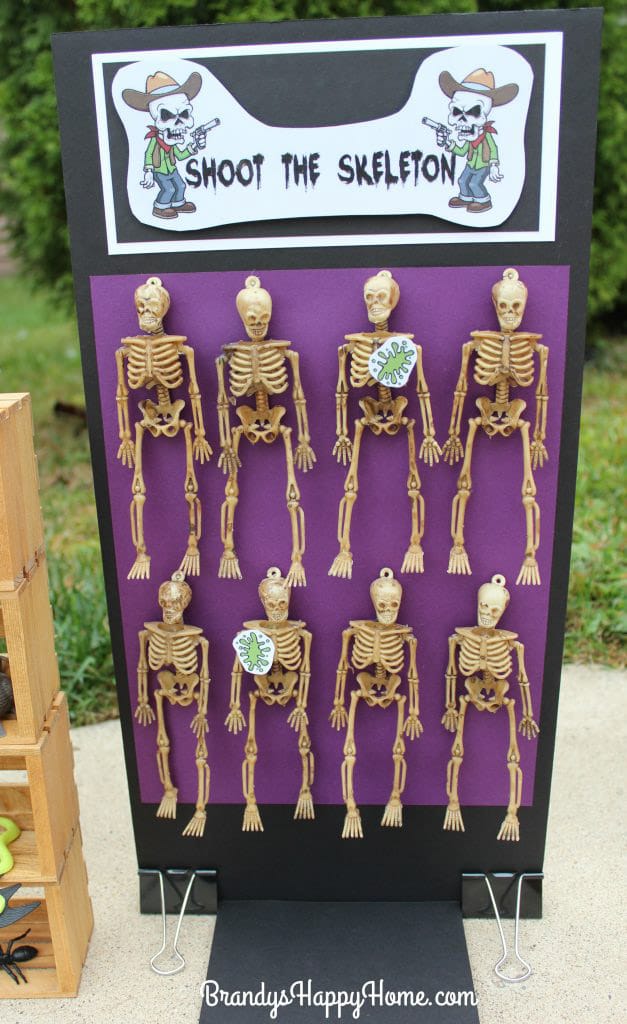 Spider Launch
Using just popsicle sticks, plastic spiders, and plastic cups – see who can launch spiders into a web or a bucket. Full instructions and DIY directions for making the launchers from Frugal Fun 4 Boys here.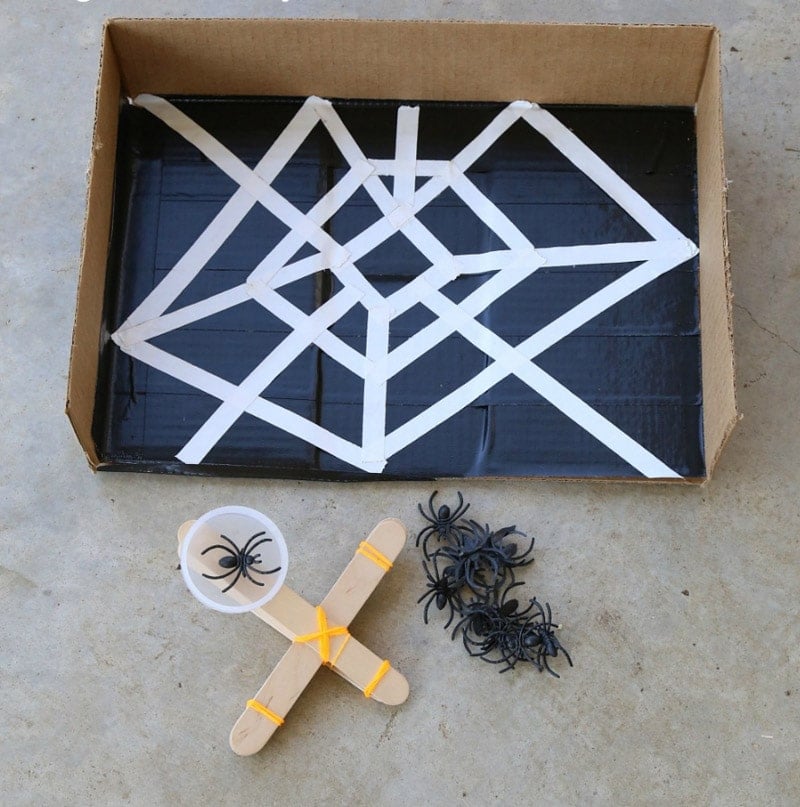 Halloween Games for Seniors
I get emails from my readers often asking about games for seniors, so I thought I'd put together a little section here with Halloween games that would work well for senior citizens! Any of the printable Halloween games (Scattergories, Movie Trivia, etc.) above would work as well!
Guess How Many Candy Corn?
Put a bunch of candy corn in a bowl and give a prize to whoever can guess the closest to the actual number. Get a free printable game sign from Better Homes and Gardens here.
Full Size Pumpkin Memory
This is a simplified version of pumpkin memory here but make it a little more challenging for seniors by adding in various types of Halloween characters such as bats, cats, and witches!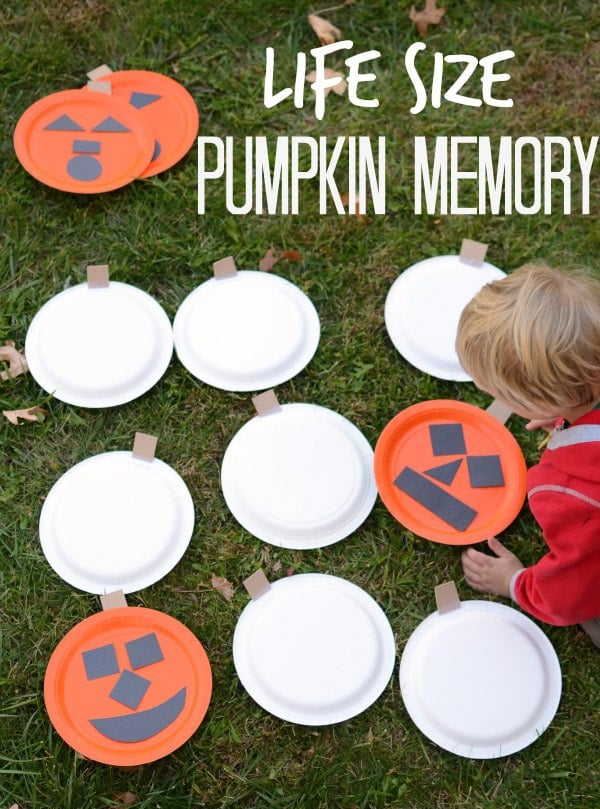 Guess & Feel Mystery Bags
See who can figure out what's inside these Halloween inspired mystery bags by just reaching in and touching the contents. Get great ideas for stuffing the bag from Edventures with Kids here.
Finish My Phrase
Put people in partners and see if they can guess what the other person will write for each fill in the blank. Get the printable from Adorably Allie here.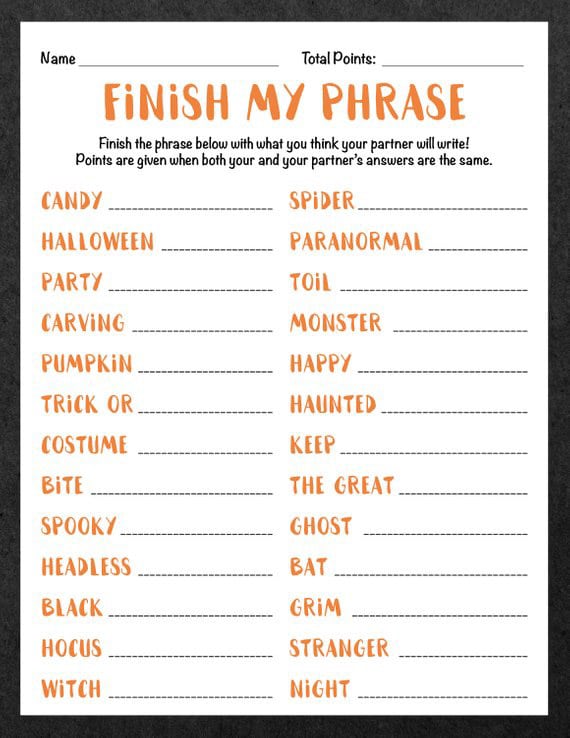 Looking for more Halloween Games?