These Monster Match Halloween bingo cards are perfect for kids to play at classroom parties, kids' Halloween parties, or at a trunk or treat! This Halloween do the monster match instead of the monster mash with these cute Halloween bingo cards full of cute monsters for kids to match! It's a great alternative to traditional Halloween bingo!
Monster Match Halloween Bingo
I was working in the lab late one night, or should I say on the computer late one night. And really it's every night these days as we're about to hit fourth quarter, and I like to do all the things I can for the holidays! Anyway, one of my favorite Halloween songs is Monster Mash, so I thought it'd be fun to create a Halloween game inspired by the song!
These are one of the most popular games on my Halloween games post (over 45 awesome Halloween games)!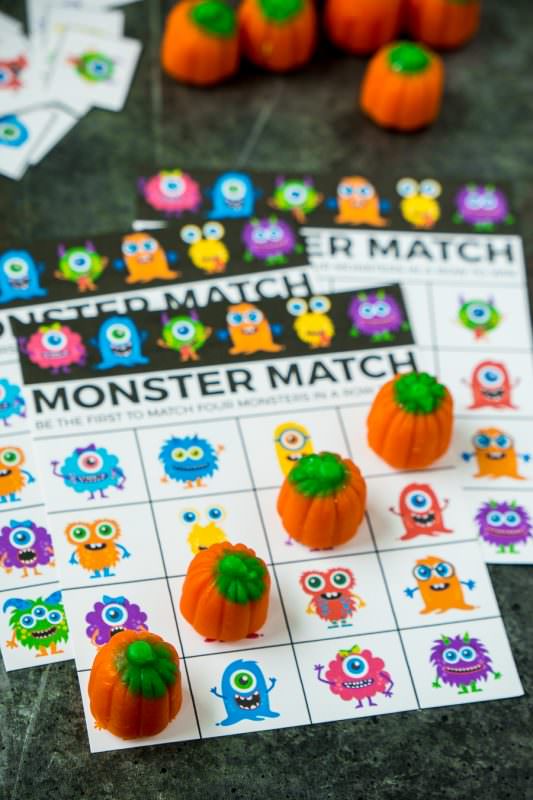 This Monster Match is basically Halloween bingo but a cute monster version that's great for younger kids who can't read yet or don't want to look through all 25 spaces. I have a preschooler, and we tested this out this week.
And he loved it! Almost as much as he liked these other Halloween party games!
We actually ended up playing like five different times with different cards because he loved matching the monsters that much. It definitely had nothing to do with being able to pick out a fun little Halloween prize every time he got four in a row, nope nothing to do with it.

You could play this with older kids or even teens if you want, but the cards only have 16 spaces, so it might prove a little easy for them. For older kids, I recommend this Halloween scavenger hunt instead!
Printable Halloween Bingo Cards
I've created 16 different cards to play. Each printable PDF has four different cards on it that will just need to be cut out before you play. For choosing the monsters to call out, just cut out one of the bingo cards. Each monster is on each bingo card so just print an extra and cut up the bingo card. I just put them in a cup and pulled them out one by one when we played.
Enter your first name and email address in the form below to get the printable. If the form isn't showing up below, click here to get to the form to download the printable files.
This post contains affiliate links to products for your convenience. If you purchase via my links, I may receive a small commission at no additional cost to you.
Prizes for Halloween Bingo
One of the hardest parts of setting up Halloween bingo is picking out fun prizes for the winners! If you're playing this at a classroom Halloween party, I'd stick with smaller things and play until everyone wins. If you're playing at a smaller party, try some of these fun Halloween prizes instead!
Don't forget to pin these Halloween bingo cards for later!