This Mother's Day give mom what she really wants – a little time alone and some fun Mother's Day baskets to enjoy on her day off! Alone time and a bunch of treats she doesn't have to share will be the perfect Mother's Day gift for any mom in your life!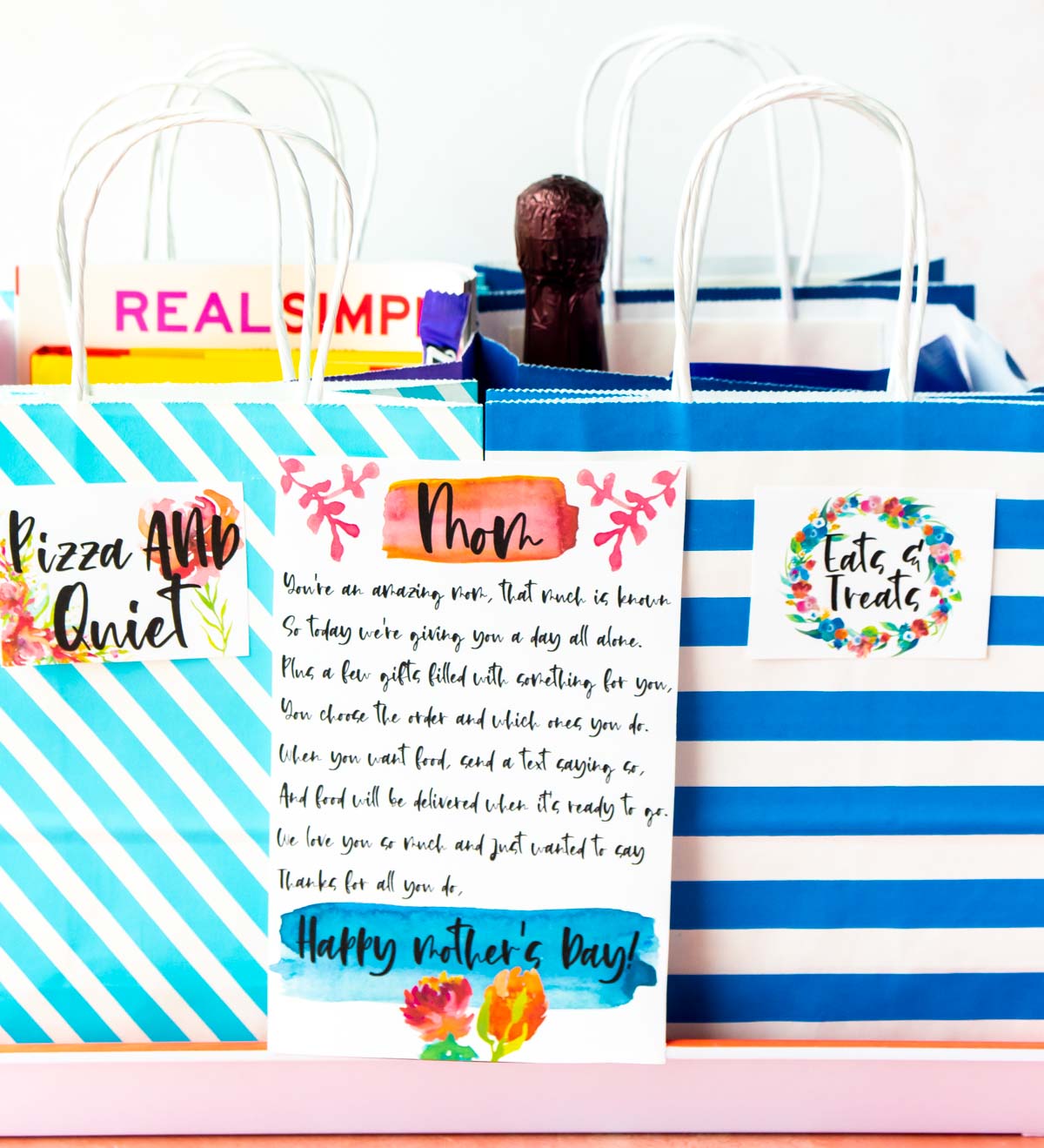 Sponsored by: Hy-Vee. All opinions are honest and my own.
The Best Mother's Day Gift
Okay so I can't take credit for this idea. My husband actually came up with this idea last year – probably after I'd hinted numerous times that what I really wanted for Mother's Day was a day off from being mom.
Don't get me wrong, I love my kids. I love being a mom. And I'm sure all of the other moms out there do too, but being a mom is also exhausting, especially the past year.
So while I love being with my kids every other day of the year, I personally loved that my husband set me up in our master bedroom with a TV, a big bubble bath, and bags full of treats and gifts to enjoy without the mom guilt that too often plagues us all.
Since I enjoyed it so much, I thought I'd recreate the idea with some free printables, ideas for Mother's Day baskets to give with the day off, and even a gift letter explaining the gift to the mom in your life.
Pretty sure all moms I know would enjoy this one!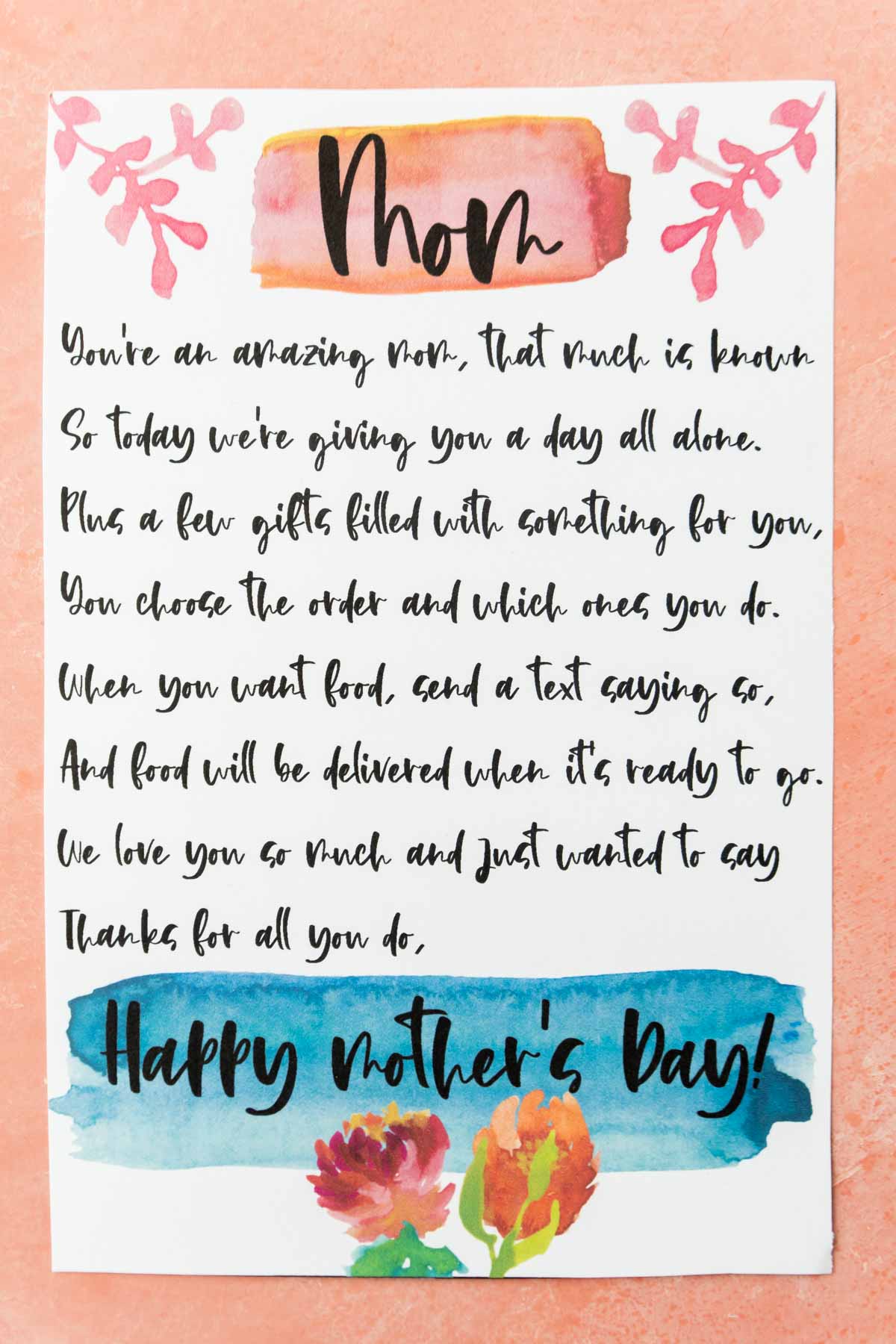 How to make mother's day baskets
The best thing about this Mother's Day gift is that it's so easy to put together AND it's super easy to personalize and customize for the mom in your life.
I've come up with eight different Mother's Day baskets below and included free printables for each of them. Pick and choose the baskets that make the most sense for your mom and leave the others.
Or go all out and give her all eight. I'd take any of these eight!
Once you've chosen which baskets you're going to use, it's time to shop.
Hy-Vee has everything you could need for these baskets including pre-made meals that are perfect for a little breakfast in bed, dinner, and all day snacks (hello custom made charcuterie boards).
Plus, they have lots of goodies, spa items, and more to put into the bags themselves. You can even shop online with Hy-Vee Aisles Online and pick them up at the store without having to go in a shop!
Whatever you do, make sure to get a fruit pizza. Soooooo yummy and perfect to go with a dinner of pizza and quiet!
Once you've picked out your baskets and done your shopping, it's time to put together the baskets.
Print out these printables (or download them at the bottom of this post). Cut out the labels and letter that you'll need.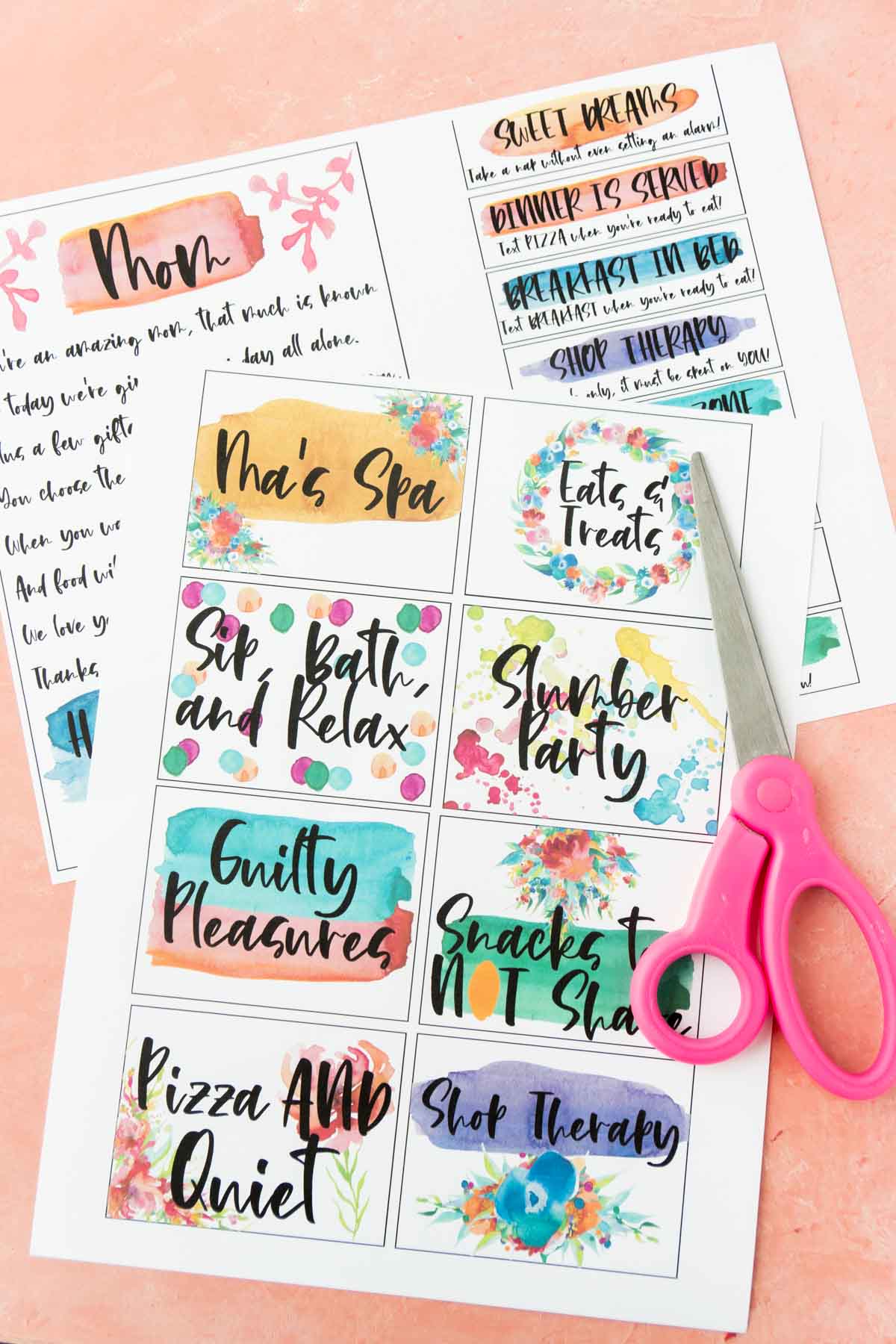 Each basket label also comes with a little card that goes into the basket explaining the label a bit more. These are just six of the eight – all eight are shown below for you to choose from!
Once they're cut out, simply tape the label to your bag or basket, place the explanation card inside, and fill up the bags!
I woke up to a letter from my husband last year explaining the gift, so that's what I recommend. Let mom sleep in and leave the letter with gifts on the door or pillow, whatever she'll see first. She'll know what to do with them!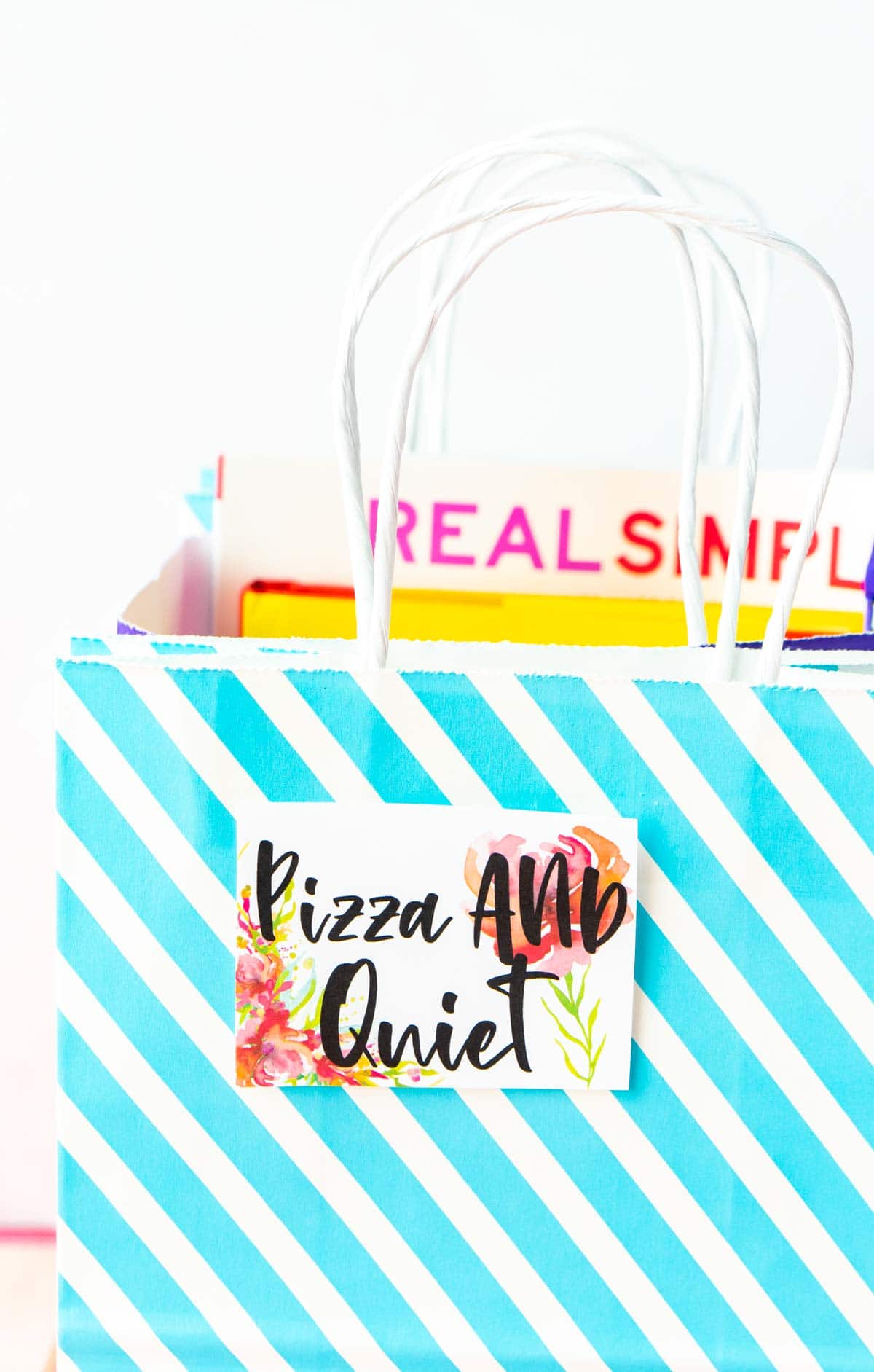 DIY Video
Want to see how easy it is to make these Mother's Day baskets? Check out the video below!
Ideas for Mother's Day Baskets
Okay now it's time to talk about the different baskets I came up with.
I tried to cover all the basics for what mom could want on her day off, but if you have more ideas and want additional labels, email me and I'll see what I can do!
Eats and Treats (Breakfast in Bed)
Mom has to eat and breakfast in bed is a Mother's Day tradition so let's start with that first. My husband had me text him when I was ready to eat, so I did the same.
Keep it simple by picking up a catered brunch from Hy-Vee so there's really not a lot of cooking or dishes involved. They offer a brunch for 2, brunch for 4, or brunch for 6 option that lets you choose your favorites from options like:
Biscuits and gravy
Quiche
Egg casserole
Hash brown casserole
Sausage or bacon
Fresh fruit
Cinnamon Rolls
Muffins
Yogurt
Plus, a handful of other options. It's the perfect way to get a variety of options to fill up mom's breakfast in bed tray!
The card for this one says text BREAKFAST when you're ready to eat just in case she wants to actually start her day off with a little chocolate from one of the other bags and wants to save breakfast for later.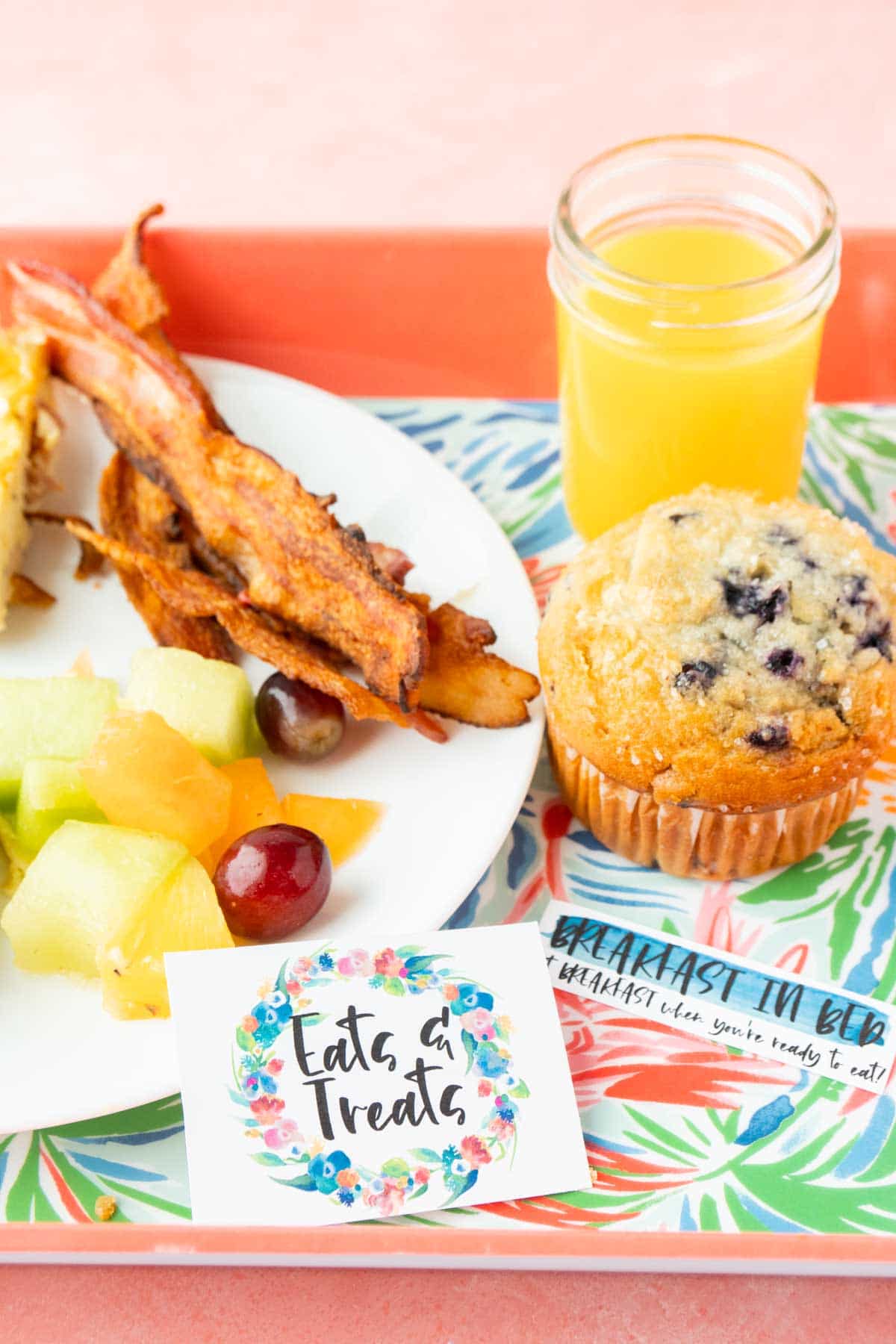 Guilty Pleasures Basket
We all have them – things we probably shouldn't do but love to anyway. Eating cookie dough straight from the bowl, reading magazines or chick flicks, binge watching an entire series on TV.
This basket is all about giving mom the permission (not that she needs it…) to spend the day enjoying all of those pleasures without any guilt.
For this basket, I picked up some yummy treats from Hy-Vee like edible cookie dough, a magazine, and some candy that my boys would normally steal in a heartbeat if they were around.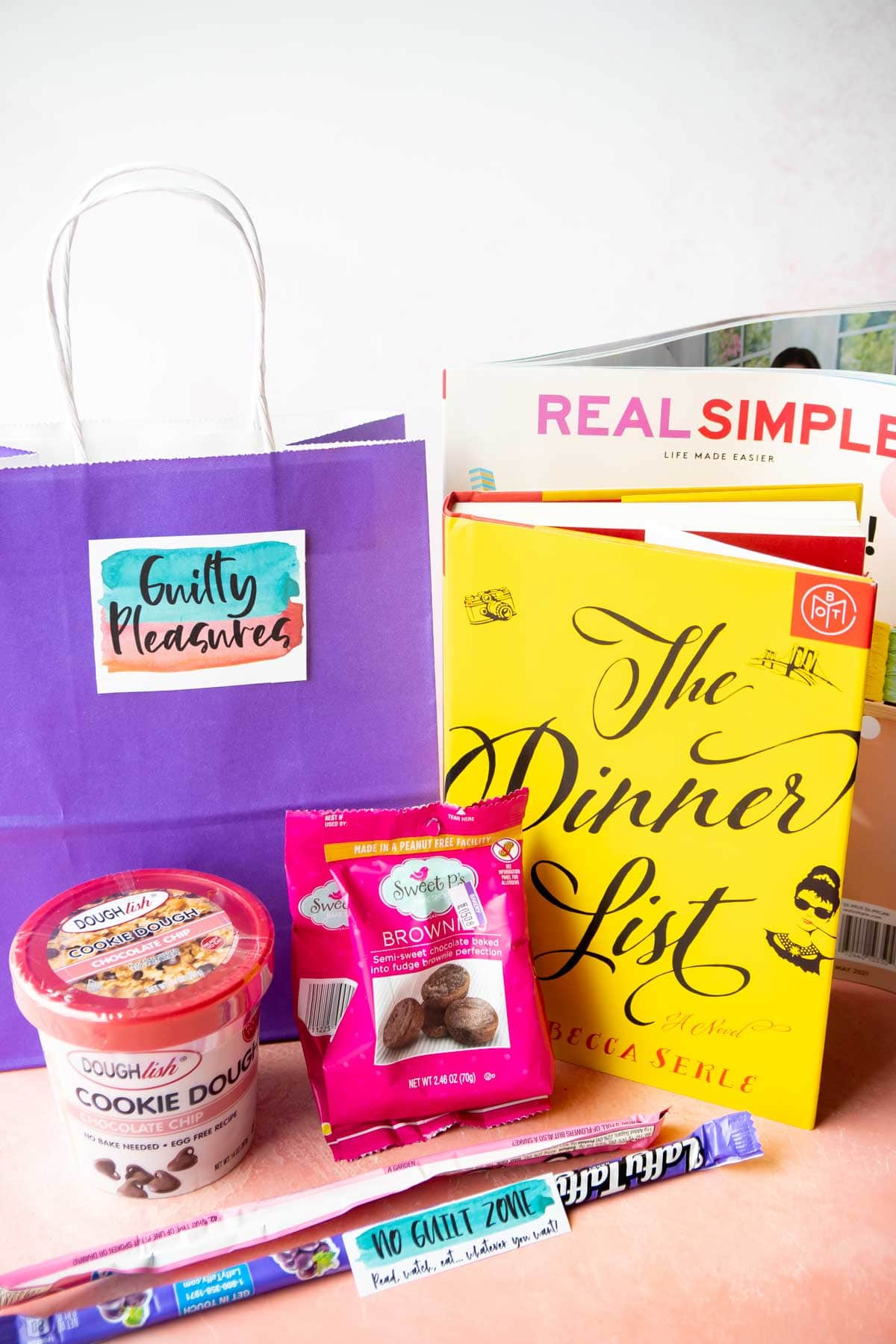 Sip, Bath, and Relax
I have to give the credit to my husband for this one. I knew I wanted a bath basket and he immediately came up with the sip, bath, and relax idea.
There's nothing more relaxing in my opinion than soaking in a hot bubble bath with a glass of sparkling cider while watching your favorite show or reading a book.
I'm a huge fan of baths and if the other moms on my neighborhood are any indication, most moms out there are too.
Hy-Vee has a huge selection of bath bombs (I used a ton of them in my Valentine's Day gift baskets), yummy drinks, and of course bath essentials like scrubs and sponges.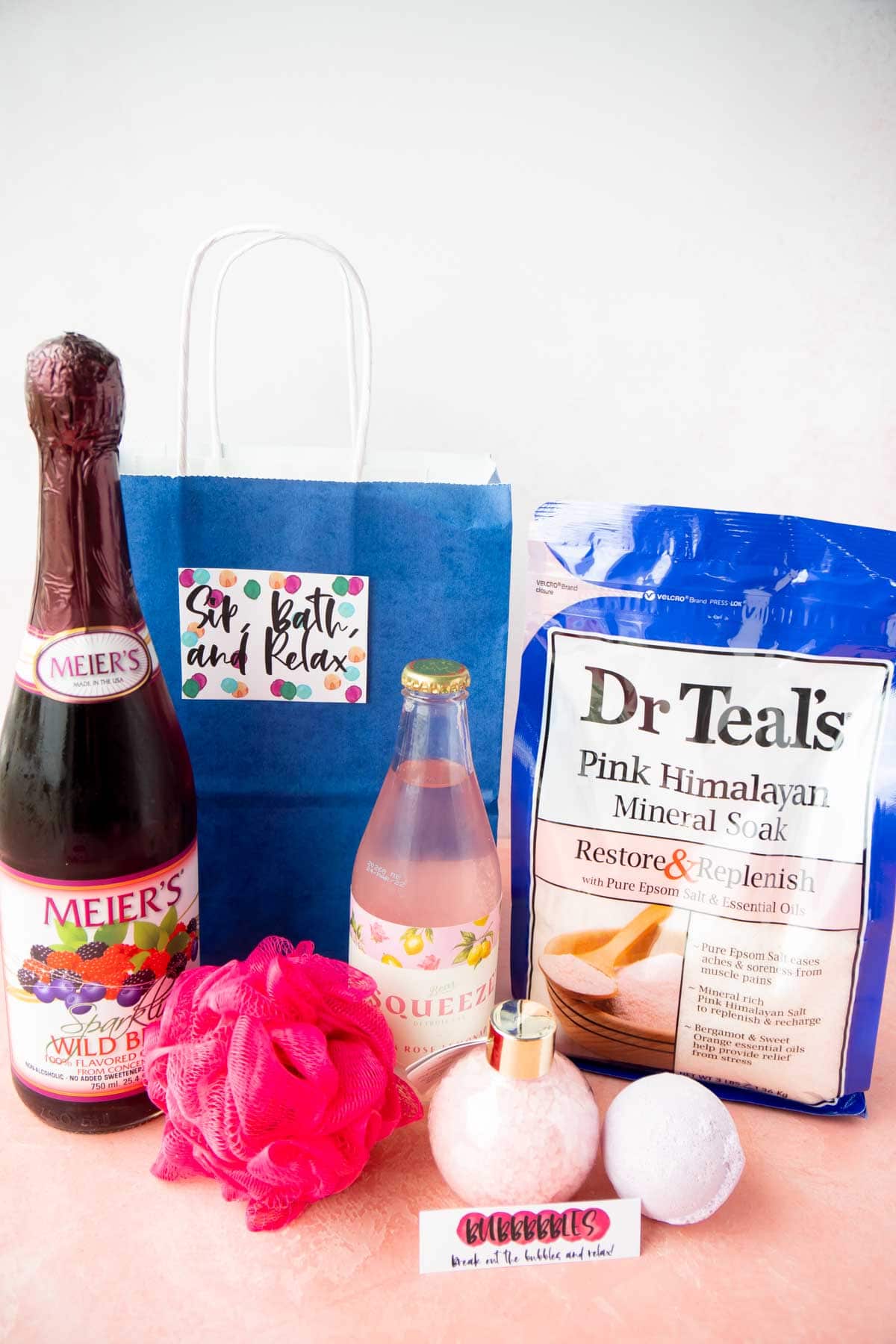 Snacks to NOT Share
This bag is probably the easiest of all of them to fill up. Instead of giving mom three square meals – give her breakfast, dinner, and filling snacks to eat throughout the day.
While the guilty pleasures bag should be full of yummy treats, the snack bag can have more filling snacks like this custom made charcuterie board. Hy-Vee has the option to order a custom charcuterie board where you choose from a variety of meats, cheeses, crackers, fruits, and more.
Pick a few things your mom wants and let her enjoy gourmet snacks in style, without having to share with the kiddos!
Shop Therapy
Have a mom who likes to shop? Pick up a couple of gift cards from Hy-Vee's gift card mall and encourage her to use the gift cards on herself with a little at home shopping.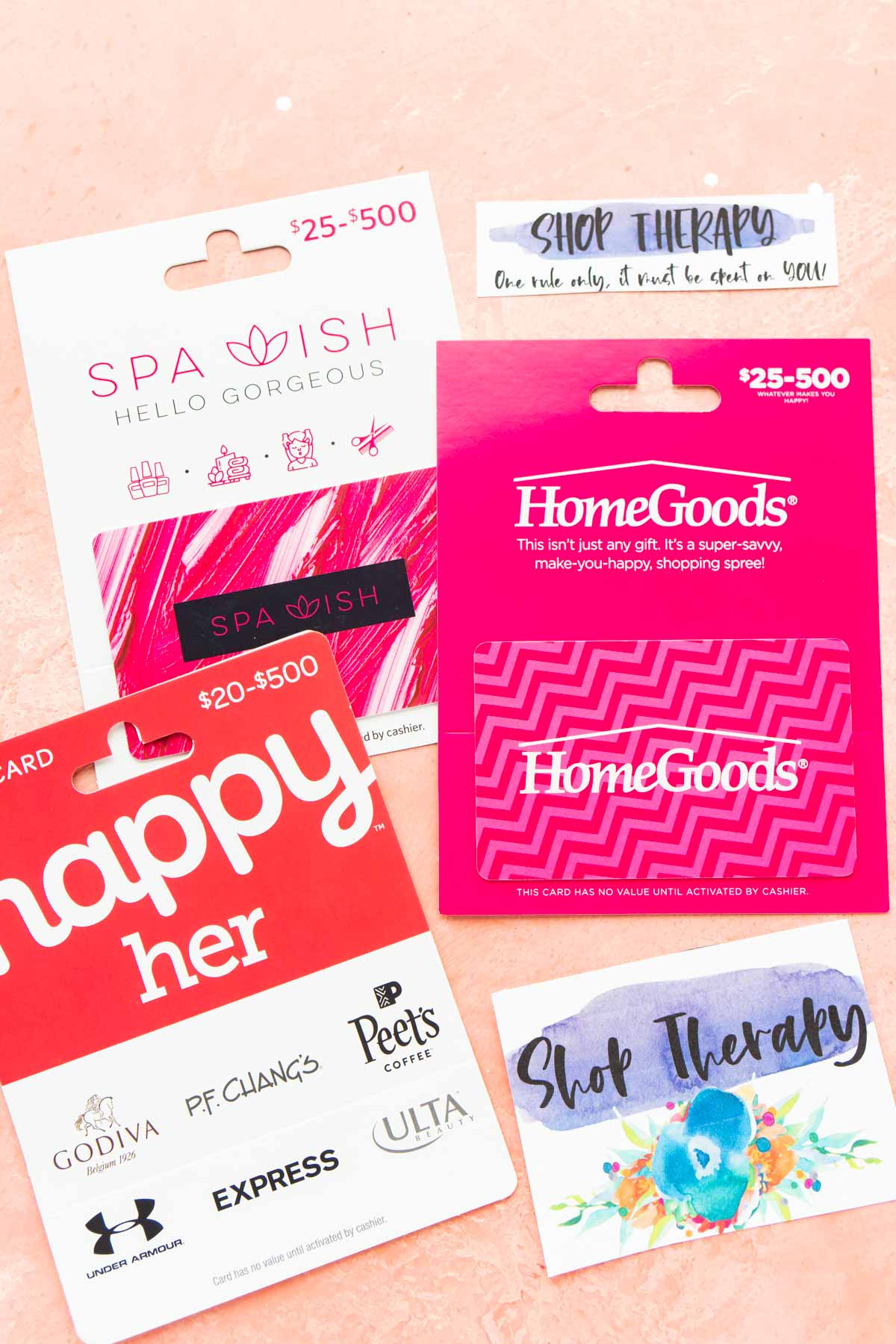 Ma's Spa
Clean up time but this time instead of mom cleaning up messes, she's cleaning up herself!
I mentioned it before but Hy-Vee has a huge selection of spa items. Grab a couple of things you think mom will enjoy and fill this Mother's Day basket with items to pamper herself.
Face masks, scrubs, exfoliating gloves, lotions, and more all go well in this bag.
If you'd rather you could also just put some of these things into the sip, bath, and relax basket since many of these things you can use before or after a long soak in the tub!
It's your mom and totally up to you!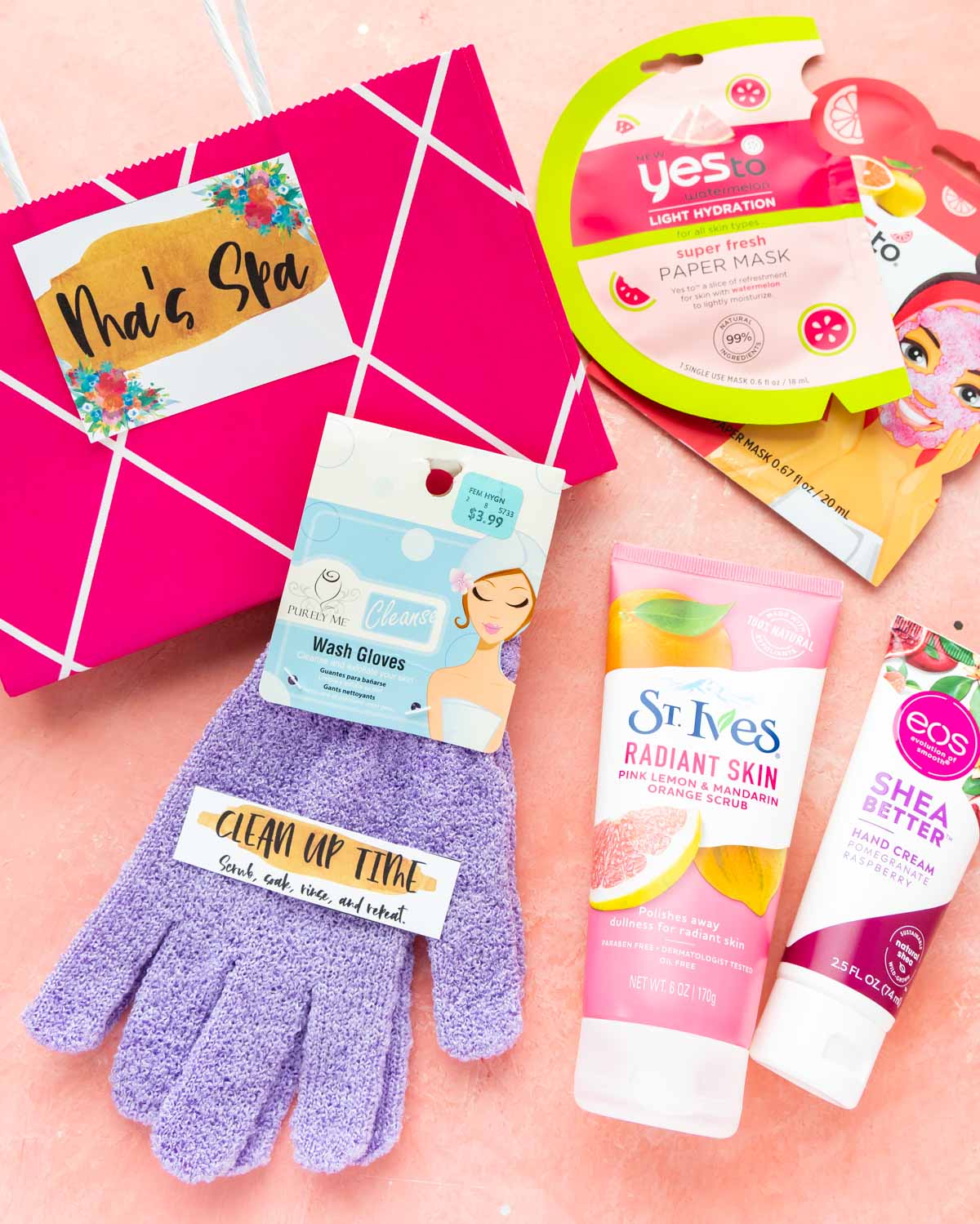 Slumber Party
Encourage mom to take a nap (if she wants of course) with this nap inspired bag. Comfy socks, ear plugs, sleeping mask, aromatherapy scents, and more can all make an uninterrupted nap even better!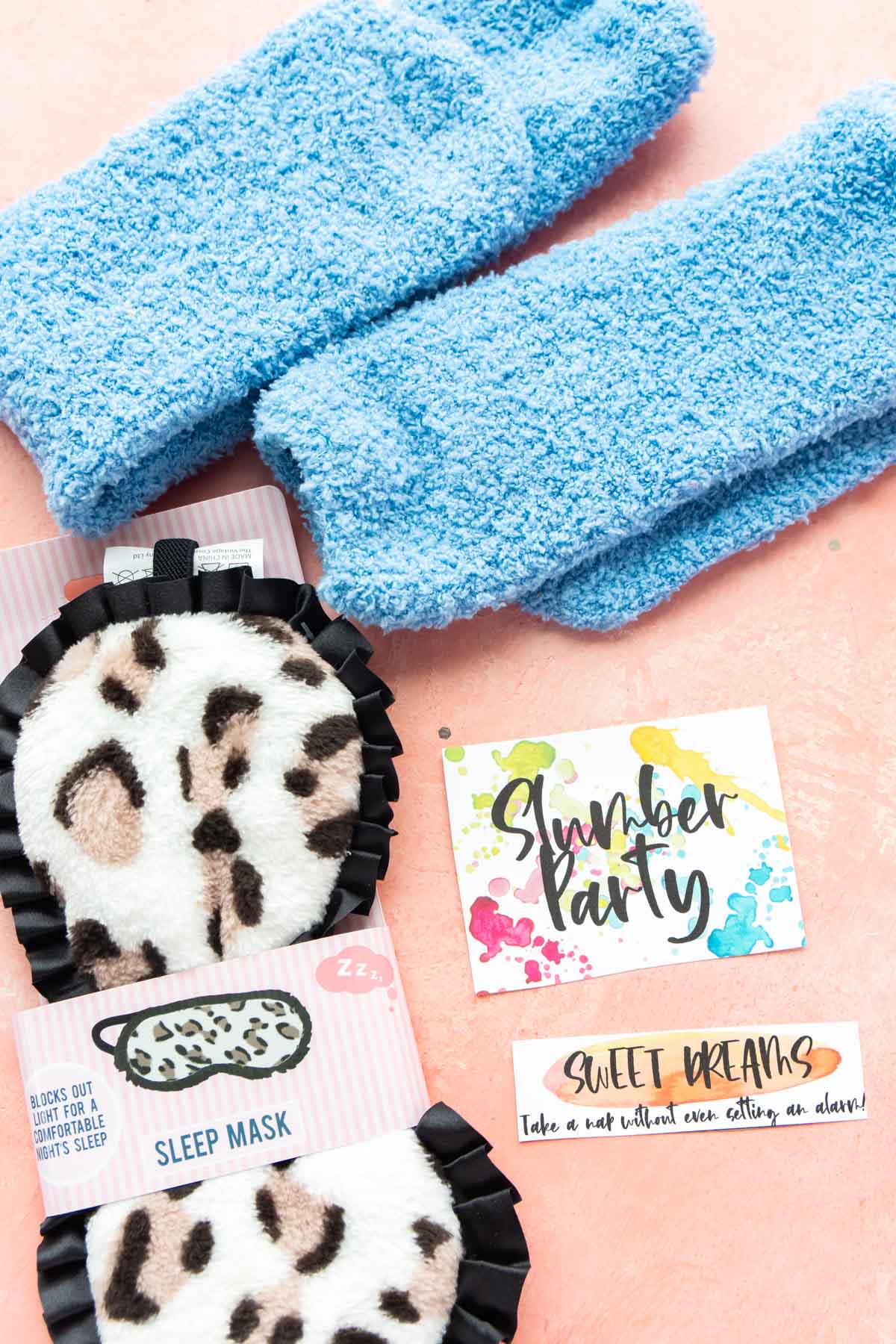 Pizza and Quiet
We talked about breakfast, now let's talk about dinner.
The last thing mom is going to want to do at the end of the day is dishes. So for the dinner option, I made a pizza and quiet bag.
Hy-Vee has a big variety of inexpensive take and bake pizzas that you open and bake right on the oven tray. Use paper plates and napkins and no dishes whatsoever.
They also have a fruit pizza you can pre-order (or just pick up in store) that makes the perfect pizza and quiet dessert for the entire family!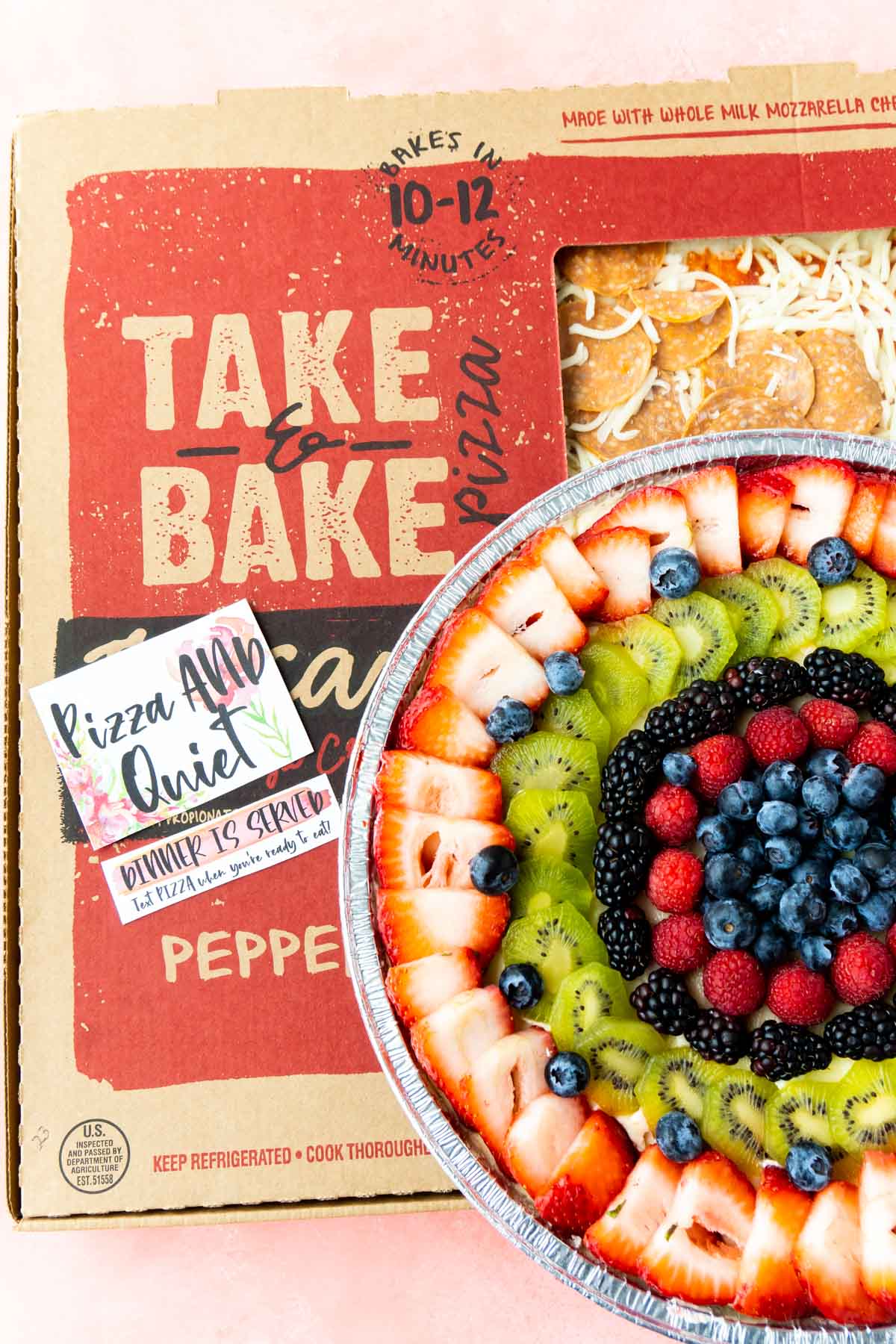 There you go – the best Mother's Day gift ever (a day off) plus some Mother's Day baskets to make that day off even more enjoyable!
If you wanted to add something else, I don't know any mom who wouldn't appreciate a Hy-Vee Plus Membership that includes exclusive benefits and deals, savings on gas, free standard grocery delivery, and concierge service in stores!
I mean you could even give that to her at the end of the day off as kind of a continuation of perks for mom for the rest of the year! Grab a $99 gift card to cover the annual fee and explain what it's for so she can sign up on her own!
Download the Printable
Click on the button below to download the printable files.
The file will include:
One page PDF with the 8 different bag labels shown in this post
One page PDF that includes the gift letter to mom and the small explanation cards to put in the gifts!