This Oscar trivia game is fun to play before you watch Hollywood's biggest night of the year! See how many of the over twenty Oscar trivia questions you can answer and how well you know the Academy Awards!
Oscar Trivia Game
With the Academy Awards coming up soon and people looking for Oscar party ideas, I thought it would be fun to take a look back at Oscar history and big events that have happened during the Oscars over the years.
I mean who will ever forget when La La Land was given the Best Picture nomination on accident when in reality it should've been Moonlight. Or when Will Smith had to accept the best actor Oscar right after slapping Chris Rock – that was crazy!
For anyone who loves the movies, these Oscar trivia questions are perfect! Also great for an Oscar or Hollywood themed party even if it's not the actual night of the Academy Awards!
Use this along with a little Oscars bingo and seeing who can guess the Oscar winners with this printable Oscars ballot for a fun night of movies and awards!
Anyway, guess I should get back to the actual game!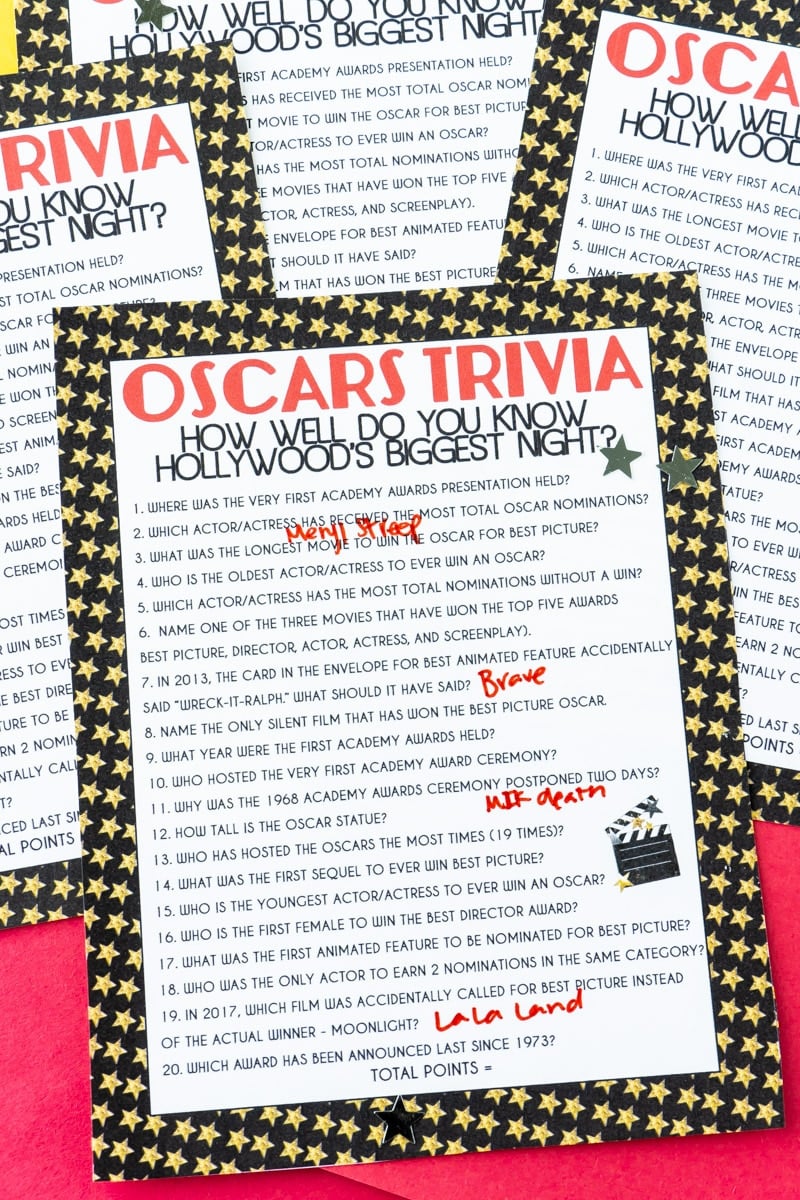 Printable Oscar Trivia Game
This game is full of questions that likely won't change that often so that the correct answers don't change with each award show. If you want year specific questions, I recommend checking out my New Year's Eve trivia games!
It's perfect for playing while people are enjoying some munchies like this spinach artichoke dip, these buffalo chicken roll ups, or these baked teriyaki meatballs (put them on star toothpicks!).
There's no – what won best picture in 1959 or who won best actress for Gone with the Wind. Or who hosted the 1987 Oscars. Those are things I just don't know if anyone is going to remember to be honest unless maybe you're my dad.
These questions are based on the history of the Academy Awards (first award ceremonies), superlatives (youngest winner, most nominated, etc.), and big Oscar events (Moonlight and La La Land mixup).
I tried to include questions that at least some people might know as well as some that are a little more challenging so not everyone knows everything. If you're a movie buff, this is the game for you!
There are twenty total questions. Give everyone a printable, let them answer questions, and see who can get the most correct!
And don't forget the prizes. I've got a bunch of great Oscar prize ideas in this Oscar bingo cards post!
Oscar Trivia Questions & Answers
WHERE WAS THE VERY FIRST ACADEMY AWARDS PRESENTATION HELD? Roosevelt Hotel
WHICH ACTOR/ACTRESS HAS RECEIVED THE MOST TOTAL OSCAR NOMINATIONS? Meryl Streep
WHAT WAS THE LONGEST MOVIE TO WIN THE OSCAR FOR BEST PICTURE? Gone with the Wind
WHO IS THE OLDEST ACTOR/ACTRESS TO EVER WIN AN OSCAR? Christopher Plummer
WHICH ACTOR/ACTRESS HAS THE MOST TOTAL NOMINATIONS WITHOUT A WIN? Peter O'Toole
NAME ONE OF THE THREE MOVIES THAT HAVE WON THE TOP FIVE AWARDS
BEST PICTURE, DIRECTOR, ACTOR, ACTRESS, AND SCREENPLAY). It Happened One Night, Silence of the Lambs, One Flew Over the Cuckoo's Nest
IN 2013, THE CARD IN THE ENVELOPE FOR BEST ANIMATED FEATURE ACCIDENTALLY
SAID "WRECK-IT-RALPH." WHAT SHOULD IT HAVE SAID? Brave
NAME THE ONLY SILENT FILM THAT HAS WON THE BEST PICTURE OSCAR. Wings
WHAT YEAR WERE THE FIRST ACADEMY AWARDS HELD? 1929
WHO HOSTED THE VERY FIRST ACADEMY AWARD CEREMONY? Douglas Fairbanks
WHY WAS THE 1968 ACADEMY AWARDS CEREMONY POSTPONED TWO DAYS? MLK Assassination
HOW TALL IS THE OSCAR STATUE? 13.5 inches
WHO HAS HOSTED THE OSCARS THE MOST TIMES (19 TIMES)? Bob Hope
WHAT WAS THE FIRST SEQUEL TO EVER WIN BEST PICTURE? Godfather 2
WHO IS THE YOUNGEST ACTOR/ACTRESS TO EVER WIN AN OSCAR? Tatum O'Neal
WHO IS THE FIRST FEMALE TO WIN THE BEST DIRECTOR AWARD? Kathryn Bigelow
WHAT WAS THE FIRST ANIMATED FEATURE TO BE NOMINATED FOR BEST PICTURE? Beauty & The Beast
WHO WAS THE ONLY ACTOR TO EARN 2 NOMINATIONS IN THE SAME CATEGORY? Barry Fitzgerald
IN 2017, WHICH FILM WAS ACCIDENTALLY CALLED FOR BEST PICTURE INSTEAD
OF THE ACTUAL WINNER – MOONLIGHT? La La Land
WHICH AWARD HAS BEEN ANNOUNCED LAST SINCE 1973? Best Picture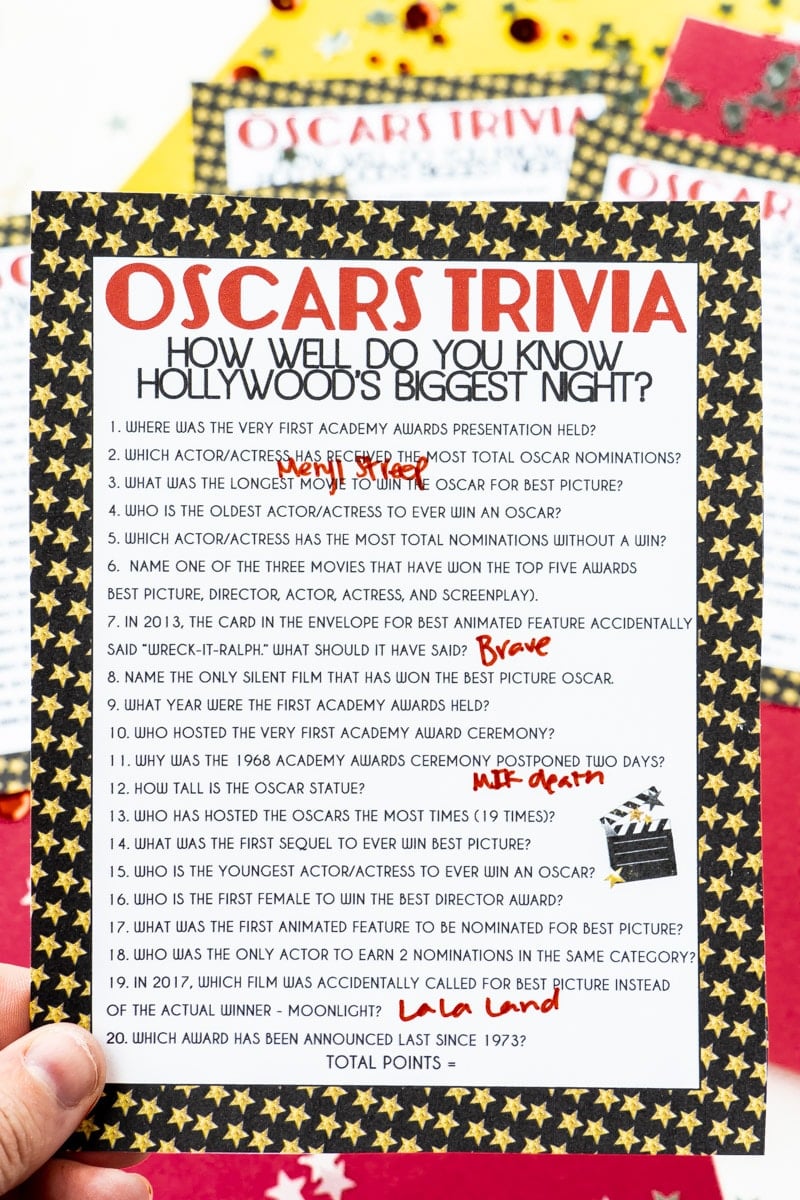 Other Oscar Party Ideas
If you're hosting an Oscar party or just want a little fun while you're watching the awards, check out these other great ideas!
Printable Oscar ballot – this is all updated for this year's awards with the top contests and their nominees!
Oscar bingo cards – a fun bingo game with this year's nominees! Play while you watch!
Oscar party game idea – a fun game inspired by the Academy Awards!
Oscar party ideas – all the Oscar party ideas you could ever need including food, drinks, and decorations!
Cotton candy drink – these fun sparkling drinks are the perfect refreshment for the big night!
Star mini pizzas – these fun star shaped pizzas are great for snacking on during the show!
Download the Trivia Questions
Enter your first name and email address in the form below to get the printable PDF.
You will receive a link to download the PDF to your email within minutes.
If you do not see the form, click here to get to it.
If you do not see the email immediately after you fill out the form, make sure to check your promotions, spam, and junk folders!