These Oscar party ideas will help you be the star of the show during this year's award season! With tons of great Oscar party food ideas, Oscar party games, and more – it's a collection of everything you need to host one Oscar worthy evening of fun!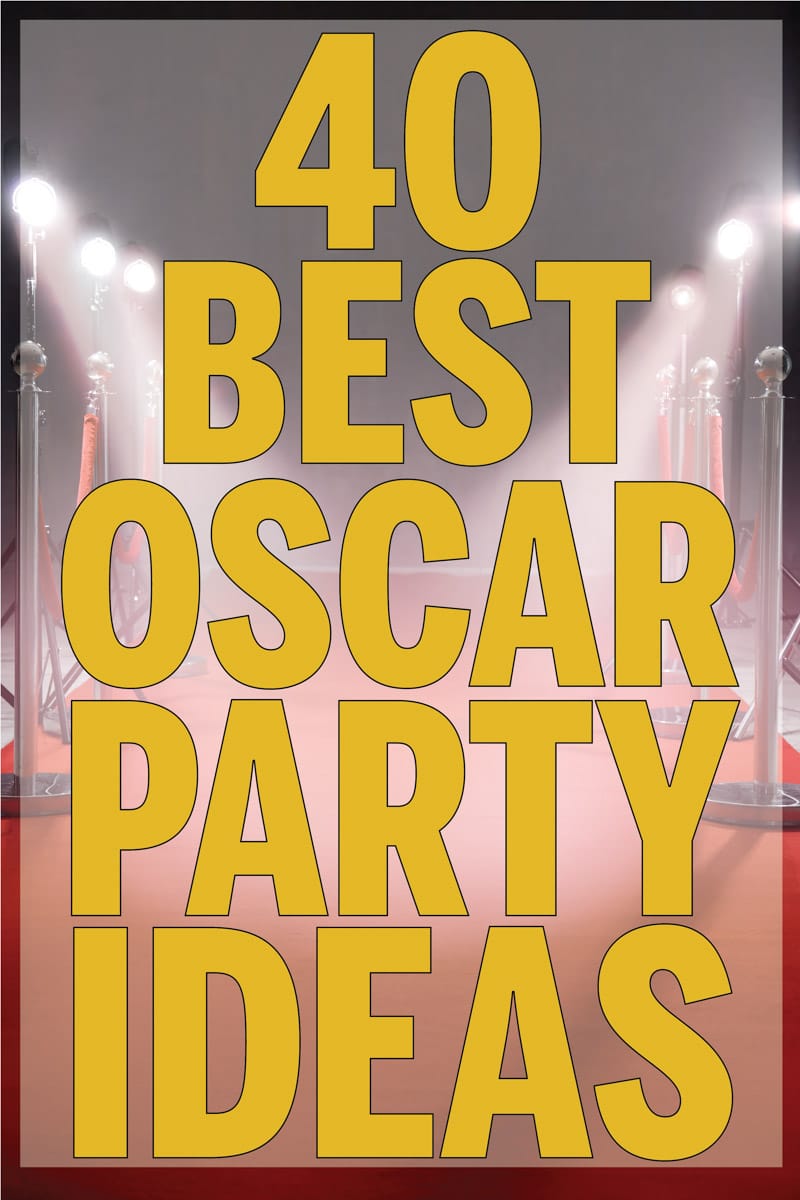 Easy Oscar Party Ideas
I love everything about the Oscars. The gorgeous dresses. The hosts. The surprise of who will win. I love it all. And I'm excited to finally see a traditional Academy Awards after a couple of years of not so normal ones.
I loved putting together this collection of amazing Oscar party ideas you can use for your next Oscar party! There's everything you could need from Oscar party games to food!
The only thing missing is the ballot, and I've got a printable Oscar ballot for you here!
Oscar Party Food
There are two different ways you can go with Oscar party food – either dishes specifically themed to the movies nominated for the year or just generic Oscar themed food.
Movie Themed Food
If you want specific movie themed food, here are some good recipes to start! These are all inspired by movies from last year!
I could go on and on – just watch a movie and find something that works well with that movie!
Oscar Themed Food
For generic Oscar themed food, go movie night meets glamour!
Fancy up cheese and crackers by turning them into these cute tuxedo cheese and crackers instead. Or want to serve something a bit more substantial, use this tutorial to make tuxedo hot dogs instead!
Serve up fancy finger foods like these pulled pork sandwiches with a red cabbage slaw or these turkey meatballs on cute star toothpicks.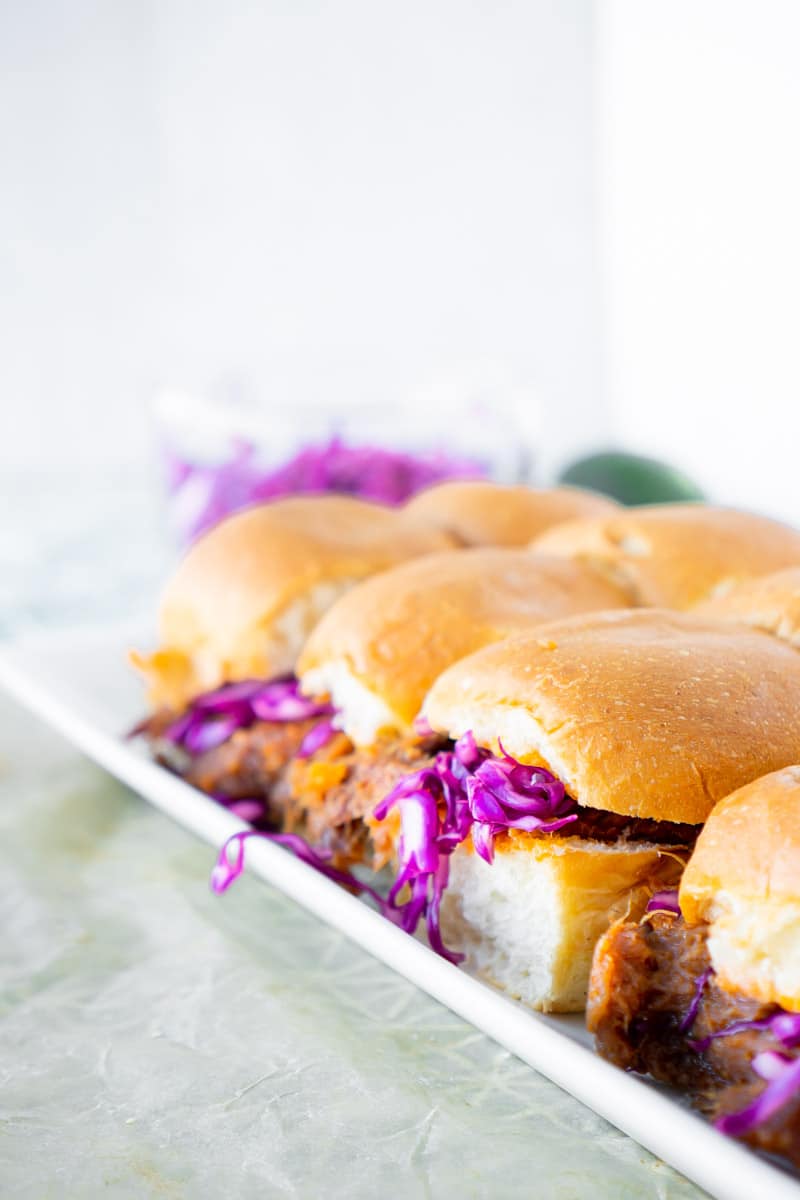 Or these spinach artichoke cups are always a bit hit, especially since the cups look kind of like stars! Don't want spinach artichoke dip, try these taco cups instead!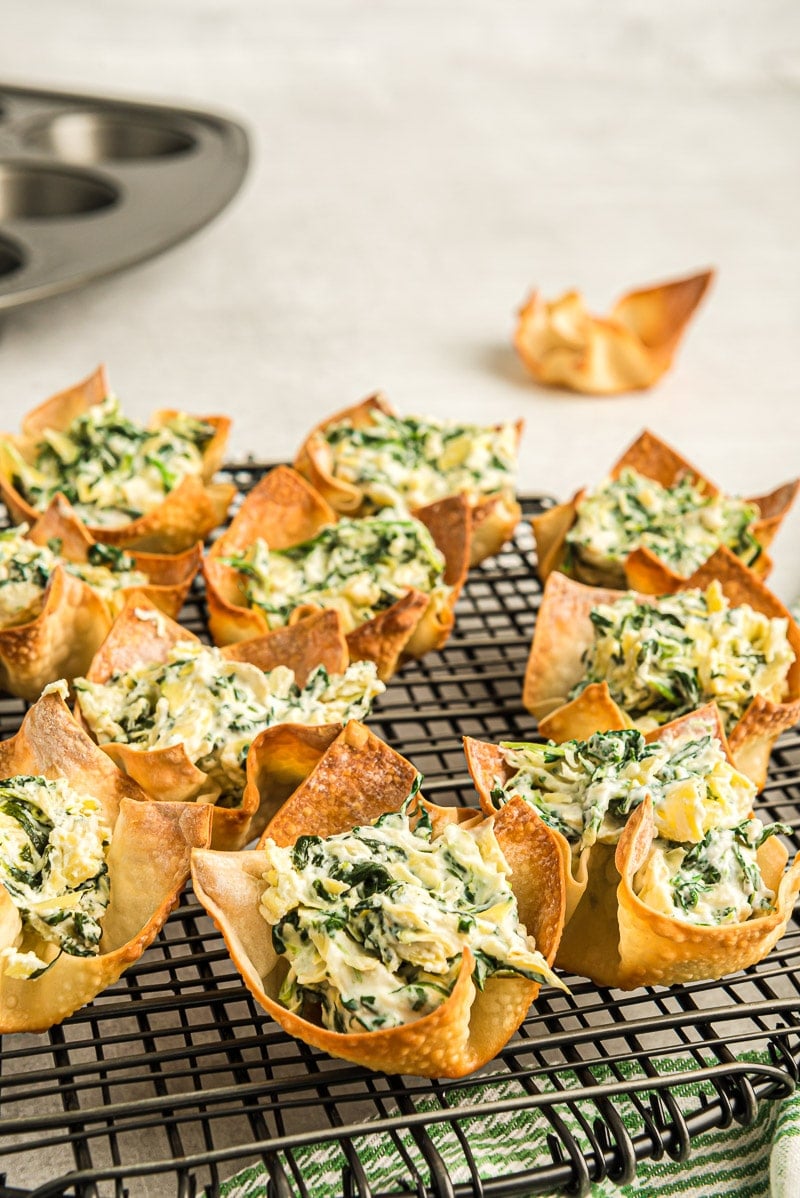 Speaking of stars, these star mini pizza pies would go great with the Hollywood star theme and honestly, who doesn't love pizza?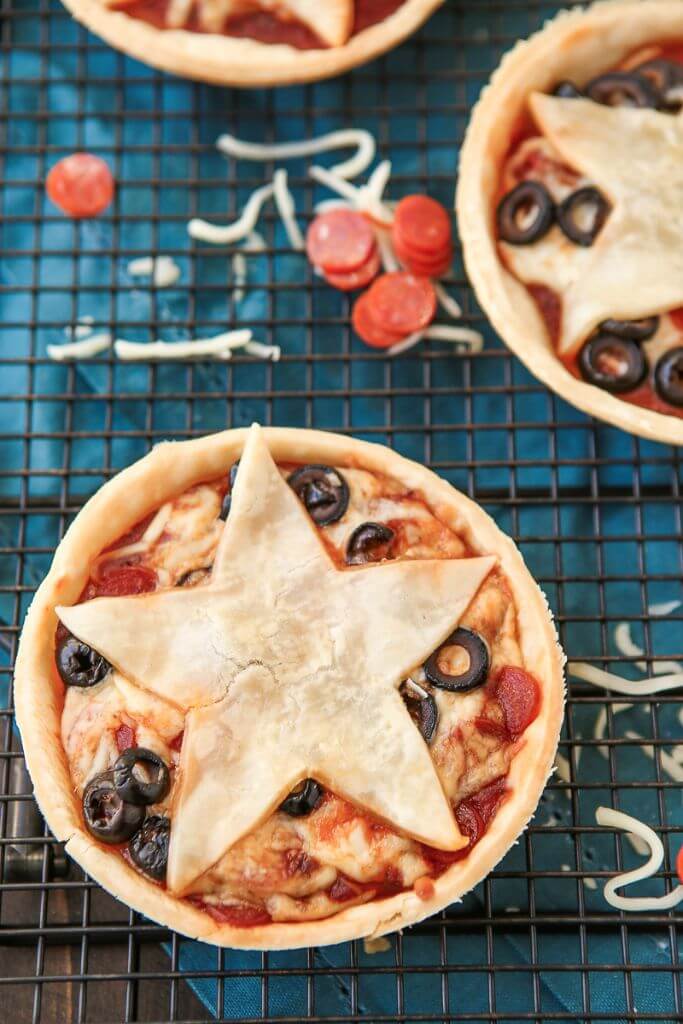 No movie is complete without popcorn and this glittery black and white popcorn makes a perfect snack for any Oscar party!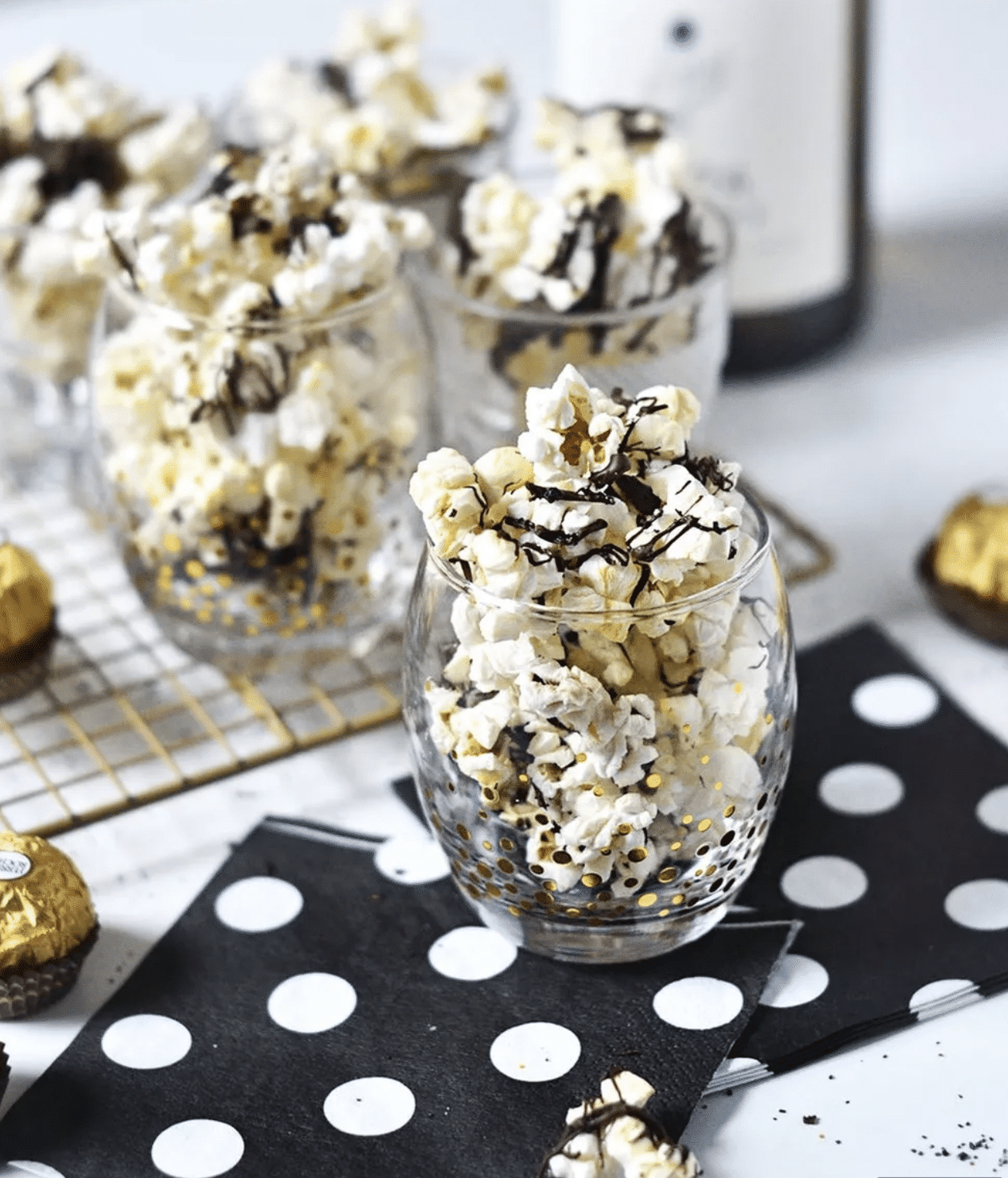 Don't forget dessert! Use this Academy Award cookie cutter to make these Oscar trophy cookies – yum!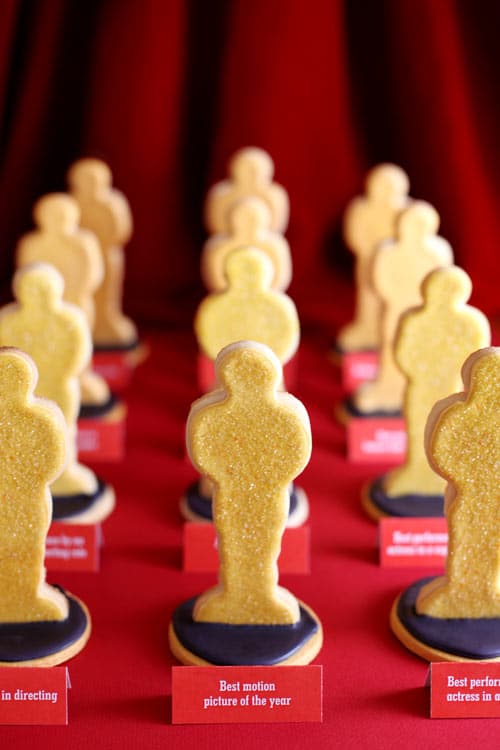 Or stick with the black and white theme and make an Oreo cake like this one!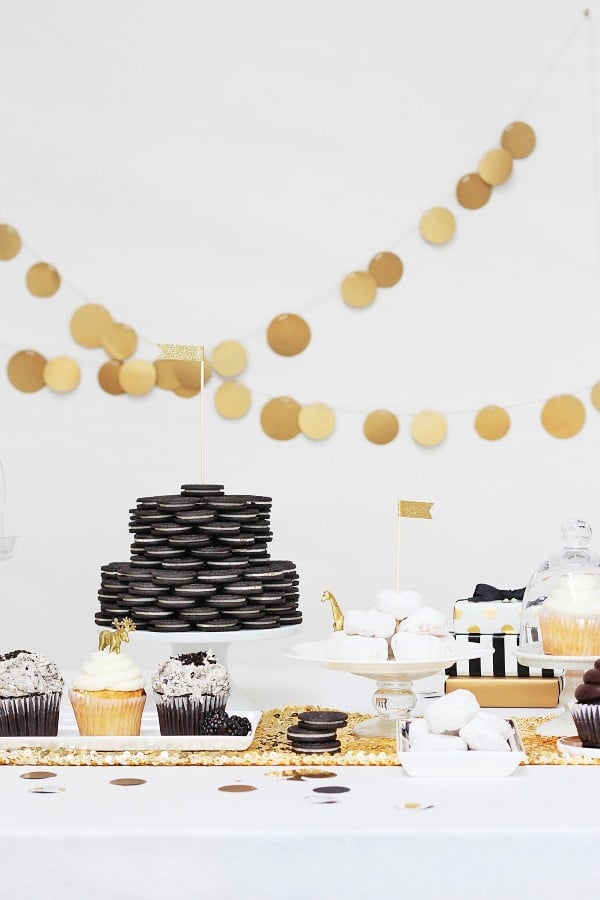 Want to go with a star theme? These walk of fame ready star brownies are a yummy recipe by one of my favorite party planners Amy Atlas. I actually met her and had her sign her book back when I was just starting out!
Go with fancy drinks like these strawberry citrus mocktails or this raspberry punch served in fancy glasses!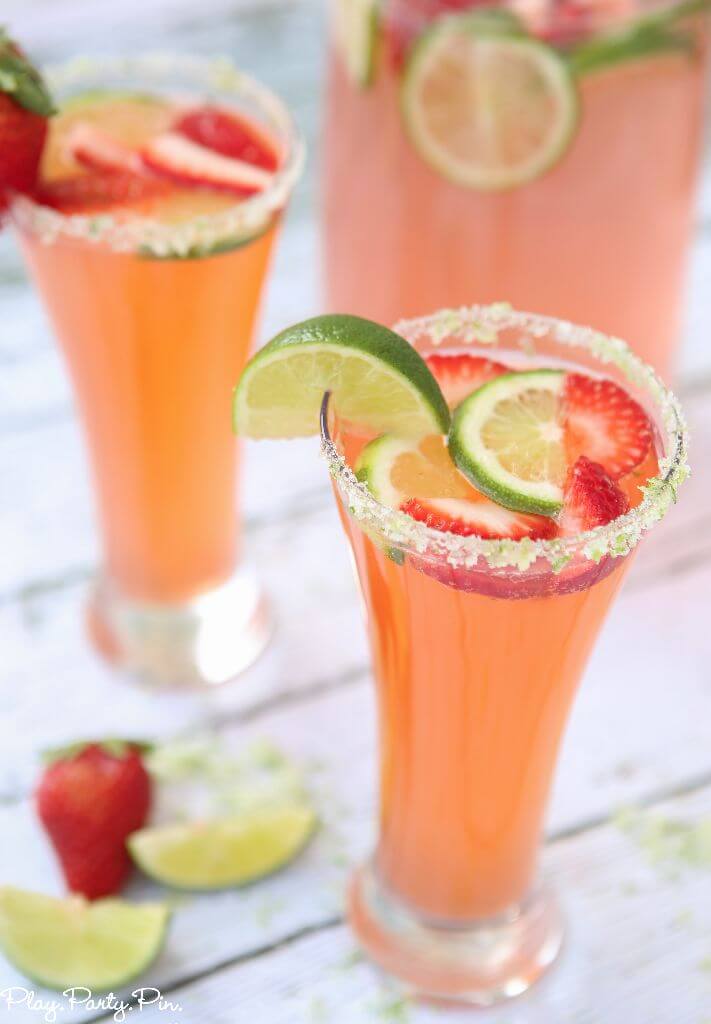 These film reel cupcakes are made with little gold colored licorice and gold glitz added on top. They're easier to make than they may seem using this tutorial.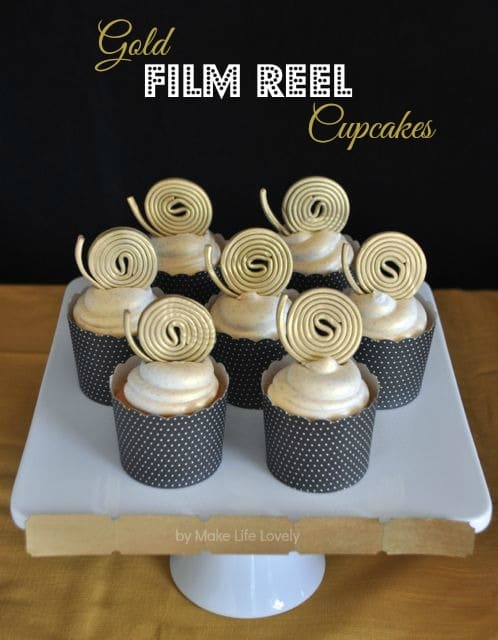 These old-fashioned 7 layer bars have all sorts of layers, just like a good movie. Plus, they're just delicious and a favorite for all ages!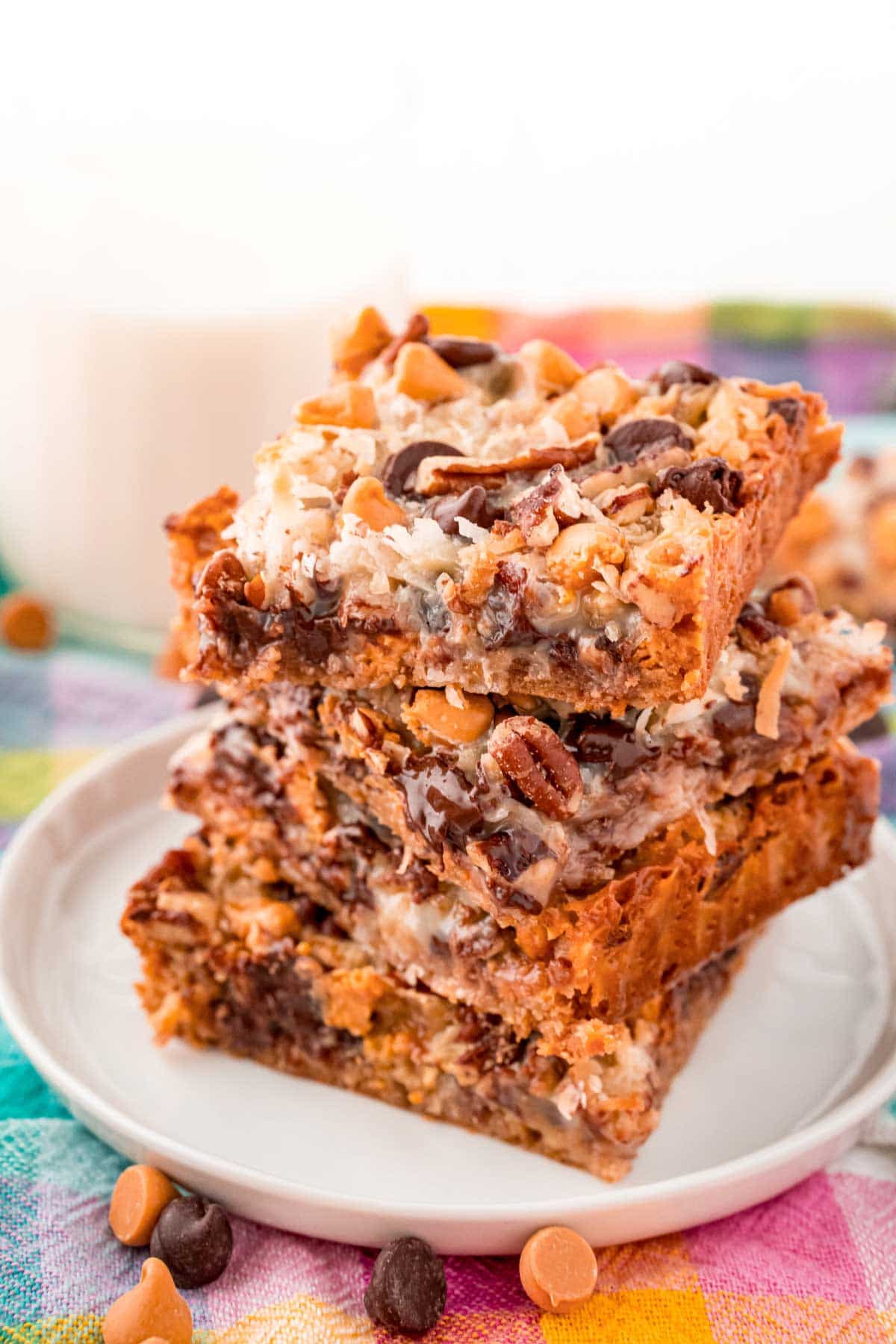 These chocolate lava cakes make a super elegant dessert for your party! Prep them ahead of time and add the finishing touches during one of the achievement awards where you can step away for a minute. They're even better with a little vanilla ice cream!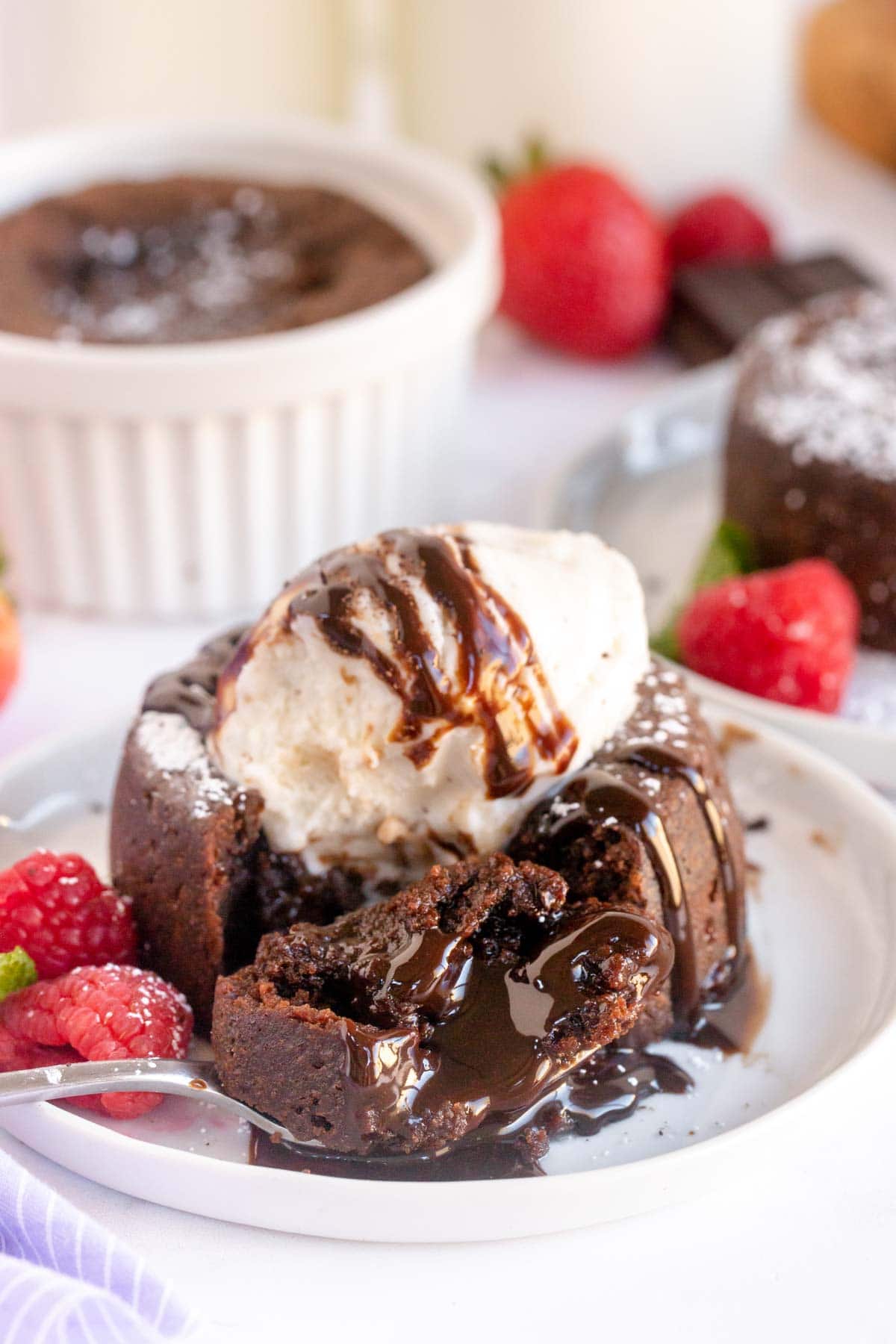 Oscar Party Games and Activities
I know that the Oscars are mostly about watching the Oscars but it's a party so I couldn't help but come up with some entertainment of my own.
Oscar Bingo
My absolute favorite thing to do during the Oscars is a little game of Oscars bingo. Cross off spaces as people are shown, win awards, and more!
You can get the free printable Oscar bingo cards here – all updated with this year's nominees – and details about how to play here.
Say My Name
Before the party, write out name tags for each actor or actress nominated for a major award. Put the name tags in a bowl (or a plastic popcorn bucket).
When people arrive, have them take a name out of the bucket and put the name tag on for the evening. When a name is said or shown on the screen during the Oscars, whoever has that name has to take it off.
The last person with a name tag on wins a prize.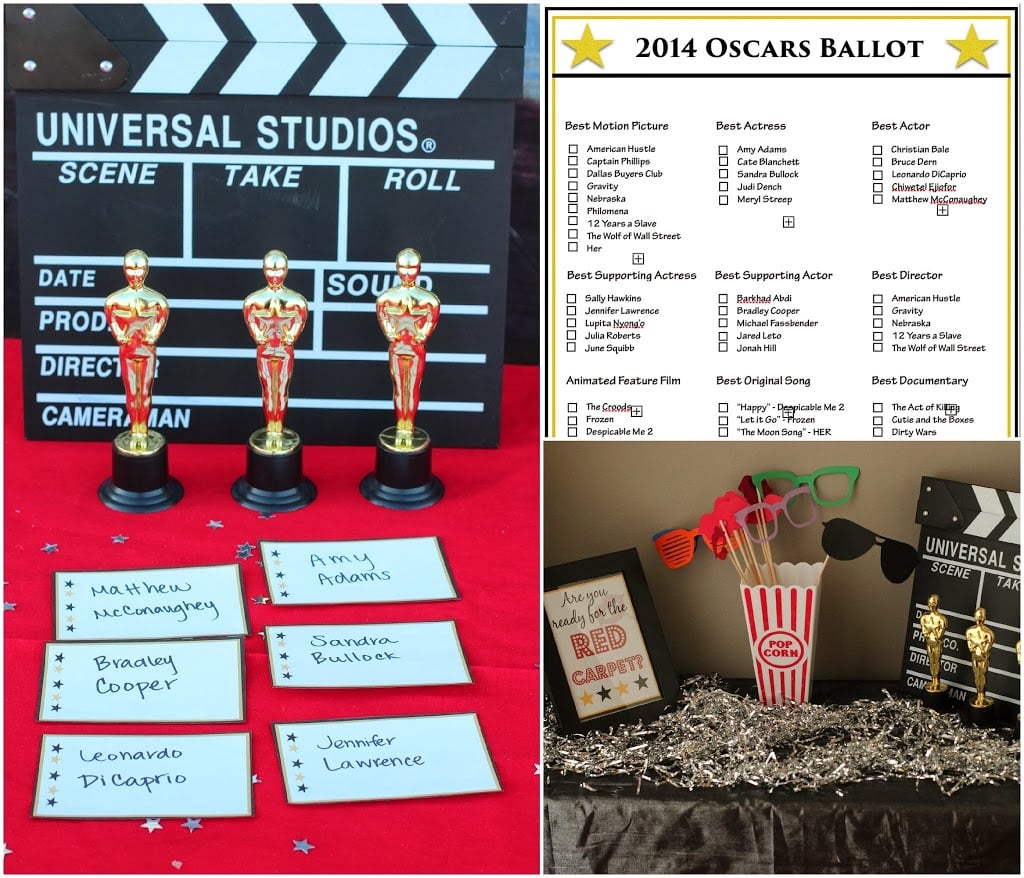 Who Am I Oscars Edition
Using the same name tags I mentioned above (with names of actors/actresses up for major awards), put a name tag on everyone's back when they walk in.
Guests then have to go up to other people and talk to each other to try and figure out who they are using only yes or no questions.
Since some people don't necessarily know all of the actors and actresses, make sure to have a printable 2023 Oscar ballot out so they can at least know what movie they are nominated for.
Oscar Trivia
See who knows the history and events from the Oscars best! Test them with this fun printable Oscar trivia game that asks questions about things like the first Academy Awards, the biggest winners, and the biggest losers (La La Land!).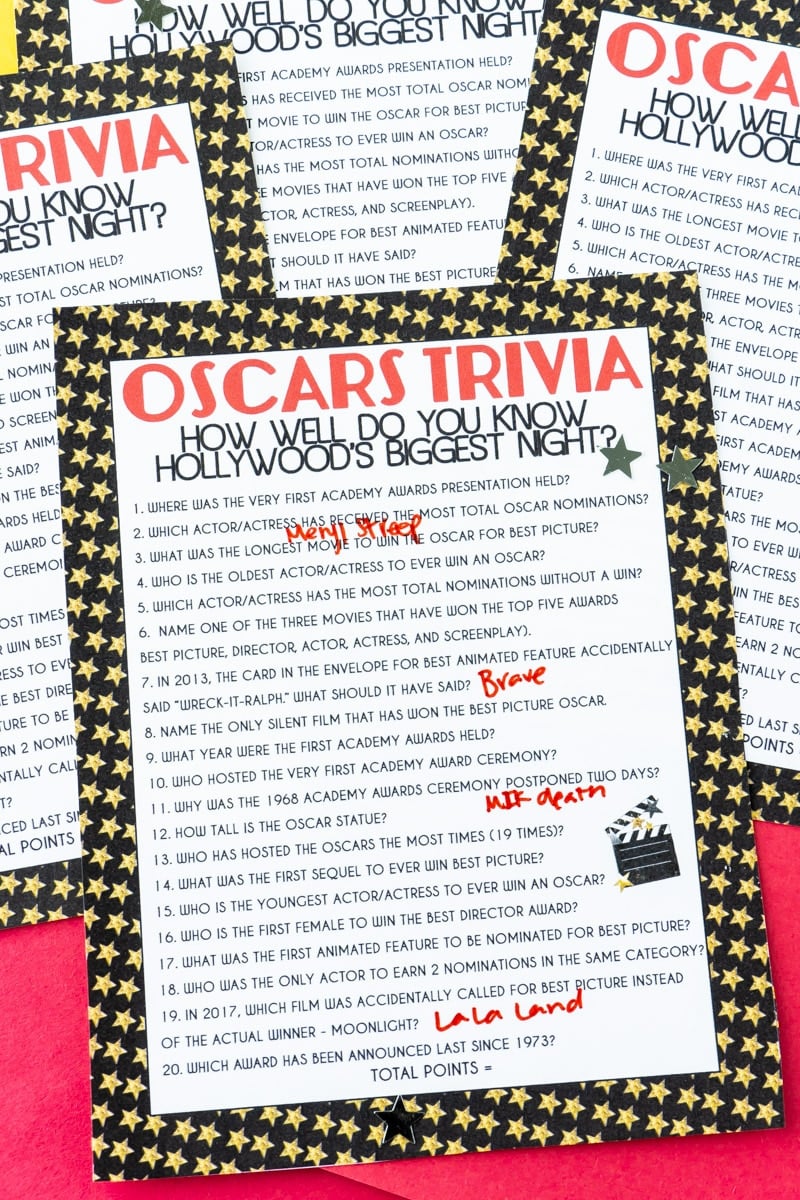 Behind the Receipt
This game works best if people come over a bit before the Oscars start. Split into teams and give each team a box of props and the task to create short skit using the box of props.
Give out awards for the most creative, best use of props, etc. Get free printable award cards and more instructions on how to play this game here.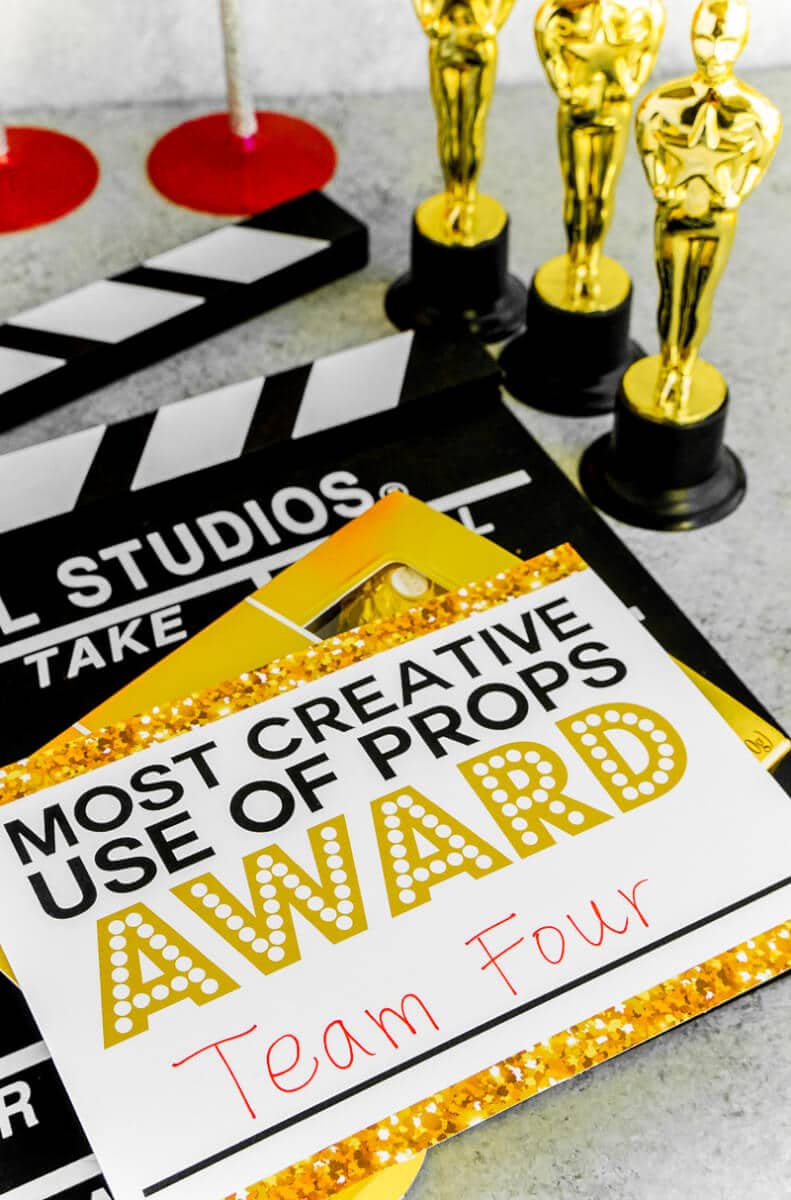 Celebrity
Celebrity is one of my most favorite party games for adults. Play three rounds of games trying to guess famous celebrities – in this case Academy Award nominated celebrities – but each round things change a bit – guessing, speaking, and saying one word.
Get full instructions and more details on how to play celebrity here. You could even mix it up and do both movies and actors that are nominated.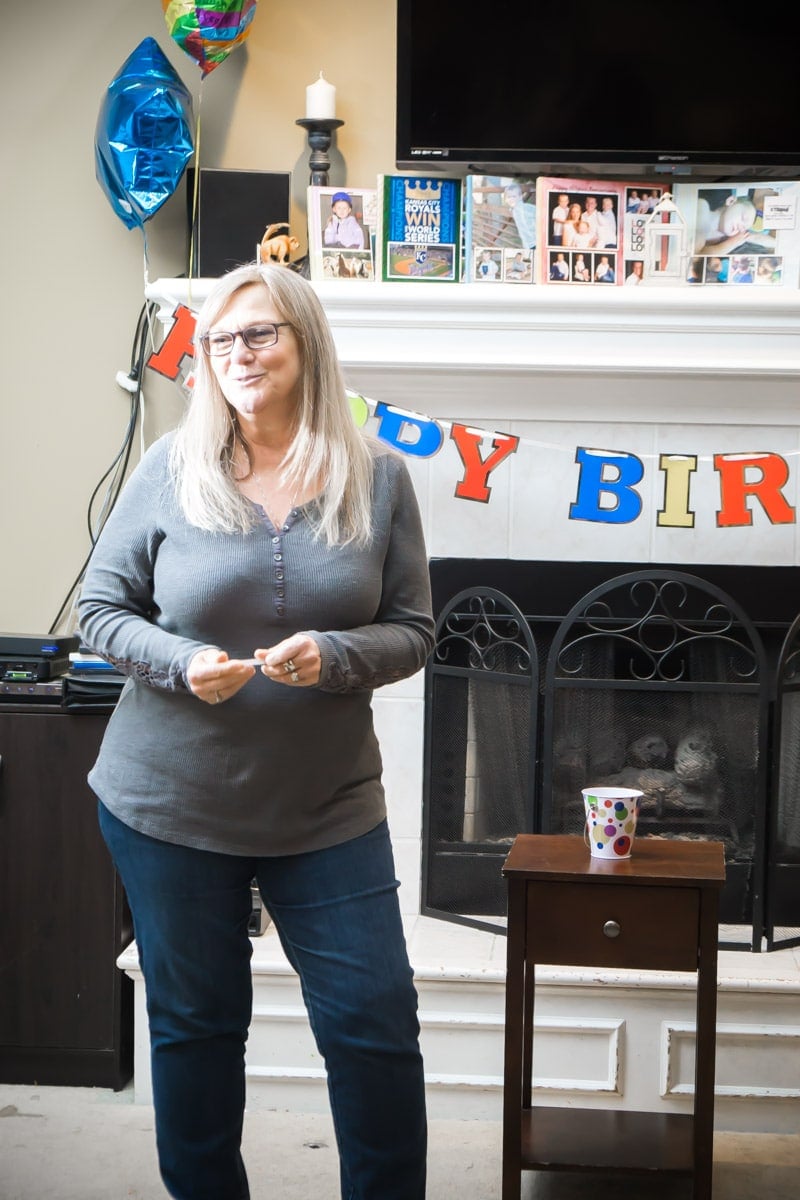 And the Award Goes to…
If you don't want to go with any actual games, it's still fun to have people complete an Oscar voting ballot with their guesses on who wins. The person to get the most correct wins a fun prize!
You can get a free printable Oscar ballot card here.
Oscar Themed Prize Ideas
Make sure to have some fun prizes on hand for the game winners! Any of these would make great prizes for individuals who win. If you're playing a team game like Behind the Receipt, a bag of gold candy works great!
Fandango gift card (so people can see the Oscar nominated movies)
Any of the nominated movies or movie soundtrack (the Frozen 2 soundtrack is especially good)
Movie theater candy (you know the square boxes that aren't completely full but still delicious)
Gold chocolate of some kind – stars, gold coins, Hershey's almond kisses, Rolos, etc.
Gift card or subscription to a movie streaming service or Redbox
Oscar Party Decorations
When it comes to Oscar party decorations, there are three things to remember.
Color – black, white, red, and gold are pretty standard colors
Texture – just like all of the dresses are different, use different textures and fabrics in your decorations.
Glam – It's the Oscars after all. Figure out what you want to do then add some glitter and glitz to dress things up and make them as fancy as you'd see at the actual Academy Awards.
Other than that, you can never go wrong using movie themed items, stars, or anything that just screams Hollywood. Here are some fun ideas to get you started!
These Oscar envelope folded napkins are an elegant way to spruce up the ordinary napkin! Get the tutorial here.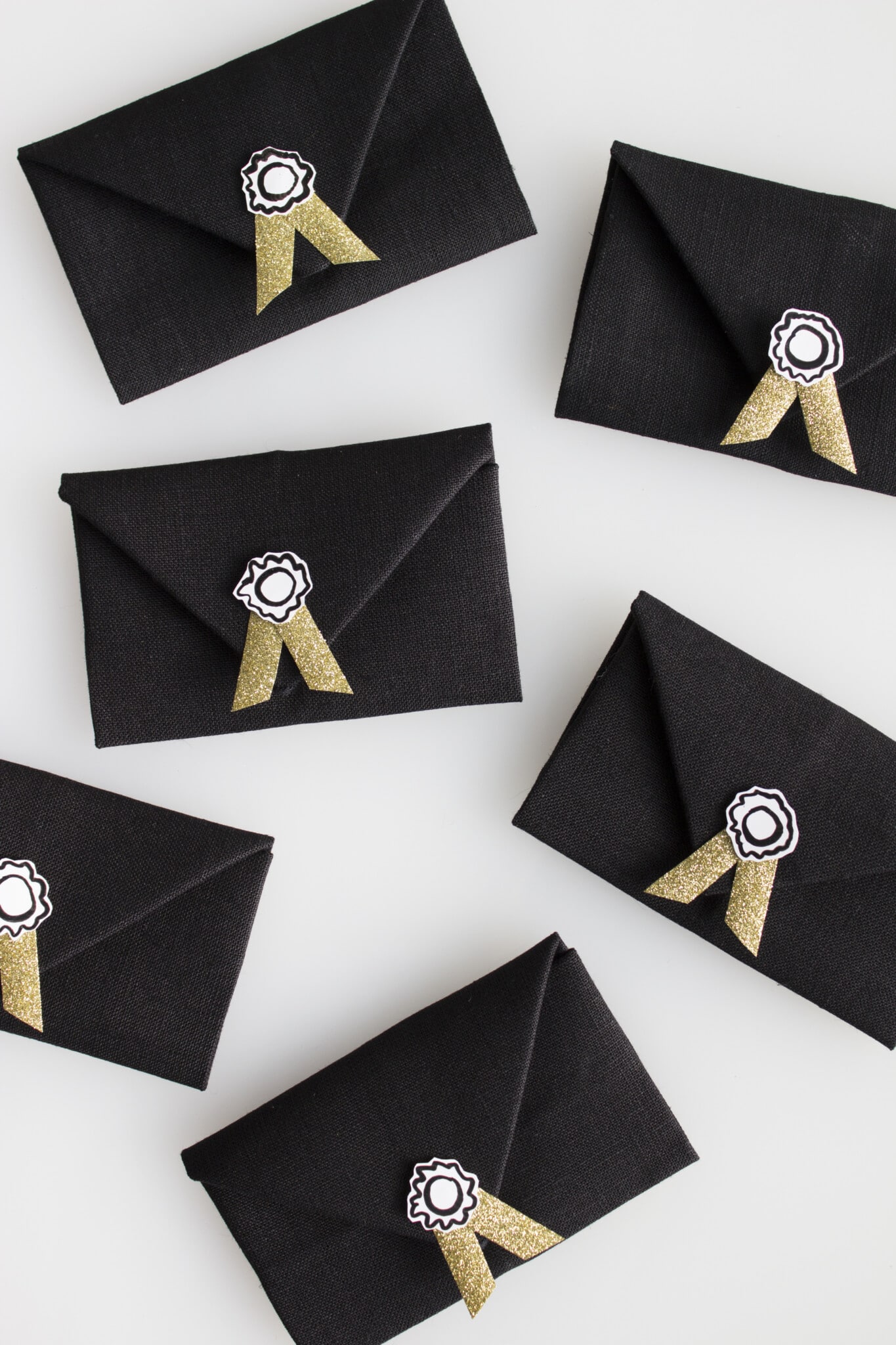 Don't leave your other paper goods out! Dress up your cups like these DIY tuxedo cups with just a few little snips of the scissors.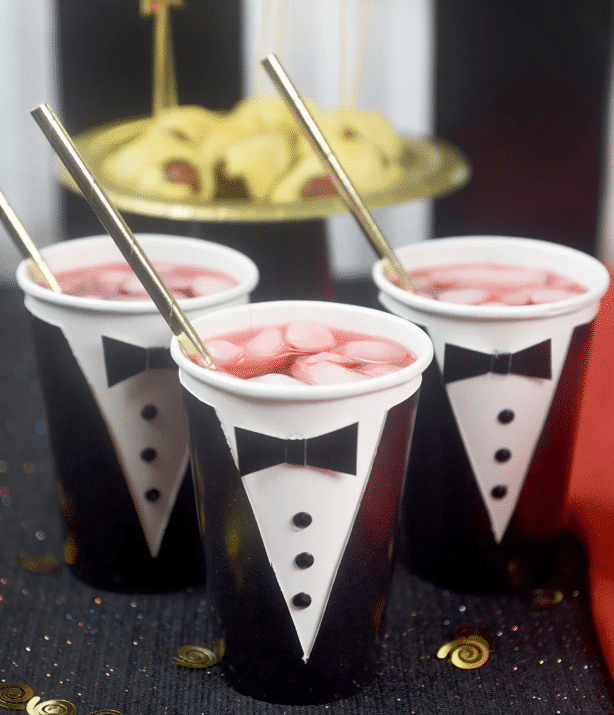 Use these Oscar cut files to add glam to plates, chairs, tables, favors, and more!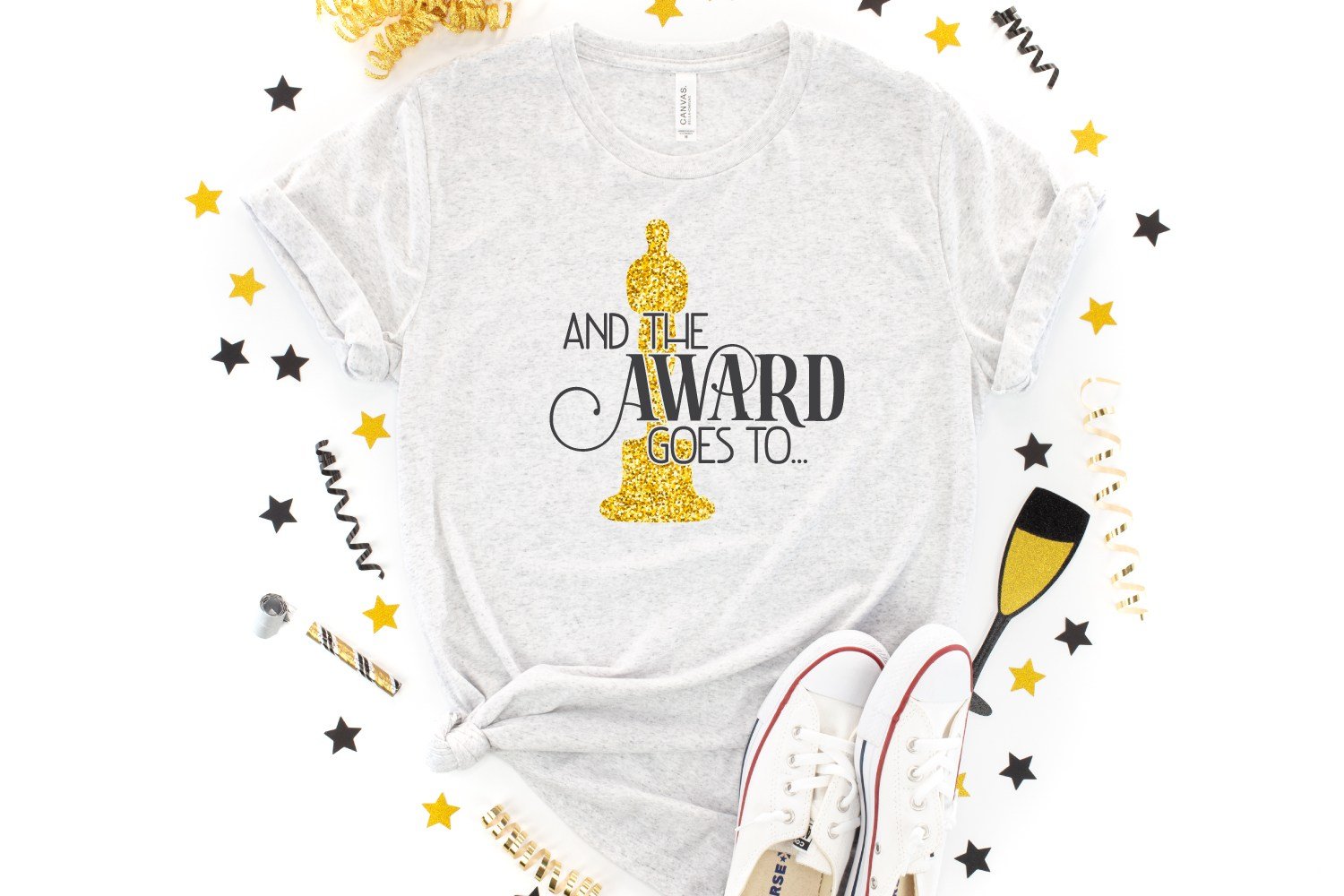 You can't let people leave empty handed! Even if they didn't win one of the games, send them home with these darling "that's a wrap" party favors!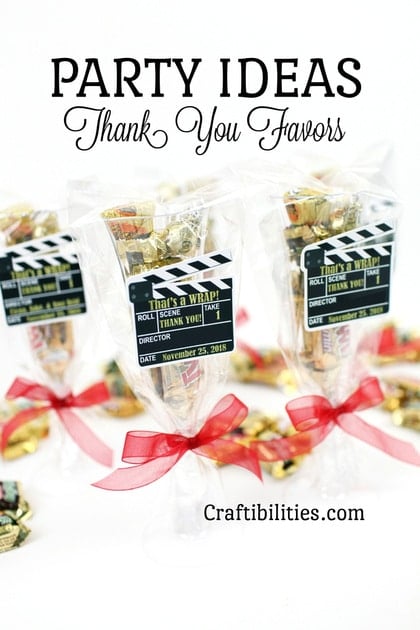 Or if you want to do something other than treats, these darling the Academy thanks you thank you favors will keep happy even if their favorites didn't win!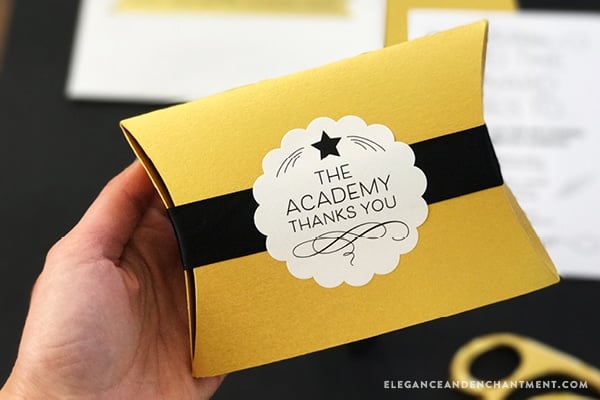 Need more ideas? All of these can be setup quickly and last-minute!
More Movie Themed Party Ideas
If you're a fan of the movies, you won't want to miss these fun movie themed party ideas!