I love everything about the Oscars. The gorgeous dresses. The hosts. The surprise of who will win. I love it all. So I also loved styling this Oscar party and am so excited to be sharing these fun ideas with you today. I hope you love these Oscar party ideas!
I went traditional with my color scheme – black, silver, gold, and red – and used a star throughout the party design to tie it all together.
Oscar Party Food
Since the Oscars start fairly late, I decided to just provide desserts and drinks for my party. I started it off with a make your own popcorn bar because what goes better with movies than popcorn?
And next up is my absolute favorite, these cocktail cupcakes that I made using an awesome kit from Cakes Under the Influence. There's never been a sweeter drink than these beauties.
I was provided the CUI Entertaining Baking Kit from Cakes Under the Influence for free to try out, and I absolutely love it. The kit came with everything I needed to make 12 cute martini cupcakes, perfect for this Oscar party or another cocktail party. They were so simple to make, and I love how my chocolatini and pina colada cupcakes turned out.
Last but not least, I served Welch's sparkling white grape juice in these fun wine glasses that I picked up for 30 cents a pair in post-Valentine's Day clearance sales at Target. To make them look a little more festive, I added a strip of Duck Brand® silver glitter tape to the stems.
Oscar Party Games
I know that the Oscars are mostly about watching the Oscars but it's a party so I couldn't help but come up with some entertainment of my own. First, I setup a simple red carpet area with fun movie star props that my guests can use to strut the red carpet on their own. If you know for sure who is coming to your party, make it even more personal by writing the names of your guests on the stars.
Next, have your guests pick up name tags when they come in but rather than blank name tags, have each of the name tags have a celebrity name on it that is nominated for a major award. You can use the printable ballot below to get the list of celebrities up for Oscars this year. Don't tell anyone what the name tags are to be used for, just have them pick one up and put it on as they walk in the door. Once everyone arrives and the Oscars are about to start, explain to everyone that they should listen for their celebrity name to be said during the show. If their name is said, they should take their name tag off and put it back on the table. The last person with a name tag is the winner. I've included Oscar themed prize ideas below.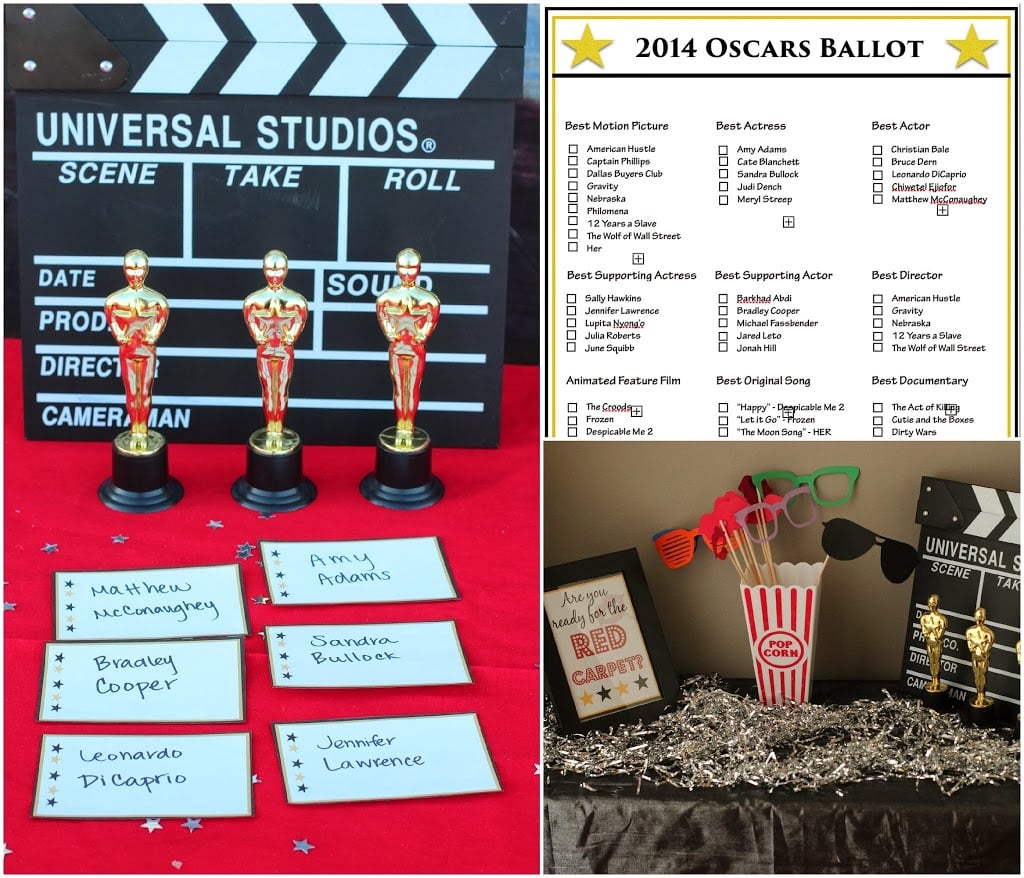 And last but not least, print out a copy of this free printable Oscar voting ballot for your guests. Have your guests fill out the ballot with their guesses before the show starts and whoever gets the most answers correct wins a prize.
Prize Ideas
Movie tickets
Movies
Movie candy
Chocolate gold coins
Gift basket with movie, popcorn, and candy
Plastic Oscar statuettes
Netflix or other movie subscription service
Redbox Gift Code
iTunes gift card
Movie soundtrack