This past week I was lucky enough to spend time with some of my favorite girlfriends at the beach on Anna Maria Island, Florida. We packed up all of our beach essentials and spent hours playing in the water, reading on the sand, and chasing umbrellas that were blown away by the wind. Next week I'm headed to the beach in the Bahamas again, my fifth to the beach this summer. I've put together this list of beach essentials to help you know what to pack for the beach next time you go!

7 Items You Should Always Pack for the Beach
#1 – Sunscreen
I put this first because after being burnt in Puerto Rico, this is at the top of my weekend getaway packing list every time I head to the beach these days. And it should be at the top of yours as well. I love this sunscreen, but you can use whatever works best for you.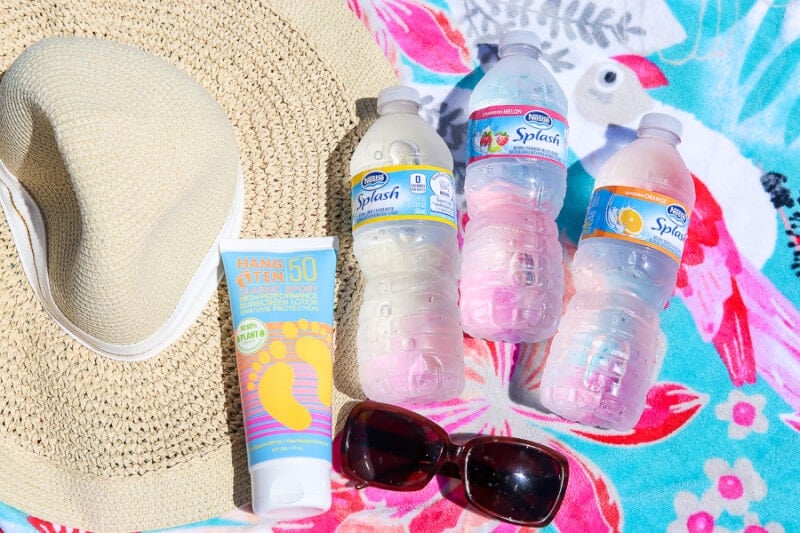 #2 – Plenty of liquids
Liquids are just as important, if not more important, than sunscreen. I picked up some NESTLÉ® SPLASH at the local grocery store on Anna Maria and refrigerated it before our day out. If you've never tried NESTLÉ® SPLASH, it's my favorite new drink – purified water with a light splash of sweetness and natural flavor. It's great for people like me who hate only drinking water but know that drinking water is super important, especially when you're out in the heat all day long.
It's also perfect for a girls afternoon at the beach because when you're in a swimsuit, the last thing you want is to be consuming a ton of calories. NESTLÉ® SPLASH has five flavors — lemon, strawberry melon, acai grape, mandarin orange , and wildberry — all with zero calories and zero sugars. Perfect for a refreshing drink during a day on the beach. I picked it up at the Publix on Anna Maria Island, but you can buy it either in six-packs or individual bottles at your local grocery store, find one near you here.
#3 – A pedicure
If you're headed to the beach, your toes better look cute! Pick a bright and fun color that'll stand out in the sand and show them off to all your girlfriends.
#4 – Something fun and unexpected
The beach is meant to be fun. We had a blast chasing manatees in the ocean, trying to keep our umbrellas from falling over, and gabbing about the most recent books we read on our ebook readers. And trying to keep our NESTLÉ® SPLASH from falling over in our floatable flamingos. We weren't particularly successful, but it was fun to try.
#5 – Sunglasses and a hat
I'm not normally a hat person, but I love wearing hats at the beach. It's the best way to protect your face from the sun and cute floppy hats are just fun. Pair it with some chunky sunglasses to protect your eyes and make a fashion statement all at the same time.
#6 – Beach Towels
While we were shopping at the Shiny Fish Emporium in Anna Maria earlier in the week, we saw the coolest beach towels that had a piece of fabric sewed on to one side to make them sand proof. Bring those because they're seriously awesome. Or if you don't have access to the sand proof beach towels, any beach towels will do. You'll be happy to have somewhere to sit, something to dry off with, and something to put down in the car to sit on, since a wet sandy car is the worst.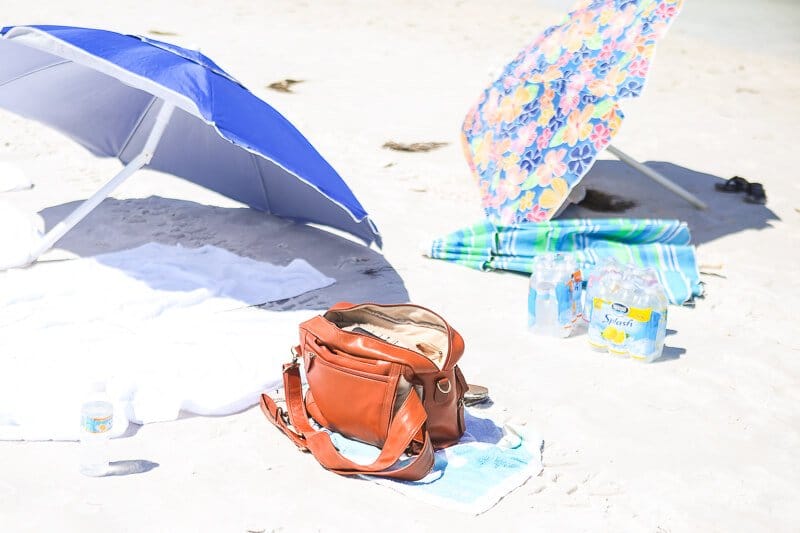 #7 – Good company
No one wants to go to the beach by themselves. I went with eight of my favorite blogger friends and seriously had the best time. Whether you're a fish like Aubrey or would prefer to just wade like Kimber, the beach is perfect for everyone. And Anna Maria beach is my favorite beach in the entire United States, so if you've never been there, definitely put it on your must-visit list! And if you've been there before, grab your best girlfriends or family and head back.
Have you ever been to Anna Maria Island?
This is a sponsored conversation written by me on behalf of Nestlé. The opinions and text are all mine.