This is a sponsored post written by me on behalf of Serta. All opinions are 100% mine.
Trying to figure out how to reconnect with your spouse? Asking each other questions from these free printable pillow talk cards is a great way to date your spouse when you don't have the time for an actual date night. 
One of the biggest changes from being a married couple to a married couple with kids for us is the lack of time for just the two of us. Before my son was born, all time was time for just the two of us. Now it seems like even when the two of us are alone, there are other things to do like dishes or laundry or catch up on the latest episode of the Vampire Diaries. Whatever it is, it feels like there's always something else that gets in the way and we end up not spending any time together until we're both about to pass out in our bed. And when it comes to marriage, time together is everything.
This past week my parents were in town, so we took advantage of the free baby-sitter and went and checked out new mattresses for our guest room. I know, pretty exciting date night right? Our guest room still has the mattress we bought when we got married and could only afford a cheap one. Not so great now that it's the guest room right above my two-year-old's room and wakes him up anytime anyone moves in it. Don't believe me? This fun video I made proves it. Bad mattress means lots of tossing and turning, tossing and turning = creaky bed = cranky baby! We were pretty cute back when we got married but not so smart about mattress buying.
Anyway, we tried out a couple of mattresses and absolutely fell in love with the new Serta® Perfect Sleeper Collection. There are 5 common sleep problems (tossing/turning, back pain, too hot, partner movement, and lack of support) and we deal with them all with our eight-year old mattress. The Serta® Perfect Sleeper is the only  official mattress of the National Sleep Foundation and fights all five of these problems with its unique features. And bonus, the mattresses are so comfortable you'll never have to count sheep again, and they're high-quality mattresses at an affordable price. So even if you're a newlywed and looking for your first mattress, you can afford one and avoid our creaky nightmare of a mattress.
And honestly I joked about it before, but it ended up being a pretty fun date night even if it was only an hour of laying down together on different mattresses and complaining about which ones were too hard or too soft. I almost felt like Goldilocks who would never find the mattress that was just right, until we did. I'm not going to ruin the surprise and tell you which mattress we picked but make sure to follow along on Instagram for the big reveal soon!
If you're unlike us and already have a Serta® Perfect Sleeper mattress, you still may want to look at upgrading your old one for a new 2015 version. New this year, the Cool Action™ Gel Memory Foam is available in Perfect Sleeper models for the first time, Custom Support® Individual Advantage coils are in select models, and they've even launched an entire brand new Perfect Sleeper Memory Foam line. Any guesses which one we chose? You'll find out soon! And who knows, maybe we'll even try out one of Serta's adjustable foundations like the Pivot™ (adjust the head of the bed) or Motion Essentials™ (adjust head and foot) since the Serta® Perfect Sleeper are compatible with both. I'm sure our guests won't mind being able to sit in bed, incline the head of the bed, and watch a movie before falling asleep. Okay, my mom will fall asleep in the opening credits like always, but I know my dad would love it.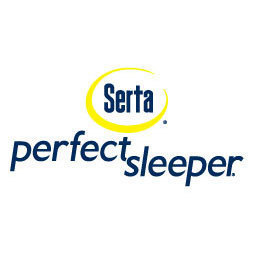 While we were laying on one particular mattress and laughing together, it hit me. We may not have a ton of time to spend together every day but we have at least a few minutes together each night before we fall asleep. So I made these fun pillow talk cards to make the most of your pillow time before you both pass out. Each of the cards has a little question on them to get you talking about something other than what you did that day or what's on the agenda for tomorrow. Really, they're just cards to get you and your spouse talking and having fun, creating a happy memory to end each long day. Ask all the questions for a date night, ask one question every night before bed, or use them however you want; just find more time to have fun and laugh with each other. You'll be amazed at how easy it is to reconnect with your spouse with just five minutes a day of laughing together.
I designed cards in three different colors, but they're all the same questions. And I specifically chose questions that you could ask over and over again and get different answers depending on the day or week. That way you're not asking the age-old questions like if you could go anyplace in the world, where would you go. Those questions have been asked and answered. These questions are ones to get you talking to each other about the good, bad, funny, and boring parts of your day. And honestly, what you're thinking about right now. It's about being present and spending some fun time together, even if it's just a few minutes right before you fall asleep. Every minute counts when it comes to a relationship.
You can print out the pillow talk cards by clicking on the image or links below. There is a pack of pink cards, aqua cards, orange cards, and then a multicolor that has one sheet of each color. I recommend printing them out on white cardstock then putting them in an envelope and somewhere near your bed.

<< Download Multi Color Pillow Talk Cards >>
What kind of mattress do you have? Is it time for an upgrade to make for more comfortable pillow talk time and sleep?