This St. Patrick's Day bingo game is perfect for kids or adults looking to have a little magical St. Patrick's Day fun this year! Use the free printables for class parties, St. Patrick's Day activities with the family, or at a St. Partrick's Day party! And with up to 40 unique board boards, there's enough for any size of group to play!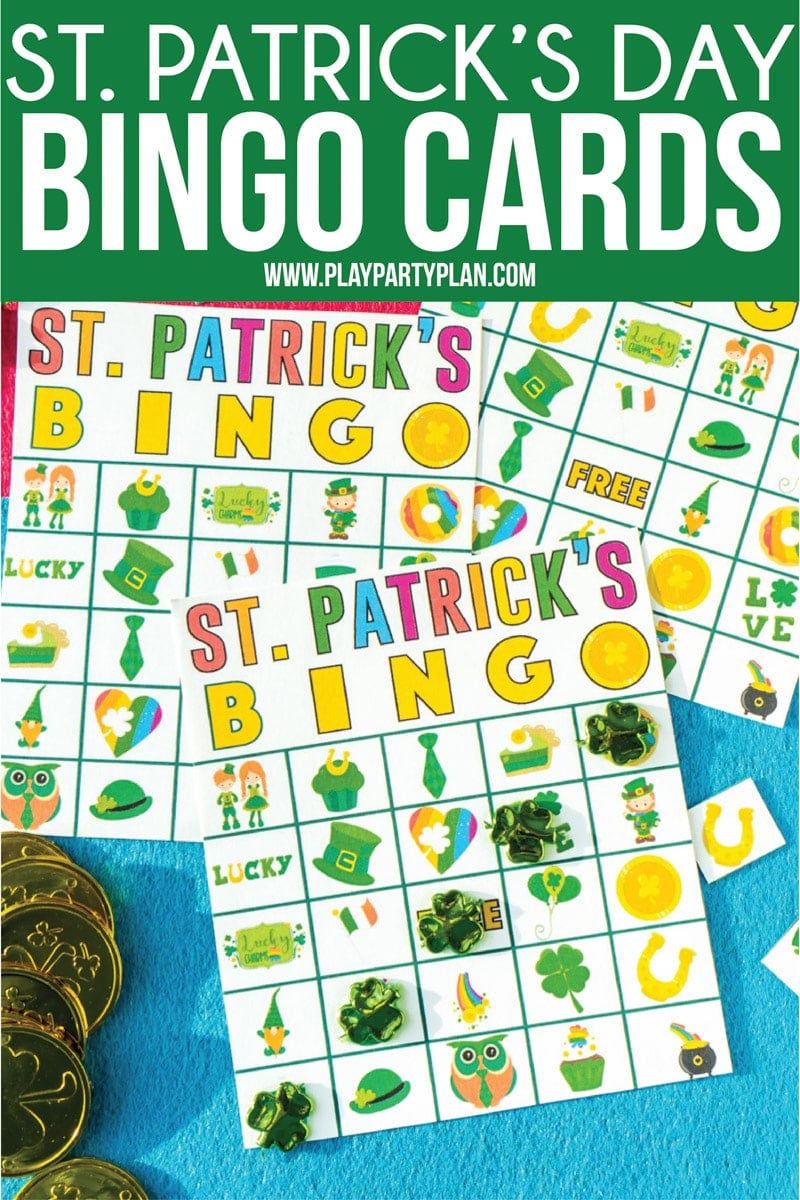 St. Patrick's Day Bingo
One of my boys' favorite things to do is play bingo. Whether it's Christmas bingo, Valentine's Day bingo, or this St. Patrick's Day bingo – he just loves to play! We even bought him this Zingo game so we can play bingo when it's not a holiday!
I thought it would be fun to make free printable bingo cards that both young children through adults can play and these image based bingo cards are perfect because even young kids can pick out matching images on a page!
This St. Patrick's Day bingo game is the perfect game for a classroom party, a St. Patrick's Day party for kids, or honestly you could even play it with adults. I mean cute little St. Patrick's Day images are really no different than numbers and adults (and seniors!) LOVE playing regular bingo.
Or skip the bingo for the adults and try one of these St. Patrick's Day party games instead!
It's just another holiday and another reason to play bingo – I'll take any excuse I can get! I hope this becomes on of your favorite St. Patrick's Day activities!
How to Prep for St. Patrick's Day Bingo
Playing St. Patrick's Day bingo is just the same as playing any other bingo game.
Print and cut the cards
Prep the calling board
Get something for players to use as markers
Pick your prizes!
1 – Print and cut the free printable St. Patricks Day Bingo Cards
First, you need to print out the downloadable St. Patrick's Day bingo cards at the bottom of this post. There are options to download both a pack of 16 and a pack of 40!
If you can't find the download, just look for the big pink box – you'll enter your information there to get the different cards for bingo night!
I recommend printing on white card stock and cutting with a sharp pair of scissors to get the most straight lines possible!
Once they're printed, cut them out – four to a page. If you want to reuse them year after year, I always recommend laminating – you can do this at home with a laminator or have a copy center or office supply store do it for you!
2 – Print and Prep the Master Game Boards
Print out two sheets of the master image page (aka calling cards).
Cut up one of the master images so that you have the images to pick from and keep the other intact so you can keep track of which images have been called (to verify the winner).
If you have a laminator, I really do recommend laminating both the small cut out pieces (that you'll pull out to call) and the master card to keep it year after year.
3 – Get your bingo markers
Get some sort of markers for people to use to cover their cards. These mini shamrocks, mini gold coins, or green candies like M&Ms or Skittles would work great.
Or just buy a box of Lucky Charms and use those instead – anything works as long as they fit on the spaces. If you're using something edible, make sure to give people extras – they will eat them!
I don't recommend using the dot markers because they make it so you can't reuse the cards again. They work great for things like cruise ships or one-time bingo games, but I assume you're planning to use the cards again or at least more than one game this year, so dot markers aren't my favorite.
4 – Pick Some Prizes
Last but not least – pick out a couple of prizes for the winners. I have suggestions below depending on if you're playing in large groups, small groups, etc.
How to Play St. Patrick's Day Bingo
This St. Patrick's Day bingo game is played just like any other bingo game – just with St. Patrick's Day images instead of numbers. It's not quite as complicated as my Christmas movie bingo!
When you're ready to play, either hand out a game board (aka bingo card) to each player or if they're feeling lucky, let them pick their own. It really doesn't matter as much with this as it does say with this Oscars bingo game where people want to choose a card based on who they think will win!
Choose someone to be the caller or just do it yourself. I recommend you do it at least the first round so people can see how it works.
Once everyone has their card and some markers, have everyone cover the free space in the middle with a marker. This is just a bonus free space to get people started.
Then start picking images one by one and calling them out, and showing them as well if people are confused about which one it is. I tried to make the images on the bingo markers unique enough that you could describe what it was without any confusion but hey, you never know.
Once you've called an image, make sure to mark it off on your master list as well so if someone gets a little bit confused on what has been called, you can check the master calling sheet first thing!
Keep calling images until someone gets a bingo – five across horizontally, vertically, or diagonally. Verify that they did in fact get a bingo and let them choose a prize!
This is a really fun way to celebrate St. Patrick's Day and a great idea for changing up bingo night during the month of March, especially if you play on actual St. Patty's Day!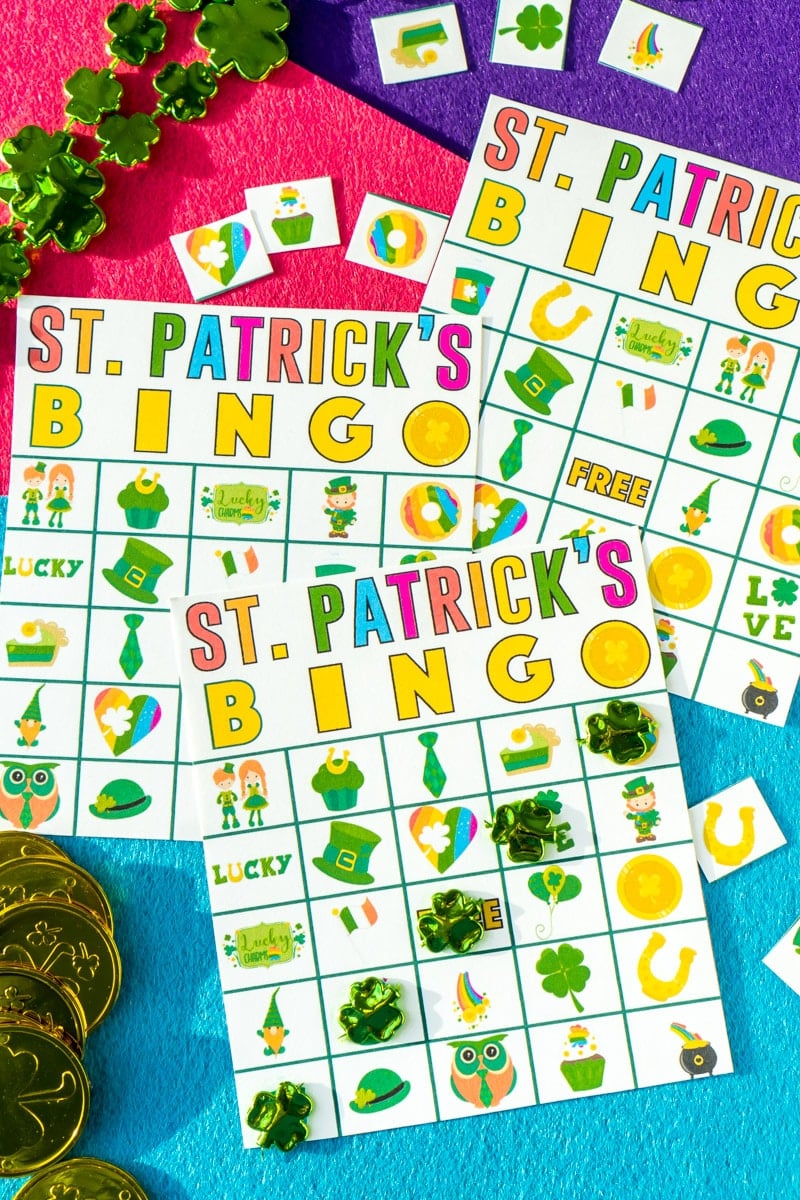 St. Patrick's Day Bingo Prize Ideas
This list includes both smaller items and bigger items depending on what type of bingo you're playing and how many people will win. If you're playing during a St. Patrick's Day classroom party, it might be best to do something smaller like the sunglasses or even these stickers.
If you're only doing a few winners and it's really lucky to win, I'd go with one of the bigger prizes! These prizes are all specific to St. Patrick's Day but you could always do something like a gift card to an Irish restaurant, a gift basket of Irish movies, or really anything else you can think of!
More St. Patrick's Day activities
Need a new game for St. Patrick's Day? Any of these St. Patrick's Day games would be great choices to go with this fun game!
Download the St. patrick's Day Bingo Printable
Enter your first name and email address in the form below to download the St. Patrick's Day bingo cards.
You will immediately be taken to a PDF with 16 downloadable cards and a master image sheet. If you cannot find the form, click here to get to it.
If you would prefer to not provide your email address or if you need more than 16 cards, you can purchase a copy in my shop here.
The PDF file will come with:
16 unique bingo cards (purchase up to 40 unique board boards in my shop above)
Calling sheet – print out two copies of this. Cut out the images from one and use them to pick your images AND to cover the calling sheet.
Instructions and use policy – everything is for personal (non-commercial) use only