Start a new tradition this Christmas with these Christmas movie Christmas bingo cards! It's a typical Christmas bingo game with a little movie inspired twist! Simply print the cards, buy some bingo prizes, and enjoy a cozy new Christmas tradition.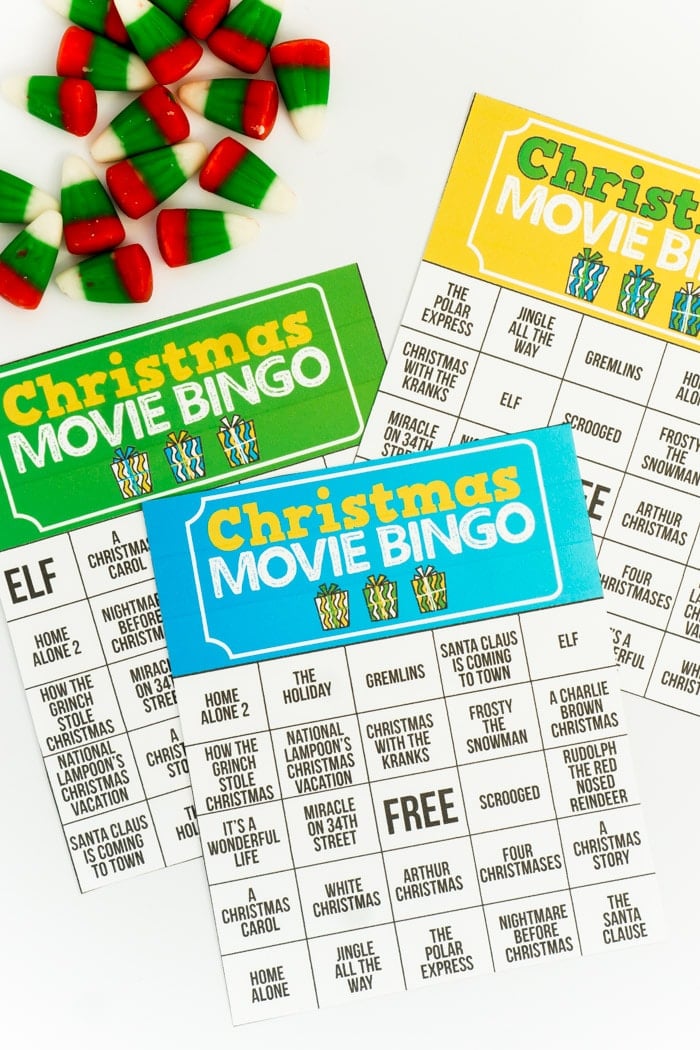 Christmas Eve Bingo Game
One of my favorite family traditions is playing bingo Christmas Eve. The tradition started before I was even born in my Dad's family, and it's been going on for as long as I can remember anytime we're with my family for Christmas Eve.
It's not Christmas Eve without a few Christmas party games, a pair of new Christmas pajamas, family gathered all around with their bingo cards, and a fire in the fireplace.
Most of the time when we play bingo on Christmas Eve, we play with a regular bingo game and regular bingo cards. I thought it'd be fun this year to mix things up with custom Christmas movie bingo cards that make it a bit more challenging and more fun!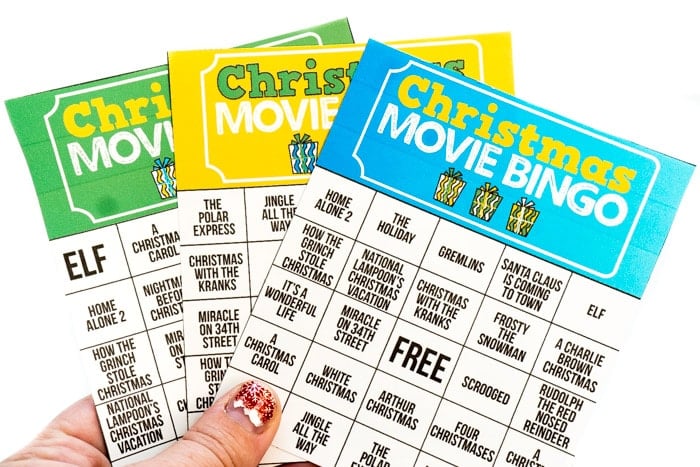 How to Play
I created 32 free printable bingo cards that have the name of some of the most popular Christmas movies on them. But this isn't just your standard bingo game.
Here's a standard Christmas bingo game if that's more what you're looking for. Or even a Christmas music bingo.
Instead of just calling out the names of the movies, I made three different sets of words to call out – quotes, actors, and movie names. You can either use a combination of all three of the items, use just one, or even switch it up across games.
I also added in parenthesis what movie it is from so you can figure out if someone is right when they bingo. Don't read the part in parenthesis out loud, that's just for the caller.
The basic idea is that you pull one of the movie quotes out of the bowl and anyone who can figure out the movie it's from and has that movie on their bingo card can mark it off. Same with the actors – if they know what movie that actor was in, they can put a marker over that space if they have the movie on their card.
If an actor happens to be in two movies, they can choose one of the two spaces to mark off BUT they cannot change that space later.
I'd say in terms of challenging, the actors are probably the most challenging to figure out, then the movie quotes, and finally the movie names are just like a regular bingo game with movie names instead of numbers. Here's a sample.
More Christmas Movie Games
If you like Christmas movies, you'll love these other games that incorporate Christmas movies in some way!
Christmas emoji game – See how many Christmas movies you can guess when they're just described in emojis.
Christmas movie trivia games – less trivia, more figuring our names from plot clues and quotes! So fun!
Christmas trivia game – lots of true or false Christmas movie trivia in this fun game that has you racing to decorate your Christmas tree first!
Christmas would you rather – questions that include choosing from various scenarios from your favorite Christmas movies!
Get the Free Printable
Enter your first name and email address below to get the free printable.
You'll be immediately taken to the PDF to download and receive a copy to your email shortly after.
If you can't see the form below, click here to get to the form to enter your info.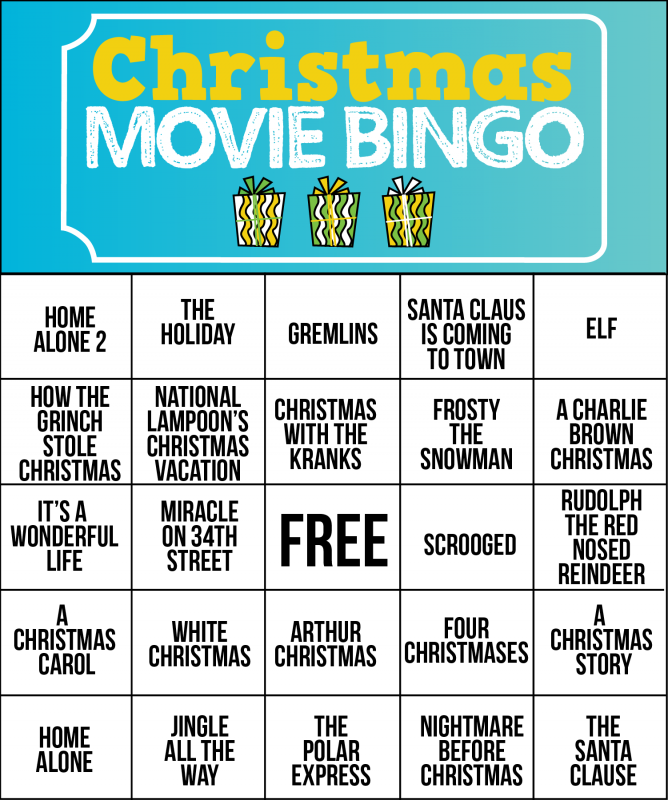 Don't forget to pin these Christmas bingo cards for later.
This is a sponsored conversation written by me on behalf of De'Longhi Group. The opinions and text are all mine.