This striped delight recipe is four layers of delicious all in one dish. With a sweet graham cracker crust, a creamy cream cheese layer, and chocolate filling, it's a yummy layered dessert that will satisfy every sweet tooth.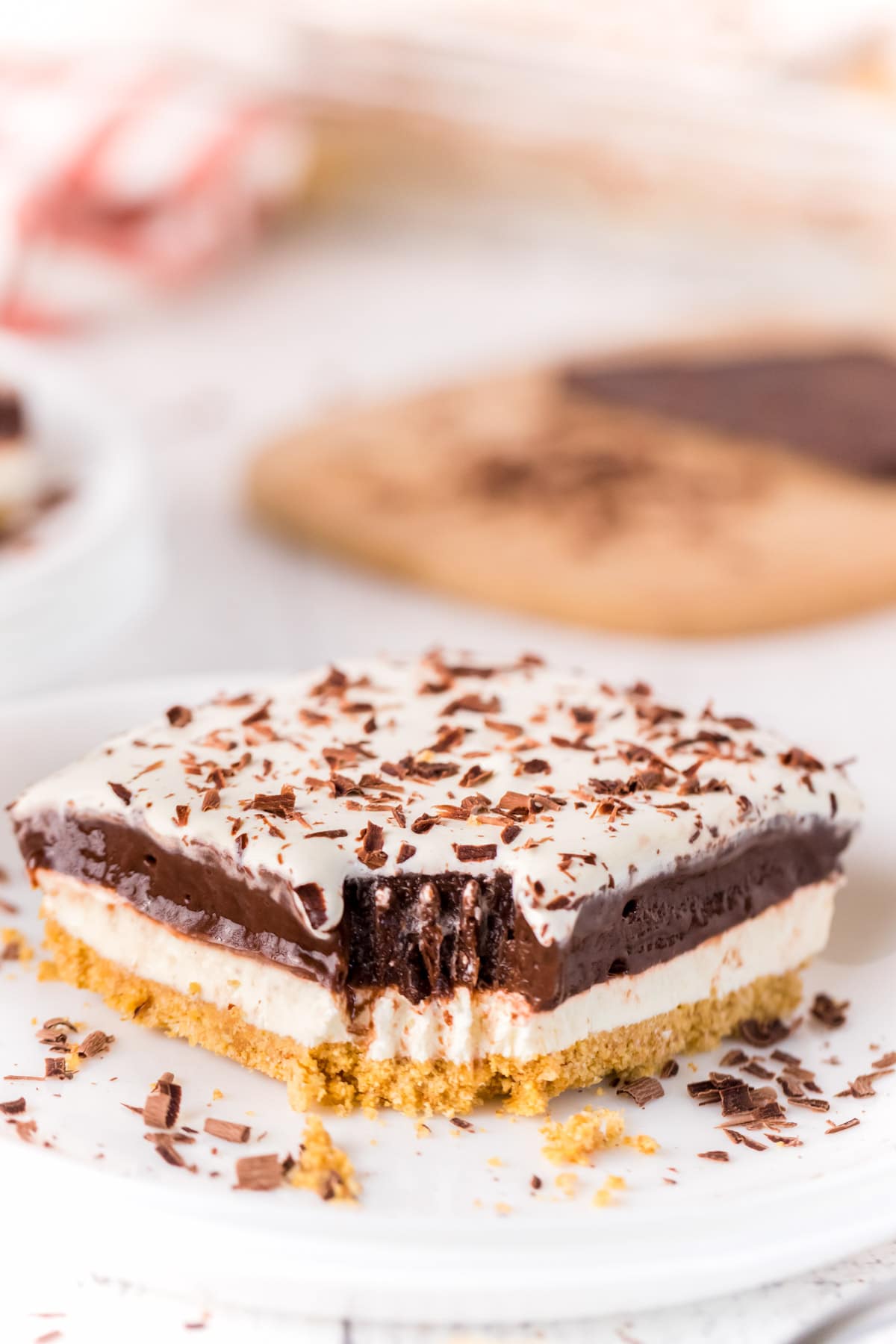 You've all heard or been asked the question, if you had to choose your last meal, what would it be right?
For me, the answer is always the same. My last meal would be pizza loaf and striped delight.
It might be for nostalgic reasons because those are both classic recipes my mom has been making my entire life, and I associate them with all the good things in my childhood.
But it's also because both recipes are absolutely delicious, and I'd die a happy woman if those were the last two things I ever get to taste.
What is Striped Delight?
Striped delight is the best layer dessert ever. It's a combination of four layers – a graham cracker crust, a sweet cream cheese layer, chocolate pudding, and a whipped cream layer top it all off.
It's four layers of amazing creamy flavor that work together in a way I've never found in other desserts. And it's a vintage recipe from like the 80s when my mom started making this.
If you like chocolate and sweet things, you're going to love this. You'd probably also love this Snickers poke cake.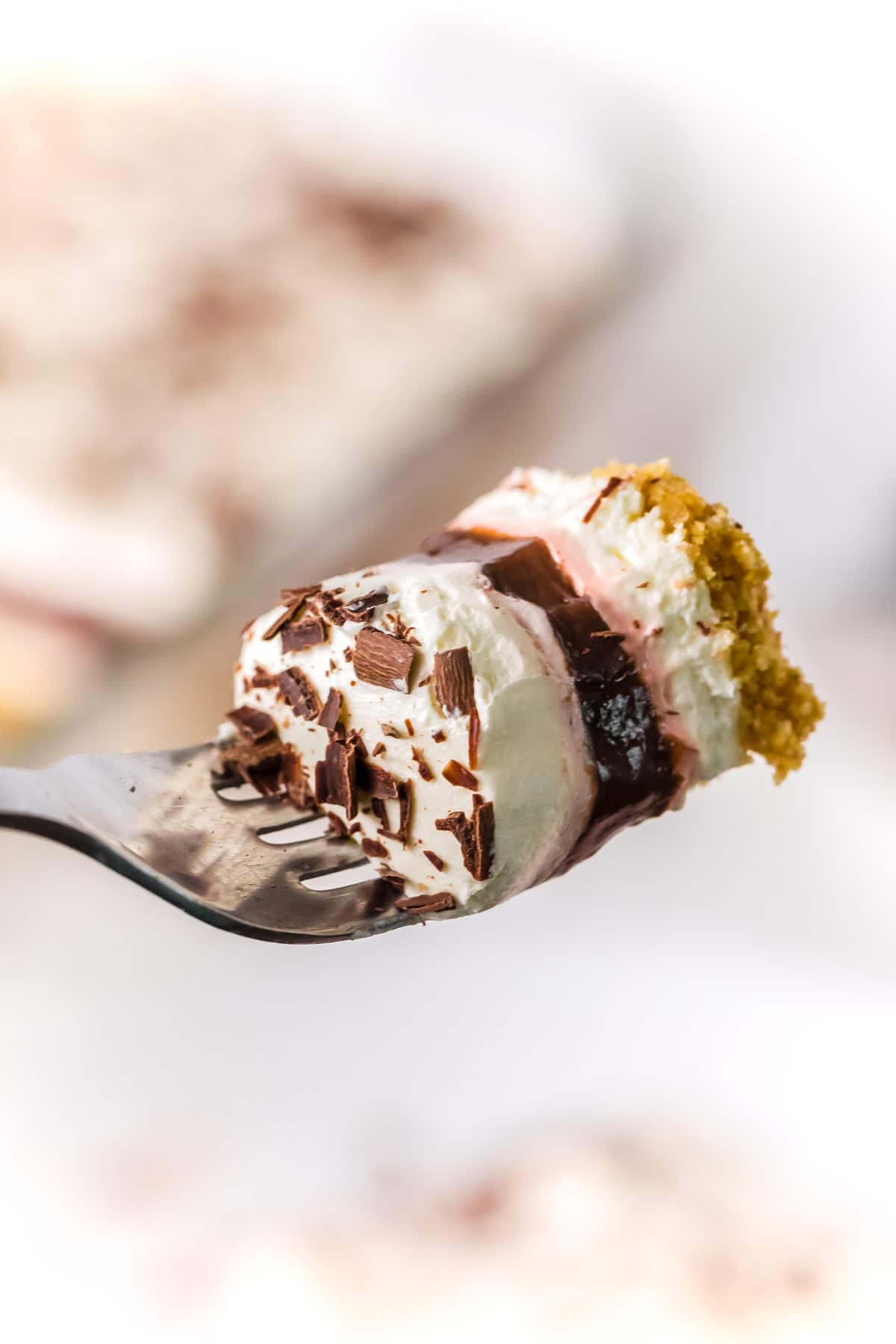 Striped Delight Ingredients
You're likely to have most of these ingredients already on hand if you do any baking at all. If not, you can find any of them readily available at your local grocery store!
Here's everything you'll need to make this striped delight recipe.
2 cups graham cracker crumbs – you can either buy these pre-made or make your own by putting graham crackers in the food processor until crumbly
6 TBS butter – melted
1/2 cup sugar – this will be split between the crust and the cream cheese layer
8 oz cream cheese – softened or at room temperature
3 1/2 cups cold milk – this will be split between the cream cheese filling and the pudding
2 pkgs (8 servings) instant chocolate pudding – make sure this is instant chocolate pudding, not the stuff that has to set for hours
8 oz Cool Whip – this has to be Cool Whip, don't try to substitute it with fresh whipped topping or the spray kind of whipped cream, it just doesn't work the same
Chocolate bar (optional) – if you want to add a bit fancier look, you can shave chocolate on top once it's done
How to Make Striped Delight
One of my favorite things about striped delight is that it's super easy to make. And you can make it the night before, hours before, or right before and it's still delicious.
It's kind of the perfect dessert for taking to a party or feeding a crowd.
Watch the video in this post to see how it's made! And make sure to read the recipe card at the bottom of this post for even more details and specifics.
1 – Make your graham cracker crust
Combine the graham cracker crumbs, melted butter, and 1/4 cup of the sugar in a large bowl. Mix together until it forms a nice thick crumbly layer.
Press the graham cracker crumb mixture onto the bottom of a 9×13 baking dish to create a crust. Make sure it's spread out in an even layer and pressed down slightly so it forms a crust.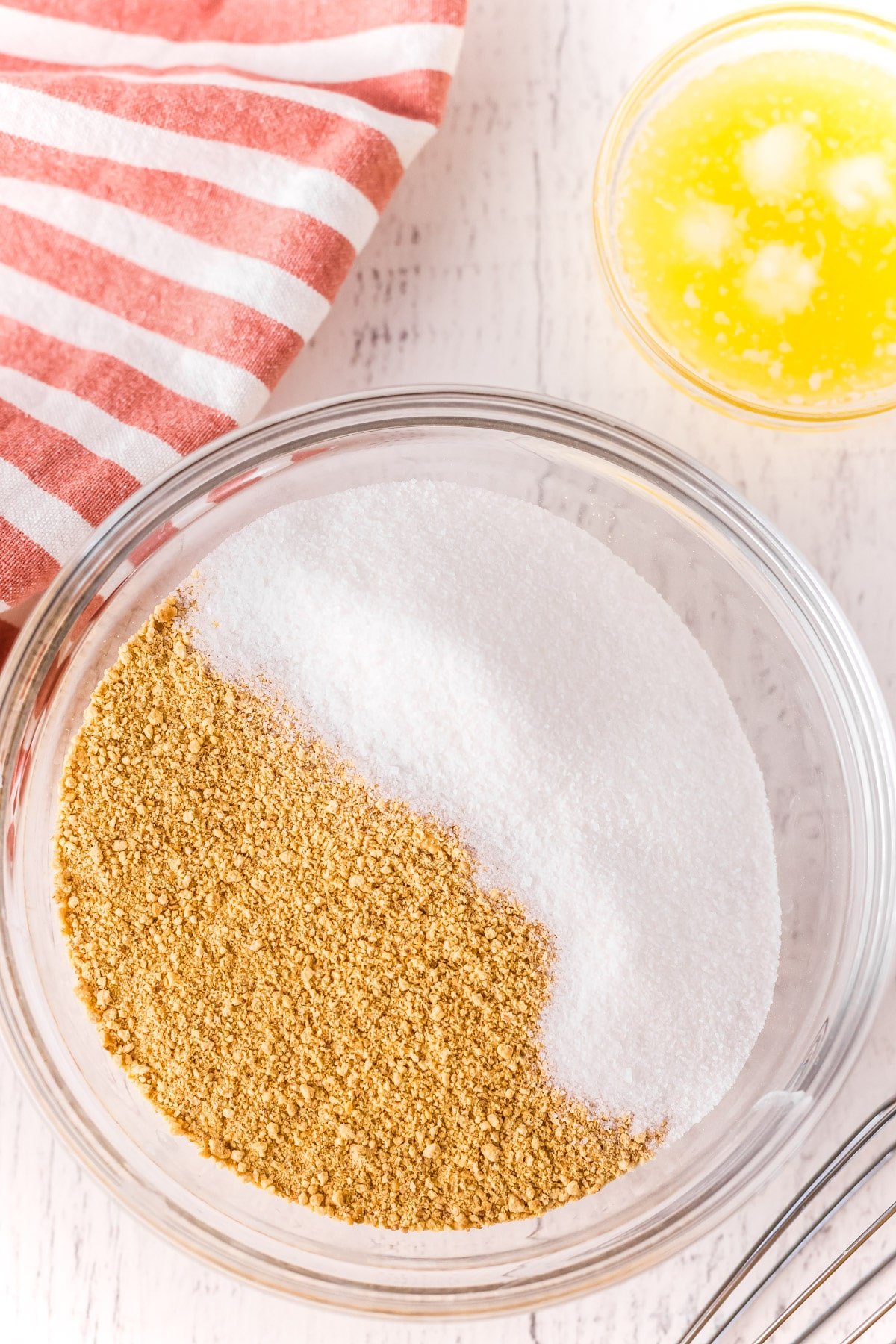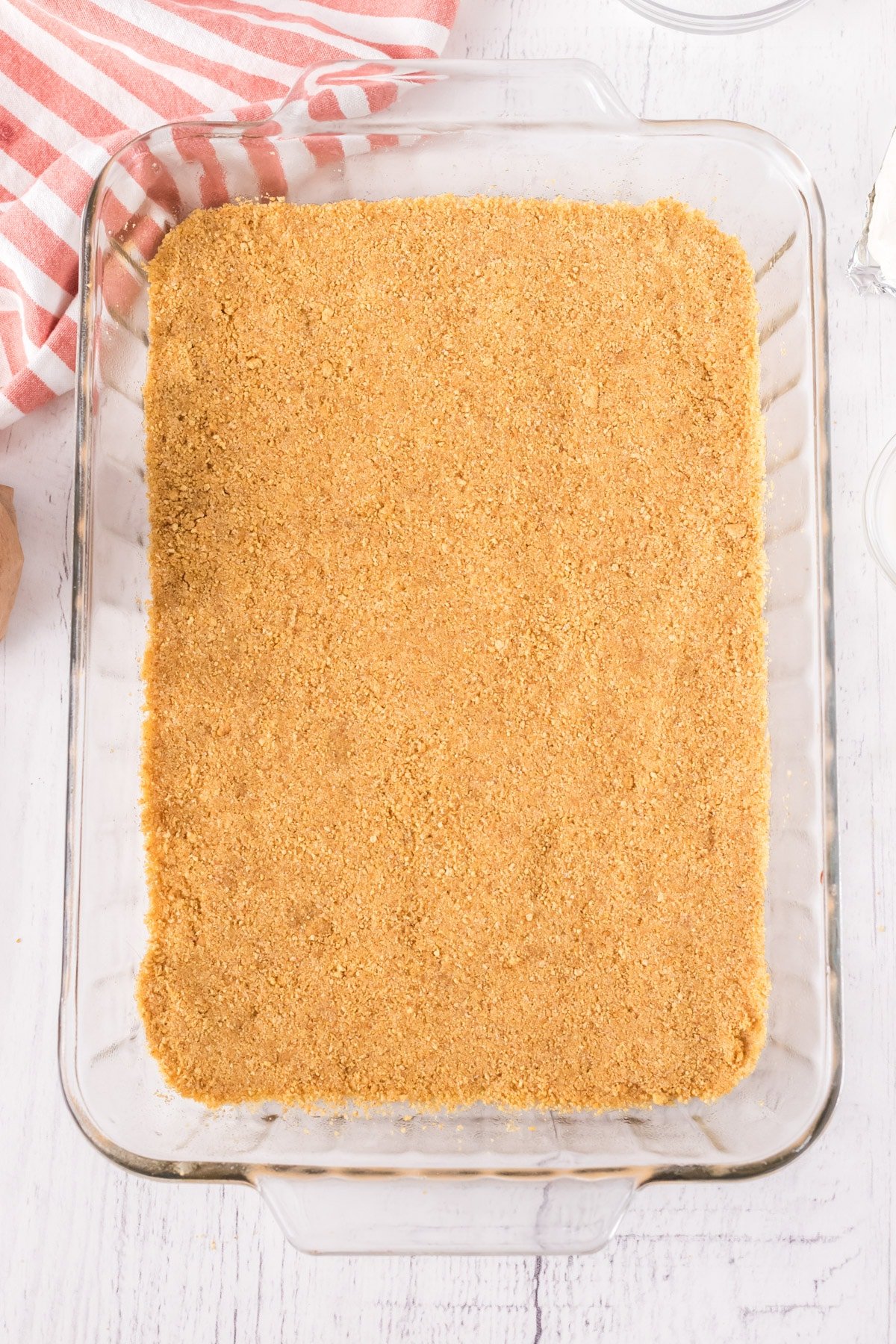 2 – Make the chocolate pudding
Mix 3 1/4 cups of cold milk with the instant chocolate pudding packets using a whisk. Mix until well combined then put in the fridge to chill.
If you used instant pudding like the directions said, you'll have a nice thick chocolate pudding ready in about five minutes. Work on the rest of the striped delight while the pudding is setting.
3 – Make the cream cheese layer
Combine the cream cheese, other 1/4 cup sugar, and 2 tablespoons milk with a mixer until the cream cheese mixture is smooth. If you use cream cheese that is too cold, you may end up with chunks of cream cheese instead of a smooth layer. It'll still taste okay, it'll just have a different texture than normal.
Once the mixture is smooth, fold in half of the Cool Whip (so about 4 oz) into the mixture with a spatula until smooth.
Put the cream cheese layer on top of the graham cracker crust in the baking dish. Spread out until you have one even layer.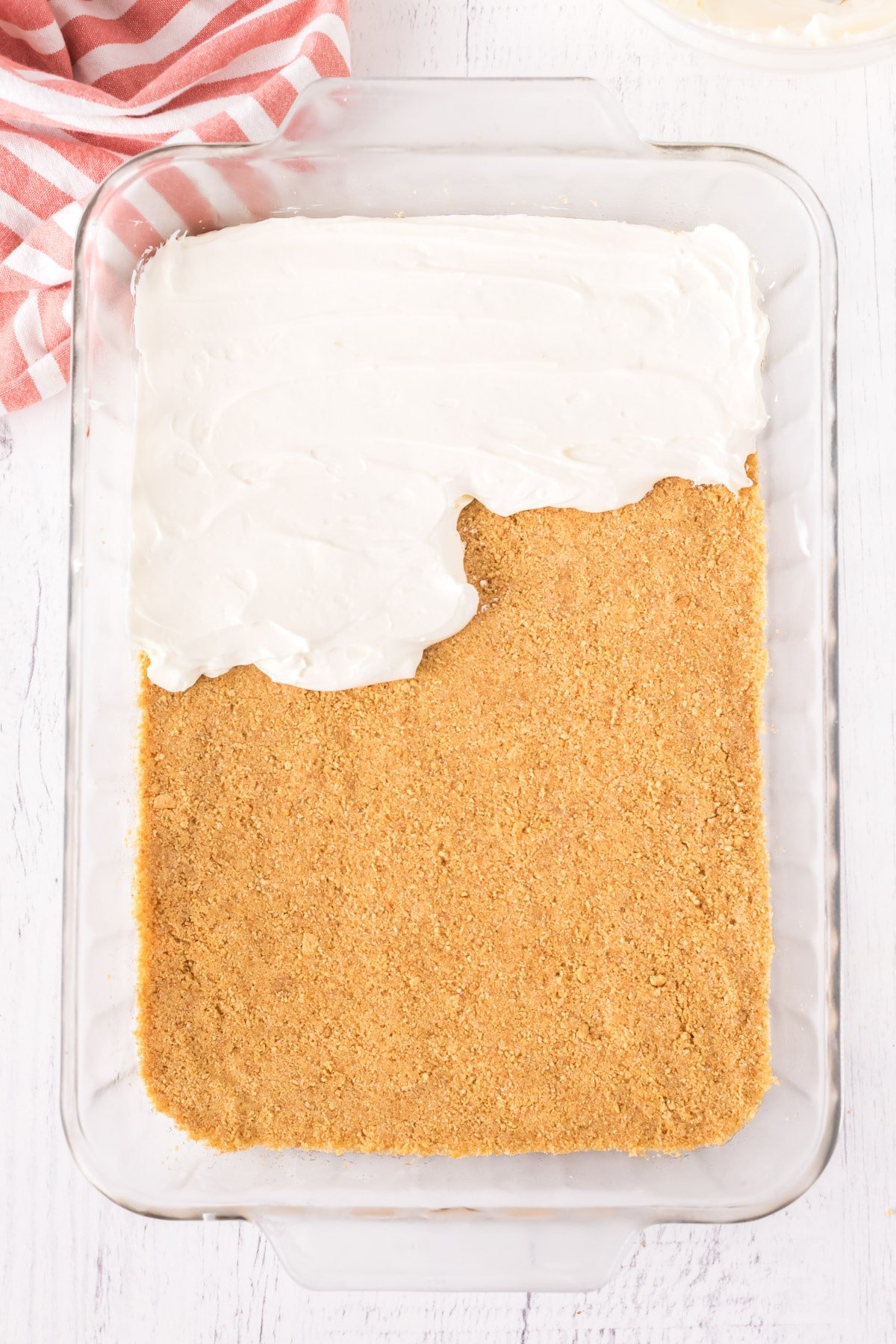 4 – Add the chocolate pudding
Once your chocolate pudding is set, pour the chocolate pudding layer over the cream cheese layer, using a spatula to move it around to get an even layer.
Don't overdo the chocolate pudding layer, just make a thick layer all over then move on. You may have extra chocolate pudding and that's okay, just enjoy it as a snack later!
If you're planning to serve the striped delight now, continue to step five below. If you're not, let the striped delight chill in the fridge until you're ready to serve.
It's best served after refrigerated for a few hours, but I've been known to eat it immediately and the taste is still great – it's just not quite as chilled.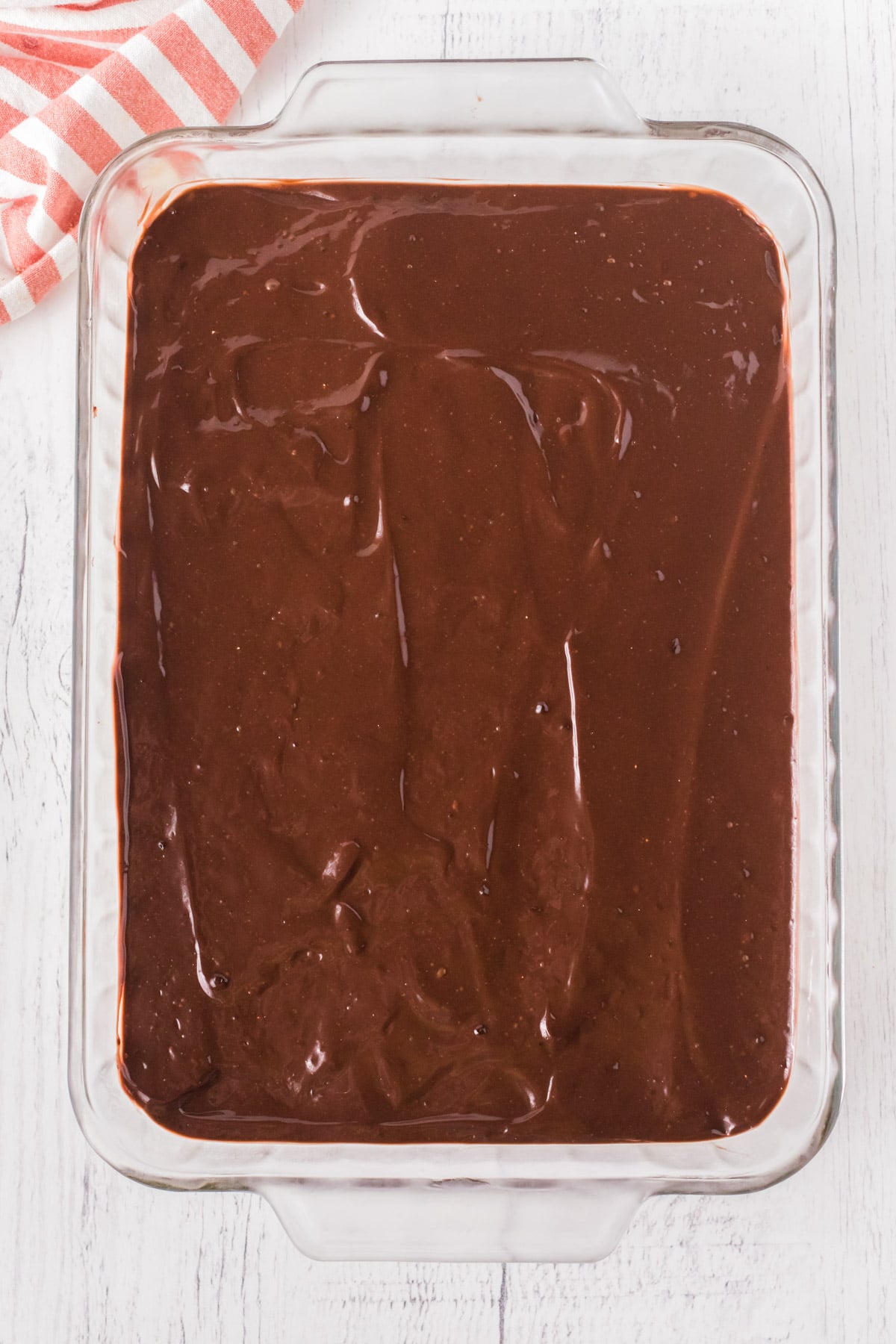 5 – Add Cool Whip and chocolate shavings on top
Finish the striped delight by adding the remaining Cool Whip on top in an even layer.
Then use the chocolate bar and shave large pieces of chocolate on top to finish it off. Or don't, if you'd rather just serve plain!
6 – Slice and serve
Slice into squares and serve chilled.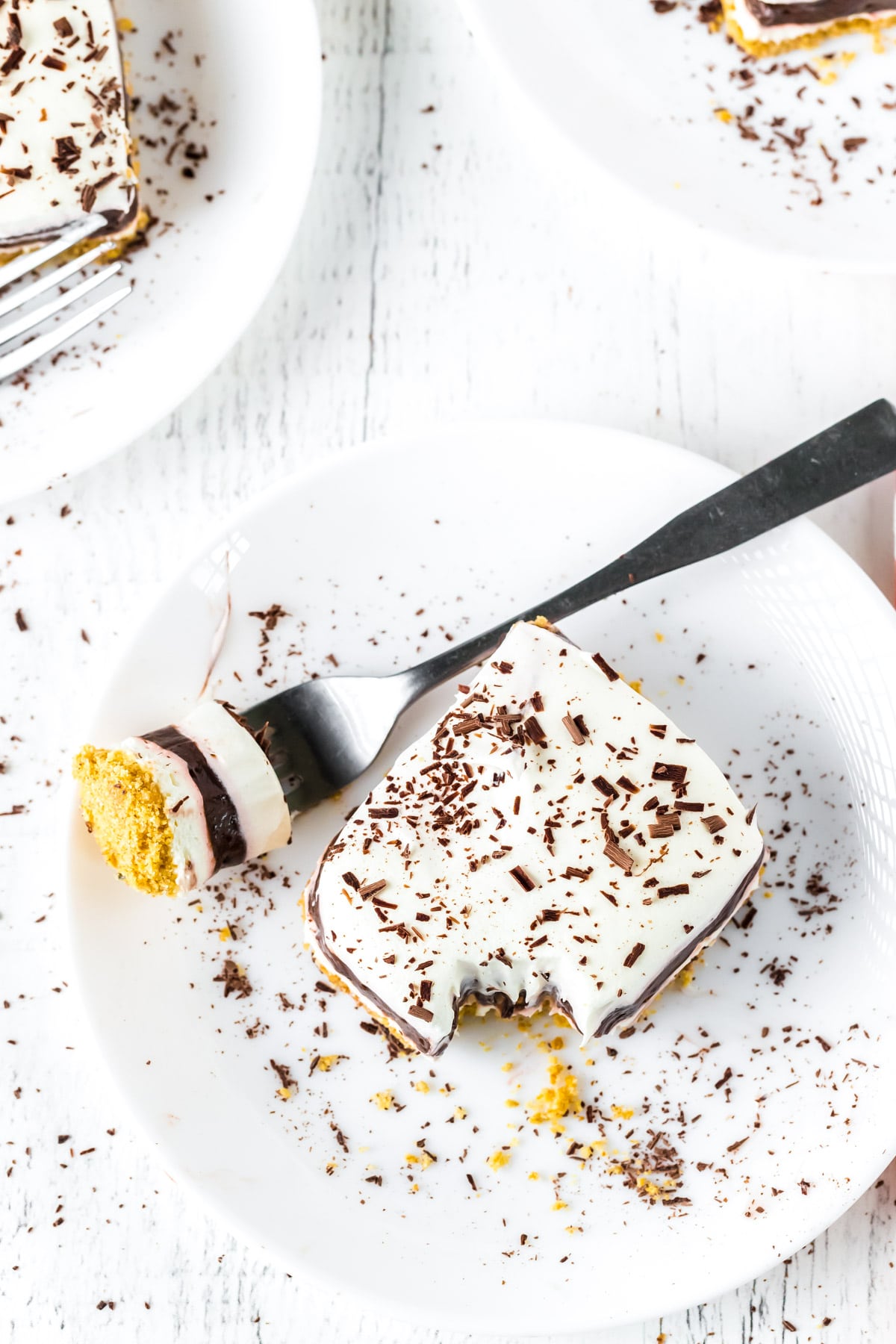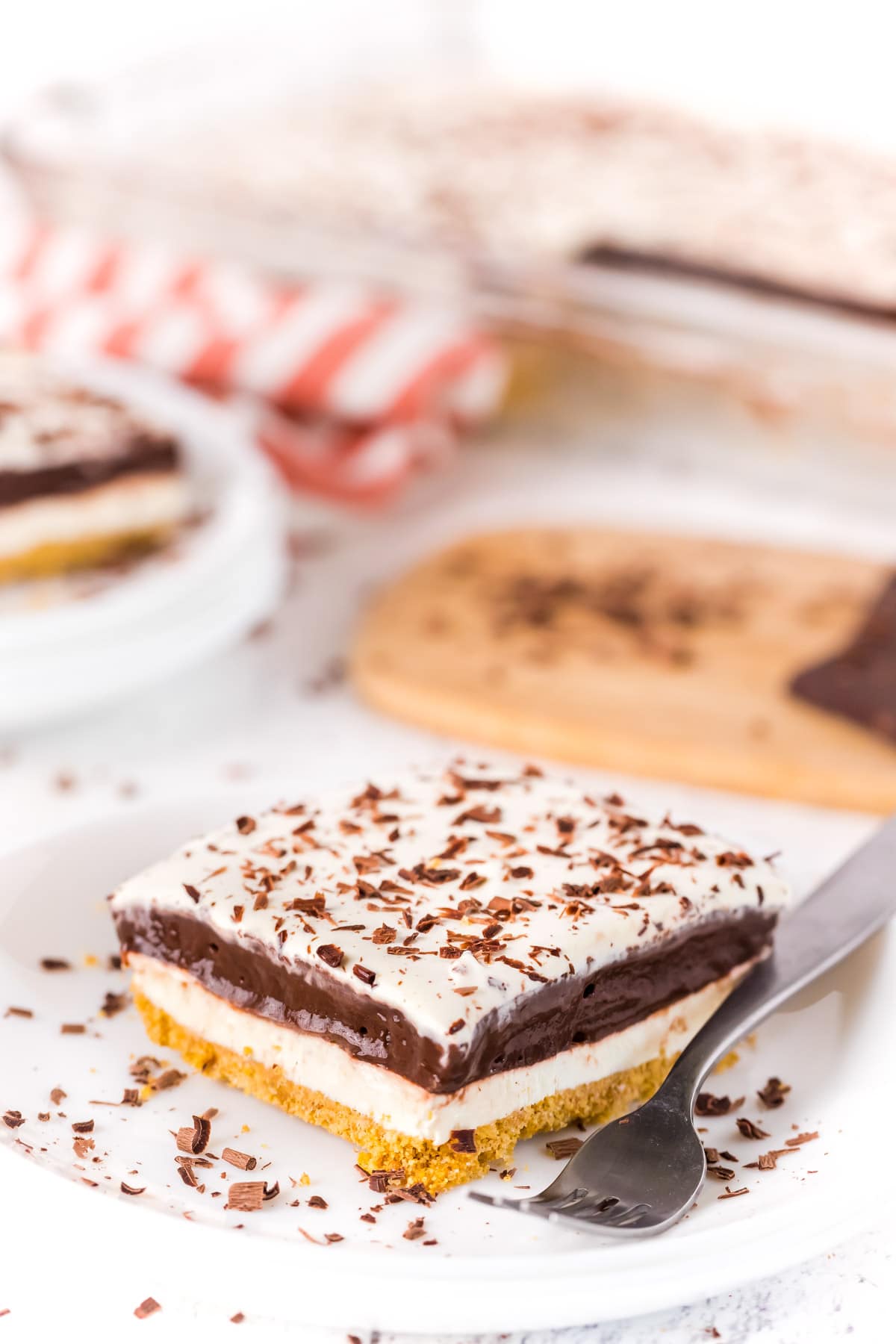 How to Store Striped Delight
Striped delight is best stored in the refrigerator in an airtight container or in the same baking dish with an airtight lid like this one. Enjoy within a week then throw away anything left (not likely).
I've only ever frozen striped delight once and that was a total accident where it got left outside at my parent's house in a cabinet on their porch area and we forgot about it. We found it a month later frozen and didn't eat it.
I don't recommend freezing it, especially since it's so easy to make fresh.
Striped Delight Recipe
This striped delight recipe is four layers of delicious all in one dish. With a sweet graham cracker crust, a creamy cream cheese layer, and chocolate filling, it's a yummy layered dessert that will satisfy every sweet tooth.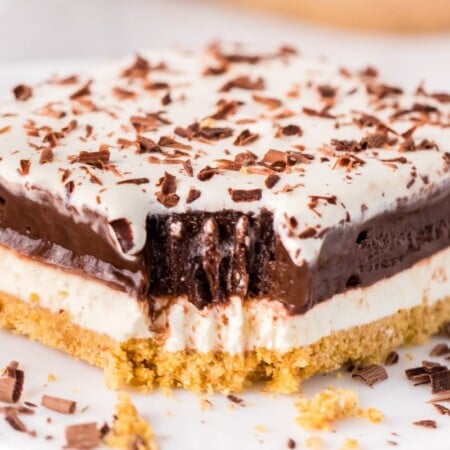 Ingredients
Crust
1 1/2 cups Graham cracker crumbs
6 TBS butter , melted
¼ cup sugar
Filling
8 oz cream cheese
¼ cup sugar
8 oz Cool Whip thawed
3 ½ cups cold milk
2 pkg (4 serving size each) instant chocolate pudding
Instructions
Graham Cracker Crust
Combine graham crackers, sugar, and butter in a large bowl to create a graham cracker mixture.

Press firmly onto bottom of a 9x13 inch baking dish. Refrigerate until ready to use.
Filling
Combined pudding mixes and 3 1/4 cup cold milk in large bowl until well blended. Put in the refrigerator for 5 minutes until pudding is thickened.

Beat cream cheese, sugar, and 2 T milk in a bowl with a wire whisk or in a mixer.

Fold in half the container of Cool Whip with a spatula until well combined.

Spread cream cheese layer evenly over graham cracker crust.

Spoon chocolate pudding evenly over cream cheese layer.

Spread remaining whipped topping over pudding layer.

Top with chocolate shavings (optional).

Refrigerate for at least two hours and serve chilled.
Nutrition Info
Calories: 165kcal, Carbohydrates: 13g, Protein: 3g, Fat: 12g, Saturated Fat: 7g, Cholesterol: 35mg, Sodium: 119mg, Potassium: 105mg, Fiber: 1g, Sugar: 12g, Vitamin A: 435IU, Calcium: 91mg, Iron: 1mg
More Easy Desserts
Don't forget to pin this striped delight recipe for later!