This Disney scavenger hunt will have kids hunting all over the house for Disney inspired items! It's the perfect indoor activity for families who love Disney!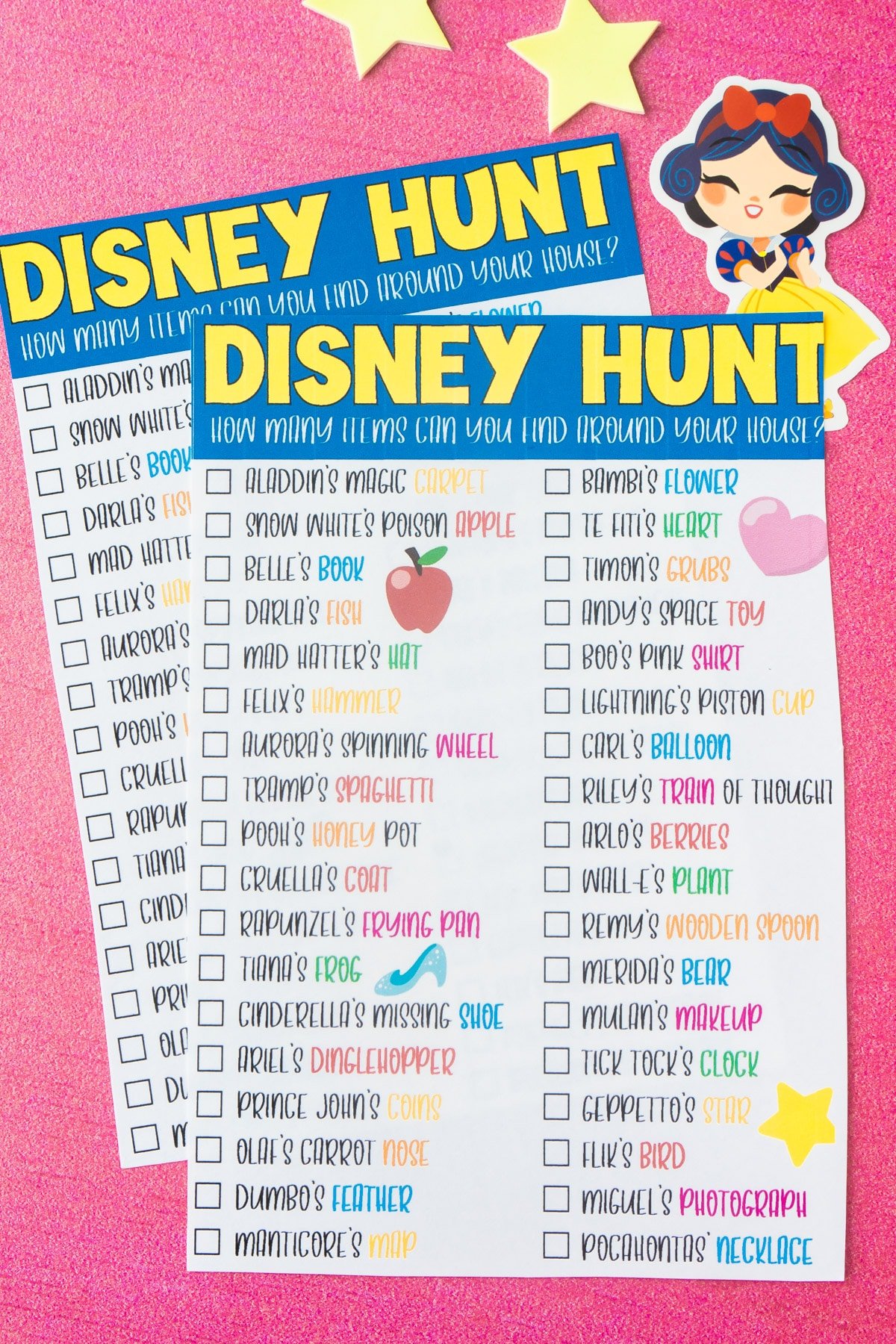 This post contains affiliate links. If you purchase via these links, I may receive a small commission at no additional cost to you.
Fun Disney Scavenger Hunt
If you've read my blog for long, you probably know I'm a huge Disney fan.
Whether it be finding the best Disneyland food, playing a Disney board game, or simply watching my favorite movies on Disney+ – we're definitely a Disney family.
Since I don't currently have a trip planned to visit any of the Disney parks, we've started making our own Disney fun at home instead!
This Disney scavenger hunt is inspired by all of our favorite Disney and Pixar movies. Everything from 101 Dalmatians to Princess and the Frog.
It's great for kids and a fun activity to do in conjunction with a Friday night movie night! Even better if you make these Mickey cake pops to go with the scavenger hunt!
How to Do this Disney Scavenger Hunt
As I mentioned, this scavenger hunt is a seek and find style one. Simply print out the list of items you're looking for and go on a hunt.
If you're looking for something more clue based where kids are following clues and looking for a treasure at the end, you might like this Star Wars scavenger hunt instead!
Anyway, if you want to do this Disney scavenger hunt, here's all you need to do.
1 – Print out the scavenger hunt
First and foremost, print this in the color. If you don't have color ink, you can print in black but highlight or mark the words that are supposed to be in color. That's super important!
If you think you'll only do this once feel free to print on whatever paper you want. If you think you might do it more than once, print on white card stock and laminate. ama
This is the laminator that I use with these laminating sheets. It's been a life-saver the past few months as I've come up with more and more fun indoor activities for kids.
So print it out, laminate it (if you want), and grab some pens to cross things off as you go.
2 – Start hunting
I told you this was easy! Once it's printed out, the only thing left to do is to start hunting for the items on the list.
You'll notice that I made them Disney inspired phrases like "Aladdin's magic carpet," because it's a Disney scavenger hunt. But the real thing to look for is the colored word.
So if it says Aladdin's magic carpet and carpet is colored, you're looking for a carpet on your scavenger hunt.
That's why I said it was important to either print in color or highlight the colored the words. Those are the things you'll be searching for on this hunt!
One other thing to note – let kids get creative with the words. If something says "apple" and you don't actually have apples in the house, they can find a plastic apple, an apple logo on a phone or computer, or really any kind of apple.
There's no one specific item for each of these things, that's why it's fun. And why it should work for most families even if you don't necessarily think you have all of these things!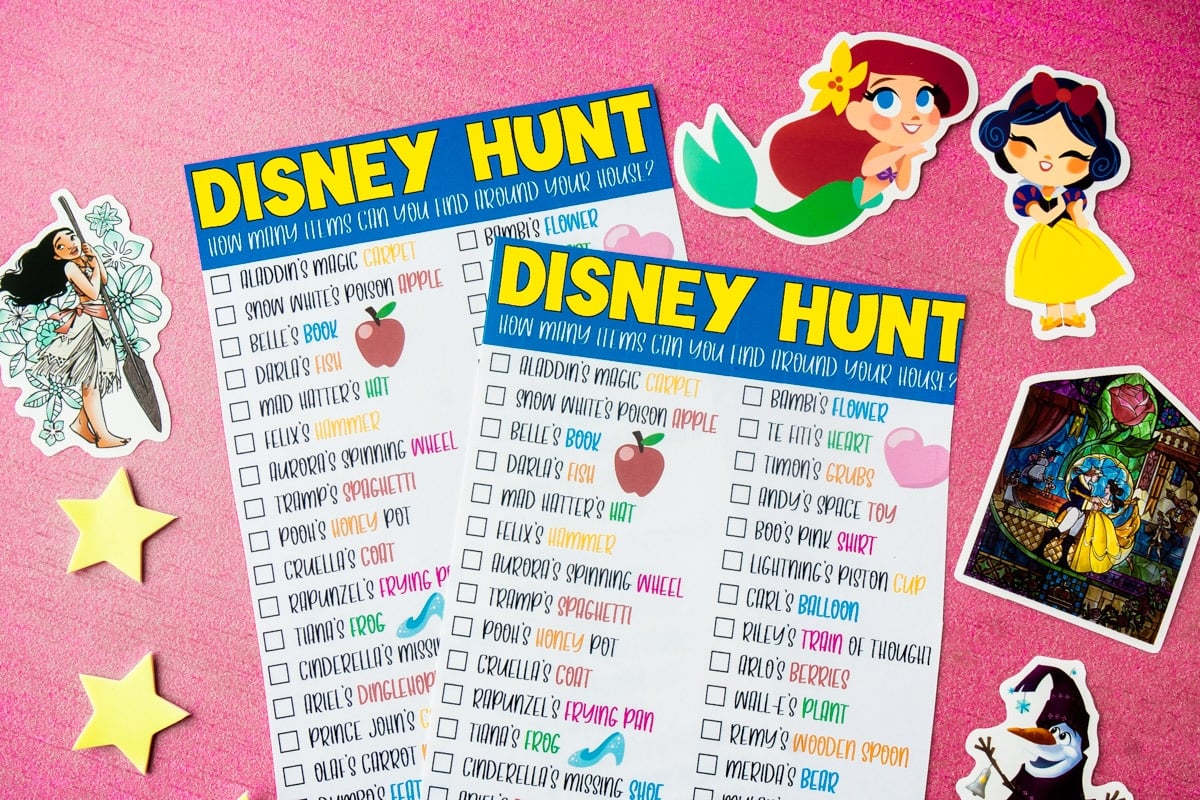 Disney Scavenger Hunt with Big Groups
If you want to do this with more than just a kid or two, split into teams and give each team their own printed copy of the Disney scavenger hunt.
Then see who can find the items on the list first. If you're doing it this way and doing it as a little competition, have them take a picture or bring you the item to show before crossing it off the list.
Then put that item back. Make sure this is part of the rules or you'll end up with random things all over your house.
Disney Prize Ideas
If you do the competition route, I always recommend having some prizes on hand for the winners (and smaller prizes on hand for everyone if you're playing with kids!). Here are a few fun prize ideas!
Download the Printable Disney Scavenger Hunt
Enter your first name and email address below to get the downloadable PDF. You'll receive a two-page PDF that includes a full sheet scavenger hunt and a page with two half-sheet scavenger hunts. Just choose whichever size works best for you – they're the same exact thing.
If you do not see the form below, click here to get to it.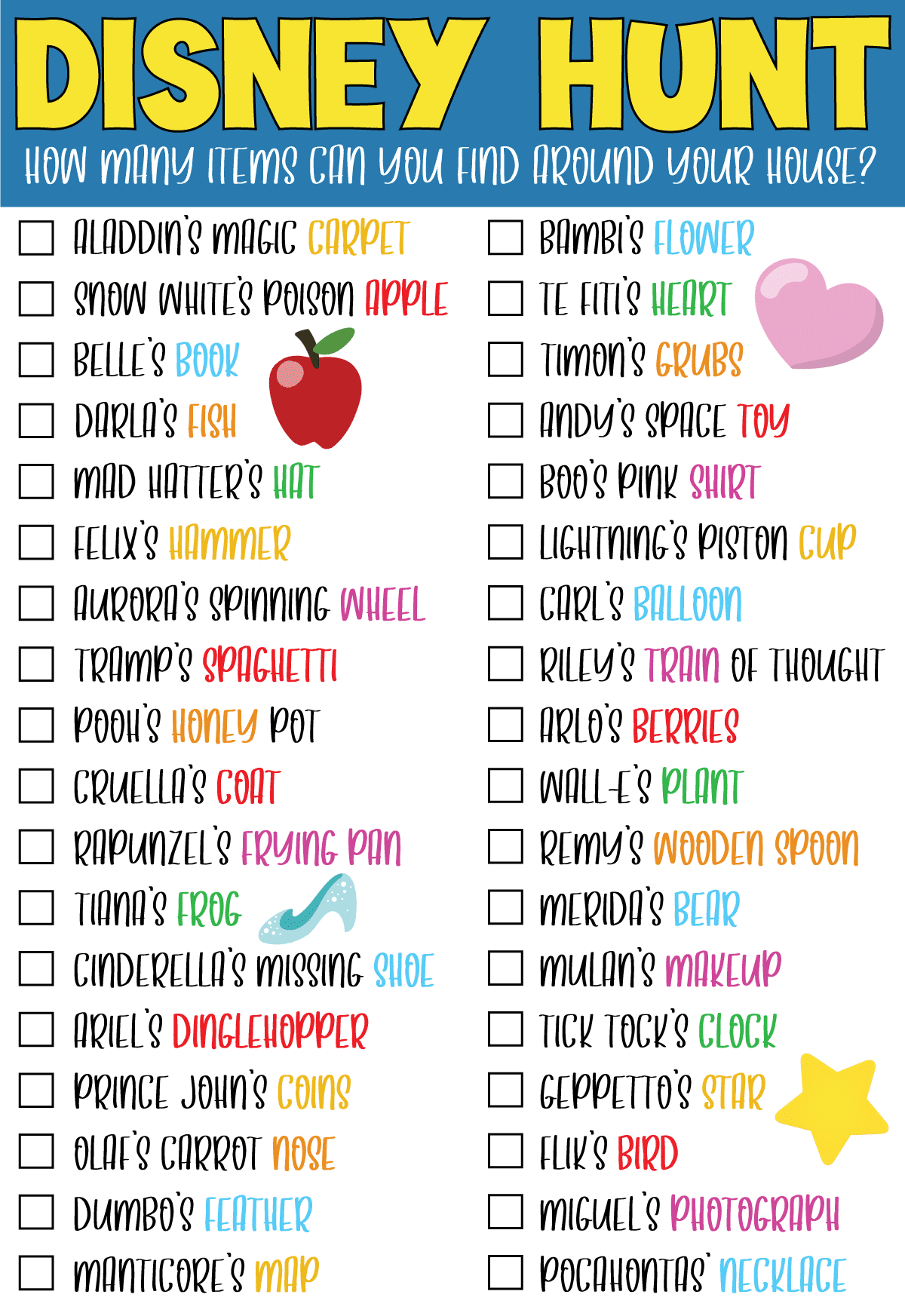 More Fun Disney Games
Don't forget to pin this Disney scavenger hunt for later!