Print out these Thanksgiving color by number pages for a fun Thanksgiving activity for kids of all ages! With 13 different color by number sheets with Thanksgiving designs, there's bound to be a picture that everyone will want to color!
These Thanksgiving color by number sheets are the perfect way to practice number recognition, color recognition, and of course fine motor skills with the actual coloring portion! So print out one or all of the color by number printables and enjoy this fun Thanksgiving activity with your students or kids at home!
Cute Thanksgiving Color by Number Pages
If you're looking for a fun activity for kids of all ages to do this Thanksgiving, this free download is the perfect activity for you!
Thanksgiving coloring pages are great but Thanksgiving color by number pages are even better because not only are they coloring, they're also working on recognizing colors and numbers at the same time!
It's learning, coloring, and a fun activity all at once! Plus, I have cute turkey coloring pages in different difficulty levels so you really could use this from preschool or kindergarten all the way up to older kids!
Why Color by Number Pages Are Great
We all know that coloring is a good activity but color by number pages are even better because of their benefits! These are just a few of the benefits!
Fine motor skills practice – any time kids are coloring, it's great for their fine motor skills!
Number recognition – these are especially great for kids who are working on their numbers! Finding numbers to color is great practice! It's also a great addition to Thanksgiving themed math centers or lesson plans!
Color recognition – not only do kids have to find the numbers, they also have to find the associated color on the picture and the correct color utensil that matches. This is great for practicing color recognition!
Tip!
For young children or even kindergarten students, go through the colors together as a group and color in the crayons before you just let them color the rest of the picture! This way if they cannot read the words on the crayons, they'll still know the correct number for each color. And when I say correct, I mean matching. Or you can always just use the other set of printable worksheets that have the colors already there!
What is In This Color by Number Set
This set of Thanksgiving color by number pages includes two different types of coloring pages for a total of 13 different color by number Thanksgiving worksheets!
1 – Colors Pre-Selected Color by Number Pages
This option is best for younger students who may not be able to read yet or who just need someone to tell them which color to use and all they have to do is match the color.
For these ones, you can kind of tell what the picture is already so you are really just coloring it in.
These are the pages that you see colored in throughout this post with the color blocks at the top of the page. There are six different pages that include:
Thanksgiving gourds
Thanksgiving feast
Turkey in a pilgrim hat
Turkey hugging a pumpkin
Turkey driving a harvest truck
Turkey eating a pie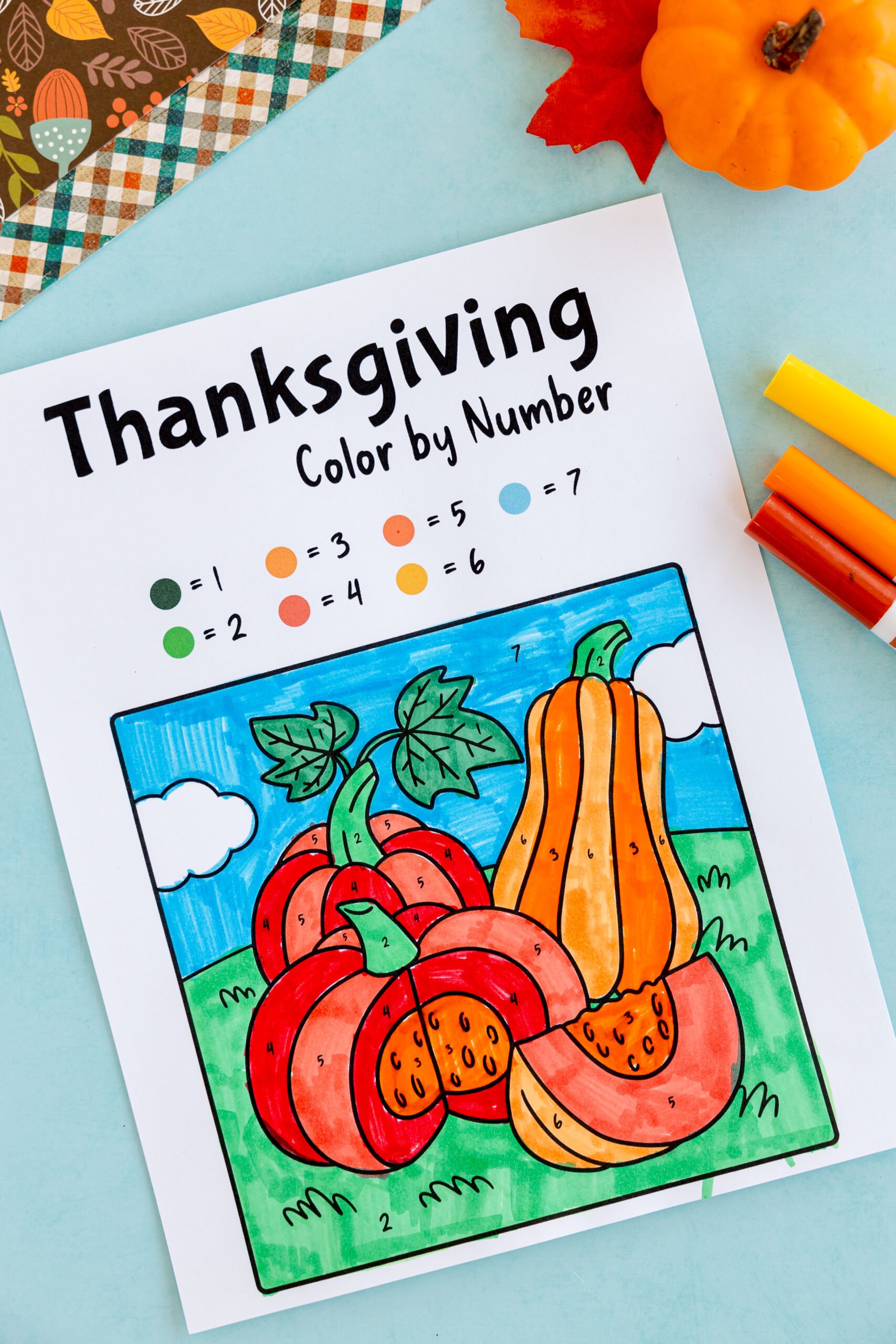 2 – Blank Crayon Color by Number Coloring Pages
These coloring pages have crayons up at the top that indicate the color in them with a word but not a color. These printable worksheets are great for older kids who can read and color in the crayon on their own. Or like I mentioned above, just go through them together first and color in the crayons!
You can see what these ones will look in the picture below this section. I don't have any colored versions but you can get the idea!
These ones are good for older children who need a little less direction, can read, and will be excited about having mystery pictures to color in!
There are seven of these pages that include:
Turkey (this one is my favorite out of all of the color by number pages)
Pumpkin
Thanksgiving turkey
Pilgrim hat
Mayflower
Pie
Corn and other harvest items
Tip!
While these color by number pages have specific colors indicated for each of the numbers, that doesn't mean that it's not okay for kids to get creative! Let them choose their own colors for their coloring sheet if they don't want to follow the guide! This is a fun and festive way to let them show their creativity while still following instructions!
How to Use These Free Printable Color by Number Pages
If you've never done a color by number page, it's very simple! These could be used at any point during Thanksgiving season or even added to a kids table for a Thanksgiving activity on Thanksgiving Day!
Print out the free printables on white printer paper – you can print out one for each person coloring or just print out a bunch and let them choose.
Hand out the color by number pages and some coloring utensils in different colors. I like to do either crayons, colored pencils, or markers. Choose coloring supplies that work best for the age of your kids. For example, colored pencils might be good for older kids but markers or crayons are best for first grade and younger!
Find the first number on the page as well as the color associated with that number. Then color in all of the spaces with that number. Once all of those are colored in, move to the next number.
Continue doing this until you've colored the entire color by number printable!
I tried hard to keep all of the numbers easily legible and in spaces big enough that you can actually color unlike some of the other color by number pages I've seen out there! This should make it so that kids can color any of these pages, not just one or two, and still have so much fun doing it!
Printable FAQs
What age are these best for?
These Thanksgiving themed color by number pages are best for kids who will be able to recognize numbers, likely kindergarten students and above. You could, however, use these with kids of all ages as long as you're willing to help younger children find and recognize the numbers.
What if the kids want to color the pictures different colors?
Let the kids color them however they want unless you're doing this for an actual independent work assignment of some sort. This is especially true for young kids who may not be able to read the color words and just want to make the 1 pink and the 2 green and so on. This is the perfect time to allow kids to get creative!
How do I get the color by number worksheets?
Scroll down to the very bottom of this post and you'll see the option to download the Thanksgiving color by number pages for free or you can buy a copy in my shop here.
More Free Thanksgiving Printables
Add these other Thanksgiving printable activities to your Thanksgiving holiday for the most fun holiday season ever!
want more Thanksgiving printables?
Download The Printable Color by Number Coloring Pages
Enter your first name and email address in the form below to get the printable PDF file. You will receive a link to download the PDF to your email within minutes.
If you do not immediately receive the email, make sure to check your promotions, spam, and junk folders!
If you do not see the form below, click here to get to it.
Or if you'd prefer to not provide an email address, you can get a copy in my shop here.
The PDF will include:
13 different Thanksgiving color by number pages
Use policy – these are for personal use only, no commercial (for profit) use