Add a little bit more fun into your Thanksgiving Day with this free printable Thanksgiving scavenger hunt! A full sheet of clues that'll send kids around the house searching for things they're grateful for! It's the perfect way to get kids thinking about Thanksgiving and having a bit of fun!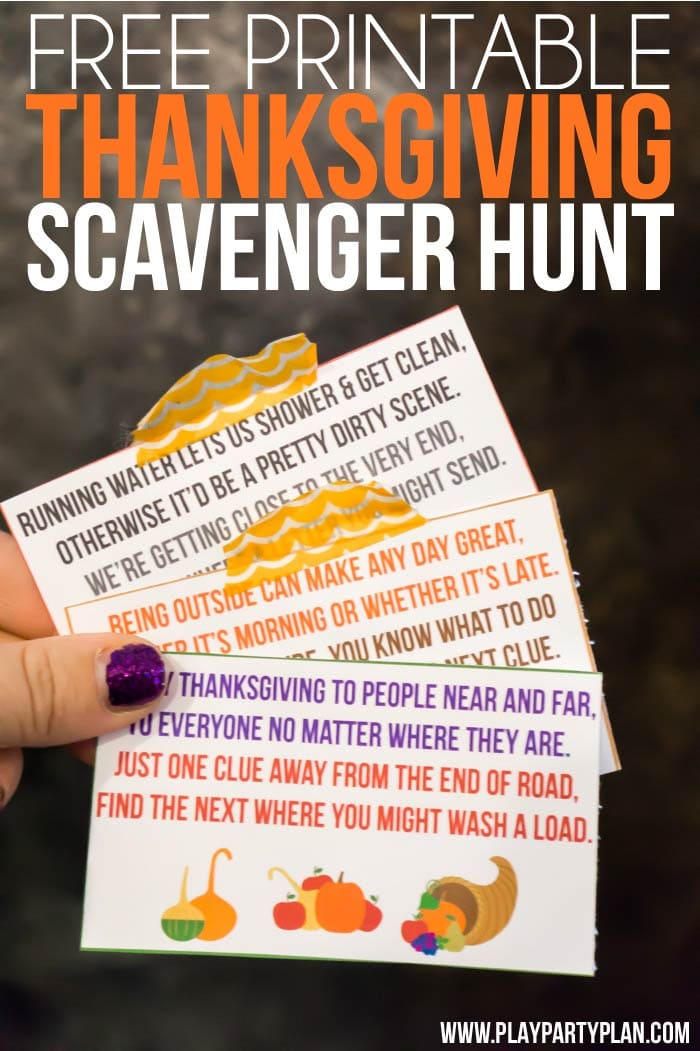 This post contains affiliate links to products for your convenience. If you purchase via my links, I may receive a small commission at no additional cost to you.
Thanksgiving Scavenger Hunt
One of my favorite things to do with my son is a clue driven scavenger hunt. You know one of those things where you're given a clue that leads to a location with another clue and you keep going and going until you find the end of the hunt? My family did them all the time growing up, and I've continued the tradition starting with my Halloween scavenger hunt and now this one. I think maybe I just like to rhyme but that's a story for another day. Or maybe when I do my Christmas scavenger hunt!
Thanksgiving Scavenger Hunt Theme
The theme of this Thanksgiving scavenger hunt is things we're thankful for. Theme meaning the cards lead to different places in and outside of your house that we can all be thankful for, and the cards mention things we can be thankful for. Things like running water, a washing machine, a bed (and roof overhead), and of course – an oven to cook pumpkin pie!
We did this on the first day of November as one of our first gratitude activities, but you could do this any time in November, on Thanksgiving Day, on Black Friday or really whenever. It's just a fun way to get kids moving, thinking about clues, and a more unique way to give them a little surprise. It's also a great precursor to doing some active Thanksgiving games like these ones!
Free Printable Thanksgiving Scavenger Hunt
All you need to do for this Thanksgiving scavenger hunt is print out the free printable PDF. Cut up the cards and then hide them where they go! I purposely made the clues in a way that they should work in everyone's home, not just mine. I'm assuming everyone has a bed, an oven, someone they get mail, and more. If not, sorry! Enter your first name and email address in the form below to get the printable. If the form isn't showing up below, click here to get to the form to download the printable files.
Thanksgiving Scavenger Hunt Prize Ideas
Don't forget to pin this Thanksgiving scavenger hunt for later.