Whether you are looking to cool off on a hot summer day or need summer party games, these water balloon games are just what you need. This list is full of fun water balloon games that work for adults and kids of all ages. You'll find everything from the classic water balloon toss to water balloon hot potato to fun new games that you will love. Play one or all of these fun games this summer as a great way to beat the heat.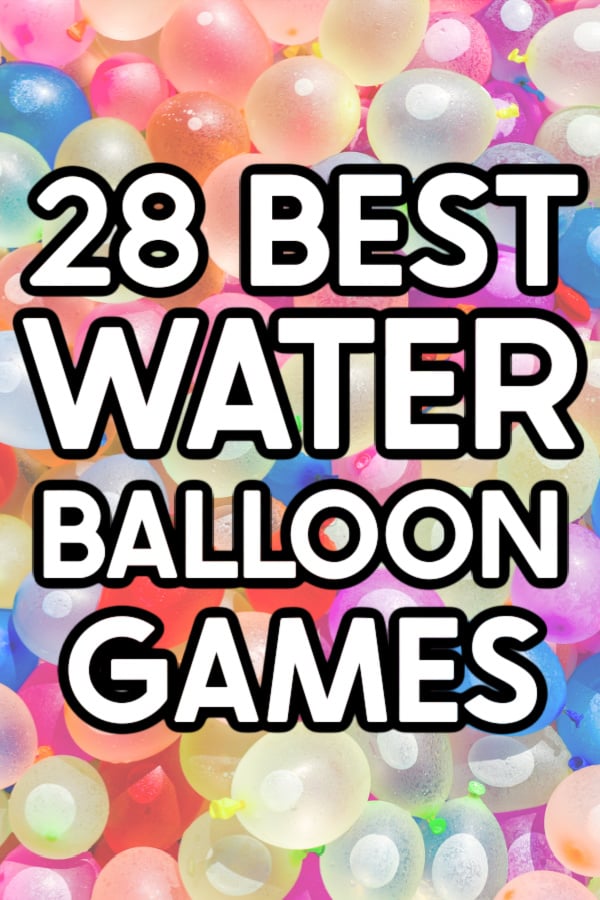 I don't know if it's the long days, hot sun, or the reminder of fun summer breaks as a kid, but even as an adult summer makes me want to go outside and play. And with it being so hot, that play always seems to include water!
Whether it's goign to the pool to play swimming pool games or just playing your favorite water games outside, water is essential.
These fun water balloon games are ones that you will want to play with your kids or with your friends. My family and friends all got together and played these and everyone, from my four year old son to my dad had fun!
They also make great outdoor games for a summer party, camp games for a summer camp, family reunions, or field day games for field day! They're a great way to beat the heat for everyone!
Below you'll find detailed instructions on how to play these awesome water balloon games!
Supplies for Water Balloon Games
The main supply you'll need are water balloons of course.
Anyone else remember spending hours at the bathroom sink filling up water balloons one at a time for your neighborhood water balloon fight? Now there are so many more options!
If you need a specific type of balloon for any of these games, I've included that in the game instructions below!
Regular water balloons (aka balloons filled with water) – these are best for games that you want to control the size of the balloon and the amount of water. Just get balloons the size you want and if you want to make the filling easier, you could always get a filler pump like this one!
Quick fill water balloons – with these you can make a bucket of water balloons in less than a minute! Plus they come with little bands so you don't have to tie them. It's seriously a game changer if you are looking to fill a lot of water balloons, but they are one size and a smaller size so they don't necessarily work for ALL of these games.
Reuseable water balloons – these are awesome and work great, plus no more picking up little pieces of balloon after the games! Simply drop them into a bucket of water and you are ready to go all summer long. These don't work for some of these water balloon games though AND they're pricey so they're not the best option for games that you want a lot of water balloons.
All of the other supplies you need (things like pool noodles, buckets, and sponges) are all explained in the games below. You'll likely already have everything for these games in your garage or house somewhere!
Water Balloon Toss Games
I've split this into different categories because a lot of the games are related to classic games you may have played but with a twist. Since a water balloon toss is such a popular game, we'll start there.
Water Balloon Toss
I know this one's a classic but I'm including it any way because it's a fun one.
Split into teams of two. Have the first person on each team stand in a line shoulder to shoulder. Then have their teammate stand across from them, forming a second shoulder to shoulder line. Once both groups are lined up, have them spread out slightly (still standing in the lines).
Give one line a water balloon. Then when you say go, the player has to toss the water balloon to their teammate. If their teammate catches the balloon, the teammate takes a step backwards (making the partners further apart).
Anyone who catches it will take a step back (make sure to have everyone around the same spot). Anyone who drops the balloon is out and their team leaves the game.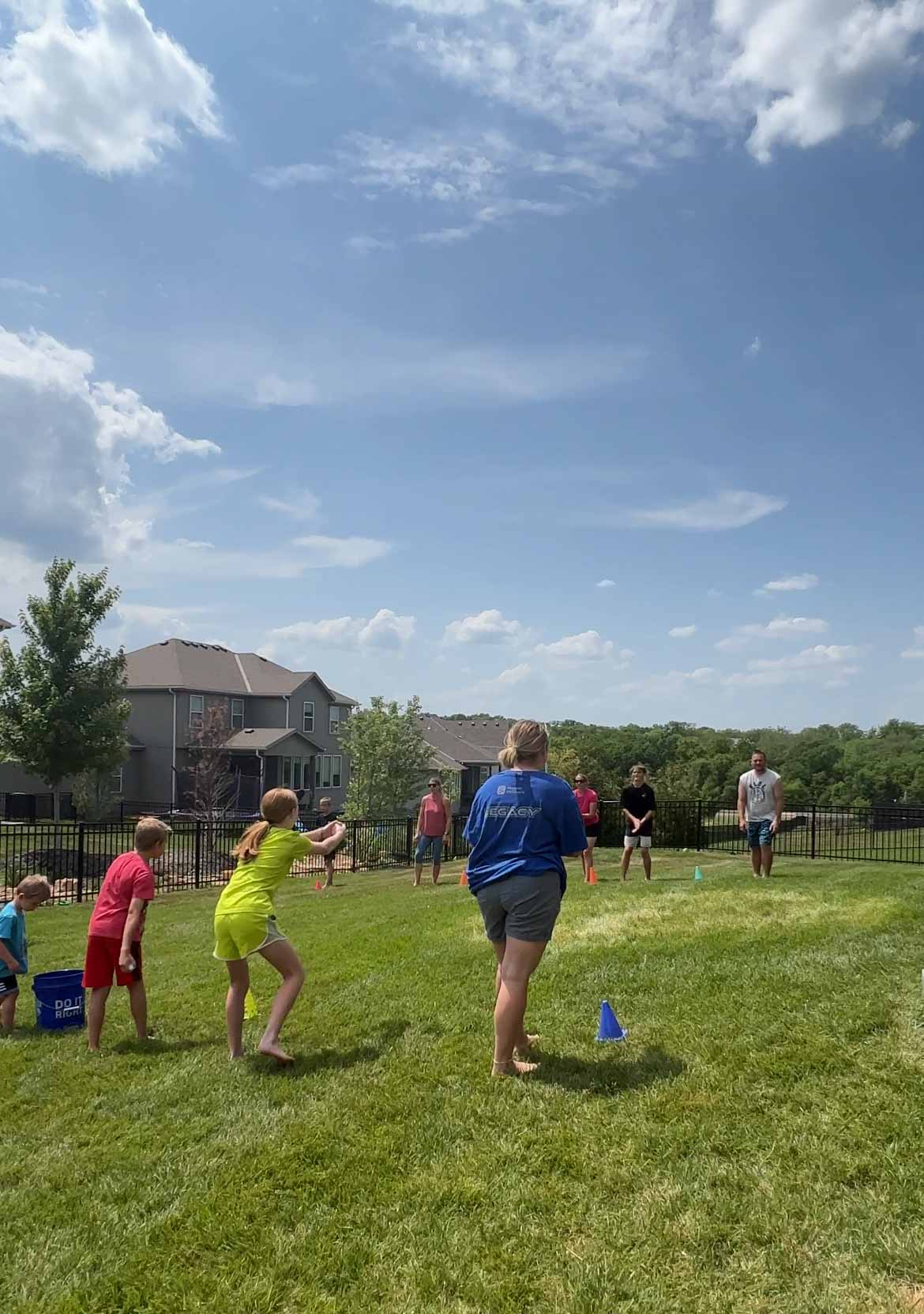 Repeat the 1, 2, 3 toss, catch, and step back process until only one team is left with an intact balloon, and they win!
Risk Reward Water Balloon Toss Game
I started with the water balloon toss first because the next few games are variations on a classic water balloon toss that make them so much fun.
In this version, start by placing three large buckets of water balloons across the yard you'll be doing the water balloon toss in. The goal is that you'll have one bucket close to the tossers, one bucket that's further, and one that's even further away. The closest bucket will be worth one point, the second bucket will be worth two points, and the furthest bucket is worth three points.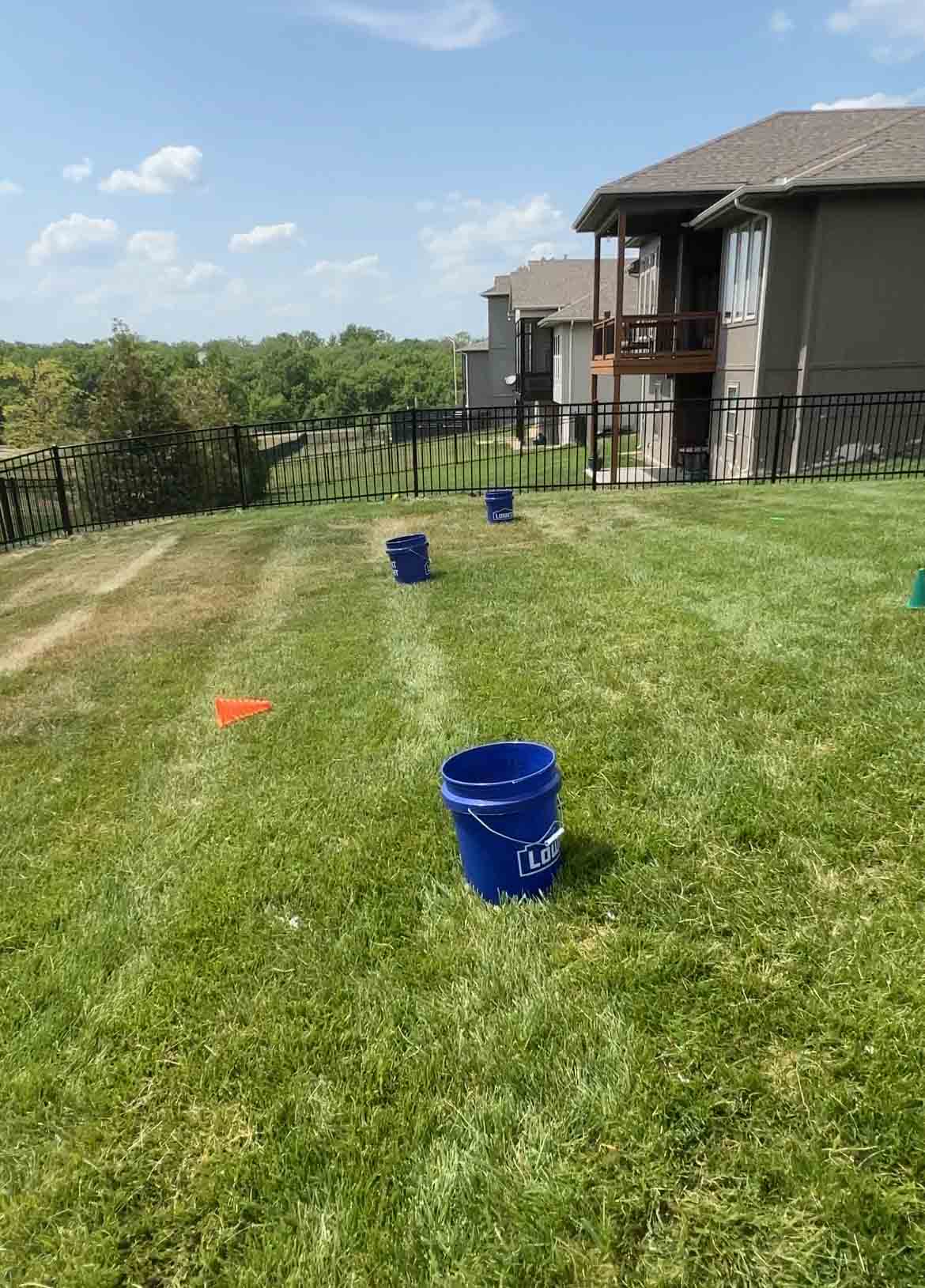 Place cones or some sort of markers on the edges of the yard by each of the buckets. This will indicate where teams have to toss the water balloon from.
Once you're prepped and ready to go, split into pairs and line up just like you would in the classic water balloon toss. Don't give out a water balloon – they'll get water balloons from the buckets in this variation.
When you say go, the partner closest to the buckets has to choose a bucket to throw from. They should go grab a water balloon from that bucket and stand across from their partner behind that bucket's line. Everyone gets to choose which line they want to choose from.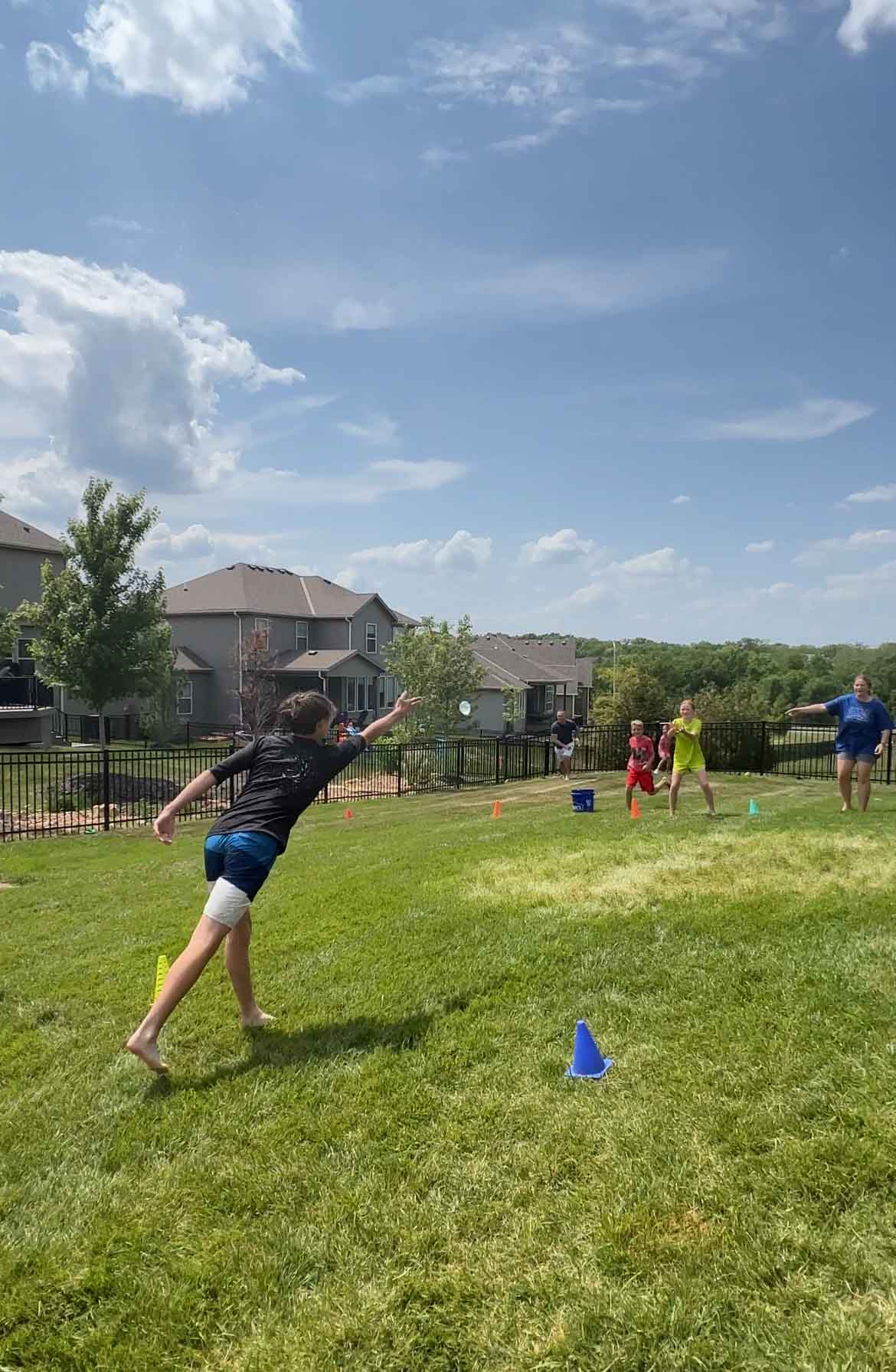 On the count of three, everyone tosses. Anyone who catches the balloon gets the points allotted to their chosen bucket. Anyone who drops or breaks the balloon loses a point (yes, you can go negative). Once the balloon has been tossed, the teammate who caught the balloon should switch with their partner and choose a bucket to toss from.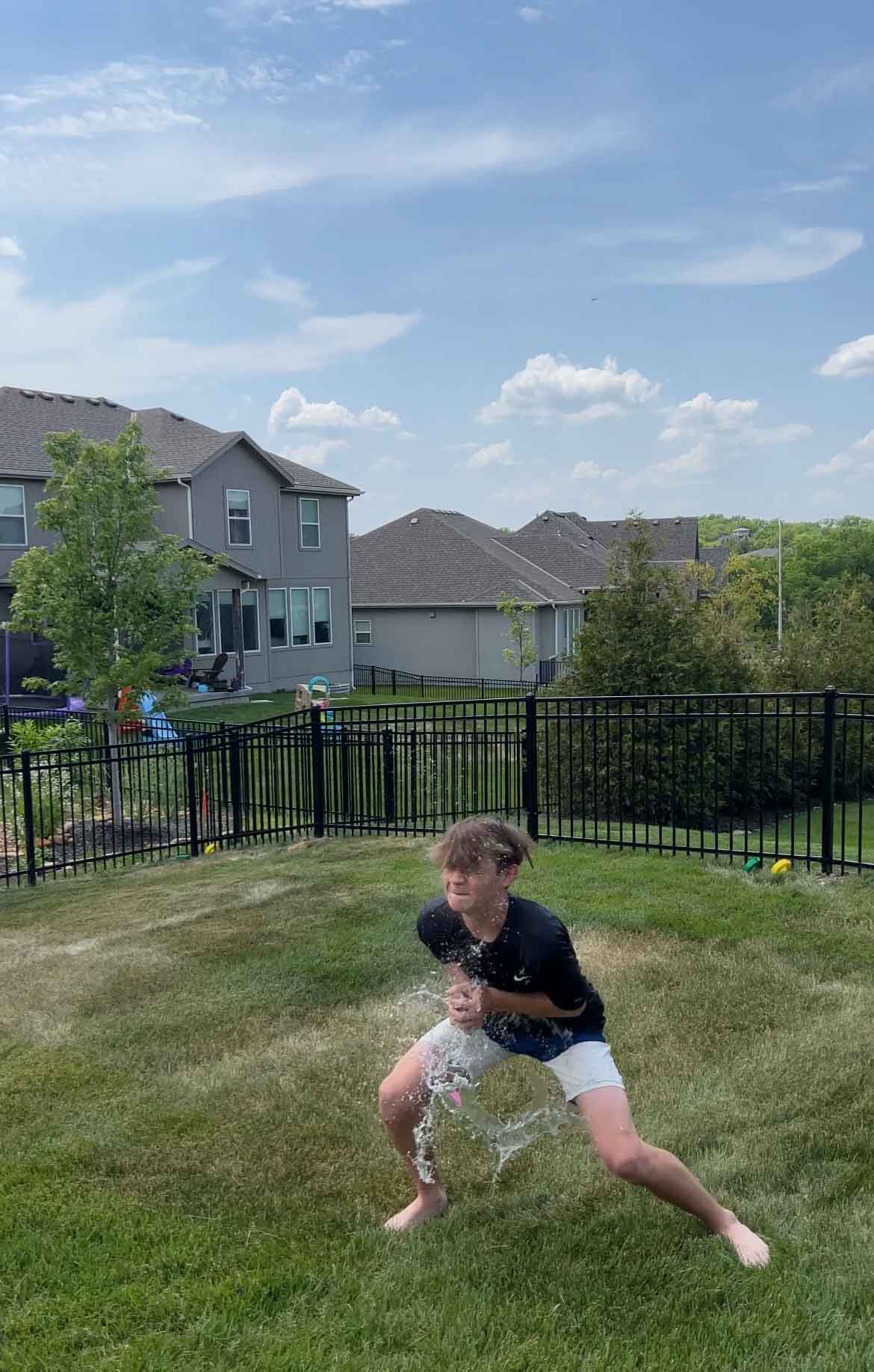 Continue this choosing a bucket to toss from and earning/losing points until a team scores 10 points and wins.
Tip!
Upgrade or downgrade the difficulty of the game based on who is playing. If you're playing with kids, make all three buckets still fairly close. If you're playing with adults, spread them out a lot. If it's all adults, you can also make it even more risky by saying if you drop the water balloon, you don't just lose a point, you're out.
Water Balloon Speed Toss
This next variation is all about speed tossing and catching with the goal to be the first team to catch five water balloons first.
Create two lines with cones or markers of some sort on either end of the yard, field, or area you're playing in. Then use markers to create lines where teams will be tossing their balloons from. And put a bucket of water balloons by the tossing lines.
Then have your group split into pairs and line up just like in a classic water balloon toss, one person on one line and their partner on the other line facing them. Give one person a water balloon.
When you say go, the first player tosses the water balloon to their teammate. And then this is where the game changes. Once they catch the balloon, both players have to run to the opposite side of the yard, touch/pass the line, then run back to the tossing/catching line to toss and catch the balloon.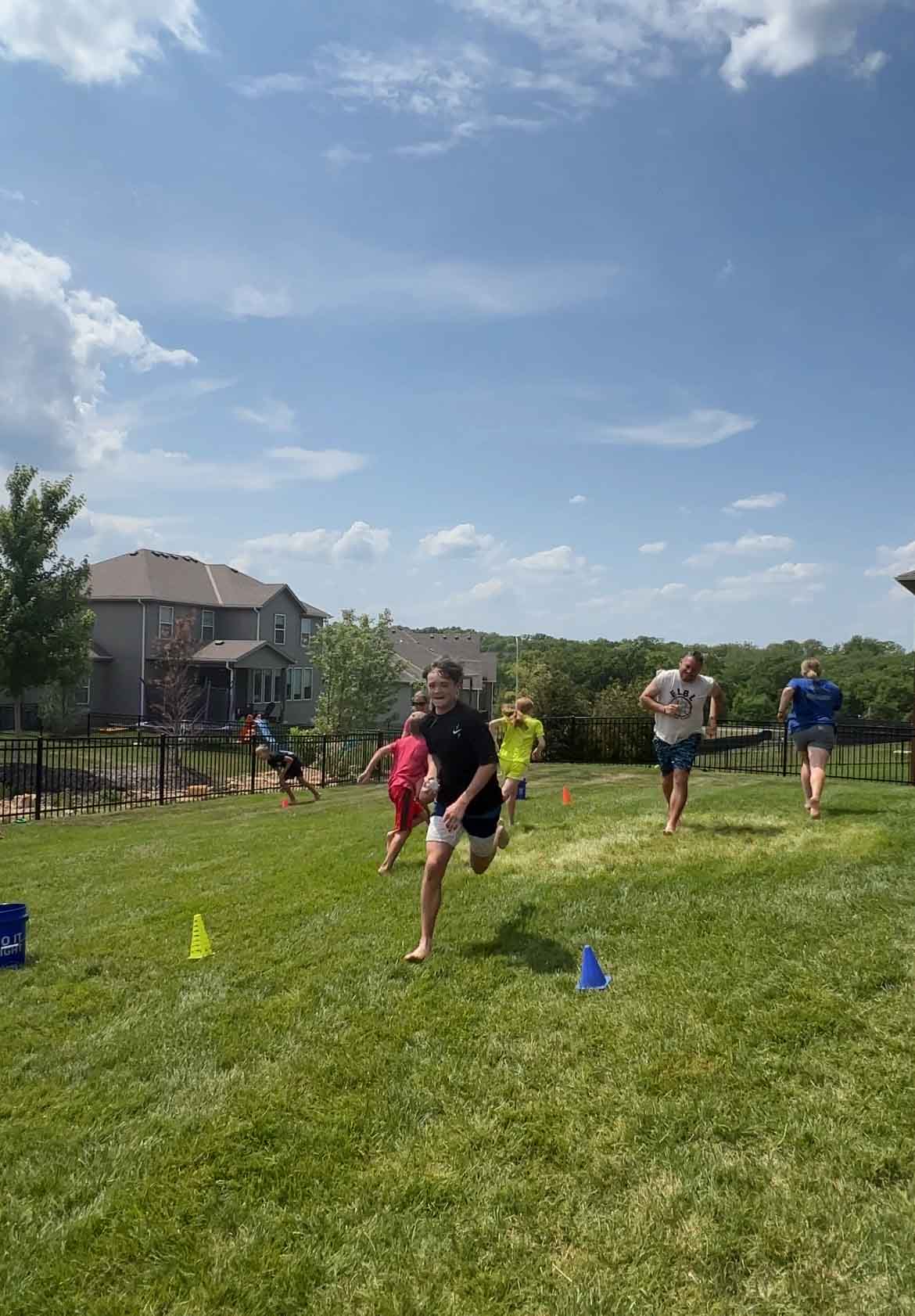 Once they toss and catch the balloon again, they run again – always going to the opposite side of where they tossed from. If they drop a balloon at any point, they have to get a new balloon out of the bucket, run again, and try it all over again.
The first team to catch five (or whatever number you decide) water balloons wins. And since this is a speed game, players can toss the water balloon from anywhere (not just the tossing line) they want after they've crossed the end line. Hail Marys are encouraged and can be a great way to make up for lost time, especially toward the end of the round.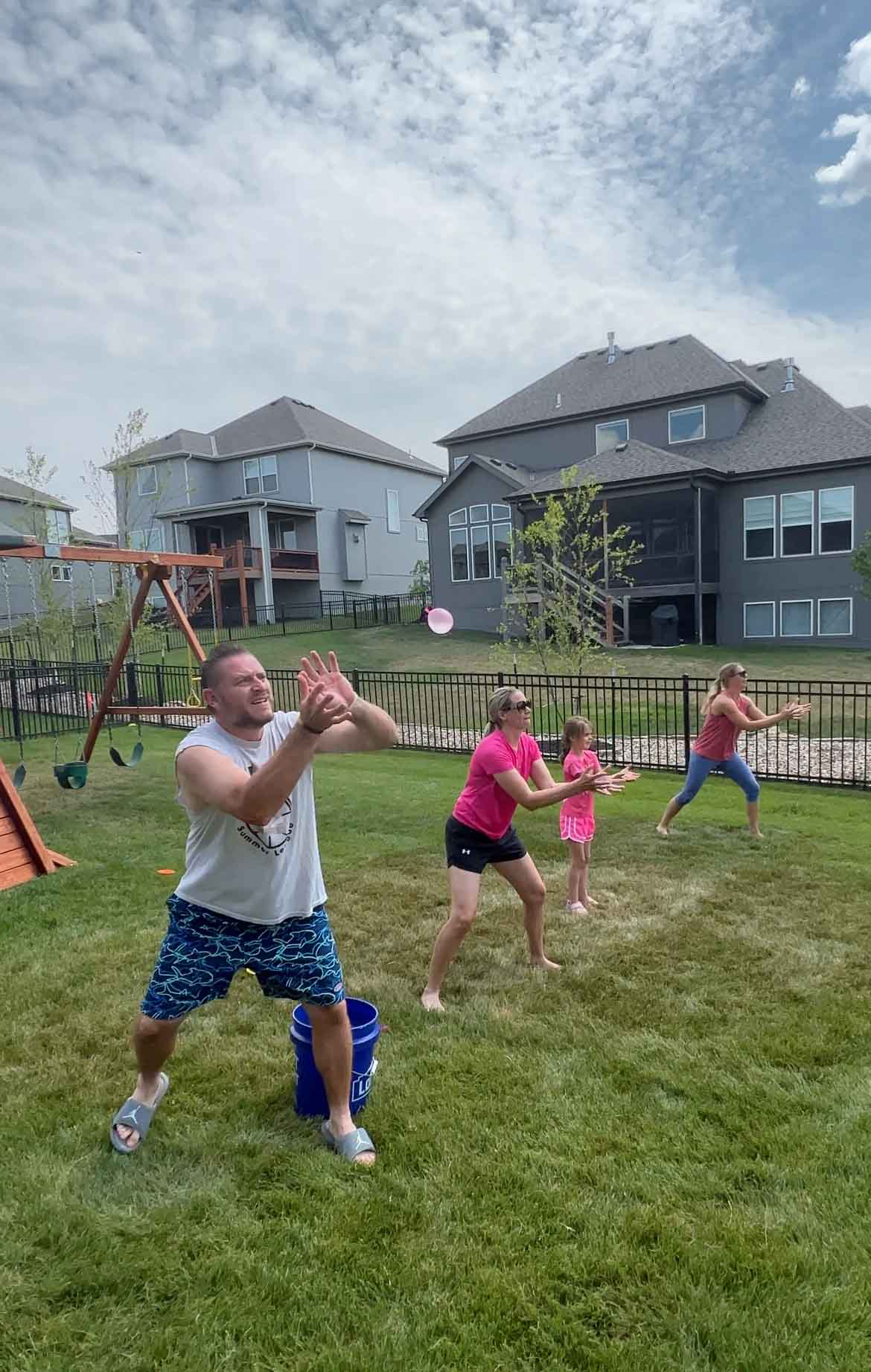 Water Balloon Music Toss
This game is setup just line the Risk Reward Water balloon toss above where you have three buckets of water balloons spread out across the yard plus the tossing/catching lines for your players. One is worth one point, one is worth two points, and one is worth three.
Once your buckets are set up, split into pairs and line up just like in the classic water balloon toss. Choose a designated music person that will be in charge of the music. Have them stand facing away from the players in a location that players will still be able to hear any music played.
When you're ready to play, the music person should play music loud enough for everyone to hear. As soon as the music starts, the first player on each team should run to one of the three buckets to choose which number of points this toss will be worth then run back to their tossing spot as quickly as possible.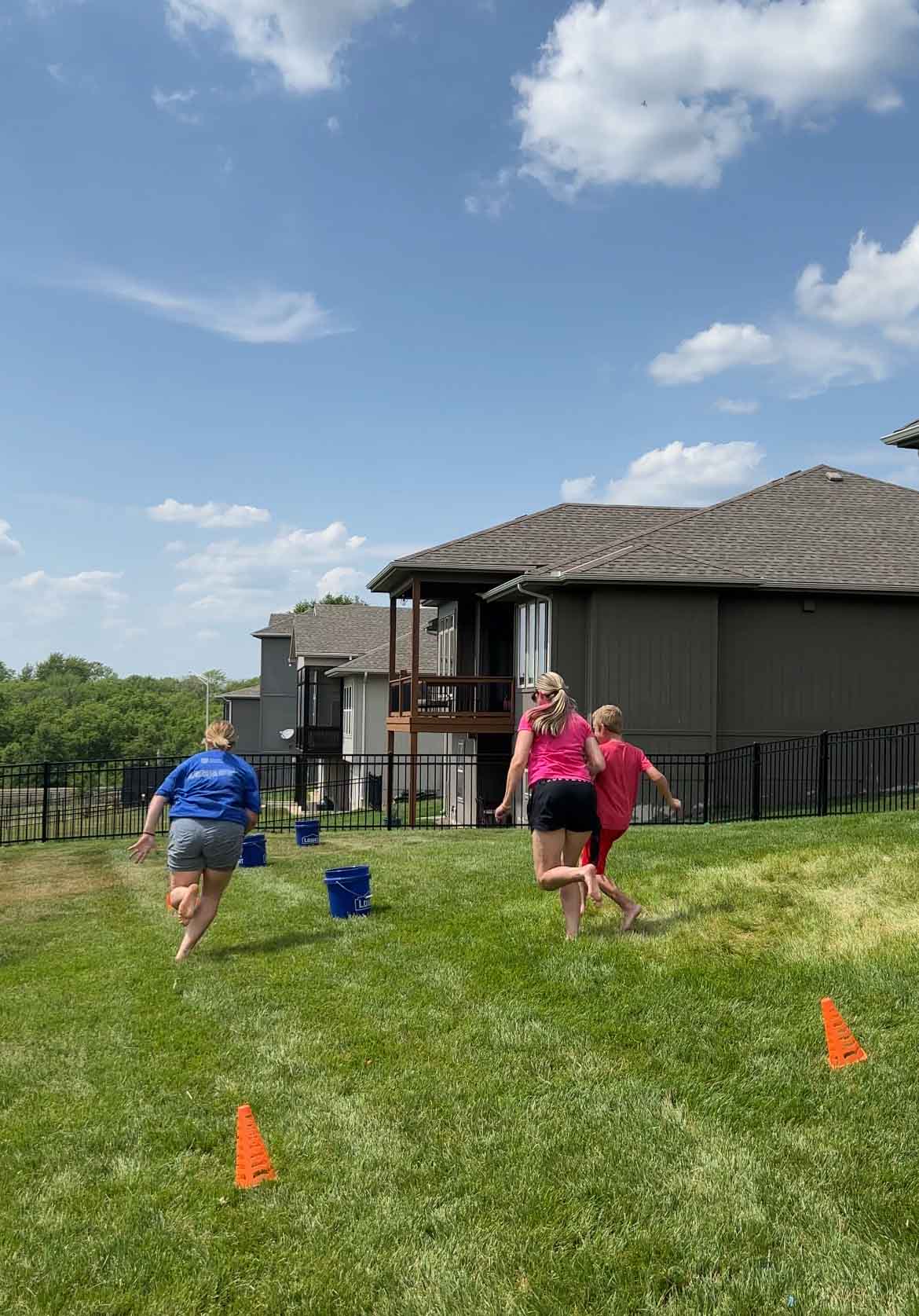 Anyone who gets back and catches the toss earns points for their team. But here's the catch – the person playing music can stop it at any time. And if the player doesn't make it back to the tossing line before the music stops, they're out for that toss and won't earn any points.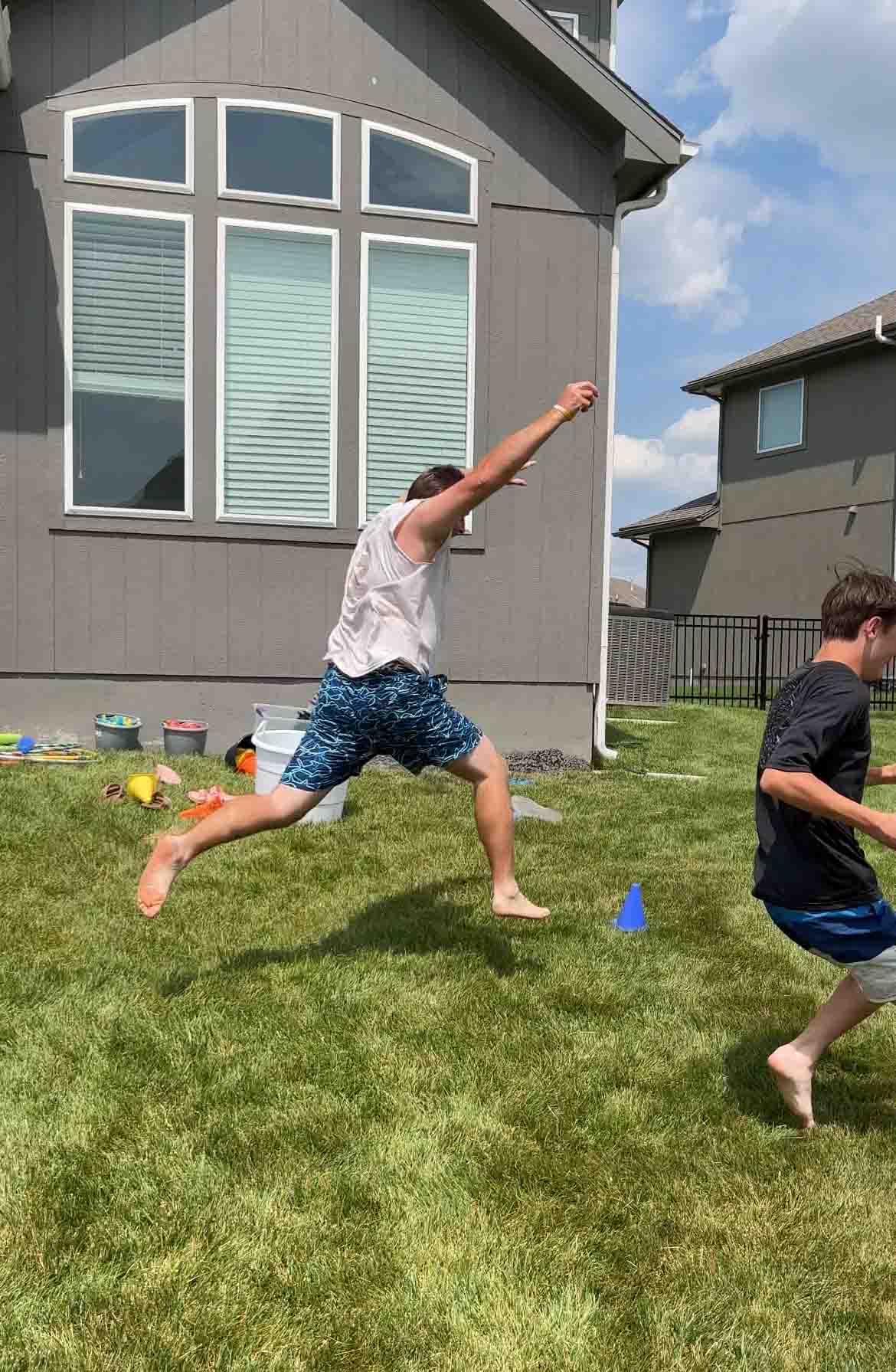 Once every one is back, the people who made it back before the music starts tosses their water balloon to their teammate and scores the points they earned (based on which bucket they ran to).
For the next round, the person who just caught the balloon is now the runner and tosser. Keep playing until someone scores ten total points.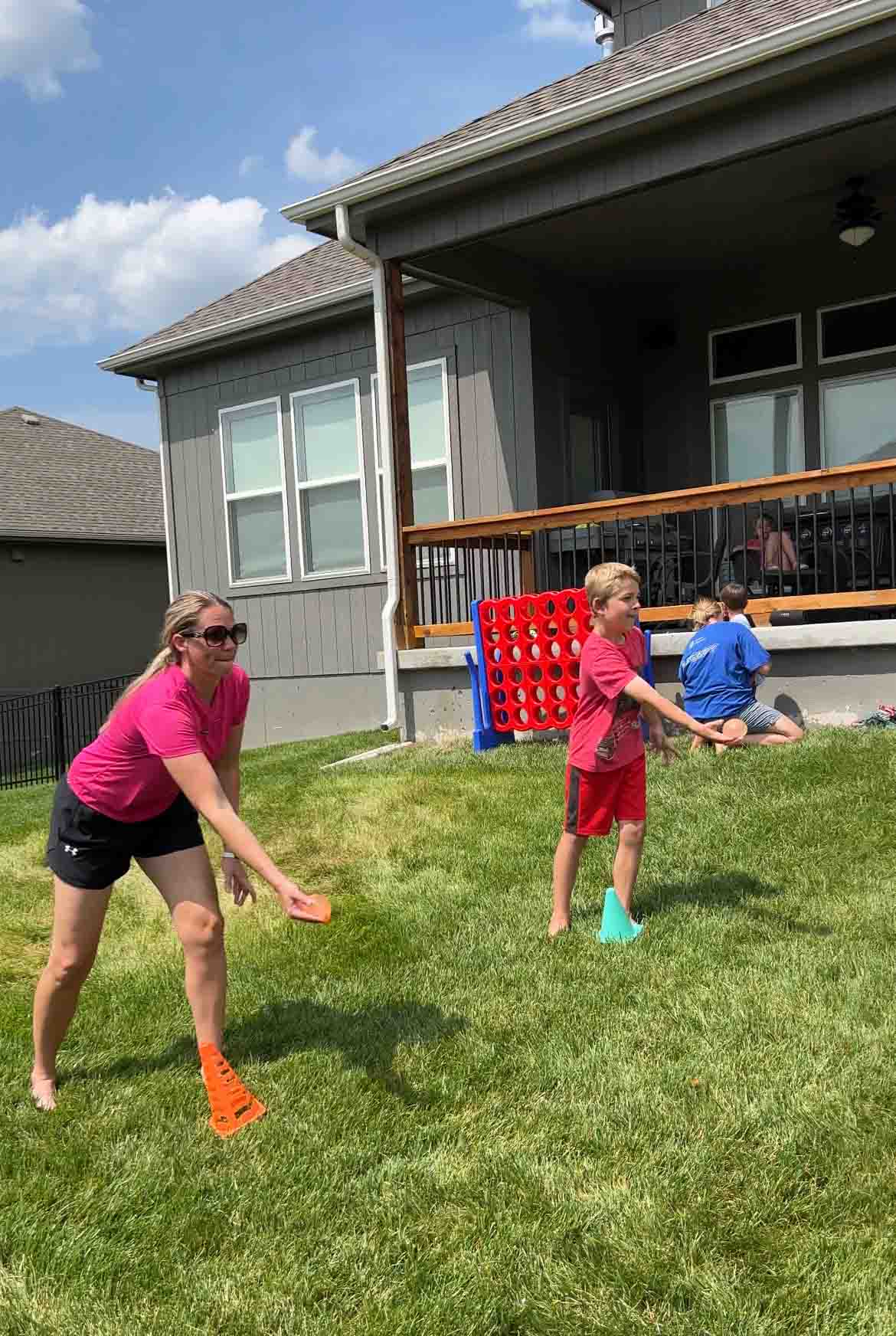 Tip!
If you want to make it even more risky, you could have teams get out if they don't make it back or drop the balloon, but I like to let people play this one as long as possible, just trying to earn points instead.
Make sure the person doing the music mixes up the length of music clips they play AND that they aren't doing ones that are so long that players can easily get back to the tossing line from the further bucket; the goal is to force players to make a risky decision.
Water Balloon Math Mystery Toss
Start by filling up a bunch of the reusable water balloons with numbers that can get wet. We used these plastic magnetic numbers but really anything that's waterproof and would fit into the water balloons would work! You could even just print out and laminate numbers!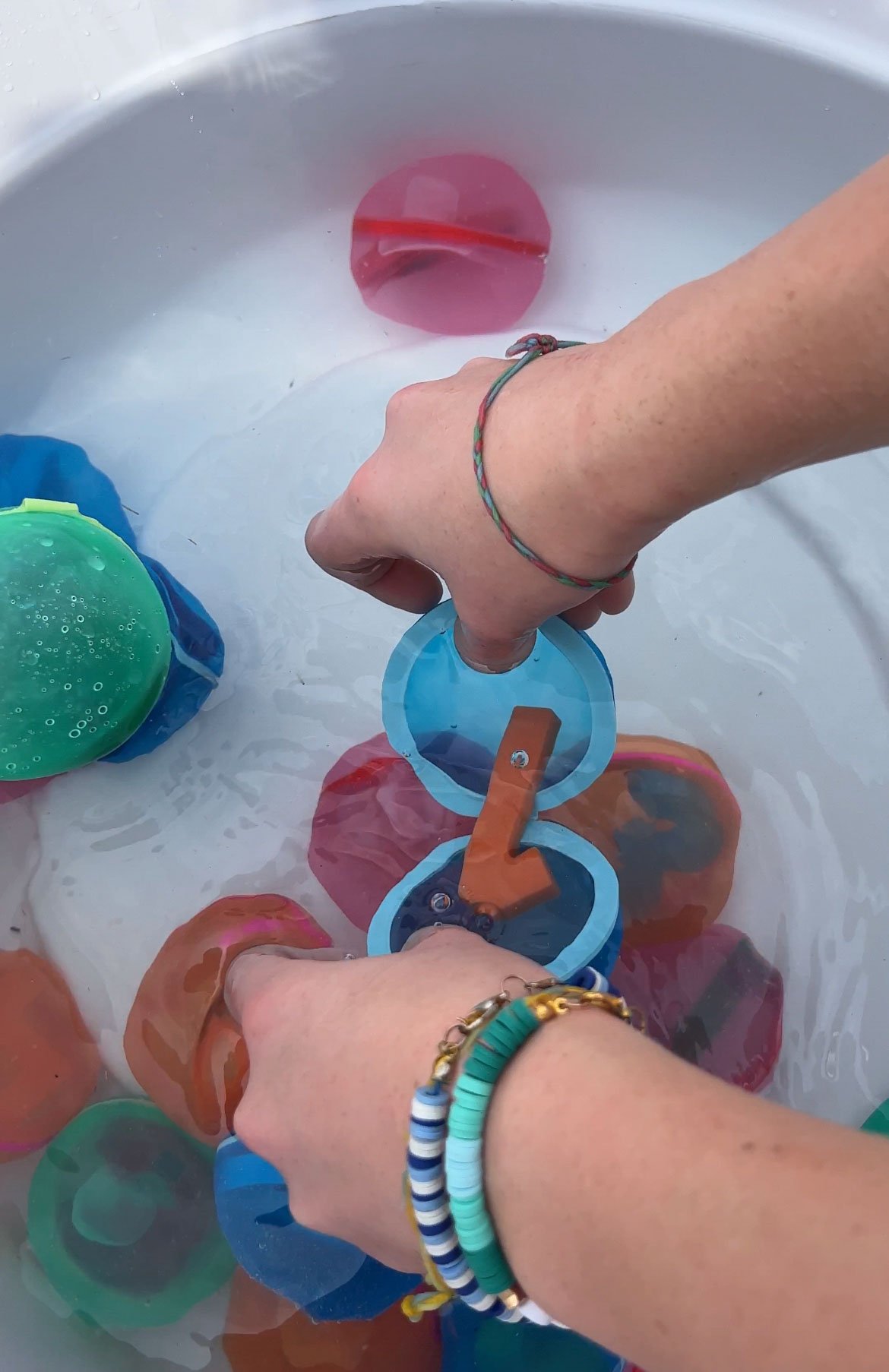 Tip!
Make it even more fun by doing positive and negative numbers. We did red numbers were positive and blue numbers were negative but you could do anything you want. We also had a 0 in one of the balloons and if someone got that, they zeroed out their score.
Put all of those into a bucket at the end of the yard and then create two lines for the tosser and catcher on the other side of the yard. Then split into pairs and have everyone line up with their partners just like for a classic water balloon toss.
When you say go, one player from each team has to run to the bucket, grab a water balloon out (without looking), run back to the starting line, and toss it to their teammate.
The teammate has to catch the balloon, break it over their head, and pull the number out. If they caught the balloon, they get the points added or subtracted to their score. If they drop the balloon, those points are null.
Once everyone has tossed and caught (or dropped) their balloons, it's the other teammate's turn to run and toss the balloon. Note, this isn't a speed game, it's more a game of luck that'll be played in rounds with players switching between turns.
The first team to get to 10 points (or whatever points you determine) is the winner. Or you could just say you're going to do six rounds and the team with the highest score wins.
Kid Version!
If you're playing with kids that aren't great with their math skills yet, you could also do this with shapes. The first person to collect three stars or something like that wins.
Milk Jug Water Balloon Toss
If you don't want to fill a bunch of water balloons, try out this variation of a water balloon toss that uses milk jugs to catch the water balloons instead of hands. You could use this idea for any of the games above or just use the instructions in this post to play how they say!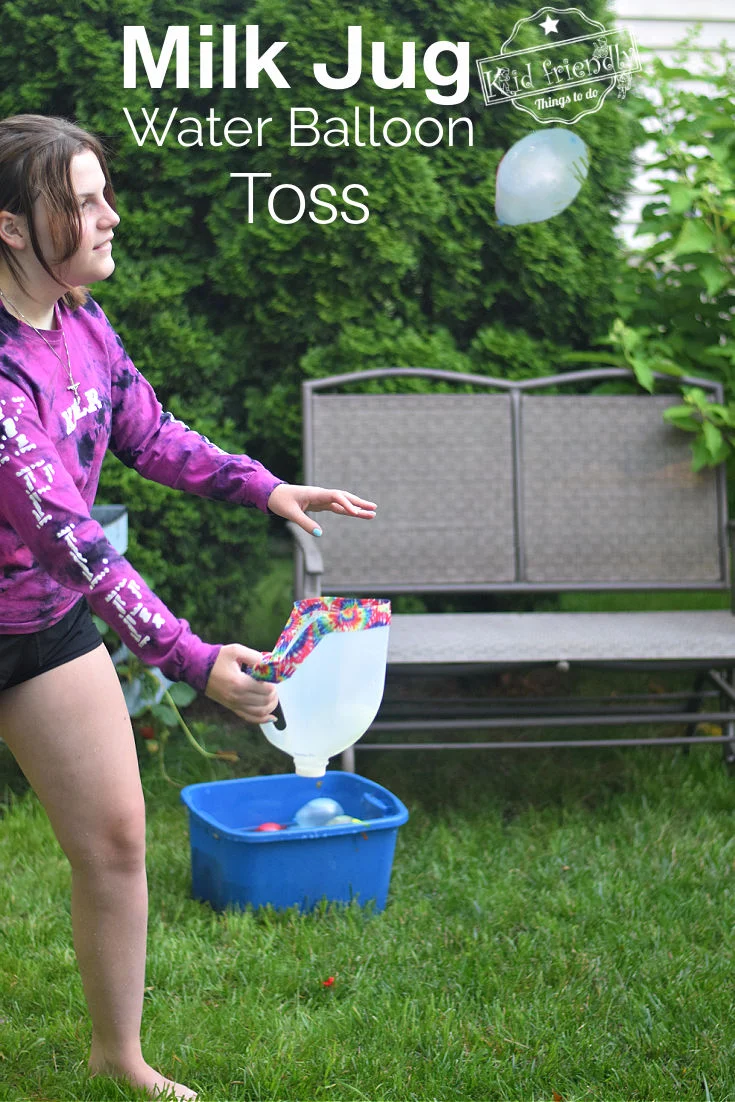 Water Balloon Get Soaked Toss
Okay so now that you know how a classic water balloon toss works, upgrade it to this get soaked version by having players have to catch a water balloon in a colander held on top of their head! Everyone gets wet, everyone has fun, and your colanders get nice and clean!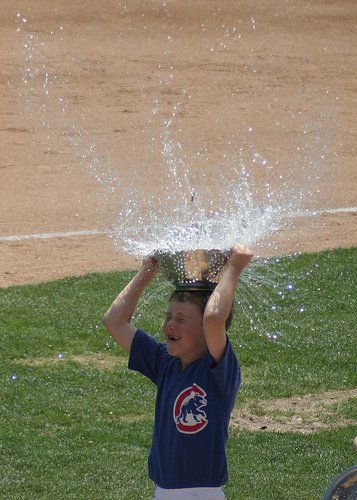 Water Balloon Ring Toss
We're not talking a ring toss like this DIY ring toss game where you toss the rings but instead in this fun water balloon ring toss, you're tossing water balloons into rings. Get all the details for this fun game.
Water Balloon Bullseye
Or skip the rings and just go with creating your own target with sidewalk chalk like in this fun water balloon bullseye game! My boys love this one, and I love that it's cheap to setup and play! All you need are filled water balloons and some chalk!
Pool Noodle Toss
Or grab some of those pool noodles (instead of a hula hoop) you likely have laying around and try this pool noodle toss instead! In their version they laid them on the ground and tried to toss them into the pool noodles, but I think it'd be fun to hang them from various places as well and toss the balloons through them!
Or you could even make it so that if you can get a balloon that matches the color of the pool noodle to splash into it, you earn even more points!
Group Water Balloon Games
If you want something to do with water balloons other than a classic water balloon toss (or the variations above), then try one of these instead! These awesome water balloon games are some of my personal favorites!
Ultimate Water Balloon Game
Out of all of the water balloons games we played for Memorial Day this year, this was easily our family's favorite. It's perfect for all ages and an absolute blast. This isn't a quick one to describe, so I wrote an entire post about how to play the ultimate water balloon game here instead.
The basic idea is that you're working as a team to try and toss a water balloon from side of a field to the other while the opposing team is defending you with pool noodles. It's confusing, chaotic, and SO much fun!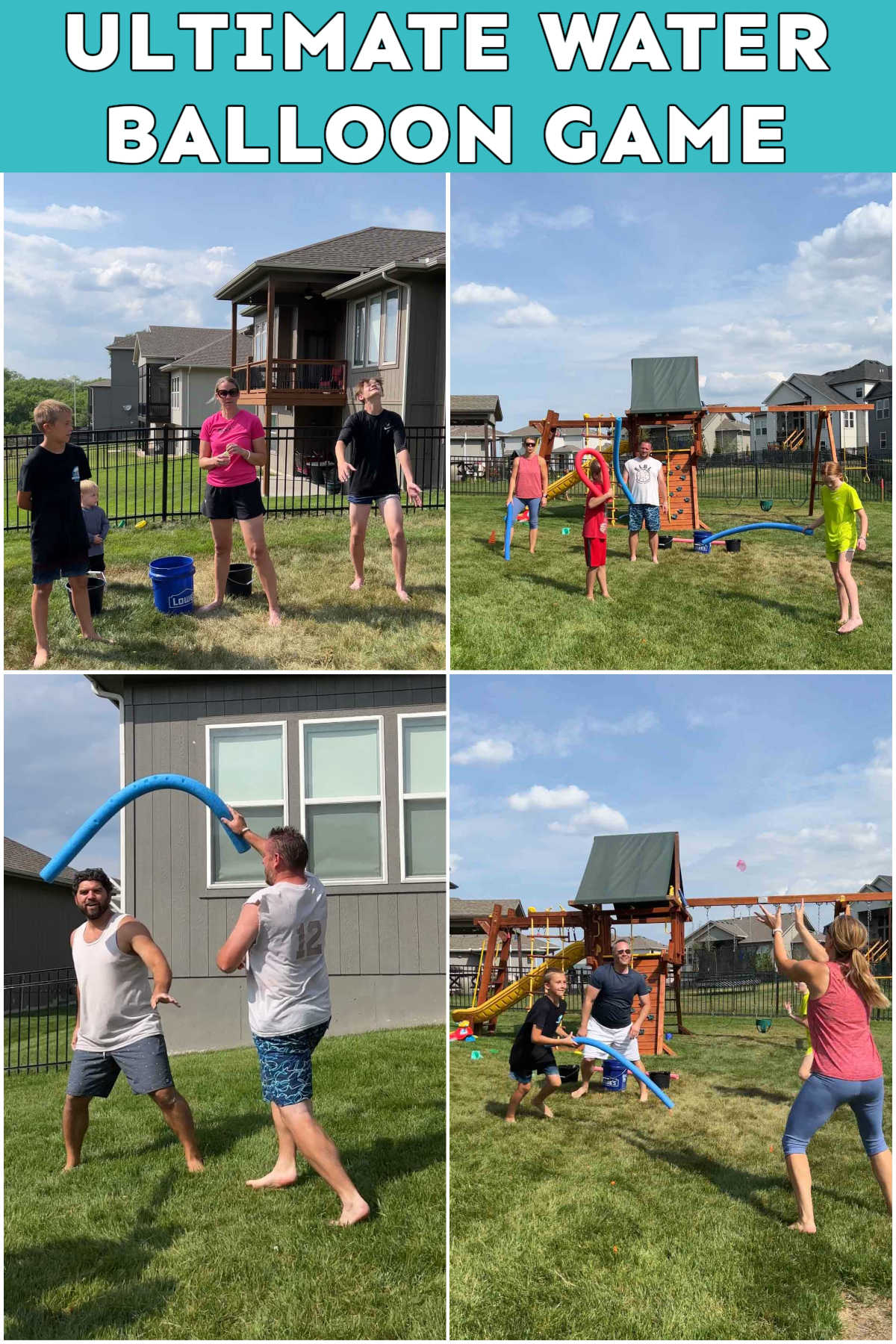 Water Balloon Relay
You can play this with two teams or ten teams depending on the group size you have. Figure out how many teams you have and then put one small bucket per team filled with water balloons (make sure each bucket has the same number of balloons) at one end of your yard and then put one small empty bucket per team at the other side of the yard.
Split into equal teams and have each team line up their team from a starting bucket to an ending bucket including one teammate at the starting bucket and one teammate at the ending bucket. Other players can be anywhere in between but there SHOULD be distance between them so they have to toss the water balloon, not just hand it off.
Once your teams are lined up and ready to go, it's time to play. When you say go, the player standing at the bucket filled with balloons should take a balloon and toss it to the next teammate down the line, who then tosses it the next teammate, and so on until it gets tossed to the final teammate who places it into the final bucket.
The first team to fill their bucket with water balloons wins. Make sure you're using smallish buckets at the end or otherwise you can do whichever teams has the most balloons at the end after all the balloons are gone wins.
Defended Water Balloon Relay
Okay so the relay above is fun, but it's basic. Luckily, we don't just do basic things here on Play Party Plan so we created a variation with defense as well!
Setup the game the same way as the relay above but for just one team (not a bunch of teams). Then on either sides of the line (perpendicular to where the team would be lined up) place buckets of sponges or water balls as well as cones to create a toss behind this line.
The opposing team should split into two and line up on either side of the yard where the buckets of sponges and water balls are.
When you say go, the team in the center should try to get as many water balloons from one end to the other in the same way as the original relay. The change is that the opposing team will now be able to make it harder by tossing sponges and water balls at the players as they are trying to toss and catch water balloons.
Once the relaying team has gone through their bucket of balloons, switch offense and defense and let the defenders have their shot. The team that gets the most balloons through overall wins.
Important!
If the team tossing the sponges or balls runs out of things to throw, they can run into the field and grab the sponges and return back to their side (no crossing to the other side). While they're past the tossing line, they cannot touch or defend or distract the players in any way, just pick up the balls and go back.
Over Your Head Relay
One of my favorite water games is the game where you have to pass a cup of water over your head to fill up a bucket at the back of the group. In this water balloon variation, place a bucket full of water balloons at one side of the yard, a small empty bucket at the other side of the yard, and a team should be lined up sitting down from one bucket to the other.
To play, the person at the starting bucket has to grab a water balloon and gently toss is backwards over their head t to the teammate sitting behind them (make sure they have some space so it's not just handing the balloon). Keep tossing it over the head until it gets to the final person who puts it in the final bucket. First team to fill the bucket wins.
Water Balloon Baseball
This game is a bit more complicated than a water balloon toss but a lot of fun! To set up the game:
Fill up a bunch of reusable water balloons with the numbers 1, 2, 3, and 4 and place a bucket full of water balloons at the pitcher's "mound."
Place a bucket of water balls or sponges alongside the bucket of water balloons.
Place four bases around the diamond you'll be playing (grass works best).
Split into two teams and have one team go to bat first and one team play in the field, including a pitcher, a catcher, then others anywhere else.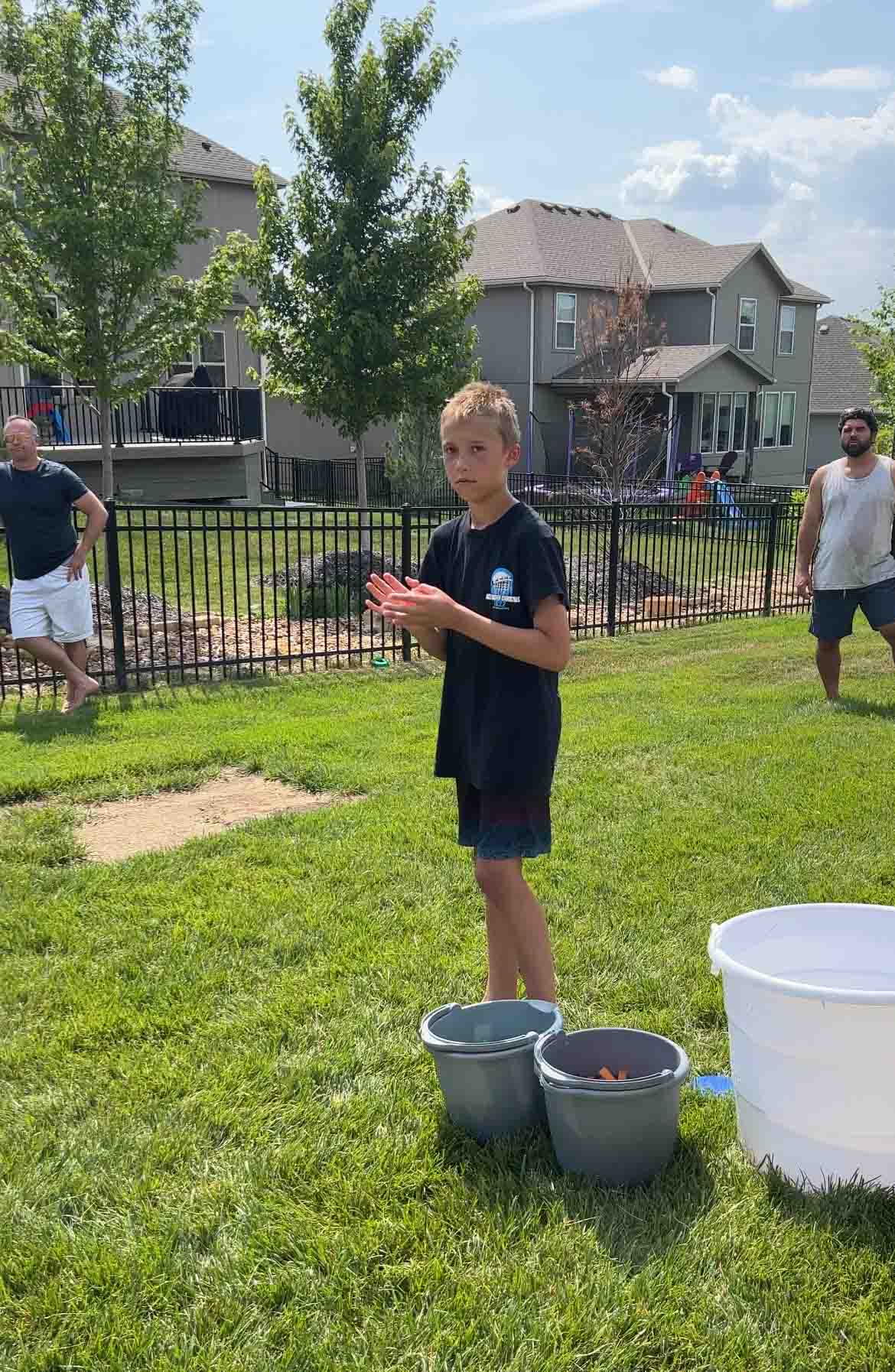 Once you're all setup, it's time to play! This take on baseball follows a lot of the same rules but with a refreshing watery twist.
Have the pitcher pitch one of the water balloons to a batter on the opposing team. If the player hits the balloon, they drop the bat and immediately start running the bases. A player on the team has to find the number that came out of the broken water balloon (it's typically the catcher), yell it out to their team, and then the fielding begins.
As soon as the number is yelled out, the pitcher grabs a sponge or water ball and tosses it to one of their other teammates (it has to be tossed to someone else, not just thrown by the pitcher) who tries to hit the running player with it. If they hit the running player when they're not on a base, they're out just like in baseball.
If they make it on base, they stay on base and run the bases when the next player hits, just like any normal baseball game.
If a team doesn't hit the balloon (not often), they get up to three pitches to hit something then it's an our. If a team gets three outs, teams switch sides.
Important Note!
While the player can start running as soon as they hit the water balloon, the number inside the balloon indicates the MAX number of bases the batter AND the runners already on base can move that hit. If they hit a 1, they can only go to first base and if they run past it, they'll have to return to first base even if they ran past it. Doing this keeps teams from always getting a ton of bases if the number is a little tricky to find on some plays!
A 1 = first base, a 2 = second base, a 3 = third base, and a 4 = home run. Also, this is just the MAX base they can get to on their hit. If they hit a 4 but can't get there without getting out, they will stay on whatever base they got to.
Water Balloon Dodgeball
Water balloon dodge ball is a favorite game of our neighborhood because it's like a water balloon fight but with a purpose!
Fill up a bunch of water balloons and put them in various buckets in the middle of your yard or playing area. Use tape or cones to create a middle line on either side of the buckets to split your area in half.
Split into teams with one team on one side of the yard and the other team on the other side of the yard. Give each player on the team a water balloon to start then say go.
As soon as you say go, a game of dodgeball is on. Teams try to hit the other teams with water balloons. If someone gets hit with a water balloon AND it breaks on them, they're out and go sit on the sideline. If it hits them but doesn't break, the tosser is out of luck and the person who got hit is still in the game.
If someone catches a balloon tossed at them, the person who tossed it is out AND a person from the catching team's sideline can come back into the game.
Keep playing until everyone on one team is out then play again. Just like in a regular dodgeball match, teams can't cross the center line at any time and they have to actually play, they can't just hang out in a battle station or base.
Tip!
If you have people of all ages playing this one, make sure to put younger kids with older kids so that the teams are pretty even. You want to make sure that you divide the hand-eye coordination as well – your goal really is to have teams equal as possible to make for a great game!
Water Balloon Volleyball
For this classic game, you'll need regular size balloons filled with water (not small water balloons), outdoor volleyball net, and one beach towel for every two people playing. If your net doesn't have "out lines," make sure to create out lines in some way.
Split your group into two teams then split each team into pairs. Give each pair a beach towel to hold between the two of them. Have each team take one side of the volleyball net.
Give one team the filled water balloon to start. That team has to put the water balloon into their towel and by working together, catapult it to the opposing team on the other side of the net. The opposing team should catch the water balloon in one of their towels and either toss it back over the net or toss it to another pair on their team and over the net.
If the water balloon hits the ground or breaks, the team on the other side of the net earns a point. If a team scores an ace (where the other team drops it or breaks it on the serve), the serving team gets two points. The first team to score ten points wins.
Water Balloon Hot Potato
This is one of our favorite games to play with water balloons. I recommend using small balloons that are filled as full as you can without popping for this one so that they're easy to pop.
This game is just like the classic game hot potato but with a water balloon.
Everyone sits in a circle and when you're ready to play, a music person should play a short clip of music (while facing away from the circle), and the players should pass around a water balloon in the circle.
When the music stops, whoever has the water balloon gets it popped over their head (by the music person or someone not playing) and leaves the circle.
Close the gap in the circle and play again with the remaining players and a new water balloon. Whoever it stops on this time gets the water balloon popped over their head by the last person to get out.
Keep playing until only one person remains and they win.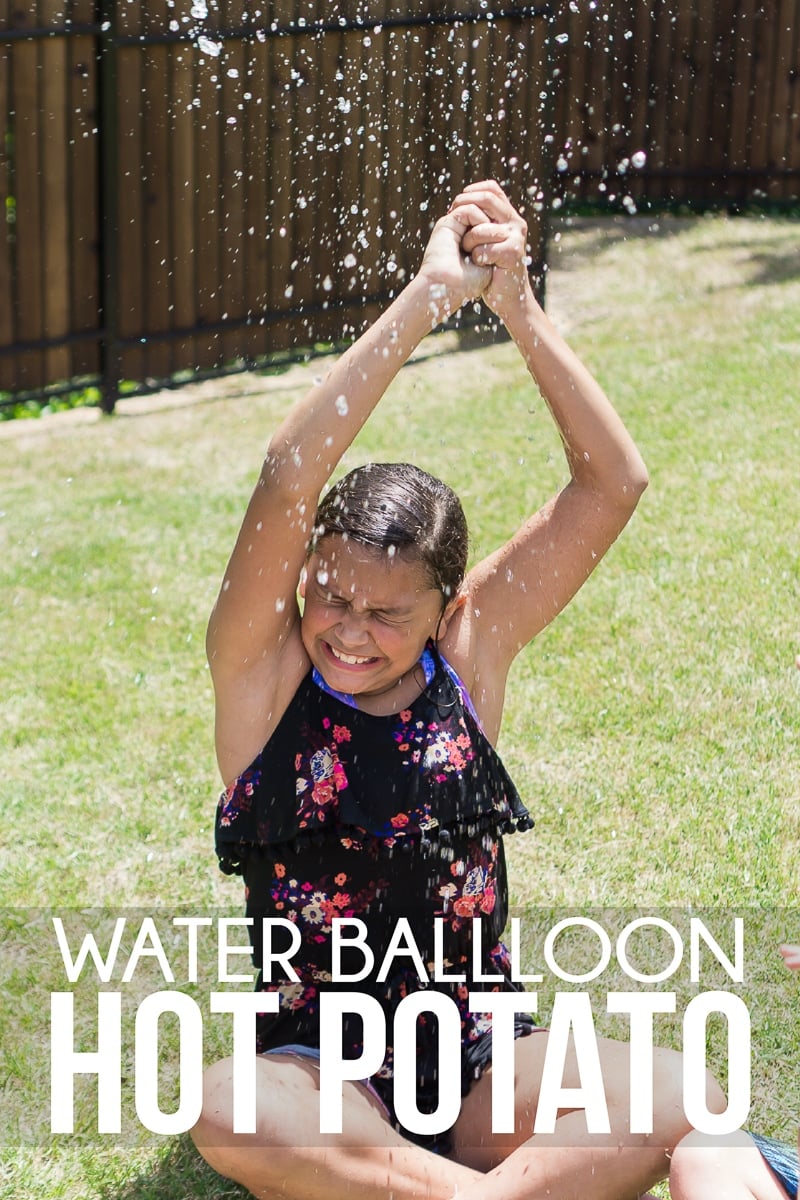 Water Balloon Launch Game
I saw this fun water balloon launcher and knew it would be perfect for a water balloon game! Just build the launcher, then create (or buy targets) and for every target you hit, you score points. Or you could even do it with just hula hoops or lines you have to land past to earn points!
Water Balloon Hunt
In this fun game, players have to find water balloons with certain shapes or numbers drawn on them (or use the reusable water balloons and put numbers inside). You can get all the details here, but I'm totally doing this wtith my boys this summer! Get all the details for this game.
Water Balloon Capture the Flag
If you've ever played regular capture the flag, this game is just a water fight version of that! Teams compete to get the other team's flags back to their own base while trying not to be shot with water guns or hit with water balloons.
Water Balloon Games for Kids
While the majority of the games above can be played and very much enjoyed by kids, these are ones that I think are best played by kids that wouldn't necessarily be as fun for teens and adults. Or maybe I'm completely wrong, and they will love them!
Water Balloon Fight
I feel a little silly even just putting this on here, but if you really want to go simple and not put in a lot of prep work or time, a good old-fashioned water balloon fight is always a great option. Give kids buckets of water balloons (I recommend putting them all around the yard) and just let them throw water balloons at each other until they're tired of it.
This is a great time to use the reusable water balloons because kids can refillable them easily themselves and they last forever! Plus, no picking them up!
Water Balloon Basketball
There are a lot of different ways you can do this but the basic idea is that you're playing basketball with water balloons, no dribbling necessary. Kids love it, and it's a very little setup and prep game. You can get variations and details in the post.
Water Balloon Piñatas
This viral game that I've seen all over Facebook and otherwise is a great way to get everyone soaked, plus it's a lot of fun at the same time! You can get rules for this watery version of the classic birthday party game and see how easy it is to set up!
Water Balloon Batting Practice
If you don't want to do the full water balloon baseball game I mentioned above, try out water balloon batting practice like this mom did. Instead of a full baseball game, they just hit regular water balloons and tried to get each other wet instead of out!
Water Balloon Tag
Everyone's played tag before but you may never have played it with water balloons! In this wet version of tag, the person who is it has to hit someone with a water balloon to "tag them." This would be a really good one to use the reusable water balloons so that it doesn't matter how many water balloons get wasted while trying to tag people!
This is also a great option if you don't want to divide players into groups and would rather just have the entire group playing together at one of your summer parties. This is also great to play if some of your party guests don't want to join in on the summer fun!
Water Balloon Musical Chairs
Fill up regular water balloons and put them on a blanket, plastic sheet, or mats in a circle. Play the typical game of musical chairs where you play music and when the music stops, everyone has to find a chair (excluding one person). But instead of finding a chair, players have to sit on and pop one of the water balloons to stay in the game. The person who doesn't get a water balloon is out.
Replace the water balloons and do another round. Keep playing until only one person gets the final water balloon.
Water Balloon Spoon Race
You've likely done an egg race before (one of our favorite Easter games). Switch out the egg with a water balloon and race to see who can get their water balloon from the start line to the finish line first without dropping and popping it. If the water balloon pops or gets dropped, they're out.
More Fun Summer Games
If you're looking for even more fun games for summer, try out some of these reader favorites or these beat the heat party ideas!