If you're looking for a great game to play during the summer, you have to try out this ultimate water balloon game! It's a team versus team game that's kind of like ultimate frisbee meets the ultimate water balloon toss! It's the perfect summer game for teams, families, and groups of all kind!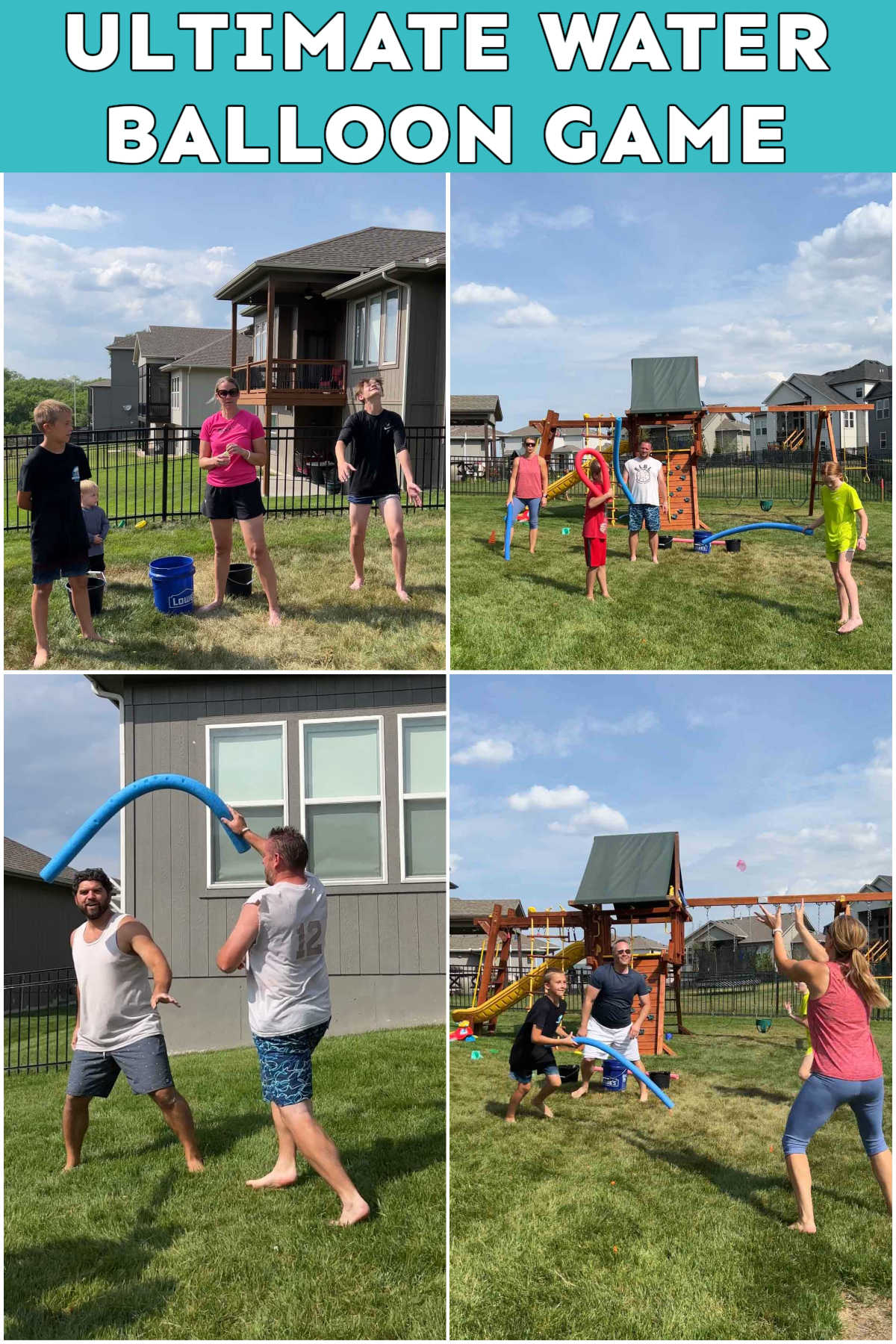 In the past I've combined all of my water games (and all of my water balloon games) into one post, but this game was so much fun that it had to have its very own post. I couldn't make it just one little paragraph in a longer post, it deserves more than that.
This is a game that we made up during a brainstorming session about outdoor games. We were talking about how fun it would be to do something like ultimate frisbee but a water version.
And this ultimate water balloons game was born. We played 10 different water games for our backyard BBQ on Memorial Day this year, and this was easily the favorite of pretty much everyone.
It would be perfect for any summer party, a family reunion, camp games, or even just an afternoon of fun!
And honestly, it doesn't even have to be a summer game – we just used a water balloon because it was summer. If you don't mind getting a little wet (really, just a little), you could play this any time of the year!
So here you go, our favorite new summer game!
Game Supplies
You need three things to play this game. Plus a good amount of space and people. That's it. And honestly, you probably already have all the things you need to play at home.
Water balloons – I recommend using the kind that actually break (compared to the reusable ones) for this particular game because you want to have quite a few balloons to play. Reusable ones get pricey quickly and make it cost prohibitive to play. If you do want to use reusable, read my tip under the how to play section. Make it easy on yourself and just get one of these self-sealing water balloon packs. I recommend having 100 balloons in each bucket, 200 total.
Pool noodles – you will need one pool noodle for every two people playing. So for example if you have two teams of 10 people playing (20 people total), you'll need 10 pool noodles. The size and thickness don't matter.
Large buckets – you'll need two buckets that are large enough to be filled with water to hold quite a few water balloons. No need to go out and buy something – you could also use a large storage container or anything that'll hold water and balloons.
Setup Ultimate Water Balloons
Once you have all of your supplies gathered, it's time to get ready to play. There's very little setup involved, which is why I love this game most of all. You could really just fill up some water balloons and buckets and start playing in minutes!
Fill each of your two buckets with water and water balloons.
Choose your field. Put one bucket filled with water balloons on the far end of one side of the field and the other bucket on the other side of the field.
Split your players into two even teams (give or take one player). Have one team (we'll call them team A) stand on one end of the field by a water balloon bucket. Have the other team (team B) stand on the opposite end of the field by the other bucket.
Give a player from Team A ONE water balloon. Give each player on Team B a pool noodle.
How to Play This Ultimate Water Balloon Game
I mentioned it before but this game combines elements of ultimate frisbee with just elements we added in to make it more fun and summery.
Objective: The goal of the game is to the team that scores 10 points first or set a time limit and the team with the most points at the end of the time limit is the winner.
Once your players and buckets are all setup, it's time to play. I've written out instructions below, but I highly recommend watching the video at the bottom of this post as well to see visually how to play – it's a little easier to see than read!
Basic Offensive Game Play
When you (or someone) says go, team A who is on offense will try to get the water balloon they are holding from their end of the field to the other end of the field by passing it from teammate to teammate without dropping the balloon.
When a player catches a balloon, they can take one step (and that's it) before tossing the balloon to another teammate. If they take more than one step and get called out for it, their team loses the balloon to the opposing team.
If they can toss the water balloon all the way across the field and have a teammate catch the balloon (without it breaking) behind the bucket on the other end of the field, they score a point for their team.
If at any point while they're tossing the balloon across the field, they drop the balloon OR then immediately the teams switch and Team B is now on offense and Team A is on defense.
Switching Offense and Defense
When the balloon gets dropped by the offense, the team that is currently on defense should immediately drop their pool noodles right where they are. Then someone from their team (that's now on offense) has to go back to their starting water balloon bucket, grab a new water balloon, and begin tossing it across the field from their original bucket.
The team that dropped the balloon (originally on offense) is now on defense and should grab one of those dropped pool noodles and immediately start playing defense.
This quick switch is one of the reasons this game is so much fun. It's constantly moving, constantly changing, and constantly a lot of fun.
Important!
Teams always go the same direction they started – they never change sides. So if Team A started on the left side of the field (trying to get to the right side of the field), they'll always go back to grab a new balloon from the left bucket and try to get right. And vice verse for Team B.
Defensive Game Play
The goal for the defensive team is to play defense and keep the other team from scoring points by getting the water balloon past their bucket. The entire defensive team is given a pool noodle at the beginning of the game that can be used to block water balloons in the air, distract players during tossing and catching, and just generally help defend their goal line.
Defensive players must be on the field, not behind the goal line/bucket guarding the line.
The pool noodles are NOT to be used for:
Intentionally hitting players (players will likely get touched/hit with pool noodles accidentally)
Fighting with other pool noodles
Tripping players
Holding back players
Touching players intentionally in any way
So pretty much pool noodles are there to make it tougher for the teams to pass the water balloon but not to touch the offensive team intentionally. It may not seem like the pool noodles will do much, but they really do. We had people hitting, tipping, and blocking water balloons left and right!
As mentioned above, if the water balloon does get hit, blocked, etc. and hits the ground, pool noodles should be dropped and the defense team immediately becomes the offensive one!
Note!
Players are required to pick up a pool noodle before playing defense! They can't just ignore the pool noodles and play defense on their own – pool noodle defenders is an integral part of the game!
How to Win Ultimate Water Balloons
Just like in any team versus team game that scores points, you can either choose a number teams are trying to reach (e.g., 10 points) or you can set a time limit (e.g., 15 minutes). The team that reaches the point value first OR the team with the highest score at the end of the time limit wins.
In the version that we played, all scores were worth one point. If you're doing a time limit, you could do something like any scores in the last minute are worth two or three points. Or just stick with all worth one point!
And that's it! Honestly, my family and friends didn't really care who won because they were having so much fun just playing. Even my ten year old had a blast running all around and switching back and forth at a second's notice!
I hope you try out this game and have as much fun as we did! Let me know in the comments if you do play, I'd love to hear what you thought!
More Summer Games
If you want even more summer games to try this year, these are some of our favorites!