Keep your Super Bowl party guests entertained by playing two or more of these Super Bowl party games that are perfect for fans of all ages and the people who really are just coming for the food.
One way or another, these Super Bowl party games will make your party one they'll remember even if they couldn't tell you who won the actual game.
And with everything from active games to printable bingo games, there are plenty of fun Super Bowl party games for everyone!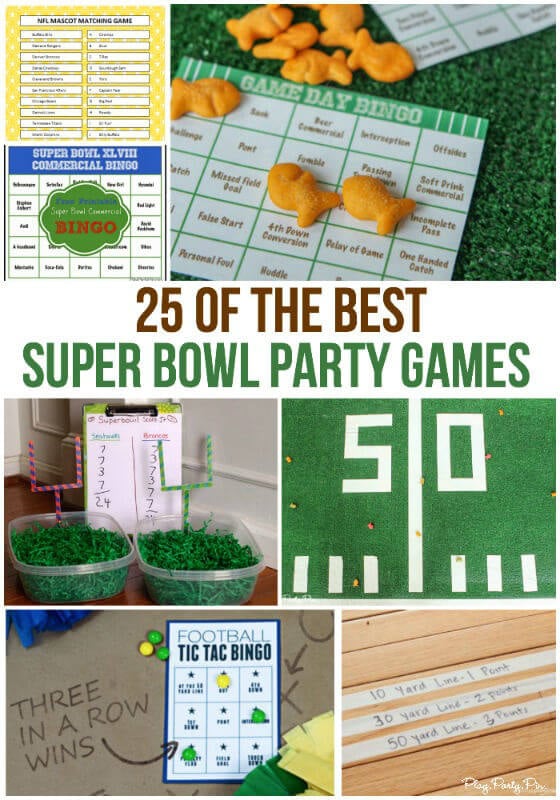 The Best Super Bowl Party Games
So it may seem a little counterintuitive to plan party games for a Super Bowl party because well you're already there watching a game. But let's be honest – you're likely going to invite people who don't care that much about the game. Or that aren't cheering for a favorite team.
Or want to make the game even more enjoyable with some awesome games to make the actual big game a little more interactive. That's the purpose of Super Bowl party games – to add even more fun to an already fun night!
I've put together all of the best Super Bowl party games I could find on the internet including printable games, active games, betting games, and even games you can play during the commercials.
Because the commercials really are the best part – well that and the food!
Printable Super Bowl Party Games
These games are perfect if you have a group of guests who are more low-key and would rather sit down to play games instead of getting up and moving.
Or if you don't feel like putting any effort into the game other than printing out some bingo cards and handing out some Goldfish
crackers to cover up the bingo spaces.
All of these are already created for you so all you have to do is download and print.
NFL Mascot Matching Trivia from Moms & Munchkins
Football Game Bingo from Play Party Plan
Super Bowl Trivia from Diva Girl Parties
Super Bowl Over or Under from 31 Flavors
Super Bowl Games to Play During the Commercials
These games are dedicated to the people who watch for the commercials (as if that's not all of us).
Super Bowl Commercial Bingo from Play. Party. Plan.
Super Bowl Commercial Bingo for kids (a generic version that's easier for kids to spot) from Play Party Plan
Super Bowl Hot Potato from Love to Know
Rate the Commercials from Studio DIY
Active Super Bowl Party Games
Unlike the games above, these are games to plan for guests who like to move. These are perfect to play during the pre-game show, halftime, or even after the game.
Super Bowl Minute to Win It Games from Play Party Plan
DIY Football Toss from A Few Good Pieces
First and Bowl Football Bowling from Play Party Plan
On the 10 Yard Line Game from Play. Party. Plan.
Football Charades from Blueberry Print Shoppe
Super Bowl Football Toss from eHow.com
Fun Football Food Creation Competition from Just a Girl and Her Blog
Kick the Football in the Uprights Game from Play. Party. Plan.
Pop the Balloon: Football Edition from Purple Trail
Quarterback Sneak Scavenger Hunt from Play Party Plan
End-Zone Dance Contest from Livestrong.com
Potato Chips on the Nose from Celebrations.com
Football Toss Contest from About.com
Betting Super Bowl Party Games for Adults
I wrote just for adults because as written these are all betting games for money. However, swap the real money with Monopoly money
and you buy a prize for the person with the most cash at the end and these are perfect for teens as well. Or for some of these forget the money altogether and you just provide prizes for the winners to get away from the betting altogether.
Pick a Player from Punchbowl.com
Football Guessing Game from How Stuff Works
Super Bowl Squares from Kate's Kanvas
Making Monopoly Money from Los Angeles SB Nation
Pass the Cup from Punchbowl.com
Super Bowl Games for Kids
These are designed for kids. Adults are welcome to play them as well, but these games were ones originally designed to keeps the kids entertained if the game gets a little boring for them! The football scavenger hunt was a huge hit at our game day party this year!
Super Bowl Score-It Game from Creekside Learning
Quarterback Sneak Scavenger Hunt from Play Party Plan
Are You Ready to Fumble Word Search (kids) from Printables 4 Kids
Pick Six Game from Play Party Plan
Free Printable Football Coloring Pages (kids) from Yes Coloring
First and Goal Super Bowl Bowling from Play Party Plan
Other Super Bowl Activities
So if you don't want to do Super Bowl party games, you can still have fun with some of these other non-game activities! They're a little easier to setup and not as interactive so kids (or adults) could just be playing throughout the game!
Inflatable Goal Post Ring Toss
Other Super Bowl Party Supplies
And of course, a party isn't a party without food and drinks. These are some of the cutest football party supplies I've found out there to amp up your food and drinks – yum!
And if you need food and drink ideas, these buffalo chicken roll-ups are always a big hit as is this spinach artichoke dip!
Inflatable Football Goal Post Cooler
Game Day Football Field Flags (great for cupcake toppers, burger picks, etc.)
Football Field Table Cover (such a fun way to decorate inexpensively)