Calling all football fans, these Super Bowl games are for you! These games are the best way to upgrade your Super Bowl party, perfect for anyone who is coming for the game, the food, or just the commercials!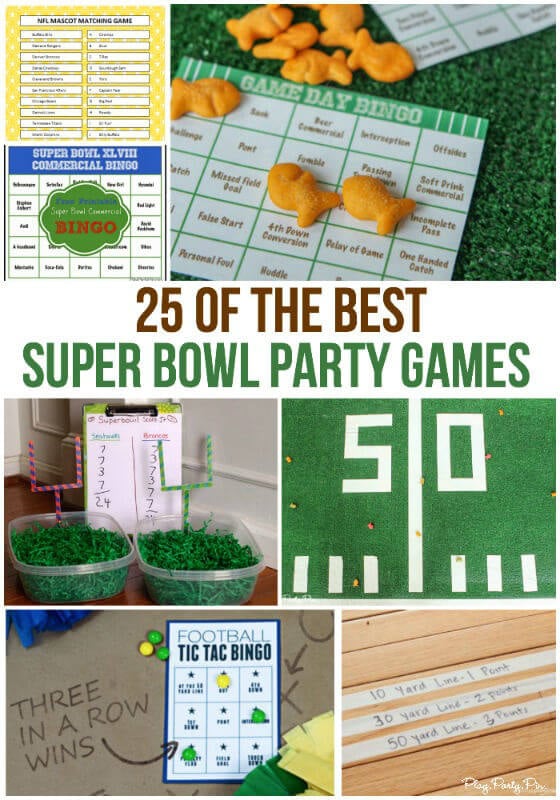 The Best Super Bowl Party Games
So it may seem a little counterintuitive to plan party games for a Super Bowl party because well you're already there watching a game.
But let's be honest – you're likely going to invite people who don't care that much about the game. Or that aren't cheering for a favorite team.
Or want to make the game even more enjoyable with some awesome games to make the actual big game a little more interactive. That's the purpose of Super Bowl party games – to add even more fun to an already fun night!
I've put together all of the best Super Bowl games I could find on the internet including printable games, active games, betting games, and even games you can play during the commercials.
So print out some of these Super Bowl party printables, make a batch of Cincinnati chili, and start playing!
Printable Super Bowl Party Games
These games are perfect if you have a group of guests who are more low-key and would rather sit down to play games instead of getting up and moving. They're also great for playing while enjoying a little buffalo chicken dip!
Or if you don't feel like putting any effort into the game other than printing out some bingo cards and handing out bingo markers.
All of these are already created for you so all you have to do is download and print.
1 – Super Bowl Trivia
See who knows their Super Bowl history and fun facts in this printable Super Bowl Trivia game from Play Party Plan.
2 – Super Bowl Guessing Game
See who can guess the most things correct about the game in this fun Super Bowl guessing game from Play Party Plan. With questions that no one can predict like what will the coin toss be, who will score last, and more – this guessing game is fun for everyone!
3 – Football Bingo
This Football Bingo from Play Party Plan is a football themed version of everyone's favorite game! Play during the game and mark off things like incomplete pass, fumble, and more as they happen during the game!
4 – NFL Mascot Matching
Think you know your NFL teams? See who can get the most correct in this NFL Mascot Matching Trivia game from Moms & Munchkins.
5 – Super Bowl Word Scramble
This Super Bowl word scramble will have players scrambling to see who can come up with the answers first!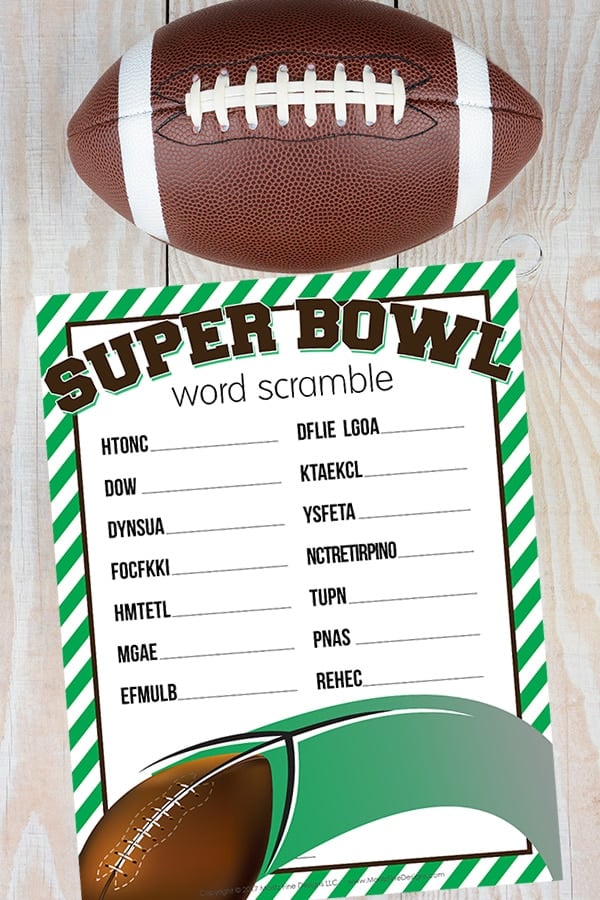 Super Bowl Games to Play During the Commercials
These games are dedicated to the people who watch for the commercials (as if that's not all of us).
6 – Super Bowl Commercial Bingo
This Super Bowl Commercial Bingo game from Play Party Plan is one of the most popular games to play on Super Bowl and for good reason. With 40 unique Super Bowl bingo cards that include brands and celebrities for this year's Super Bowl – see who can bingo first!
7 – Generic Super Bowl Commercial Bingo
Don't want to be brand specific? Try this Super Bowl Commercial Bingo for kids instead that has generic things like a drink commercial, a dog, a horse, etc. It's still fun but easier for the littles to play!
8 – Rate the Commercials
This rate the Commercials activity from Studio DIY has people choosing hilarious ratings for each of the commercials you watch. Get the idea and the free printable signs here.
Active Super Bowl Party Games
Unlike the games above, these are games to plan for guests who like to move. These are perfect to play during the pre-game show, halftime, or even after the game.
9 – Super Bowl Minute to Win It Games
These Super Bowl Minute to Win It Games from Play Party Plan are a huge hit with adults and kids alike! Perfect to play before the game, during halftime, or after the game (if anyone really wants to stick around). They take just a minute to play and are hilarious to watch!
10 – Pick Six
This viral TikTok game will have players trying to pick six dollars blindfolded to win it all! See it in action here!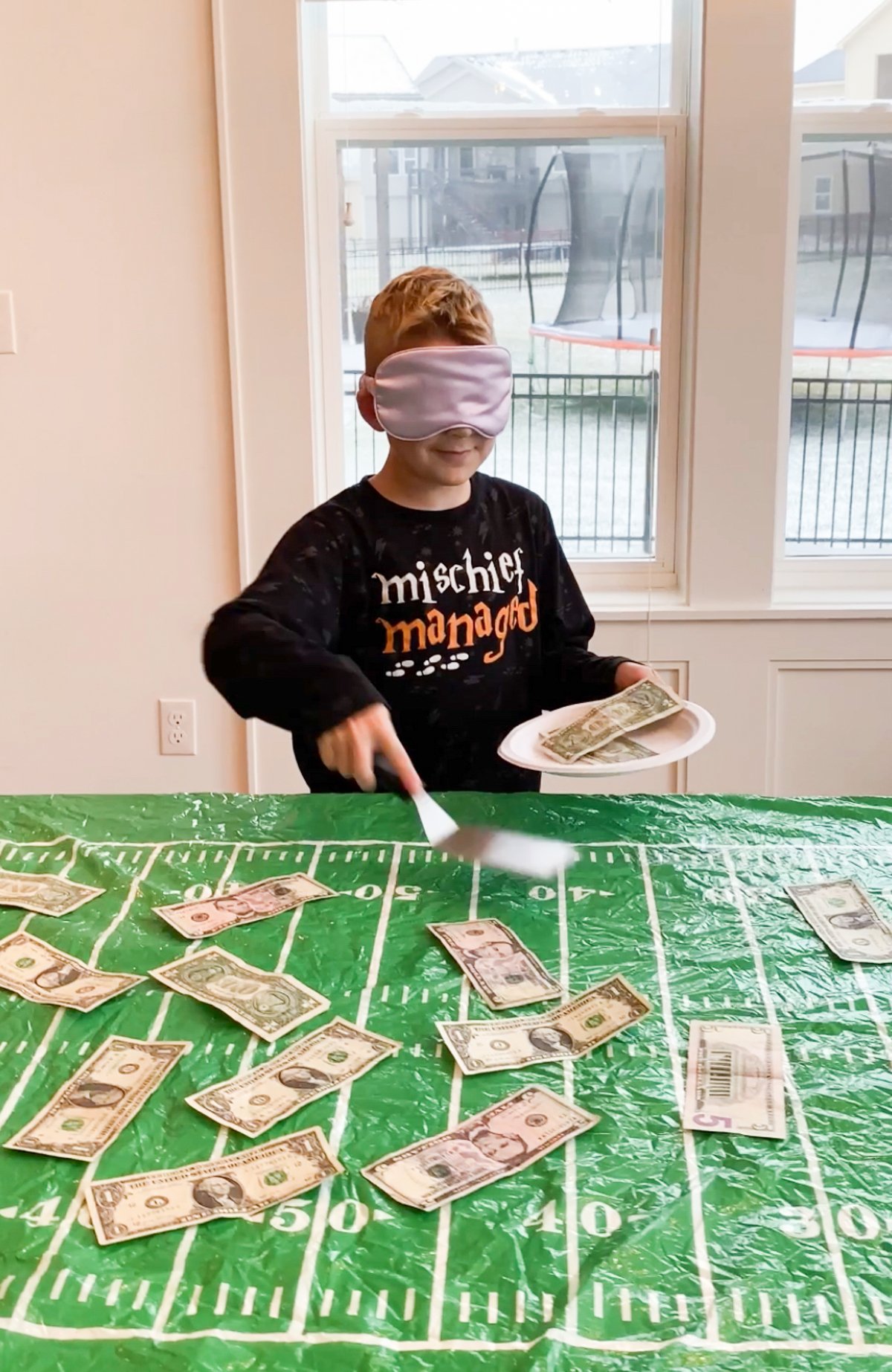 11 – Football Toss
Setup this DIY Football Toss from A Few Good Pieces outside for people to go outside and toss a few footballs before the game or during halftime. Give a prize to whoever can rack up the most points!
12 – First and Bowl
See who can knock down all of the football pins in this fun First and Bowl Football Bowling game from Play Party Plan. But don't think it's easy, bowling a football is harder than it looks!
13 – Fish Down
See who can get closest to the 10 yard line (or really any yard line) in this creative football party game from Play Party Plan.
14 – Show me the Money
In this fun game, players have to try and land mini footballs on a football field to win money! Get a touchdown to win big! Get full instructions here.
15 – Football charades
Act out football inspired words and players in this fun Football Charades game from Blueberry Print Shoppe.
16 – Field Goal Kicker
Make your own field goal uprights on the wall out of masking tape then see who can Kick the Football in the Uprights in this fun game from Play Party Plan.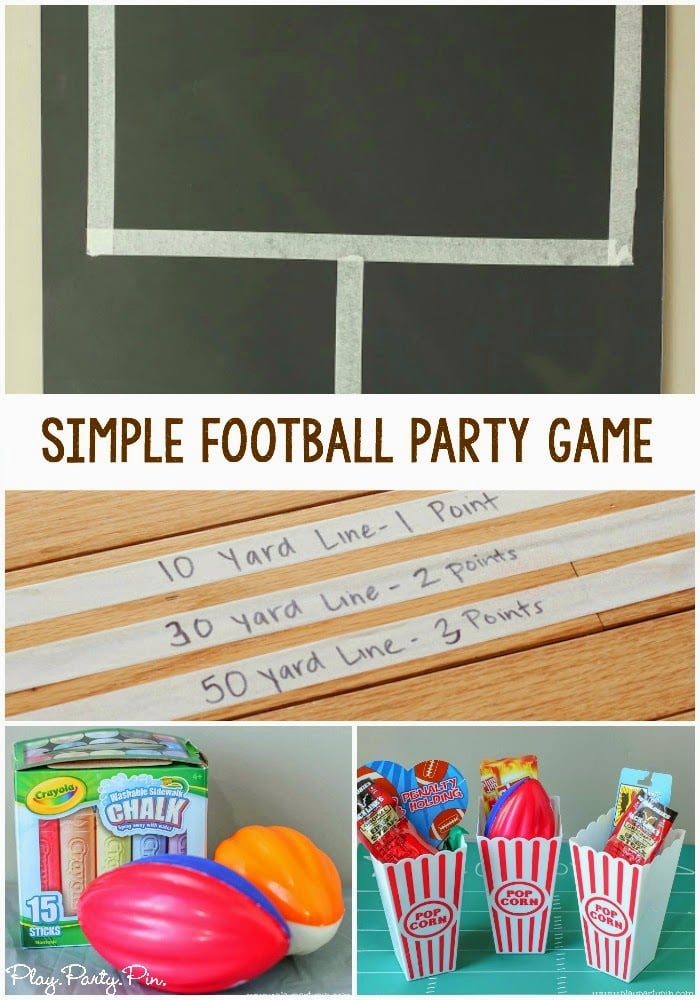 17 – Quarterback Sneak
Get the kids into the game by starting them off this fun Quarterback Sneak Scavenger Hunt from Play Party Plan before the game.
Hide clues around the house and have them go from place to place in search of a crazy quarterback and small prize at the end!
Betting Super Bowl Party Games for Adults
I wrote just for adults because as written these are all betting games for money.
Or for some of these forget the money altogether and you just provide prizes for the winners to get away from the betting altogether.
18 – Super Bowl Squares
Use this free printable Super Bowl Squares template from Party Plan to play the traditional Super Bowl Squares game. Never played before? Everyone gets a square that's associated with two numbers.
Whoever has the matching numbers at the end of each quarter wins a prize (or money!)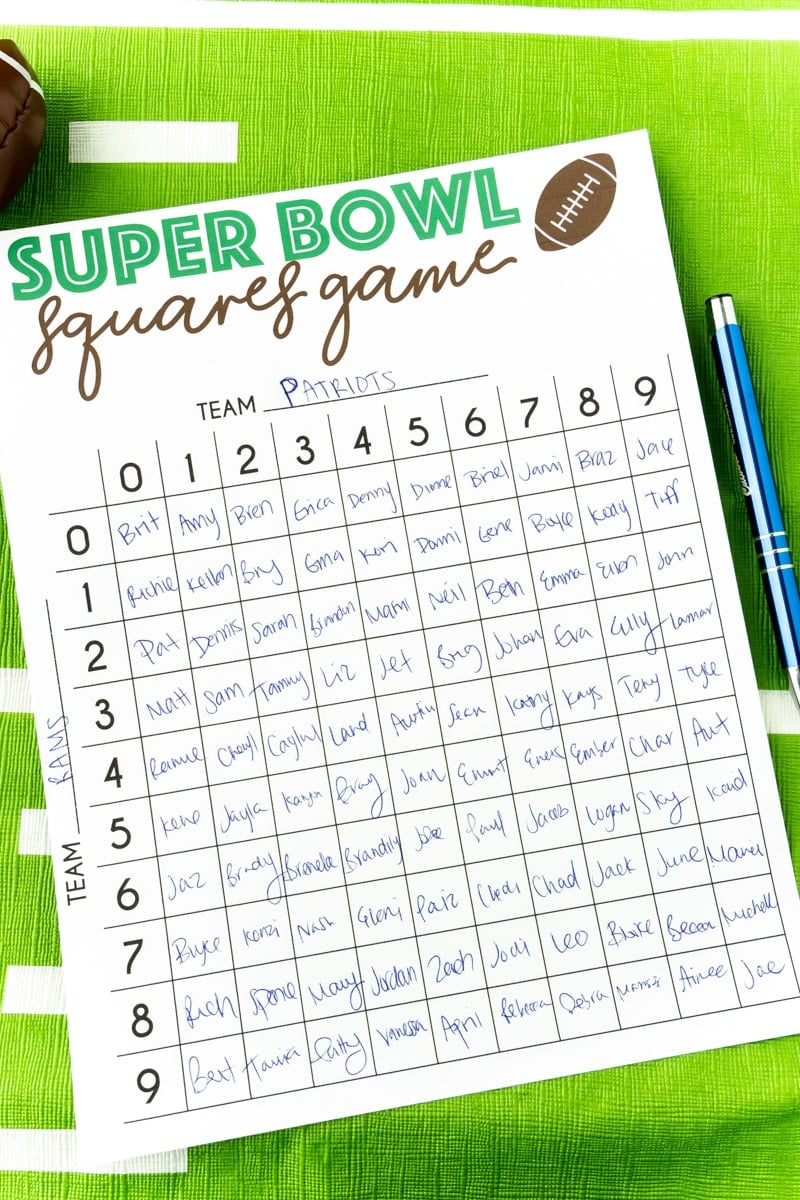 Super Bowl Games for Kids
These are designed for kids. Adults are welcome to play them as well, but these games were ones originally designed to keeps the kids entertained if the game gets a little boring for them! The football scavenger hunt was a huge hit at our game day party this year!
19 – Pick Six Game
With a punny name inspired by an interception that's run back for a touchdown, this Pick Six Game from Play Party Plan has kids picking a football themed duck and trying to get the number six. It's super fun and easy to setup!
20 – Touchdown Toss
This touchdown toss is another fun one for kids (or adults if you make the tosses a bit more challenging). See who can toss footballs into buckets to score point and win prizes!
21 – Fumble Word Search
What football inspired words can you find in this Are You Ready to Fumble Word Search from Printables 4 Kids? This may only keep the kids entertained for a few minutes but that's a few more minute of game time you can enjoy!
22 – Score It Game
This Super Bowl Score-It Game from Creekside Learning has kids not only shooting field goals but also working on their math skills. A fun and educational activity kids will love!
23 – Football Dice Game
Give the kids some dice, candy, and this free printable football dice game and it'll keep them busy for hours! Kind of like one of my favorite birthday party games, kids have to roll their way to eating the candy!
More Super Bowl Party Ideas
Don't just stop at the games! Check out these other fun Super Bowl party ideas!