One of the best things about 4th of July is all of the red white and blue food! And this collection of the best red white and blue desserts is perfect for any patriotic holiday – 4th of July, Memorial Day, or even Labor Day!
Because what's better about 4th of July than all sorts of red, white, and blue food – the colors of the American flag are a great way to celebrate Independence Day!
So pick out a sweet treat or two that looks great to you and start cooking for 4th of July backyard barbecue. There are a lot of patriotic treats to choose from!
Delicious Patriotic Desserts
If you're looking for the best 4th of July desserts, look no further. I've got the ultimate collection of red, white, and blue patriotic desserts for all types of taste buds!
Pick and choose your favorites or make them all and put them on this fun sweet land of liberty 4th of July dessert table! There's nothing wrong with a few choice sweets to celebrate the holiday!
4th of July Chocolate Covered Strawberries
Cover fresh strawberries with white chocolate and red, white, and blue sprinkles for the ultimate patriotic treat! See how to make these 4th of July chocolate covered strawberries here!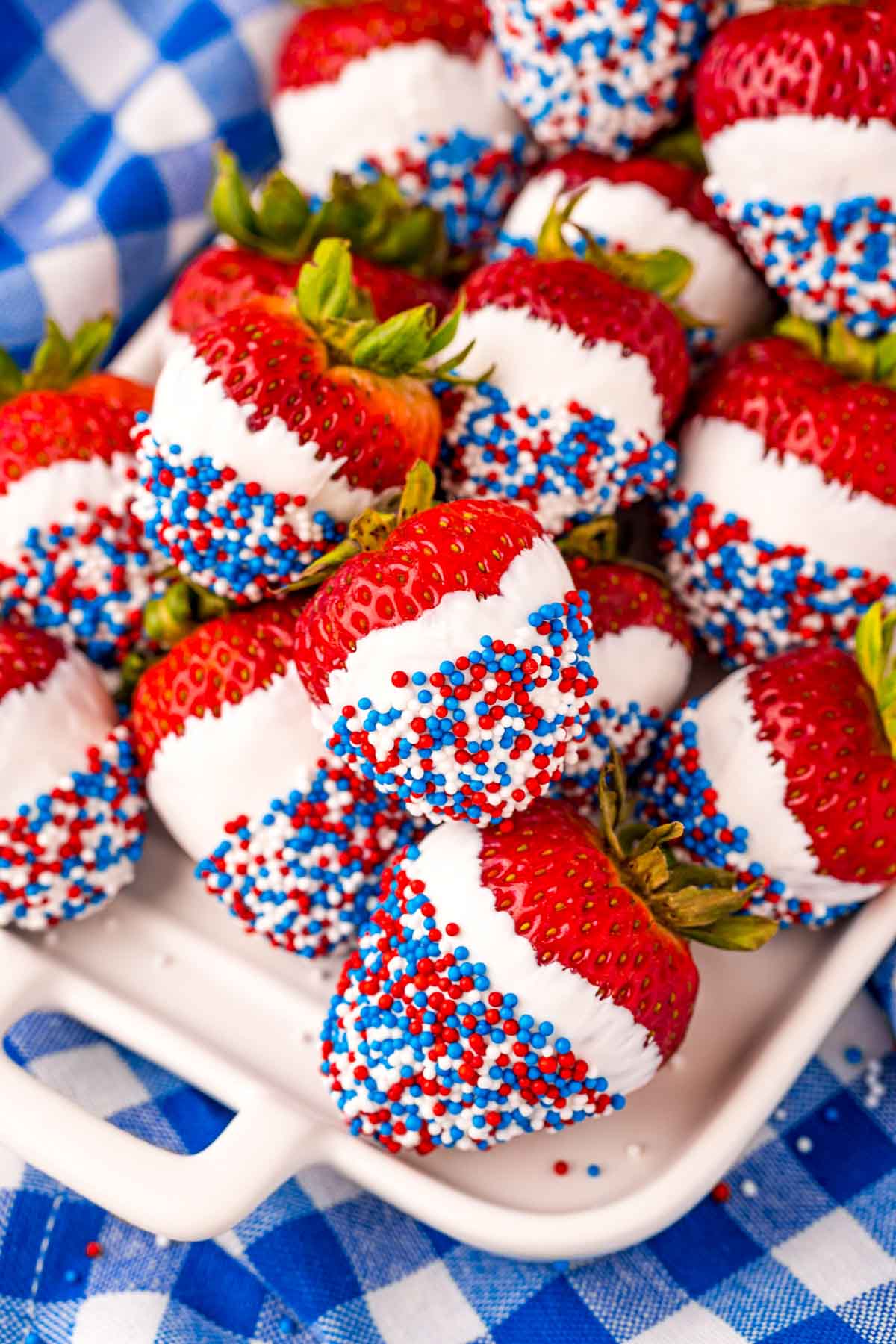 4th of July Cheesecake
Make these mini 4th of July cheesecake and top them with red, white, and blue toppings! Even better if you put them in the shape of an American flag!
American Flag Cake
Make this fun red white and blue swirl flag cake in just minutes! It's not only beautiful and festive, it tastes delicious too!
4th of July Rice Krispie Treats
This classic treat gets a 4th of July upgrade to make the most delicious 4th of July rice krispie treats ever!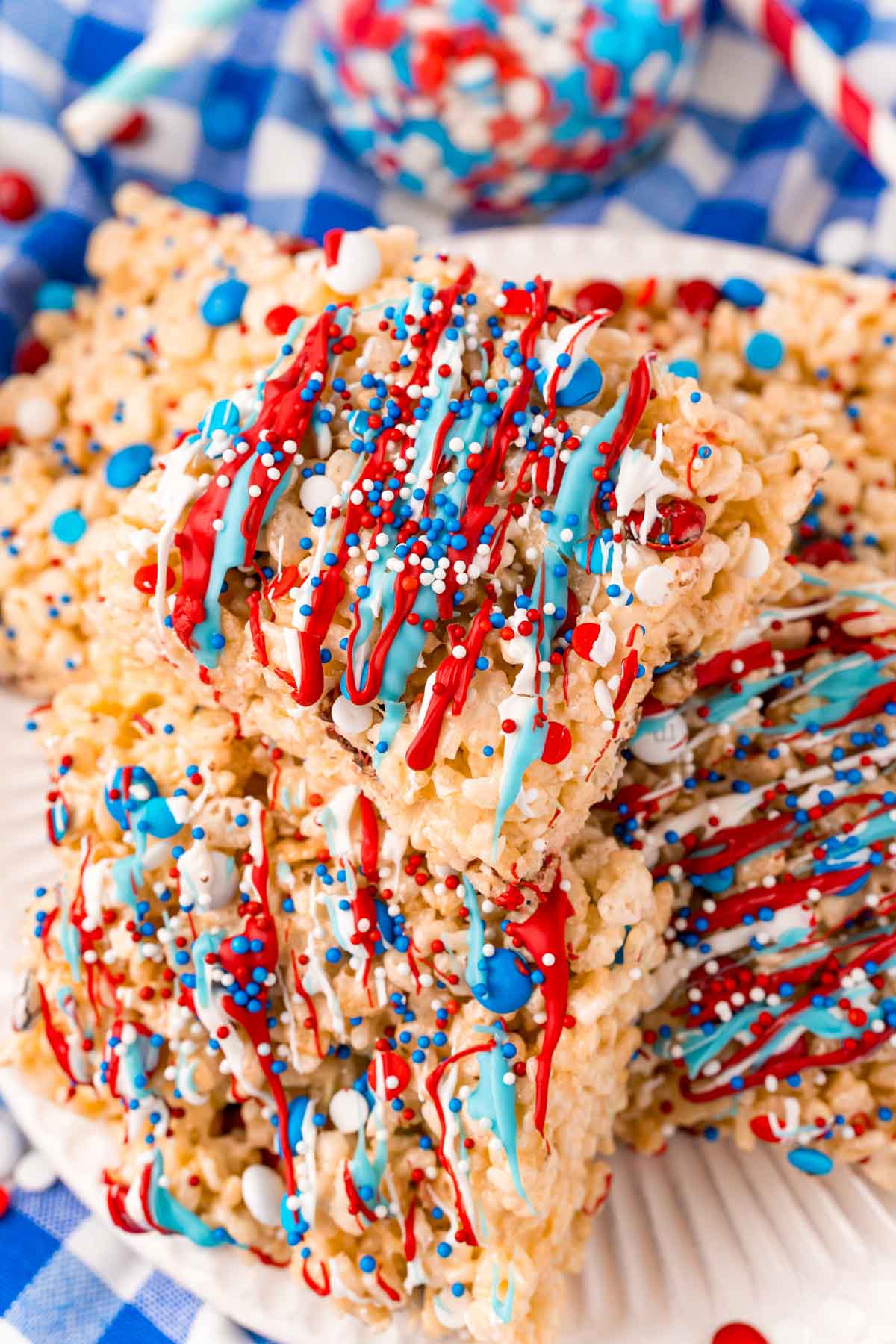 Chocolate Chip M&M Cookies
Make these treats a patriotic one by simply adding red, white, and blue M&Ms to these chocolate chip M&M cookies!
Red Velvet Cake
Add some frosted blueberries to the top of this red velvet cake for a showstopping red, white, and blue dessert! Or go simple and make these red velvet cookies (use patriotic sprinkles) instead! Or you could always use this recipe and turn it into red velvet cupcakes instead!
Fruit Flag and Fruit Dip
While technically not a dessert, this simple fruit dip is sweet enough to make people think they're eating a dessert! So I think this one counts to be included in this list of red, white, and blue desserts! And every party needs a little fresh fruit, or at least every summer barbecue.
All-American Rice Krispie Cookies
This fun rice krispie cookie recipe combines a basic cookie recipe with rice krispies cereal, patriotic M&Ms, and white chocolate chips for a fun red, white, and blue treat!
Brownie Fruit Pizza
This fun brownie fruit pizza starts with a brownie then gets topped with a white cream cheese topping. Finish it off with red and blue berries for a really fun 4th of July dessert!
Strawberry Poke Cake
Instead of just topping this strawberry poke cake with strawberries, add a few blueberries to give it the red, white, and blue look you're going for! Or you could do the same with this old fashioned jello cake that uses red jello to turn it into a festive dessert! Or you could even turn it into a blue poke cake!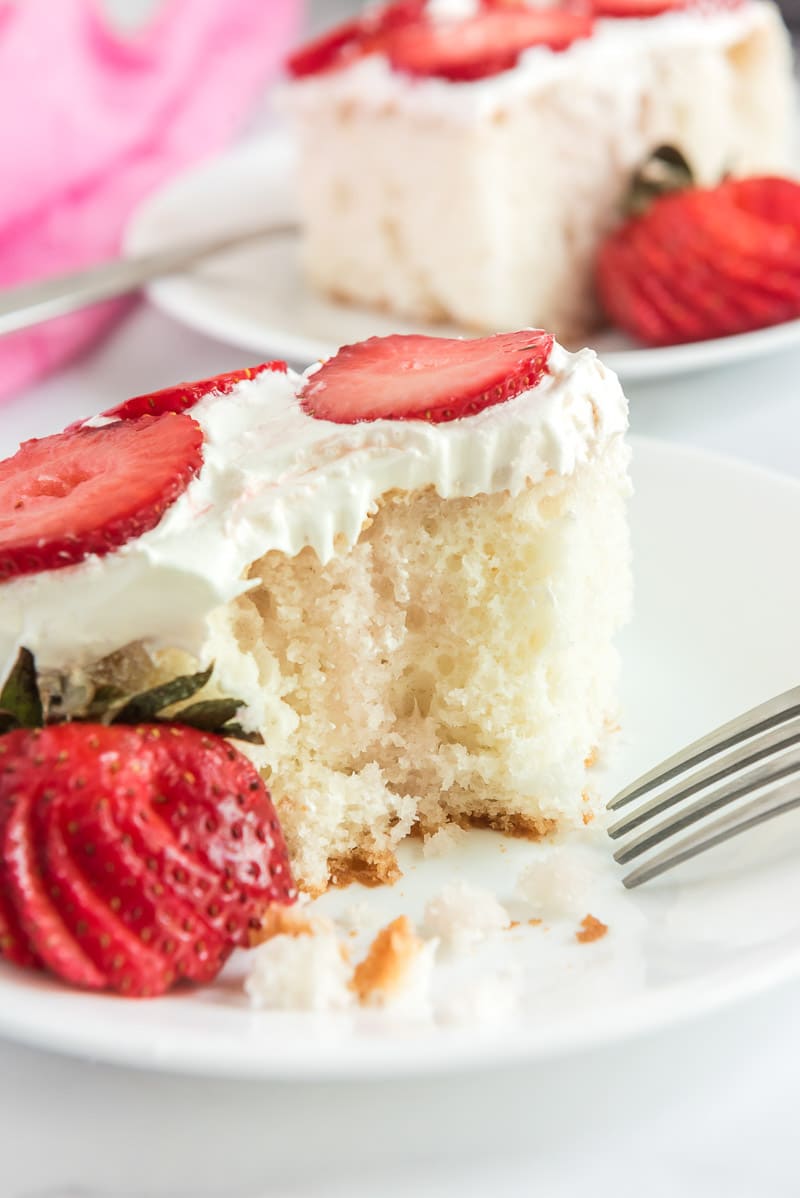 Berry Cheesecake Fluff
This delicious red, white, and blue cheesecake fluff recipes uses fresh berries, angel food cake (or pound cake), and a homemade whipped cream in one delicious dessert salad! It's a simple recipe for red white and blue cheesecake salad that everyone will love!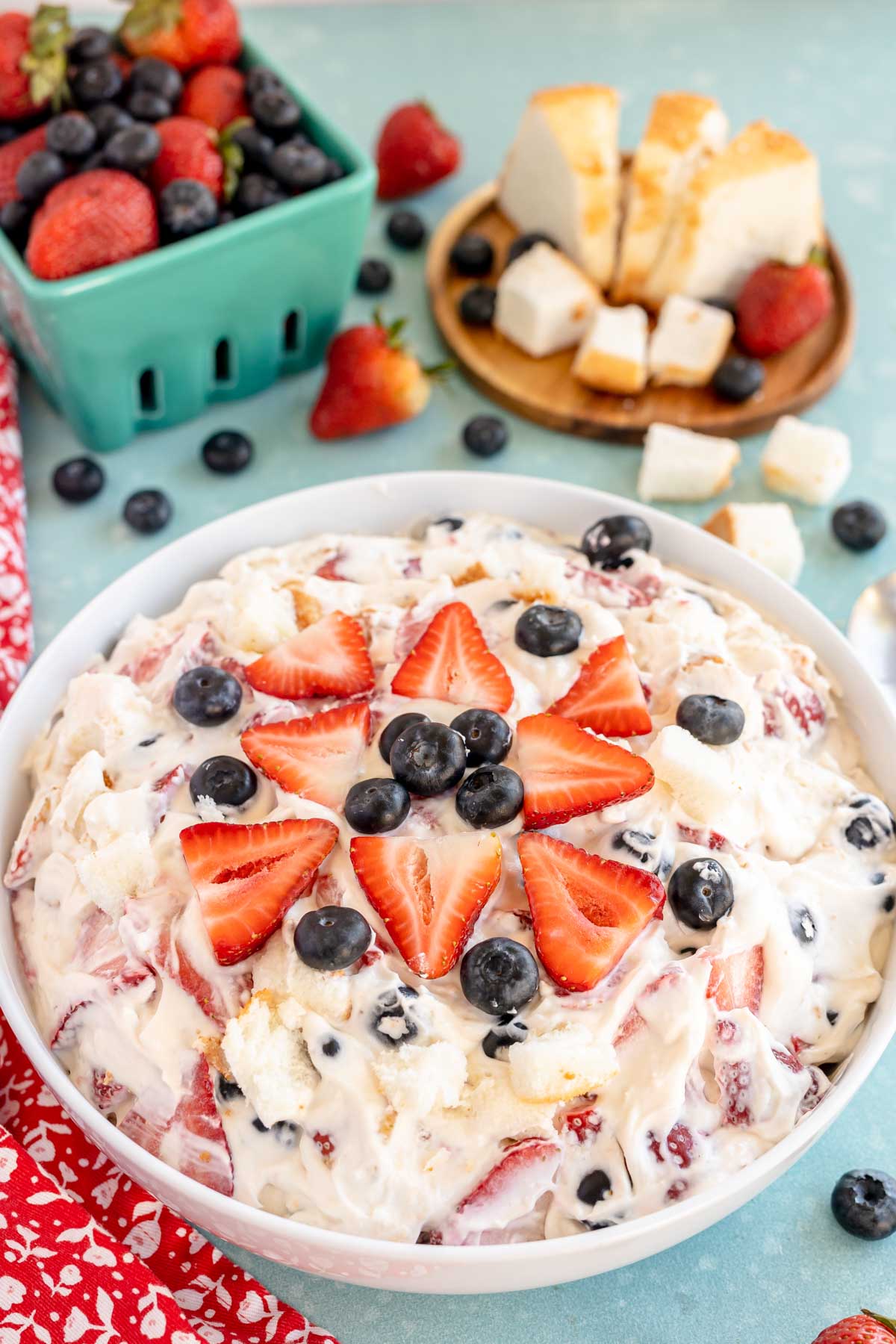 Red White and Blue Cake
This gorgeous red white and blue cake recipe combines layers of you guessed it – red, white, and blue – plus a fun topping for a showstopping fun dessert for 4th of July! It's even better with a scoop of vanilla ice cream on the side!
4th of July Pinwheel Cookies
If you want a simple 4th of July dessert, this pinwheel cookie recipe is perfect. Three colors of sugar cookie dough get swirled into super fun 4th of July cookies! Even though they look impressive, it's a really easy recipe too!
Red velvet cookies
These fun red velvet cookies with white chocolate chips already have two of the three colors incorporated! Add some blue sprinkles to the drizzled white chocolate for the ultimate patriotic treat!
4th of July Charcuterie Board
Make a bunch of these desserts and add them onto your very own 4th of July charcuterie board filled with red, white, and blue treats! Simple to make and beautiful to serve!
Patriotic Oreo Pops
These patriotic Oreo Pops from Happiness is Homemade are alway a huge hit with kids! Plus, a patriotic Oreo pop would make a great addition to the charcuterie board above!
Berry Dessert
This Summer Berry Dessert from Today's Creative Life looks good enough to eat every day!
Patriotic Cupcakes
These Patriotic Cupcakes from Craft Create Cook are simpler to make than they look!
Patriotic Cake Mix Cookies
Turn a classic into a patriotic version with these Patriotic Cake Mix Cookies from Tastes of Lizzy T.
Patriotic Bark
This Patriotic Bark Recipe from What the Fork might be the easiest red white and blue dessert on this list!
Fourth of July Lollipops
Make these Fourth of July Lollipops from Daily Dish Recipes with a classic candy favorite!
Patriotic Pretzels
Candy melts + sprinkles make these Patriotic Pretzels from Simply Being Mommy a delicious red white and blue dessert!
Patriotic Ice Cream
As if peanut butter wasn't enough, this Red, White, and Blue Peanut Butter Ice Cream from Big Bears Wife also includes M&Ms and ice cream. Total winner!
Berry Bread
If you need something for breakfast, this Berry Berry Cinnamon Swirl Bread from Trial and Eater would be perfect!
Mixed Berry Shortcake
Forget strawberry shortcake and replace it with this Mixed Berry Shortcake from Growing Up Gabel for July 4th! It's almost like a little mini red white and blue trifle!
4th of July Jello Stars
You could this Red, White, and Blue Jello recipe to make any shapes you want!
Star Spangled Cookies
These Star Spangled Cookies from Sugar Spun Run may be the prettiest cookies you'll ever see! They'd make great prizes for 4th of July bingo too!
Patriotic S'mores Pie
This 4th of July Smores Pie combines two American classics – s'mores and pie in one red white and blue dish!
Watermelon Ice Pops
Want something a bit healthier? These Watermelon Ice Pops from Eating Richly are both dessert and a feel good treat! And all you need is a cookie cutter to make this one – always great to have healthy options for people to try!
Or you could also do some patriotic fruit kabobs like I did for the winners of my 4th of July games! They're perfect for a hot day!
Berry Parfaits
These Red Velvet Blueberry Parfaits from Our Table For Seven had me at red velvet. The beautiful red velvet cake combines perfect with the blueberries and cheesecake filling for a fun festive red white and blue dessert!
Mini Fruit Pizzas
These cute Mini Fruit Pizzas from Half Scratched could even be designed to look like little American flags with strawberries and fresh blueberries on top of the sugar cookies!
Red, White, and Blue Pops
These Red, White, and Blue Popsicles from The Little Kitchen remind me of the store-bought firecrackers ones, but they taste way better!
These would be great after playing any of these outdoor games!
Patriotic Party Mix
Mix all the delicious red white and blue things together and you'll have this Patriotic Party Mix from The Baker Mama that's perfect for all of your patriotic parties! Its patriotic colors make it just perfect for the occasion.