These love makes the world go round bridal shower ideas would be perfect for someone you know who is getting married this year! Or you could just as easily use them to host a love makes the world go round baby shower as well! Thanks to #CollectiveBias and its advertiser for sponsoring this post and giving me an excuse to plan a party centered around two of my favorite things – sweet rolls and orange juice! Two of my favorite things to #WarmUpYourDay!
I swear right now at least half of the people I know are either getting married or having babies. Most of my personal friends are having babies and most of my family's friends (and my relatives!) are getting married. I thought it would be fun to come up with a shower centered around love so that you could use it for either a baby or a bridal shower. I love (pun intended) the phrase, "love makes the world go round," and decided to use that as my theme. I've been looking for an excuse to use the suitcase I used in my Wizard of Oz party again anyway!
Love Makes the World Go Round Shower Decorations
As soon as I'd decided on my theme, I went out and bought a globe. I've been wanting one forever and this gave me a great reason to buy one. Or three. In addition to using the globe on the table, I also made a fun statement map for in front of the table by just gluing map decoupage paper to the front of an extra canvas we didn't use for my son's nursery. On top of the map, I cut out vinyl letters and shapes to finish off the "love makes the world go round" sign. To balance out the area on the ground, I set out my favorite vintage suitcase I used for my sister's Wizard of Oz welcome home party. Inside the suitcase I put shower favors (more details later) and LOVE letters that I covered with more map paper. And last but certainly not least, I gave the suitcase a finishing touch with this amazing round travel pennant that my friend Cori from Hey, Let's Make Stuff designed for me. Check out the supply list at the very bottom of this post for more details about where I found all of my supplies.
In addition to all of the world decor, I decided to take the party decorations and food one step further and really focused on only using things that were round — round plates, round food, round glasses, round vase, round roses, etc. I almost always use square and rectangle plates, so it was a fun change of pace. I also added little shapes that I cut out with my Silhouette to each of the food items and even to the front of the rose vase I made out of my empty orange juice container.
Love Makes the World Go Round Food
I mentioned above that I used only round food to stick with the theme; the only exception to that was the strawberries and those were essential even though they weren't round because they're just so yummy dipped in the orange cream cheese fruit dip. Anyway, back to the food. I'm a big fan of doing bridal (and baby) showers in the morning. For some reason, I just think that breakfast and brunch food is more dainty and perfect for events with all women like this one. So I served brunch + dessert because every party needs a little dessert regardless of what time of day it is.
I went shopping at Walmart to pick up the food for the shower. I saw a coupon for Pepperidge Farm Sweet Rolls and knew they would be perfect for the shower because first, they're round, and second, they're absolutely delicious. I bought the pecan caramel and apple sweet rolls along with a container of 100% Florida orange juice because sweet rolls and orange juice are pretty much a perfect combination.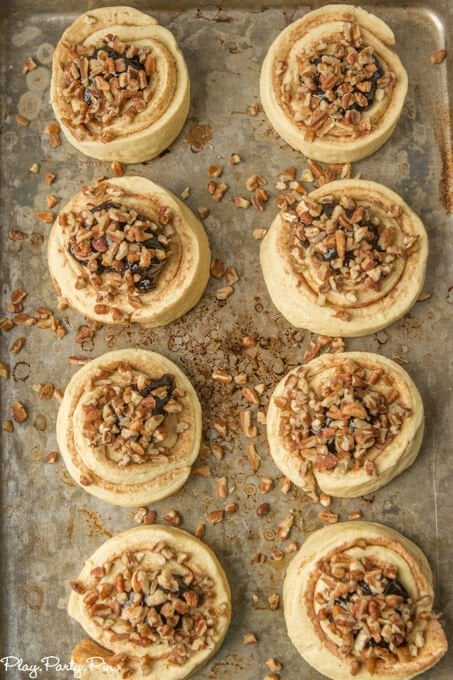 In fact I like orange and sweet rolls so much, I decided to forego the apple topping for the apple sweet rolls and added chocolate chips and a simple orange glaze to them instead. Making the orange glaze is as easy as mixing orange juice and powdered sugar together until you get a nice glaze consistency. I used three cups powdered sugar and one third cup orange juice to get the consistency I was looking for. Finish it off with a little orange zest to add just a hint more orange flavor.
I served the sweet rolls in the bottom two tiers of my three-tier stand and finished off the stand with some round fresh oranges and a little printable. Since sweet rolls by themselves aren't actually a full breakfast, I rounded out the table with my favorite frittatas, some fruit, and some orange fruit dip. Let me tell you a secret; that fruit dip is literally just half of the glaze above mixed with an 8 oz pack of room temperature cream cheese. Sweet right? So if you use the measurements above, you can make plenty of glaze for your sweet rolls and have plenty leftover for a yummy orange fruit dip! And to drink, Florida orange juice served in fancy glasses and topped with heart shaped stirrers that I picked up during BASH.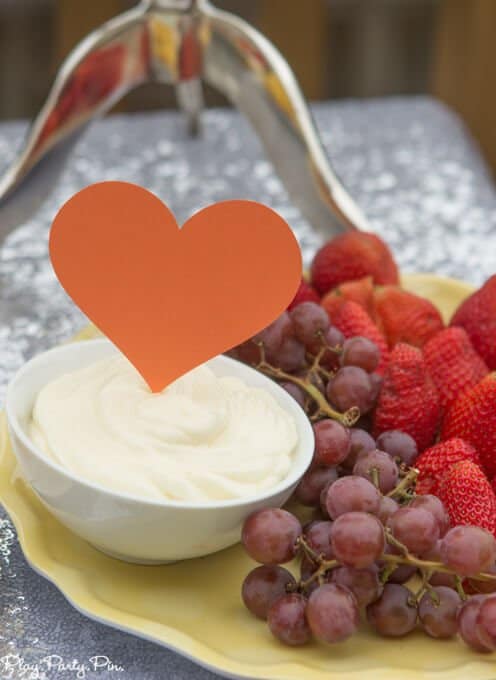 And finally, dessert. When I think round, I immediately think truffles and cake pops, so I included both and garnished them with little love letters that I cut out on my Silhouette. For the non-truffle lovers, I also served these darling world topped chocolate covered Oreos that my friend Kima from Kima's Konfections made for my party. She made me one of each continent, yet another globe for my table!
Love Makes the World Go Round Favors
I had some orange juice leftover and decided that it would be fun to keep the orange theme going and made orange sugar scrubs by combining sugar, orange juice, and orange zest together. Once I'd mixed it together, I put the scrub in small round mason jars for guests. In addition to the sugar scrubs, I also found these perfect map favor boxes from Kate Aspen and filled them with round candies for guests. I went with chocolate covered almonds but you could easily do any other round candy your guest of honor likes instead.
And that's it. I hope this gave you some great ideas for a love makes the world go round themed shower. You can pick up all of the food I served in the dairy/juice aisle at Walmart and find all of the other supplies I used in my party supply list below.
I'm also in the process of creating games that would go perfect with this shower theme. Subscribe to my weekly email newsletter to be the first to know when the games are ready! And check out these awesome baby shower games while you wait for my email.
Love Makes the World Go Round Supply List
Party food – Walmart
Cake Pops and Truffles – Sherri's Berries
Continent Oreos – Kima's Konfections
Globe – HomeGoods
Map Paper – Michaels
Around the World Pennants – Hey, Let's Make Stuff
Map Favor Boxes – Kate Aspen
Three-Tier Stand – Pick Your Plum
Heart Stirrers – TomKat Studio