Donut themed parties are so fun and easy to throw! These donut party ideas will make planning a donut themed birthday party, bridal shower, or other donut themed party so fun and easy! Check out all the donut party ideas here!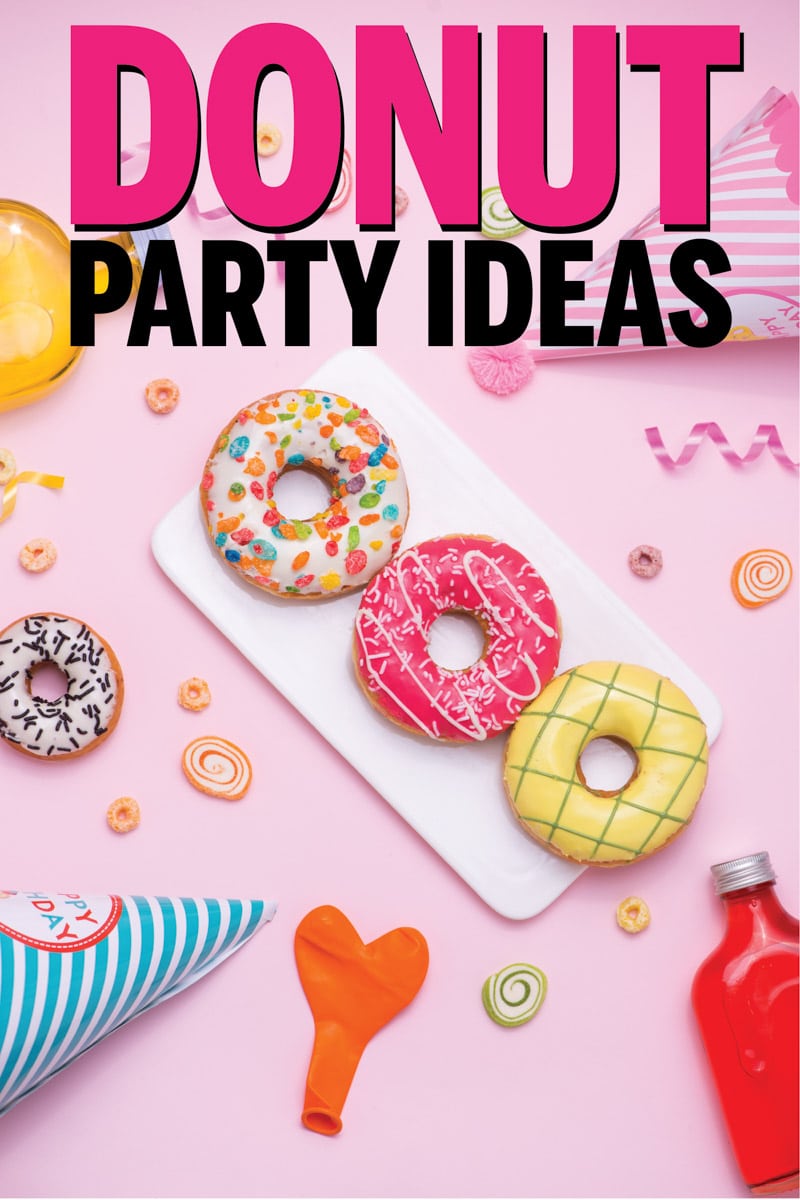 Donut Themed Ideas
Looking for a party idea that's fun, easy, and oh so yummy? Enter the donut themed party.
It's everyone's favorite dessert that's kicking cakes to the curb: donuts.
Donut parties are perfect for a kid's birthday party, a girl baby shower theme a bridal shower, or a donut engagement party. Even national donut day gives us a great excuse to throw a donut party.
A donut themed party is about much more than serving everyone's favorite treat.
From adorable invitations, to fun party games and activities, I've rounded up some awesome donut party ideas. You donut want to miss any of these!
Donut Themed Party Invitations
Start your party off right with sweet donut party invitations. Here are some of my favorites that work for any donut themed party!
Why do our littles have to grow up? These donut birthday party invitations echo our bittersweet sentiment each time another birthday rolls around.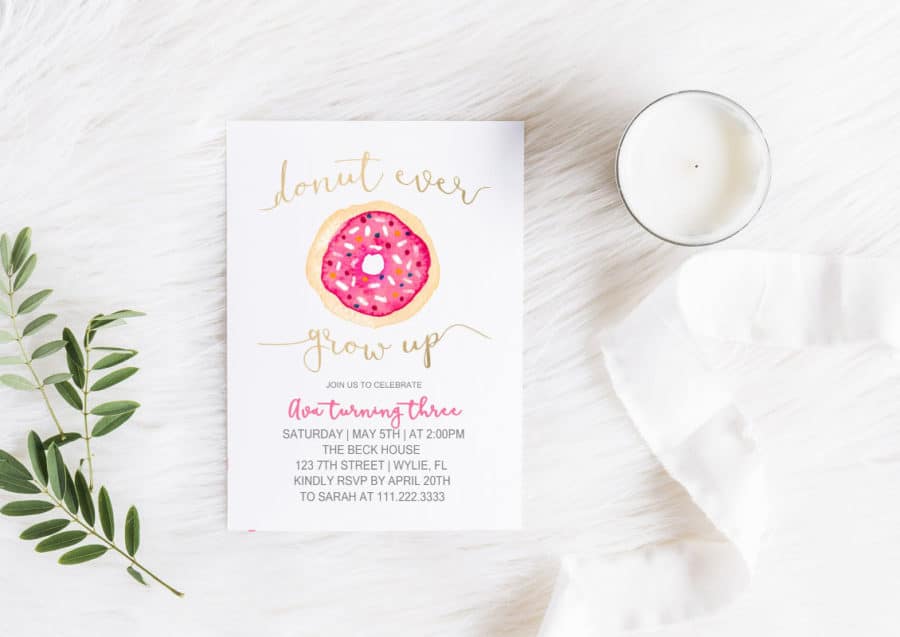 You wouldn't want to miss a donut birthday party, would you? These colorful invitations won't let guests forget about your pending donut birthday party.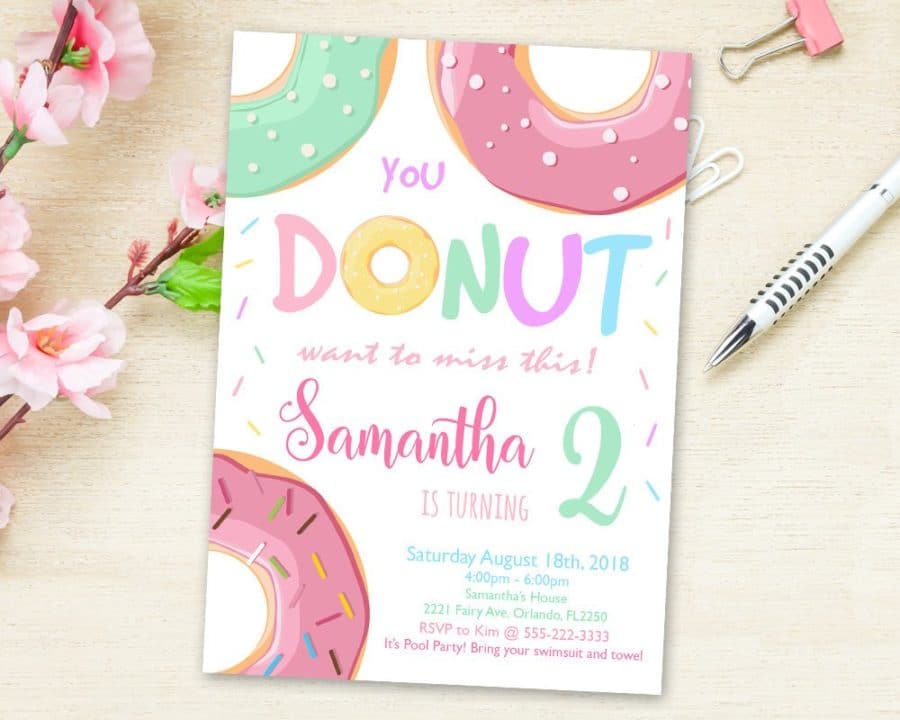 Sprinkling a new mama to be? Donut baby sprinkle invites will make planning that baby sprinkle a breeze.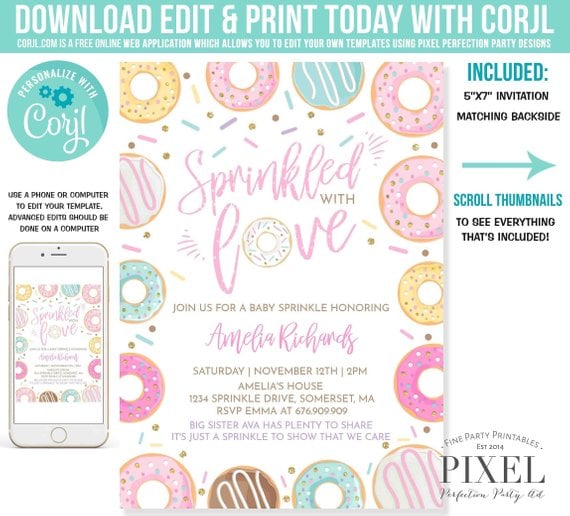 The newly engaged couple goes together like coffee and donuts and should be celebrated like so with these donut party engagement invites.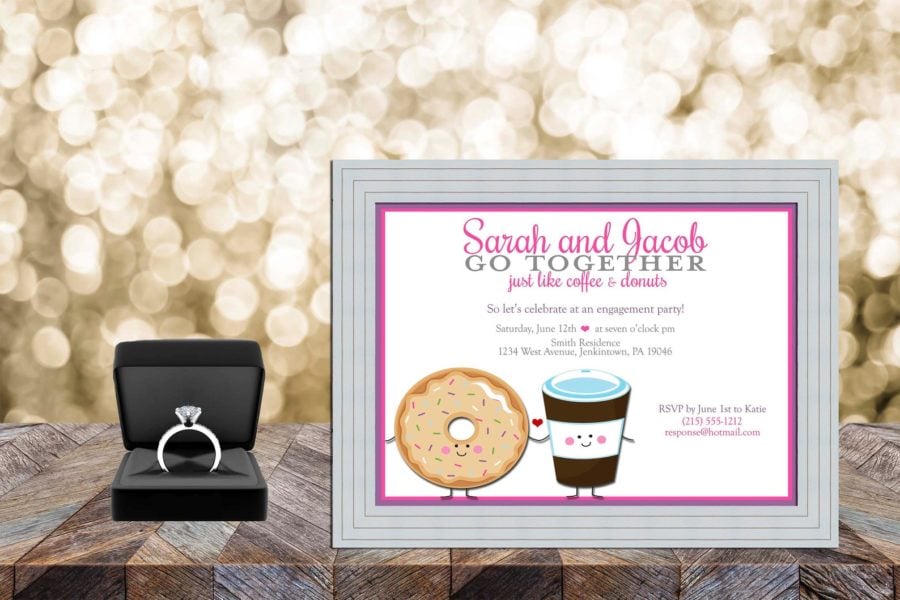 Donut Party Decorations
What's a donut party without donut party decorations? Do more than just serve donuts and create tons of donut themed decorations to take your donut party to the next level!
Make your own donut garland with this free printable from Oh Happy Day. This garland can be strung throughout your party room to add color and whimsy to your celebration.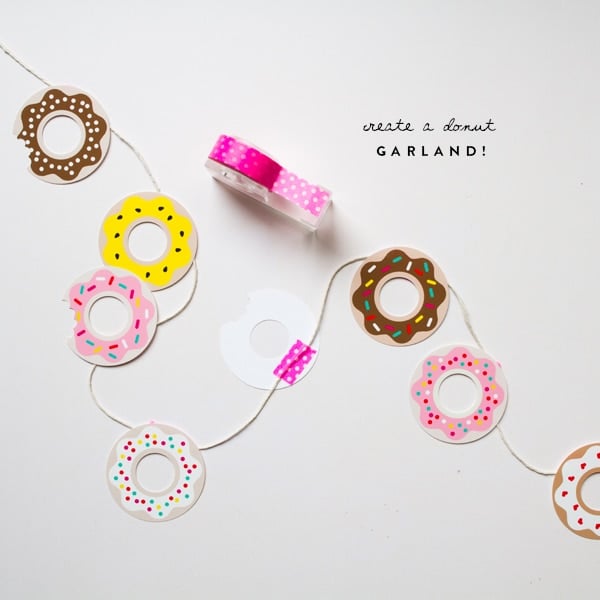 These DIY Donut Balloons from Studio DIY look fun to make and good enough to eat!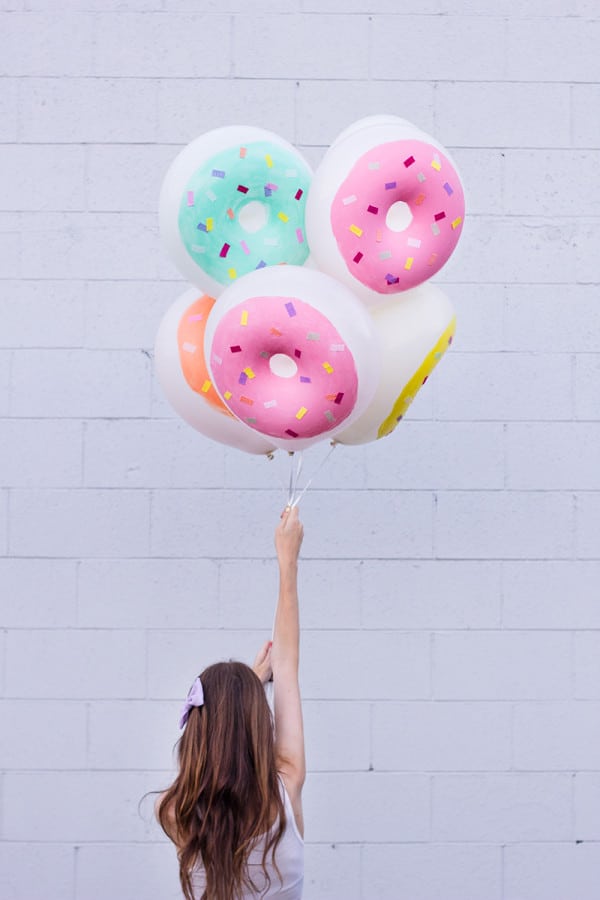 You can also purchase helium donut balloons or confetti balloons and take them to a local shop to get inflated.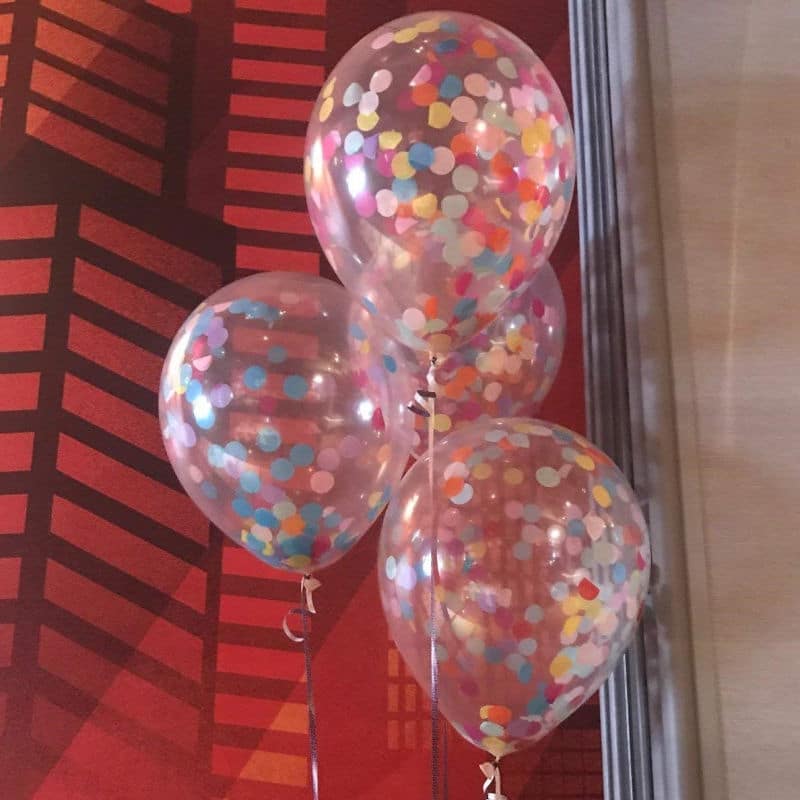 Personalize your donut party with this donut sign from Megan Klauer Design. She also has adorable DIY hanging donuts in the same post.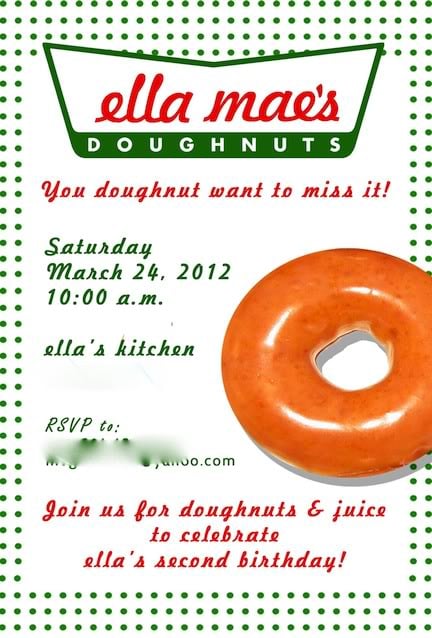 No Biggie has free donut party printables. You can use these as decor and toppers for your donut cake treats.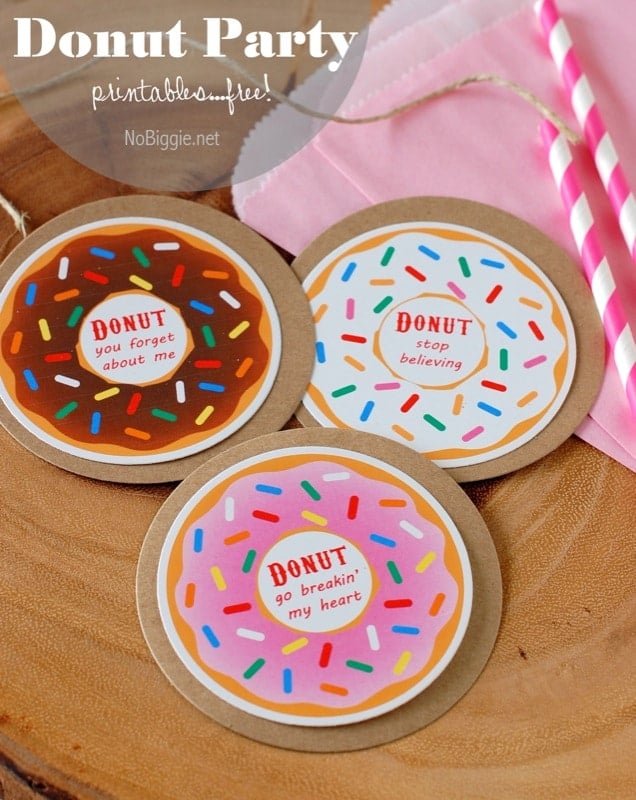 Decorate your tables or use this plastic table cover as a DIY photo backdrop.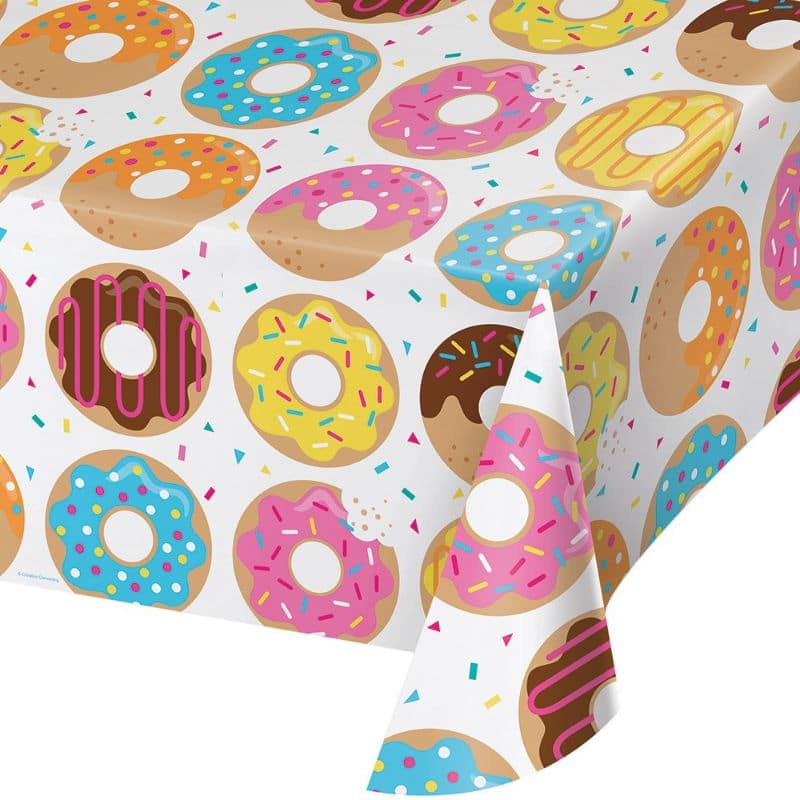 These hanging party lanterns are so fun! I haven't seen this pattern on this type of lantern before.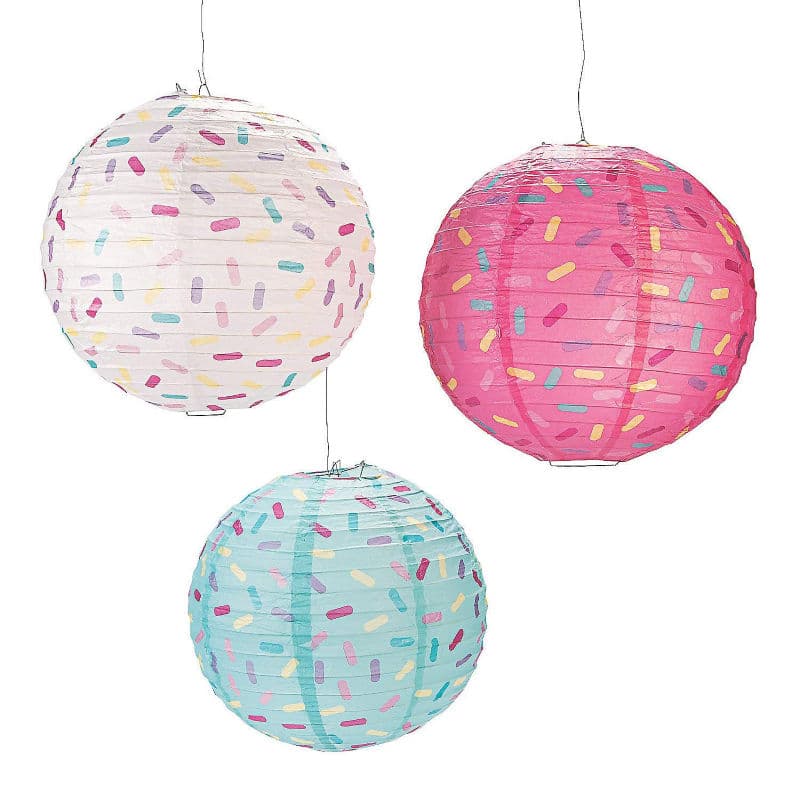 You donut have to spend all day washing dishes with these donut themed plates.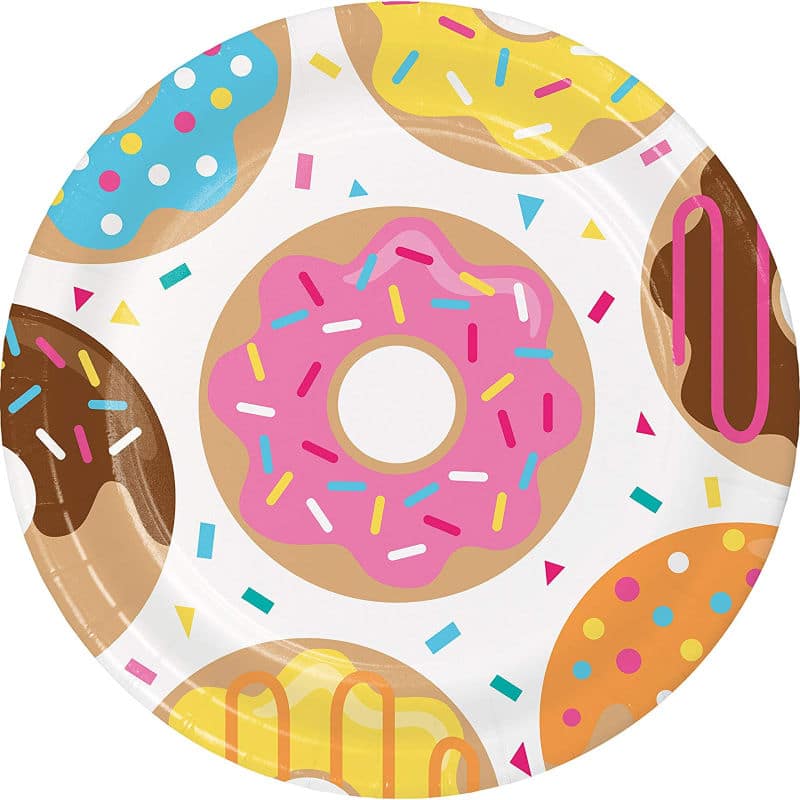 I love this should i eat this donutsign from Alexa Zurcher. Perfect to blow up and use as donut party decorations! Hint: the answer is always yes!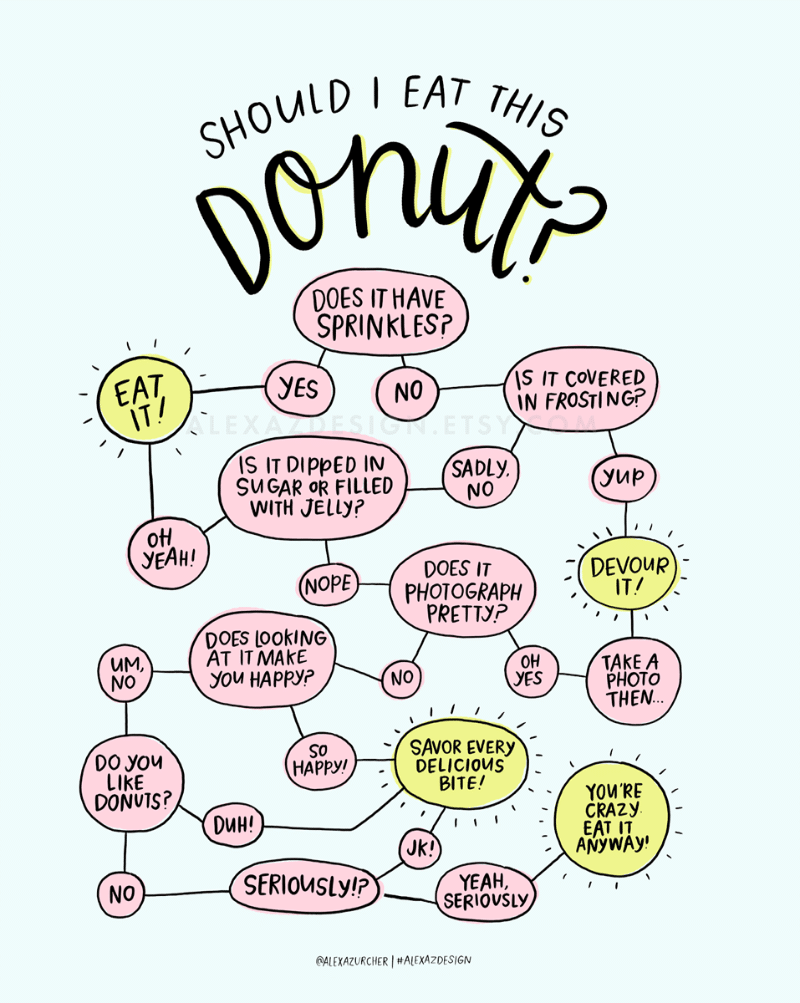 Dangle your dessert in front of guests with these donut danglers.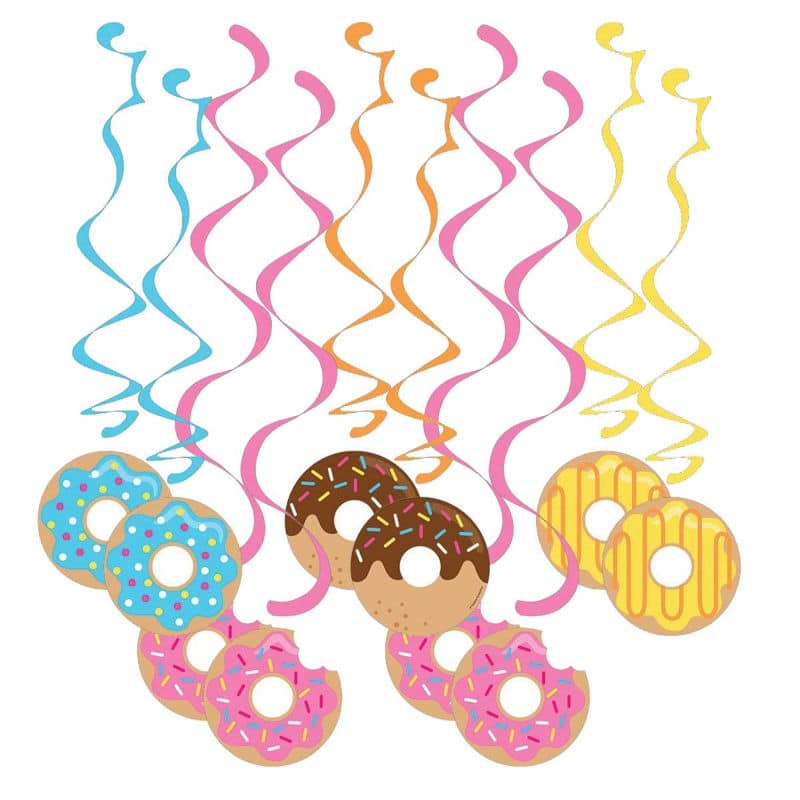 Want to just order a package of decor? This donut balloon and decor package has everything you need to start your donut party planning.
Donut Party Outfits
Need a special outfit to the wear to the donut party? How about making yourself one of the decorations with one of these cute donut party shirts!
Here's a tank that can be worn for the day of the festivities and all year long!
Match your party with this adorable shirt for the guest of honor or mama of the birthday girl.
Your birthday baby will feel so special wearing this personalized birthday shirt that matches your party's theme.
Donut Party Food
Wondering what to serve at your donut themed party? Duh, donuts!
Make your own colorful donuts with this easy recipe. You could always make them whatever color your party is or just go with the rainbow theme!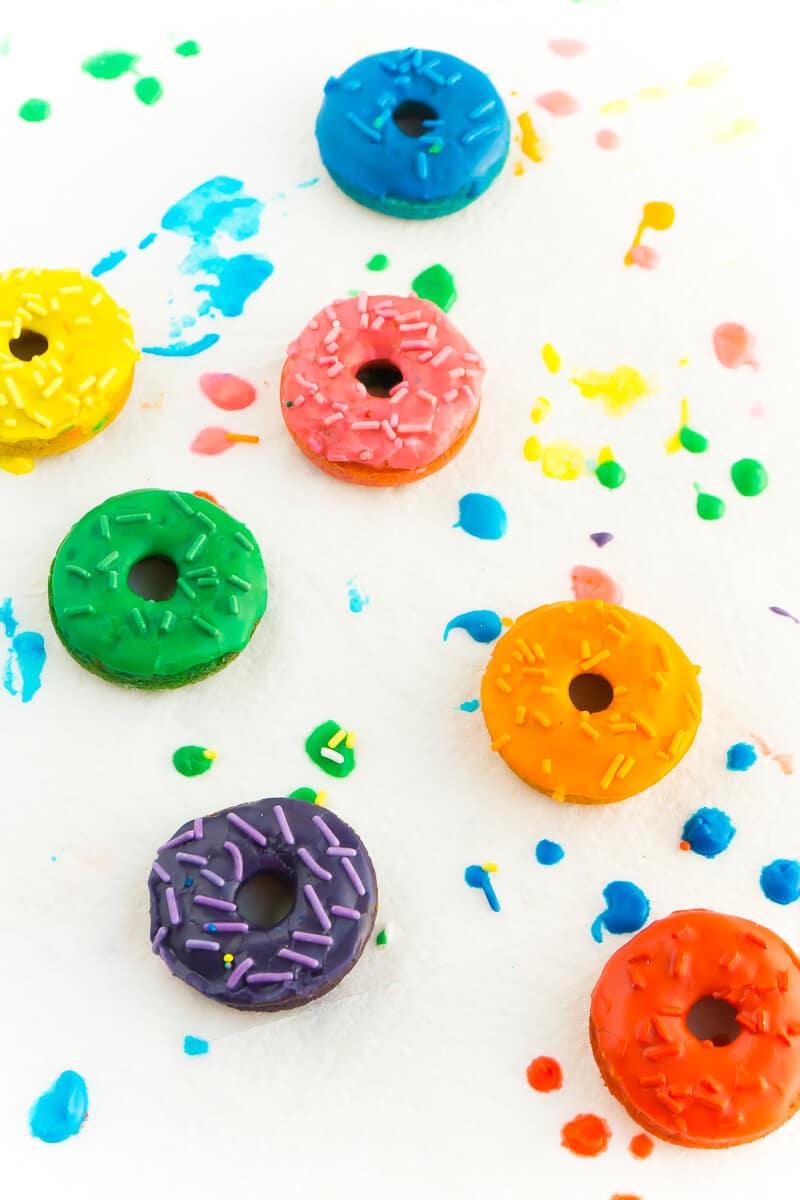 Then, you can display them in stacks like How Does She using the DIY instructions on their site!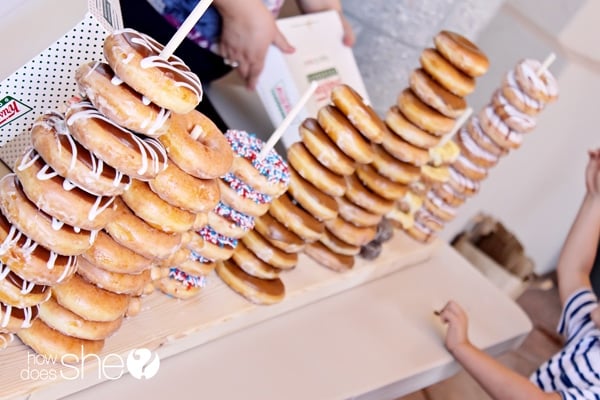 Or make a donut pegboard like Oh Happy Day.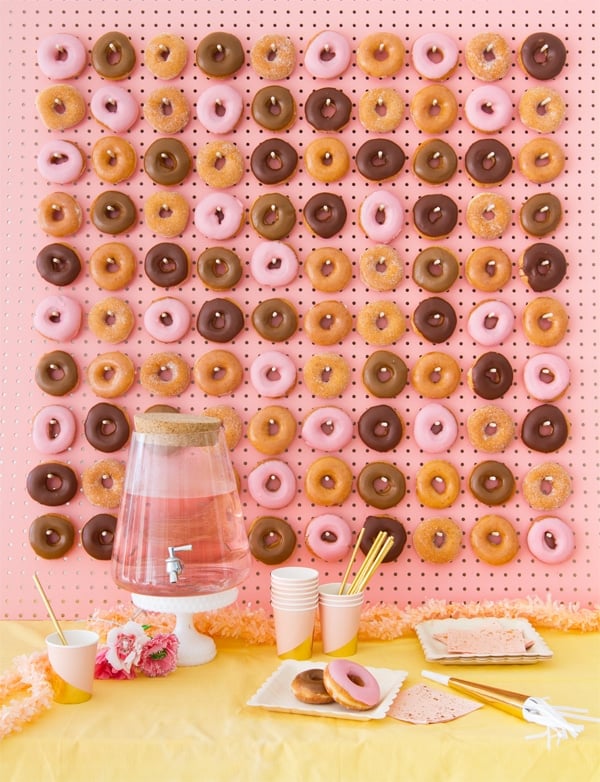 Now, man cannot live on donuts alone (or can he?)
Remember my DIY s'mores bar ? You can take the same concept and make a DIY Donut Bar with donut holes and sprinkles. See it in action from Brit + Co.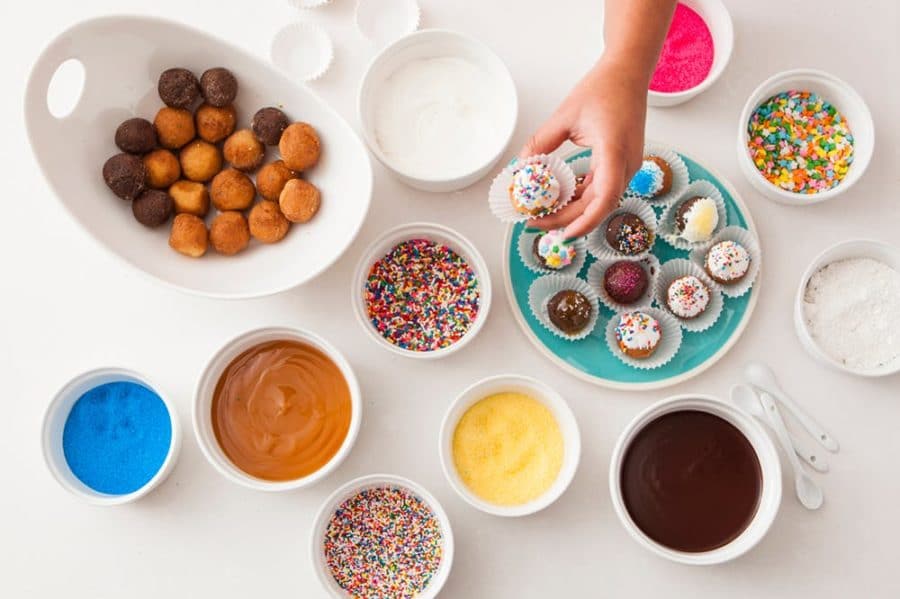 Finally, you have to serve milk with donuts. These old fashioned milk bottles are so cute and add style to your donut party.
More Donut Recipes
If you need more donut ideas, here are some of my favorite donut recipes – perfect for any donut themed party!
Donut Themed Cake
Every party needs a cake. Here are some fun ways to make a donut cake or something resembling a donut cake!
If you still want a traditional cake for your donut party, this donut cake from Kara's Party Ideas blends the best of both worlds.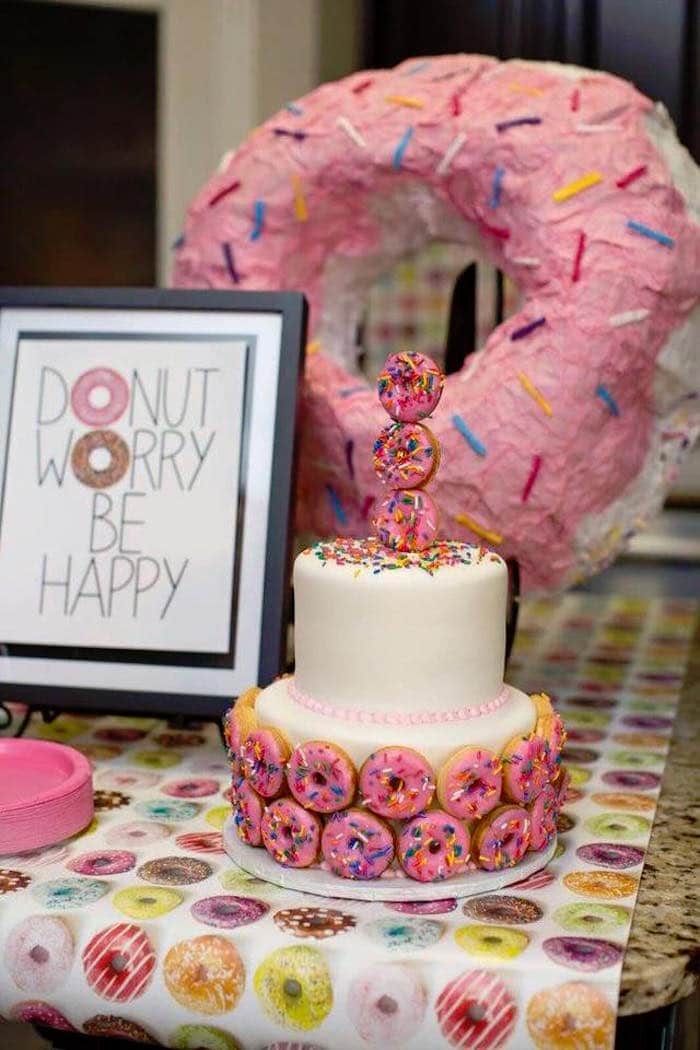 Move over cake pops. These donut hole pops from 100 Layer Cake will steal the show at your donut themed party.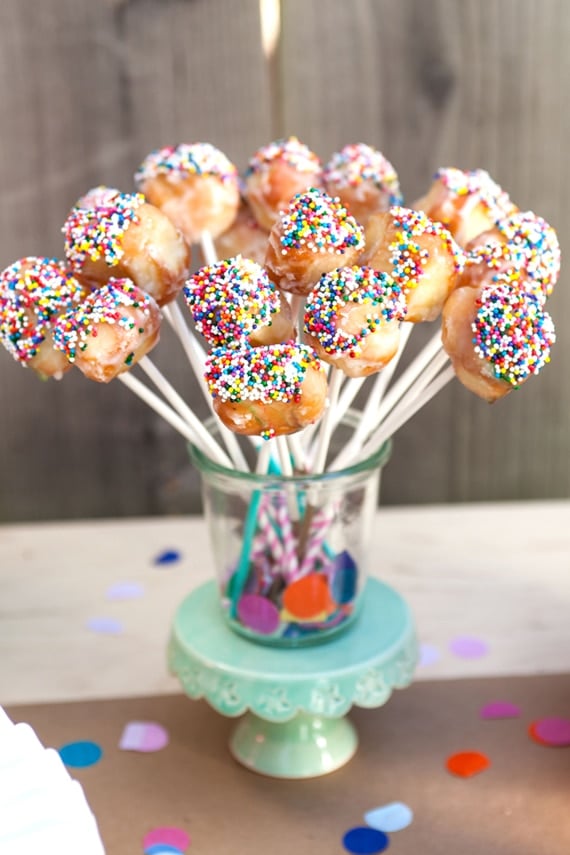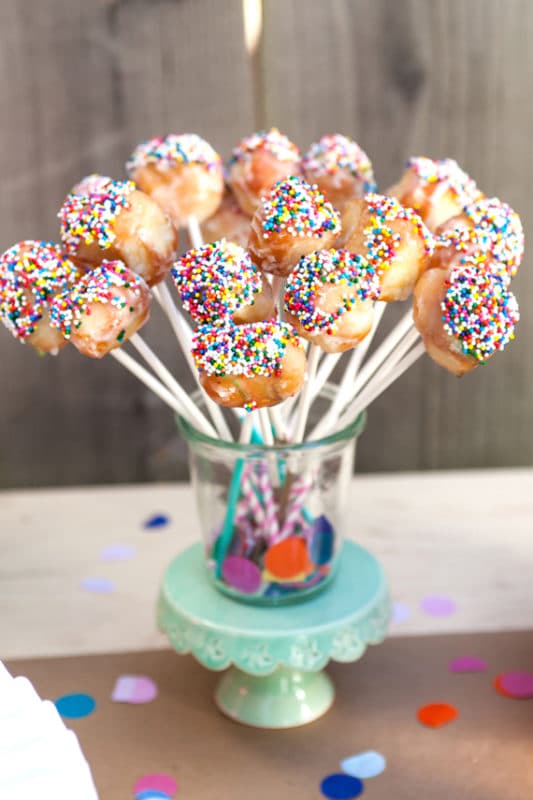 Add some variety to your donut treats with these Nilla Wafer donut cookies from Party of 5.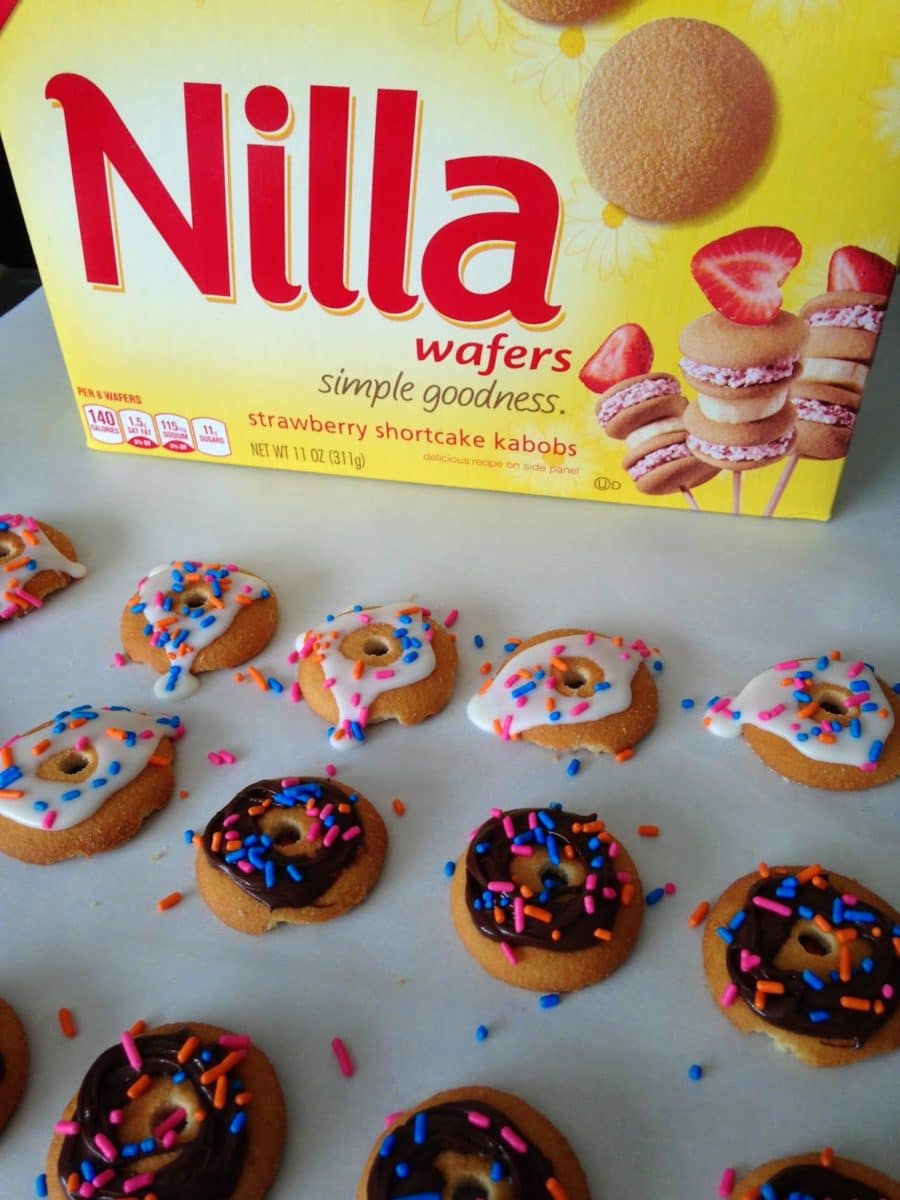 DIY donut candlestick stands from Something Turquoise show off your dessert and are also pretty decor for your donut themed bridal or baby shower.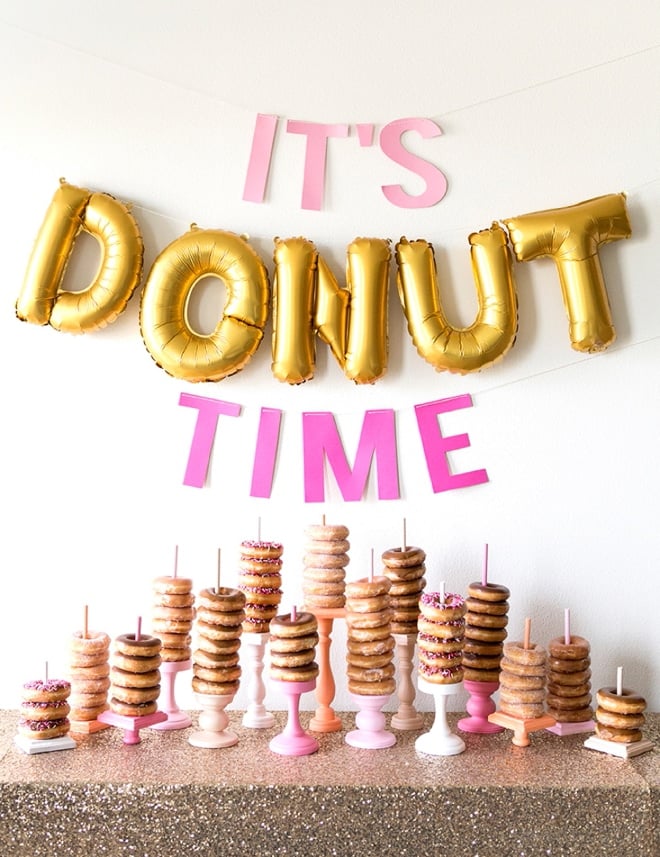 Pastel donut macarons add elegance to any donut themed bridal shower or engagement party. I love how these ones turned out from Kara's Party Ideas.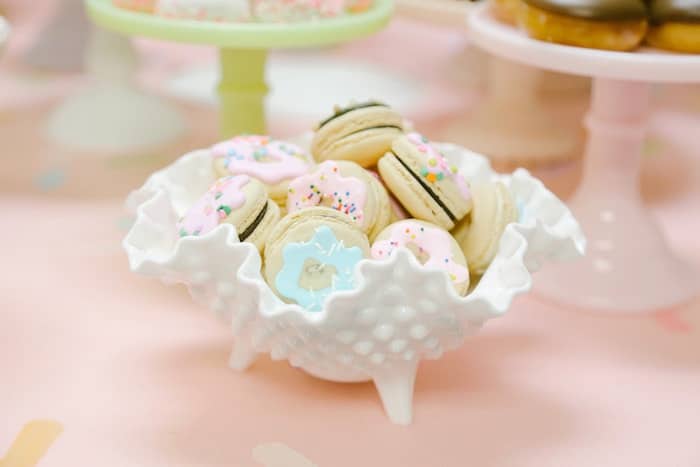 Make a donut cake out of donut holes. Stack them high like this DIY Donut Tree from Delish.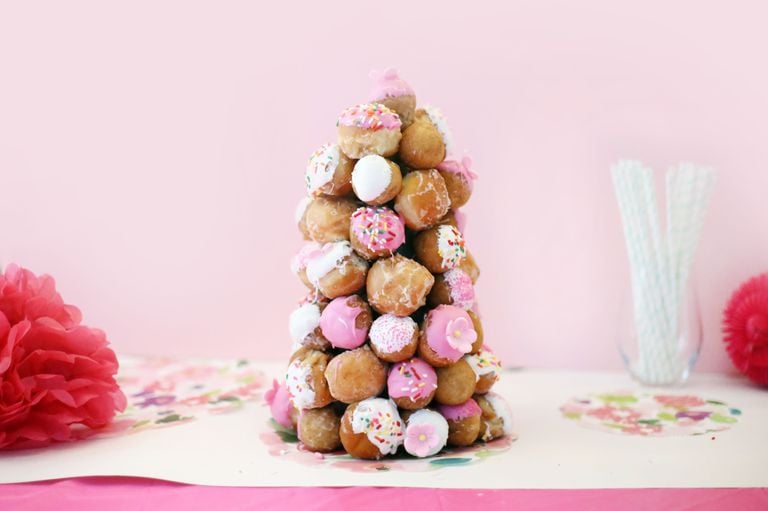 Or simply stack donuts up to make a cake like I did for my son's 2nd donut birthday party! The donuts made perfect "wheels."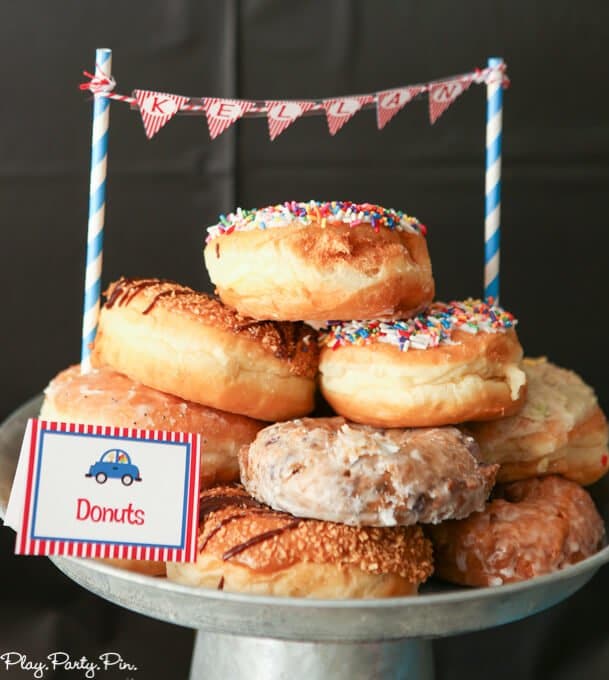 Donut Party Games
I always say it but I donut how you can have a donut party without donut party games? These games and activities are perfect for any donut themed party!
Make your own giant donut pinata from Studio DIY. You could fill this giant piñata with all sorts of treats and prizes like these donut suckers or donut stampers!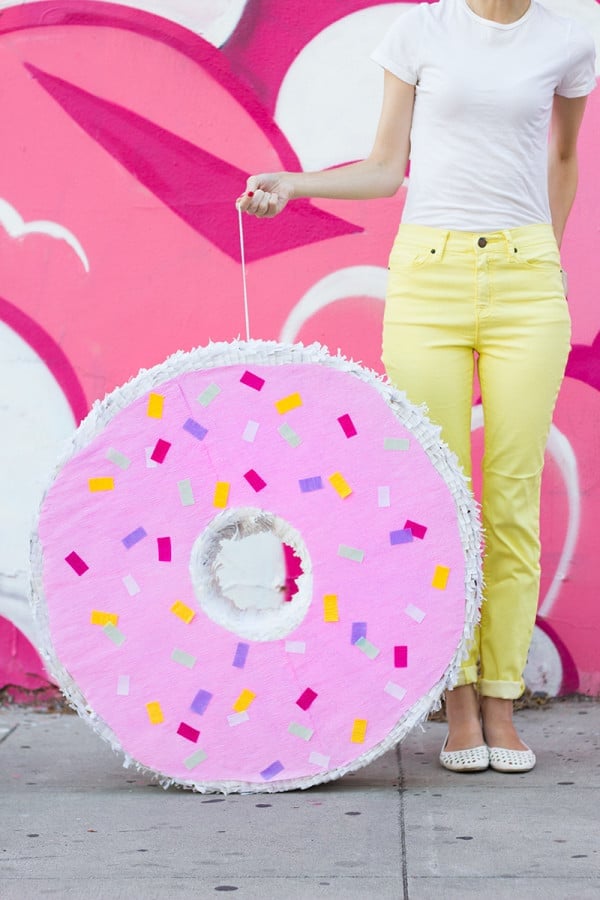 Another donut ring toss idea! This one from Molly Moo Crafts uses cardboard and is perfect for a younger kid donut party.
You could also make these DIY ring toss bottles and just follow her instructions for the cardboard donuts.
Bingo cards are always a hit at parties. This donut bingo would work perfect at your donut themed party.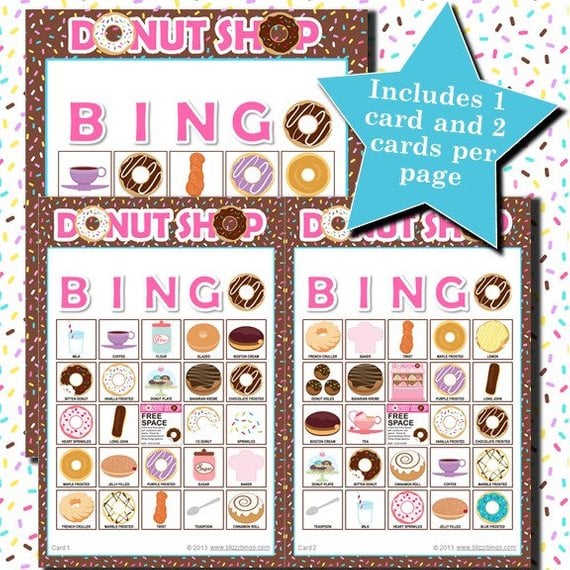 Want to get guests interacting and talking to others at your party? Busy Moms Helper has a free printable donut tic tac toe that is so cute!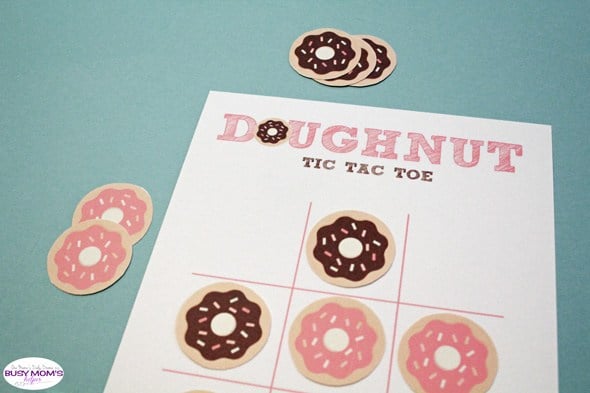 A twist on everyone's favorite game— donut twister will get your guests knotted up in sweet positions.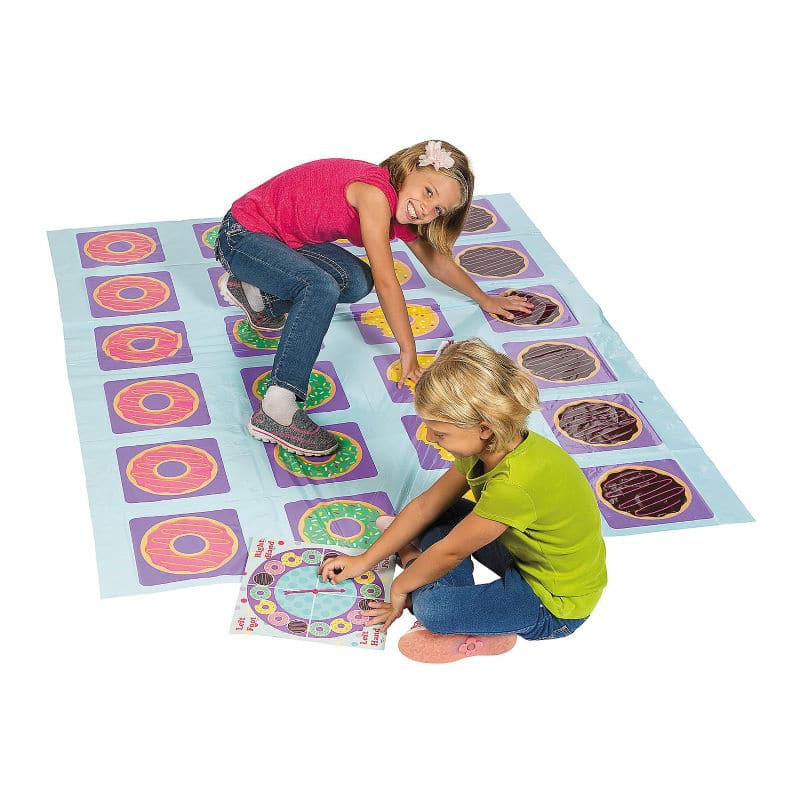 How adorable are these plush donuts? You could use these to play games like toss the donut or hot donut.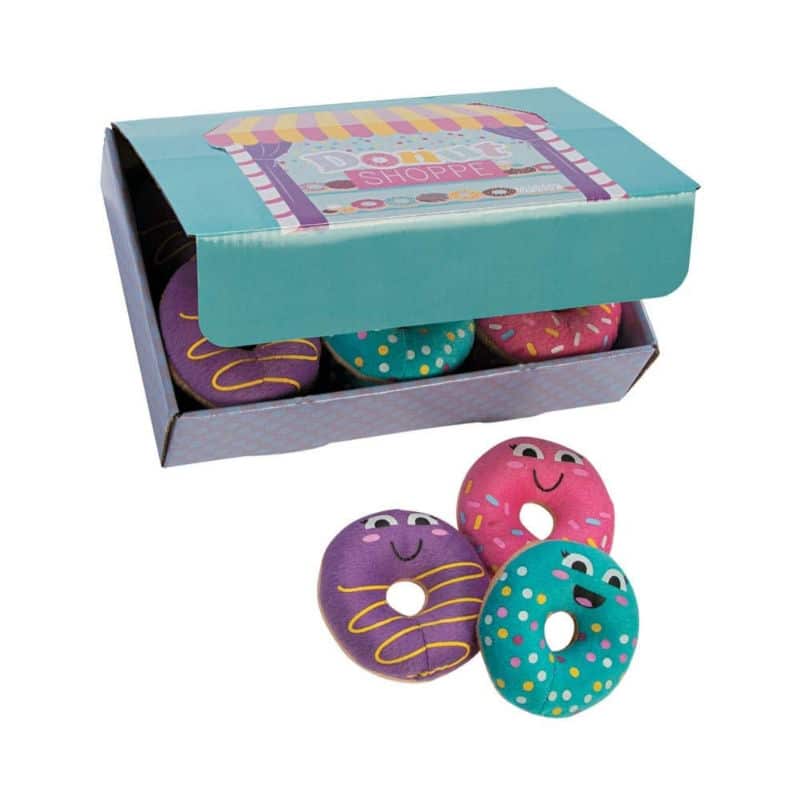 Have guests make their own paper donut with this paper plate donut craft from Mrs. Kathy King. Bonus: This one can double as a party favor!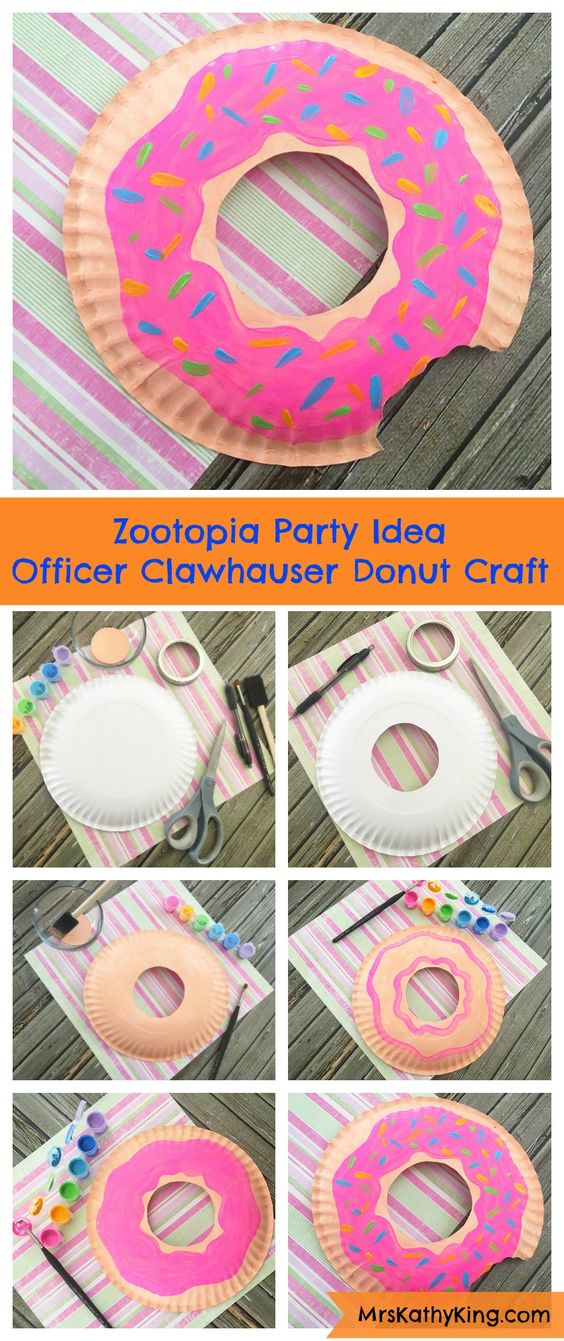 This Donut Truck Photo Opp from Kara's Party Ideas is the cutest! Guests young and old can snap photos during the party in front of this DIY.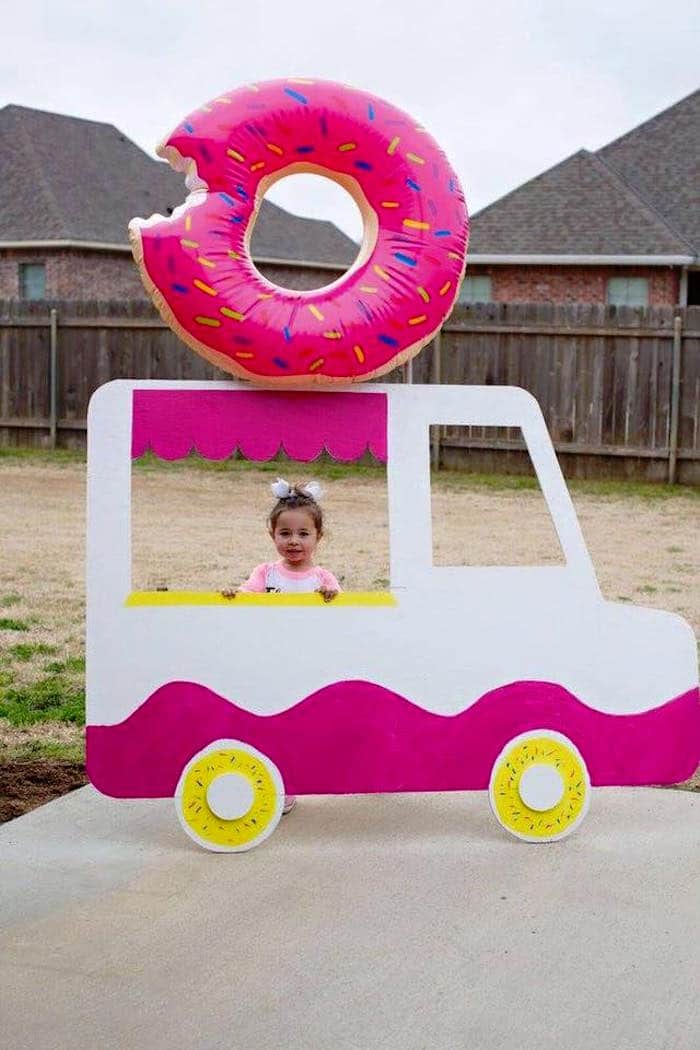 Oh Happy Day put donuts on a string and it doubled as a game and party decor.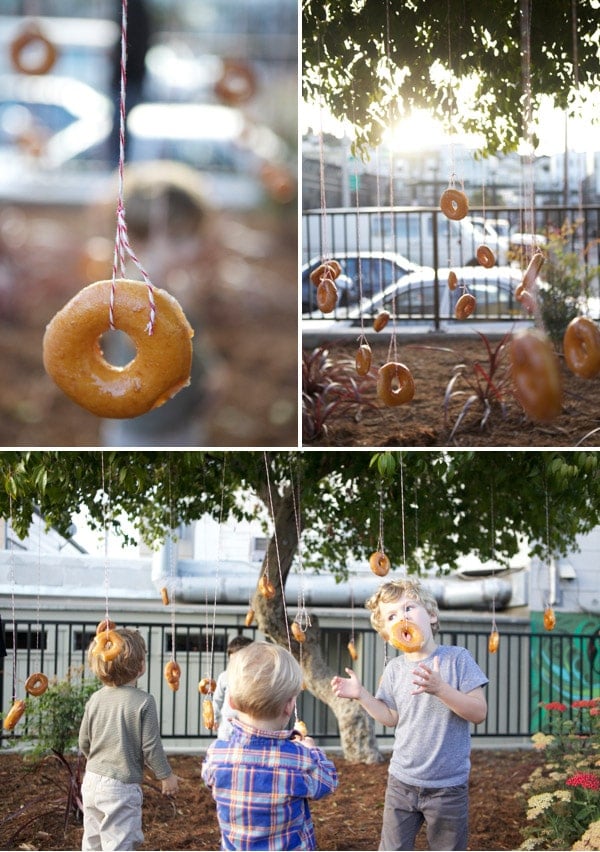 I love this giant pool float as a simple donut photo opp from Sunshine and Hurricanes. Makes a DIY photo booth a cinch!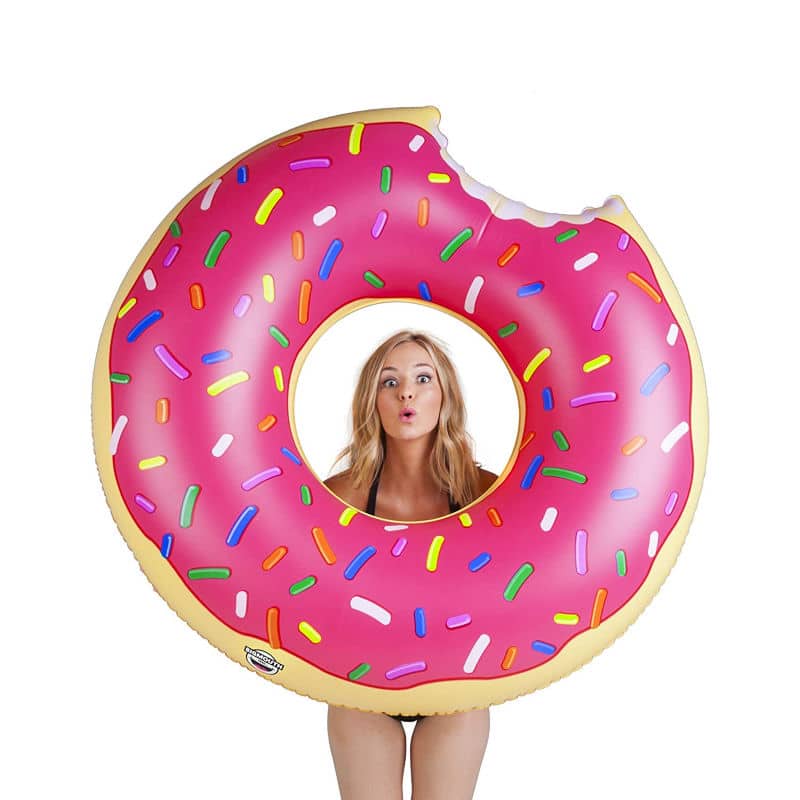 Ever see the Punch-A-Bunch game from The Price is Right? This donut hole punch game looks so fun and reminds me of that! It's kind of like my Christmas punch game but in a donut shape instead!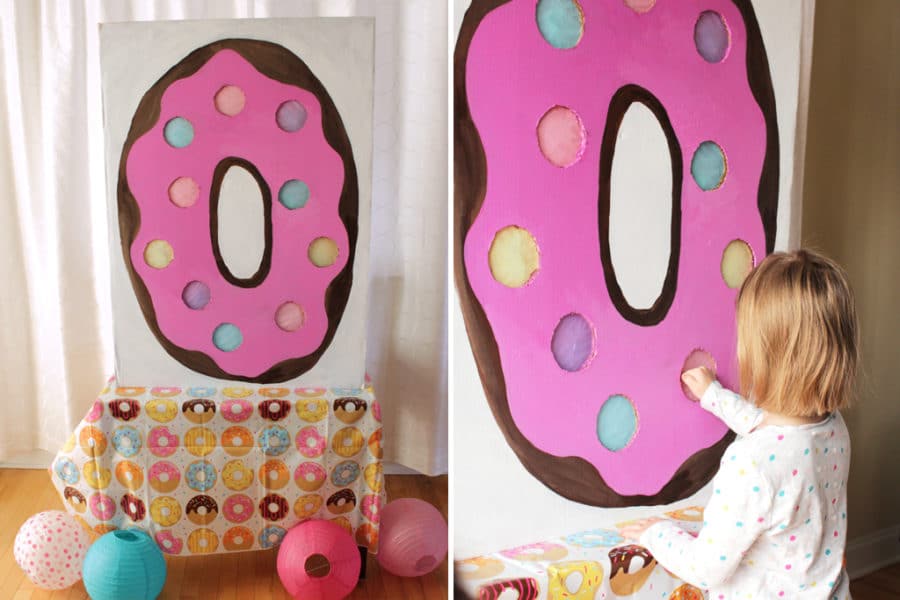 Donut Party Favors
Donut let guests leave empty handed. Send them home with a sweet surprise in the form or flavor of a donut! The perfect way to end any donut party!
Send guests home with these donut necklaces and keychains so they have a little sweet wherever they go.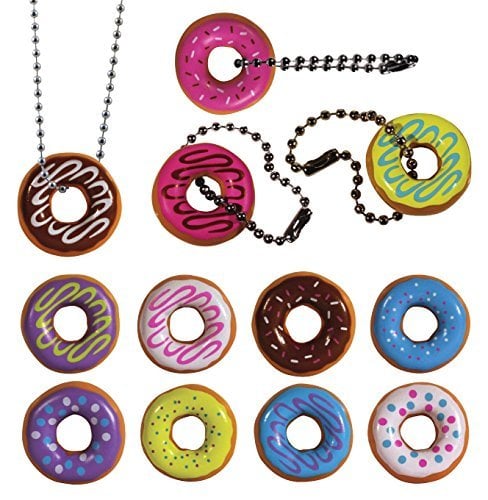 Have party goers pack up donut holes or other treats in this donut shop box.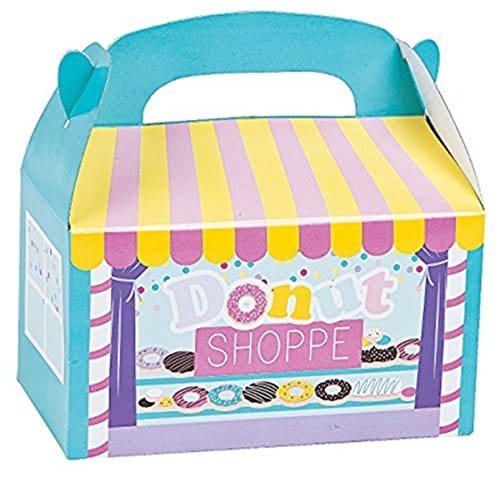 Or pack up donuts beforehand and add these sweet printable favor tags with the donuts to take home.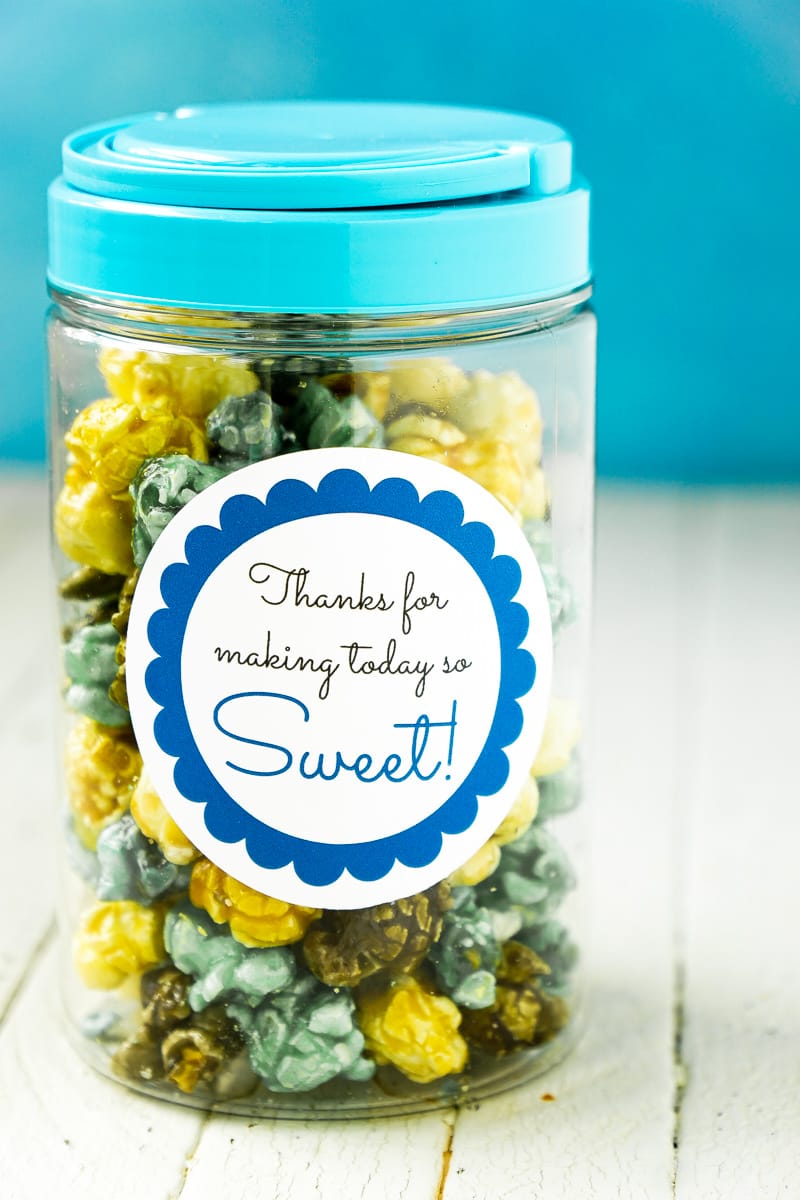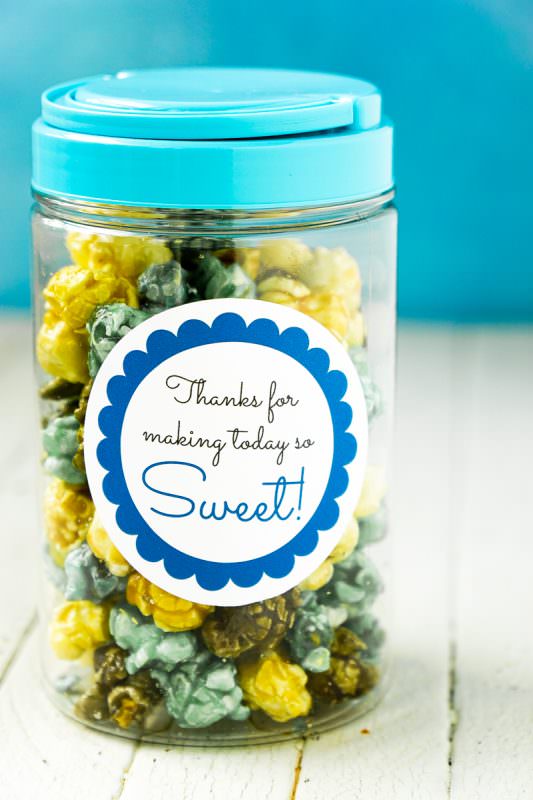 Use cereal and mini cellophane bags to make this easy donut seeds party favor.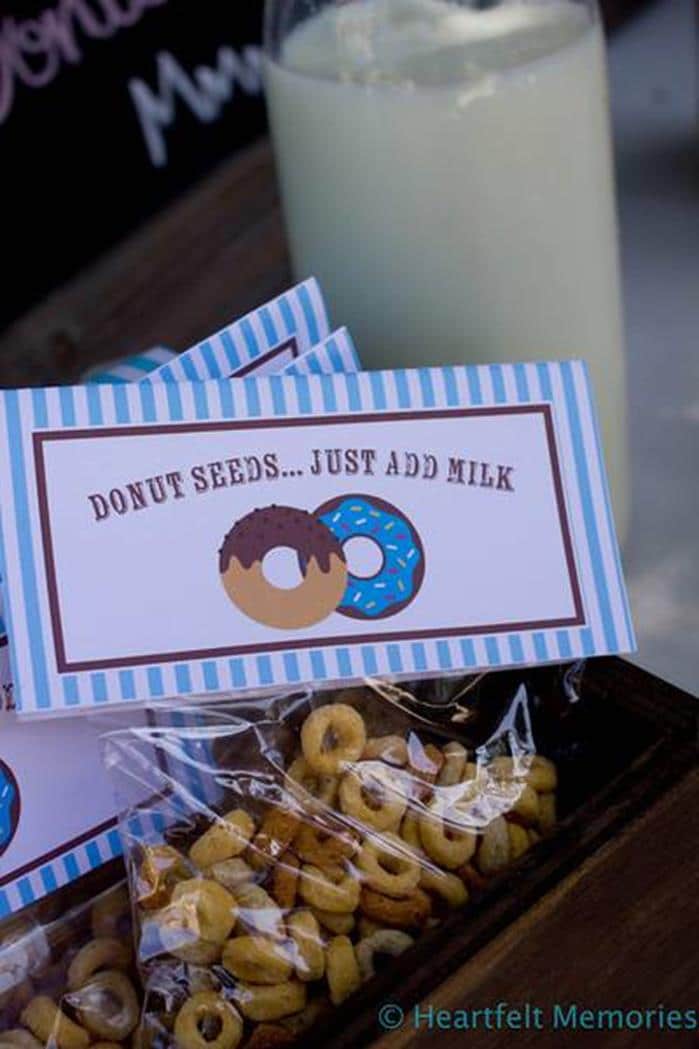 Kids will love these donut stamps as a way to add donuts to their favorite crafts after the party.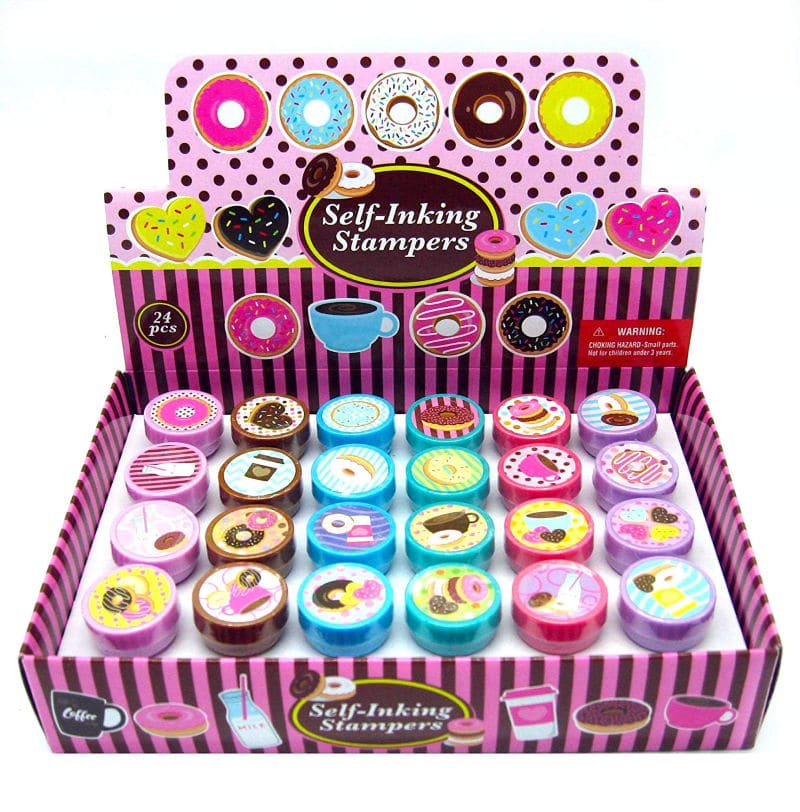 Make your own minnie mouse donut ears for guests to take home and wear their love for donuts out and about. They'd be perfect to wear when enjoying all the best Disneyland food!
Is your mouth drooling for donuts yet? I love how a donut themed party adds color and deliciousness to any gathering! Have fun planning your donut themed party and I hope it's full of sprinkles!