Each week I teach the 12-13 year old young women at church using the Come Follow Me lesson outlines. This week's lesson was on how Christ's atonement can help us with trials and the girls loved these Christ Aid Kit atonement handouts. I hope these atonement lesson ideas help you with your lesson!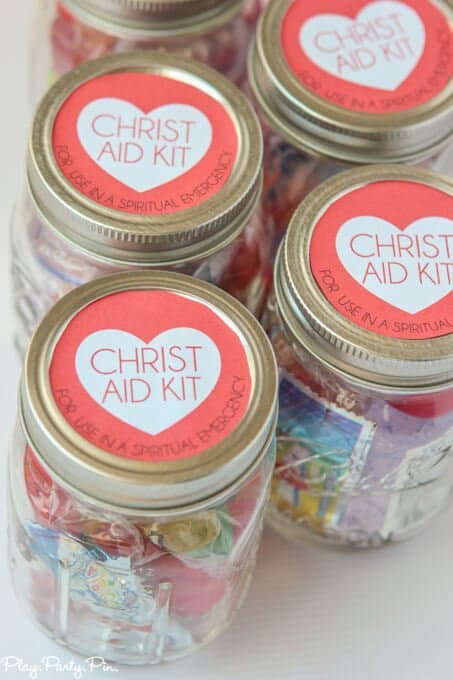 For our lesson, I brought in a bag full of items you would typically find in a first aid kit along with a couple of other fun items like the Baymax stuffed animal I used for my Big Hero 6 party. During the lesson, I had the young women each pick out something from the bag and tell the class how it could relate to how Christ's atonement can help us during trials. I had quotes and stories to go along with each of the items that I pulled from the Come Follow Me lesson. And the girls came up with some things that I never would've thought of. That's one of my favorite things about teaching the young women, I learn from them every single time and this lesson was no different.
I gave the girls these Christ Aid Kits as a way to remind them that just like a first aid kit can help you when you're in physical pain or have a physical ailment, Christ can help us when we have a spiritual one. These are some of the items that I put into the kit but you could easily include anything that fits.
EOS lip balm – to represent the balm of Gilead
Up & Up (Target brand) hand sanitizer – to represent Christ lifting us up and making us clean
Gummy Bears – to represent Christ bearing our burdens
Reese's pieces – gives us peace and comfort
Striped candy (like Zebra striped gum) – heals us with His stripes
To make the kits, I just filled up regular mouth half pint mason jars with the goodies then topped the jars with the free printable labels below. I just printed them on regular white paper but you can use white cardstock if you prefer something more stiff. Enter your first name and email address in the form below to get the printable. If the form isn't showing up below, click here to get to the form to download the printable files.
Note: all of my designs and printables are for personal use only, please do not sell or use for commercial use.