If you love Disney's Big Hero 6 movie, then you'll love these Big Hero 6 movie night ideas! Thanks to #CollectiveBias and its advertiser for sponsoring this post and giving me a reason to plan this #BigHero6MovieNight!
I'm a Disney fanatic, like I sing Disney songs pretty much daily and I've already introduced my almost two-year-old to pretty much every Disney movie I can think of kind of fanatic. And that includes the newest Disney release, Big Hero 6. My toddler sat and watched the entire thing on my lap. You guys, it was a miracle. I don't know what it is with him and being fascinated with friendly white things, but he just loves Baymax. Every time Baymax comes up on the screen, K just gets a big grin on his face and points at the screen, just in case I didn't see him.
This past week while we were shopping at Target, I saw this big plush Baymax. I was going to buy it to surprise K, but he saw it and demanded that Baymax join him in the cart. If you follow me on Instagram, you might've seen this picture. He loves this thing.
Since K loves Big Hero 6 so much, I thought it would be fun to plan a Big Hero 6 movie night. I picked up a couple of other things from Target while I was there like some popcorn, movie theater candy, and Big Hero 6 on Blu-Ray for our big party. When I threw my chalk-late Valentine's Day party last month, I told you all about my obsession with Target's dollar spot. Well, for this party, I gained a new obsession for Target brand candy. Who knew that they sold Target brand (Market Pantry) popcorn, sour candies, gummy bears, and chocolate covered raisins? All my favorite movie theater snacks available from one brand!
Alright now on to the Big Hero 6 movie night details! I decided to setup my party table based on my absolute favorite scene in the movie, the scene toward the beginning when Tadashi takes Hiro to his "nerd lab" to introduce him to his friends and show him the project he's working on. I just love everything about this scene from the crazy science experiments to the friendship among the students and of course, that Tadashi is looking out for his younger brother. So I decided to setup a "nerd lab" party table with a little help from my friend Elena at World Wide Party who made the nerd lab banner and all of the Big Hero 6 party printables for me!
I can't actually count on my hands the number of times we (K and me) rewatched the nerd lab scene to do "research" for our movie night. I tried to incorporate something special and memorable for each of the characters on my party table and tied it all together with the big plush Baymax watching over everyone from the middle of the table. And behind the table, I added the skyscraper backdrop I used for my superhero party; I thought it worked really well with my color scheme and reminded me of all of the cityscape scenes in the movie.
Now let's talk about the food. Since this was a movie night, I wanted to really try to focus on things that you would eat while watching a movie, give or take a couple of sweet items that I had to include!
The menu included Hamada hot wings to represent Tadashi, Hiro, and Cass, Go Go gumballs, wasabi popcorn, pink tungsten carbide cake balls, movie theater candy in test tubes, and honey lemon cookies with matching science fondant toppers from Harriet's House of Cakes.
And my two favorite items? The Fredzilla inspired monster bars that I made using blue and orange chocolate balls and monster eyes to look like his mascot costume, and the Baymax cupcake cake topped with marshmallow frosting.
To go along with the Baymax cupcakes, I decided to setup a little "upgrades" bar, aka square bottles from Celebration Lane that were filled with mini chocolate chips, mini marshmallows, and sour cherry balls that people could use to decorate, or upgrade, their cupcakes.
While we watched the movie, we played Baymax Bingo with these free printable Baymax bingo cards and enjoyed our movie theater snacks. And after the movie, I set out these cute little boxes for people to take when they were satisfied with their care. I love how Elena incorporated the Baymax health rating faces into these favor tags, aren't they just so cute? Inside the boxes I put a little "healthcare kit" with things like sanitizer, sunscreen (leftover from my splash party), and candy pills. It was the perfect way to end a fun movie night with my family.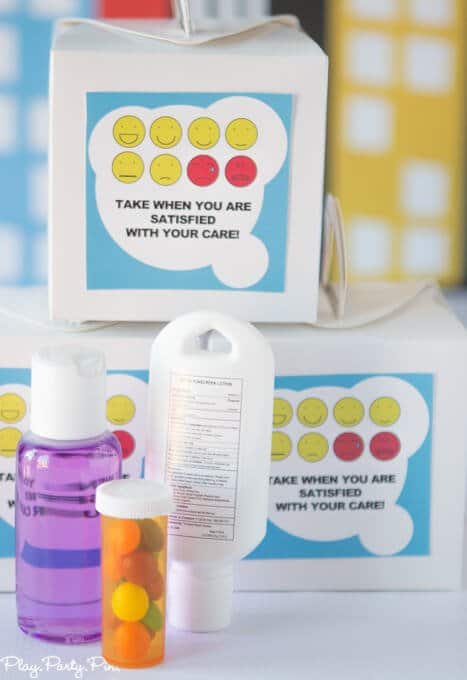 Want to plan your own Big Hero 6 movie night? Below are links to where I purchased my supplies, the recipes I used, and everything else you need to plan your own awesome Big Hero 6 movie night. If you do use any of these ideas, I would love to hear all about it!
Monster Bars
These monster bars combine delicious monster cookies in bar form with eyeballs and monster colored treats.
Ingredients
½ cup unsalted butter (1 stick), melted
1 large egg
1 cup light brown sugar , packed
1 tablespoon vanilla extract
½ cup creamy peanut butter
1 cup all-purpose flour
½ cup orange chocolate candies
½ cup blue chocolate candies
1 cup semi-sweet chocolate chips
candy monster eyes
Instructions
Preheat oven to 350 degrees. Line an 8x8 glass baking dish with foil then spray with non-stick baking spray.

Melt your butter in the microwave in a large microwave safe bowl.

Add the brown sugar to the butter to cool it down (so it doesn't scramble the egg) then add the egg and vanilla and whisk until the mixture is smooth.

Add the peanut butter and stir until completely incorporated.

Add the flour and stir until just combined.

Add almost all of the chocolate candies (set aside a few) and the entire cup of chocolate chips and fold into the mixture.

Pour mixture into prepared baking dish.

Top mixture with leftover chocolate candies, making sure to evenly spread out the blue and orange colors.

Mentally divide the bars into nine bars (like you would cut it) then add three monster eye candies to eat square, with one eye up top and then two eyes underneath like Fred's monster costume.

Bake for 25 minutes to until middle is set and cooked.

Allow bars to cool in pan for at least 30 minutes.

Remove foil from pan then cut into nine square bars with one set of monster eyes on each.
Nutrition Info
Calories: 4460kcal, Carbohydrates: 487g, Protein: 66g, Fat: 262g, Saturated Fat: 131g, Cholesterol: 419mg, Sodium: 766mg, Potassium: 2598mg, Fiber: 30g, Sugar: 339g, Vitamin A: 3165IU, Calcium: 441mg, Iron: 24.3mg