From tombstone tarts to candy corn milkshakes, these Mickey's Not So Scary food treats are ones to try during the Disney Halloween season! This MNSSHP 2023 food guide will tell you everything we tried along with which treats were treats and which treats were just tricks!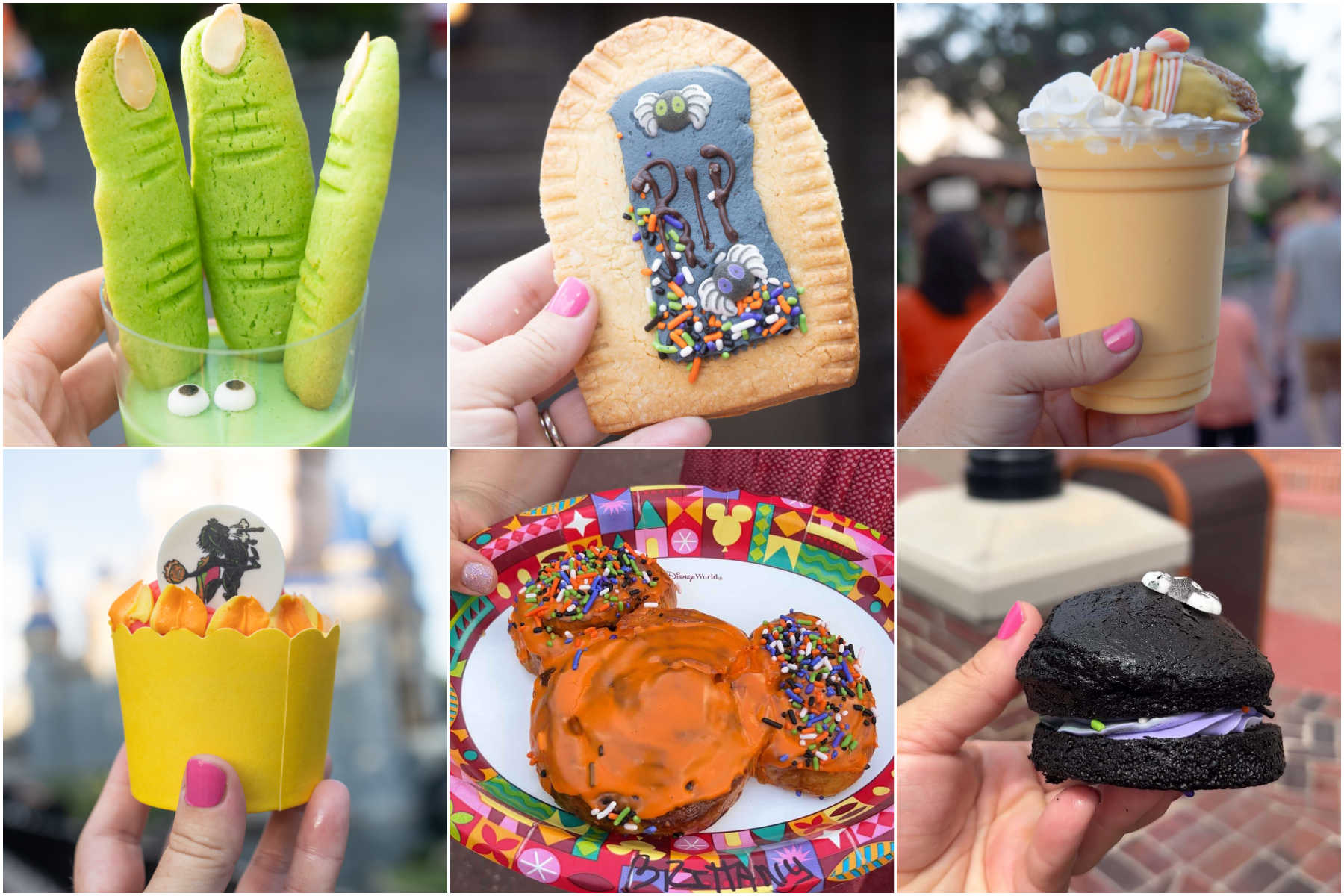 When my sister and I went to Disney World last week to check out the Epcot Food and Wine Festival and the very first Mickey's Not So Scary Halloween party of the year, we also checked out all of the Halloween food we could find!
Halloween season has hit Disney World, and I couldn't be more excited!
We tried all the Magic Kingdom Halloween treats we could find, and I've included our reviews of all of the food below as well as our top 5 list of things that are worth the money since you're already paying for the park ticket or event ticket!
Like I do anytime I rate Disney World snacks, I've included whether or not I think it's worth seeking out, something that's good enough to get if you're around and need a snack, or if it's something you should skip altogether and not waste your money.
And like with any food, these opinions are all subjective. We've explained our opinions on each of the Disney World Halloween food items but if you have different tastes than us, you may have different opinions. I'm okay with that and hope you are too.
Top Mickey's Halloween Party Treats
Let me caveat this by saying that while I'm saying treats, this list also includes a drink or two that have enough sweetness to be considered treats!
These are the ones that we personally thought were worth seeking out and trying if you're looking for Disney World Halloween Food or the best MNSSSHP food!
Black Whoopie Pie from Liberty Square Market (available during regular park hours)
Happy Haunts Milkshake from Columbia Harbor House (available during regular park hours)
Candy Corn Milkshake from Pecos Bill Tall Tale Inn and Cafe (only available during Halloween party)
Halloween Ice Cream Sandwich from Plaza Ice Cream (only available during Halloween party)
Jack Cake Pop from snack cart near Cinderella Castle (only available during the party). The Sally is good too but the Jack was better.
And if you need one more honorable mention, I personally thought the almond zombie fingers from Cosmic Ray's were really good (the pudding stuff on the bottom was a bit weird), but my sister didn't love them and thought they were too crumbly, so they didn't make this list.
She'd choose the mummy treat from Cheshire Cafe as her honorable mention!
Mickey's Not So Scary Halloween Treats
Okay now let's get to the full lists and our reviews. We tried as many of the treats and eats as we could get our hands on during the short party hours. We didn't try everything (skipped a few savory meal type things) but did eat a lot!
There are a few things we loved, a few that we did not love at all, and a bunch that were fine, but nothing super special.
MMMummy Treat from Cheshire Cafe
If you've had the regular Cheshire Cat Tail from Cheshire Cafe, you've pretty much had the mummy pastry because it was basically swapping the purple frosting on the original for white frosting decorated like a mummy.
If you like the cat tail, you'll like the mummy. My sister really enjoyed it. I thought it was okay but not particularly unique or necessary.
Zombie Fingers from Cosmic Ray's
Out of all of the lines of the night, the longest one we saw was waiting to order and pickup food from Cosmic Ray's. Everyone was trying to get dinner plus get their hands on the almond finger cookies, elixir, and Donald drink sipper!
I thought the cookies were delicious but the key lime ganache they were on top of it was a throwaway item. I'd still order these again and recommend them for anyone who enjoys an almond flavor.
River Styx Elixir from Cosmic Ray's
The other thing at Cosmic Ray's was a green shimmery non-alcoholic drink. The kiwi lemonade flavor was good enough that it almost made our top Disney World Halloween food list, but you really couldn't see much of the shimmer at all.
It was still a nice refreshing drink for a hot day, and I'd get it again.
Candy Corn Milkshake at Pecos Bill Tall Tale Inn
If there is one thing that I recommend you try at the party for uniqueness, it's this. A couple of years ago they had a candy corn milkshake at either Disneyland or Disney World, and it tasted like actual candy corn.
This milkshake does not. It's corn flavored so more of a sweet and salty flavor and topped with a corn fritter of some sort.
It's thick, creamy, and somehow we both thoroughly enjoyed it. But it is very rich, so I recommend sharing one with someone else or even your entire family. Also, unlike other milkshakes that we had that were thinned down with milk, this wasn't really as much of a milkshake as more drinkable soft serve in a cup.
Halloween Ice Cream Sandwich at Plaza Ice Cream
If you've had an ice cream sandwich at Plaza Ice Cream, you've likely had something very similar to this before. You also probably know it's delicious.
Two chocolate cookies with ice cream of your choice (we went with cookies and cream) sandwiched in between – this was one of the few desserts we finished every bite and would've enjoyed even more!
Headless Horseman Cupcake at Sleepy Hollow
As someone commented on my TikTok video of the Disney World Halloween food items, this was gross. Okay, not gross but definitely a skip for us.
It was a red spicy cheese flavored cupcake with lots of colored frosting on top and a lime filling. And the description says that it's supposed to come topped with spicy-cheese flavored snacks, but if it was, they were like tiny crumbles with no flavor.
This was not our favorite and not something I'd personally recommend. The flavor combination was a little weird, and I just didn't love any of it.
Char Siu Chicken Wings at Sleepy Hollow
These are not your typical wings – not like the ones you get at the wing stop in Epcot's Food and Wine Festival for sure. These are large, kind of scary looking, and not nearly as flavorful and crispy.
If you want a savory option to go with all of your treats, these were fine.
Hades Cone at Storybook Treats
My guess is that this ends up on some people's top Halloween treats at Disney World list. I normally love the ice cream cones at Storybook Treats, but I don't love habanero so a mango habanero ice cream cone was not for me.
I tried to get through it and really enjoyed the mango piece, but I just didn't love all the heat. I probably would've loved this if it was just mango DOLE Whip with the chili-lime seasoning on top.
Tropical Graveyard at Sunshine Tree Terrace
This was another Disney World Halloween treat that looked much better than it tasted. The mango mousse was just okay and the tropical gelatin layer on top was thicker than I wanted it to be, and it just didn't mix well with the Oreo crumbs and gummy words on top.
It was kind of like combing jello cups with dirt cake. It was pretty, and I'm sure my kids would enjoy the gummy worms but otherwise, I'd get something else at Sunshine Tree Terrace instead.
Sally and Jack Cake Pops at the Cart Near Cinderella Castle
There are two snack carts near Cinderella Castle – one to the left of the castle and one to the right of the castle (if you're facing the castle). The one on the right has a specialty churro (one of the best Disneyland snacks) and the one on the left has these Sally and Jack cake pops.
Sally is yellow cake with raspberry filling and Jack is a chocolate cake pop with a marshmallow filling and chocolate coating. And while both are good, Jack is the star.
The Jack cake pop tastes kind of like a ding dong or Swiss Roll cake with just chocolate upon chocolate. It was delicious, and we quickly finished them both. Just beware, the chocolate does melt quickly in the summer heat.
Skull Brownie from Outdoor Cart near Haunted Mansion
This was a total skip for us. It's a dense cake like brownie shaped like a skull and flavored with a spiced chocolate flavor. Not only was the brownie too spicy for us, it was dry and dense, so even if it did taste good, I'd still say skip this one until they can work out its issues.
Mickey's Not So Scary Party Food We Didn't Try
There were a handful of things that were only available during the party that we didn't try for food allergy or preference reasons (hello onions and coffee) or because we just plain ran out of time!
Here's the rest of the list of items you can look for only during party hours! You can see pictures of all of these items in the Disney Parks foodie guide.
Terrifyin' Twice-Spiced Chicken Sandwich from Cosmic Ray's Starlight Cafe – spicy fried chicken breast dipped in hot honey and topped with pepper jack cheese, jalapeno poppers, and bacon
The Snarling Sub from Cosmic Ray's – meatball sub with spicy marinara, pesto, and pearl mozzarella "teeth" served on a black roll
Pain and Panic Brat from Friar's Nook – bratwurst, sweet and spicy onion relish, and sriracha mustard
Pain and Panic Loaded Tots from Friar's Nook – tots topped with sweet and spicy onion relish, sriracha mustard, and crumbled bratwurst
Buffalo Chicken Hand Pie from Friar's Nook – buffalo chicken hand pie with spicy ranch drizzle and blue cheese powder
Loaded Sweet Potato Fries from Golden Oak Outpost – sweet potato fries tossed in cinnamon sugar and topped with marshmallow cream, butterscotch chips, and toffee pieces (this is the only thing that I didn't try that I really wished I had because of how good the sweet potato fries are at the Epcot Food and Wine Festival).
Minnie-shaped Pumpkin Cheesecake from Main Street Bakery – pumpkin cheesecake and pumpkin coffee mousse topped with a white chocolate candy bow
Cajun Burger from Pecos Bill Tall Tale Inn – cajun-spiced all-beef patty topped with fried green tomato, cajun andouille dip, and creole remoulade served on a black bun
Bowl of Bones from Pecos Bill Tall Tale Inn – bone-in piggy wings fried with fresh jalapenos tossed in Coca-Cola Cherry barbecue sauce
Apple Fritter Sundae from Plaza Ice Cream Parlor – apple fritters topped with choice of ice cream, whipped cream, and sprinkles
Cinnamon Funnel Cake from Sleepy Hollow – funnel cake topped with pumpkin ice cream, drizzled with pumpkin spiced caramel, and topped with butterscotch chips
Regular Hours Disney World Halloween Food
Okay now let's get to what's available in the park if you're not planning on attending Mickey's Not So Scary party! These are some of the other Halloween treats we found in Magic Kingdom before the party!
They're also supposed to be available during the party but some places like Liberty Square Market are only open for a short time during the party, so I'd try these ones out during non-party hours if possible!
Halloween Cinnamon Roll at Main Street Bakery
Most cinnamon rolls (outside of Gaston's Tavern) at Walt Disney World are dry, so I was expecting this one to be dry. I don't know if it's the orange frosting or the way they make it differently than the regular one, but this one was much better than a traditional Disney World cinnamon roll.
The ears were our favorite part – moist, flavorful, and easy to eat. The rest of it was a bit messy so I recommend a fork and knife!
Tombstone Tart at Golden Outpost
I was really excited for this one since the homemade pop tarts at Toy Story Land are one of the best foods at Disney's Hollywood Studios.
Unfortunately, Disney went on a spicy kick with their treats this year and this is a strawberry-jalapeno tombstone tart, and it just didn't work for us.
Black Whoopie Pie at the Liberty Square Market
The cookie part was fluffy and delicious. The frosting way the same frosting (or at least it seemed) as they use on all of the cupcakes at Disney World.
The two together made my top Halloween treats list but just barely. If you like whoopie pies, you'll likely like this one.
Queen of Hearts Slushy at Cheshire Cafe
I wanted to like this frozen cherry slushy a lot because it was refreshing, the black cherry puree was delicious, and the overall look of it was festive and fun. But it was just okay mixed all together. It's one you can try if you're interested but not something I necessarily think people should run out and get.
Peanut Butter and Jelly Pop from Sleepy Hollow
While this isn't technically listed on the Mickey's Not So Scary Food Guide, it was available the day of the party and it's Halloween (haunted mansion themed), so I added it to the list. It may be more of a promo for the new movie, but if you're looking for Disney Halloween food, you can add it to your list!
Or don't add it to your list because I didn't really like it at all. It was hard to eat and kind of just like eating apeanut butter and jelly sandwich without the bread.
Happy Haunts Milk Shake from Columbia Harbor House
This is another one that's probably a Haunted Mansion but it's close enough to Halloween for me to add to this list. Plus, this one was delicious! It's a blackberry milk shake (that was actually thick and yummy) topped with a chocolate glazed donut.
If you're going to get one milkshake at the park, I'd recommend this one or the candy corn one. It was much better than anything we tried at Galactic Goodies.
Other halloween Food We Didn't Try
All of the these things are available during regular park hours as well as during the party (check the hours to make sure they're actually available). If you want to try these things, I recommend getting them during regular hours when mobile ordering is available and lines aren't as long!
Apple Fritter Milkshake from Auntie Gravity's Galactic Goodies – salted caramel milkshake topped with green apple whipped cream and an apple fritter
Witches Cold Brew from Cheshire Cafe – French Vanilla Joffrey's Coffee Cold Brew topped with pumpkin-spiced foam and Halloween sprinkles
Not so Poison Apple Churro from Churro Cart near Cinderella Castle – churro rolled in green apple sugar topped with SNICKERS bar pieces and drizzled with caramel sauce
Mickey's Not So Scary Dessert Party
If you want desserts, drinks, and reserved firework viewing – check out the Mickey's Not So Scary Halloween dessert party. It comes with unlimited drinks like strawberry lemonade and POG juice, desserts (and they were decent), plus you can reserved viewing of the fireworks from a garden area that has a straight on view of the spooktacular. You can read more of my thoughts and see some pictures from the MNSSHP dessert party in my guide to the Mickey's Not So Scary Party for 2023!
Party FAQs
Is mobile ordering available during Mickey's Not So Scary Halloween Party?
Mobile ordering was not available during Mickey's Not So Scary Halloween Party on the first night. This may change during the season but be prepared to wait in lines.

And while mobile ordering was available during regular business hours, none of the items listed on this MNSSHP food guide were at locations that offered mobile ordering. You'll need to stand in lines to get any of these items so divide and conquer if you can!
What Mickey's Not So Scary Food do you recommend?
If you're going to spend money to try three things that are only available during the party, we recommend trying the Jack cake pop, the candy corn milkshake, and the Halloween ice cream sandwich.

If you want recommendations for Magic Kingdom Halloween food outside of the party, you can also try the Happy Haunt milkshake, black whoope pie, and the Halloween cinnamon roll!
Is any food included in Mickey's Not So Scary Party?
The only food that is included with your party ticket is the treats that you get from treat stations during the unlimited trick or treating. This includes candy like M&Ms, Skittles, Snickers, and more. Everything else is an additional fee.
When are the MNSSHP food items available?
The Mickey's Not So Scary Party food is only available during party hours from 7PM to midnight. And while some cashiers may start allowing you to order them a little early, many were pretty strict about things not being available until the actual party start. This is definitely the case with things that have limited numbers like the Donald Duck sipper and popcorn buckets.
More Disney World Planning Tips
Don't just plan your food! Use these other helpful tips to plan your next Disney World trip!