This fun match the Christmas carol game will have players trying to match lyrics from popular Christmas carols to the song it belongs to! It's simple to play, fun for all ages, and a great way to incorporate Christmas songs into your next Christmas celebration!
I love Christmas music, absolutely love it! There's just something about hearing Bruce Springsteen sing Santa Claus is coming to town that gets me in the Christmas spirit.
Yesterday I shared a fun Christmas music bingo game and today I'm sharing this fun matching Christmas carol game. If you like this one, you'll probably also love this Christmas carol scramble game!
This game is great because it's matching so it's easy enough for kids to get a good number of them right. And it's also challenging enough that it'll be a good challenge for teens and adults to get all of them right! I tried to use the most popular Christmas songs so people would be familiar with the lyrics!
Have fun matching!
Supplies
All you need to play this game is a pen or pencil for each player and a printed out matching game. You can get the matching game and the answers at the bottom of this post or in my shop here.
It's also a part of my printable Christmas games bundle (over 20 games!) if you want more than just this game for your party!
How to Play
Give everyone a copy of the game and a writing utensil of some sort. To play, everyone just needs to either draw a line or write the letter of the matching song next to each Christmas song lyric.
You can either hand this out and let everyone do it on their own time just for fun or hand it out, set a timer, and have everyone do it together. I recommend going over the answers as a group, however, to see how many answers everyone got correct!
It may look easy, but it's harder than it looks so don't be surprised if everyone doesn't get them all.
For every answer correct, players get one point. See if anyone got them all and if they didn't, see who got the most correct! You can even have a prize for the winner(s) (get some fun prizes in this Christmas scavenger hunt post) if you want!
This is great for a classroom Christmas activity but if you want some more active Christmas games, try one of these Christmas party games instead!
Alternate Ways to Play
If you want to make this more of an interactive game, make it a team game, or just make it overall more challenging, try this version of the game instead!
Instead of giving everyone the printable, just print out a version for yourself instead with the answers. To play, read off the Christmas song lyric on the right and whoever (or whichever team) can name the song it came from first wins.
This way takes away the matching portion so people have to come up with the song off the top of their head, which is always more challenging. It's even more fun doing this in teams because the who gets it first adds a little element of competition!
If you do it this way, I recommend a small prize for the team. I have some good team prize ideas with this Christmas family feud game!
Other Printable Christmas Games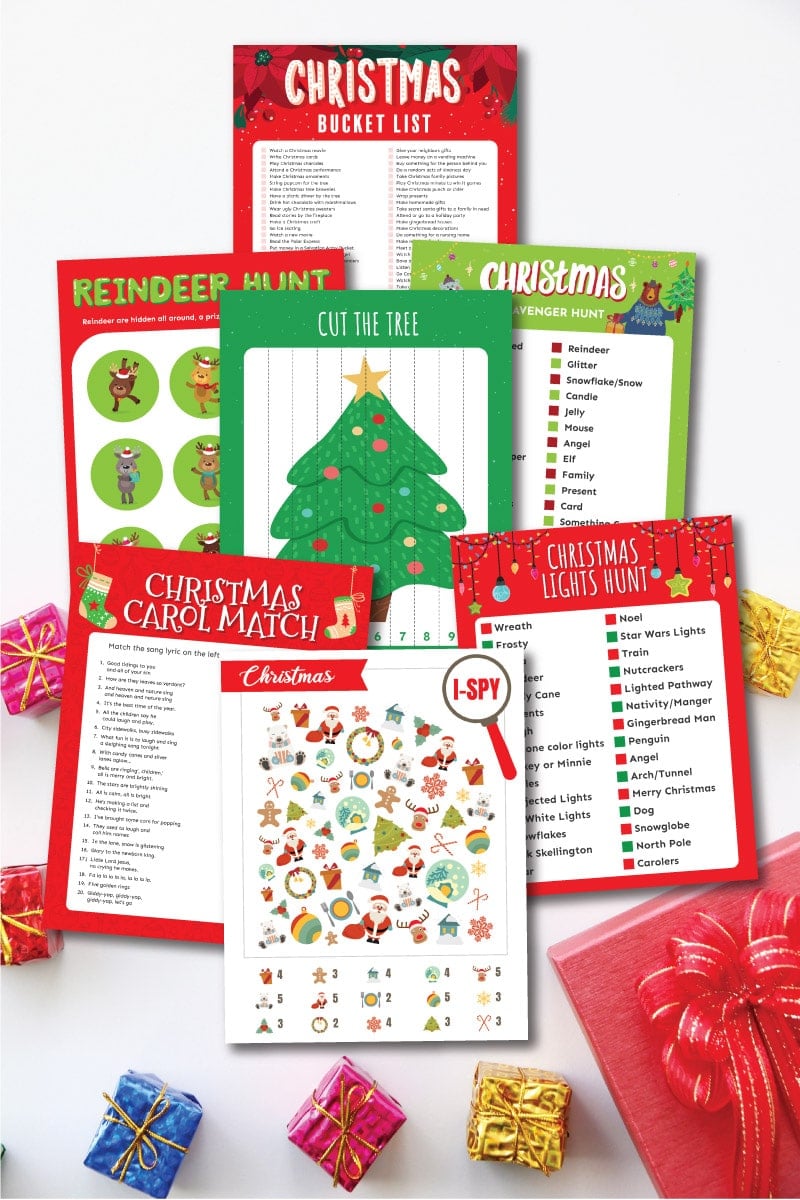 want more fun kids activities?
Download the Christmas Carol Game
Enter your first name and email address in the form below to get the printable PDF. You will receive a link to download the PDF to your email within minutes.
If you'd rather not fill out the form, you can get a copy in my shop here.
If you do not see the form, click here to get to it.
If you do not see the email immediately after you fill out the form, make sure to check your promotions, spam, and junk folders!
The file will include:
Instructions
One-page game
One-page game with answers