See how many Christmas objects you can find in this fun printable Christmas i-spy game! Perfect for classroom parties, Christmas activities for kids, or just a little holiday themed fun any time of the year!
Let's keep the year of fun Christmas activities going with today's addition – this fun Christmas i-spy game!
My sons love doing any sort of fun seek and find or i-spy game. Whether it's actually playing i-spy where you have to guess what someone else is looking for or searching for things in one of these fun scavenger hunt ideas – my boys love it!
This printable Christmas i-spy takes all of those things and puts them into one fun holiday game! Search for the specified numbers of each Christmas item and find them in the jumbled up image above.
It's easy, fun for kids, and a great addition to any sort of Christmas activities you're already doing! We'll likely do this, a Christmas lights scavenger hunt, a round of this Christmas matching game, and play a little Christmas music bingo to round out our holiday festivities!
If you need even more fun ideas for kids, I've got a ton of other ideas in this fun Christmas kid activities bundle in my shop!
Supplies
One of the best parts about printable activities is that you don't need much – just a printed out copy of the Christmas i-spy game and a writing utensil of some sort. And honestly, that's optional – if you don't want to circle or cross things out, you could just point and count.
You can get the printable Christmas i-spy at the bottom of this post or get a copy in my shop here. I've got a handful of other i-spy games over there too if your kids really like i-spy games!
How to Play
Okay so I thought this Christmas i-spy game was pretty self-explanatory but after more talk with some of my email subscribers, I realized it was only self-explanatory to me. And my boys, but that's beside the point.
So here's how you use this game!
Give everyone a copy of the i-spy game and a pen, pencil, marker, etc. The top of the game has a bunch of random Christmas pictures and the bottom has a key of what you were looking for in the jumbled Christmas pictures above.
Next to each of the images in the key is a number. This number indicates how many of that image you need to find in the picture above. So for example, if there is a 4 next to the present, you need to find 4 presents in the picture above.
As you find all of the items on the sheet, cross of the image or the number to indicate you've found the item.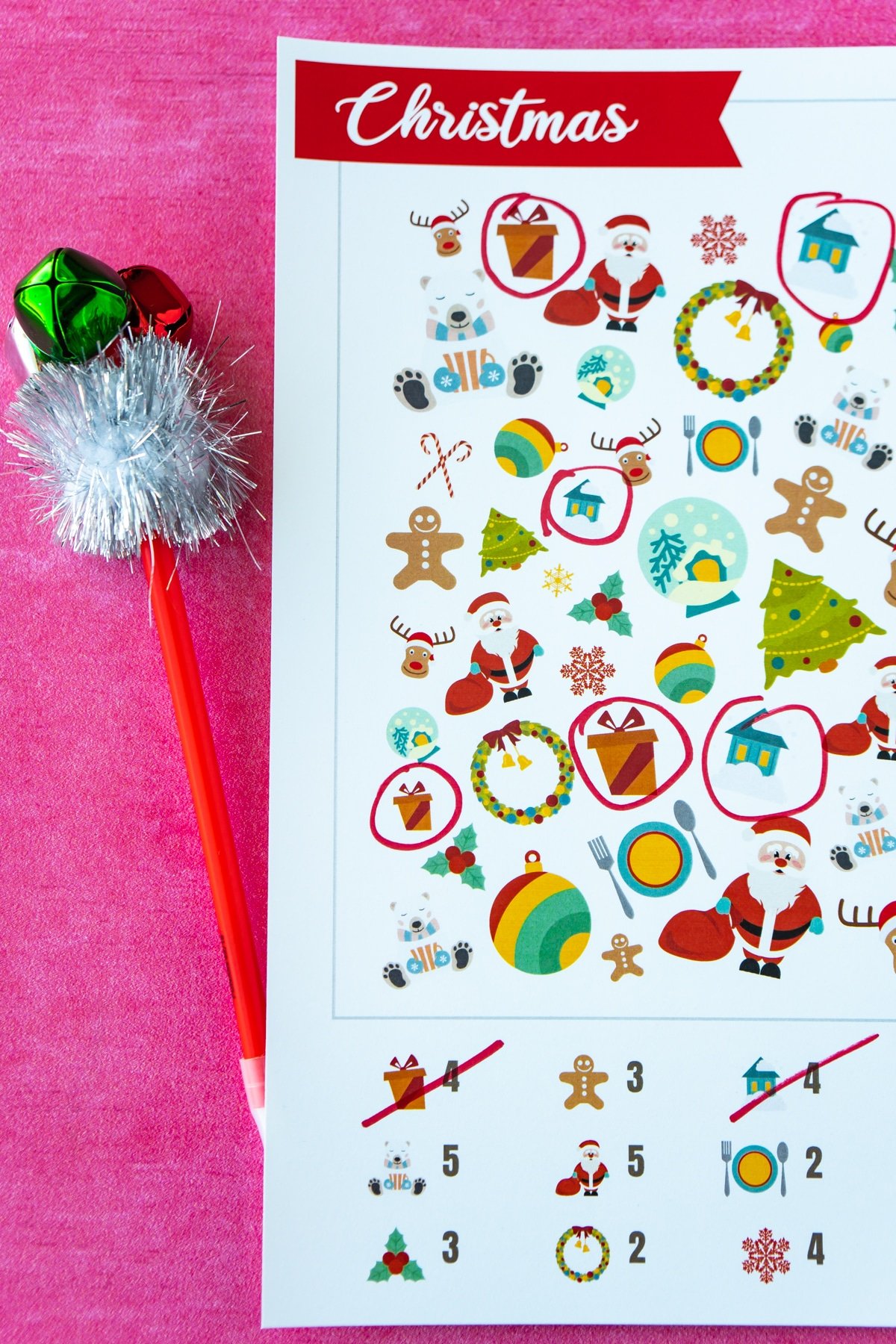 My son also likes to circle the images he finds in the picture to keep track of where they're at.
If you think you'll use this again next year, I recommend laminating the i-spy game and using dry erase markers for circling and marking things off. Laminate this game, this roll a Christmas tree game, and the coal cards in this Christmas saran wrap game to make a full set of Christmas activities you can use year after year!
Make it a race
If you want to turn this into an actual game rather than just a fun kids activity, here are a couple of options for making it a competition.
Who's First?
See who can find all of the items first. Give everyone a copy and have them flip it over to the back. When you say go, they have to find things as quickly as they can. Whoever finds and circles everything first wins a small prize. There are fun prize ideas in this Christmas scavenger hunt post.
Christmas i-Spy Relay
Break into teams. Put a Christmas i-spy game on the table for each team across the room. When you say go, one person from each team must race to the table with the games and find one item.
They then have to run back and tag a teammate who will then go find an item on the i-spy game. Keep going until you've found all of the items. First team to find all of the items wins.
Give the winning team one of the fun team prizes in this Christmas family feud game.
More Christmas Activities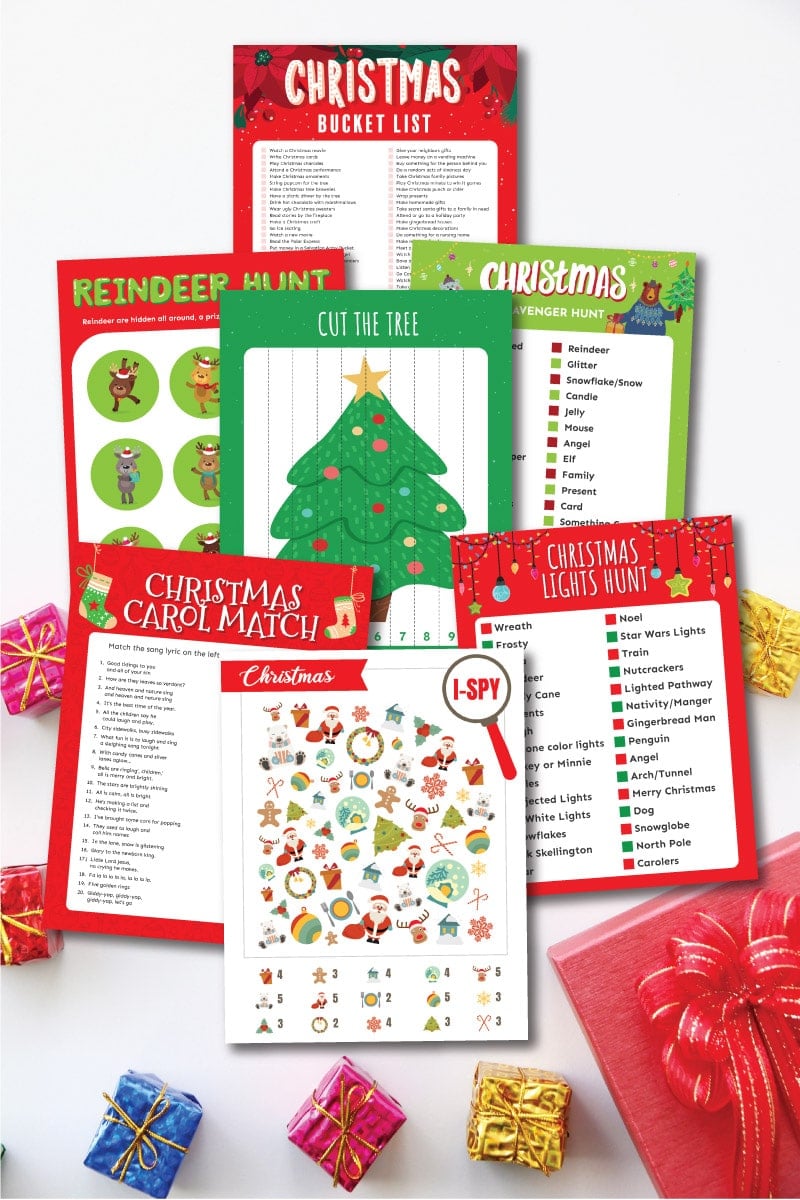 want more fun kids activities?
Download the Christmas i-Spy Game
Enter your first name and email address in the form below to get the printable PDF. You will receive a link to download the PDF to your email within minutes.
If you do not want to fill out the form, you can get a copy in my shop here.
If you do not see the form, click here to get to it.
If you do not see the email immediately after you fill out the form, make sure to check your promotions, spam, and junk folders!