Use these adorable Christmas gift tags to add a little holiday cheer to any gift this season! With holiday gift tags, Christmas gift tags, and some more generic winter gift tags, there's something for every type of gift! Just download, print, and use the tags for all of your holiday gifting this year!
It's Christmas time and we all know what that means – it's giving season! You'd have to be Scrooge to not give out gifts during the holiday season whether they're neighbor gifts, Christmas gifts, or gifts for any other type of winter holiday!
Sometimes finding the actual gift can be so much work that you don't want to spend more time looking for the perfect card. I'm looking for the perfect gifts for 3 year old boys and let me tell you – it's a lot of work!
Instead, try adding one of these stylish Christmas gift tags to go with your gift. It's a fun way to add a little color, style, and personality to your gift!
You could also just add these fun gift tags to the presents that go under the Christmas tree to make it just a little more, we're all about fun over here!
These printable tags are a great way to add a little creativity to your gifts, even if your gifts themselves aren't all that creative. These would be perfect on something like these experience gifts for kids that may be something more like a certificate – at least they'll have something pretty to open!
These gift tags would be great for:
Neighbor gifts
Christmas party favors
Boss or employee gifts
Teacher's gifts (they'd great be with these teachers gift ideas)
And really any type of gift you could come up with!
Christmas Gift Tag Designs
I was only going to do one sheet of printable Christmas gift tags, but once I started, I just couldn't stop.
These gift tags are inspired by Christmas songs, Christmas movies, and all sorts of things you might find in this this Christmas kisses trivia game.
There are sixteen completely different designs including very Christmas specific ones and ones that are more general holiday. I've included some examples of each of the designs below but if you want to see them all scroll down to the very bottom of the page for a little preview of the entire set of tags.
Christmas Gift Tags
There are seven tags that are Christmas specific (and wouldn't make sense if you're going for just a holiday vibe) that say things like "We wish you a merry Christmas, have yourself a merry little Christmas," or have images or references of Santa Claus, Christmas trees, or other Christmas traditions.
These are just a few examples of fun ways to use the gift tags with wrapping! You could use add them to a gift box with a little baking twine, tie them to a gift bag, add them with a box on a gift box, or really anything else.
Or you could just wrap them around a box of your favorite Christmas cookies (I recommend these cherry cheesecake cookies!) or holiday treats (these Oreo truffles are also delicious!)
You could even just wrap up a bag of Christmas candy, add a tag, and be good to go! Pretty sure I'm going to do this for our neighborhood Christmas get together. It's a cute way to make Christmas candy go a little further.
And if you don't want to do store-bought Christmas candy, you could add homemade things like these peanut butter snowballs, rocky road bites, or even chocolate dipped strawberries.
Generic Holiday Gift Tags
The rest of the gift tags in the set are more general holiday tags and include phrases like "oh what fun, tis the season, and season's greetings." They use a variety of colors, fonts, and designs to keep the messages fun and playful!
There are nine different generic holiday gift tags that could totally be used as Christmas gift tags or just general seasons greetings type tags.
These would probably be best for anyone who you may not know if they celebrate Christmas or something else – people like coaches, teachers, etc.
Use a variety of colored gift boxes, strings, and ribbons to emphasize the fun colors of these holiday gift tags.
There's also one gift tag in the set that was designed specifically for neighbors gifts if you want to use them as such! These cute "for the most wonderful neighbors of all" gift tags would be great with a loaf of this cranberry orange bread or a batch of my popular brownie balls.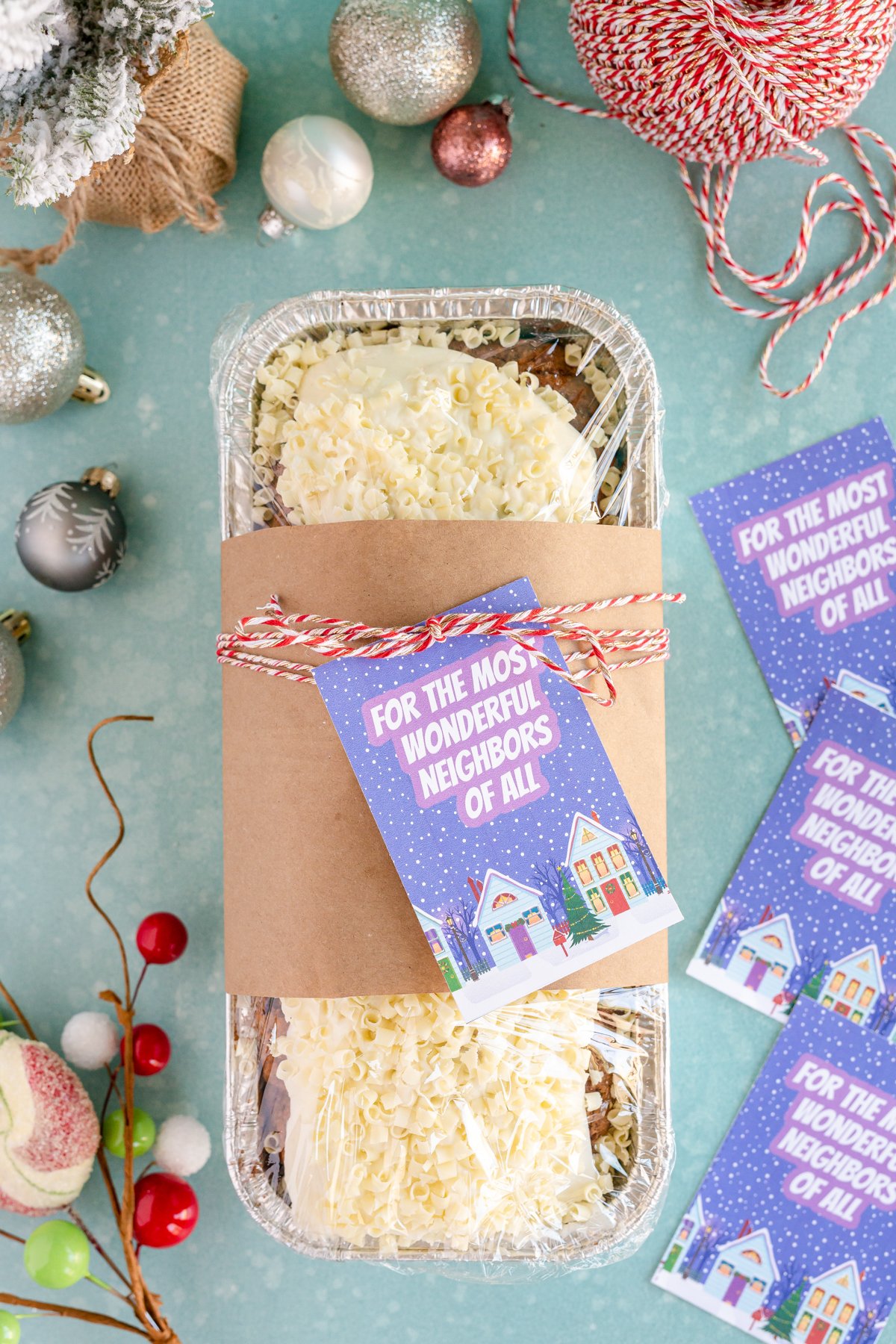 Or skip the neighbor tags and do the same type of treats with a more universal gift tag that works for neighbors, friends, and more!
How to Use these Christmas Gift Tags
I always have people ask me about the best ways to print and cut Christmas gift tags.
My recommendation for these is to either have them printed as a local printing company (or big box store like Office Depot) so that you don't use up all of your ink or to print them at home yourself on white card stock.
I specifically designed the gift tags as just plain rectangles to make them easy to cut. Just download the files at the bottom of this post, cut them out, and attach however you want!
I sometimes tape the gift tags to things, sometimes I'll put a hole punch in the top (all the designs have space for that) and string ribbon through the gift tag, or you could add these to the top of a jar or container of something.
They're pretty versatile, and I hope you can use them for all of your holiday gifting!
FAQs
What type of paper should I print Christmas gift tags on?
I recommend printing these on white card stock so they're sturdy when adding them to gifts. Avoid using regular printer paper as they'll be very flimsy.
What's the best printer for printing gift tags?
My friend Lindi has a great post breaking down the best printers for printables. I couldn't give a better answer than she does, so I highly recommend reading her post.
More Christmas Printables
If you like these Christmas gift tags, you'll love these other free Christmas printables!
Download the Christmas Gift Tags
Enter your first name and email address in the form below to get the printable PDF.
You will receive a link to download the PDF to your email within minutes.
If you do not see the form, click here to get to it.
If you would rather not provide your email, you can purchase a copy of the gift tags in my shop here.
If you do not see the email immediately after you fill out the form, make sure to check your promotions, spam, and junk folders!
The PDF wil include:
Full-sheet page of each of the gift tags
Two sheets with one gift tag of each design (in case you want to use a variety of tags without printing eight copies of each)