Whether you're looking for the best gifts for a 3 year old boy or the best toys for 3 year old boys, you've come to the right place. This list has both – incredible toys for 3 year old boys in every budget that make great gifts. There's truly something for every 3 year old boy in this collection!
The Best Gifts for 3 Year Olds
As a boy mom, we've gone through a lot of boy toys and had to come up with a lot of gifts for boys. Now that my second is just about three, I thought it was time to update this post with some of our new favorite gifts for 3 year old boys as we're planning our own Christmas presents!
This list is designed specifically for boys but there are definitely ideas on here that would work for any 3 year old so if you're looking for girls, it's definitely worth reading anyway!
I've broken the list into a variety of categories, you can click on the links below to jump right to that category or just read the whole post!
Superhero Gifts
My sons love superheroes. Marvel, DC, Mario, Paw Patrol, pick a superhero and he loves it. We have the whole gamut of superhero toys, and they're probably the ones he plays with most often.
Superhero toys are awesome because not only do they encourage pretend play (hello dress up for boys), they're something all boys can relate to. And superhero parties are kind of my jam. These are just some of his favorites.
Make sure to get the Duplo ones that are for 2-5 year olds because the 4-7 year old ones are not only a pain to put together, they come apart easily when little fingers are playing with them. We love this Spiderman truck set, but choose their favorite superhero and go from there.
They make really fun superhero costumes for toddler and preschool aged boys. They're not nearly as bulky or heavy as the adult ones, so my son wears this Iron Man one all the time.
And they're pretty reasonably priced, so you can buy a couple and just make a superhero dress-up bucket. This Spiderman One is on my son's Christmas list!
The Playskool Heroes line of toys is the best for preschoolers who love superheroes. It takes superheroes and makes them less aggressive and real.
They're like preschool friendly action figures, and we have pretty much all of them. My son's newest favorite are the Rescue Bot Transformers that transform (easily, even for a 3-year old old) from robots into cars.
We also have pretty much all of the Marvel guys. If you're looking for Batman or DC Superheroes, Imaginext is your best bet.
The Big Book of Superpowers is my son's favorite with Even Super Heroes Sleep coming in a close second. Or if you're looking for a great superhero book, we love the 5-minute superhero stories book as well.
Things That Go Gift Ideas
I have yet to meet a 3 year old boy who doesn't like cars, trucks, and other things that go. I'm pretty sure it's just a universal thing that they all love.
If it has wheels, it's a winner. If it has wheels and goes on its own (pull back, remote, etc.), it's an even bigger winner.
My son loved cars and trucks so much, I threw him a pop a wheelie party for his 2nd birthday and would've done it again for his 3rd, but we were getting ready to go.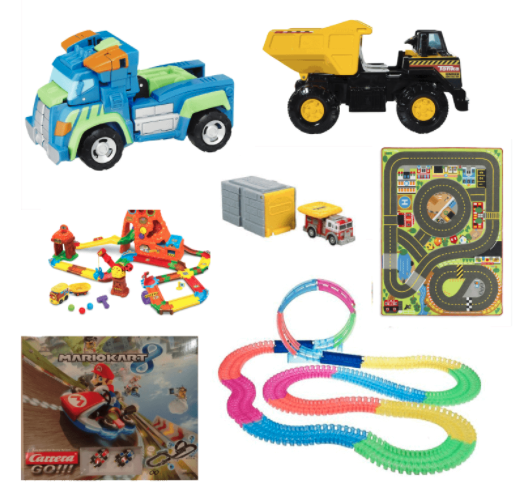 We have two of these, one at my in-laws and one at our house. We'll get out the million Hot Wheels cars we have and race them around for hours at a time.
It's the perfect combination of pretend play, movement, and education (we like to do races of different colors of cars) for a preschooler.
Any 3 year old boy will think it's very cool to have their own race track to race cars. And bonus, it rolls up when you're done so you can toss it in the closet.
This is one of the coolest presents we've ever received for Christmas. You connect the track together in any way you want – figure 8, looping, long straight track – and then put the cars on it and turn on.
The cars magically drive around the track you created without any help from you or a remote. Oh and it glows in the dark, which makes it even cooler.
There are a couple of different sets including an emergency vehicles one and a regular city car one, just pick which one you like most.
This dump truck is the ultimate gift for any 3 year old boy who likes trucks. This is a child size powered ride-on working dump truck that seats two kids.
Not only can your kids ride on the truck, they can actually pick up and dump dirt out of the back – and for a 3 year old, that's a big deal. Be forewarned, when it is fully charged, it moves fast. But it's really fun and my boys love it!
This is another one that's on my 3 year old's Christmas list because it's a train, it goes in the mountains, and it chugs through the train tracks by itself. It's a train lovers dream, and a mom's dream because the train doesn't come apart as easily as say the little Thomas the Train sets.
Plus the little cars turn on and move by themselves through the track!
This was one of the best things we bought while we were all stuck at home in 2020 and it's still one of the things my kids play with the most.
All BluTrack is is a track but it's flexible so you can set it up pretty much anywhere and make it create loops, jumps, whatever. My boys take it to the park with them, use it on our porch, on our swingset, and in the house. It works with just regular HotWheels cars (or any car of that same size), and my boys love using it to do races!
My son's big Christmas present from my parents this year was this KidKraft train table. To go with it we bought this Ikea bullet train that is battery operated and powers itself.
He plays with the train table night and day and the little Ikea train makes it so much better because the train goes all by itself!
Educational Gifts for 3 Year Old Boys
I try hard to make sure that all of the toys that I buy for my 3 year old are educational in some way whether they're teaching manners, building, or more literal skills like counting.
These toys made my educational toy list because they're not only educational, they're really fun, making them the perfect toys for 3 year olds.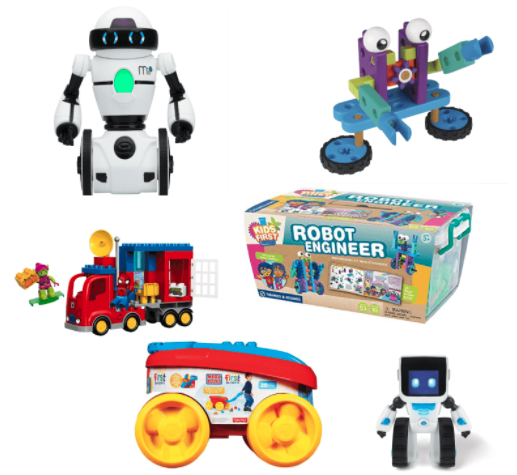 I already mentioned superhero books, but there are so many other books out there that are fun for 3 year old boys. Here's an entire list that would be great.
Or if you want specific suggestions, we love any of the Fisher-Price Imagine flap books, Don't Push The Button, and the Richard Scarry GoldBug Hunt Book. Any of my books for baby showers would also be great gifts!
There are plenty of board games out there for preschoolers and luckily most of them are actually designed to be educational.
Some of our favorites are The Good Dinosaur Roarin' River Game (a cooperative one where you play together to beat the game), Zingo (a kid-version of bingo), and TY Friends Board game (super cute and it's only $6!).
Or you can try out any of these other board games for kids!
If you want to give kids a head start in the world of coding and STEM fun, little robots can be a big hit!
This Robot Engineer is a combination story + activity toy. It comes with a set of gears and wheels that you use to create different robots that the children meet in the storybook.
It's creative, innovative, fun, and one of those toys that will actually keep 3 year olds busy for 30+ minutes. I love that it's easy enough for kids to build the robots themselves, with just a little guidance from parents.
If you'd rather not build a robot and just play with one instead, WowWee robots are the best. We have both a MiP and a Coji Robot, and they're both a lot of fun.
The MiP is perfect for younger 3 year olds who can push the button on the remote control and watch the little guy roll all over the house. My son was absolutely delighted at being able to control him without any problems at all.
If you have older kids, the MiP has a ton of other awesome features like being controlled by an Android or iPhone app and different modes like drive, dance, and battle. You can see more about all of MiP's features here.
Outdoor Toy Gifts for 3 Year Olds
Pretty much every 3 year old boy likes to run around and to be outdoors. These gift ideas are perfect for being outdoors and getting all of that energy out. From cars to drive to scooters to ride, these gift ideas are for the active, okay everyday, 3 year old boy.
When your kids ask for a pony for Christmas, it's time to finally say yes! PonyCycle rides like a real pony with an up and down movement that propels the pony forward. It has wheels on the bottom like bicycle, along with hand brakes that were easy enough to use my younger son could manage them! You can see more of how it works in this video.
It also looks like a giant stuffed pony and my kids loved it!
We have a black one and it's been tough to convince my son he can't ride his pony every time we leave the house.
They have them in a variety of sizes including one for 3-5 year olds that's perfect for the younger kids. The one we have is for 4-9 year olds (so both my boys could use it) and my younger son is almost too small for it so keep that in mind.
It also has a button that makes sounds like a real horse. So if you have a horse loving kid in the family, this one's a winner. My mom has seven horses at her house so being able to have a pony at our house has been so fun!
You can get 10% off any of their options by shopping with this link!
As my son often tells me, scooters are hard to ride. This one isn't. It's designed for the little guys with a 3-wheel stance (like a tricycle for scooters), tilt to turn steering and a 20 degree turning angle, making it much less likely that they'll fall off.
It's a great starter scooter for 3 year olds to get them ready to ride the real thing when they get a bit older. And it has an LED light that glows and lights that flash when you get on and off. That's about as cool as my son's light up shoes.
This is the ultimate remote control race car. There are a lot of race cars out there, but this one is fast, it's easy to control, and it's red. Those are three things that are essential to 3 year old boys.
It's the perfect toy for fathers and sons to play with together, and a great one to take outside to the park or in your road if you live in a not so busy area like we do.
It's nothing like this cheap preschool race car (we have this one too) that is hard to control, the Carrera remote control cars can get up to 30+ MPH and zoom up and down your street in seconds. It's seriously a dream for boys who love cars.
This play tent is so much more than just a tent. It's a tent. It's four tunnels leading into a tent. It's glow in the dark. It's easy to setup. It works inside or outside. And it has its own set of glow in the dark stars on the roof of the tent, so it's just like being outside looking at the stars when you're outside.
When we first opened this up, my son and husband played in the tent for hours – tossing balls in through the tunnels to see if they could get them to come out, setting up sleepovers with his animals and superheroes, and just crawling through the different sections.
It's simple to set up (just like a pup tent), and the tunnels come on and off quickly, so you can use it as a tent or as a combo depending on the amount of space you have. Pretty much any 3 or 4 year old boy would love having this space of their own.
Pretend Play Gifts for 3 Year Olds
These may be my favorite gifts of all because they incorporate pretend play, or imagination, even more so than the other gifts on this list. My son loves getting action figures and toys from his favorite TV shows like Paw Patrol, Lion Guard, and more so he can play out the scenes he's watched on TV in our own home.
I've included toys from all of the most popular shows on for 3 year old boys as well as some of our Netflix favorites. These are some of the best toys for 3 year olds I've found!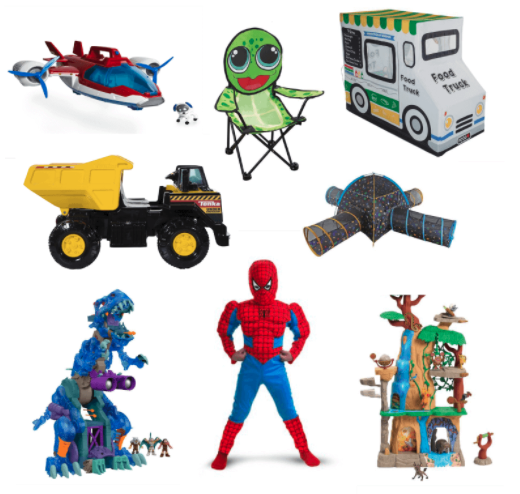 I mentioned superhero costumes in the superhero section above but another fun and reasonably priced gift ideas for three-year-olds are costumes of all sorts. My son has a knight mask he loves, a cowboy hat he wears any time he rides his PonyCycle, and just random other pieces of clothing he'll pick up and play with.
Even better if you get him a costume box full of a random assortment of things – superhero masks, pirate eye patches, foam swords, etc. It's a great way to encourage pretend play!
Pacific Play Tents has a TON of different tent and pretend play options, but the food truck is my favorite because it's gender neutral, easy to build, and something that kids will likely recognize. And I adore all the details from the menu items to the easy to get through flaps on the entrance.
It's an ideal size for a playroom and fun for kids to pretend to serve you (or their friends) food through the window. Get the food truck, this fake plastic food set, and this cash register with fake money for hours of fun pretend fun.
Figure out what they're interested and find little action figures and playsets to go with it!
Unless they don't watch TV at all, you could probably get them any Paw Patrol toy and you'd probably be fine. My son is obsessed.
We have the Paw Patroller, the Monkey Temple Playset, and the Rescue Training Playset. I'd go with the Air Patroller because it comes with Robopup, and he's not as readily available as the other pups.
If you're choosing a playset, look for one that has lots of interactive elements like this Lion Guarding Training Lair set.
Lion Guard Training Lair Play Set – From Just Play Toys, this Lion Guard Play Set is the newest and greatest addition to the Lion Guard toy lines. We were given the little figurines set when we were at Disney World last spring and this play set is the perfect place to put all of those little guys.
There are so many cool things about the play set from all of the interactive features (a zip line, a sling shot, a bunjee jump, etc.) to the light up features.
Other Gift Ideas
If you still haven't found something on this list for the boys in your life, check out these other gift guides for even more ideas!