Don't want to get your kids toys again this year? Looking for a great gift for your grandkids? These experience gifts for kids are the perfect way to get something they'll love without adding more clutter to your chaos! They're the best experience gift ideas and kids will love any of them!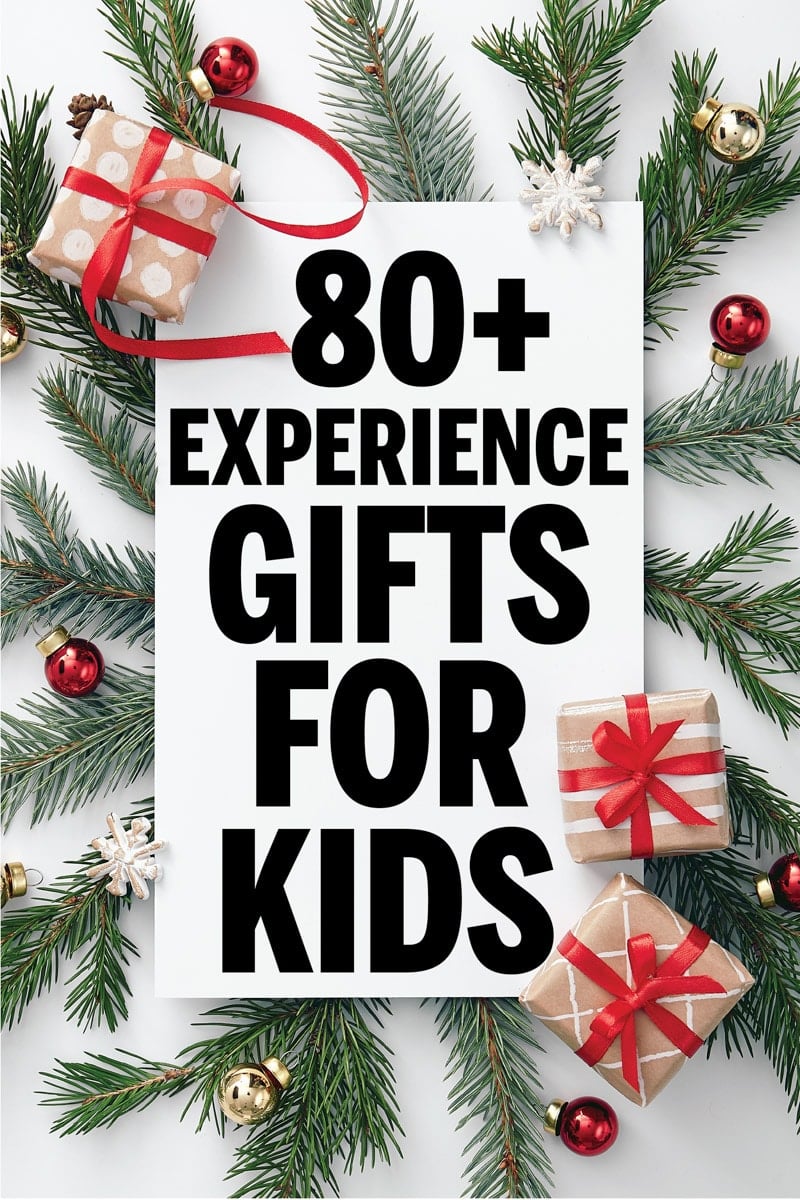 Some of the items in this post were provided to us to try out for free or were sponsored. All opinions are 100% honest and my own.
I don't know about your kids but my kids don't need a thing. No more toys, no more clothes, nothing. They have everything they could ever need and more.
So this year instead of getting a bunch of things to open (hello Nintendo Switch games), I bought my 6-year-old this Star Wars Lego set (hello Black Friday sales) and made him this monthly adventure box full of experience gifts instead of toys.
As I was putting together his present, I came across so many awesome experience gift ideas that I thought I'd share them in case you were looking to switch toys for time this year!
In my own life the experiences I was gifted are the ones I remember most – tickets to see a Broadway show, a hot air balloon ride, and a surprise trip to Disneyland come to mind immediately. So I'm totally on the experience gifts train!
Whether you're looking for gifts for 10 year old boys or for preschool aged girls, or an age in between, there's something for everyone!
80 Experience Gifts for Kids
I put down that these are for kids but honestly many of these things could be for teens or adults as well! Or if you're looking specifically for adults, something like this date night deck with coupons for experiences to go along with the date would be a great fit!
I've broken these into different categories of experience gift ideas so you can choose based on what your goals are for the gift! Feel free to read through them all or skip to whatever makes the most sense for you.
Inexpensive Experience Gifts for Kids
Family camping weekend – don't forget to make cookie s'mores while you're at it
Visit to a national park
Beach trip (make sure to take these beach must-haves along)
Bike ride + picnic (with this picnic scavenger hunt)
Hiking day
Build something together
Make a quilt together (maybe use all their old t-shirts or baby clothes)
Volunteer somewhere together
Progressive park day (try out one park then another and then another over the course of one day)
Educational Experience Gifts for Kids
If you want the experience to be more than just an experience but also something educational, these gifts fit the bill.
Lessons for Something They Love
Pick something that you think the kids will be interested in and then pay for or say that you'll pay for a year of lessons for that thing. One key to this – don't make it something that they're already doing or something you want them to do.
Make it a gift about them and something they'll be really excited to do, not something that'll end up being a chore!
Lessons that could make great gifts:
Musical instrument lessons
Theater lessons
Dance lessons
Skateboarding lessons
Art lessons
Singing or vocal lessons
Skiing or another sport lessons – check out how skiing lessons went with our son here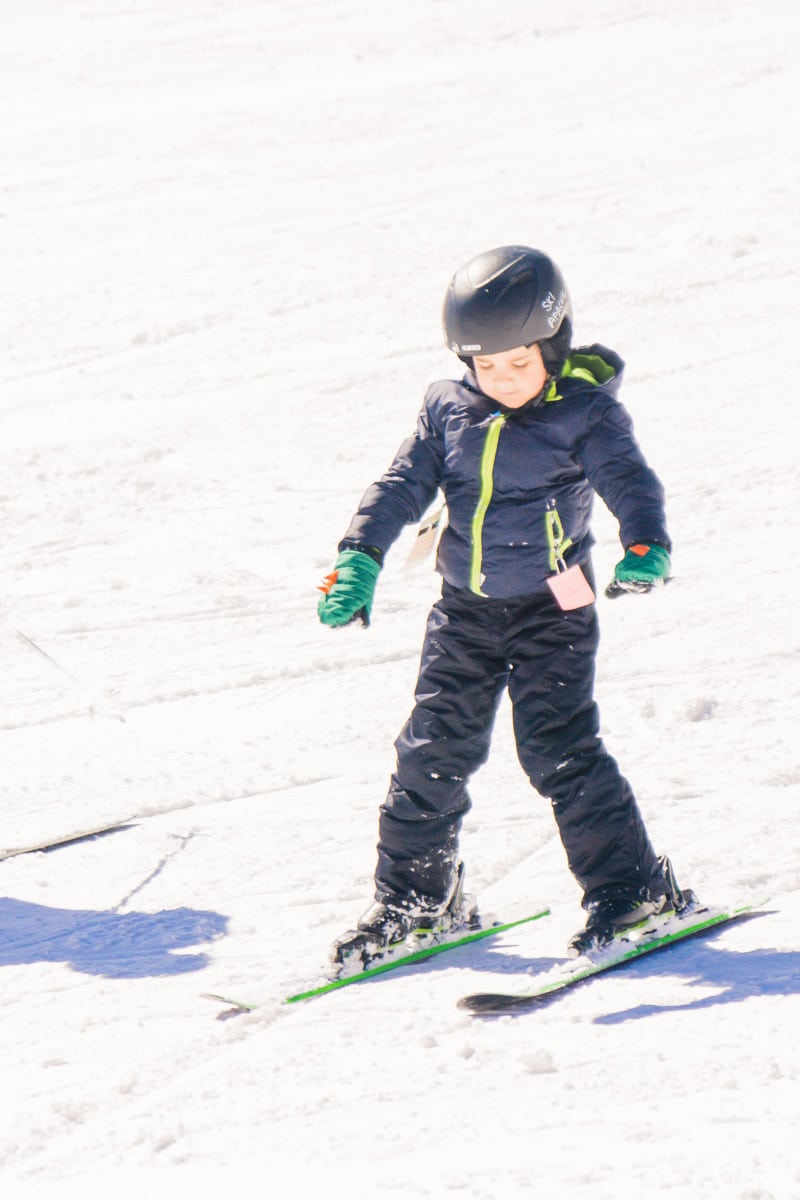 A Class of Some Sort
Have a kid who loves to cook or craft or paint? Give them a gift certificate to do a class at a local place to fit their passion. There are tons of fun classes to choose from but some of our personal favorites include:
Cooking classes
Painting classes
Pottery classes
Photography classes
Coding classes
Crafting classes
Engineering classes
Lego classes
Gymnastics or Ninja classes
Art classes
One-Day Experience Gifts for Kids
This next category is all about just gifting fun things to do. My adventure box for my son is mostly made up of these since it's more of a monthly mom and me subscription box. These are things that get you out of the house for a few hours or maybe even the entire day.
If you're going this route, I recommend doing something that kids don't normally get to do. So skip the movie tickets (although a Fandango gift card is always fun for teens) and use that money for Disney on Ice tickets instead. Otherwise, it won't feel as much like a gift as it will just another day going out with mom and dad.
Here are some great ideas to help you come up with the perfect experiences gifts for your own kids! You'll notice I skipped basic things like miniature golf, movies, and a fun dinner out and focused more on actual family adventures and special occasion type gifts.
Water park
Local amusement park – check out why Sea World makes a great experience gift here
Concert for one of their favorite artists or shows
Disney on Ice tickets
A live performance like Jurassic World Live, Marvel Live, Paw Patrol Live, etc.
Monster Truck tickets
Tickets to a local sporting event
Circus/acrobatics class
Ropes Course
Zip lining
Indoor skydiving
Thomas the Train or Polar Express train ride
Top Golf night – you can see my review and experience at Top Golf here
Horseback riding
Fishing adventure
Hot air balloon ride (one of my all-time favorite gifts from my parents)
Pedicure or spa day
Broadway musical tickets (make sure it's something kid-friendly like Wicked or Matilda)
Theater in the park tickets
Fancy tea party
An animal excursion of some kind
Ballet tickets for something like Nutcracker
If you can't get to an actual ballet, Fathom Events is actually showing a recording of the Bolshoi Ballet: The Nutcracker in select movie theaters December 19th and 20th this year.
While I mentioned that movie tickets wouldn't be the best experience gift, going to see The Nutcracker ballet in theaters is a cultural experience and one that I personally think kids would love!
Grab your tickets here then make a day out of it with a fancy dinner before the show or maybe a yummy dessert after! Get all dressed up just like if you were going to the actual ballet to turn this into a great experience for everyone involved!
Fathom also has a number of other similar events coming up so if you can't make it to The Nutcracker event in December, you could also get tickets for upcoming performances that kids may enjoy such as Cinderella.
Annual Memberships and Subscriptions
Another great gift for kids is an annual membership or subscription – it's the gift that keeps on giving because they get to either experience it or receive something new throughout the year, not just once.
Annual Memberships
When we were in Texas and my son wasn't in school yet, we had annual memberships to a number of the local places so we could get out of the house without paying extra every time. Annual memberships are a much cheaper route to go if you know there's somewhere your kids like to visit regularly.
This is also a great gift for grandparents to get kids, especially if they can find a time to go with them! These are just a few of the places I know offer annual memberships that kids would love!
Another great option if it's available in your town is a POGO pass that gives you free admission to a number of local places all for the price of one pass! It's WAY cheaper than paying for each individual admission and might be a better option if you think the kids would rather go to a bunch of different places than one all year long.
Monthly Subscription Boxes
Another fun option is a monthly subscription box that is exactly what it sounds like – a monthly package delivered directly to your kids for the year. They typically offer options for 3-month, 6-month, and annual subscriptions with the annual option coming at a heavy discount compared to the other two. Not really an experience they'd go do but something to do at home!
We've been doing Little Passports all year and my 6-year-old absolutely loves it. Every time we check the mail he says I hope there's a Little Passport in the mail!
And I love that it's a package for him that's full of fun and educational activities we can do together (or he can do on his own). I'm also a huge travel addict so anything that gets him excited about other countries is a plus.
Check out Little Passports here.
More Subscription Boxes
Need more subscription box ideas? Here are some that I've been looking at getting for my kiddo next year that look fun!
Green Kids Crafts – STEAM focused activities for 2 to 10 year olds
Kiwi Co – science and art projects customized for your kids' age and interests
Amazon STEM Club – A monthly box filled with STEM toys for your kids' ages – save 40% on the first box here
BookRoo – A box with 2-3 books picked out specifically for your kids' ages from board books to chapter books
We Craft Box – the perfect gift for kids who like to craft, comes with everything you need for 2-3 crafts each month
Highlights Top Secret Adventures – a monthly box full of mystery adventures and puzzles (we just bought this one for my kiddo)
Young Chef's Club – A monthly box filled with activities and experiments related to food – perfect for those little budding chefs
Book of the Month Club – I did this for myself but they also have a young adult option that would make a fun option for teens
Candy Club – Want to send something sweet every month? Candy club is a fun choice for a monthly sweet treat!
Bigger Experience Gifts
Last but not least if you have a bit more budget or are planning on doing like an entire family gift, some of these bigger experience gifts might be a good fit!
These are some of my personal favorite gifts because I've personally seen the memories that can come out of these type of trips, even with younger kids! Those memories are totally worth the money for me!
Experience Gifts FAQs
What Are Experience Gifts?
Not sure what I'm talking about? Experience gifts are things that you experience – things you get to do or try out instead of just things to open and play with.
Why Experience Gifts for Kids?
I said it once already – time is way more valuable than another toy. But experience gifts are about more than just spending time making memories together. They're called experience gifts for a reason – they give kids a chance to learn something, try something new, experience something.

And that's way more valuable than another thing to play with.

If you don't wan to do away with tangible gifts all together, try doing something like five gifts per child and include a few actual things to open (bonus if they're one of these personalized gifts for kids) plus an experience gift or two!
How to Gift Experience Gifts?
Since you're likely going to be spending a little more on an experience gift, you'll likely have less things to open. So make the gift process an experience fun too! Here are three of my personal favorite ways to gift experiences!

Try putting it a t the end of a Christmas scavenger hunt or on the back of a puzzle like I like I did with this Christmas family gift or putting it on these printable Christmas coupons

Other Gifts For Kids
These may not be experience gifts but they're still great for kids!