This is a sponsored post written by me on behalf of Cricut. All opinions are 100% mine.
Make these easy back to school teacher gifts in minutes with any Cricut machine, a few items you have around the house, and pre-made card and iron-on designs!
With two simple options to choose from, teachers everywhere will love to receive the personalized tote bag and/or back to school card!
Easy Back to School Gifts
This year back to school season is definitely different than years in the past. I always like to support teachers since they're doing so much for our kids on a daily basis during the school year.
Last year I cleared a bunch of random teacher's lists by sending out games and other fun back to school activities teachers were asking for.
My son is still headed back to school in person, for now, so I thought this year it would be fun to come up with some simple back to school teacher gifts I could send in with him the first day. Plus a couple for neighbors who are teachers – keeping things local.
The two gifts I came up with both use an apple theme, so they can be given either together or separate if you just want to stick with one or the other. They'd also be super fun used with these apple party ideas!
And they literally take minutes to make. Seriously, minutes. Like five minutes. No matter how busy you are right now (and we're all SO busy), you have minutes to make a quick teacher thank you gift.
Oh and they're personalized, which to me really takes gifts to a whole other level. One is personalized with a name and the other is personalized by interests but more about that to come! You could also add one of these teacher appreciation gifts tags with a note but that's just an added bonus!
Supplies
Supply Notes
There are three main items missing from the photo above that you'll also need – a Cricut machine, a Cricut mat, and a Cricut EasyPress (or an iron).
Cricut Machine – I used my Cricut Maker but these gifts could be made with a Cricut Maker, a Cricut Explore Air 2, or even a Cricut Joy.
Cricut Mat – I used a LightGrip mat to cut and score the cardstock and a StandardGrip Mat to cut the iron-on vinyl. The variety pack is great!
Cricut EasyPress – I used a Cricut EasyPress 2 but if you don't have an EasyPress, you can use an iron as well. Then order an EasyPress because they're amazing. One of my must-have Cricut Maker accessories for sure!
Everyday Iron-On – I used this Cricut Everyday Iron-On in white but depending on the color of your tote bag, you could pick any of the colors available!
Scoring Wheel – If you are using a Cricut Explore Air 2, the scoring stylus will work okay for this project, but the Maker's Scoring Wheel Tip is better.
Cricut Iron-On Designs – This is the apple teacher design I used, but they offer a ton of other options as well, including others that might be even better for the teacher you're gifting.
Tote Bag – You could get these Cricut Totes and just add the name underneath the iron-on design or pick out your favorite tote bag with block coloring like I did.
Gift Cards – Choose a gift card for a store, restaurant, etc. that starts with an A. I've included a good list to start from under the card instructions below but the goal is to get something your teacher will want and use.
Weeder – Cricut has a great weeding tool set but as long as you have one weeding tool, you're golden.
A is for Card Instructions
The first part of this gift is a simple homemade card that's designed for you to add a gift card.
When I've talked to teachers in the past, the number one thing they actually want to get is gift cards to buy the things they need. Or to just enjoy their time off a little easier.
So I made this card specifically to hold a gift card so you can still do something handmade and special while giving teachers what they want.
This works both for in-person teachers, friends you know who are teachers, and let's face it – you, if you're homeschooling, and the teacher. A is really for anything you want it to be!
1 – Print and Cut
I've already created the design for you using Cricut Design Space. Get started on your project by opening the design here.
Once it's open, click make and it will prompt you to print the designs. Print both the apple page and the gift card (rectangle page) on white cardstock. Print as many copies as you need then move onto the cutting part.
To cut, make sure your Cricut machine is connected, add your print out cardstock onto a LightGrip mat, and load it into your machine. Follow the prompts in Cricut Design Space to tell it to cut the design.
It's just squares, so it should cut fast. Once the first one is done, load another one, and keep going until you have all the card pieces cut.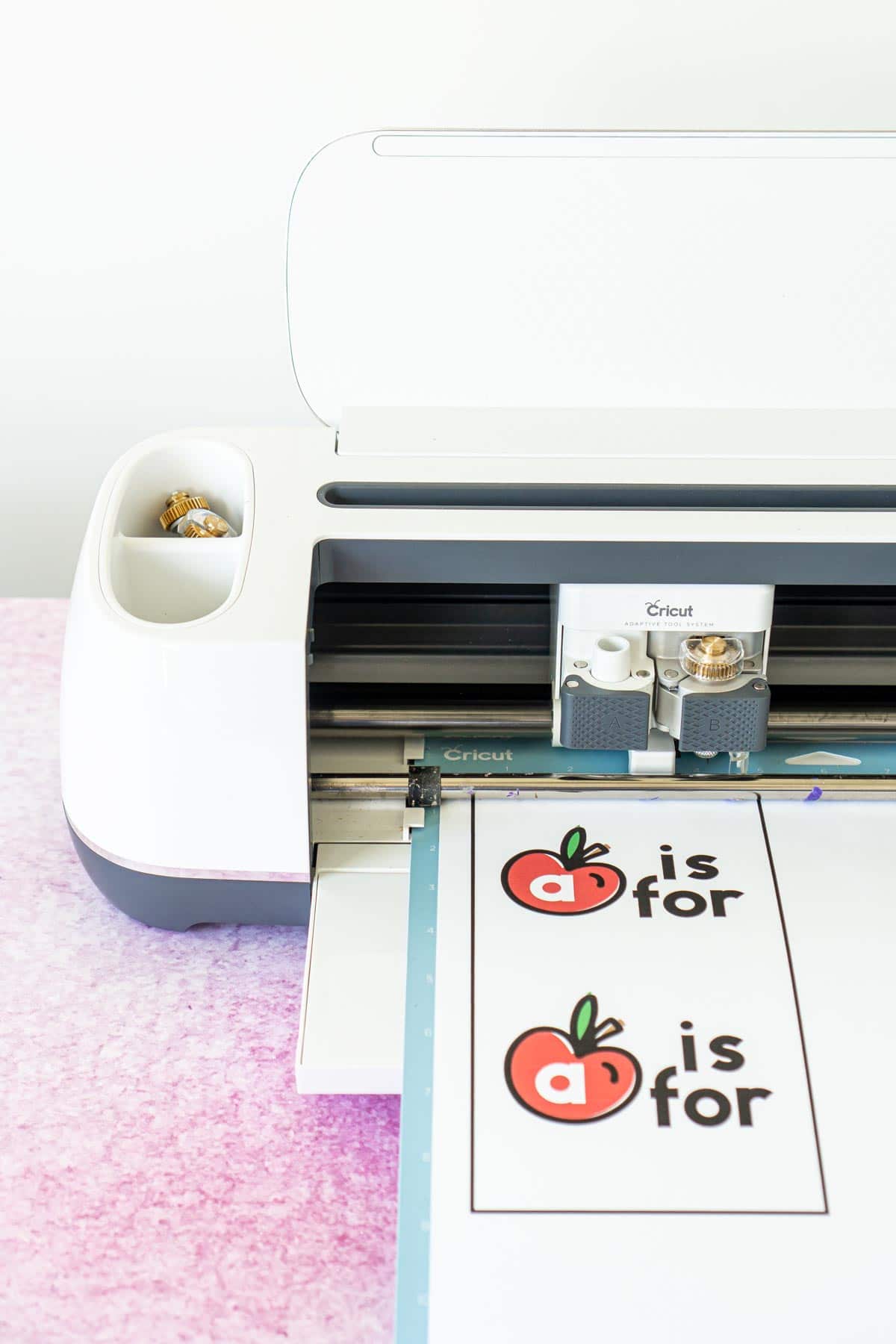 2 – Score and Cut
Next you're going to add red cardstock to the LightGrip mat, load it into your machine, and switch to a Scoring Wheel (or the scoring stylus). Select the red card portion in Cricut Design Space and tell it to score.
If you've never scored paper with your Cricut before, it's kind of amazing. It literally just creates a score line for folding without any cutting. It's precise and helps with perfect cards.
Once it's done scoring, switch back to the Fine Point Blade to actually cut the cardstock.
3 – Complete the Cards
Once all of your pieces are ready, it's time to put the cards together. Grab some double-sided tape, your gift cards, and a pen for adding a personal note when they're all done.
Add double-sided tape to the apple piece of the card and tape it onto the front of the card.
Do the same with the outlined square portion and put it on the inside of the card.
Then add one piece of double-sided tape to the gift card and line it up in that outlined rectangle and press it on firmly.
Add a personalized note or signature and your cards are done!
Gift Card Ideas
I mentioned that I'd give you some good places to get gift cards that start with an "A." Pick whichever one makes the most sense for your teacher to personalize their gift!
Aldi
Apple
AMC
Amazon – always a good generic option if you don't know their interests
Applebee
Academy Sports
Arbys
Au Bon Pain
Auntie Anne's
Ace Hardware
American or Alaskan Airlines (hey, a teacher can dream right?)
American Express
Adidas
Albertson's
A&W Restaurants
Alamo Drafthouse Cinema
Andy's Frozen Custard
Tote Bag Instructions
Now that the cards are done, it's time to show you how to create these quick personalized teacher tote bags.
1 – Add the Design
I loved this particular Teach Love Inspire pre-made Cricut Iron-On Design and thought it would be great on a large tote bag for teachers to use to bring supplies, library books, papers to grade, whatever.
I used a Cricut EasyPress to iron it onto my tote bags, but you could also use a regular iron if you don't have an iron-on.
It took exactly two minutes from start to finish. Just open the package, put the iron on design (with the backing over it) onto the bag where you want it, press it on with an iron or EasyPress (specific timing + instructions come with the package).
Let it cool for a few minutes before peeling the backing off slowly.
2 – Personalize the Bag
If you want to personalize with the name like I did, that's a piece of cake.
First, measure how big you want the name to be using a ruler or measuring tape.
Then open Cricut Design Space. Choose the option to add text, choose your font, and write out your name.
Once you're happy with how it looks, click the button to make it. Select the option under mirror to mirror your design then click continue.
Place the everyday iron-on vinyl shiny side up on a Cricut StandardGrip mat then load it into your machine.
Follow the prompts in the cut window to cut your name out, just like if you were cutting our the text for these matching Disney shirts.
Once it's cut, peel off the vinyl, leaving the name on the plastic backing. Use the weeder to get out any of those smaller pieces like the middle of a's and e's.
If your EasyPress or iron aren't still warm, heat them back up. If you're not sure how hot and how long to press the vinyl, here's a handy heat guide!
Place the vinyl onto the bag with the plastic backing facing up. Use the EasyPress or an iron (follow the settings from the link above) to press the vinyl onto the bag. Once it's done, make sure it's completely on the bag then gently peel off the backing.
3 – Fill the Bag
Add the A is for card from above and some school supplies for the easiest personalized back to school teacher gifts ever.
Expert Tips
Make sure to let iron-on design cool before peeling it off. If you peel it off when it's still too warm, it may not adhere to the surface as well.
Print and cut in bulk if you're making more than one card. Print all of them at once then move onto cutting so you don't have to switch between settings, blades, etc.
Use the EasyPress to get out wrinkles before you start ironing on the iron-on design or the vinyl letters. Wrinkles in a shirt are okay but wrinkles in a tote bag make it really hard to get vinyl to adhere properly and can ruin your design.
A is for anything you want it to be. If there's another gift card or something else that makes more sense (a coupon for volunteering your time, money for supplies, etc.), go for it. This is about doing what will make the person smile the most!
More Easy Projects
Looking for other easy Cricut projects? These are a good place to start!