This Christmas gift exchange poem can make a Christmas gift exchange just a little more fun! Simply read the poem, pass your gifts left and right when the words are read, and laugh along the way.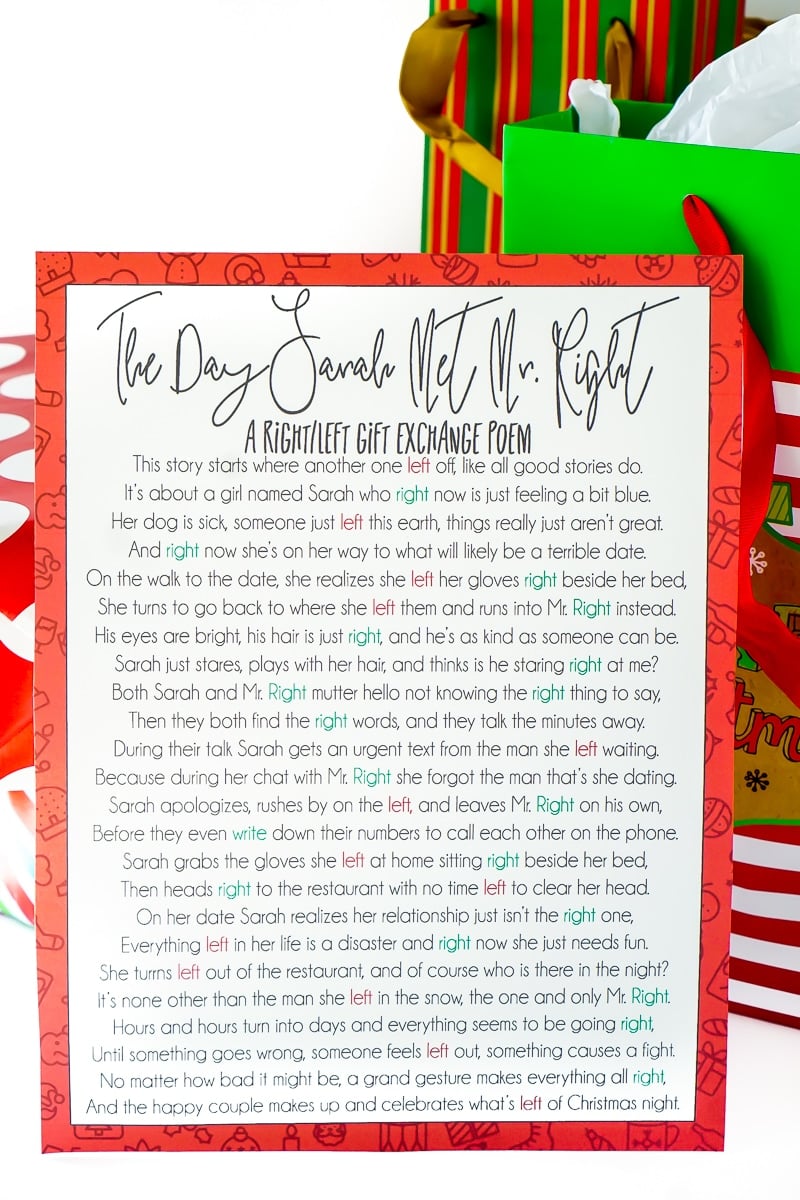 This post contains affiliate links to products for your convenience. If you purchase via my links, I may receive a small commission at no additional cost to you.
A Left Right Christmas Gift Exchange Poem
With all of my other gift exchange games, I've had a ton of people email me and ask for a printable left right Christmas gift exchange poem. I've only ever played the game two or three times so never wrote my own poem up until now.
This Christmas gift exchange poem is inspired by all of those awesome Hallmark movies where the girl meets Mr. Right. I'm working on a more generic version but after watching all sorts of movies the past week, this story just kind of wrote itself! But first, let's back up a bit.
What is a Left Right Gift Exchange?
The right left Christmas gift exchange is one I've seen played at numerous parties, and I hear about pretty much every single year. It's simple and a great way to pass gifts around in a funny way.
There are tons of poems out there if this one doesn't work for you – ones about the Wright Family, ones about Frosty, ones about Rudolph and more. These are some of the cutest ones I've seen (other than my own, of course).
How Do You Play the Right Left Christmas Game?
The game really just consists of everyone bringing a wrapped gift, everyone sitting in a circle, and everyone passing gifts left or right when someone reads the words "left" or "right" (or write) in a poem. Then at the end of the poem everyone opens the gift that they have in their hands.
I highly recommend telling people to bring either white elephant gifts or unisex gifts that anyone will like since it's totally the luck of pass on this one!
It can be pretty hilarious to watch, especially if the person reads the story fairly quickly and there are a lot of lefts and rights in the story! And when I say story, it can be a story or a poem or really whatever. I chose to do a poem because well I like to rhyme!
My left right poem is all about the day Sarah met Mr. Right but honestly you could substitute the word Sarah with whoever you want, it was just a name that popped into my head! You can watch how to play this game in the video below!
Get the Free Printable
Enter your first name and email address below to get the free printable. You'll be immediately taken to the PDF to download and receive a copy to your email shortly after. If you can't see the form below, click here to get to the form to enter your info.
Want more gift exchange game ideas?
Get the ultimate gift exchange game bundle! The best gift exchange games all in one printable PDF – instructions, printable cheat sheets, printable playing cards, and more! Click on the image below to check it out.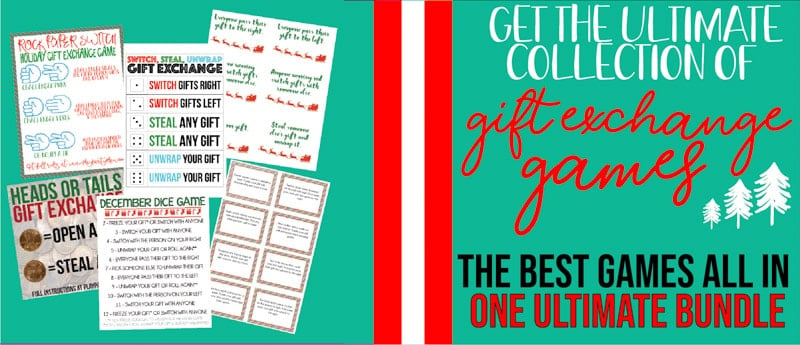 Don't forget to pin this right left Christmas poem for later!