These cute dinosaur valentine cards are perfect for handing out with any sort of dinosaur toy or goodie for Valentine's Day! They're great for dinosaur lovers or anyone who wants to tell someone happy Valentine's Day and that they're t-rexiffic!
My boys have both loved dinosaurs ever since they were little, especially my oldest. There's just something magical and mystical about dinosaurs I guess.
Or maybe it's just fun to roar like a dinosaur or stomp like a dinosaur. Or stop and take a rest when you reach your nest. I digress.
With their dinosaur fascination, I knew I needed to make some printable dinosaur valentine cards that they could give out to their friends with the little toy dinosaurs my oldest son has been collecting for years!
And who doesn't love good dinosaur puns? I hope you do because these free printable dinosaur valentines a filled with them!
So this year we're doing dinosaur valentines, penguin valentines, and also frog valentines because dinosaurs and reptiles are our current household obsessions.
Or you could even use both of them (and some of these other Valentine's Day cards for kids) and put a bunch of little treats at each stop on this Valentine's Day scavenger hunt.
Dinosaur valentine designs
Unlike some of my valentines that have multiple designs (talking about you Baby Yoda valentines), I just made one design of these dinosaur valentines but in two different colors.
Well, sort of.
There are two versions of the same dinosaur valentines in the PDF file – one with a white background and one with a colored background. I personally love the colored but know some parents don't want to use all that ink, so I offer a white colored one as well.
Other than that, these are the same. I recommend printing either on white cardstock that's sturdy enough to feel like the store-bought cards for the best results! Oh and a paper cutter makes cutting much faster but you're not going to be cutting that many so scissors work just fine as well!
They're perfect for little dinosaur fans to give out to all of their other dinosaur lover friends! I just think they're so much fun and not too lovey dovey!
Let kids write their own message on the back of the cards (if they want) or just sign their name then hand out at their classroom party or during a valentine card exchange with friends!
Dinosaur Valentine Ideas
I could go on and on about the different things you could give out with these dinosaur valentine cards, but I won't.
Instead I'll just share a handful of my personal favorite ideas – you could obviously do anything dinosaur shaped or themed as well! Or go Valentine's Day themed and give out anything that might be a good Valentine's Day party favor instead!
These are just some of the unique things that would be fun to do!
Dinosaur Gift ideas
Dinosaur pullback cars – you could give these out these with dinosaur valentines or these car valentines if you'd rather!
Dino digging eggs – these are fun because not only are they a toy, they're an activity (digging) as well!
Dinosaur gummies – my boys love these and they'd be great with these valentines!
Dinosaur crayons – these are so cool!
Dinosaur sunglasses – as I was sitting here, my son already said he wanted these, so you know they'll be a hit!
Dinosaur erasers – these ones are more fun than the super little cheap ones (like in my picture below).
Mini dinosaurs – this one is pretty obvious but who doesn't like those small dinosaur toys?
Dinosaur coloring book – if you want to do an activity more than a prize, give out these little mini coloring books and some crayons with the dino cards!
Dinosaur fidget – this fun dinosaur fidget would be the perfect addition to these cards for kids of all ages!
Dinosaur keychains – these cute dinosaurs are stuffed and on a keychain, perfect for hanging from backpacks!
You could even grab a few of these dinosaur item and put them in a small plastic bag, add the dinosaur-themed valentine cards signed with your child's name, and give it all together! You're guaranteed to make every child in the class's heart saur!
Or just use a hole punch to punch a hole in the corner of one of the free printable Valentine's Day cards, add a string, and tie it to whatever gift you're giving if it's larger! Or let the kids do it – it's a really fun activity for them to be involved in!
More Valentine's Day Printables
If you like these free printable dinosaur valentine cards, make sure to check out these other fun free printables!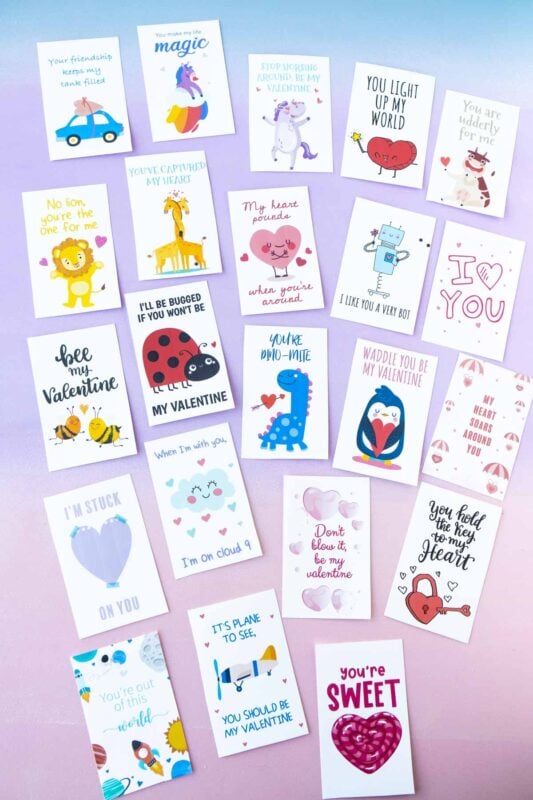 want more Valentines??
Download the Free Printable Valentines
Enter your first name and email address in the form below to get the printable PDF. You will receive a link to download the PDF to your email within minutes.
If you do not see the form, click here to get to it.
If you'd rather not provide your email, you can get a copy in my shop here.
If you do not receive the email immediately after you fill out the form, make sure to check your promotions, spam, and junk folders! Emails will be sent within a few minutes.
The file will include both the dinosaur valentine cards with a white background and the cards with the blue background.
Please note that these are digital files, which makes them perfect for printing out last minute dinosaur printables since nothing will be delivered!
All you need are the digital download, some white card stock (for printing), some craft supplies, and little gifts to go with them! It's a super fast way to make these DIY dinosaur valentine cards and be the perfect Pinterest mom you've always wanted to be (or not, ha).