These fun Valentine's Day would you rather questions are great for getting some fun and silly discussions going on Valentine's Day! Just ask the questions or use them to play a game with your group in pairs!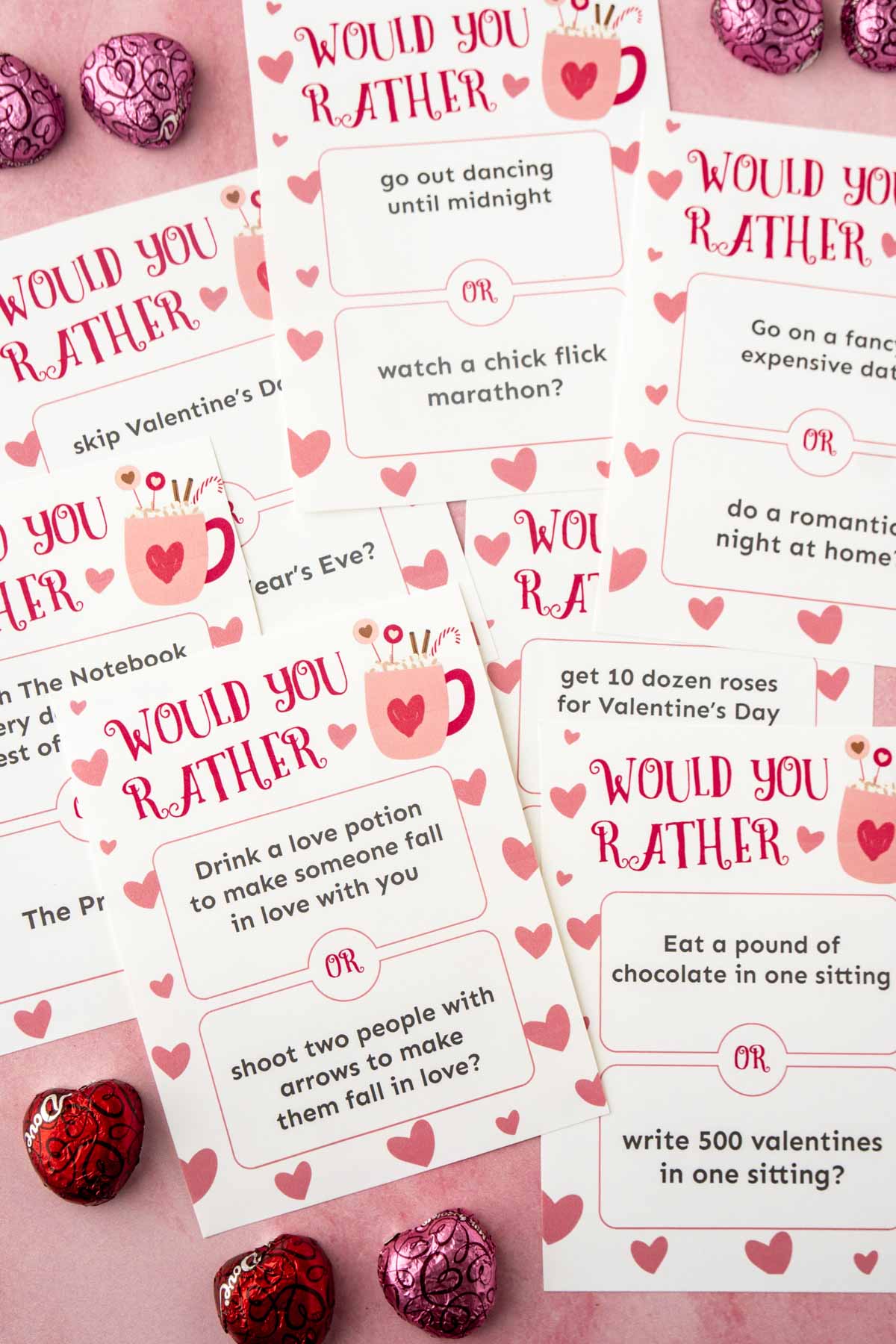 This year's Valentine's Day may look a little different than years in the past. Instead of playing classroom Valentine's Day games, kids are playing virtual Valentine's Day games.
Couples are grabbing curbside takeout or enjoying dessert at home after the kids are in bed. And people are shopping online for things to upt in a Valentines Day basket instead of shopping in stores.
That doesn't mean you can't still celebrate and have fun for Valentine's Day! Today I'm sharing the first of five brand new Valentine's Day party games – except they are all games you could play with just your family or even virtually!
These would you rather questions are great for all ages, perfect to play with a large group or a small one, even just your own family. Plus, they're perfect for playing together in person or virtually!
Supplies Needed
You don't need much to play this game! In fact, pretty much everything is included in the PDF at the bottom of this post – unless you're going to do this game style with the competition factor I've included below.
Then you'll need:
Printed out cards (or question list) – get the file at the bottom of the post or in my shop here.
Scorecard (if keeping score)
Prize (if keeping score)
If you want to use these again and again, I recommend printing on white card stock then laminating. I have this laminator and these laminating pouches that I use all the time. They're super easy to use and work great!
How do you play would you rather game?
Most people know the basics of would you rather questions, but I've come up with three different ways to use these cards, including two that are more games than just asking questions.
I just did style two with our Christmas would you rather questions, and it was so much fun! Any of these styles work well for both in person and virtual, and I've made notes about those in each of the descriptions below.
#1 – Everyone Answers Everything
The first way to use these cards is the most typical – simply choosing an answer to each question. Pick one question and have everyone choose their answer.
Or pick just one person for each question and have them answer if you have too large of a group for everyone to answer.
These would be great for a virtual Valentine's Day call, a classroom party where you need to keep everyone engaged, or even as a fun family night.
If you are playing in person and want to make it a little more active, try this alternative. Ask the entire group the question and point to one side of the room for the first answer option and the other side of the room for the other answer.
As soon as you're done reading the question, everyone should move to the side of the room that represents their answer.
When you're ready for the next question, have everyone go back to the center before reading off the next question.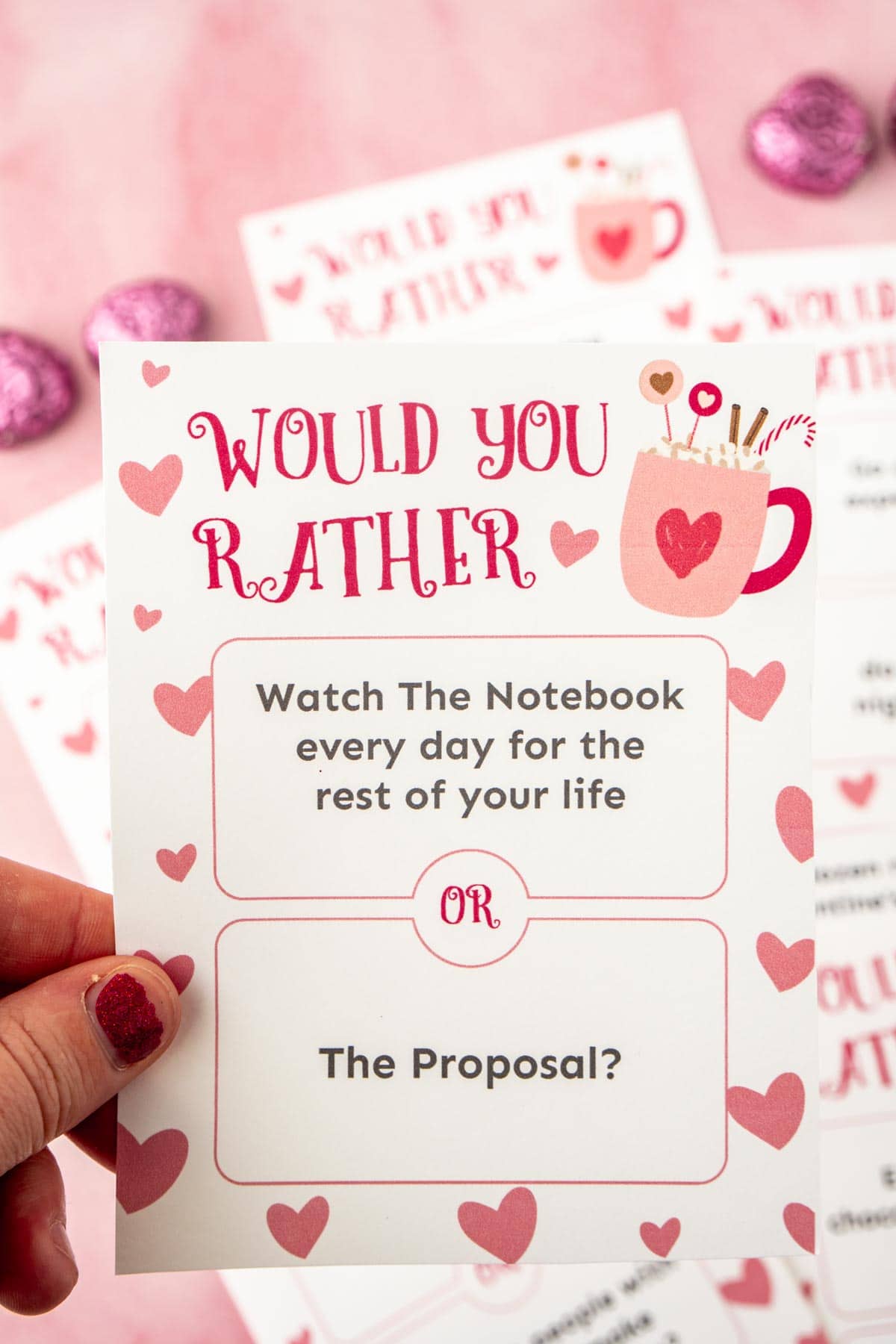 #2 – Two-Person Challenge
The second way to play is my personal favorite since it tends to be the most hilarious, and you know I like hilarious party games! You can see this game in action in my New Year's Eve would you rather questions video.
Start by splitting everyone into pairs. If you don't have an even number, you can make a group of three but only two players should play any given question.
Ask an individual pair a question and count to three. On the count of three, have them say their answer out loud. If they match answers, they get a point.
It can be hilarious because both players are analyzing whether they want to answer their correct answer or try to answer what they think the other person will answer.
Then either move onto the next pair or keep asking that pair questions until they don't match, earning points for each question they match correctly.
The pair with the most points at the end of the game wins!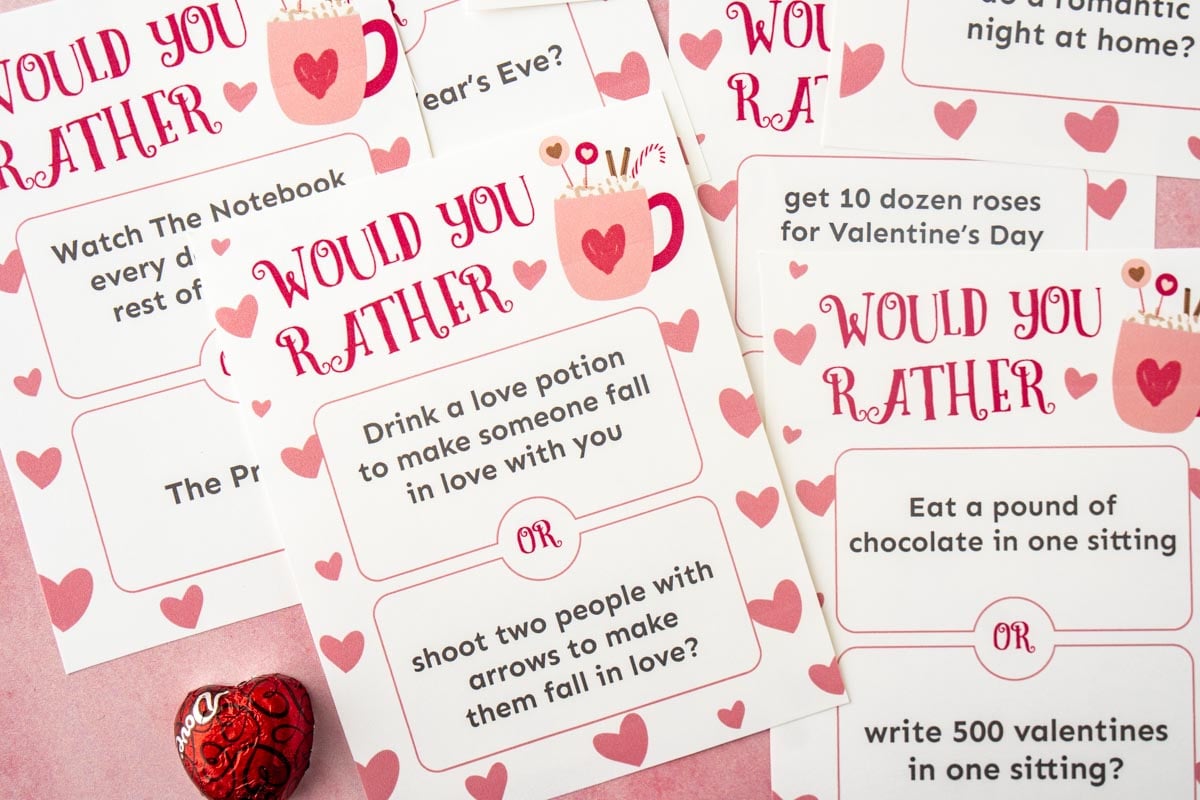 #3 – Majority Match
If you're playing this version, give everyone a paper and pen before you get started. They'll need it to write down their answers.
You could also just give people cards that have 1 or 2 on them, that might be the easier route.
Ask one of the questions and have people write down an answer – they are trying to guess what they think the majority will guess. Or if you're using cards, have them choose one and place it face down in front of them.
On the count of three have everyone flip over their answers. Anyone who gets the same answer as the majority of the group gets a point. Ask another question and do the same thing.
The person who has the most total points at the end of the game wins.
Expert Tips
Ask one person to answer a specific question on screen and have others answer in the chat box if you're doing this virtually and don't have time to have everyone answer each question individually. That'll help keep people more engaged when it's not their turn to answer.
Laminate the cards and save them for next year.
Choose pairs either randomly using playing cards (two matching cards per couple playing) or pair couples together.
Let people ask their own questions once you've gone through yours or if they're dying to ask some. You'll be surprised how creative people can get!
Game FAQs
How do I download the questions?
Fill out the pink form at the bottom of this post with your first name and email. The questions will be emailed to you immediately. Or you can get a copy in my shop here.
What happens in would you rather?
Someone asks a question and either one person or everyone answers which of the two scenarios they'd rather do. Everyone gets to laugh and get to know each a bit better.
Valentines Would You Rather Questions
If you're just looking to grab a question or two to ask, here are all of the questions in the printable! If you want to print these, make sure to download the file at the bottom of this post!
Drink love potion to make someone fall in love with you or shoot two people with arrows to make them fall in love?
Watch the Notebook every day for the rest of your life or The Proposal?
Go on a fancy expensive date or do a romantic night at home?
Eat a pound of chocolate in one sitting or write 500 valentines in one sitting?
Get 10 dozen roses for Valentine's Day or 10 pounds of chocolate?
Go out dancing until midnight or watch a chick flick marathon?
Have a couple's massage on the beach or hang out in a hot tub on top of a mountain?
Skip Valentine's Day or skip New Year's Eve?
Celebrate Galentine's Day with Amy Poehler or celebrate Valentine's Day with Nick Offerman?
Go on a date to take dance lessons or go to a cooking class?
Have warm chocolate lava cake for dessert or crème brulee with strawberries?
Live in a romantic comedy or a superhero movie?
Be part of the cast of Bridgerton or part of the cast of Emily in Paris?
Spend a weekend in Paris, the city of love, or Philadelphia, the city of Brotherly Love?
Be serenaded by one of the Jonas Brothers or by Ed Sheeran?
Eat a dozen chocolate covered strawberries or three whole candied apples?
Be proposed to in front of a huge crowd of people or alone in a room full of candles?
Cuddle in bed with a puppy or with your significant other?
Date Chris Evans or Chris Hemsworth?
Kiss Iron-Man or Spiderman?
Eat chocolate covered crickets or candied worms (actual worms)?
Fall in love with Quasimodo or with an unchangeable beast?
Have been on the Titanic or taken a Walk to Remember?
Attempt to do the Dirty Dancing lift or the final dance in Step-Up?
Rewatch the entire Twilight series or rewatch all of Gossip Girl?
Be a star in Breakfast at Tiffany's or My Best Friend's Wedding?
Be Cosette from Les Miserables or Christine from Phantom of the Opera?
Wear pink every Wednesday for the rest of your life or eat fat filled protein bars for breakfast every day?
Kiss someone with bad breath or eat escargot?
Go to a spa resort for an entire day or spend the day at Magic Kingdom?
Receive a personalized I love you book or receive a book of Valentine's Day coupons?
Hold hands with someone during a movie or have someone's arm around your shoulder during a movie?
Marry your best friend when you turn 40 even if they're not attractive or marry someone who is attractive but regularly rude to others?
Fall in love with a wedding singer or with someone who has short term memory loss?
Fall in love at first sight or fall in love over years of friendship?
Read a Nicholas Sparks book or a Jane Austen one?
Recreate your first date with your significant other or do something totally new for Valentine's Day?
Receive a mailbox full of love letters or be serenaded with an original song?
Have Aphrodite's love or her beauty?
Act in a production of Romeo & Juliet or act and sing in a production of Grease?
Go on a gondola ride in Venice or a hot air balloon ride over Napa Valley?
Watch a sunset in Santorini, Greece or a sunrise in Sydney, Australia?
Only kiss only person ever in your life or never be in a real relationship?
Get a handwritten personal card for a valentine or a dozen of your favorite flowers?
Kiss a frog or snuggle with a snake?
Dress up as Cupid or dress up as the Easter bunny?
Have a dole of doves or a tank full of lobsters loose in your house for a day?
Have someone build you your dream house or do anything you wish for a year?
More Valentine's Day Games
Download the Printable
Enter your first name and email address in the form below to get the printable PDF. You will receive a link to download the PDF to your email within minutes.
If you'd rather not provide your email, you can get a copy in my shop here.
If you do not see the form, click here to get to it.
The PDF will include:
Instructions
48 would you rather question cards
Would you rather questions in list form (if you don't want the cards)
If you do not immediately receive the email, make sure to check your promotions, spam, and junk folders!