Whether you're shopping for her, for him, or for the kids, these DIY Valentine's Day basket ideas can help! Fun ideas to put in the baskets plus free printable Valentine's Day gift tags to finish them off!
I'm a big fan of gift baskets, especially when those gifts baskets are personalized to the people you're gifting them to. It's just a fun way to give people a lot of little things in one cute way.
I've already shared gift baskets for out of the blue gift ideas, orange gifts, college care packages, get well soon gifts, and even chick flick gift baskets. So it's about time that I share some fun Valentine's gift basket ideas – complete with a free printable gift tag of course!
This post has gift basket ideas for her, for him, and for the kids – both for one individual kid and also ideas for if you're gifting to multiple kids (say for example at the end of this Valentine's Day scavenger hunt).
Valentines Day Basket Supplies
One of the most fun parts of these gift basket ideas is picking out what goes in them. We'll get to that in a minute but other than that, you'll also need: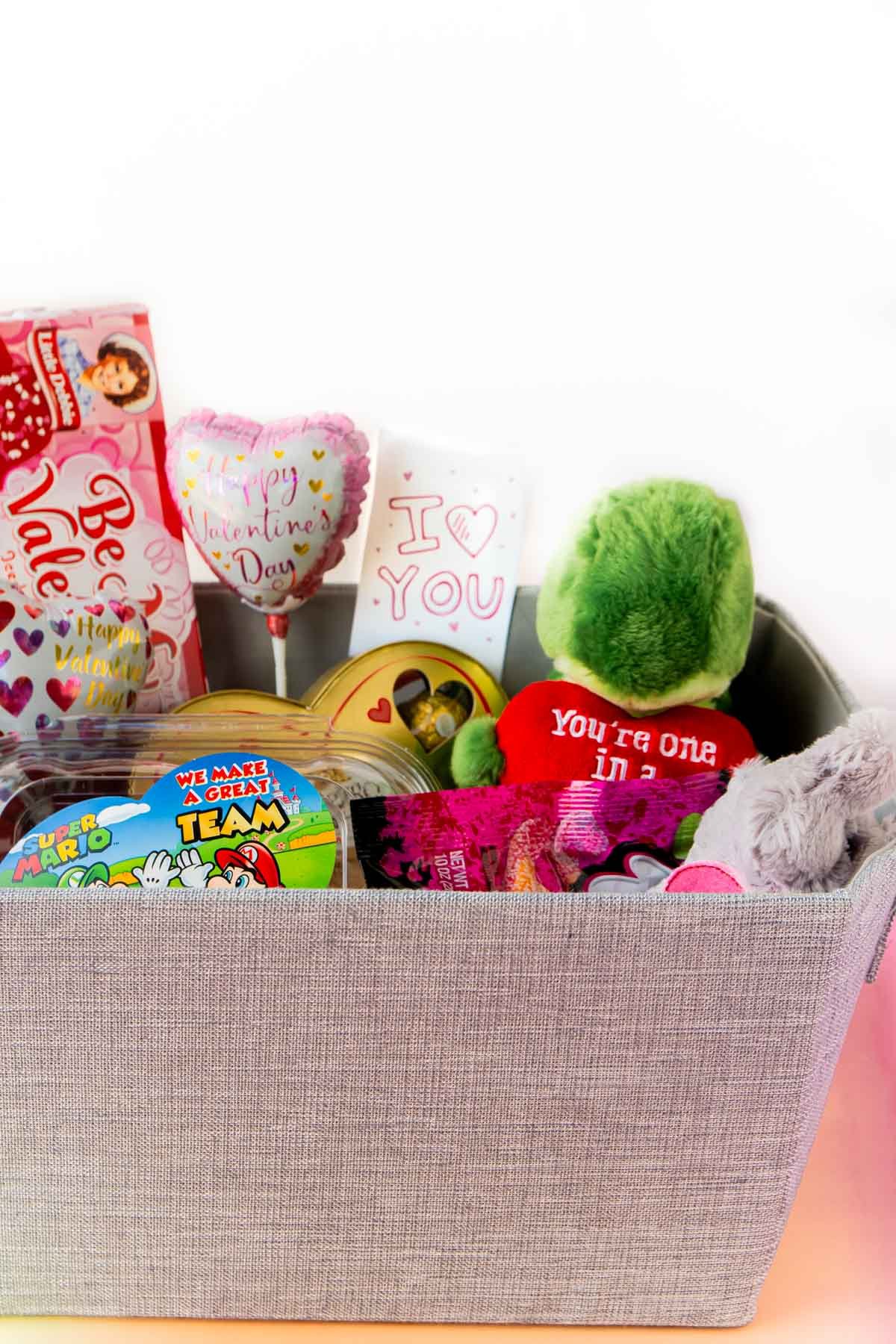 What to Put in Your Gift Basket
So the reason I love gift baskets so much is because they're a great opportunity to show someone you're thinking about them and know them well. They're SO easy to personalize by adding inside jokes, favorite things, favorite colors, and more.
I typically don't actually know what I'm going to put in a gift basket, like at all. Instead, I like to pick a theme and then just go shopping and grab things that fit my theme and my person.
For these Valentine's Day gift baskets, I went with the theme "I heart you," to go with my gift tags. So for the baskets, I wanted to fill them with things that had hearts, were heart shaped, or had something to do with hearts.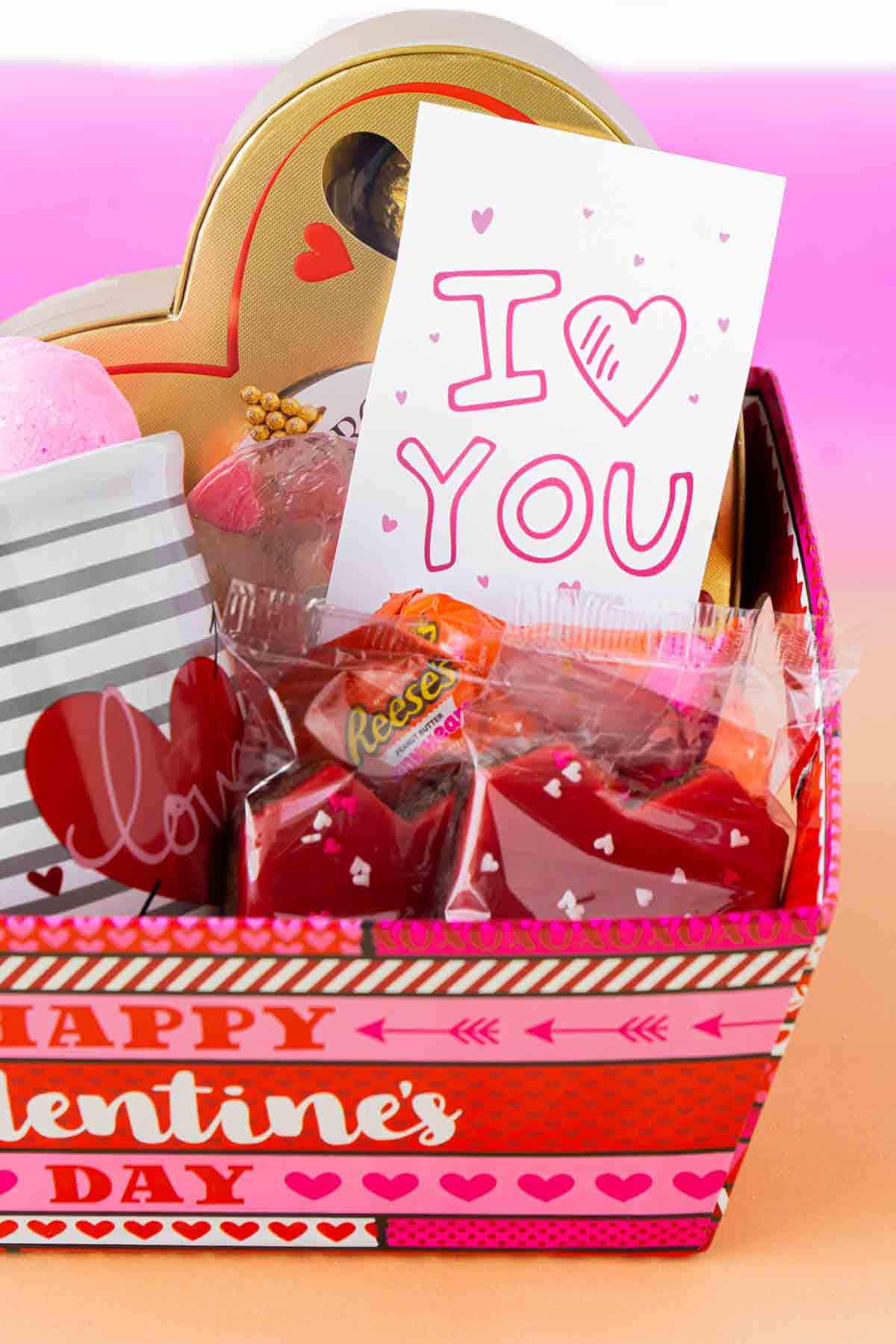 Hy-Vee made this SO easy! They have an entire Valentine's Day section on their website with all sorts of traditional (flowers, candy, stuffed animals) and non-traditional (bath bombs, toys, fragrances) items that would be great additions to any gift basket.
Plus, you don't even have to go in the store. With the Hy-Vee Aisles Online program, you add all of the items to your cart, pick a time for pickup, then they just load all of your purchases into your car.
It really couldn't be easier.
They also have an awesome section of Valentine's Day gifts both in their floral/balloon section as well as in their seasonal section. I personally like to get out of the house safely some days and browsing a section full of chocolates and love themed gifts was just what I needed.
Look at all of the fun things I found for my I Heart You theme!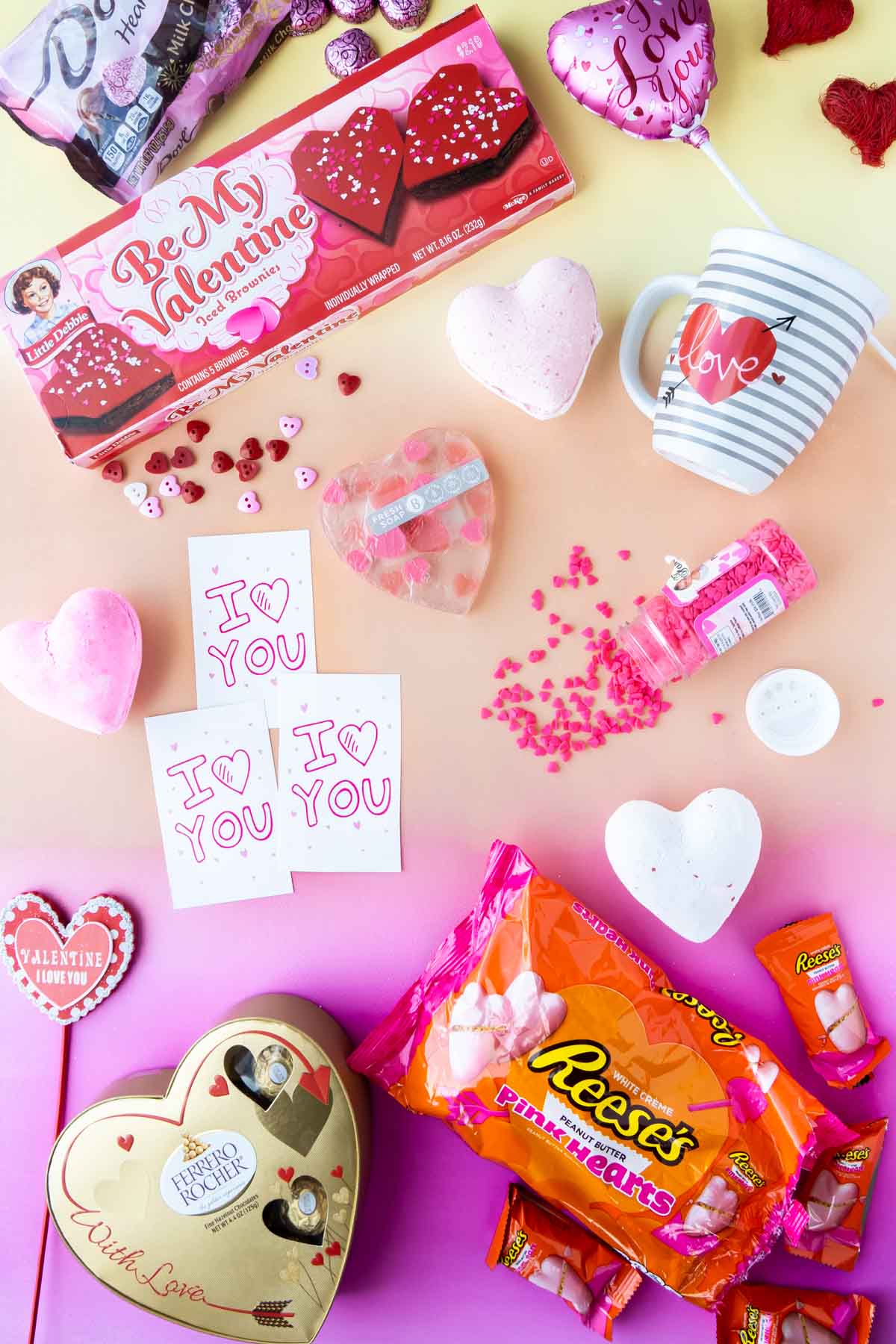 Gift Basket Fillers
If you want more specifics, here are some things that work well in Valentine's Day baskets! I didn't break it out by recipient but rather category – use these tips and translate them to your person!
How to Make a Valentines Day Basket
I've already written a post about how to create the perfect gift basket, so I recommend you read that, but here's my basic template for creating a gift basket. And I've made a lot of gift baskets!
Or you can watch the video below to see how I made mine!
Start with the big and tall items first and put those in the back.
Add medium size items in front of those, fanning them out slightly.
Fill in the gaps with smaller items like individual wrapped candies, small stuffed animals, trinkets, and more.
Add decorative elements like balloons, signs, and ribbons.
Finish it with a printable gift tag that ties everything together.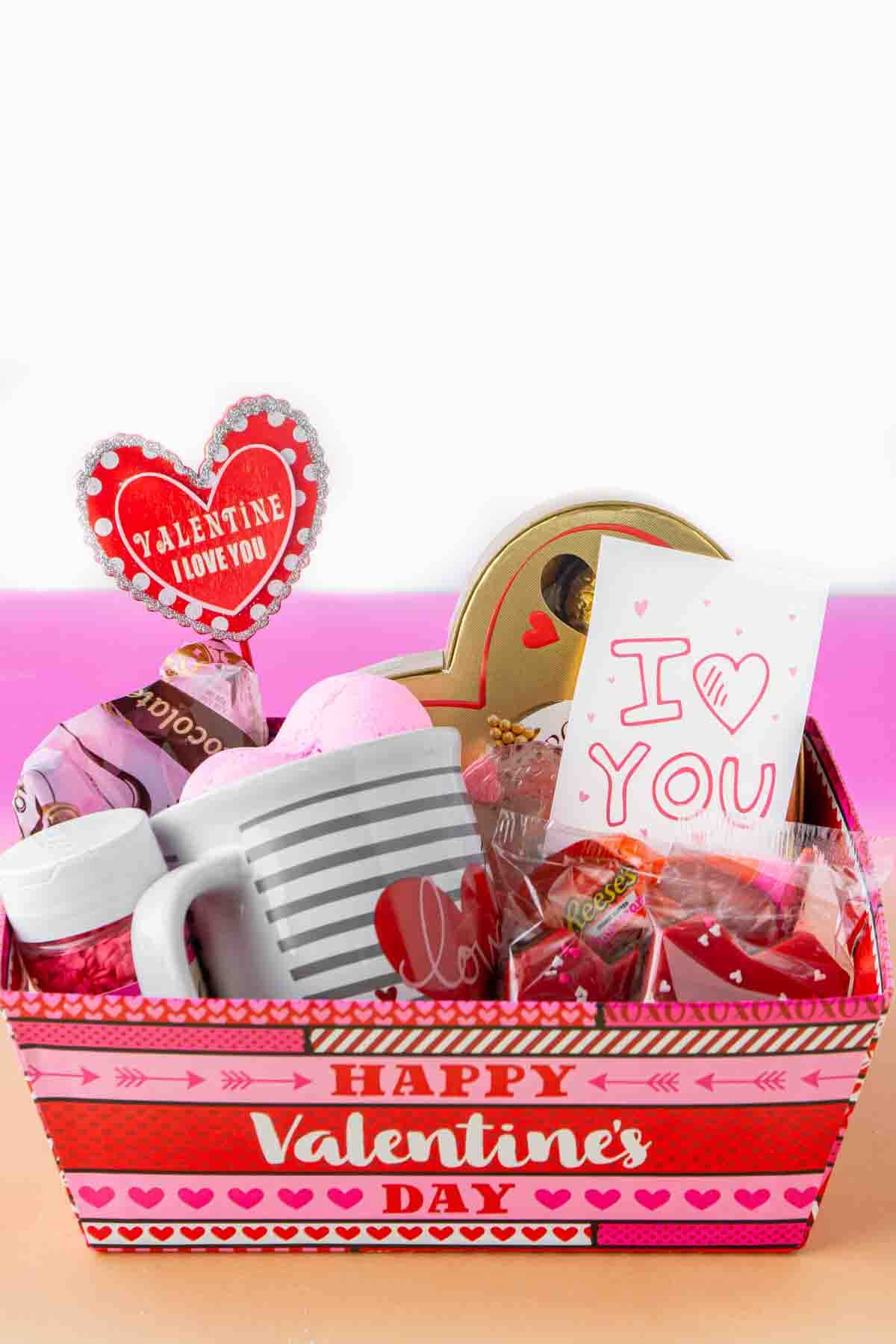 DIY Valentine's Day Basket Video
Watch how easy it is to make in the video below – I went through making all of the gift baskets you see in this post on video!
Kids Valentines Day Basket Ideas
You wouldn't normally think of giving a kid a gift basket, or at least I wouldn't, but my kids love them. They don't really call them gift baskets – they more call them treasure chests, or Easter baskets, or whatever – but they're gift baskets all the same.
Just a few tips from my experience on making these for kids.
FAQs
What can I put in a Valentines gift basket for him?
Anything he will like! Snacks like jerky, nuts, and chips are all great additions. Sports items, outdoor items, cooking items (if they like to cook), fancy socks, wallet, etc. Anything that would make a great stocking stuffer for him would be great in a gift basket. Plus the classic chocolate and candy.
How do you make a Valentine's Day gift basket?
Pick a basket, pick items that show you love whoever you are gifting it to, fill it up starting with the largest items to the smallest ones, and decorate with extras and a printable tag!
What can I use instead of a basket for a gift basket?
Any container that can hold things is great for a gift basket. A mug, a bowl, a box, a storage container. Anything that is sturdy enough to hold items is great!
What can I use a gift filler for a basket?
I like to use small items like candy bars, lotions, small stuffed animals, and other small items to fill in the gaps. You can also add wrapping paper, blankets, socks, or other items that will fill in the space around gifts well.
More Valentine's Day Ideas
Download the Printable
Want the I Heart You gift tags shown in the photos above in this post? Simply click the button below to download them to your computer! The casual saying is perfect for any recipient!
I've included both the white version shown in these photos as well as a version with a colored background (seen below).