May the force be with you as you follow the clues on this Star Wars scavenger hunt! It's a hunt full of riddles using popular Star Wars quotes making it perfect for any Star Wars fan, young or old!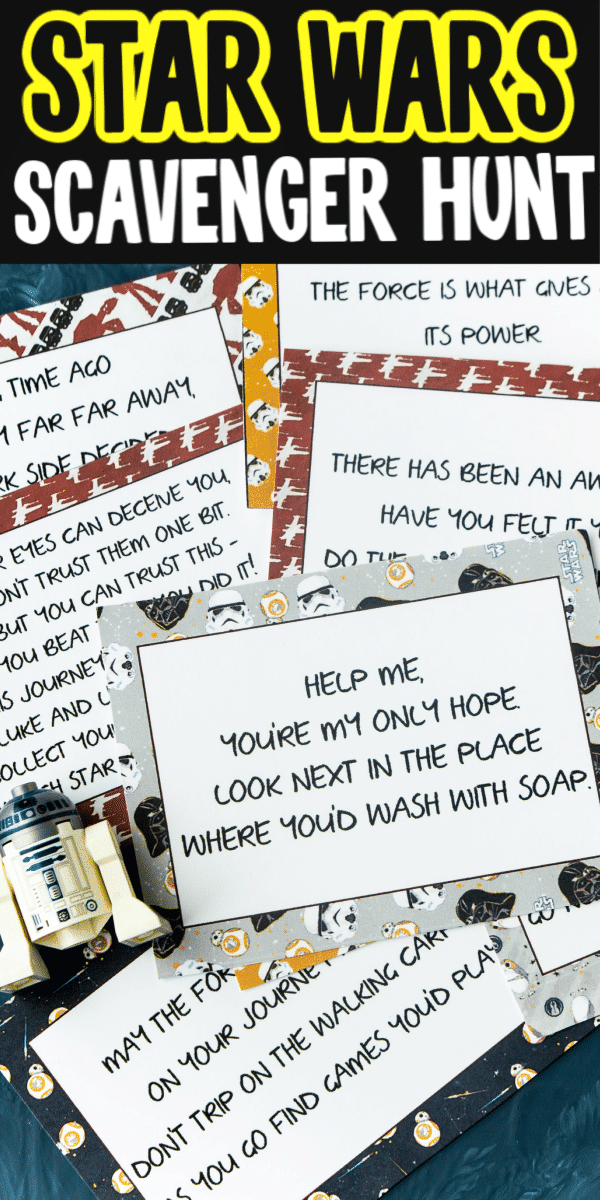 This post contains affiliate links. If you purchase via these links, I may receive a small commission at no additional cost to you.
With May the 4th, aka Star Wars Day, just around the corner, I thought it would be fun to make a Star Wars themed scavenger hunt for my Star Wars loving 7-year-old. I'm guessing it'll be one of his new favorite Star Wars Day party ideas!
And let's be honest, for my Star Wars loving husband as well. I honestly think he'll get just as much of a kick out of this Star Wars scavenger hunt as my son with the way I made the clues. He might like it even more than these Star Wars trivia questions!
Unlike some of my other scavenger hunt ideas where I just came up with random clues and ideas, these ones use popular Star Wars quotes and characters throughout the clues.
That's why it's fun for all ages – kids will love that it's an indoor scavenger hunt and fans of the movies will get a kick out of picking out the famous quotes!
And me? I just had fun reliving all of the best moments in the Star Wars movies as I searched for quotes.
Star Wars Scavenger Hunt Supplies
You won't need much for this scavenger hunt. All you'll need is:
Scavenger hunt clues – get the free printable ones at the bottom of this posts
Pen – use it to write where each clue goes on the back so you don't forget the order
Tape – I recommend painter's tape if any of these will get taped on the walls, otherwise regular tape works just fine
Small prize – this is optional, but I always like to put a small prize, treat, or some other surprise at the end of the hunt
In case you need ideas, I've included a bunch of Star Wars scavenger hunt prize ideas at the very bottom of this post.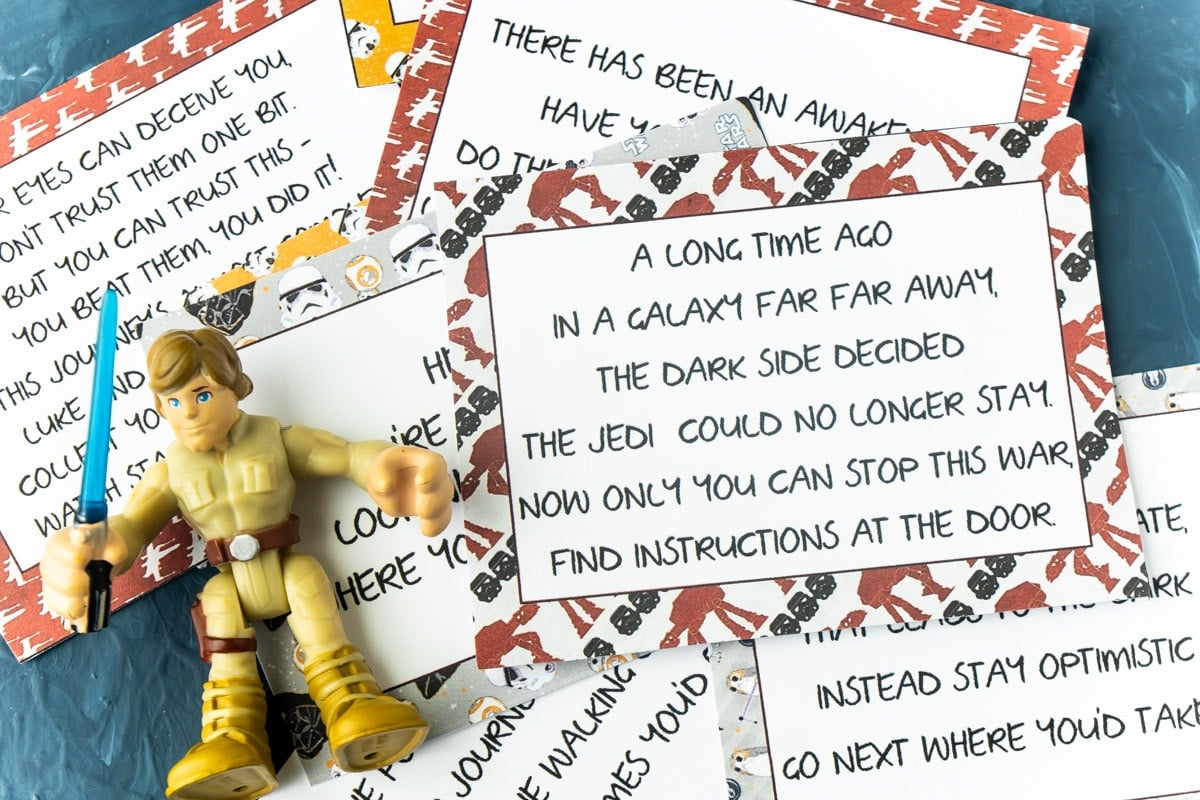 How to Do This Scavenger Hunt
I've already created all the clues for you so setting up this scavenger hunt is super easy! Just print, hide, and play!
1 – Print out the clues.
Download the printable scavenger hunt clues at the bottom of this post then cut them out.
As you're cutting, I recommend writing on the back of the clue where the particular clue is going to be hid (not where it leads).
So for instance, if something leads to the door, I would write "door" on the back of the clue after that one.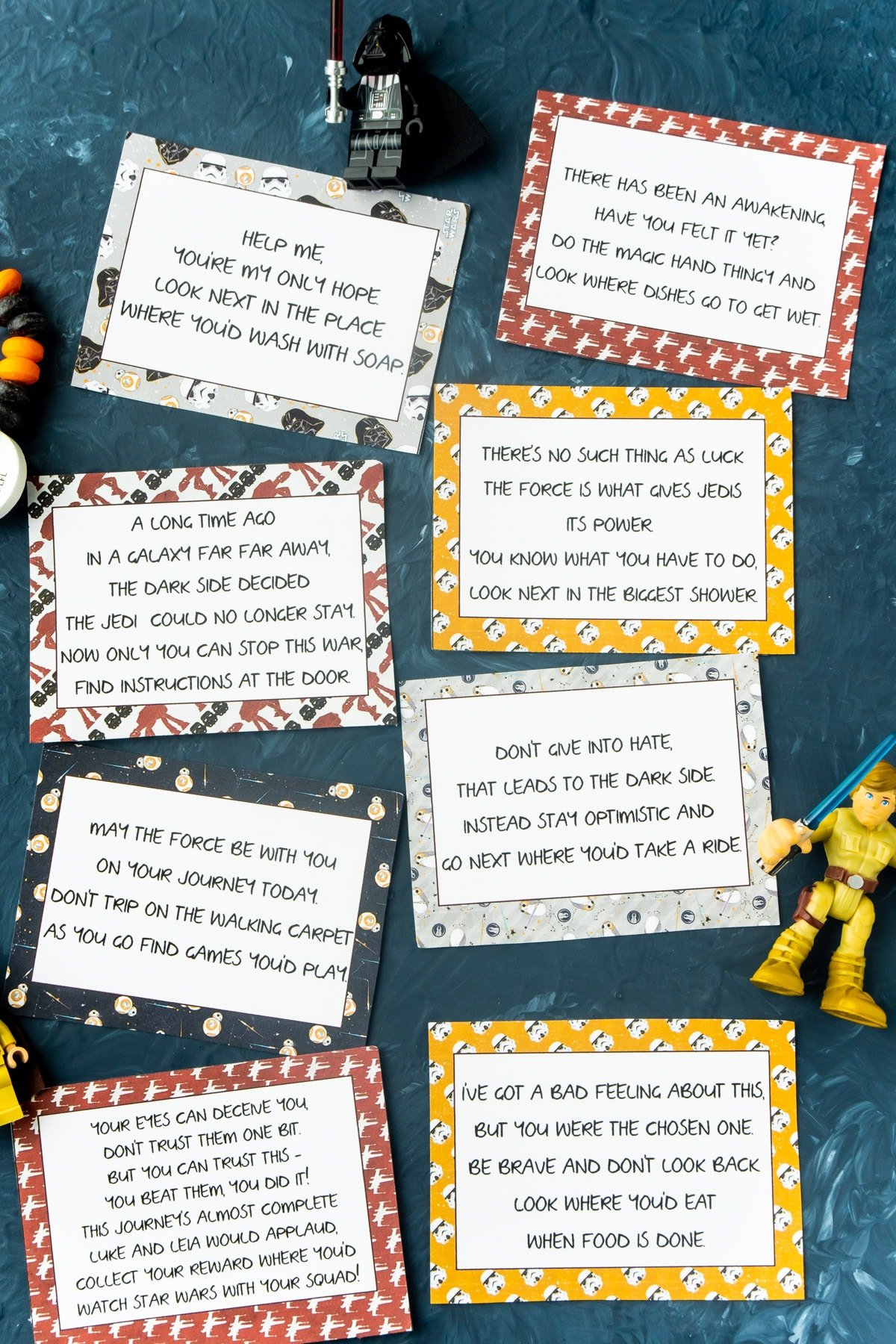 2 – Hide your clues.
I've included a list below where each clue leads and where clue should be hid. Simply hide them in their correct places around the house. And I recommend like any of these Easter egg hunts, hiding them based on the skill level of who is doing the hunt!
All of the clues lead to places that should be universal enough that everyone will have them in their house. If not, just skip a clue and move onto the next one.
Clue 1 = leads to a door | this will be your starting clue
Clue 2 = leads to somewhere you'd wash with soap (bathroom, bathtub) | place this clue at the door
Clue 3 = leads to where you keep games | place this clue in the bathroom/bathtub
Clue 4 = leads to dining room table | place this clue with your games
Clue 5 = leads to a car | place on your dining room table
Clue 6 = leads to a dishwasher (or kitchen sink) | place in a car
Clue 7 = leads to a dryer | place in dishwasher
Clue 8 = leads to a bed | place in dryer
Clue 9 = leads to someone's phone | place in bed
Clue 10 = leads to a shower | place near someone's phone
Clue 11 = leads to where shoes go when taken off | place in shower
Clue 12 = leads to TV room/media room | place where shoes are left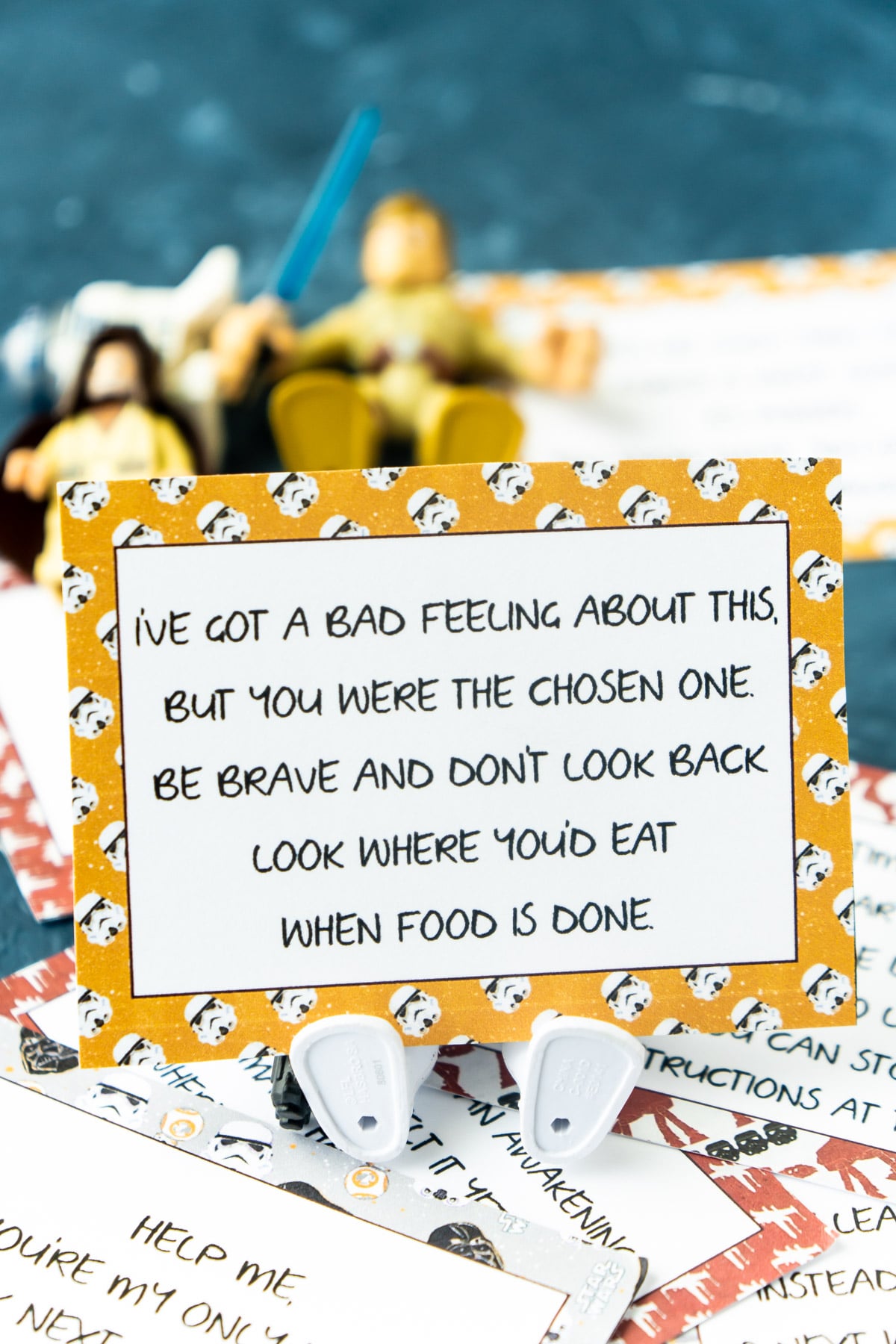 3 – Hide your prize.
The prize in this particular scavenger hunt will be hidden somewhere that you would watch Star Wars movies as a family.
For us that might be behind the couch in the living room or upstairs in our media room. For you that might be in the master bedroom under the covers or wherever you watch movies.
If it's somewhere that's a bit more out in the open, a blanket and some pillows work wonders for covering a prize! Or if you need to add one more little note that leads somewhere else, feel free!
4 – Start the hunt.
Give whoever is going on the hunt their first clue. They'll read it and be on their way, finding clues all around the house, until they get to the surprise at the end!
And I'm warning you, this may only have taken you a few minutes to setup – but I promise it'll take them even less time to get through it! I know my son in particular races from one clue to the next!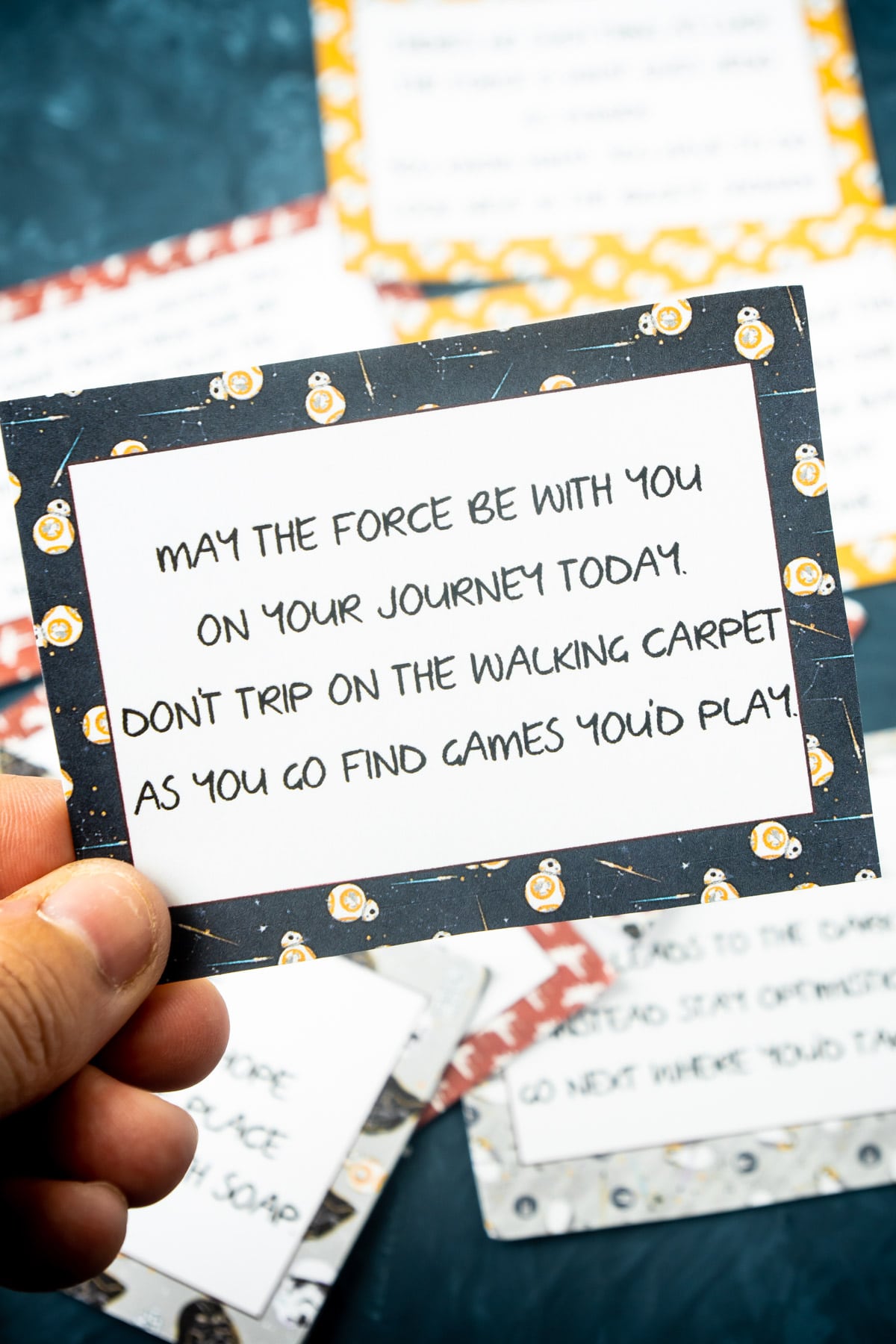 Star Wars Scavenger Hunt Prizes
I promised a list of fun Star Wars themed prizes so you here go!
I've included ones that are a bit bigger if you're doing this say as a birthday scavenger hunt as well as smaller ones that you could use if you were doing this with a bunch of kids as one of a few Star Wars party games.
And I've also included a few bigger prizes that work better for adults/teens just in case you're doing this for the older Star Wars fans, not the kids! If you need more ideas, these DIY Star Wars gifts could also be good!
Download the Star Wars Scavenger Hunt
Enter your first name and email address below to get the printable scavenger hunt clues. You'll be immediately taken to a PDF that's a 2-page document including twelve different clues (listed in the post above). You'll also receive an email with a link to a copy of the scavenger hunt.
If you do not see the form below, click here to get to it.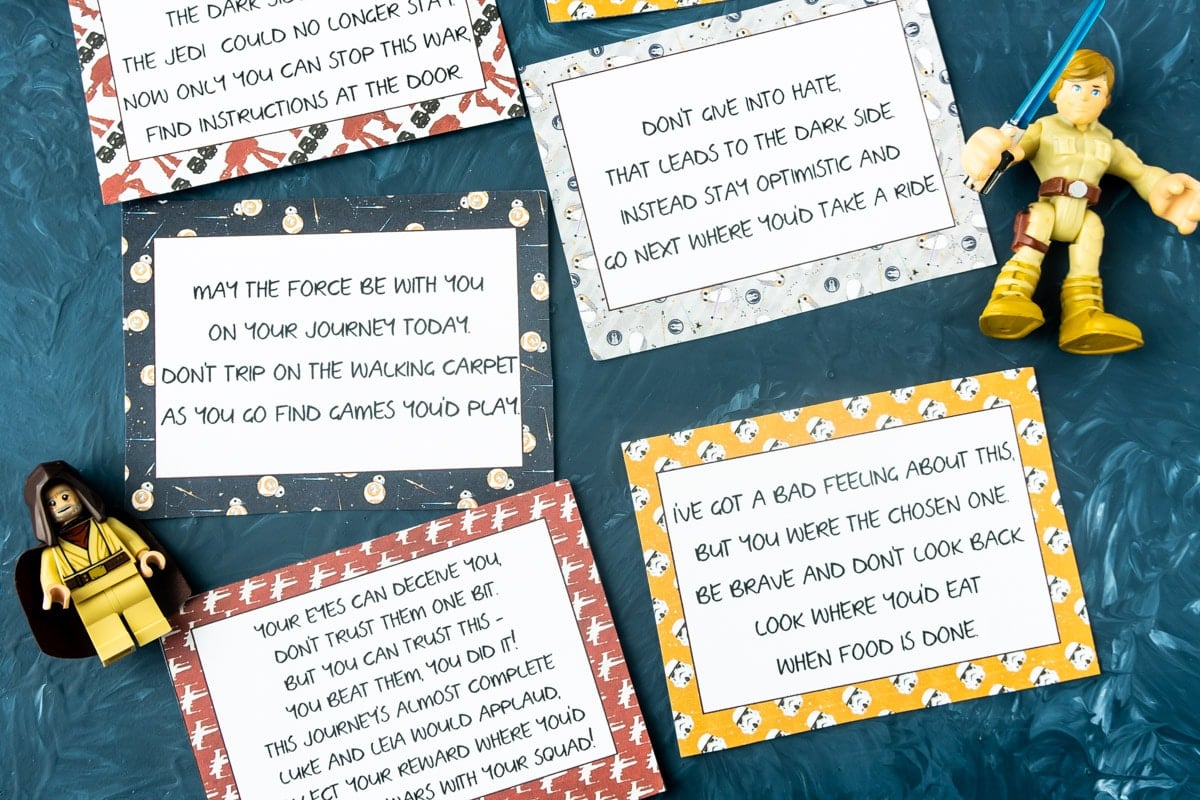 More Fun Star Wars Ideas