These fun free printable Easter egg hunt clues are perfect for using in a unique Easter egg hunt or scavenger hunt this year! Tons of clue ideas for having an Easter hunt both indoors and outdoors and with kids of all ages!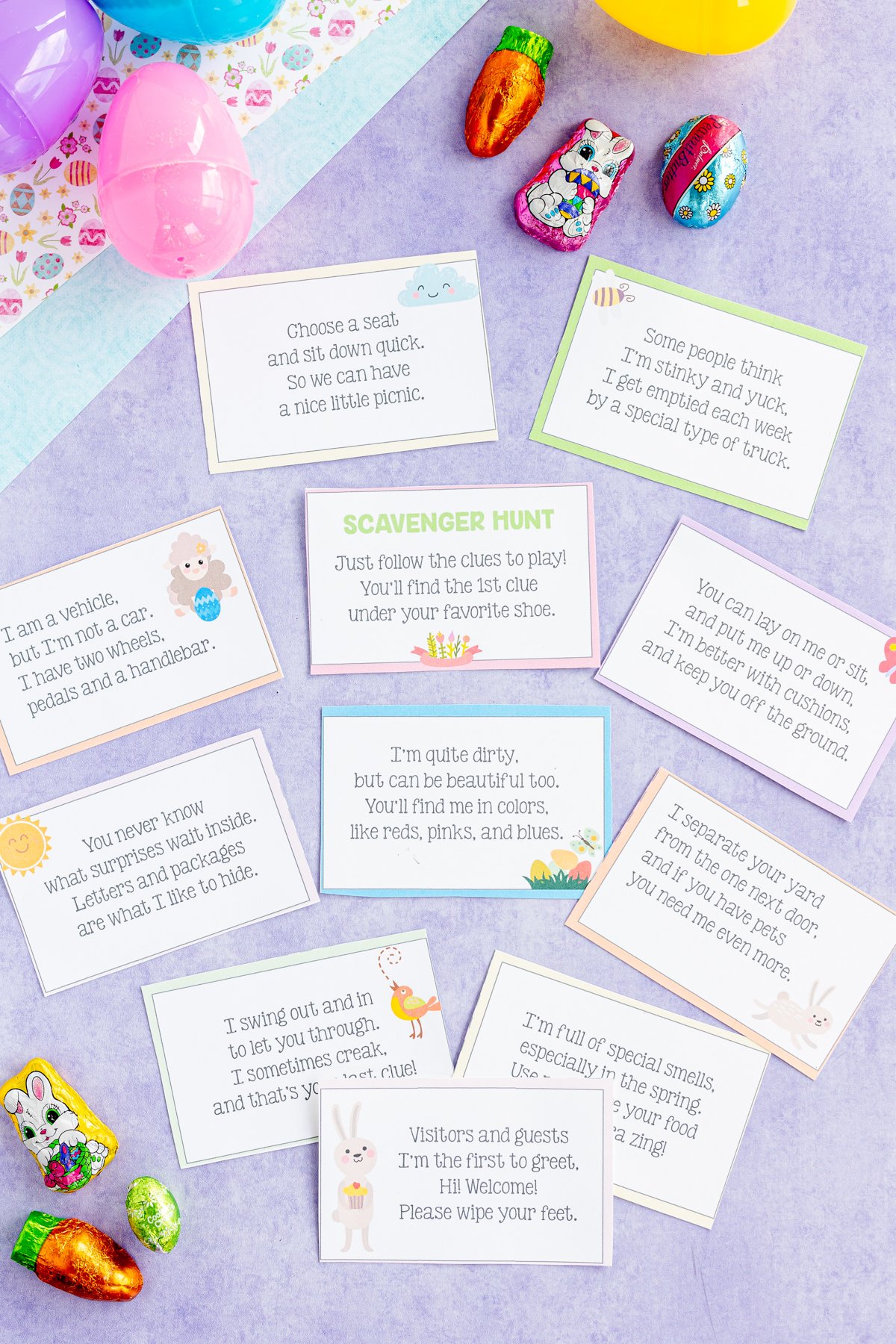 Every year we've done an Easter basket scavenger hunt for my boys that leads to their Easter basket on Easter morning.
This year we decided to just hide the Easter baskets and give them clues to find Easter eggs instead! It's kind of a combination of doing a regular Easter egg hunt and a scavenger hunt in one fun activity!
After doing it this way, it's one of my new favorite Easter activities, and we may never go back!
I created 50 different Easter egg hunt clues that you can use for your very own Easter egg hunt or Easter scavenger hunt depending on what you're going for!
Pick and choose the clues you want to use whether you're looking for Easter egg hunt clues for kids, Easter egg hunt clues for older kids, or even Easter egg hunt clues for toddlers!
I will say if you're looking for teen clues, you're better off checking this Easter egg hunt ideas for teens post instead!
Printable Easter Egg Hunt Clues for Kids
At the bottom of this post there is a download that has almost 50 printable Easter egg hunt clues that are perfect for kids!
I've included a set of clues leading to all sorts of universal places, meaning places that most people should have in or around their homes.
There are indoor clues and outdoor clues (one of my biggest reader requests) as well as clues that are a bit easier and clues that are a bit trickier.
The idea is to pick the clues that make the most sense for you and use those! If you want a more traditional Easter scavenger hunt that starts with a first clue and ends with a last clue, you probably want to check out this Easter basket scavenger hunt instead.
Outdoor Only Option
If you want to do an outdoor Easter egg hunt, just use the first two pages of clues that are designed to find eggs outside. The other clues are all indoor Easter egg hunt clues!
How to Use these easter egg Hunt clues
There are two different ways that you can use these Easter egg hunt clues – as a traditional Easter egg hunt with clues or as an Easter egg scavenger hunt (aka Easter treasure hunt).
How to Do An Easter Egg Hunt with Clues
If you're planning to use them just in an Easter egg hunt, hide eggs in each of the locations that match the clue locations (included in the downloadable PDF).
So if the locations are the fridge, oven, and bathroom – you'll hide an egg in each of those places. Just like with any other Easter egg hunt, you can hide plastic Easter eggs, chocolate eggs, or even eggs with a golden ticket inside!
Then when it's time for the Easter egg hunt, instead of having kids just go search randomly for eggs around the house or area, they can pick out one of the clues that will lead them to an area an egg is hidden in.
Once they've found the egg's hiding spot, they can bring it back and pick a new clue. It turns an Easter egg hunt into a fun game for the whole family!
It's also perfect if you have big kids and younger kids doing the same Easter egg hunt because you can control the number of eggs they find and how quickly the hunt goes. It's an easy way to make sure that all the kids get the same amount of eggs while still having fun!
Alternative Option!
If you're doing this with all older kids or even teens (and not younger children), you could turn it into a bit more of a competition. Pick a clue out of the bucket, read it out loud, and then everyone go searching for that particular egg at once. The person who finds it keeps the egg and whatever great prizes are inside it. Then do another clue and keep racing to figure out the clue riddles and find the egg!
How to do an easter egg scavenger hunt
If you want to do this as more of a scavenger hunt, these clues can still be a fun way to do that – especially if you've already done my traditional Easter scavenger hunt before!
Pick out the clues that you want to use – I recommend 12-16 max, unless your kids really like scavenger hunts.
Figure out the locations of the clues and write out a key for where eggs should be hidden. You need to make sure to hide eggs in locations that are not the location the clue inside the egg leads.
So for example, if the clue leads kids to the fridge, that egg shouldn't be in the fridge. It should be in one spot before the fridge, and the egg in the fridge should have a clue leading to another location.
Cut out the clues and put the clue cards into plastic eggs, leaving out one clue to be the starting clue. Label on the plastic egg where that egg should be hidden (using your previous key) so you don't forget and have to open the eggs up over and over again.
Hide all of the eggs (with the Easter scavenger hunt clues) in their designated hiding places and ideally hide a bigger prize in the location the final egg leads to.
Then when you're ready to go, give the kids the first clue and let them start their hunt and find their next clue. They'll go from egg to egg using clues until they get to the final clue that leads them to their final prize that the Easter bunny (or you) left them at the end of the hunt.
If you have little kids, make sure that older children help them and don't just find and open all of the eggs themselves before the little guys get there.
Make it extra fun!
You can make this fun Easter egg hunt even more fun by adding small prizes into the eggs along with the clues. Or you can just leave the prizes in different places along the hunt – just make sure to have something for everyone so that even the younger siblings who may not be so fast get a prize too! This is the perfect way to shower your kiddos with Easter surprises without doing totally loaded Easter baskets.
More Fun Activities for Easter Season
If you want even more fun family traditions that are perfect for the Easter holidays, try one of these! They're so much fun and great for family fun for different ages!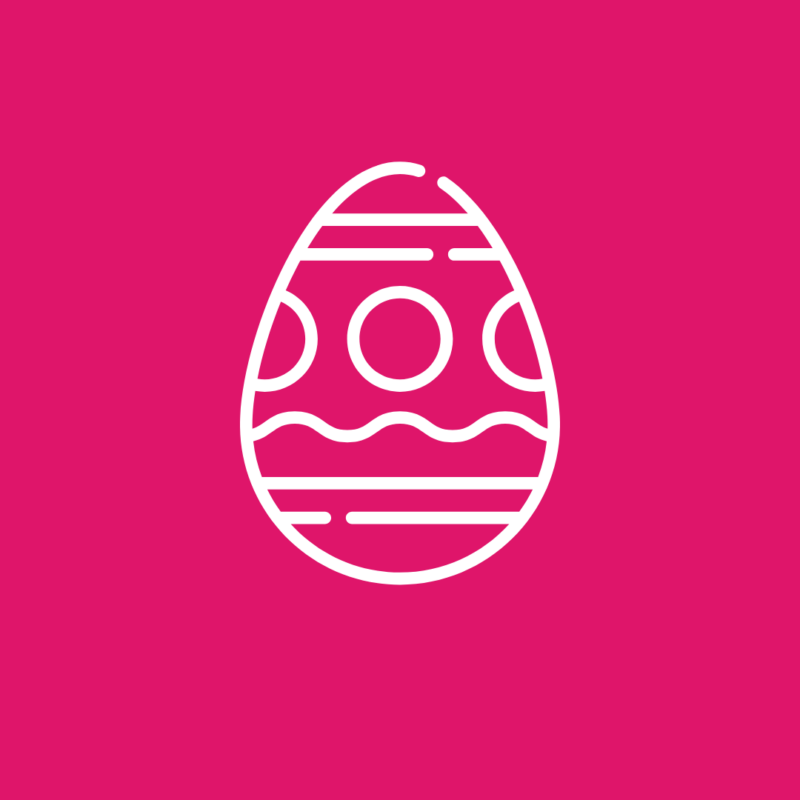 Looking for more Easter Games?
Download the Free Printables
Enter your first name and email address in the form below to get the PDF file with the free printable clues.
I normally recommend printing on white card stock but since you'll be folding these up and putting them in eggs, I actually recommend printing these fun clues on regular copy paper!
You will receive a link to download the PDF to your email within minutes.
If you'd prefer to not provide your email, you can purchase a copy of these clues in my shop here.
If you do not see the form, click here to get to it.
If you do not see the email immediately after you fill out the form, make sure to check your promotions, spam, and junk folders!
As a reminder, the PDF will include:
Six pages of easy Easter egg hunt clue ideas (48 total clues)
Blank page with eight blank cards so you can create your own clues on the blank clues
If you need help coming up with your own clues, here's a great list of words that rhyme with you to get you started!