These fun school games are the perfect way to celebrate the beginning of the school year or just to play throughout the year in the classroom! There are tons of fun ideas from a a school scavenger hunt to fun school games for kids to get to know each other! They're if you're looking for first day of school games or fun school games for the entire year!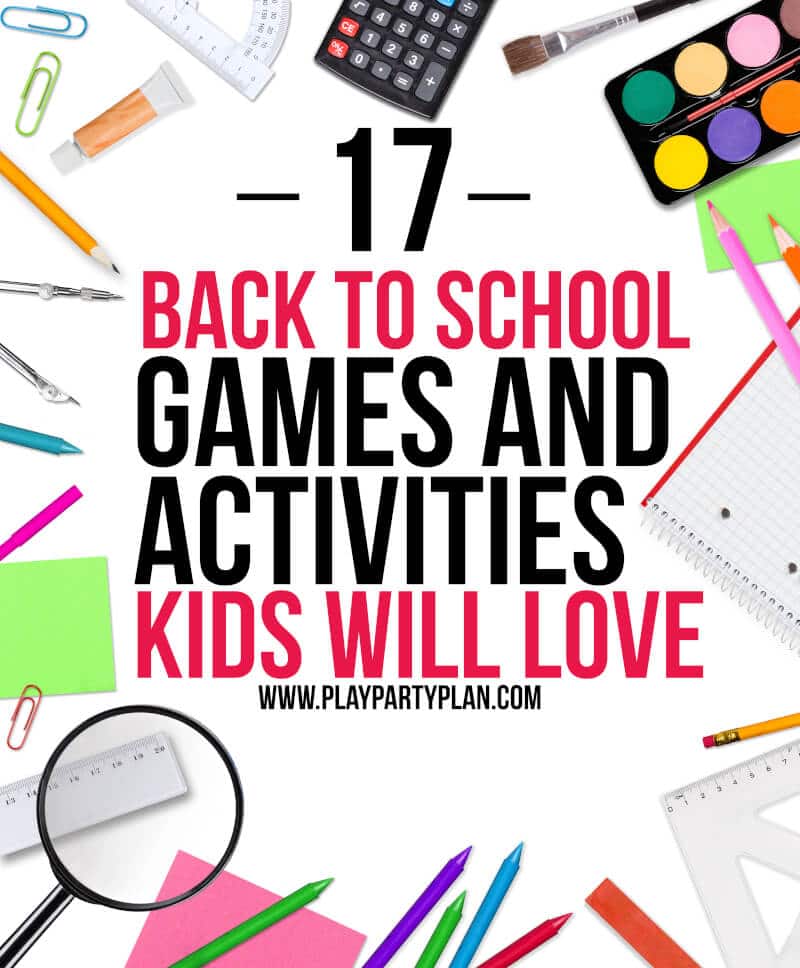 Normally summer always seems to go by so fast as we work on completing all of the items on this summer bucket list. I still can't believe the first day of school is here (or will be here soon).
I put together a list of all of the best games I could find. So whether you're a teacher looking for educational games to make elementary school more fun or a parent wanting to do something fun leading up to the first day of school, there's something for you!
There's something for kids of all ages, every teaching style, every version of school, and every kid! And doing something fun is a great way to get them to pose nicely with this printable first day of school sign!
You could even play some of these games along with these back to school celebration ideas to really make the first day fun!
First Day of School Games
Want some fun games to play on the first day of school to help combat first day jitters? Try one of these! They're good for any grade levels but are geared toward elementary students!
Back to School Bingo
A free printable game with 10 boards and the little cards to draw to play. This one would work well for either playing at home or at school! Download the whole simple game here. This is also the perfect game to play throughout the year when you need a brain break!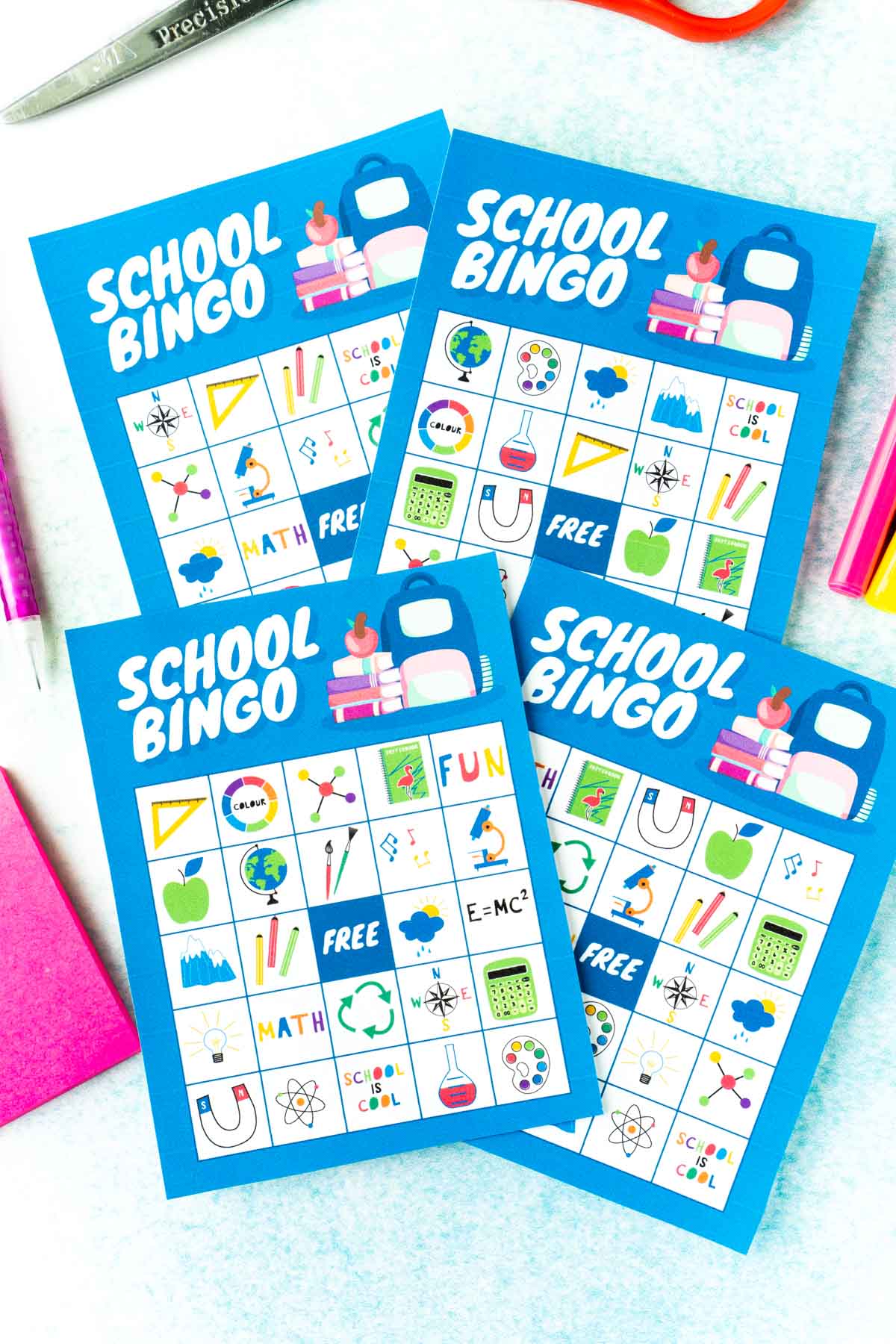 What's Your Name Workout
This is a great way to get kids moving as well as working on name spelling for younger kids. It's one of the best first day of school games because it helps other kids learn each other's names! Plus, it gets kids moving even if it's just pretending to use a jump rope! Get the printable here.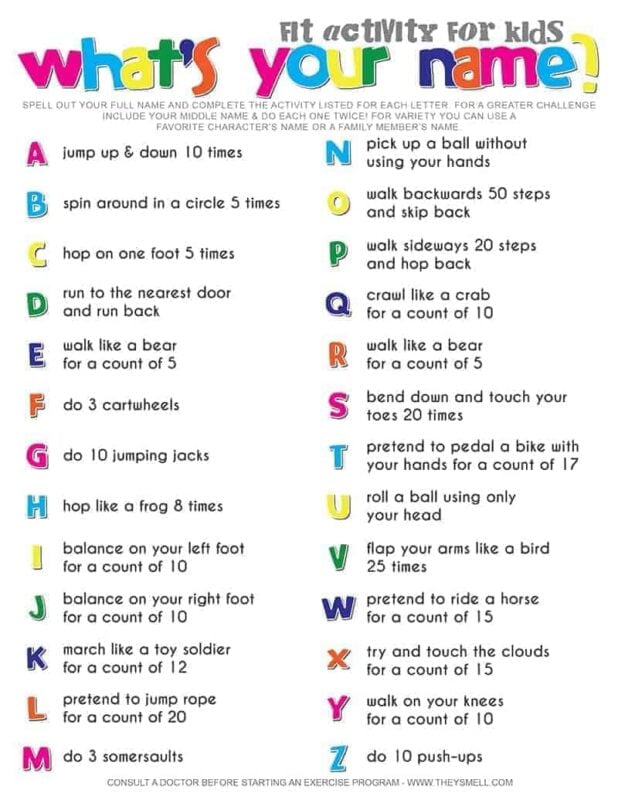 The Best Game
This one is called the best game for the best reason!
The idea is that students break into groups and have to choose a team member in the group that matches part of a description (e.g., The Tallest) but they don't know what the other part of the description is so anyone could win! This one works for both younger children all the way through middle school!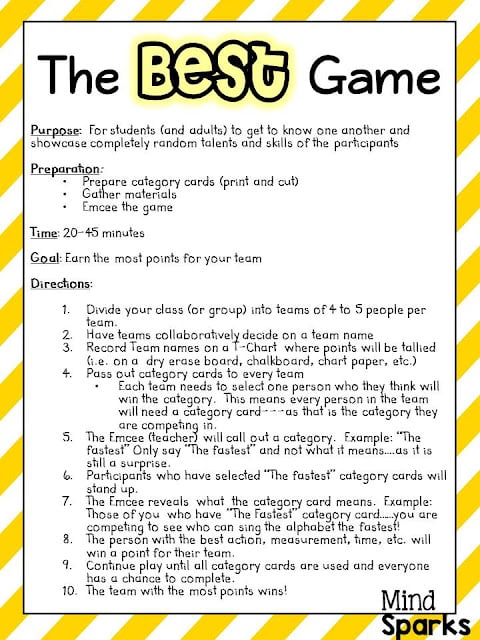 Find a Friend Bingo
Help manage those back to school jitters with this fun game that will help kids connect! Great for the first day of school! This is a classic game for a reason. Get full details here.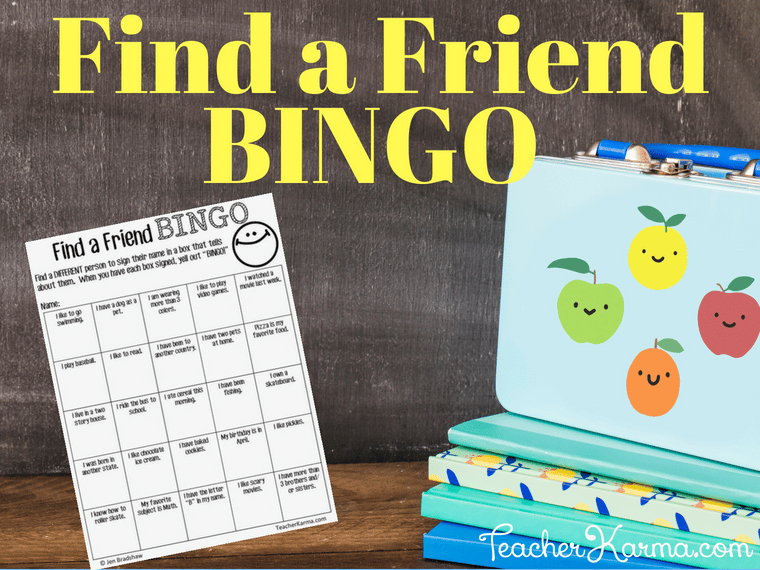 Back to School Snowball Fight
There's more to this activity than just throwing wads of paper at each other. It's a great game to get kids comfortable on the first day of school! There are a couple of different ways you can play, but you can get details here.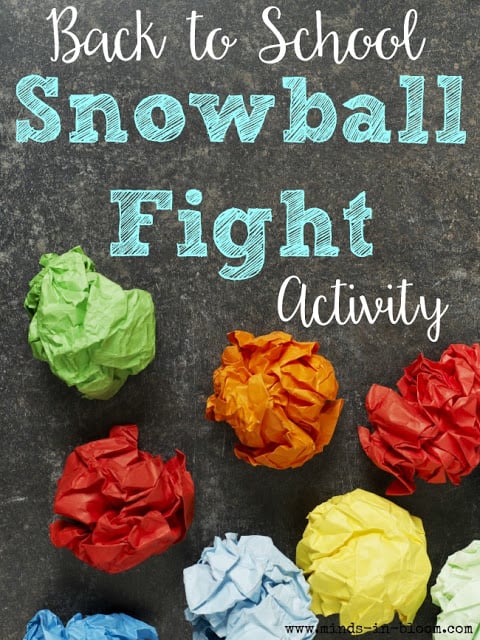 Getting to Know You School Games
If you're looking for good games for kids to get to know each other at school the first week of school (or later), these help kids share personal information (but not too much information) to get comfortable with each other!
I often like these games for older children as well as the younger ones!
Get to Know You Ball Game
Write a bunch of personal trivia questions on a ball and use them to play fun get to know you games with the kids answering questions about themselves. It's an excellent way to get kids to answer questions without the pressure of something like standing at the front of the room and introducing themselves. Get full rules here.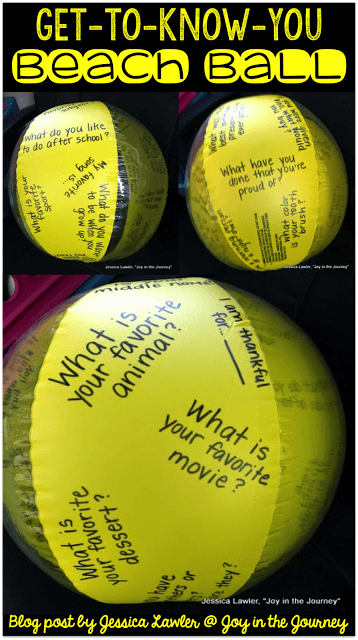 All About Me Four Corners Game
A fun way to get kids up and moving that also incorporates answering questions about themselves! You can get full details for this fun game here.
It's actually kind of similar to one of my favorite outdoor games, just with a getting to know you twist! It's a lot of fun and a great way to make new friends with similar interests! And you can play this with any age – even your kindergarten students!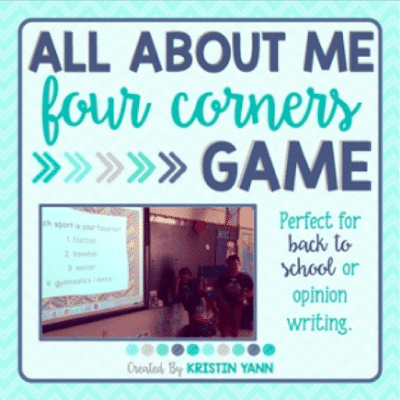 Pick a Stick
Kids will feel comfortable answering these get to know you questions and getting to know one another with simple prompts. Get the prompts and instructions here.
This one is similar to my Skittles gratitude game – you could totally do the same thing with Skittles to if you want a sweet treat! Or pick healthy foods and do something similar.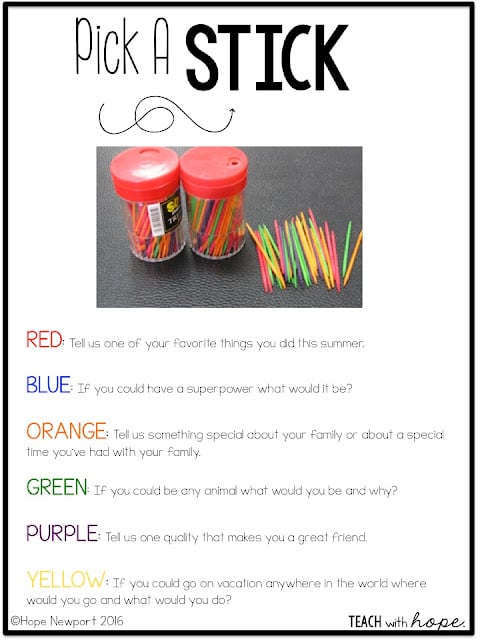 Getting to Know You Board Game
This pack includes three free printable getting to know you board games that encourage students to share information about themselves. These are always popular games with kids because it feels like they're playing one of the best board games for kids while still getting to know each other!
And who doesn't love doing fun activities to break up all the learning?
Get to Know You Yahtzee
Based on the classic dice game, this is a great way to get kids talking about themselves and connecting with others in small groups. I recommend to divide players into groups of people who don't normally sit together. Get the rules and printable here.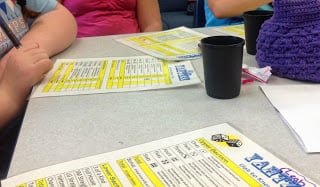 Small Group School Games
If you are looking for games that kids can do together in small groups, these might be a good fit! Group members have to take turns or work together to play these games! Some include silly actions (and would make a great end of the day game) while others include problem solving and team building!
Back to School Minute to Win It Games
Play these awesome back to school Minute to Win It games with things like glue sticks, brown paper bags, and more! One kid from each team plays while the rest of the students on the team cheer them on!
Or use any of these other minute to win it games instead if you don't have this many school supplies on hand! Minute to win it games are always fun activities, no matter what time of year!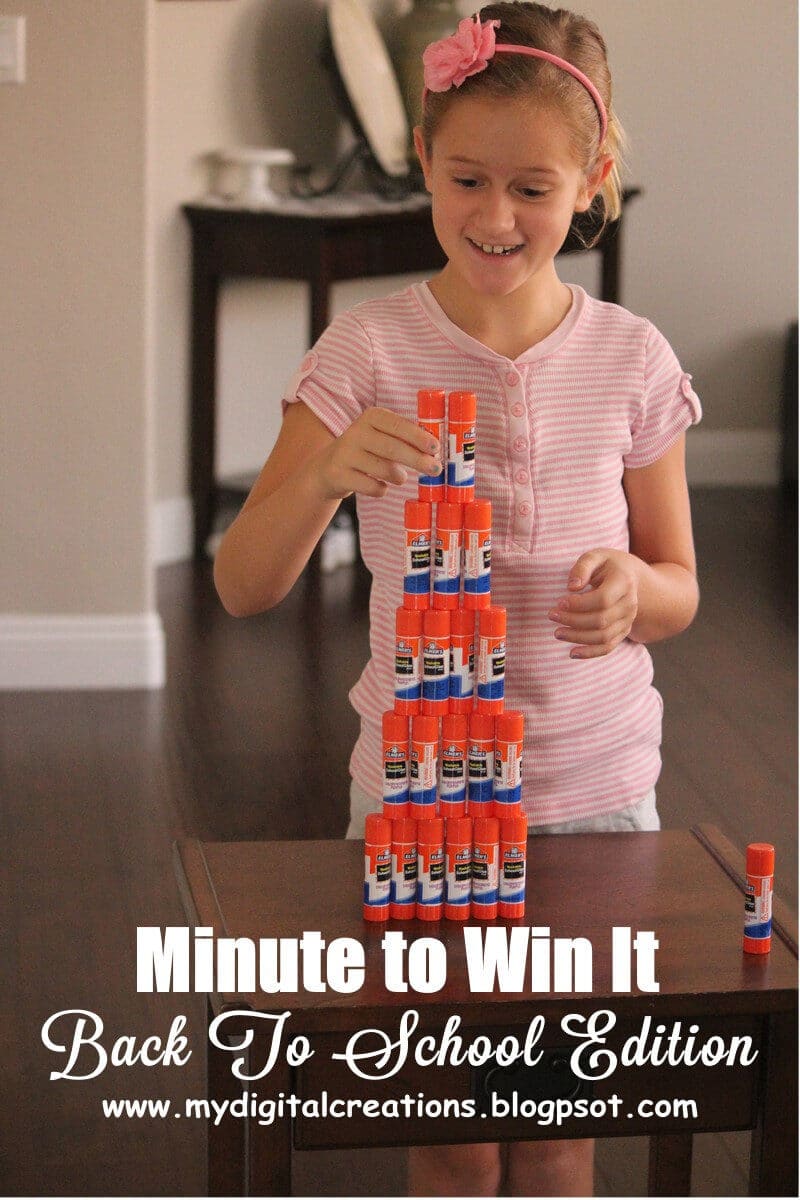 Alphabet Relay
If you have young children (or just young people in general), this is a fun game to play to work on letter identification and burns off a little energy at the same time! Get the full rules here.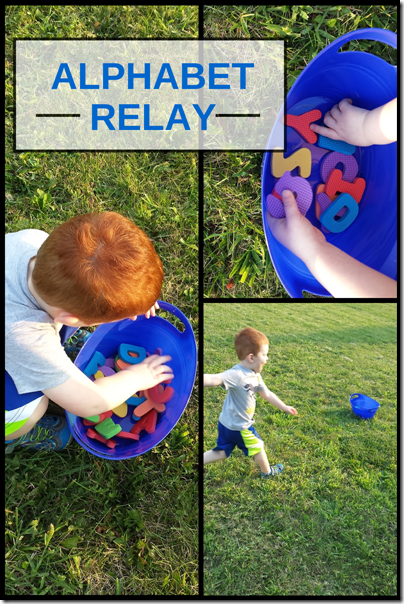 Field Day Games
If you're looking for brain breaks or active games to play in small groups later on in the year, this post is full of field day games for kids that also work all year long! Or you could always just do some other active games like simon says, red light green light, red rover, mother may I, or miss mary mack!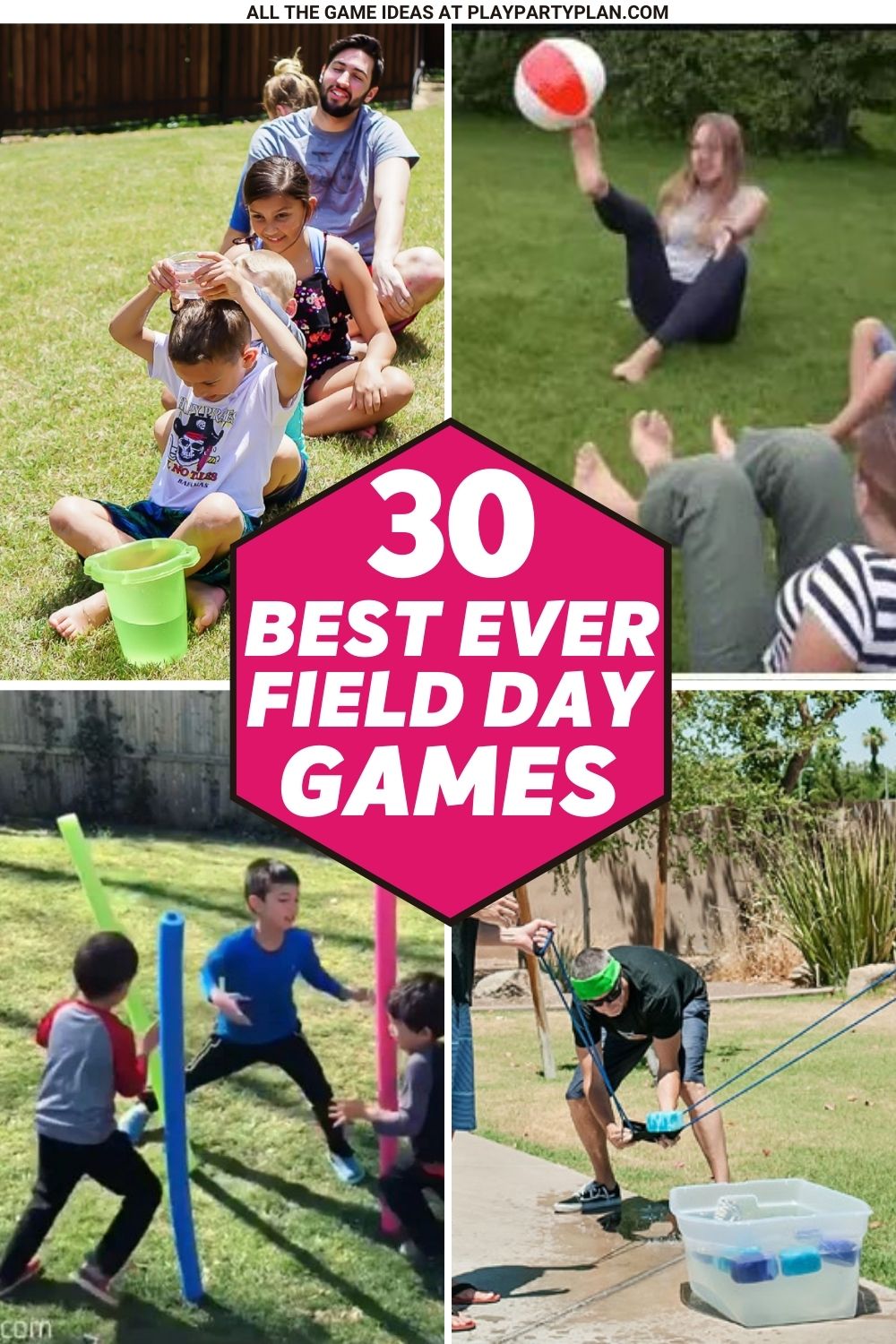 Rolling Math Dice Game
Split into teams and try this rolling math dice game to get kids not only thinking but also talking! It's a game that uses important math skills like memorizing math facts while still being really fun! There are two different versions so you could use one early on in the school year then another one later!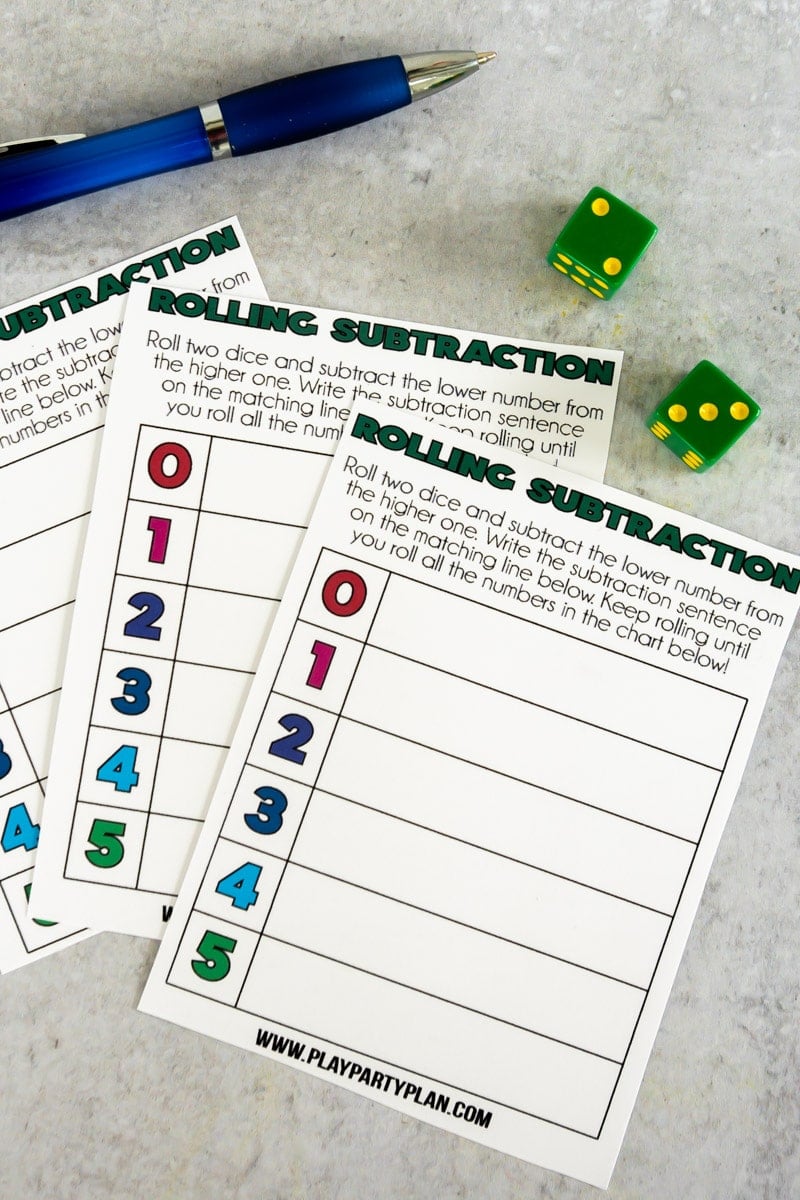 Printable School Games
If you want some educational or learning games that you can just print and play with students (or you kids at home), these might be a good fit!
Alphabet Scavenger Hunt
This fun alphabet scavenger hunt is something you can print out for students to do either on their own or in groups. It's good for younger students who are still working on their letters and language skills!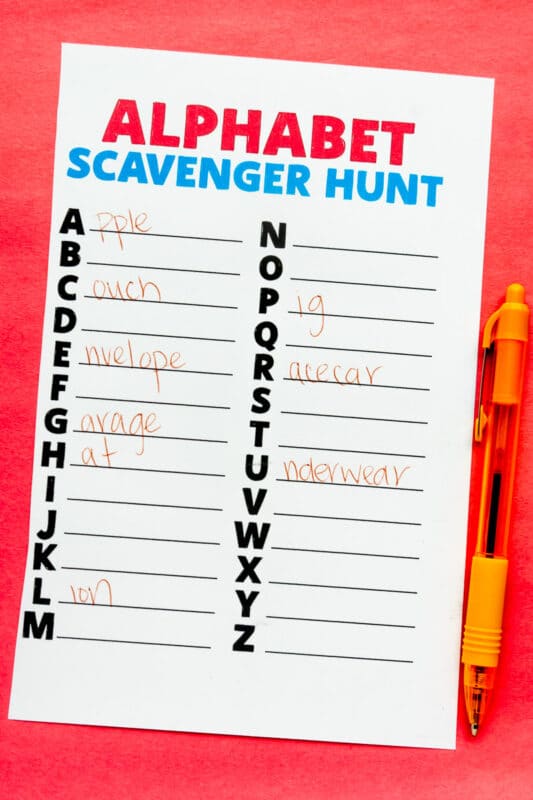 Back to School Word Search
With an easy version and a more challenging version for older students, this back to school word search is another fun game to keep kids entertained while they're listening! Get the back to school word search here.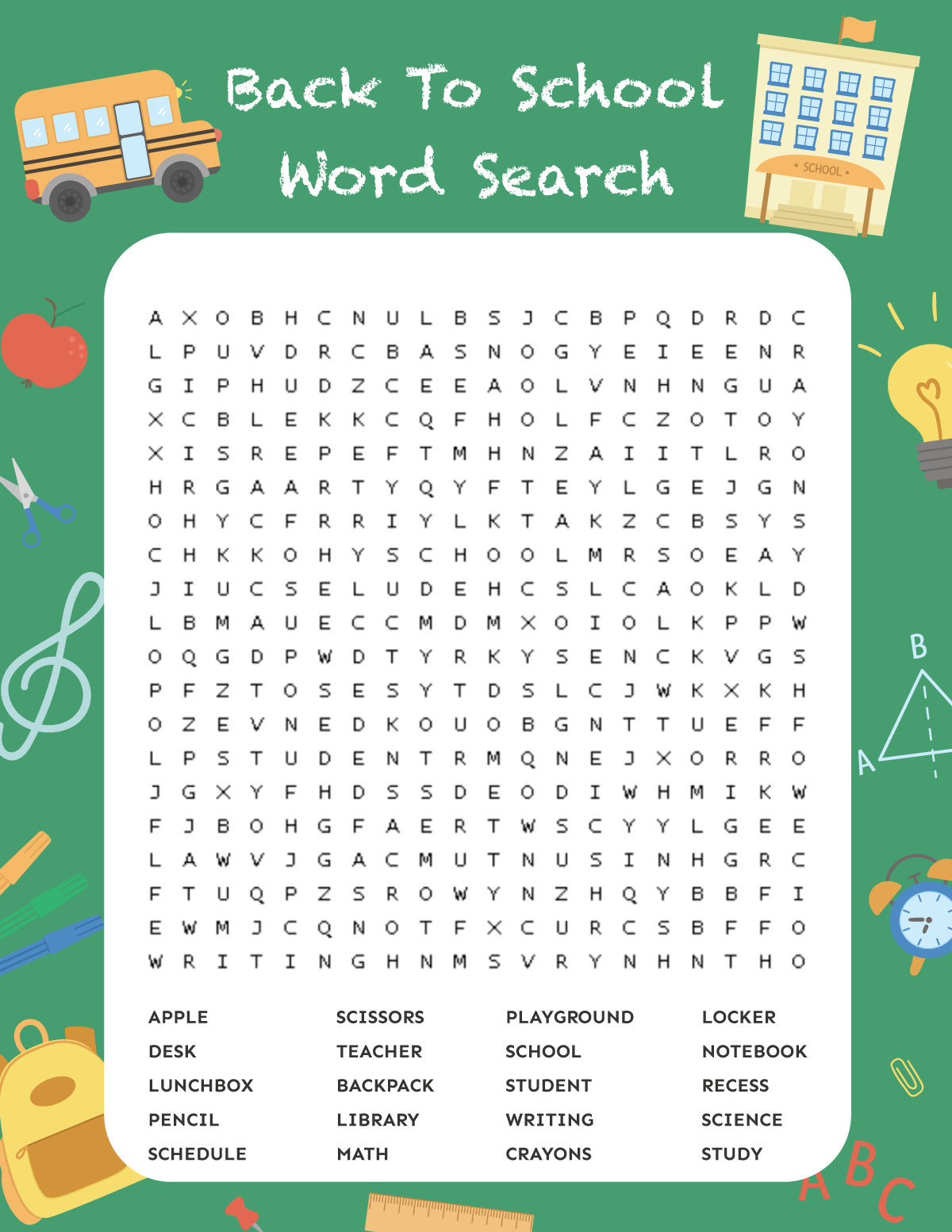 School Picture Sudoku
30 different printable games like picture sudoku that are perfect for kids at school! Get the full pack of printable word games here.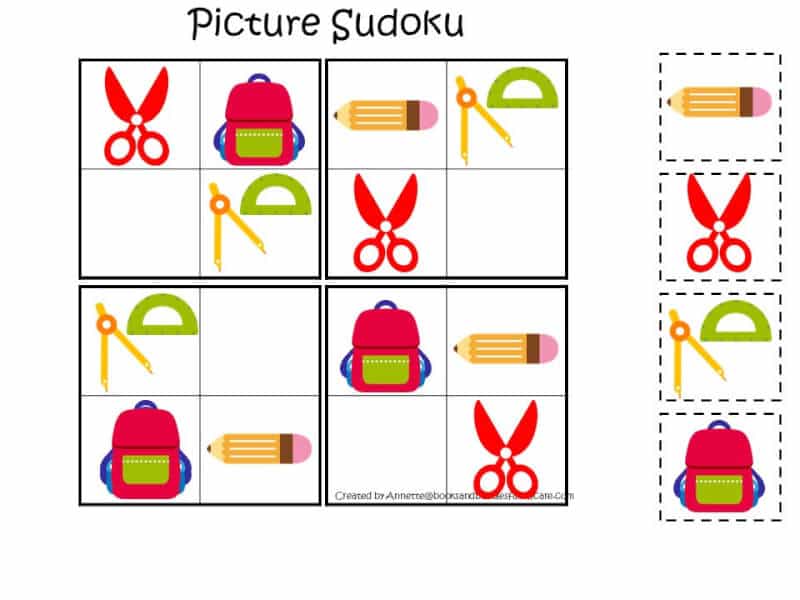 At Home School Games
These games are perfect for playing with your kids at home to celebrate the beginning of the school year or at a back to school party! Some of them might also work for the classroom but mostly, they're fun ideas for celebrating back to school with kids at home!
Back to School Scavenger Hunt
This back to school scavenger hunt is our first fun idea for getting kids excited for the first day of school! Kids will race around trying to find school inspired clues throughout the house! My boys thought it was so much fun!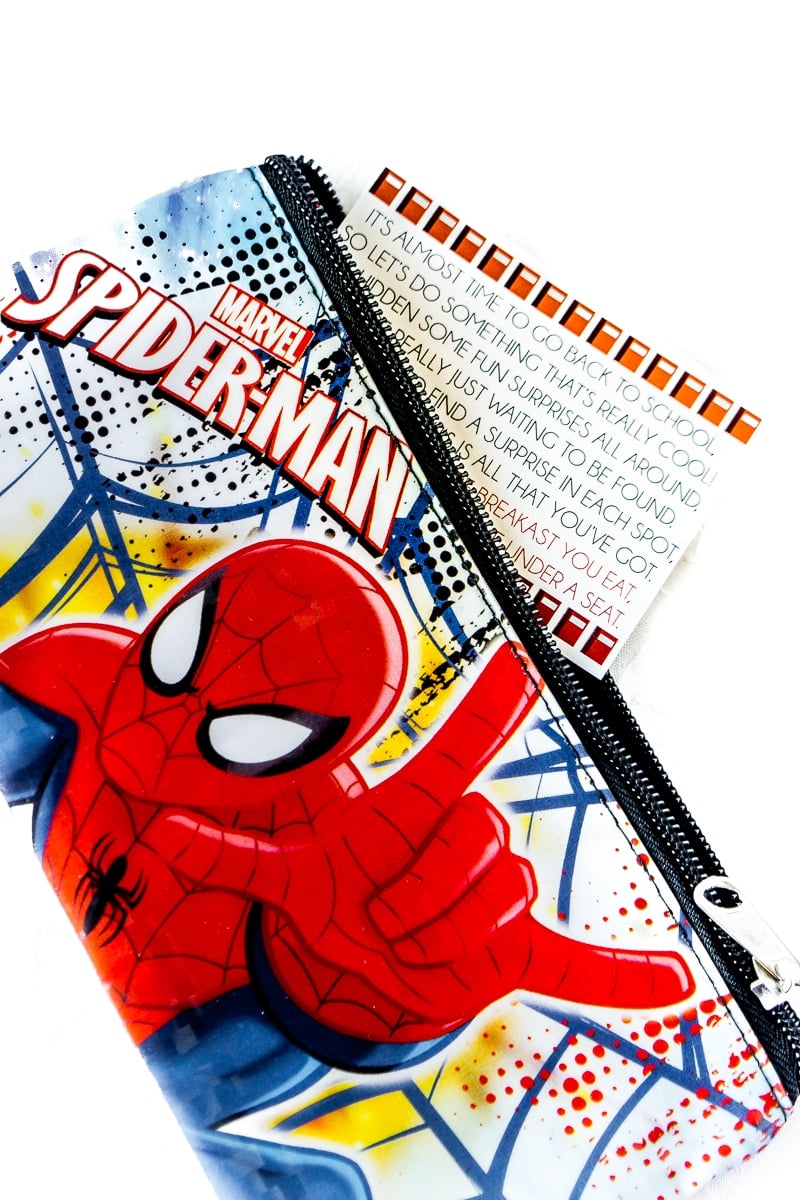 School Supply Scavenger Hunt
This school supply hunt is a fun way to get kids excited about going back to school! There are printable versions of the game so pre-readers can get in on the fun, too!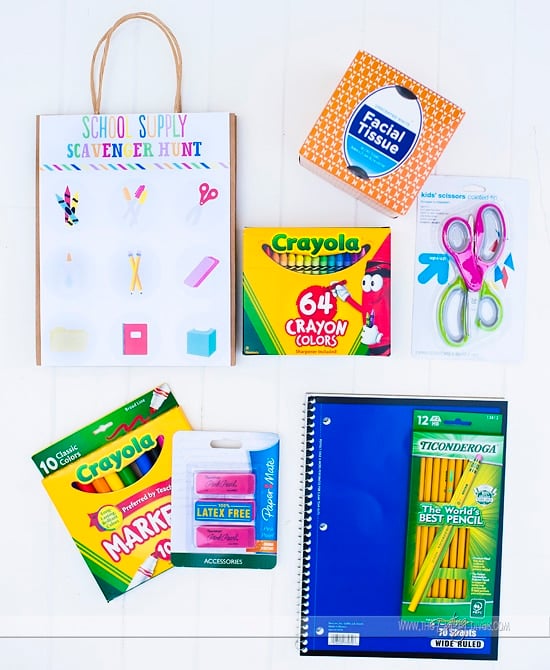 Virtual Scavenger Hunt
While this one may not actually be school themed, we did this with my son's class during and they loved it! This year I'm planning to invite a bunch of my son's friends to do it the week before school as a way to say hi before school starts and ease his nerves a bit!
Get the printable virtual scavenger hunt here.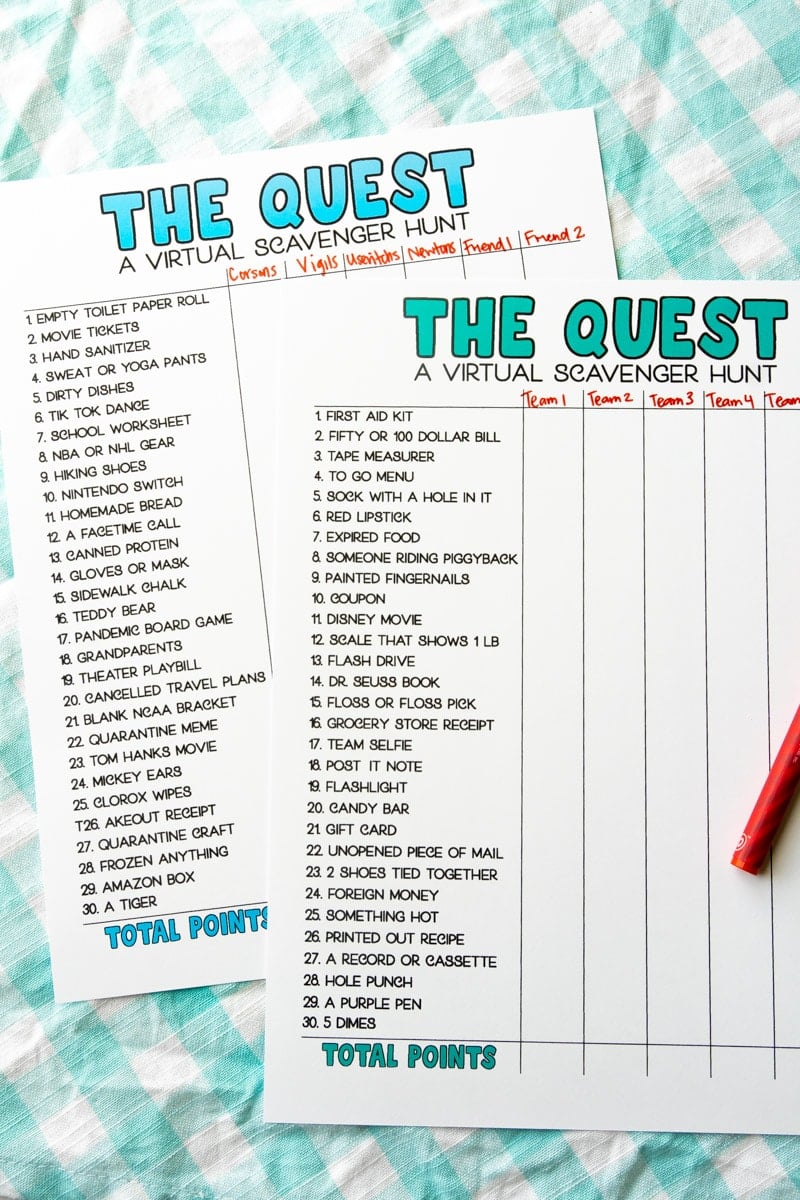 More School Games
If you need even more ideas for a fun school day, these educational games might help!
Math games for kids – 30 of the best math games for kids – ideas for all ages and skill levels to practice new concepts!
Dice games – tons of fun dice games that would work great for school since they involve math!
DIY Felt Pizza – kids will love having to get the right measurements and orders for people in this fun game!
Two Truths and a Lie – this fun game uses historical figures in a silly version of a classic getting to know you game! Perfect for a social studies class!
Spelling games – nine fun spelling games that include breaking into teams and playing together!