Considering a stay at Great Wolf Lodge Texas? Read this first to see why families will absolutely love to stay and play at Great Wolf Lodge Grapevine no matter what time of year! Get Great Wolf Lodge discounts, Great Wolf Lodge tips, MagiQuest hints, and more!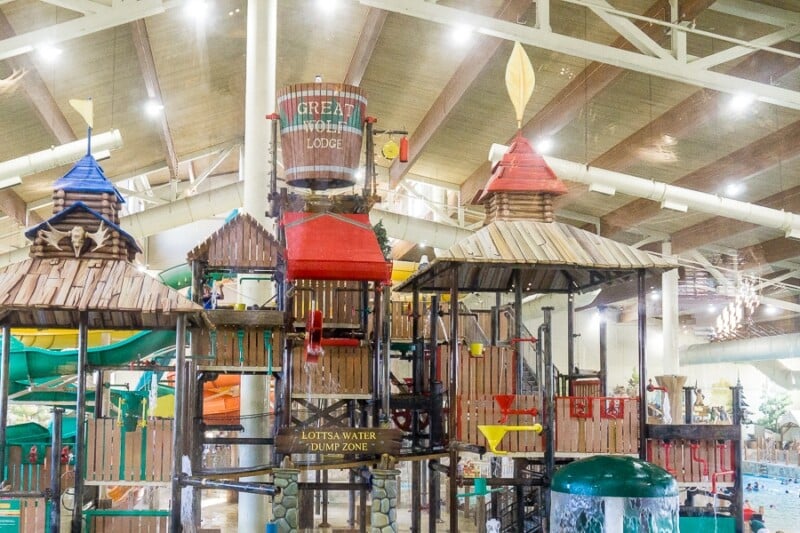 While we lived in Texas, my family visited the Great Wolf Lodge Texas more times than I can even count including once during the first weekend of their Howloween celebration.
There's a lot to know before you go to Great Wolf Lodge and before my first time, I had no idea what to expect. All I really knew about Great Wolf Lodge was that it has an indoor waterpark and really fun themed suites.
We typically spend two full days at Great Wolf Lodge and out of those 48 hours, want to guess how many we spend in the water park or outdoor swimming pool? Two.
Great Wolf Lodge is more like a cruise on land, a one-stop destination where you literally have everything you need – food, entertainment, activities, rooms, and more – without ever leaving the property.
Great Wolf is a place where families can have fun together, and the lodge is really designed with that goal in mind.
Tips for Visiting Great Wolf Lodge Texas
Here are the things that I personally think are helpful to know before you go – I know they would've helped me!
There's a reason it's one of my favorite things to do in Grapevine! And a reason why you should pack up and go now!
1 – Get A Pass
If you know you're going to do any of the activities, I highly recommend looking into their pass options to save money on the activities.
There are three different pass options that include different activities – choose based on your what you're most likely to do!
Wolf Pass – includes One MagiQuest or Shadow Quest Game, choice of classic wand/topper/belt, one Build a Bear Animal, a pair of swim goggles, one 12 oz candy cup, one single scoop of ice cream, one $5 Paw Points game card, one Leather Treaty bracelet or keychain, one ropes course climb, and one gemstone mining experience
Paw Pass – includes One MagiQuest Game, choice of classic wand/topper/belt, one pair of swim goggles, one candy cup, one single scoop of ice cream, one $5 Paw Points game card, and one Leather Treaty bracelet.
2 – Plan more than 1 day
Every Great Wolf Lodge is a bit different in what it offers. Great Wolf Lodge Grapevine is the largest property and it includes:
An 80,000 square foot indoor water park (including slides, lazy river, wave pool, and kid play areas)
Another 30,000 square foot outdoor water park area (with slides)
605 suites
Tons of additional attractions like a ropes course, MagiQuest, build-a-bear, an arcade, and gem mining
A family gaming ten by TopGold with fun and food for the entire family
An ice cream themed kids spa
A full service adult spa
Six food and beverage options including full-service restaurants to poolside fast food
Kids club activities
Retail shopping for gifts, swimwear, souvenirs, and wolf themed merchandise
And more
If you want to do it all and really be able to enjoy it, you're going to need more than just one day, which could be a good or a bad thing depending on how much time you have!
If you can only do one day, I would take a look at what's available and prioritize what is the most important to you. Then try your best to get there right at 1PM on the day you check-in and plan to stay until you're kicked out the day you check out – typically 8:30PM!
But it's even better if you can book two nights and not have to rush through everything. That would even give you time for a nice break at the spa!
3 – Book a Themed Suite
If you're up for a splurge, book one of the themed suites at Great Wolf Lodge. They're absolutely darling and can give parents and kids a little more separation for sleeping and privacy purposes.
We stayed in a Wolf Den during our recent stay that comes complete with a little wolf den with bunk beds, a queen bed, and a full-sized pull-out couch, sleeping 6.
My son loved his little bunk bed room, and I loved that I could work on my computer on the other side of the wall while he was sleeping without disturbing him. And isn't the wolf den theming the cutest?
Great Wolf offers a ton of other themed rooms and premium suites including a KidCabin suite that sleeps up to 7 and a grizzly suite that actually has two separate bedrooms and a living area, perfect for staying with extended family.
The prices on these are a bit higher than standard hotel rooms, but in my opinion, they're totally worth the splurge. I think the wolf den bunk beds were the only reason I could get my son to sleep after such an exciting day playing MagiQuest!
And this is your staycation so make the most of it!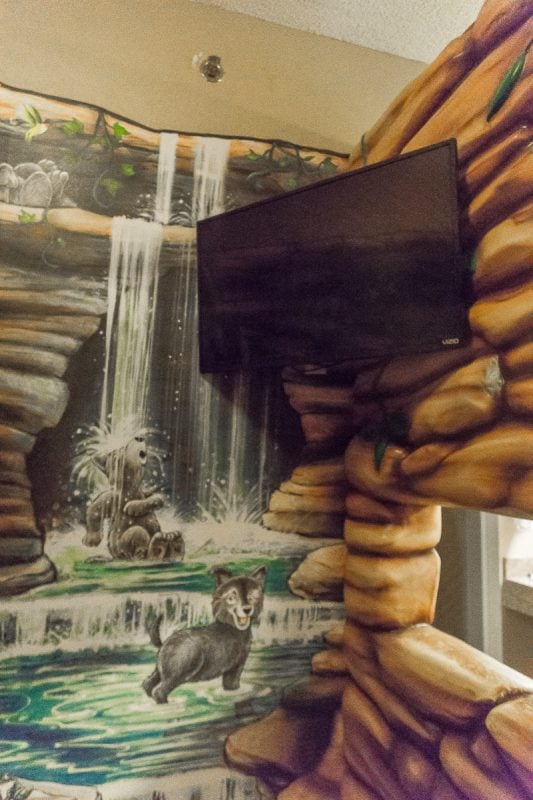 4 – Plan Time for MagiQuest
One of the coolest things about Great Wolf Lodge is a game that's been designed just for them – MagiQuest. There are also two additional games – Shadow Quest and Compass Quest – that are more advanced and similar, but the general idea is the same, so I'm just going to focus on MagiQuest.
First off, it's MagiQuest, not MagicQuest, as I quickly learned. The goal of the game is to become a master magi, hence the magi, not magic part. I was saying it wrong all weekend and it wasn't until my son became a master magi that I realized the error in my ways.
To play MagiQuest, you have to go to the MagiQuest store to pick out a wand and an optional topper for your wand. The toppers are a bit more money but make the wands a bit cooler and give them special powers for later adventures.
MagiQuest is one of the things included in these bundle passes, so if your kids want to participate, I definitely recommended checking out the pass options.
When you pick out and activate the wand, they'll give you a book of wisdom that's full of clues for your quests. You have to go to a tree on the 1st or 6th floor to choose and activate your quest and then you're off.
Each quest sends you to a handful of places throughout the lodge where you use your wand to interact with elements to finish parts of the quest. I thought it might be a bit tricky for my 4-year-old, but nope, he did fantastic. It's honestly all he wanted to do the entire time we were there, up until he became a master magi and finished the final quest.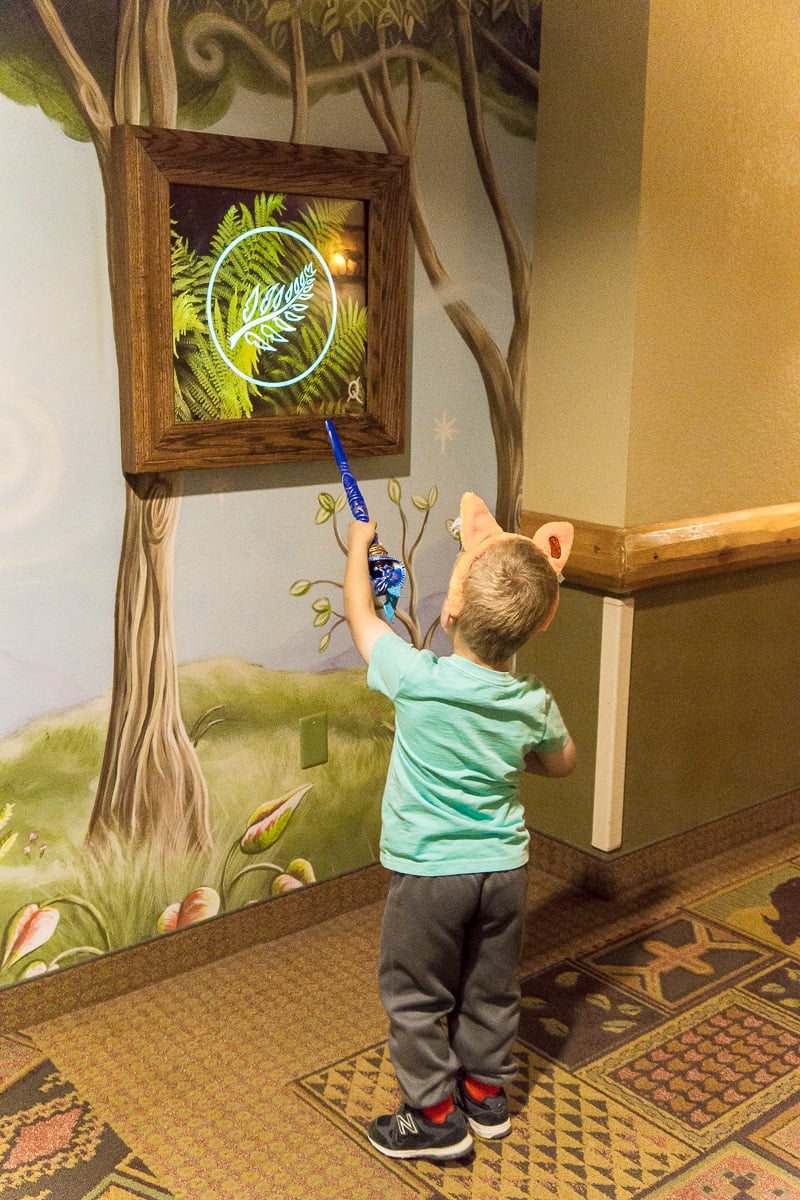 If there was one thing I'd recommend spending money on at Great Wolf, it'd definitely be MagiQuest. We seriously had a blast doing it with my son, and I saw tons and tons of other families enjoying themselves as well.
And Great Wolf Lodge Grapevine by far has the best MagiQuest that I've seen at the couple of Great Wolf Lodge locations we've been to.
5 – Try a Clubhouse Crew Adventure
Great Wolf has their own version of Build A Bear where you can build the Great Wolf Lodge animals like Wiley and Violet (wolves), Brinley the bear, and even the red dragon from MagiQuest.
Kids can pick out the animal they want, help stuff it, and complete it with a cute outfit.
Any Clubhouse Crew purchase at Creation Station can also be set up to do the Clubhouse Crew Adventure, which is basically a kid-friendly scavenger hunt that uses their new friend.
If you're planning to do this, I recommend getting one of the passes I mentioned above because it's a much better deal to get it included in your pass then purchase it outright.
I loved the Clubhouse Crew adventure! They say it takes up to 45 minutes, but it took us closer to 15. Basically you wave your created animal at the first station, listen to a little story, and do a quick task before being given your clue to the next station.
The adventure is only on the first two floors of the lodge and included cute activities like playing an arcade game (for free), cleaning up a mess on the screen, and taking a fun picture with your animal.
Once you complete the adventure, you can head back to the creation station for a bracelet signifying you're an official member of the Clubhouse Crew.
If the clubhouse crew adventure wasn't a thing, I would just say skip the animal creating – but the adventure is pretty fun if you can put it in your budget. This is also something that comes with their passes!
6 – Don't Skip the Free Stuff
Not all of the activities at Great Wolf Lodge cost extra, there are over 20 different activities for kids every single day that are complimentary!
Things start off bright and early in the morning with kids yoga, character meetings, and more activities throughout the day depending on the season.
For instance, during Howloween there's also a costume parade, trick or treating, and a ghostly dance party every day!
When you check in, make sure to check out the daily schedule to see what kind of fun is going on that day and don't forget to join in for at least one of the multiple story times and shows in front of the great tree.
In addition to the kids programming going on in the main lobby area, there is also a kids cub club on the main floor that offers both free and paid crafts and activities.
We saw everything from coloring, creating masks, and even decorating pillowcases to take home while we were there. It's another one that changes with the season, so make sure to check out their schedule so you don't miss something awesome.
7 – Enjoy the Great Wolf Restaurants
The Grapevine location includes eight different places to get food and drinks. We ate everywhere other than Buckets and actually thoroughly enjoyed the food at all of the locations!
Lodge Wood Fired Grill – full-service restaurant serving lunch and dinner, we had a couple of meals catered by here and they were delicious! Out of all of the restaurants, this is definitely the more gourmet option.
The Loose Moose Cottage – buffet restaurant serving breakfast and dinner, we ate both breakfast and dinner here, and I was actually impressed by both. Both included made to order options (omelet and pasta) as well as healthy and kid-friendly options.
Grizzly Jack's Bar and Grill – Located by the outdoor pool, this is the place to grab a drink or a quick bite to eat when you're outside! I had a virgin strawberry mango cocktail from the bartender here, and it was delicious. They make things from scratch and definitely seem to know their way around the bar.
Hungry As a Wolf – A pizza, pasta, and salad place that serves family-friendly Italian. The pizza wasn't incredible, but it was good enough and made fresh. And what kid doesn't like pizza and pasta? This is right next to the water park and a good option for a quick meal if you don't want Buckets.
Buckets Incredible Craveables – Your typical poolside eats serving up burgers, french fries, chicken tenders and more. It's a great place to grab quick bites if you don't want to leave the park.
Starbucks – Grab your favorite coffee, pastries, and more without ever leaving Great Wolf!
The Watering Hole – this is more of a bar than a restaurant but thought it deserved mentioning!
Bear Paw Sweets & Eats – Ice cream, candy, cupcakes, fudge, and more. The place to go if you have a sweet tooth!
Dining Package Options
If you know you're going to be dining at Great Wolf Lodge, they do have a variety of dining packages available including ones that give you the breakfast buffet plus dining credits all the way to just large dining credit packages. The dining packages are worth looking at to save a bit of money if you think you'll be eating while you're there!

8 – Try other activities
If you have time after all of that fun, there are tons of other activities at Great Wolf Lodge as well including:
Ropes course
4D movie theater
Arcade
gem mining
Spa – both an ice cream themed one for kids and a full-service one for adults
9 – Grab an inexpensive souvenir
One of the things that drives me crazy about resorts is when they mark up prices on the exact same thing you could buy at Target or the grocery store.
Great Wolf Lodge has a couple of fun shops to buy things you might need for your stay as well as gifts and souvenirs. The thing that impressed me most, other than the huge collection of different stuffed wolves available, was that the prices weren't marked up a ridiculous amount.
My son has a ton of the little TY animals, and I've seen the price on them at a ton of different places. I let him pick out this little Slush dog, and I was impressed to see that the price to buy him at Great Wolf was about the same as on Amazon and at Target. Maybe marked up a bit but not crazy high prices
10 – Plan a Holiday Celebration at Great Wolf Lodge
Great Wolf loves their holidays, and they know how to celebrate holidays right! All through October, they have Howloween celebrations going on with Halloween decorations, activities, and more.
Then for the Christmas season, they have snowland starting right after Thanksgiving. I can't wait to book a stay even just for a night to see what snowland looks like after seeing Howloween! The holidays might be a bit busier, but it's totally worth fighting the crowds to enjoy what Great Wolf Lodge does best!
What's Included at Great Wolf Lodge
Unlike a cruise, Great Wolf Lodge is not quite as all-inclusive.
A stay will include your room, access to the indoor and outdoor water park (aka seasonal outdoor pool) for everyone in your room, and tons of kid-friendly complimentary activities like nightly story time, dance parties, scavenger hunts, and more.
All of the items below are not included and will include additional charges:
Food or drinks
MagiQuest
Arcade games
Spa treatments
Other paid attractions such as the ropes course, Creation Station
Any shopping
Just like if you were planning out a trip to Disney World or family visit to Universal Studios, you'll want to plan out what you plan to do ahead of time if you're trying to stay within a budget. Or let your kids choose the activities that they most want to do and skip the rest.
Great wolf lodge discounts
There are a handful of ways that you can score discounts on a stay at Great Wolf Lodge Texas!
Sign up to become a Great Wolf member. They send emails like once a week with great discounts that can save you as much as 25% on rooms and activities. You can also check out their deals page to see what deals they're currently offering.
Check out Groupon. I know Great Wolf offers Groupons all the time where you can score an incredible deal on a room (that also includes the waterpark and tons of activities).
Plan a stay on a Sunday – Thursday if possible or during an off-peak season. The room price can fluctuate as much as a couple hundred dollars depending on the type of room you're looking for between peak and off-peak nights. At the Grapevine location, your best bet is to plan a stay during a non-holiday month, ideally on a weekday if possible.
Get one of the discount passes available for activities. The Grapevine location has three different passes – pup, paw, and wolf pass – available that basically bundle activities together, giving you a substantial discount. I explained what was included in these passes at the top of this post.
Stay in one of the standard suites instead of a themed room. While the themed rooms are awesome, you can put the money you save on the room type and use it for meals or activities instead.
Skip the Great Wolf Lodge day pass. While they technically have day passes available, they're normally $50+ a person. Unless it's just you going and no kids, it's typically a better deal to just book a room since a standard room rate is normally reasonable.
Other Great Wolf Lodge Texas Tips
These are just a couple of other things you'll hopefully find helpful to make your stay more enjoyable!
Checkout is typically at 11AM and new people coming into the resort on the day of check-in can start using the amenities at 1PM. Take advantage of the morning hours when things open until that 1PM witching hour to do things that will have lines (Creation Station, spa, getting your MagiQuest wands, etc.) later. The place gets crazy in the afternoon and evening, so morning is your best bet! Save the later hours for the water park and MagiQuest that don't really have lines.
If you're light sleepers who go to bed early, request a room that's far away from the center elevators. The MagiQuest game area is right around those elevators and kids are running around that area making a lot of noise until at least 11PM every night. We had a room pretty far down the hall and didn't hear much at all.
Every room has a fridge and microwave. If your kids don't eat quickly, skip the buffets and just get a la carte food and take the leftovers back to the room to eat later.
You have access to the water park starting at 1PM on the day you check-in, all the way until it closes at 8:30 PM on the day of your departure. That's basically getting to enjoy two full days at the water park with just one night's stay, use it!
Great Wolf Lodge Texas MagiQuest Tips
Quests have to be completed in order, don't try to cheat and skip a step in a quest or you'll just have to go back
Quests take you up and down stairs over and over again, definitely not for the faint of heart. You can take the elevator, but it'll slow you down. If you know you're headed to Great Wolf, start practicing stairs now. We walked over 40 flights of stairs total in about two hours playing.
If you run into problems or can't figure something out, you can either call for help from the Pixie's Perch or can walk down to the MagiQuest store and get assistance. There were a couple of times we just couldn't get something to work even though it was correct, and they had to help.
Quests can be stopped and started up later if you want to take a break. As long as you don't accept a new quest, you can always pause and come back to finish a certain quest later.
Point your wand at every chest you find. Even if it's not part of your quest, they often will reward you with gold coins, which you need to stash for different quests. It's much easier to just get the coins as you go than have to go find enough chests to earn 2000 coins during one quest.
Pay close attention to the clues. Sometimes the order you do things matters, sometimes you have to go check in at a station between clues, and sometimes there are other tidbits in the clues that make or break whether you finish a quest.
MagiQuest is only open certain hours of the day. It's most of them, 9AM – 11PM, but it does shut down so kids will eventually go to sleep as well.
If your younger kids don't seem as excited about MagiQuest, skip it and do the free Clubhouse Crew adventure instead. And if your older kids don't seen excited, have them try the compass quest instead.
There's a Master Magi knighting ceremony once or twice a day. It's a cute little ceremony where someone dressed in a MagiQuest costume pretends to knight the kids, and they get a little bracelet with a MagiQuest symbol. My son was nervous about getting up on the stage but so proud to get his Master Magi bracelet!
Great Wolf Lodge Texas FAQs
What is the best age for Great Wolf Lodge?
My recommendation would be to visit Great Wolf Lodge with kids that are two and older so that they can fully enjoy the waterpark. We did a trip with three toddlers, and they had a blast enjoying the waterpark! The perfect ages, however, would be four and older so that they really can enjoy MagiQuest as well. With all of its activities, it's fun even for teens and adults!
Does Great Wolf Lodge offer day passes?
Great Wolf Lodge Texas offers day passes with prices that vary based on the day and availability. You can buy day passes here but I personally wouldn't recommend it because you'll end up paying more for a family of four to buy day passes than you would if you just booked a room that includes waterpark passes.
Where is Great Wolf Lodge Texas?
Great Wolf Lodge Texas is located in Grapevine, Texas in the middle of Dallas and Fort Worth. It's about a ten minute drive from the Dallas Fort Worth Airport (DFW) and close to many of these other fun things to do in Grapevine.
Does the Great Wolf Lodge have life jackets?
Great Wolf Lodge Texas has life jackets available at the waterpark that can be worn on water slides, in the swimming pools, and even in the kiddie area. You can also bring your own US Coast Guard approved floatation devices (like the Puddle Jumper we brought) but inflatable devices are prohibited.