There's no better time to visit Great Wolf Lodge than during Halloween for their Howl-o-ween celebration! With tricks and treats a plenty, Howloween is sure to thrill families of all ages, even the littlest ghosts and ghouls!
7 Reasons to Go to Howl-o-ween at Great Wolf Lodge
My family and I celebrated Halloween in 2017 at Great Wolf Lodge Grapevine TX during their Halloween celebration, Howl-o-ween. Howl because wolves howl, cute right?
It's the first time we've ever been to Great Wolf as a family, and it's going to be hard to beat the next time we go because Howl-o-ween comes with its own set of fun, activities, and food!
We also did Howl-o-ween in 2020 at the Kansas City location. This post is going to include information from both of our visits!
If you've never been to a Great Wolf Lodge and want general information, start with this post with tips for visiting Great Wolf Lodge then come back here to find out why October at Great Wolf is so special. But if you've been and are considering going for Howl-o-ween, keep reading!
Tons of spooktacular reasons to book a stay in October and the fun changes every year!
What is Howl-o-ween?
Howl-o-ween at Great Wolf Lodge is a month-long celebration in October (October 1-31) dedicated to all things sort of spooky, but mostly just Halloween themed fun!
The lodge gets all decked out in Halloween decorations, adds Halloween adventures to the daily schedule, and even incorporates fun fall and Halloween games like boo Halloween bingo! All of this is in addition to the normal Great Wolf Lodge family fun that's available all year long!
Howl-o-ween only lasts until October 31st and rooms sell out quickly, so make sure to book your room now so you don't miss out on all of the Howl-o-ween fun!
Now let's talk about what makes Howloween so awesome!
#1 – Halloween Themed Decorations During Howl-o-ween
As soon as you walk into the lodge, you know it's Howl-o-ween. Each of the Great Wolf Lodges have different decorations, but they all come with fun Halloween touches throughout the lobby.
And they're way better than my balloon Halloween decorations I made a few years ago.
The Great Wolf Lodge Grapevine location had a big ghost and pumpkin made out of balloons, spiderwebs tangled in the great trees, and even Frankenstein's castle filled with electric activities for the kids!
The lobby isn't the only place that's decorated. Each of the floors in the lodge was also decorated in different theming from a witches lair to an Egyptian palace. It's fun to see all of the different themes as you either explore the floors for MagiQuest or on the trick or treat trail.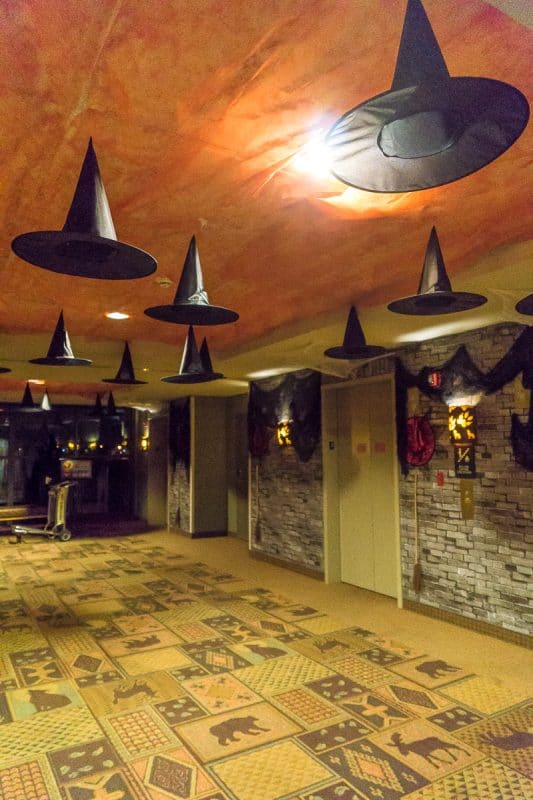 #2 – Howl-o-ween is Another Chance to Wear Halloween Costumes
Not only are costumes allowed during Howl-o-ween, they're encouraged.
Kids (and adults) can dress up in their Halloween costumes for the morning costume parade, for nightly story time, and all the time in between. It's a great way to get a little more use out of that costume! Or skip the costumes and wear Halloween pajamas with special Howl-o-ween themed wolf ears instead!
Team members and the Great Wolf Lodge characters join in the fun too! We saw Violet in a fairy costume and a cute wizard raccoon! And when you build an animal at Creation Station, the kids can even dress up their animals in costumes!
#3 – Howl-o-ween Story Time Every Night
One of our favorite things about Great Wolf is the nightly story times. All of the kids (and adults) gather together in front of the big tree and one of the team members, along with the help of one of the Great Wolf Lodge animals, read a story from a big book to all of the kids.
After story time, the kids can stand in line to get a picture with the animal (changes each night). It's a fun way to bring to life the characters in the books and that you'll see throughout the lodge!
The only difference during Howl-o-ween is that the story is actually Halloween themed and the characters come out dressed in their Halloween costumes, the Halloween costume that actually matches them in the book that's being read.
It's cute, and my son was totally intrigued throughout the entire thing. And don't miss the Halloween monster bash dance party each night that happens shortly after the second story time!

#4 – A Full Day's Worth of Halloween Activities During Howl-o-ween
When you check-in during Howl-o-ween, make sure to get the schedule of daily activities. There are complimentary Halloween activities going on from pretty much the moment you wake up until after you should already be in bed.
Some of the fun happening this year includes:
Howl-o-ween trivia
Grab n go Halloween crafts
Boo bingo (Halloween bingo game)
Halloween yoga tails
Monster bash dance party
And more
Make sure to read all of the papers you get when you check-in. We almost missed a fun Halloween scavenger hunt because the first clue was on a tiny piece of paper we didn't realize was important.
#5 – Kids Get to Trick or Treat During Howl-o-ween
Every night from 5-7:30 kids can follow the trick or treat trail from the main lobby through all of the different floors! There were a total of like seven different stops on the trail and at each, the kids were given either a piece of candy or fun activity book to do.
There are also interactive games at some of the stops, which kids will love!
If your child has allergies, Great Wolf Lodge participates in the teal pumpkin project and provides non-food options for the kids!
My son loved going floor to floor to pick out his treat from Great Wolf team members dressed in costume! And I loved that they gave out both candy and activity booklets, so we weren't dealing with even more of a sugar high than normal!
The Kansas City location does an actual door to door trick or treat that was cute and fun, a little shorter than I'd hoped, but great for the toddlers.
#6 – The Cub Club Offers Fun Howl-o-ween Crafts
In 2017, Great Wolf Lodge offered both paid and complimentary Halloween (and non-Halloween) themed crafts and activities that kids and adults can do together in the cub club.
One of my favorite memories from our visit was watching my husband and son paint pumpkins together, Spiderman anyone?
My son painted on the circles and decided the characters; my husband finished the details. And now we have a fun pumpkin to take home to sit on our porch through Halloween!
I know that now they are offering grab and go crafts that typically include some sort of crafts, a mask, or other craft, and things that kids can do in their room or at home!
#7 – Howl-o-ween ears
If you've ever been to Great Wolf Lodge before, you know your stay comes with a complimentary pair of wolf ears for everyone (they make great additions to the dress-up box!). For Halloween, they have a super cute Halloween pair that my boys both loved!
If your family loves Halloween as much as our does, Howl-o-ween at Great Wolf Lodge is just one more fun way to celebrate! Our family had a blast, and I hope yours will too!
Howl-O-Ween FAQs
How much does Great Wolf Howloween cost?
The majority of the activities for Howl-o-ween are included with your stay (just like the water park). The only things I found that cost an additional fee were some of the more involved crafts and all of the other things that already require a fee (food, drinks, paid activities).
Is Howl-O-Ween worth the cost?
The activities and extras that came with Howl-O-Ween aren't anywhere near as extensive as say going to Mickey's Not So Scary Halloween party at Disney World. You get a few pieces of candy, some fun Halloween pictures, and get to do some low key Halloween activities. That being said, I think Great Wolf in general is worth the cost if you can get a decent deal on a room, so the extra perks from Howl-o-ween are just bonuses to me!
Have questions about Howl-o-ween? Feel free to leave comments, and I'll do my best to answer!
More Halloween Fun with Kids
Want some other fun things to do for Halloween with the kids? Try one of these!
Disneyland Halloween treats – headed to Disney for the spooky season? Make sure to grab these yummy eats!
Disneyland Halloween guide – speaking of Disneyland, here are 10 fun things to do to celebrate Halloween at Disney!
Halloween truth or dare questions – these silly Halloween inspired truth and scare questions are super fun to play with the kids!
Halloween would you rather – would you rather hang out with a vampire or a werewolf? These fun would you rather questions have you choosing between all sorts of Halloween scenarios!
Halloween family feud – can you come up with the best choice to questions about popular Halloween activities, candies, and entertainment? This game is great for the entire family!
Post Update: This post was originally written in 2017 and the photos in the post reflect the activities and entertainment from that year. Offerings change every year so please check with the location to confirm offerings prior to your visit.